Ever since we started working on the big backyard makeover, I've been searching all over for cool-looking garden decor for a reasonable price. I can hear you saying "good luck with that"…and I have to agree, as I found out "cool-looking" and "reasonably-priced" are about as compatible as me and snakes (yikes! Just writing the word gives me the creepies)! So, as usual, I tried to use whatever we had hidden in the dark corners of our wonderful resourceful basement.
What a basement right? But seriously… you can find almost anything in our basement. I promise you, one day I will give you a tour so you can see it with your own eyes. That is of course if you can promise that you won't be calling me a hoarder 😉
I found quite a lot of hidden treasures: a metal teapot, a broken iron base/stand of something which I couldn't identify, some bamboo paper plate holders, and a bunch of Dollar Store garden plaques and ornaments. Other than the Dollar Store stuff, all were either Put & Take finds or given for free. Aren't I a lucky girl? 🙂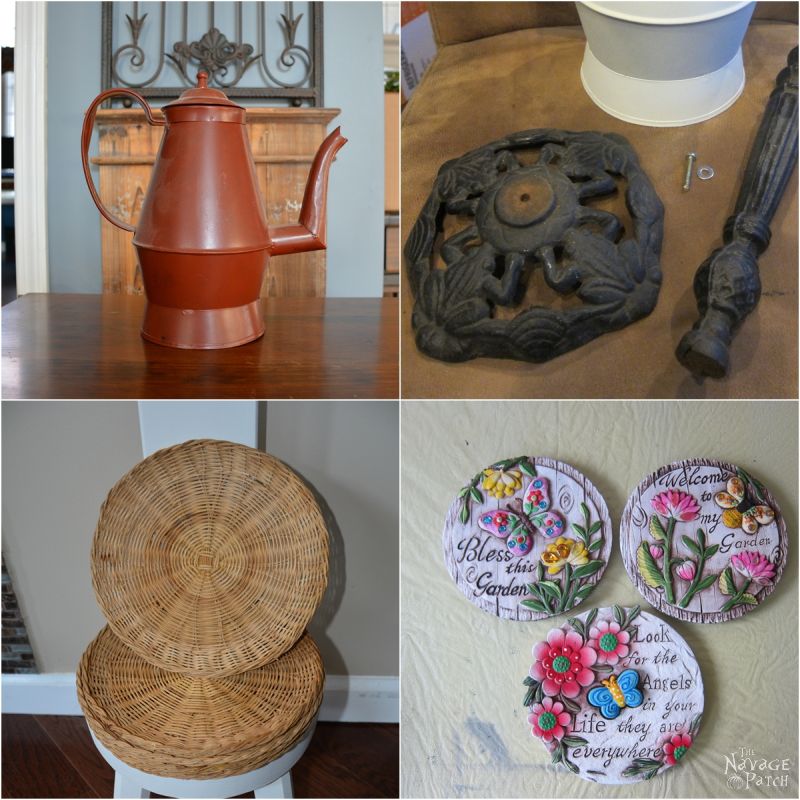 I actually found more bits & bobs in the basement which I will also be turning into garden decor. As we are just about to complete the second area in our backyard, you'll be seeing them in my next garden decor post. Anyway… enough of me giving spoilers… let's see how I made this set, shall we?
I started with the Dollar Store plaques. They were cute enough, and I liked the phrases on them. Besides they were cheap enough not to be upset if they broke.
But the issue was, they didn't have anything in the back to hang them with. See?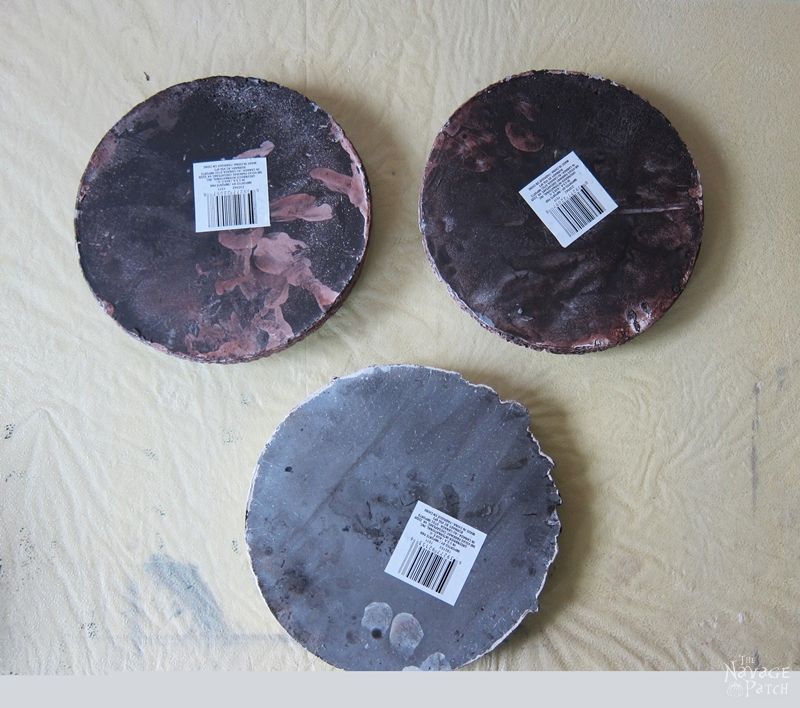 Then again what do you expect for a dollar? Oh well… I still love my Dollar Store!
This was the point where I realized I could use the bamboo paper plate holders to hang them. But first I wanted to darken the color of the plates to have some contrast, otherwise the grey plaques would get lost in the whole thing.
Using very little paint on a chip brush, I brushed some FolkArt Chalk Paint's Java color on the plates. It is a very nice dark brown chalk paint. I tend to use it to darken the color of wood or wicker things. As it is chalk paint, it dries faster than any stain, and it almost looks like as if the piece was stained. In a way it is my little shortcut.
See why I wanted a little contrast? Now the plaques pop!
Next, I heated my hot glue gun on the high setting and started hot gluing the plaques on the darkened bamboo paper plate holders. As the plaques were to stay outdoors the whole summer, I decided to use quite a good amount of hot glue to set the them on the bamboo.
To hang these plates, I cut a piece of wire and wove it through the bamboo to create a hanging loop.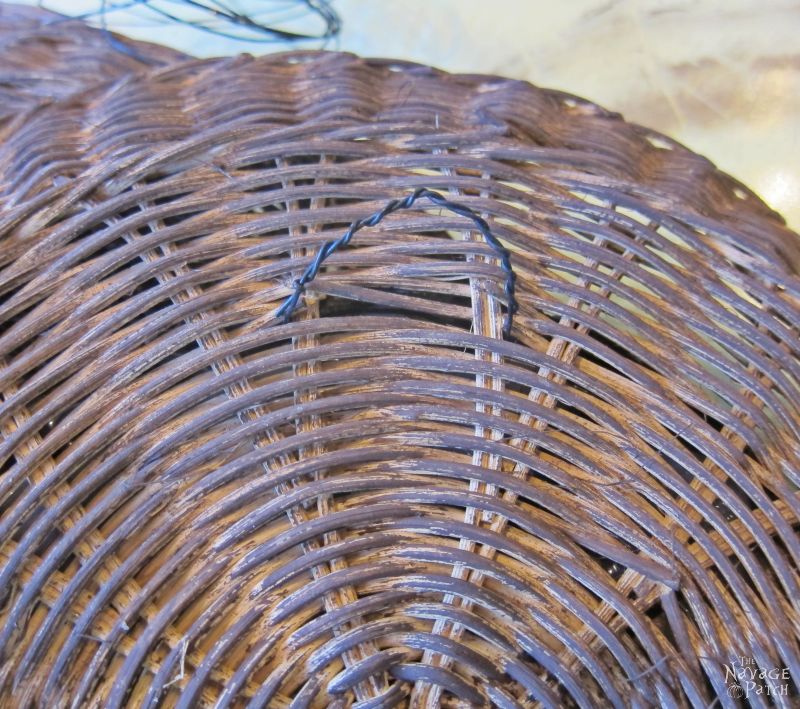 And that was the end of the garden plaque decor!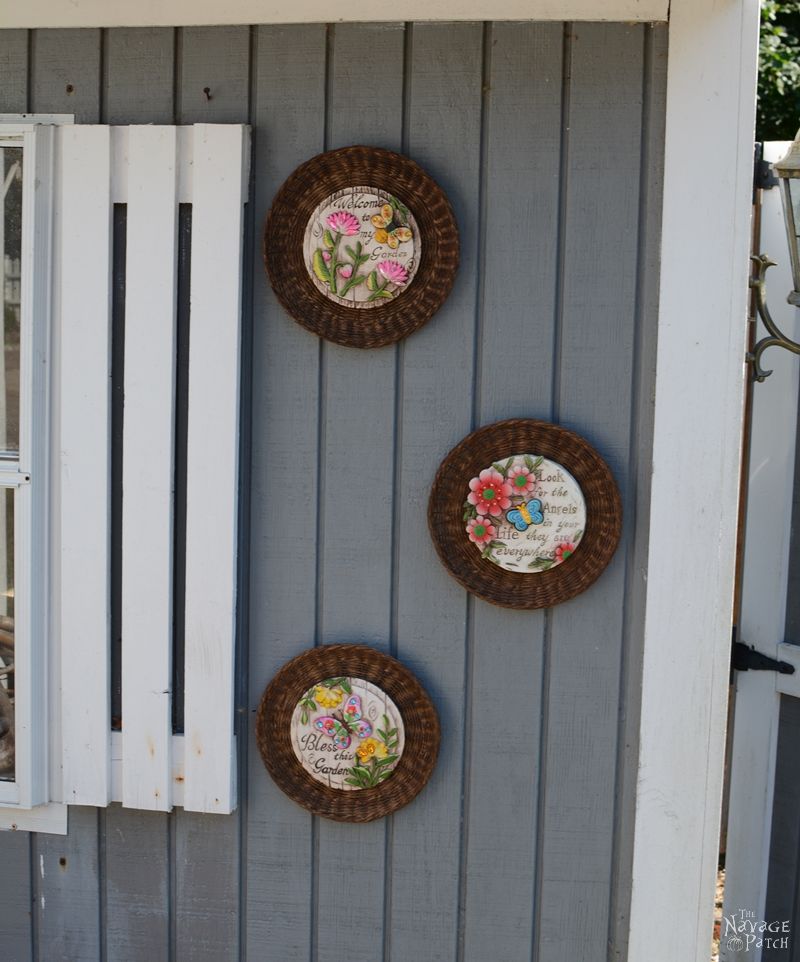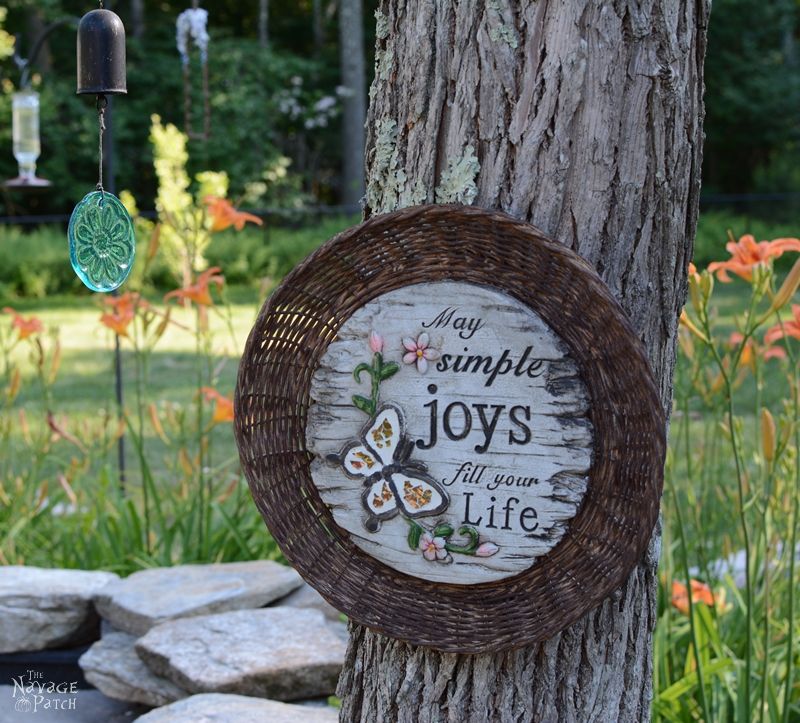 Let's move on to the next one: the teapot garden decor!
Click on 'Next' to continue with the teapot garden decor tutorial.