DIY Patriotic Door Hanger (with free SVG files)
This DIY patriotic door hanger is a quick and easy 4th of July craft that looks great and costs just a few dollars to make.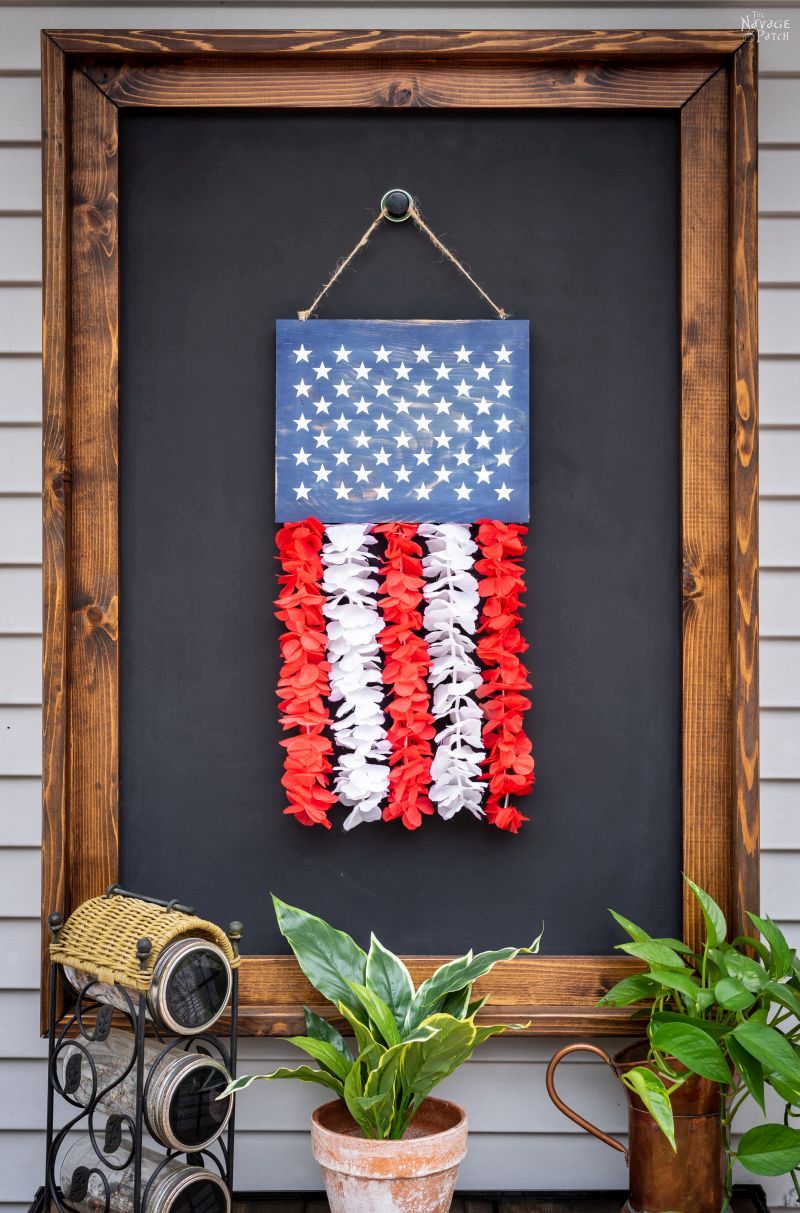 We've had a few thin pieces of pine kicking around the scrap wood pile for years – weak and measly little things, darkened with age and scored by some long-defunct mill saw.
I don't remember where they came from – perhaps they were part of a box or small shelves back when wagon wheels were used for transportation instead of decoration – but they were too thin and too small for me to build anything of consequence.
After all, I'm a man and therefore require large slabs of wood, powerful saws, big drills and long screws!
(If you can read that last sentence without rolling your eyes, kudos to you, madam!) 😆
A few months ago, after a strenuous day of cutting and hammering and screwing my slabs into some monumental testament to my Engineering Genius1, I spied those little pieces of pine in the scrap pile and decided that they needed to be transferred to the burn pile.
I just snuck them over, real quiet-like. No sense making a big fuss about such small wood, right?
Wrong.
It didn't work.
It never works!
The Commandant Handan has a sixth sense when it comes to me trying to throw out perfectly usable crafting materials.
She may not visit my slabatorium area of the basement for weeks.
Oh, but the day I try to sneak one by the goalie, the day I try to dispose of something potentially useful – well, it must send some sort of inter-dimensional distress signal that my babes picks up on – because that night, there she'll be, all up in my business.
busted.
So there she was, that very night, rooting around in my scrap bins. Inevitably, she turned her blazing eye to the burn pile and discovered my crime.
gulp.
Without a word, she rescued those pint-sized pine pieces and gave me the look.
You know the one.
"My babes, they're useless!" I pleaded like a child, and like a child, I knew my argument was in vain.
"You're going to use these for a Fourth of July project, my babes. You'll see." Fearing for the safety of the wimpy wood, she carried them upstairs to her craft room, where they awaited the warm weather and the day of our nation's birth.
1 To be clear, my engineering talents rival those of a billy goat, and as for the genius part – I once lost a game of chess to a parakeet.
*****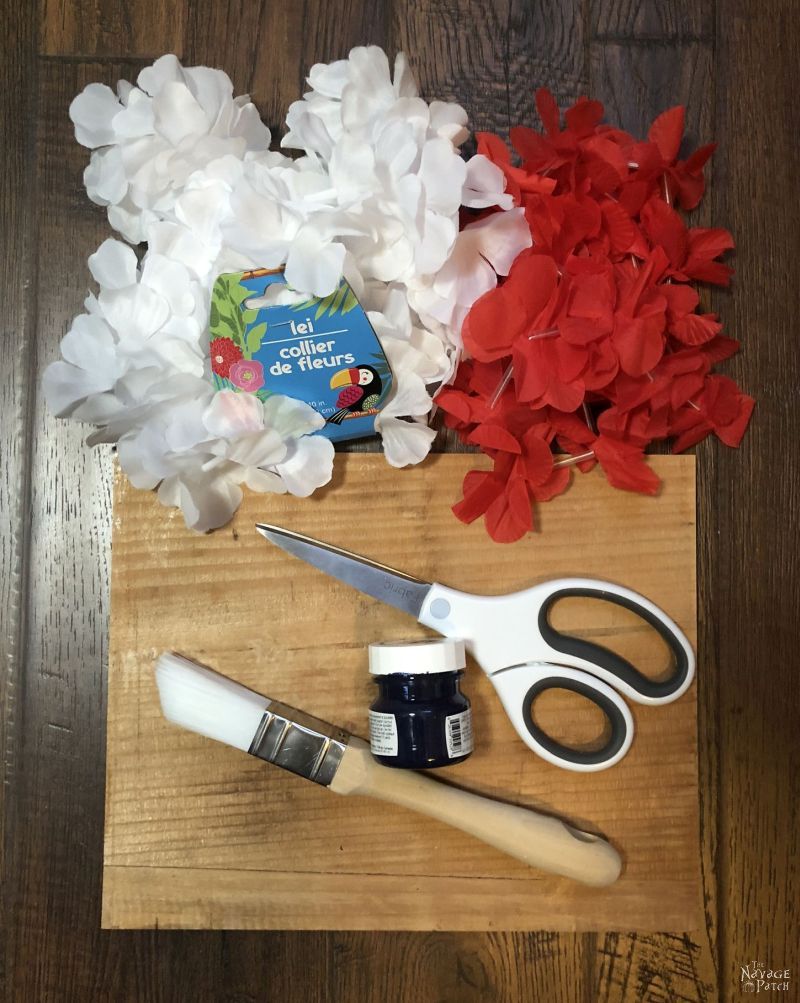 DIY Patriotic Door Hanger
2 thin pieces of scrap wood about 8 1/2 x 10 1/2
Paint brush or sponge
50-star stencil (or you can download the SVG file from the VIP Patch and cut your own stencil with your Cricut or any other die cut machine)
Red and white leis (we bought ours from Dollar Store.) If you can't find red and white lei, you can use some ribbons instead.
2 small eye bolts
String
DIY Patriotic Door Hanger Tutorial
Though I suppose you could argue that my two wimpy slabs of pine had "character," what with their aged-amber faces and circular saw marks, since a stencil would be involved, I had to sand all that character away, leaving a nice and smooth surface to keep stencil bleeding to a minimum.
Keeping with the "scrap" theme, I used an old sample jar of blue paint we had rattling around the paint section of our basement.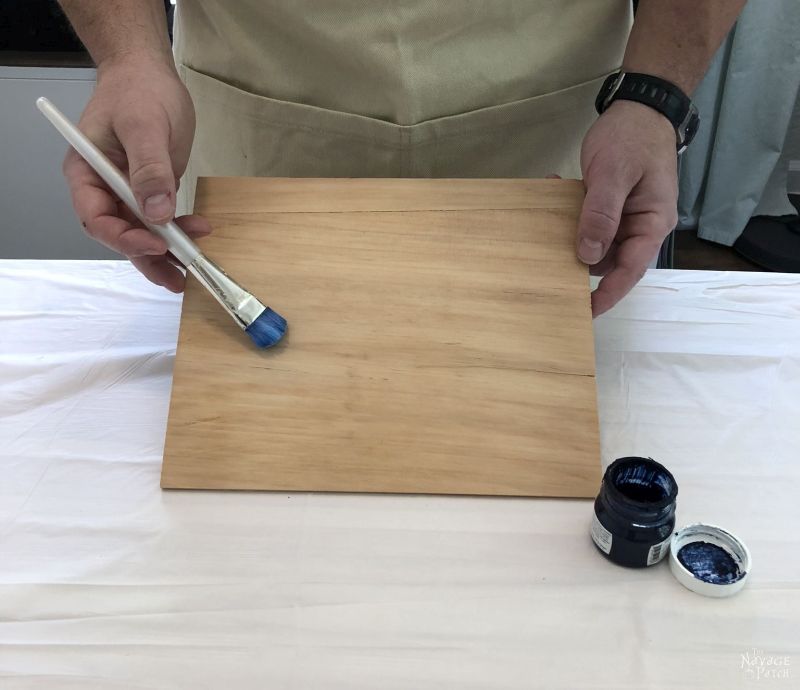 Yes, we have a paint section.
If Home Depot and Goodwill had a baby, it would be our basement.
After a tornado.
And an earthquake.
Anyway, I painted the wood blue. There was no need for finesse here – no need to hide brush marks. It would be sanded when dry.
Don't forget the edges!
When the paint had dried, I sanded it enough to smooth it out and distress it here and there.
I gave the board a quick wipe with a paper towel to remove the paint dust, and then I positioned the stencil.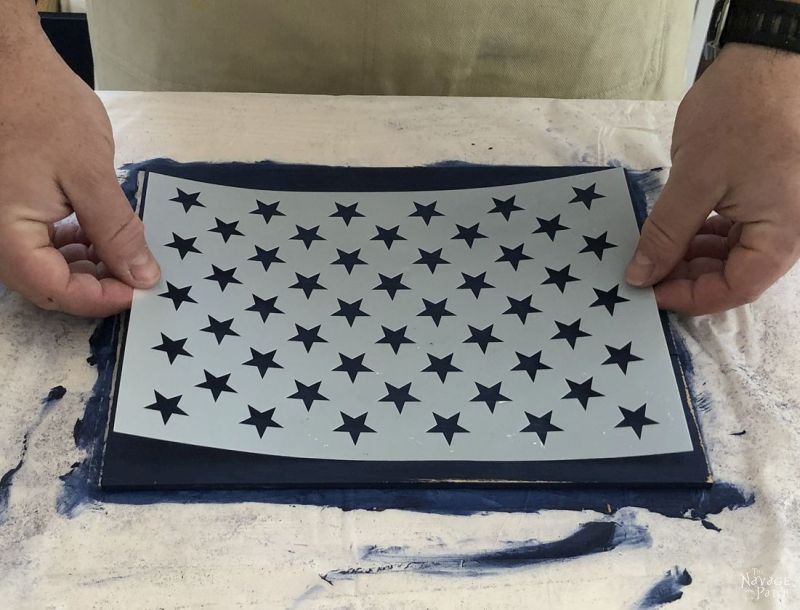 I used an angled square brush to dab on the white paint.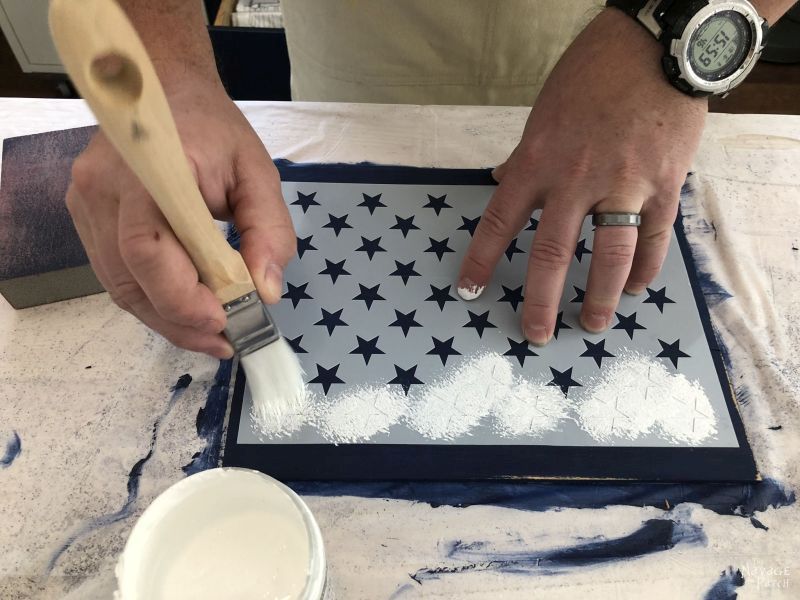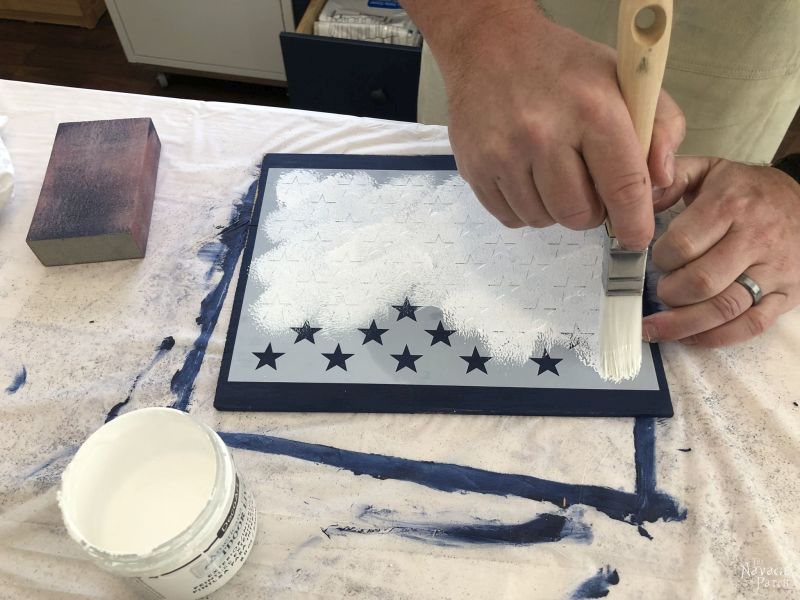 Now remember, I'm the Slabmaster, not the Craftmaster, so don't judge my stenciling too harshly.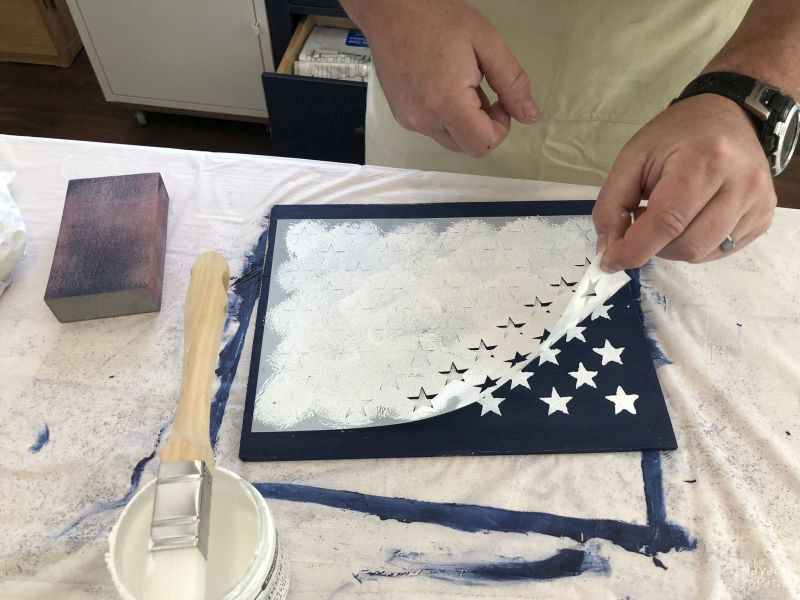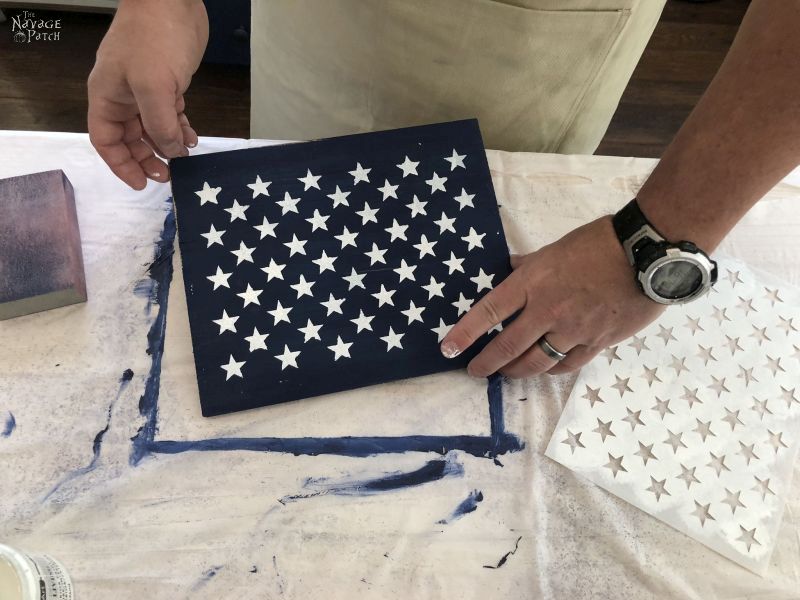 Yeah, yeah, I get it. You've probably seen cleaner stencils at a kindergarten crafting convention. Good for you! I'm new to this game, so cut me some slack, sister!
Besides, after the paint dried, I gave those malformed stars a scuffing with the business end of a sanding sponge. The sanding not only gave a distressed and vintage look, but it detracted attention from my crappy stencil job.
There's an old contractor's saying – "Caulk and paint make it what it ain't."
I'll leave it up to you to compose a similar sentiment for stencils and sandpaper.
Okay, with the "Stars" part done – remember I made two stenciled pieces of wood, though only one is shown above – I turned my attention to the "Stripes."
If you can find red and white leis at the dollar store, buy them and use them. But it's hit or miss there, especially as the Fourth nears, so you may need to order some from Amazon. Or if you have some red and white ribbons, they would also look great.
I cut my lei stripes to about 13 inches.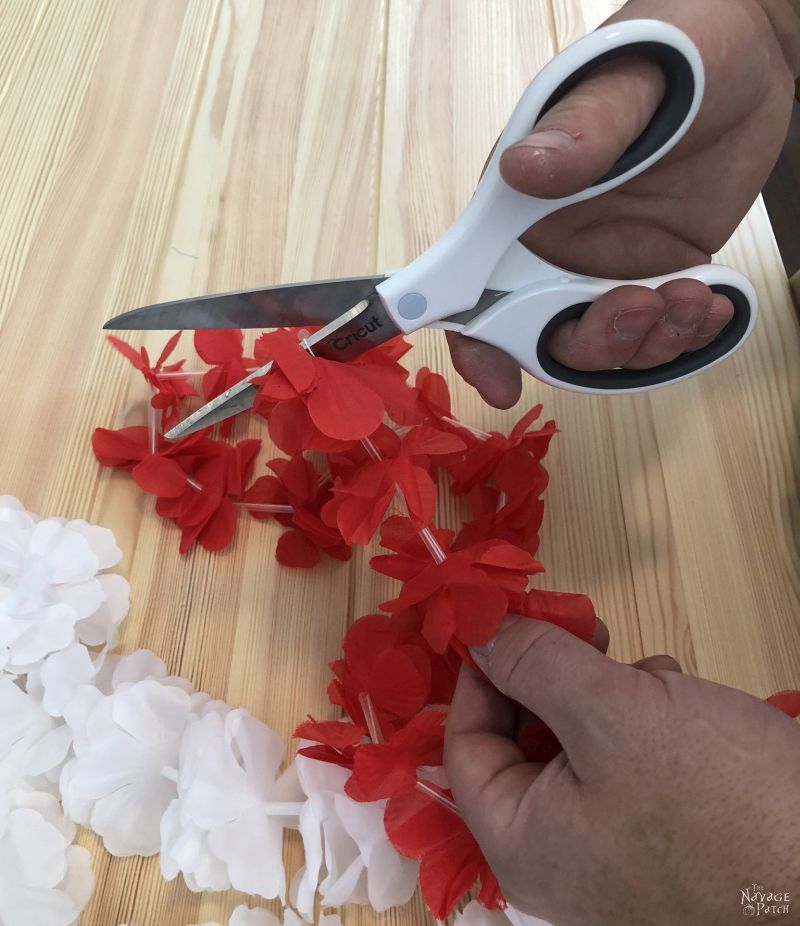 Once the lei is cut to length, the flowers will fall off and lei all over the floor if you don't fold the string over and secure it to the bottom flower with a blob of hot glue.
With the flowers secured on the string, I attached the stripes to the back of the star board with a dab of hot glue.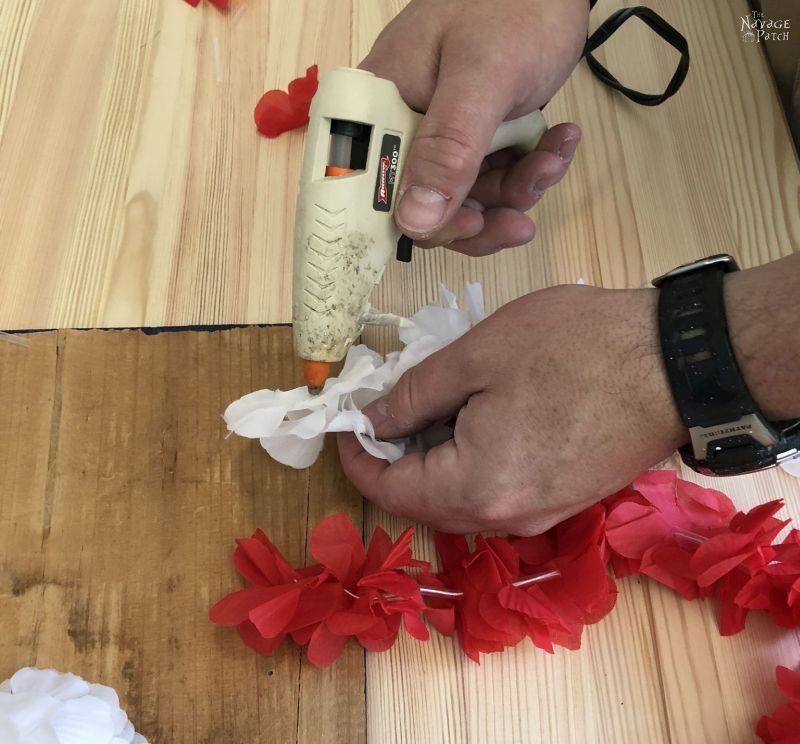 About 12 inches hangs below the bottom edge.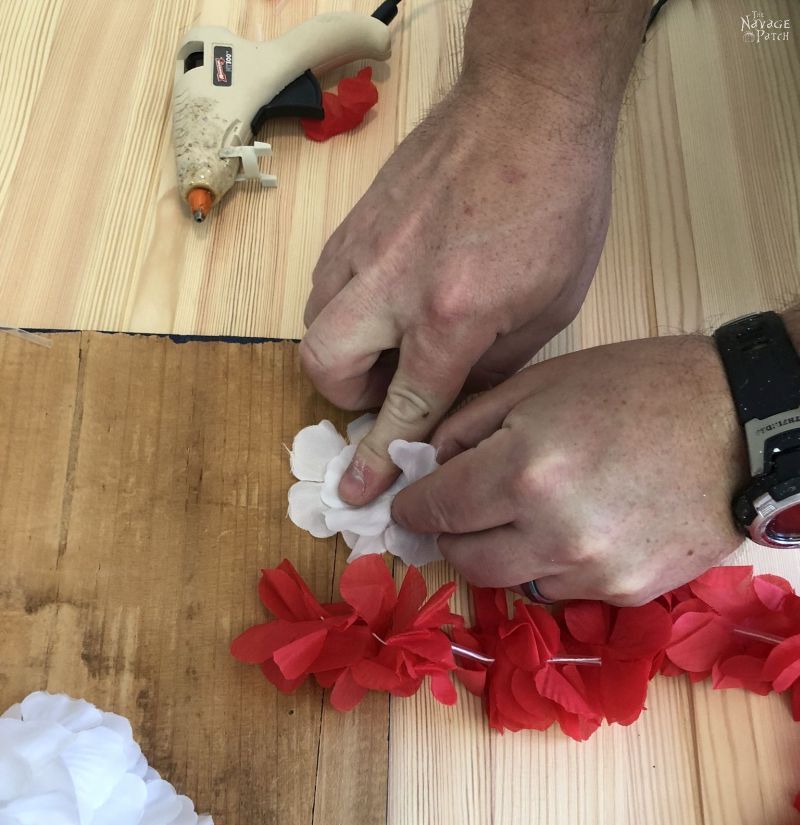 After gluing 5 stripes, I ran a bead of hot glue around the edge and some around the middle of the board, and then I pressed the two boards together.
By making it with two boards, we can hang this patriotic door hanger on a glass door and see it from either side, or we can hang it from a ceiling hook, so it hangs freely. Yes, yes. I'm an Engineering Genius. Thank you.
I screwed two small eye bolts between the boards on top. You might need a tiny dab of glue if your boards aren't close enough together.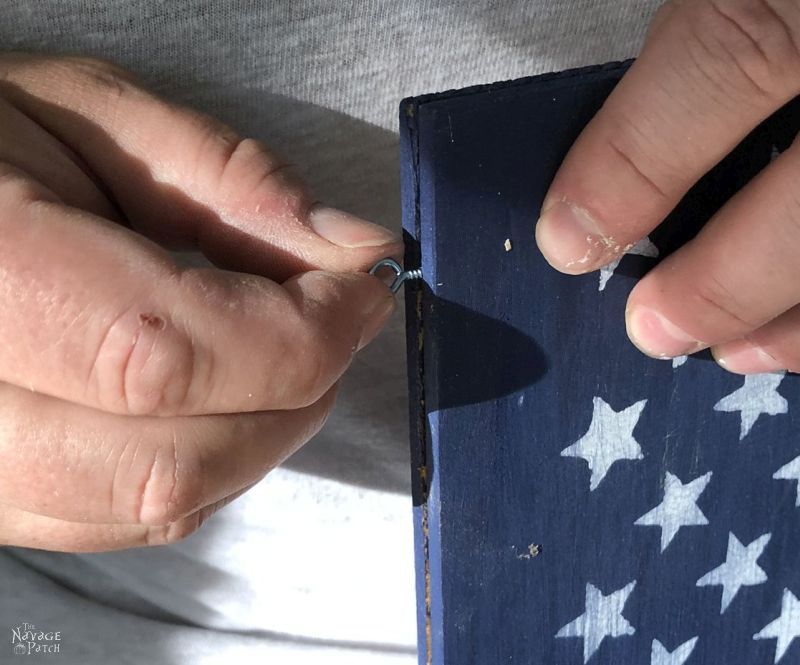 I tied a string between the eye bolts to complete our DIY Patriotic Door Hanger.
I love it on my office door.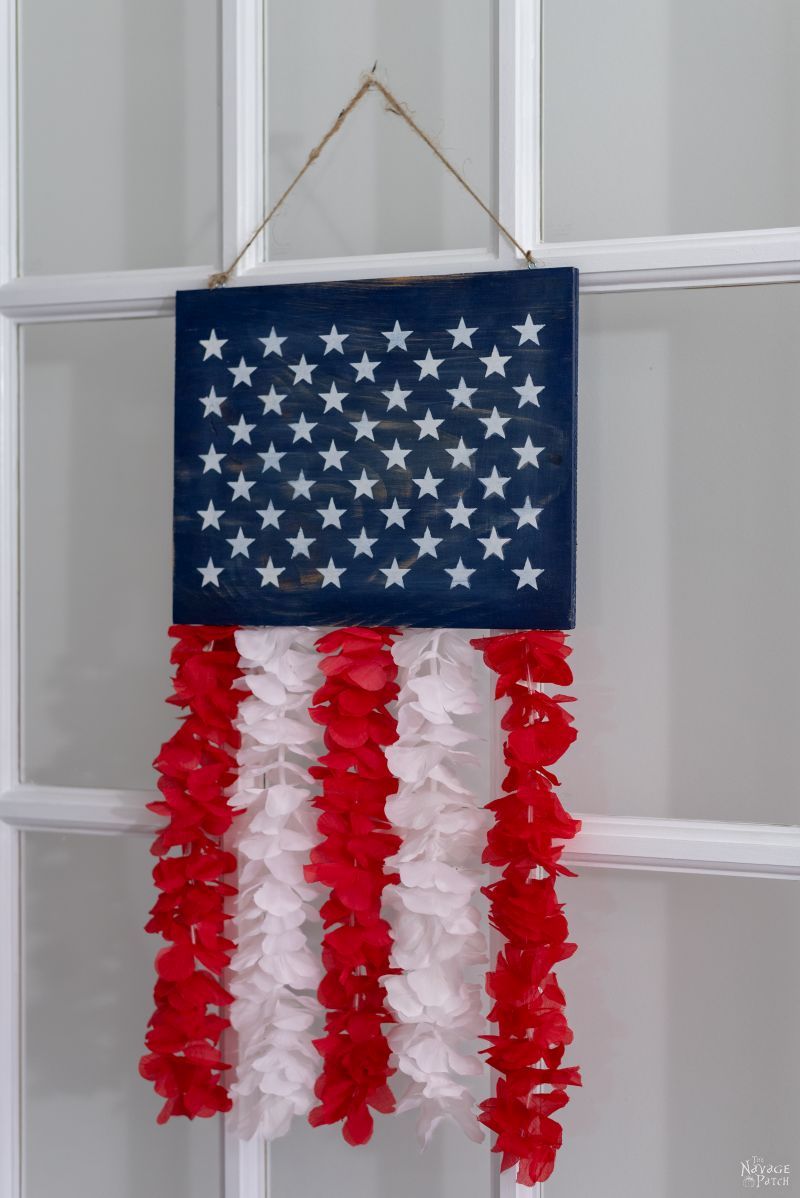 But it also looks great out on the deck hanging on our DIY outdoor magnetic chalkboard!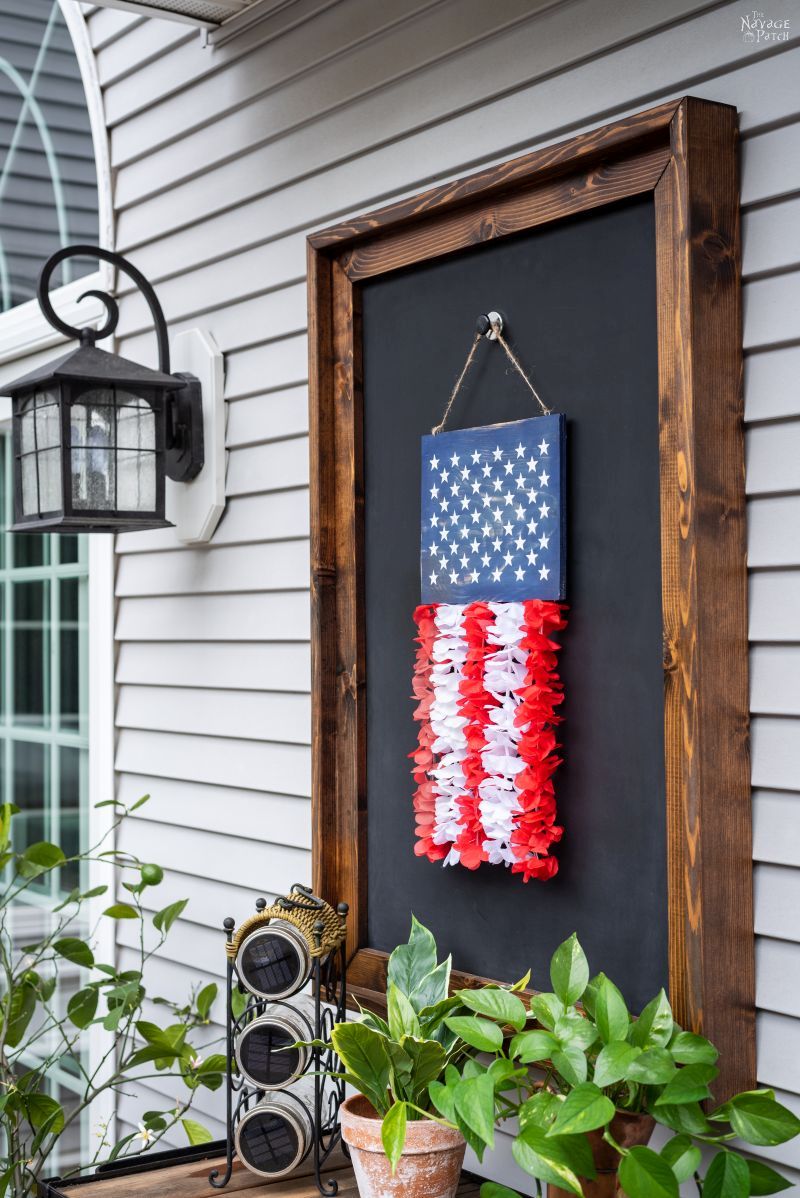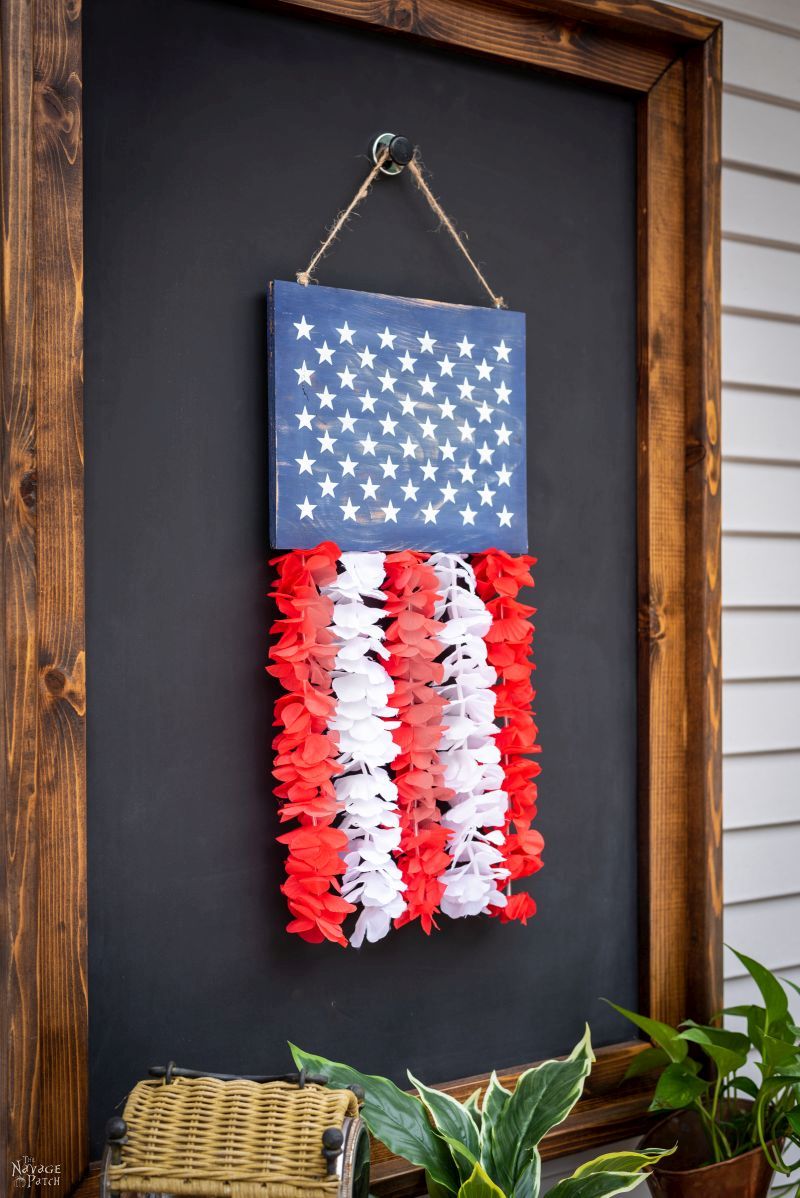 *******
We created today's freebies as JPG, PNG and SVG files which are resizable and compatible with Cricut and all other cutting machines.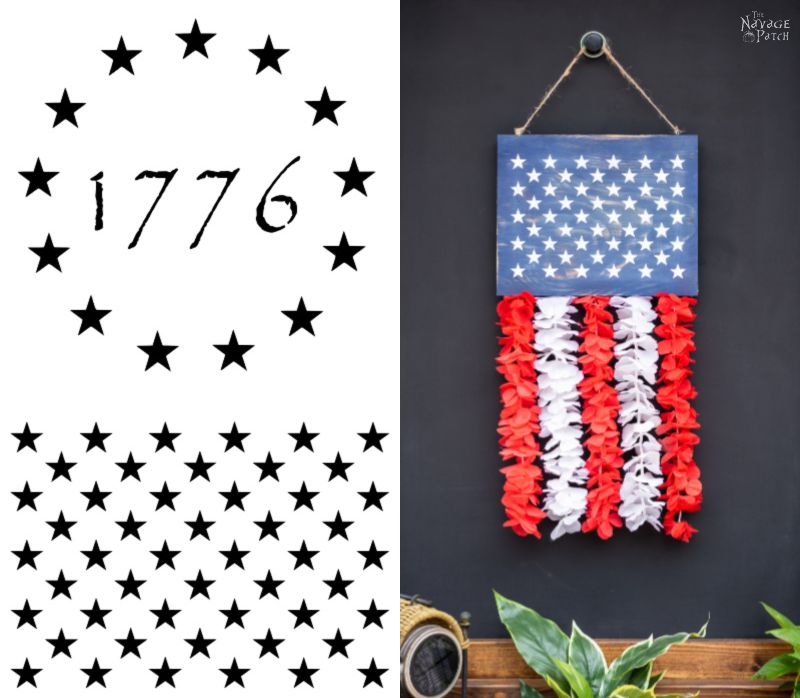 Now click on the button below to download the SVG files (stencil designs) for the DIY Patriotic Door Hanger – they are all in the "4th of July" and the "SVGs – Stencils" section of The VIP Patch.
If you're not a Navage Patch VIP, you won't be able to access our Freebies Library. But that can be easily fixed! Subscribe for free on the form below and become a Navage Patch VIP. Once you subscribe, a password will be sent to you in our Welcome email, and that will give you access to The VIP Patch [Freebies Library]. If you didn't receive our Welcome email, can't find the password or have any other questions on this process or on our free printables, please check our Printables FAQ page.
If you display our free printables in your home, be sure to take a picture and post it on Instagram! Don't forget to tag us @TheNavagePatch! We love to see our printables out in the wild!
We love it when you share our posts on Facebook and Pinterest!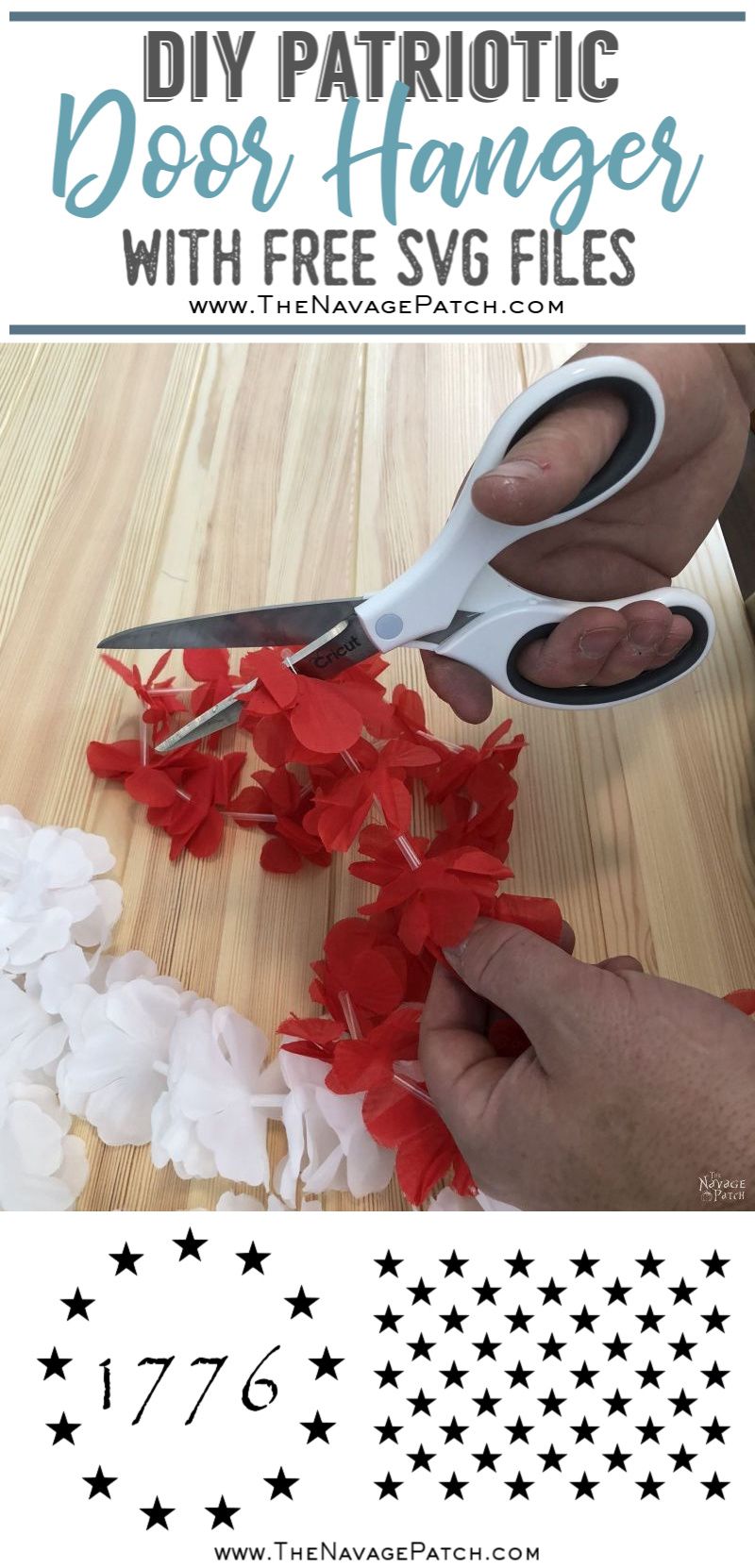 Love free SVGs? Then check out our guide on Where to Find the BEST Free SVG Files!