After years of neglect, it's time for a Craft Room Makeover! Let's look at some craft room ideas and come up with a plan!
We have a room you don't know about. In fact, we have two, but today I'll be showing you one.
When we first moved in, it began its life as a guest bedroom. But we also had a guest bedroom upstairs (that's the other one you don't know about yet).
Did we really need two?
Guests weren't exactly beating a path to our door here in bustling Glastonbury, CT!
So we made the decision one day in 2014 to move the bed upstairs, thus doubling the sleeping capacity of guest bedroom #2 (now just "guest bedroom.")
The Room Formerly Known as Guest Bedroom #1 became Handan's craft room.
Surely it would be enough to fit all of her crafting supplies, right?
Right?
Well, I mean, maybe for a little while…
But as every crafter comes to understand in time, crafting supplies rule the crafter, not the other way around.
After a few years, the crafting room became unnavigable. I give huge props to my babes though. Despite the lack of safe passage and secure footing around the room, she still knew where each and every little supply was tucked, hidden and buried.
The time has come for a change.
But not just for this craft room!
This craft room makeover will permanently alter two rooms!
No only will this craft room get a makeover, but we will be moving my office from the front room of the house back to the craft room. It will mean a downsize for me, but that's no problem at all!
We'll not only have a beautiful new craft room/writing room, but soon we'll have a living/sitting room where my current office is!
Craft Room Makeover – Before
Here's a peek at the room just before we started clearing it out for this makeover. Mind you – TWO hutches had already been removed and sold before this picture was taken, so try to add them in to your mental image.
That mountain in the middle was once a crafting desk. Now I find spiders with wee oxygen masks planting flags on its summit.
Okay, now this is a little bit of bullsnot. That empty floor you see there had been cleaned before I had a chance to take these pics. Before embarking on this makeover, I made my way around the room, just checking things out, and I had to clear a path for myself.
I assure you, that path was not there before!
There used to be shelves on that wall that were secretly removed before I had a chance to take these pics! Hmmmm, I wonder what's in that closet??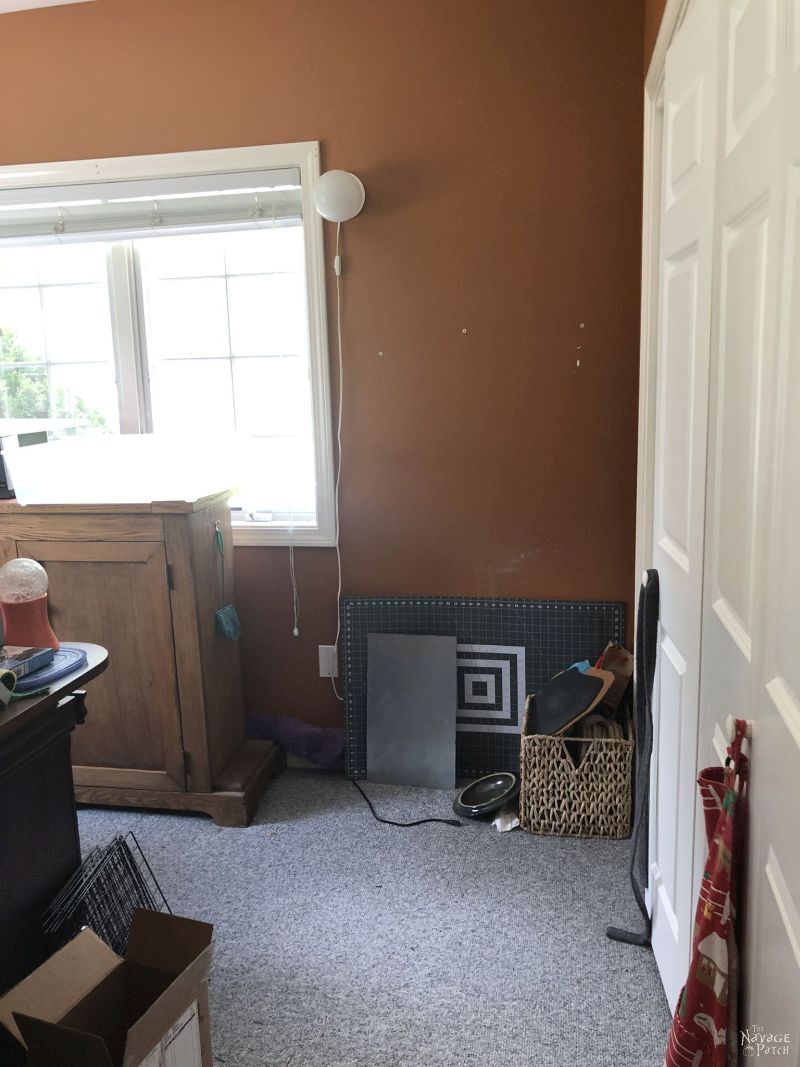 There once stood another larger hutch next to this one that was filled with craft paint!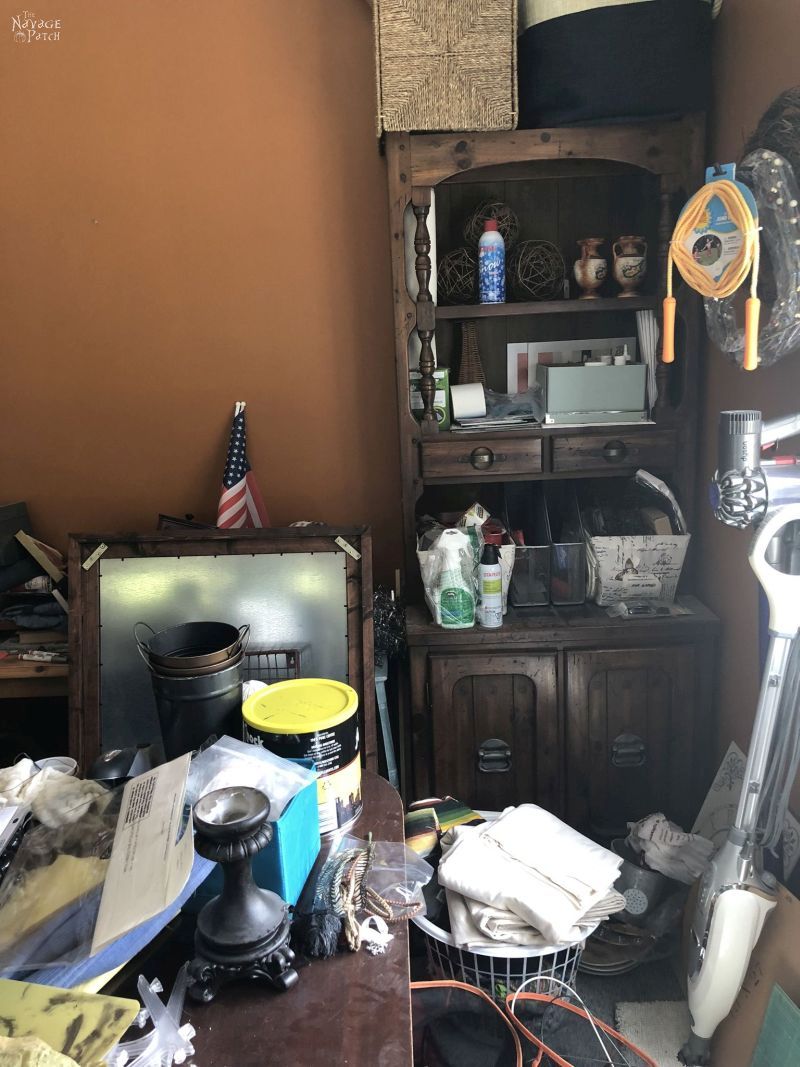 And back to the closet. I wonder what mysteries lie behind those bi-folds?
Let's have a look!
Oh, and look! It's an incredibly rare specimen! That little side table with the sewing machine on top is the very first DIY/makeover project I ever did!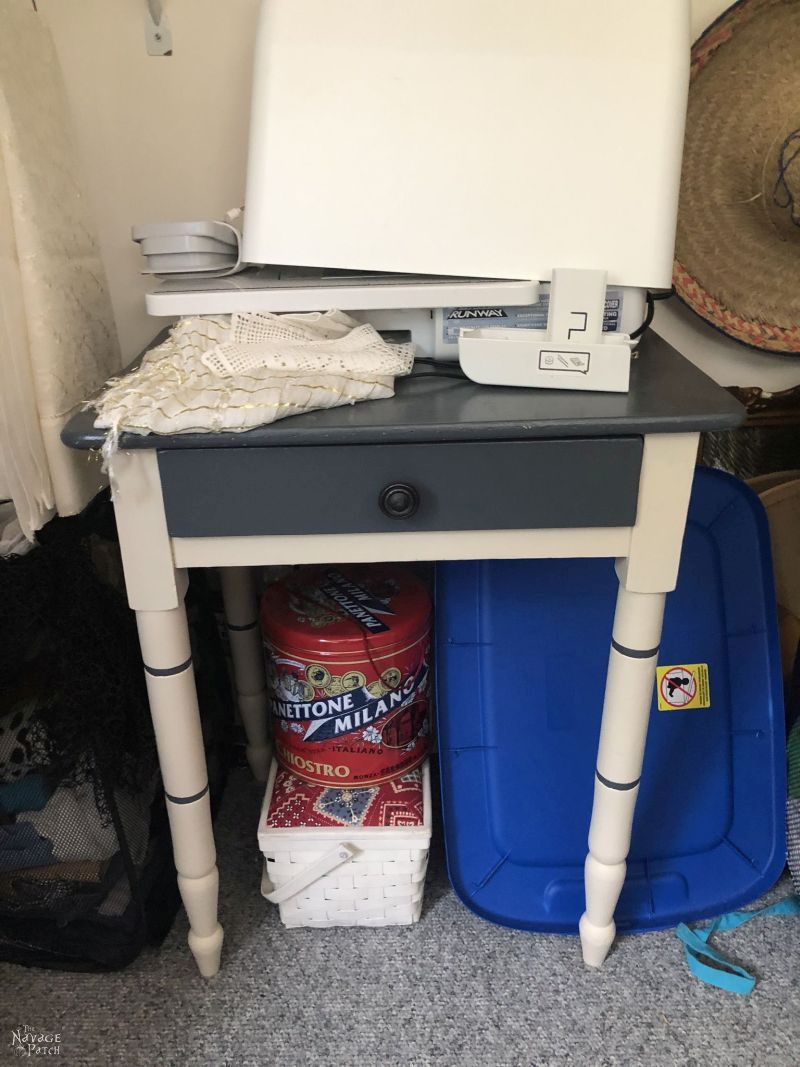 Handan and I bought that table (and 3 others + a trunk) at an estate sale back in the summer of 2013. That September (or early October), I went to the hardware store and bought a few quarts of Benjamin Moore paint. I painted two of the tables that day – for one of them, I even rebuilt the top from a new piece of wood.
Wow, I remember the feeling when I finished.
I remember the awe.
Paint was power.
With it, I could brush beauty across the face of neglect.
I thought it would always be as easy as a coat of paint.
LOL! I was a naive child!
Still, we'd need the healing touch of paint in every corner of this craft room!
Craft Room Ideas
Okay, you've seen the mess that is our "craft room." Now let's take a look at what we plan to do.
As always, my babes fired up her Pinterest machine and started hunting for craft room ideas.
Things were going well at first. The Pinterest machine was running smoothly, and the road was clear.
But then?
A bump in the road.
She slammed headlong into this website:
Imagine standing in your messy bedroom surrounded by old and rumpled clothes. You ponder which pair of pants you're going to try to pour your thighs into as you look in the mirror and wonder if your face can support the sheer volume of makeup needed to alter it into something you're willing to wear out in public.
Just then, a voluptuous Brazilian supermodel sashays into room, circles twice around you and then exits, leaving the scent of some exotic perfume hanging in the air.
"Welp, that settles it!" You say to no one in particular as you hurl your pants across the room, turn the mirror face-down and climb back into bed.
That's how we felt after discovering Micaela Ferraro's craft room while searching for craft room ideas.
Go ahead. Go take the Virtual Tour of "The Mother of all Craft Rooms." You didn't want to feel adequate today, did you? Go on. I'll wait.
See what I mean? Oh, I'm sure there are some who may find it inspiring. And don't get me wrong! We're in love with that room! But seriously, it's like Donald Duck trying to follow Luciano Pavarotti in a singing contest.
Anyway, now that we knew what our room couldn't be, it was time to figure out what it could be.
Craft Room Makeover Plan
Walls, Floor and Ceiling
For starters, those hideous walls need to be repaired and painted (I chose that paint color back in 2013. It is one of my greatest shames.)
And that gray carpet has to go. We couldn't do it upstairs when we gave Barish's room a makeover, but we can do it now. We've decided to go with a Pergo laminate floor.
We looked at several types of flooring and a ton of colors and settled on Pergo Timbercraft Crestridge Hickory. It looks awesome, and the price is right for our budget!
For the walls, we're going to stick with what has been working great for us lately: Behr's Bit of Sugar. It's the perfect white for walls.
And for the first time, I'll be painting a ceiling! There's no way we can avoid it – it has yellowed around the edges and especially in the corners. Once the walls are white, that ceiling will stick out like a bloody thumb if we don't paint it.
Windows
We won't be changing the trim to Craftsman style in this room. Instead, we'll paint the trim to brighten it up, and then we'll hang curtains to add depth and character to the windows.
Those two windows face south(ish) and west(ish), so this room gets a ton of natural light. It's going to be an amazing room for crafting and taking pictures of our smaller projects!
Craft Room Requirements
Computer desk
Craft table for the center of the room
Printer stand/cabinet (for 3 printers and printer supplies)
A table for the Cricut and storage for Cricut supplies
Computer Desk
We haven't decided on this one yet, but one thing is for certain: my current desk is waaaayyyy too big to fit into the craft room, so we'll need to sell it. We'll use the proceeds from that desk to buy or DIY a new desk. Most likely it'll be some combination of the two!
Craft Table Ideas
We want a wood-topped crafting table so it would look good in our process pictures and videos. We don't want a table that's too bulky, nor do I want anything too feminine-looking.
Hey, I love crafting, ladies, but I gotta draw the line when it comes to hot pink glitter and fuchsia and bright turquoise furniture.
(You run in crafting circles. You know what I'm talking about!)
We love the look of the one below, but it's over $1000, so there's no way we could afford it unless I start selling body parts. It's tempting, but I don't think these parts would fetch what they once might have, so I wouldn't have much left when it's all said and done, lol!
Anyway, even if we could afford it, this table is too beautiful to ruin as a craft table and too expensive to use as a desk!
After a little search, we Handan found this one from Joss & Main. It's more affordable (and it has two drawers!), but it's still too expensive to use as a craft table.
Most likely we'll go with this IKEA Kullaberg desk. It has a similar look and it's perfect for our needs and our wallet.
Printer Stand/cabinet
We have three printers (don't judge!) and they're all different shapes and sizes, so we'll have to design something custom to fit them all. Whatever we design will have to blend with the rest of the room decor, which is shaping up to be lighter wood tones and metal.
Handan loves this West Elm industrial bookcase, as it could serve as a printer stand and offer some additional storage space.
Unfortunately, we don't have the budget to buy two of these (one on either side of the window), but we can certainly DIY something similar and better!
Cricut table and storage space for Cricut supplies
We're anticipating many more Cricut projects ahead, thus our Cricut Maker and EasyPress 2 deserve their own table.
Handan has already designed something for our Cricuts. She assures me it's going to be an easy project.
"Easy" for and engineer and "easy" for me are usually two wildly different things, but we'll see.
Let's just hope the usual trend of my DIY projects won't apply to this one!
Craft Room Makeover – Beginning the Work
It all started with the worst job of all: clearing the room. Barish and I spent a full day ferrying all the crap in that room to the basement, where Handan valiantly tried to find a place for it.
As dusk approached, there were just a few odds and ends left.
And my babes is so happy we're finally underway!
Here is our craft room – emptied of junk but full of promise.
The closet is still full. I'll tackle that soon.
After clearing the last remnants, I repaired the walls.
The next step will be to remove the carpet and baseboard and then paint the walls and ceiling. After that, we'll install the new floor!
Craft Room Makeover Checklist
So what do you think? Do you like the plan so far? We'd love to hear your thoughts!
We love it when you share our posts on Facebook and Pinterest!