DIY Rustic Console Table (& Free Plans!)
This DIY Rustic Console Table is easy to build with our free plans, and it looks fantastic! A little rustic, a little industrial and all beauty!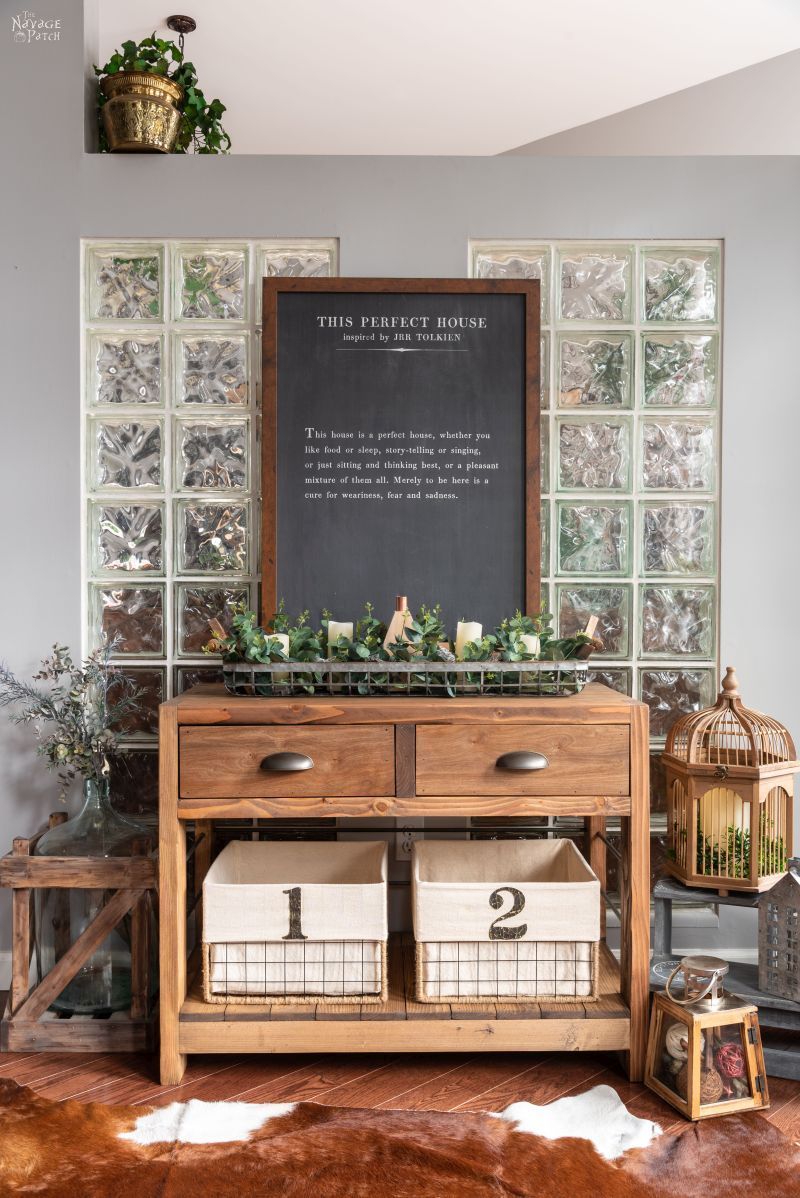 This project was born the moment we brought three little gerbils home from the pet store and placed them in a glass terrarium. Within a month, three had become nine thanks to a randy male gerbil at the pet store who had his way with one of our females just before we bought them.
You can read all about our furry little tribe here, or better yet, just watch the video below.
When three had become nine, we bought another terrarium to accommodate our bigger family. All that glass took up a whole lot of real estate, and we didn't have a proper place to put them, so they lived temporarily on top of my grandmother's old harvest table. But their food and supplies littered the floor around the table, and the whole area was a hot mess.
Handan wasn't having it.
She had a better plan.
And as is (almost) always the case, the plan involved me, a bunch of lumber and some power tools.
Look, I'm not complaining here. Power tools and sawdust are a refreshing change from loop yarn and embroidery hoops!
I'm man enough to embrace my inner Gertrude from time to time, but my inner Paul Bunyan needs time in the sun, too!
So, Handan had a plan. She wanted me to make two identical rustic console tables.
No, scratch that. She changed her mind.
She wanted me to make two identical industrial console tables.
No, wait.
"Hey babes, maybe you should make them…" She started, but I knew where this was going.
"No! I already made a farmhouse console table! You see any pigs and chickens around here?" I said.
Farmhouse shmarmhouse.
"You want rustic? You want industrial? I'll give you both at once! I'll build you the best damn DIY rustic-industrial console tables your Turkish eyes have ever seen!" I said, without the first foggiest idea what the hell I was talking about. I've become somewhat of a master at talking out of my butt.
Handan just smiled, apparently satisfied with my bold proclamation.
Now I had to follow through.
Crap.
I ran to my computer and opened Sketchup. I'm not an artist nor a designer nor an architect. Without Sketchup, I'd be lost.
I banged around for an afternoon and came up with a design I thought would work pretty well.
I'd make it from Home Depot lumber, so that would satisfy the "rustic" in DIY rustic console table.
And I'd add those snappy steel rods, and that would satisfy the "industrial" in DIY industrial console table.
There'd be plenty of storage below for all the gerbil-related paraphernalia plus drawers for little stuff. Handan had already earmarked two drawers for battery storage.
Let's take a look at how it's made.
DIY Rustic Console Table
A note about the pine lumber I used. We all know that a 2 x 4 board has actual dimensions of 1.5 inches (thickness) x 3.5 inches (width). However, with lumber from Home Depot or Lowe's, there can be variations of up to 1/4 inch on the width. Also, the boards are heavily rounded on their edges. I wanted my boards to have exact dimensions and be square, not rounded. So if my design called for a piece of 2 x 4, I bought a 2 x 6 (which is actually 1.5 inches x 5.5 inches) and trimmed it down to 1.5 x 3.5. This cost me a little more, but it was well worth it in the end. In the supply list, I will list the dimensions of the wood as bought and trimmed. If you want to make this DIY industrial console table, you are free to use the rounded lumber as sold – just factor in the smaller size – or you may buy the boards as listed and trim them down. Your choice. The exception to this were the boards I used for the shelf. They are 1 x 4 pine boards (actual dimensions are 3/4 inch x 3 1/2 inches), and I used them as is.
Materials and Cut Sheet
(1) 2 x 10 x 8 pine board – trim to 7 1/4 inches wide and cut into (1) 35 inch piece with three pocket holes drilled into one side of each end and (2) 12 1/2 inch pieces with three pocket holes drilled into one side of each end
With the leftover from the board above – trim width to 5 3/4 inches and cut (1) 18 inch piece with two pocket holes drilled into one side of one end
(3) 2 x 6 x 8 pine board – trim to 3 1/2 inches wide and cut into (4) 29 1/2 inch pieces and (3) 35 inch pieces with two pocket holes drilled into one side of each end
(5) 2 x 4 x 8 pine boards – trim to 2 1/2 inches and cut into (5) 38 inch pieces, (2) 35 inch pieces with two pocket holes drilled into one side of each end and (2) 12 1/2 inch pieces with two pocket holes drilled into one side of each end
(3) 1 x 4 x 8 pine boards – cut into (10) 19 1/2 inch pieces and (2) 12 1/2 inch x 1 1/2 inch pieces (you'll need to trim the width for those last two)
(1) sheet of 1/2 inch birch, poplar or maple plywood (good quality) – cut into (2) 16 1/2 inch x 5 1/2 inch pieces, (4) 16 1/2 inch x 5 1/4 inch pieces, (2) 15 1/2 inch x 5 1/4 inch pieces, and (2) 16 1/2 inch x 14 1/2 inch pieces
(4) 3/8 inch diameter x 4-foot-long steel dowel – cut into (2) 35 3/4 inch pieces and (4) 13 1/4 inch pieces
Kreg Jig and screws
(2) drawer pulls of your choice
Wood stain of your choice (I used Minwax Special Walnut)
Wipe on polyurethane (I used satin finish)
Drill
DIY Console Table Plans and Build
Let's start with some dimensions.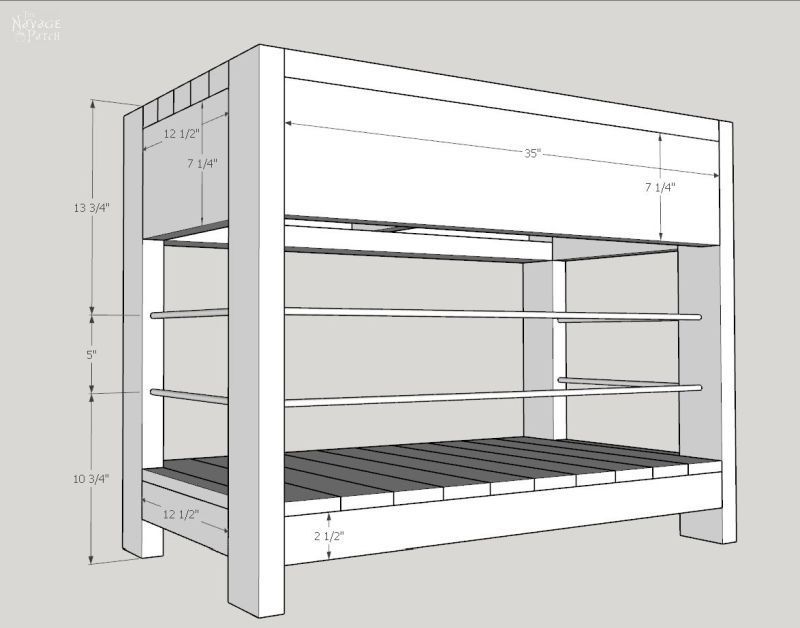 This is exciting isn't it?
It's like reading actuarial tables…
Oooh, look at all those fractions!
Well, that's a fine-looking bottom you have there!
Step 1 – Drill Pocket Holes
Using a Kreg Jig, I drilled pocket holes as listed in the cut sheet above. I didn't take pictures because drilling pocket holes is mind-numbing work that's best done while daydreaming of Bora Bora.1
1Don't daydream while woodworking. You'll hurt yourself or shoot your eye out or lose a finger!
Step 2 – Drill Dowel Holes
Using a 3/8 inch Forstner bit (though any 3/8 inch bit would work), I drilled dowel holes in the four leg pieces (3 1/2 x 29 1/2) as shown in the second dimension picture above to a depth of 1/2 inch.
Step 3 – Insert dowels into legs
I stood the four legs on the table and first inserted the short dowels.
With Handan's help, I inserted the long dowels. I built one of these tables totally alone, so it is possible, but you can expect a lot of dropped dowels, angry muttering and swearing like a sailor.
This gets us here:
Step 4 – Attach Shelf Support Rails
The shelf support rails are the (2) 2 1/2 x 35 inch pieces and (2) 2 1/2 x 12 1/2 inch pieces. I made two 2 1/2 inch spacer blocks since the shelf support rails sit 2 1/2 inches up from the floor.
Jeezum Crow, I just read the paragraph above and nearly barfed a "2." If you can follow those 2 sentences, then you're too smart to do any less than 2 things at once. Touché!
I lined up the shelf support rails one at a time, clamped them in place and then secured them with pocket screws.
The clamps were Handan's idea. I built the first one alone and without them. Seriously, how did I survive without this woman?
Answer: barely.
I've spared you the pain and suffering of looking at my face with a well-placed piece of pine. You're welcome.
This gets us here: it's starting to look like a playpen!
Oh, wait. That's not what I'm building…
Step 5 – Attach Top Support Rails
I flipped the unit over to attach the top support rails.
I attached (2) 3 1/2 inch x 35 inch pieces to the front and back of the console. As with the shelf support rails, I used clamps to secure the piece before inserting the pocket screws.
This gets us here:
Step 6 – Add Side Panels
I next attached the two 12 1/2 inch x 7 1/4 inch side panels with pocket screws. I first laid down two 2 1/2 x 38 inch pieces underneath the side panels to raise them up 1 1/2 inches, and then I used two clamps to keep the piece firmly in place while securing it with pocket screws.
This gets us here:
Step 7 – Add Back Panel
I attached the back panel in the same manner as the side panels. My measurements and cuts were precise, but I needed a rubber mallet to get the back panel seated nicely.
Everything's better after a wicked beating by a rubber mallet.
Though it was a snug fit, I still clamped the piece before attaching it with pocket screws. Why? Because I tried to take a shortcut by not clamping it, and the stupid piece moved. I should point out that by not clamping it, I was going against the advice of my wife. There's a lesson in there somewhere.
This gets us here:
Step 8 – Add Center Drawer Divider
Before installing the 5 3/4 inch x 18 inch center drawer divider, I first marked the midpoint on the back panel and on the bottom of the front top support rail. Since the divider is 1 1/2 inches thick, I then marked 3/4 inch to the left and right of my center marks.
I placed the center drawer divider in between the lines, clamped it in place and secured it with pocket screws.
This gets us here:
Step 9 – Add Bottom Drawer Frame
I laid the last 3 1/2 inch x 35 inch piece on the center drawer support and lined up all the edges. I then clamped it in place and secured the ends with pocket screws.
I also drove two standard wood screws (countersunk) through the middle of the bottom drawer frame and into the center drawer divider.
This gets us here:
Step 10 – Install Drawer Slides
I installed the four drawer slides. Please note: it has since been brought to my attention that not all drawer slides are created equal – meaning that some brands are thicker than others. I have based all of my measurements off of the ones I used. They are linked in the materials list, and I will link to them again here. If you plan to use slides by a different brand, you may need to alter the plans accordingly. First I situated them 5/8 inch back from the front of the drawer frame. That's 1/2 inch for the thickness of the plywood drawer face plus 1/8 inch for the drawer slide piece that attaches to the drawer.
I used to be terrified of installing drawer slides. Now I eat them for breakfast.
I used a punch to mark the screw holes.
And then I screwed the slides in place.
Step 11 – Add the Shelf
I flipped my DIY rustic console table back over so it stood right-side up.
I then laid the 3/4 inch thick shelf pieces on the shelf support rails and secured them with brad nails.
This gets us here:
Step 12 – Add Top
I laid the top boards, aligned them and secured them with brad nails on both ends and in the center. I didn't want to use glue in case I ever want or need to replace them.
This gets us here. Those colors are hot! Maybe I should have painted the thing!
Step 13 – Assemble Drawers for the DIY Rustic Console Table
Using glue and brad nails, I built the drawers.
I attached a side to the bottom as shown below.
I then attached the other side.
Then I attached the back.
At this point, I attached the drawer slides to the drawers so I could slide them into their places to make sure everything was lined up and installed correctly before attaching the drawer front. I know it's hard to believe, but I've been known to make a mistake or two.
Sometimes they go unnoticed until almost the end of the project, and then I realize I've wasted days of my life and I have to go back a dozen steps because of some stupid mis-measurement.
What's that? It's not hard to believe? Well, thanks for the vote of confidence!
Yeesh, tough crowd!
Since the drawer face is wider than the drawer width, I measured to get it placed with equal overhang to each side.
And this was the point where Handan saw fit to take a picture of my bedhead and call me a cockatiel.
Is there a resemblance? You decide.
With the drawers built, I was here:
And with the drawers installed:
Step 14 – Pre-Stain, Stain and Seal
I had a lot of different wood going on here – a couple different colors of pine and some birch plywood. Getting it all stained properly would be a problem. If I just threw some stain at it and called it a day, it would look like a blotchy mess. A pre-stain conditioner was a must. I normally use Varathane Pre-Stain Conditioner, but I had recently bought a new product I used on an antique school desk I was restoring for a friend. The wood used for that desk was so prone to blotching when stained that even Varathane's pre-stain did nothing. I scoured the web for another alternative and found the answer to my prayers from Marc Spagnuolo over at The Wood Whisperer. He had been contacted by a veteran woodworker name Charles Neil who had developed a product he swore was better than any other pre-stain conditioner out there. Marc was dubious but gave it a shot. Long story short – he was floored by how well it worked.
That was good enough for me. I've come to trust Marc, so if he says this stuff is the best, you can bet your butt it is. I hopped over to Charles Neil's website and ordered some for myself. It was pricey for the amount, but if it worked, it would be worth it.
Spoiler alert – it worked a miracle on that old desk.
I applied the conditioner all over my two DIY industrial console tables, wiped off the excess and then let them sit overnight.
The next day, I stained them with Minwax Special Walnut – easily the brightest star in the Minwax universe.
When the stain had dried for a couple of days, I applied four coats of satin wipe-on polyurethane.
Step 15 – Install Drawer Pulls
The last step was to install drawer pulls, and then my DIY console tables were finished and ready for action.
Though I made two industrial console tables to hold our precious little jerkballs gerbils, we first brought one upstairs and staged it all nice and pretty for you. Why? Because bloggers are full of baloney! Never forget that! If you need a refresher course on how full of crap we all are, check out a behind the scenes look at The Navage Patch.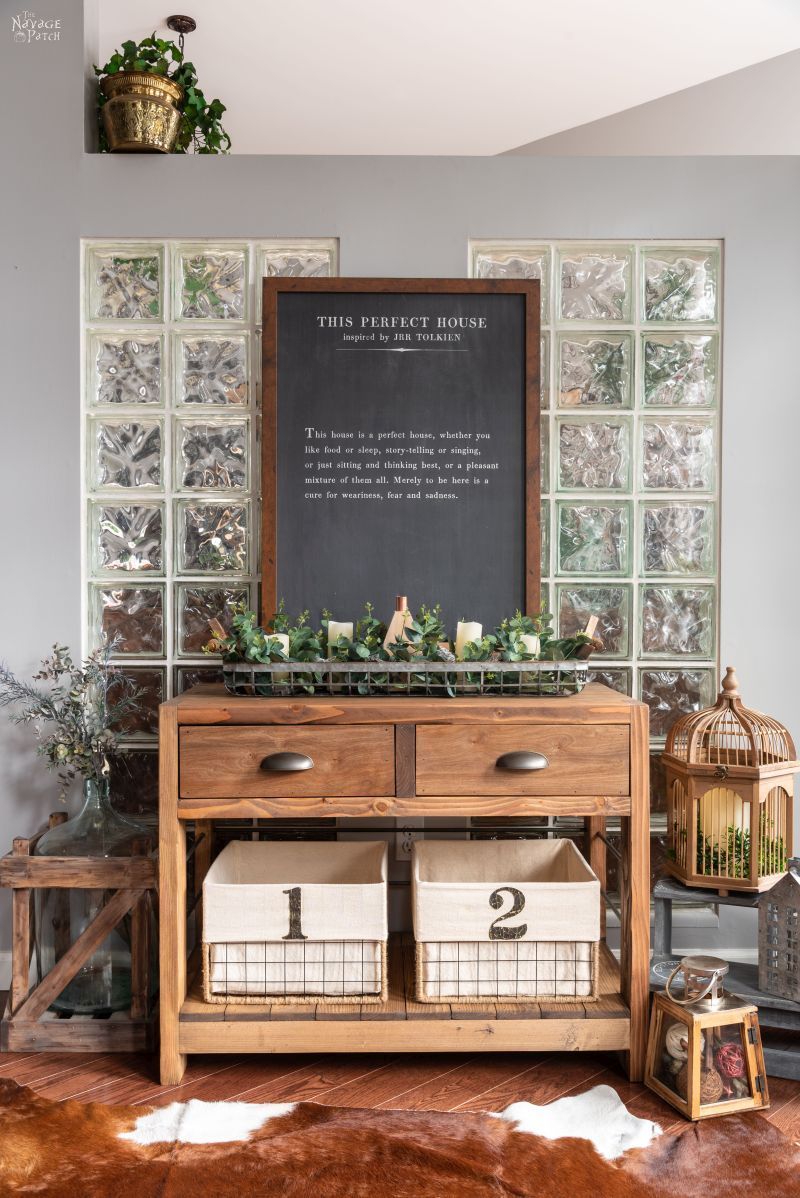 Okay, now that you've ogled the phony-baloney photos, let's have a gander at the reality.
Oh, and here's the battery drawer. Pretty neat, huh? Spotty keeps watch over the stash and demands payment in sunflower seeds for each battery taken.
We love it when you share our posts on Facebook and Pinterest!