DIY Rae Dunn Inspired Ornaments (& free SVGs)
Make your own Rae Dunn Ornaments and get the look for less! Our collection of free SVGs are perfect for ornaments, mugs, shirts and more!
Handan and I try to walk every afternoon. It's a great opportunity to get out of the house, stretch our old bones and breathe in some fresh air. Over the course of 4 miles, we mostly talk about the blog and the projects we'd like to tackle in the coming weeks.
Now, by "we," I of course mean, "Handan."
She talks.
I listen.
We plan.
So the other day, as we walked down a dappled, leaf-strewn path through a copse of maple and hickory in Sims Lake Park, Handan told me she wanted me to make radon ornaments.
(wait, what?)
As is my custom when she's in a gibbering state, I just nodded my head and made my obligatory "Mmm hmm."
But deep within my cranial custard, an alarm sounded.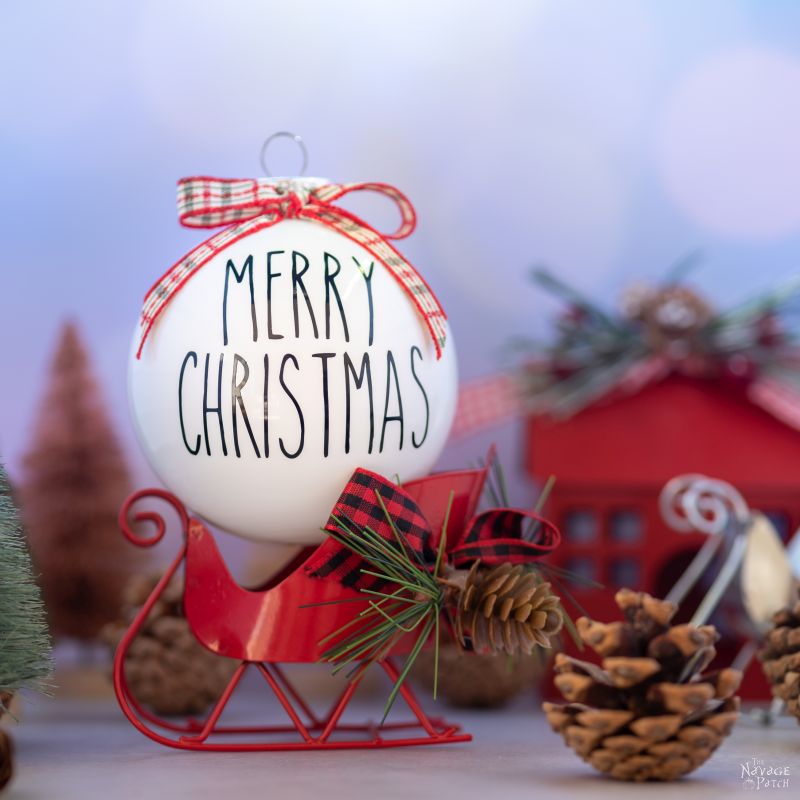 She carried on with her babbling, and there it was again!
"Radon ornaments."
The klaxons intensified as visions of some post-apocalyptic Christmas tree danced through my head, its ornaments emblazoned with the yellow and black radiation trefoil.
I felt my standard nod and "Mmm hmm" wasn't going to cut it this time.
The Loon was talking about a nuclear Christmas tree!
We just paid to have a radon system installed to get rid of the radioactive gas, and now this curly-haired cuckoo wanted me to craft with it?
I tried to understand how that would even be possible.
Did they sell radon canisters? If so, where?
Did she want me to fill up glass ornaments with the deadly gas? If so, to what purpose?
Was she finally trying to get rid of me once and for all under the guise of "crafting?" If so, why?
Without me, there would be no more Dirty Buffalo Wings – her favorite!
I squinted and shot her the Side Eye, as her mad ramblings continued unabated.
I could hold myself no longer.
"My babes!" I said, stopping in my tracks. "What the hell is a radon ornament?"
She paused and stared at me.
"Not "radon," you silly bugger!" she said. "Rae. Dunn."
And then she spent the next ten minutes regaling me with the tale of some woman named Rae Dunn who apparently makes pottery and has good handwriting or something and how the entire Internet of Women went googoo bananas over her handwriting and now it's a super-popular font that everyone uses for everything.
I listened in silence and recalled the days when I used to be cool and play guitar in a rock 'n' roll band.
"So," she finished, "You'll be making some Rae Dunn ornaments with your Joy and adhesive vinyl."
I waited for the two words I needed to hear.
"It's easy, my babes." she said.
I smiled and nodded. "Mmm hmm," I said and settled into the rest of our walk.
DIY Rae Dunn Ornaments
SUPPLIES LIST
Affiliate links are provided below. Full disclosure here.
How to make Rae Dunn Inspired Ornaments
With the words loaded into Design Space and Smart Vinyl at the ready, I let my Cricut Joy do the cutting. Why is it called "Smart Vinyl?" Because it doesn't need a mat! How about that? It's one of Joy's little perks that I really love.
Oh, and because this is adhesive vinyl and not Infusible Ink, there's no need to reverse the image.
When Joy had finished her business, I cut off the piece she had chewed.
Ahhh, compared to Infusible Ink, this permanent vinyl is such a joy to weed (no pun intended)!
I then cut out each individual word.
You're going to need StrongGrip transfer tape for the permanent vinyl. Don't' even bother trying the regular stuff. You may as well try to peel a potato with Scotch Tape.
Even the strong transfer tape can take a little cajoling to get everything off the backing. Bending the carrier sheet back helps move things along.
Here and there, I used a blade tip to release the vinyl from its backing.
Once I had the vinyl transferred, I cut slightly up between each letter. This would make it easier to apply to the spherical ornaments.
I did this on the top and bottom.
You can see the cuts in the image below.
I found it was easier to put the ornament on something soft, like a towel, to keep it in place while I worked.
I started by pressing the center of the word, and then I worked outward.
I carefully peeled the transfer tape. It is strong enough to not want to give up the design in some spots. You just have to work slowly when removing.
I ran my fingernail over all the letters to make sure they were well-adhered.
Sometimes the vinyl would pull up with the transfer tape. It was easy enough to hold it in place with tweezers when this happened.
My babes wanted me to put little ribbon bows on these Rae Dunn ornaments. Of course, that required Yours Craftily here to learn how to tie such dinky little things. Surely such delicate work cannot be accomplished with Hobbit hands like mine.
Fortunately, there is a way to tie the daintiest of bows regardless of how ham-handed you are.
Click on the video below to learn the Secrets of the Small Bow!
A dab of hot glue…
…Press it into place, and Bob's your uncle. A quick and easy DIY – my favorite!
And here are the rest I made, but we've got plenty more for you in The VIP Patch!
I wish I could have had our tree up and ready in time for these Rae Dunn ornaments, but alas, I'm in the middle of painting the living room, so the tree will have to wait until after Halloween!
FREE Rae Dunn Inspired SVG Files
We created today's FREE Rae Dunn Inspired SVG designs as JPG, PNG and SVG files which are resizable and compatible with Cricut and all other cutting machines.
Now go ahead and click on the button below to download today's freebies – they are all in the "Christmas" and "SVGs – Stencils" section of The VIP Patch.
take me to your
amazing freebies library
If you're not a Navage Patch VIP, you won't be able to access our Freebies Library. But that can be easily fixed! Subscribe for free on the form below and become a Navage Patch VIP. Once you subscribe, a password will be sent to you in our Welcome email, and that will give you access to The VIP Patch [Freebies Library].
Get free access to our incredible library of
Free Printables and SVGs
We love it when you share our posts on Pinterest!