DIY Gnome Scarecrow Wreath
This gnome scarecrow wreath wants nothing more than to hang out on your door and look adorable this fall, and he only costs about $10 to make!
After our recent fall gnome wreath post, we had a few people ask us about making a scarecrow wreath. As luck would have it, we were already planning to make one – just not in the way they may have been expecting. Handan is still steaming full speed ahead on the Gnometown Express, so of course the scarecrow wreath she had in mind would have a big round nose and a hat pulled over his eyes. If you can dream it, my babes can gnomeify it.
Now, as far as wreaths go, this one isn't the traditional shape. But it doesn't have to be, does it? Not in America! Reader and commenter extraordinaire Jay from Australia recently observed:
I've learned several things about you Yanks over the years…and one is how much y'all LOVE a wreath. Christmas, fall, Easter, summer, 4th of July, ALL wreathable. And I've learned so much about wreaths, like, how they don't have to be wreath-shaped! That was the biggest shocker to me. You still call these wreaths? Imagine!
Jay from Australia
How right he is! Not only do we have a thriving and vibrant wreath culture unrivaled by any other country on earth, but we also have the absolute and unalienable freedom to hang whatever we damn well please on our doors and call it a wreath!
I was going to make a joke about hanging underwear on your door and calling it a wreath. But this is America, so of course it's already been done. Apparently panty wreaths are a thing, though you may not find them on too many front doors.
Anyway, our gnome scarecrow wreath is entirely wholesome, and suitable for hanging on any door. So let's jump right in and see how you can make this fun little guy for your door this fall. He's super easy to make and will only cost about $10 to make!
Our original plan was to make this gnome scarecrow wreath on a Dollar Tree tinsel hat frame as we did for the fall gnome wreath. Handan and I have been searching Dollar Trees all over Florida (literally from the panhandle to Miami) since the beginning of July, but we've yet to find a witch tinsel hat in stock. So instead of waiting, we made our scarecrow wreath with Dollar Tree foam board. This wreath can be made on foam board, cardboard (not waterproof, so hang accordingly), Styrofoam, wood or any Dollar Tree tinsel hat you may have on hand or find in stores.
Gnome Scarecrow wreath SUPPLIES LIST
Affiliate links are provided below. Full disclosure here.
Dollar Tree tinsel hat or foam board
Dinner plate (if using foam board)
2 child raffia hula skirts ($2 at Party City)
Fabric scrap (Dollar Tree)
2-inch split wood ball (can also use half ping pong ball)

Embellishment (we used a wood flower from Dollar Tree)

Small rubber band

Rough twine (optional)

X-Acto knife (if using foam board)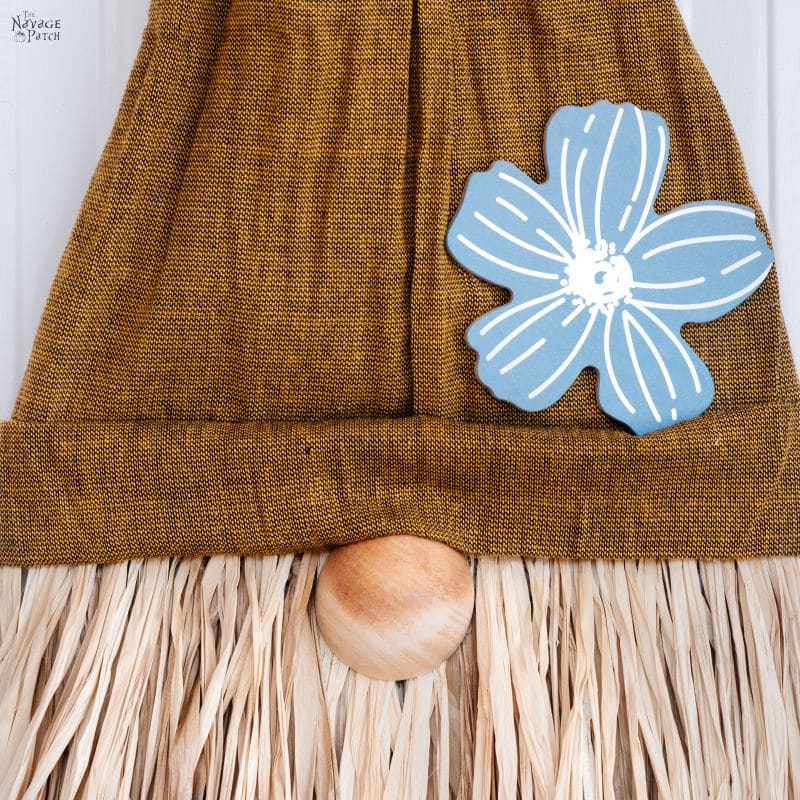 We love to see our craft projects out in the wild! If you try this seasonal craft project, take a picture and post it on Instagram, be sure to tag us @TheNavagePatch!
If you love gnomes as much as we do, be sure to check out our other gnome tutorials!
How to Make a Gnome Scarecrow Wreath
Step 1 – Cut the foam board
I centered a dinner plate on the foam board and then traced a near-half circle with a pencil.
Then I used a piece of cardboard as a straightedge to draw two lines on either side up to the top middle of the foam board.
I cut out the wreath form with an X-Acto knife.
The shape I was going for was like an ice cream cone, but not the good kind you'd get at Ben and Jerry's, where the ice cream is piled high.
Nah, I was after a shape like the scrawny kind of cone you'd get from a cut-rate Good Humor man – one measly scoop crammed deep into the cone so only part of it peeks above the rim. The kind of ice cream cone that demands to be bitten, not licked.
Step 2 – Ready the skirts
I used two of these hula skirts for this wreath. We found they looked better if we first crumpled them up after opening.
Step 3 – Make the beard
Starting at the bottom of the inverted one-scoop ice cream cone, I measured out a bit of skirt as shown below.
Then I cut the piece.
I ran a line of hot glue along the top…
…and then I pressed it into place.
I repeated those steps 4 more times, moving up a bit each time – that was enough fill the ice cream part of my ice cream cone.
Step 4 – Add a nose
I used a 2 inch split wood ball for the nose and attached it with hot glue.
Step 5 – Make a hat
You can use any fabric scrap you like for the hat. We found perfect candidates at Dollar Tree. Crafter's Square has all sorts of fabric scraps that are perfect for the job.
I folded the bottom edge of the fabric over on itself 3 times to form the brim of our gnome scarecrow's hat.
Then I ran a line of hot glue along the edge to secure the brim.
I placed the fabric onto the wreath form.
Then I glued the brim to the beard.
Next, I flipped the wreath over and glued the ends of the brim to the back of the foam board.
Without pulling too hard, I gathered the loose material up top and tied it off with a small rubber band.
Then I trimmed off some of the excess material.
In the back, I glued down the loose edges, but i didn't pull the fabric tight. We want the hat to be a little loose and baggy.
For an embellishment, I took a wood flower from this Dollar Tree wall decor.
As a final step, I covered the rubber band with a piece of rough twine.
I put some hot glue on the knot and then trimmed the ends.
And that's all there is to it!
This project was our first start-to-finish Covid craft. We're not letting anything stand in our way of fall and Halloween, lol! The making wasn't too bad, but hoooo-eeeee, the writing was tough! Covid and concentration mix like oil and water! 🤧🥱😂