Simple DIY Magnetic Poster Hangers (No Power Tools Needed!)
These Magnetic Poster Hangers are a simple DIY that will allow you to hang and swap your posters and printables with ease for under $3. No power tools required!
Let's face it, swapping framed pictures and posters is a royal pain in the rump.
By the time you take the frame down, disassemble it, swap the picture, reassemble the frame and then try to hang it straight again, you've sprouted 12 new gray hairs, missed dinner, and you've already grown tired of the new picture.
Take it from me, ladies. I know what I'm talking about here.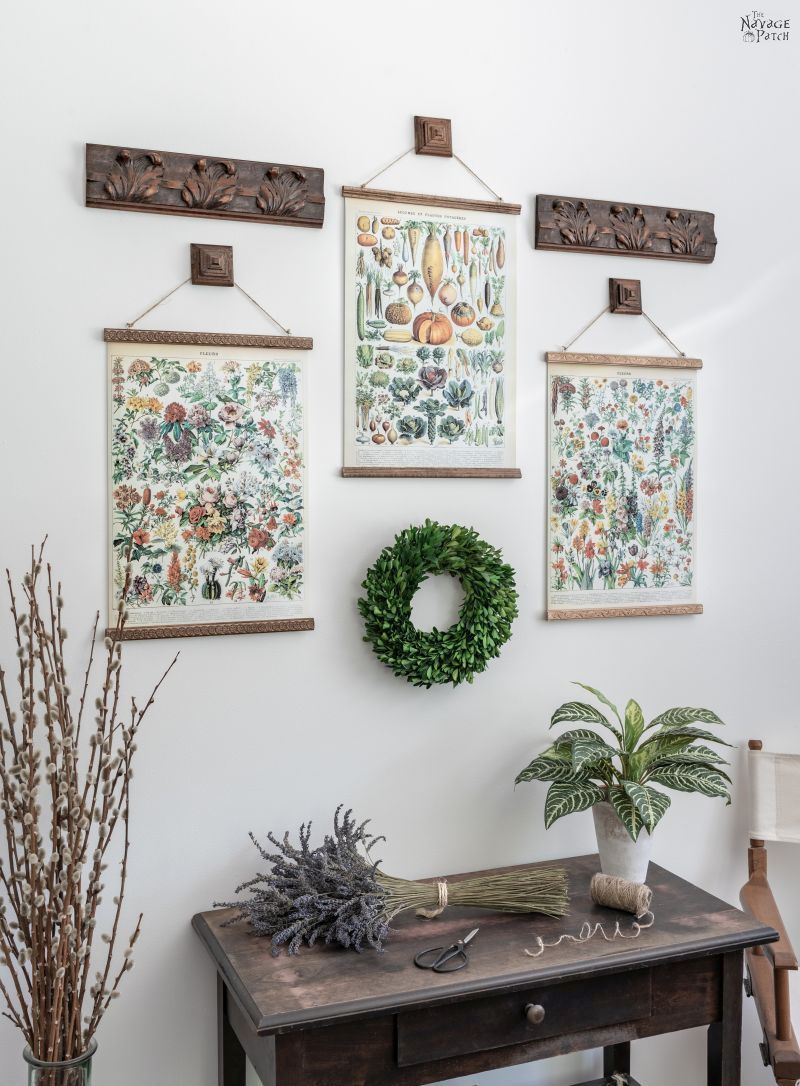 My wife is a remorseless and tireless printable printing machine.
She has no mercy for my picture-swapping blues.
She has no time for my sorry excuses.
There's a new printable waiting in the printer tray, and she wants it hung with the utmost speed and efficiency.
"But, my babes!" I say, in the throes of valiant protest. "Our frames are jerks!"
It is a well-reasoned and impeccably-voiced argument. Surely she can see that I am correct and that the frames are indeed jerks!
Instead of agreeing with my brilliant rebuttal, she unfurls her index finger and points at the wall.
"Awwww, man!" I say. "Nuts to this!"
Perhaps it is my wounded expression, or maybe it's my slumped shoulders, but a change comes over my babes.
"Wait." She says. "I'll show you an easier way."
And then she whispers in my ear and my eyes light up.
Simple DIY Magnetic Poster Hangers
Paint stir sticks and/or decorative trim – you can get the paint stir sticks from Lowe's or Home Depot for a dollar.
Magnetic tape – we bought ours at Michaels with a 40% off coupon. If you don't have Michaels near by, you can get a magnetic tape from Amazon.
Small eye bolts (optional)
Stain of your choice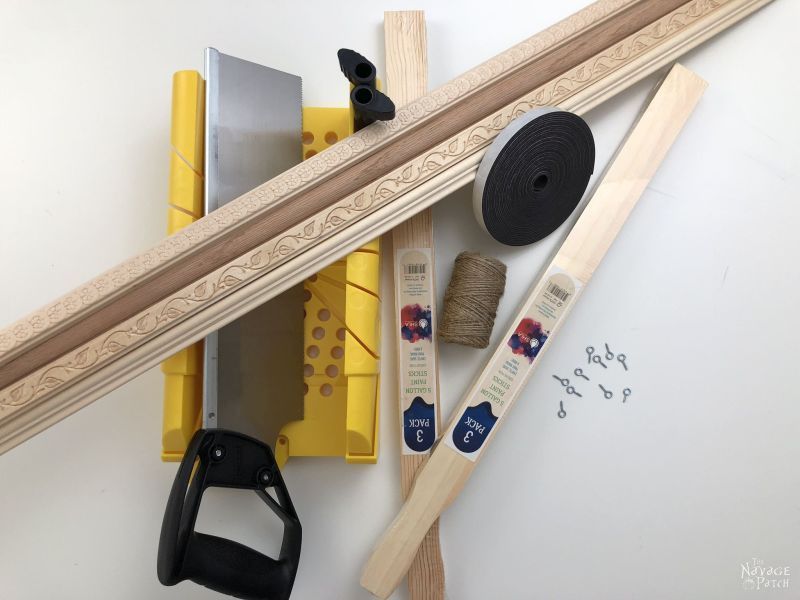 Video Tutorial
Simple DIY Magnetic Poster Hangers Tutorial
These magnetic poster hangers are cinch to make, and anyone can do it, since they're made without power tools.
We know that many of you don't have a powered miter saw, so we picked up a very inexpensive one to keep in the new craft room for small crafts like this one. It saves me having to run to the dungeon every time I need to make a simple cut.
We made magnetic poster hangers from 4 types of decorative trim that we bought from Home Depot. We also bought some extra large paint sticks from Lowe's for a dollar – they're ruled on one side, so cutting them is a breeze!
Step 1 – Cut the pieces for the magnetic poster hanger
To cut the frame pieces to length, I first measured 13 inches. That's long enough to hold anything we can print at home.
These were already ruled, so I really didn't need to do that first step.
I did it all for you, madam.
All for you. 😉
Kinda hard to see the ruler, but it's there!
I secured the paint stick in the miter box with the locks.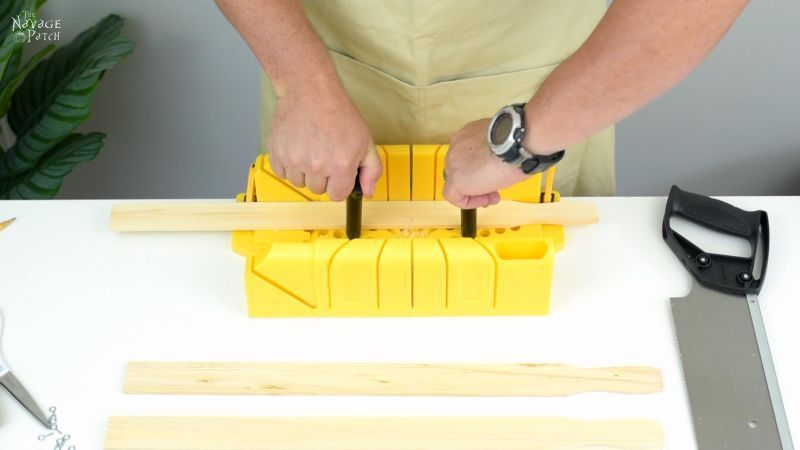 And then I cut at my mark. This miter box is pretty awesome for its size and price! It's much easier to use this upstairs for small cuts than to run back and forth between the basement and the craft room!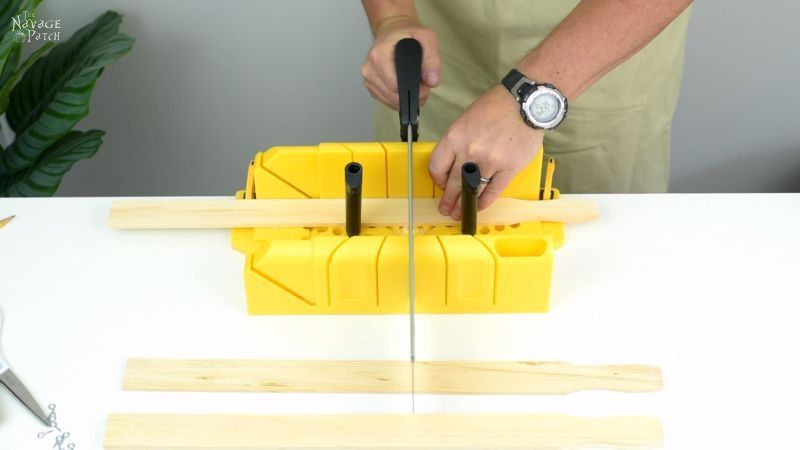 After cutting the paint sticks, I worked my way through the trim, cutting everything to 13 inches.
Step 2 – Stain the pieces
Then I had to go to the dungeon to stain them.
I used Minwax Special Walnut on all but the rounded hardwood trim. It already had a beautiful red color, so I just sprayed that one with polyurethane to deepen the wood's natural color (not shown below).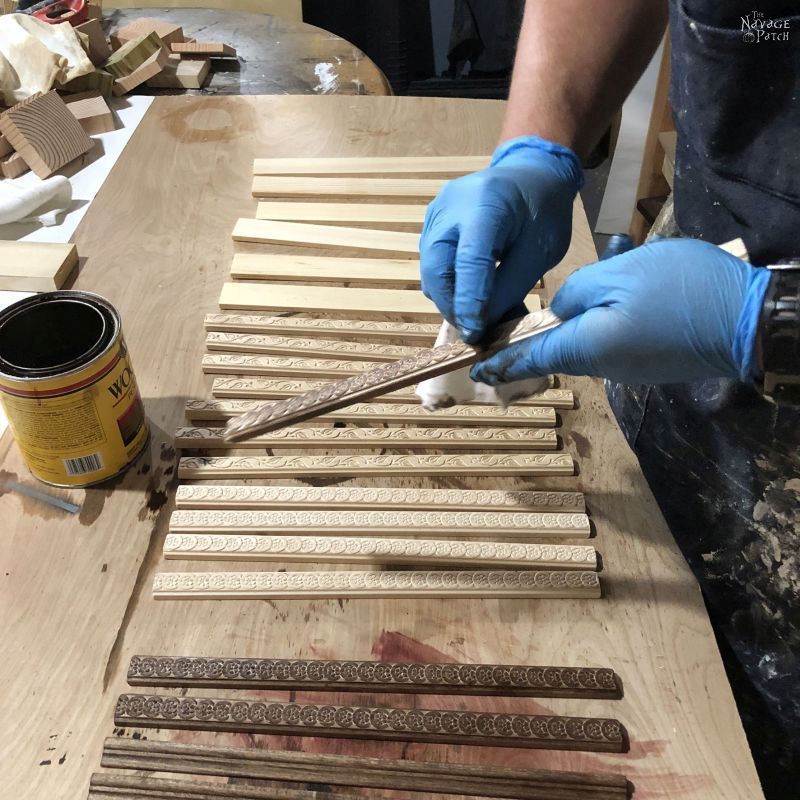 I stained some dark and some very light. By lightly rubbing a rag with just a touch of stain, I could keep the stain out of the grooves on some pieces, giving a nice contrast.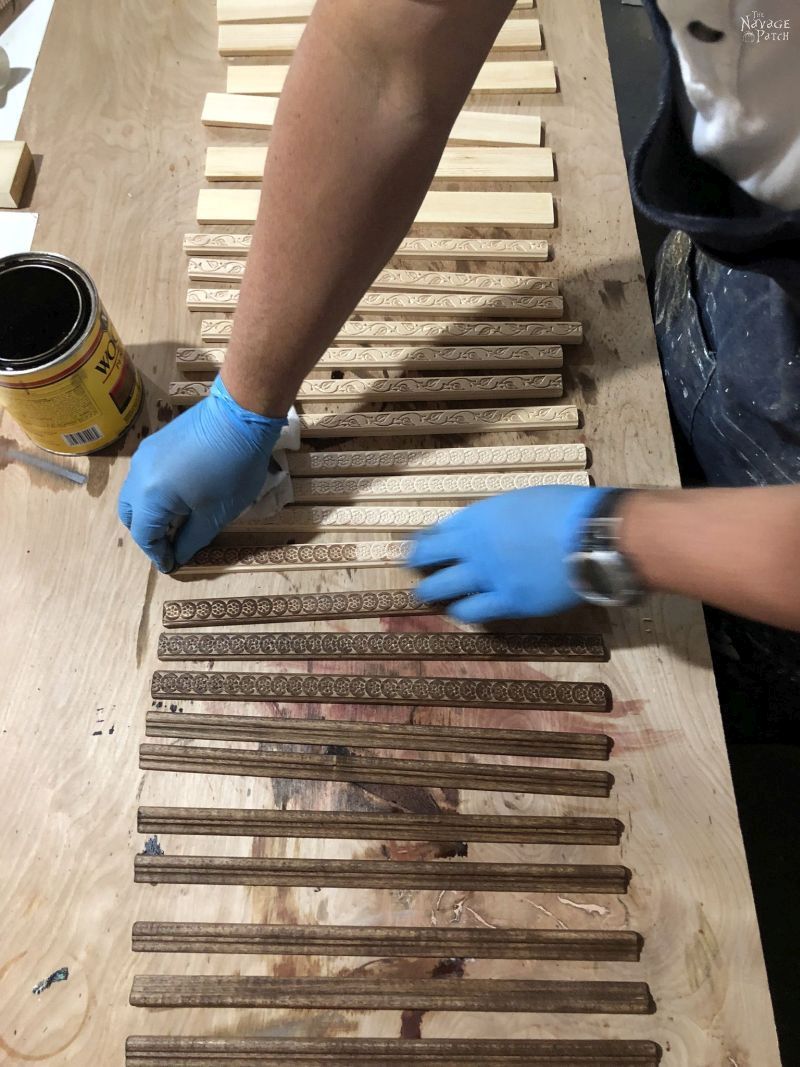 Step 3 – Attach the magnetic tape
When the sticks had dried, I took them back to the craft room for the next phase: attaching the magnetic tape.
I measured about 12 inches of tape and cut it.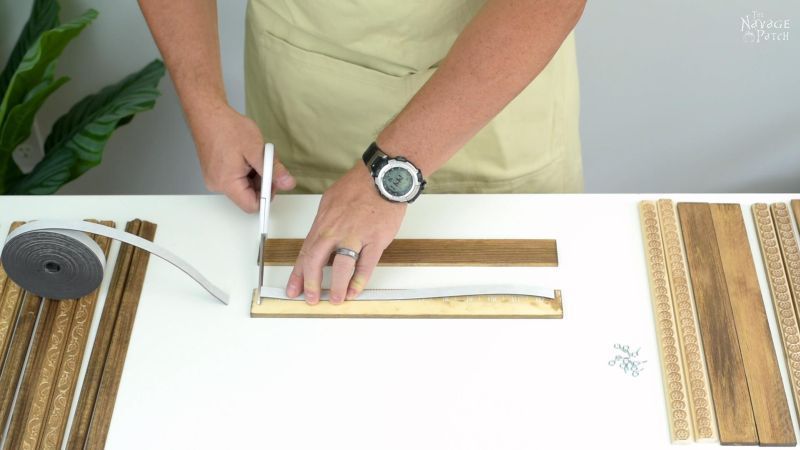 Then I used the cut piece to measure and cut 3 more strips.
I peeled the backing from the sticky side….
and prepared to press it on the wood.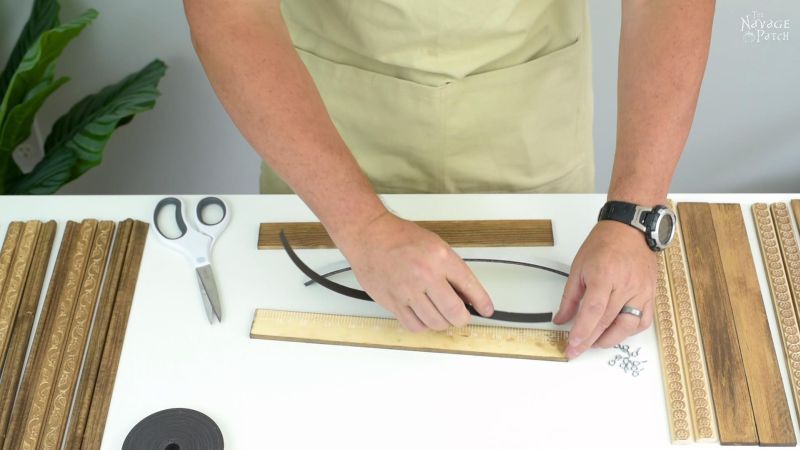 But here's where you will do things a little differently!
Fast forward to the next day after we built all these frames and hung a whole bunch of posters. We woke up and emerged from our bedroom to find the floor entirely littered with everything we had hung the day before.
It turns out that the adhesive on the back of the magnetic strips lack the gripping power for wood.
No worries!
I went back and added a line of super glue on the wood and reattached the magnetic strips.
Problem solved!
So now imagine a bead of super glue underneath that magnetic strip.
I attached another magnetic strip to the other piece (don't forget the super glue!)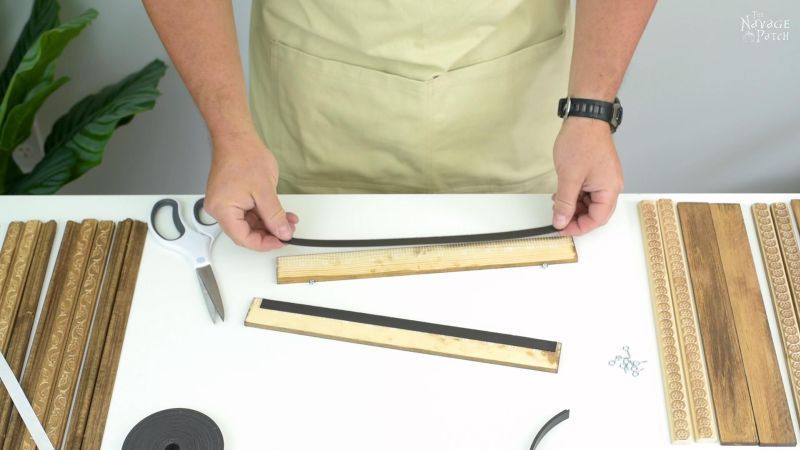 After gluing the magnetic strips, I placed the remaining two strips (with the backing still on the tape) onto the glued strips. Those strips will be removed later to insert a poster and then put back to secure the poster.
Step 4 – Attach eye bolts and twine
At this point, I screwed in two small eye bolts. You don't need to do this step. You could just wrap the twine around the ends of the wood to hang.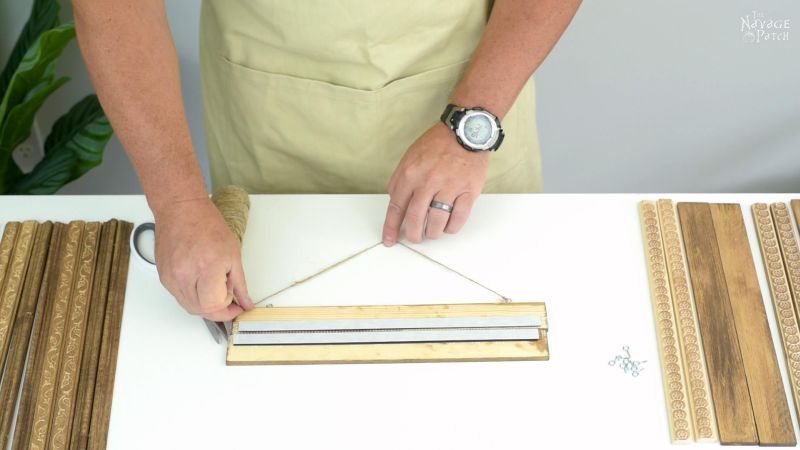 Okay, that completed one magnetic poster hanger. Let's put it to use!
Step 5 – Hang a poster!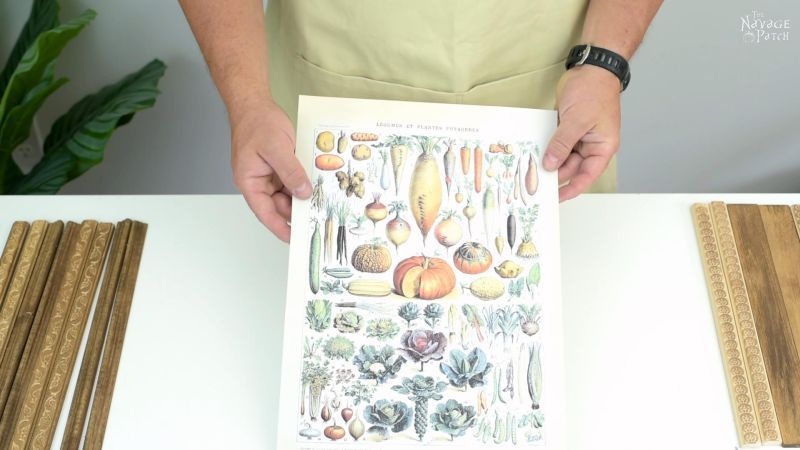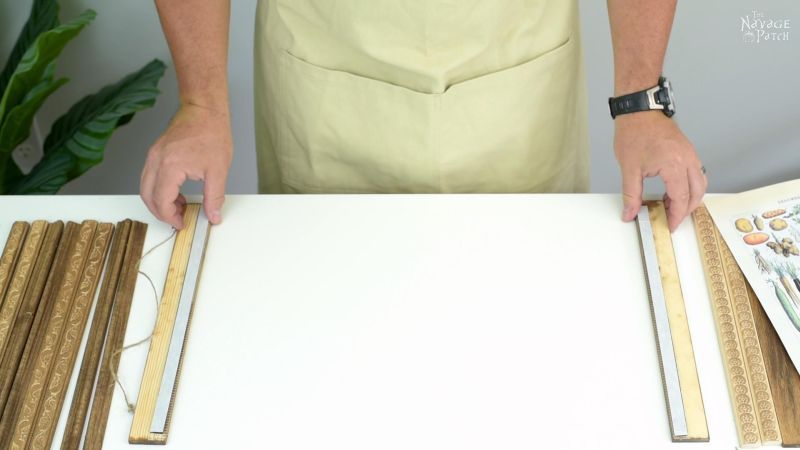 Remove the two magnetic strips.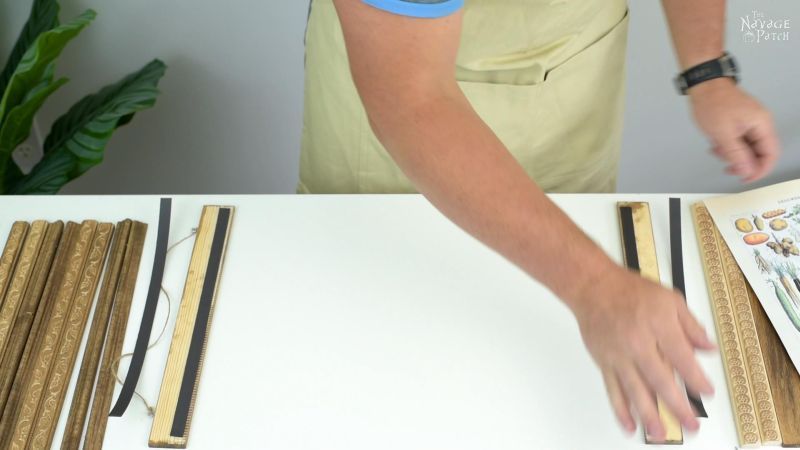 Flip the poster.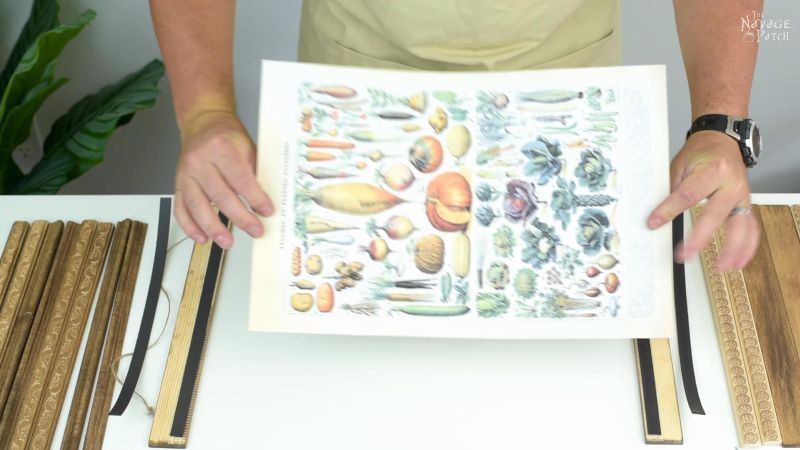 Place it on the top piece.
Secure it with one of the magnetic strip.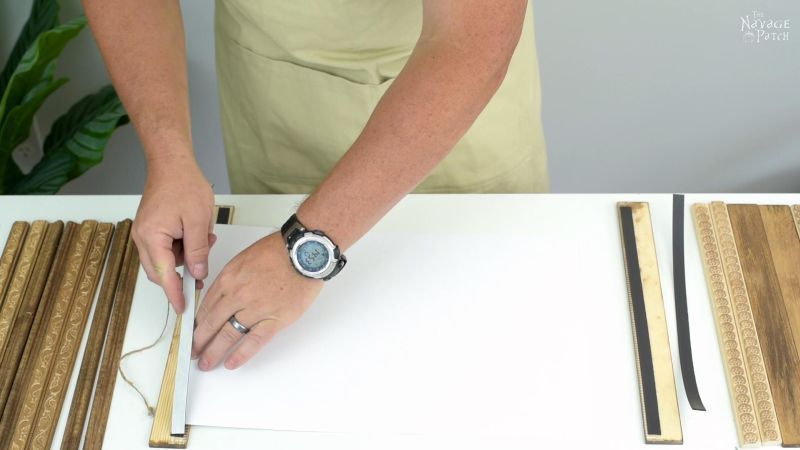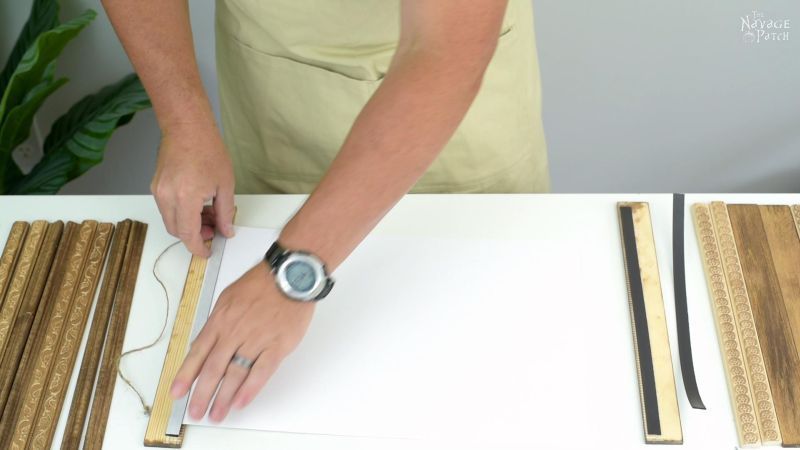 Align the bottom.
And secure with the remaining magnetic strip.
Ta-Da! You're simple DIY magnetic poster hanger is finished!
If you like the prints you see in these frames, you can check out our free Vintage Botanical Prints post.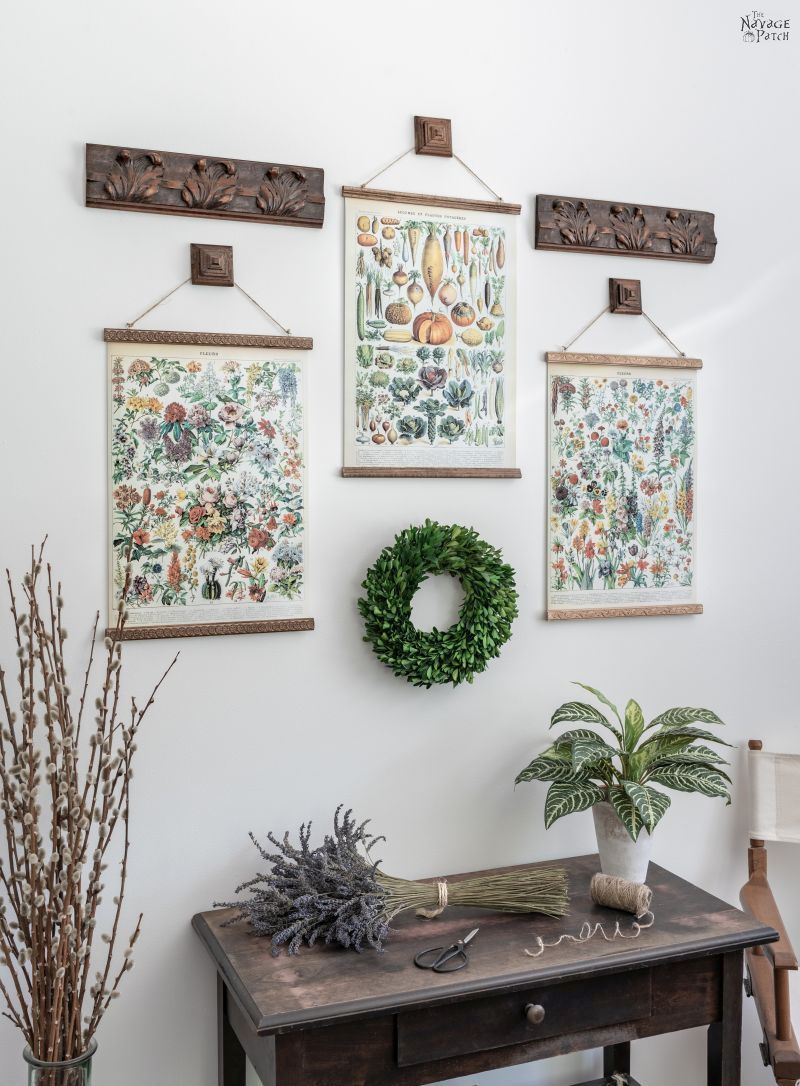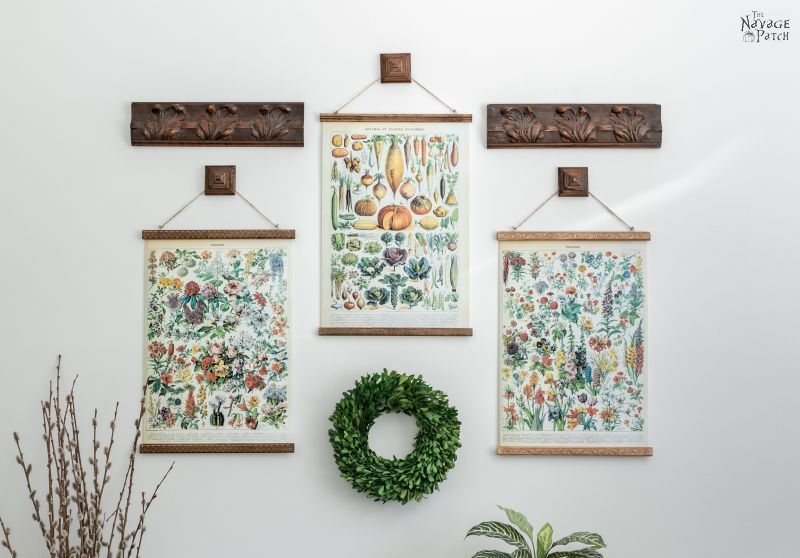 We love it when you share our posts on Facebook and Pinterest!