Vintage School Desk Makeover
Our friends bought a vintage school desk and asked if I would restore it for them. I agreed, and in the process, I learned how to fix blotchy stain!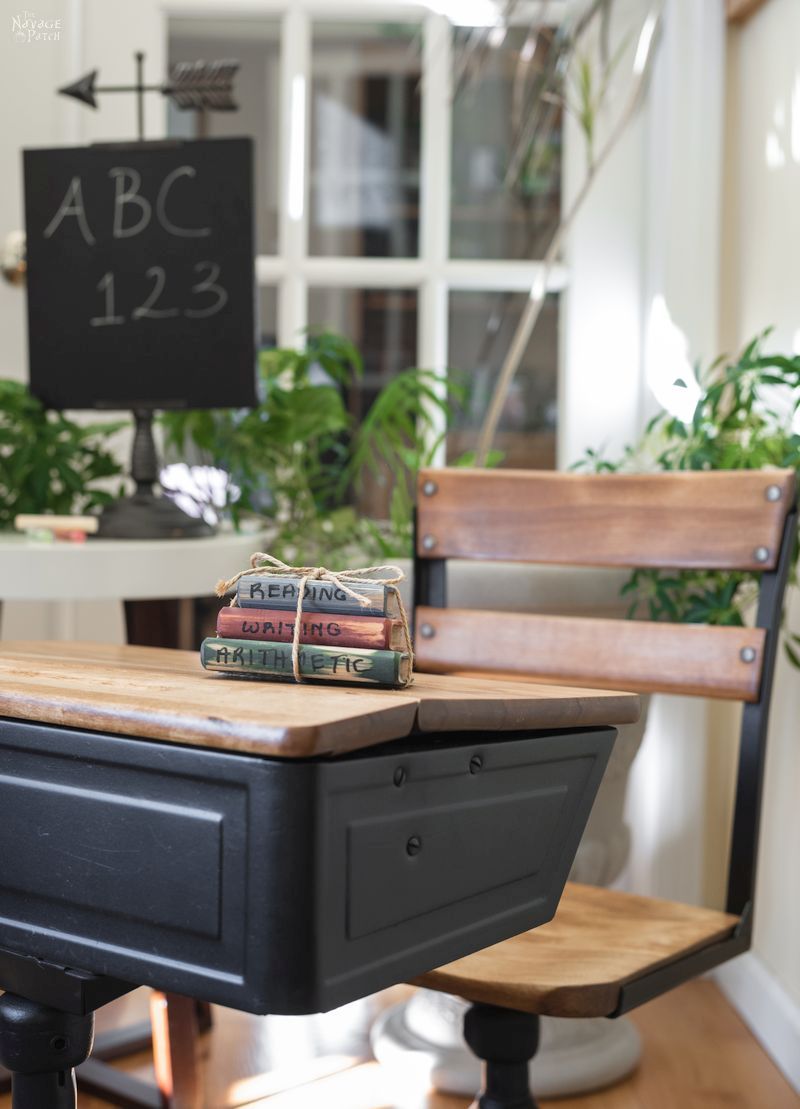 Back in October, our friends Angelo and Gina asked if I would be willing to help them out with a little project. On a recent trip through Amish country, Gina happened upon a 1930s-era vintage school desk, and she just had to have it.
For it's age, the desk wasn't in terrible condition, but it would benefit from a little TLC. They asked if I'd be up for the job.
Are you kidding? I love working on old furniture!
I told them I'd not only restore their tiny little desk, but I'd write a blog post about it, too!
They dropped off the desk on a brisk October morning, and I told them I'd have it ready for them in about a month.
Give or take.
We were heading into the holiday blogging season, and time was at a premium, so I'd have to pick away at the desk whenever a few free moments presented themselves.
Here's how the desk looked before I got my grubby little hands on it.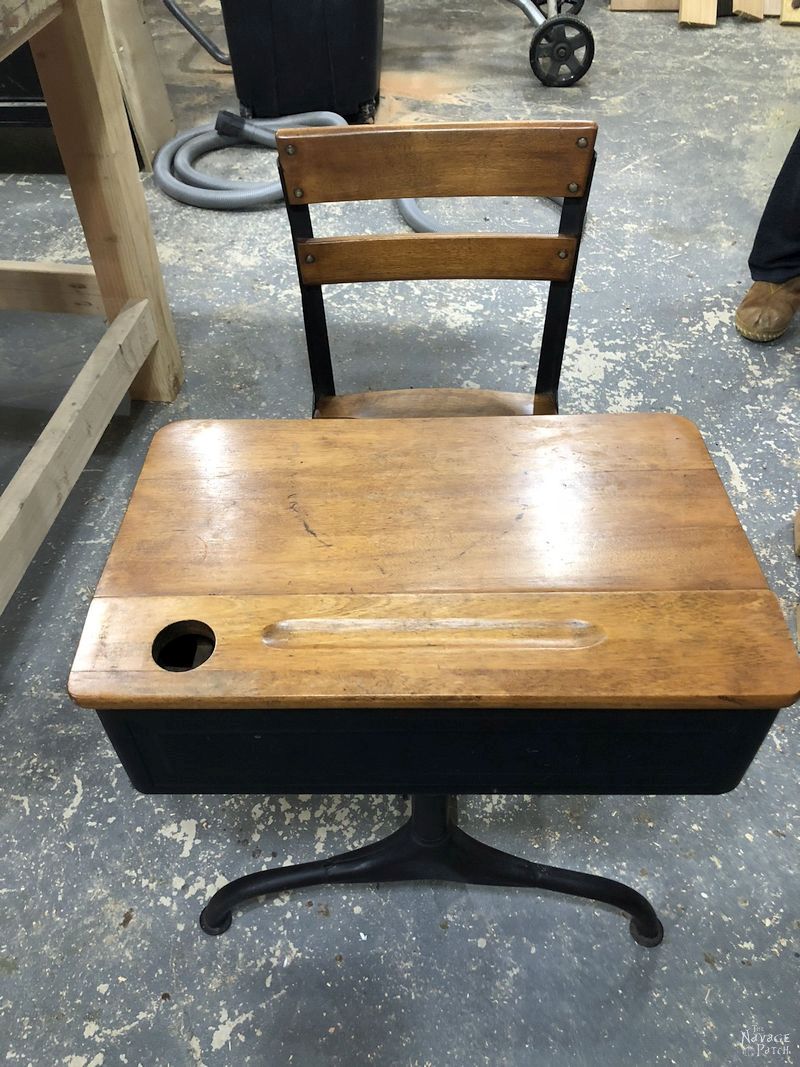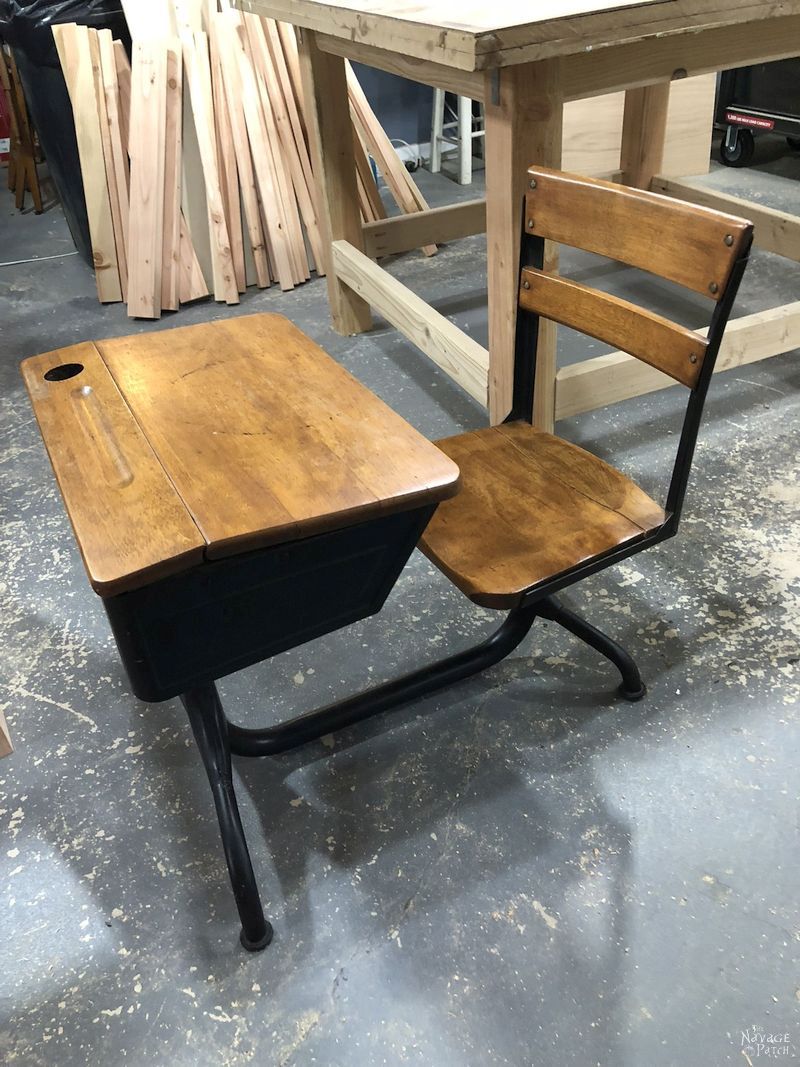 The seat was cracked in two. Generations of squirmy little butts couldn't break it, but dry weather finally got the upper hand.
I tried to imagine all the books and pencils and drawings and frogs and forbidden notes this little desk held over the decades.
It was going to be a fun project!
For a vintage desk makeover on a larger scale, be sure to read about how my work desk came to be. Yep, that's the typewriter I use to run The Navage Patch! [and yes, next to it is the carrot that keeps him moving LOL -Handan]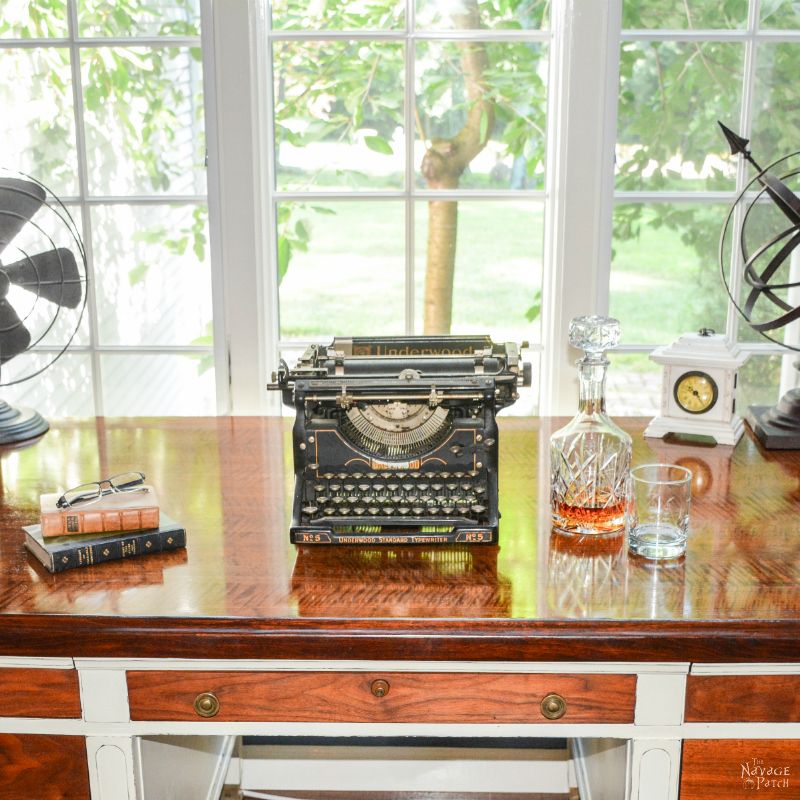 Okay back to the pipsqueak desk.
The first step to any good reconstruction is a good deconstruction.
When I was little, I loved taking things apart. Toys, radios, electronics, clocks, watches, you name it. If it had an inside full of stuff, at some point I would pull all that stuff out.
There was just one problem.
In my zeal to probe the inner workings of the world around me, I paid no heed to what I was ripping out.
I never knew how to put the things I took apart back together again.
So it's fortunate that Handan was with me as I started attacking the old desk with a flat head screwdriver.
She had the presence of mind to segregate all the screws by size, wrap them in little bundles of blue tape and set them aside in a plastic container.
I imagine Gina would have been pretty pissed if I returned her desk in pieces or worse, as some sort of deformed Frankendesk.
Anyway, off came the pieces. First the desktop.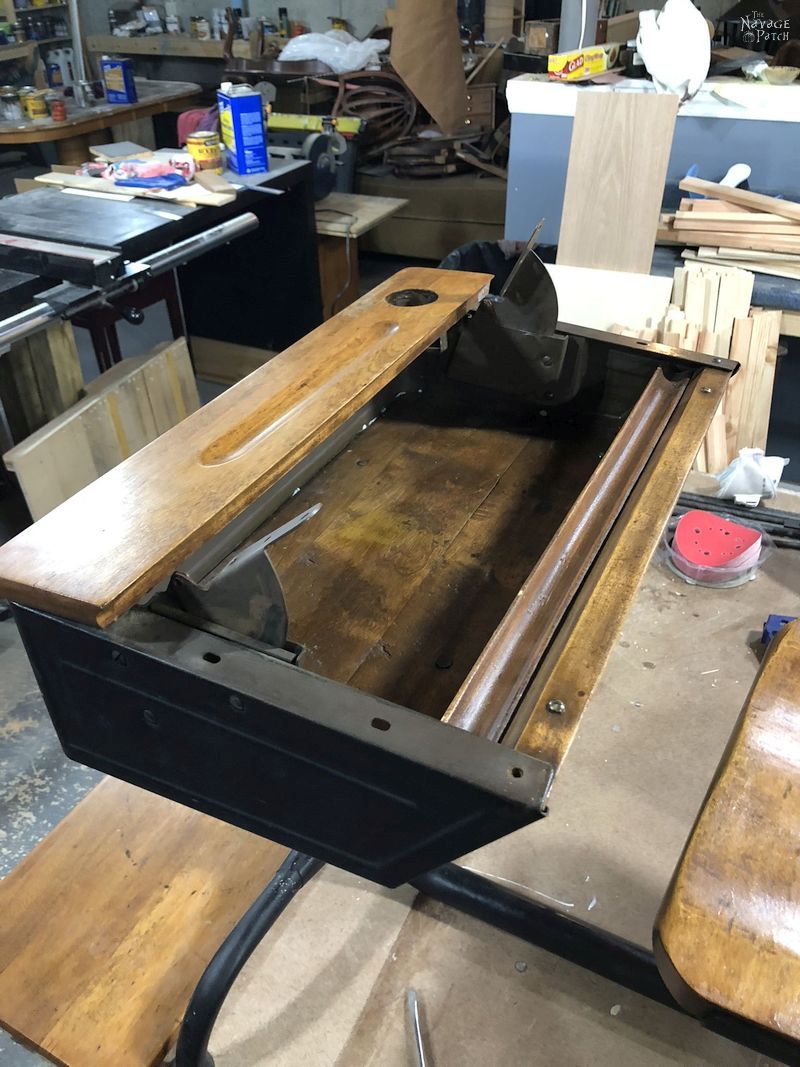 As expected, a hidden cache of rusted and torn childhood memories came flooding out.
Bobby pins, Monopoly money, pencil leads, staples, the little paper circles from a hole punch – the forgotten detritus of half a century of blathering teachers and bored students.
I finished the disassembly and had a look at the seat. Might as well start there.
I ran some wood glue down the fractured edges, made the seat whole again and clamped it all together to dry.
The next day, I started sanding with my most powerful random orbit sander to chew through the grime and decades-old finish. I don't know what kind of wood the seat is made from, but it is hard!
In addition to the seat, I sanded the back support and the desktop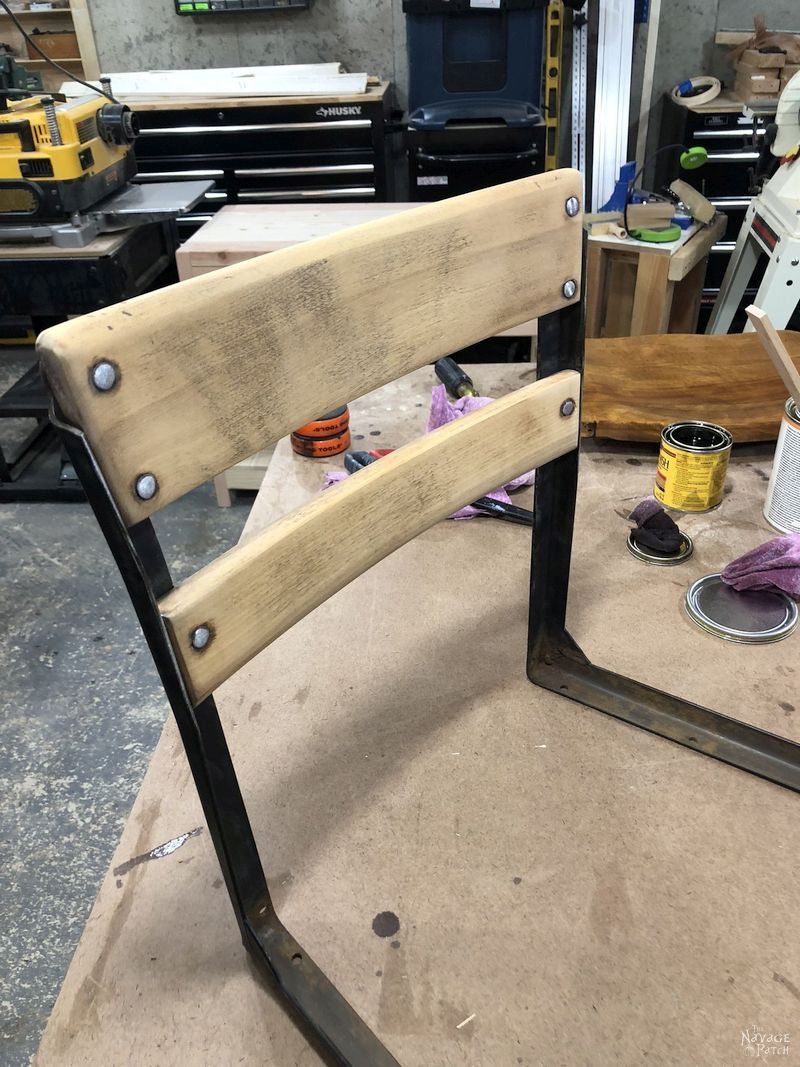 I sanded until I thought I had enough of the old finish removed to hit it with some new stain.
Spoiler alert: I was wrong.
Oh, god, how I was wrong.
I first applied some Varathane Pre-Stain Wood Conditioner. It's a great product that I use all the time to prevent blotching when I stain.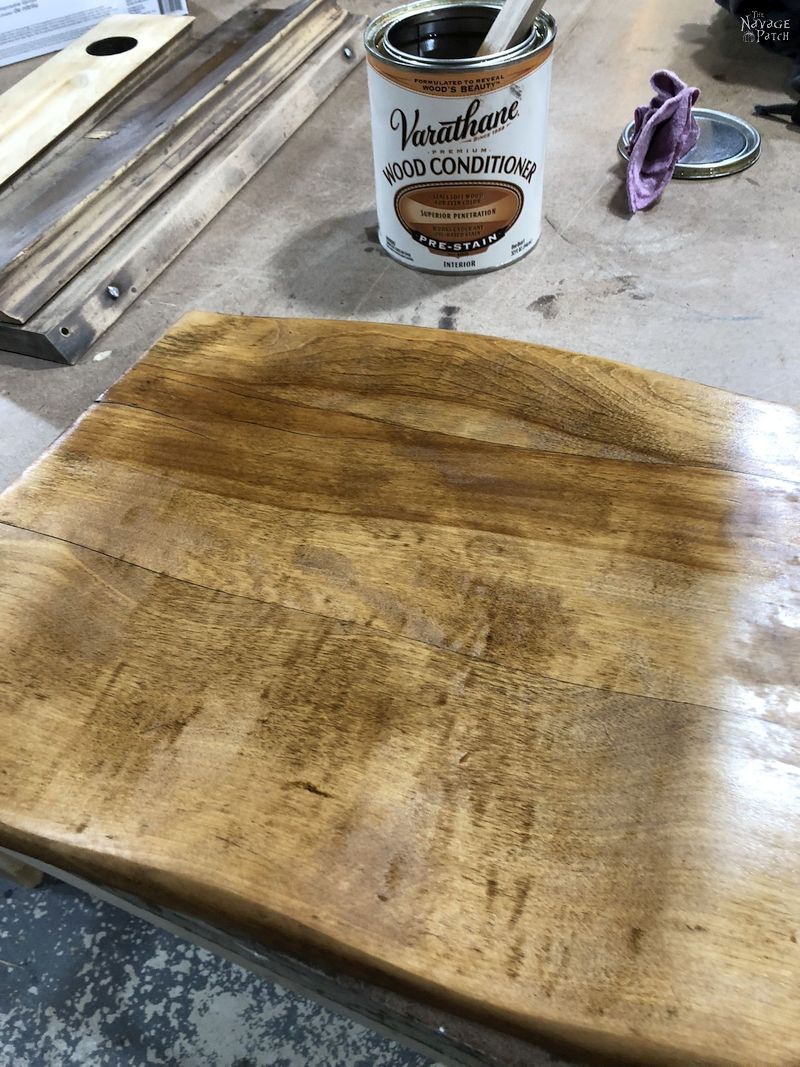 Part of me sensed a problem, but the part that didn't want to deal with any problems told that other part to shut the hell up and keep out of the way.
I had tested a bunch of stains to find the best color match for the original and settled on Minwax Golden Oak. It's the perfect color for school desks and chairs!
I wiped on the stain and then looked in horror at my work.
Never in my life had I seen blotching this bad! I took another look from a different angle.
Yep, total crap.
Fearing a total re-sand and re-stain (this project was supposed to be quick and easy!), I made the really bad decision to go a shade darker by applying a coat of Minwax Early American on top of the Golden Oak.
See, here's the thing about blotch-prone woods. The darker the stain, the worse the blotching will appear, because those denser areas will barely accept any stain while the more porous areas get even darker. So instead of evening out the color, I ended up with even more contrast!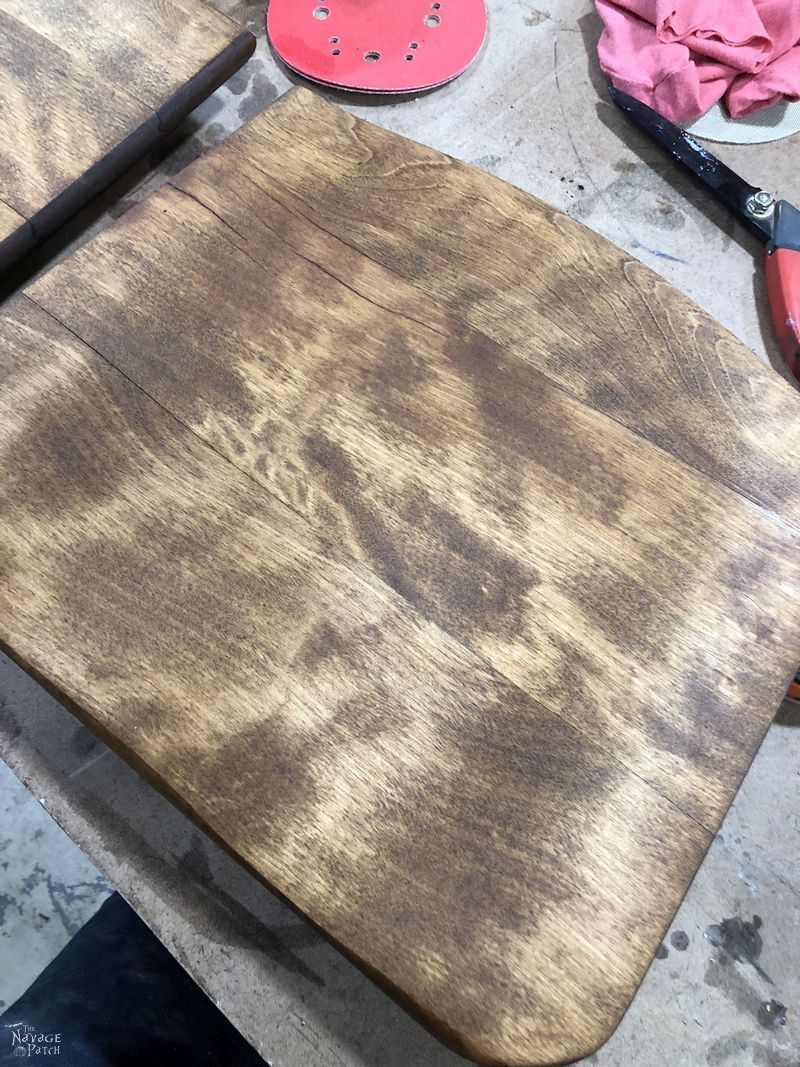 This was a disaster. There was nothing to do but grab my sander and a new jumbo pack of 60 grit sanding discs. This was going to take some time!
I sanded and sanded and sanded. If the seat had been made of pine, I probably could have sanded it all to dust. But this wood was like iron.
After a time, I got to this point.
I needed to sand more. After another long stretch (at this point, my hands were getting numb from the vibration) I got it a little cleaner.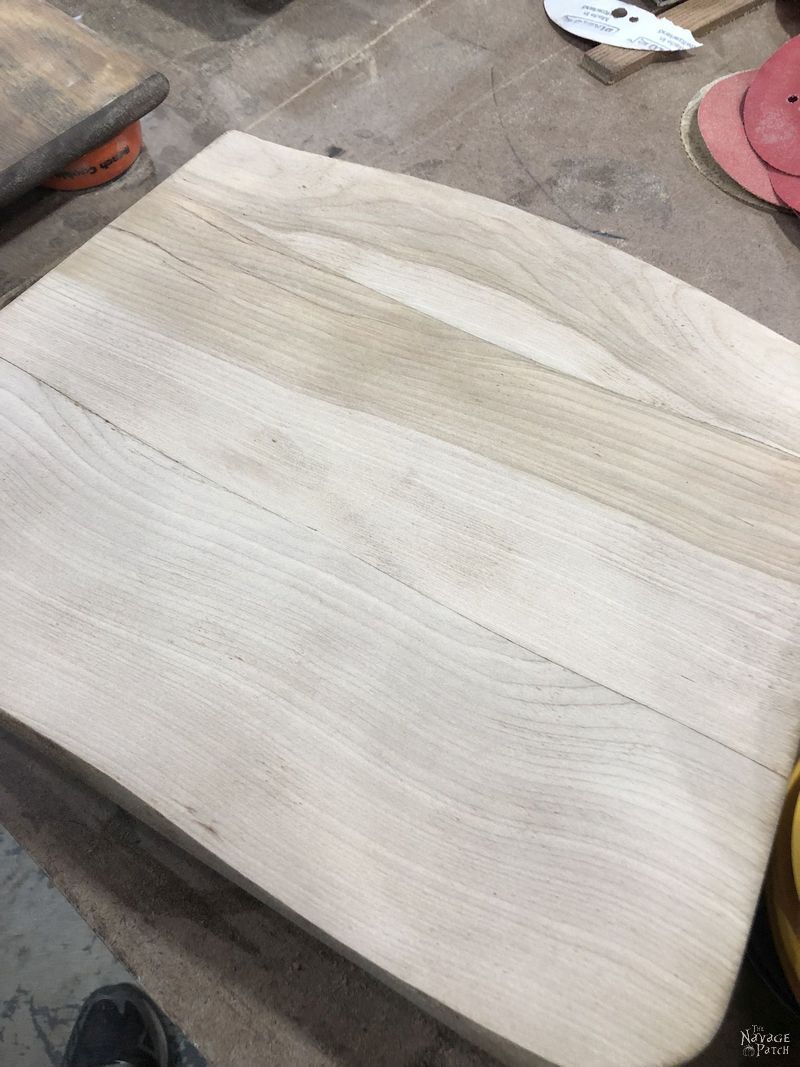 I almost called it quits at that point. It looked good enough, right?
But "good enough" wouldn't cut it. Gina loved this piece of furniture, so I had to give it my best.
So I sanded some more.
Here's a pic of the spent sanding discs, and this picture doesn't include the very first ones I used!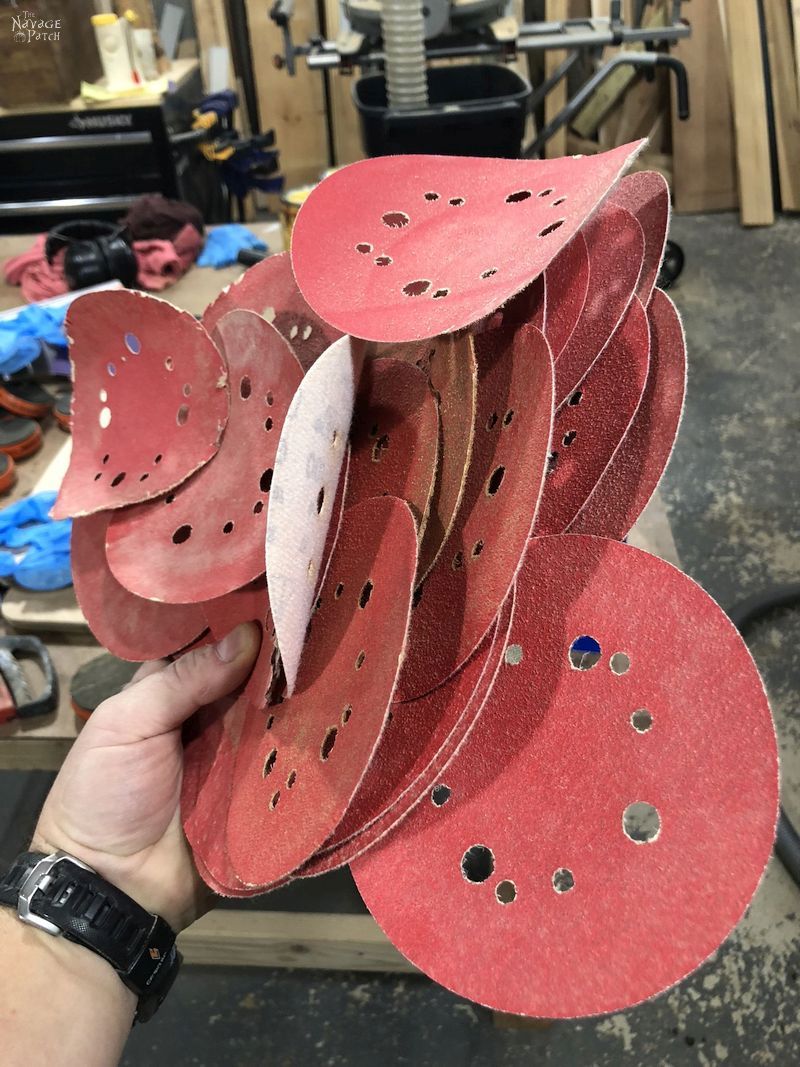 But in the end, it was worth it. I finally got all traces of old stain removed, and the wood was looking clear.
Thankfully, the desktop and chair back were a little easier to sand.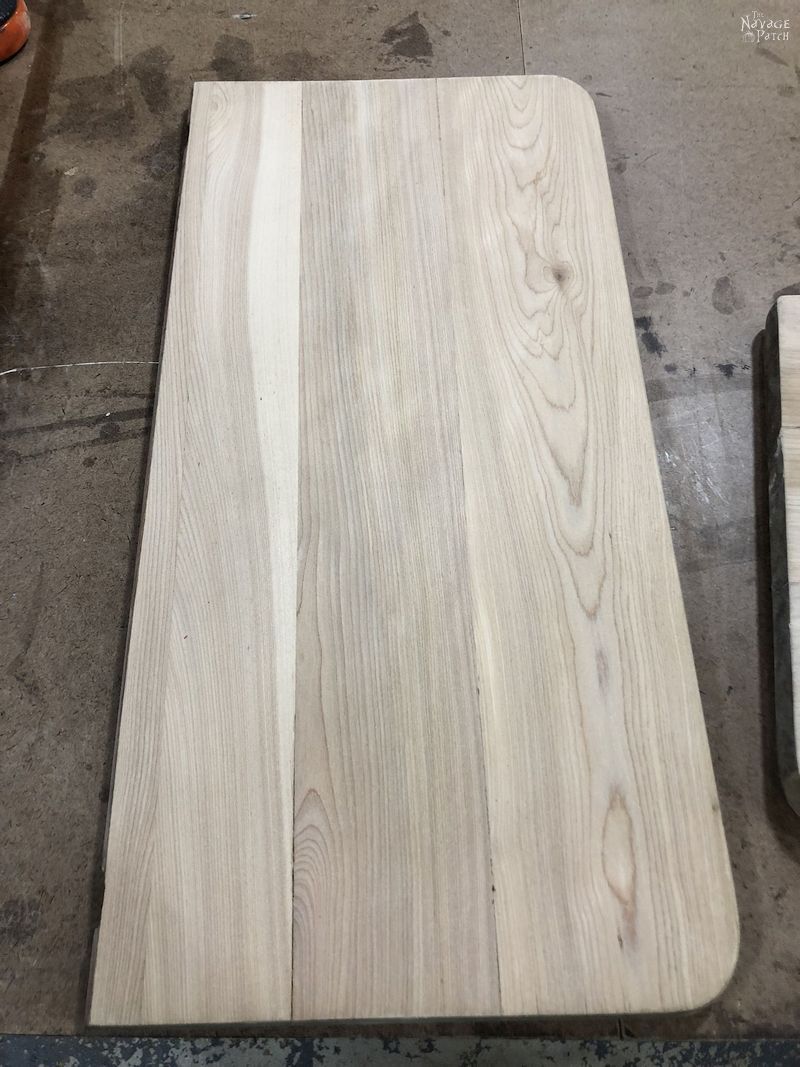 I gave all the wood pieces a good cleaning with mineral spirits.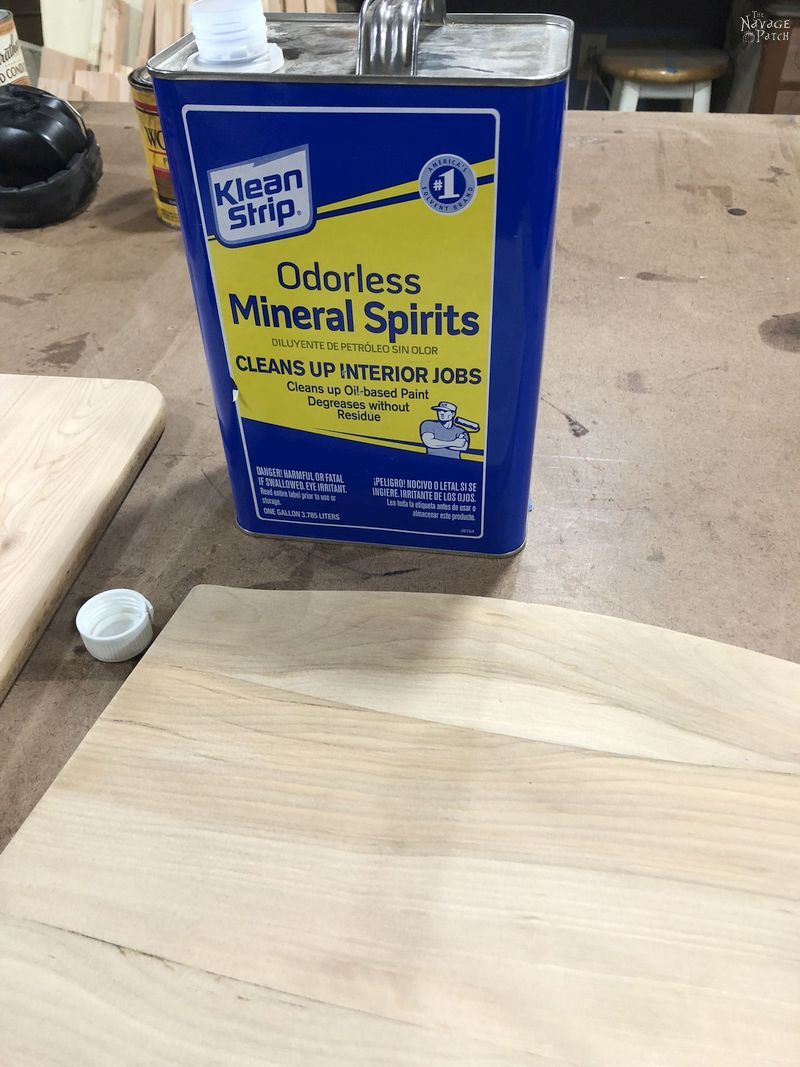 I could see that I would still need to deal with blotching.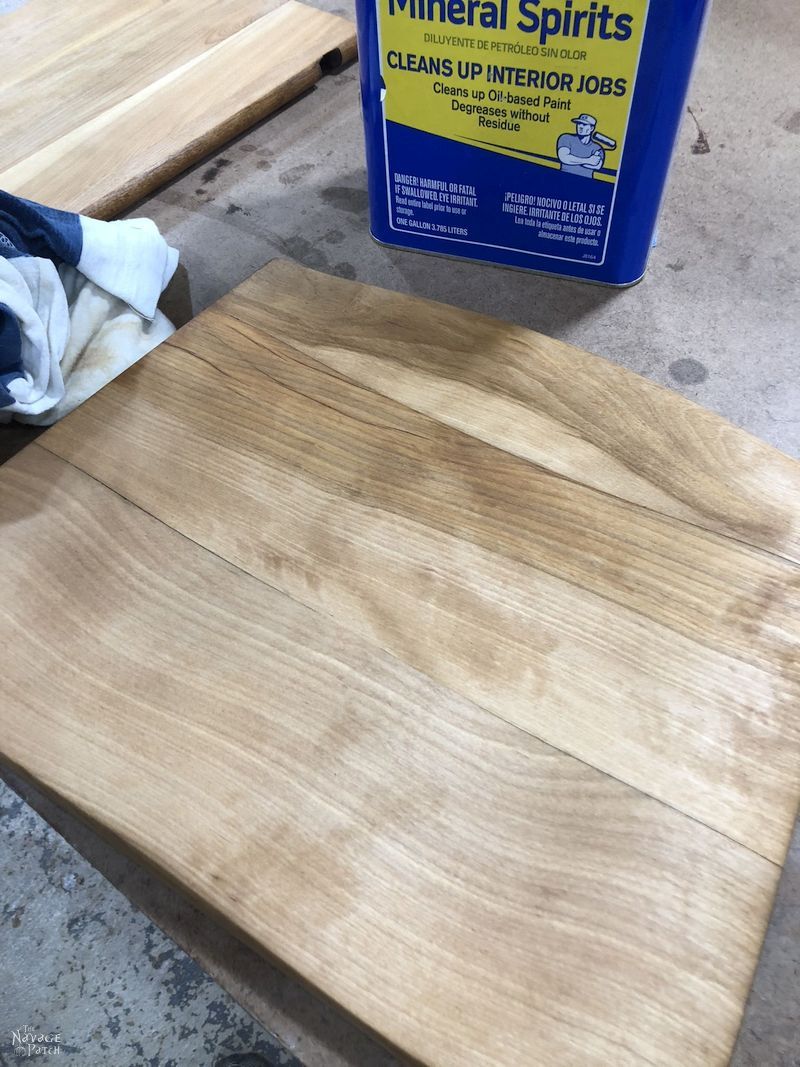 How to Fix Blotchy Stain
Now that I knew what I was up against, I turned to the internet to try to solve the botching issue. I read up on all sorts of techniques, tips and tricks to prevent blotching, but one article stood out above all others. Marc Spagnuolo, aka The Wood Whisperer, recommended a product from another legendary woodworker named Charles Neil. If it's good enough for Marc, it's good enough for me. I have come to trust him completely when it comes to woodworking. He's a straight shooter and a funny guy, to boot.
I went to Charles Neil's site and ordered his pre-color conditioner. It's a bit pricey compared to the stuff you'll find in Home Depot or Lowe's but it seemed like it was going to be worth it. (Spoiler alert: it is!)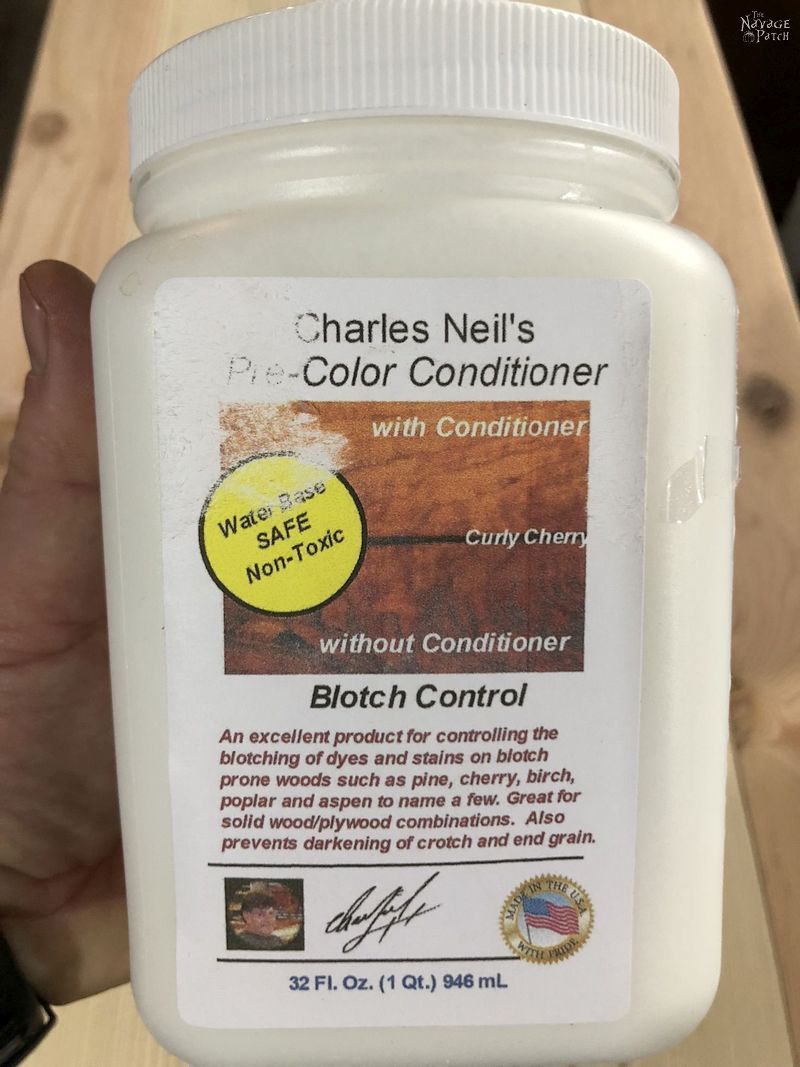 I followed the instructions that Charles had provided for applying his conditioner.
The next day, I was ready to stain.
I was nervous!
With an unsteady hand, I started wiping on the Golden Oak.
Once I finished, I stood back and had a look.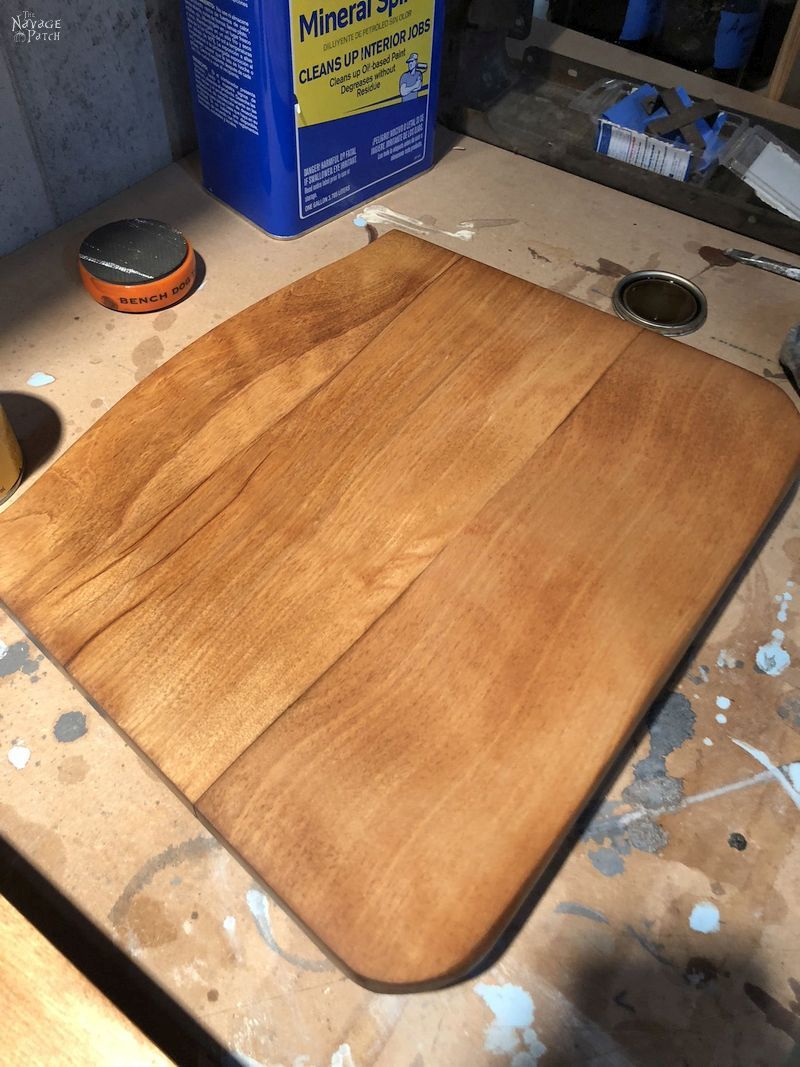 Phew!
It looked awesome! Thank you Charles Neil!
I stained the rest of the pieces and let them dry for a couple of days.
Gina didn't want anything too glossy for a finish, so I decided to mix up a batch of DIY wipe-on polyurethane with a satin finish.
I mixed equal parts poly and mineral spirits and started wiping.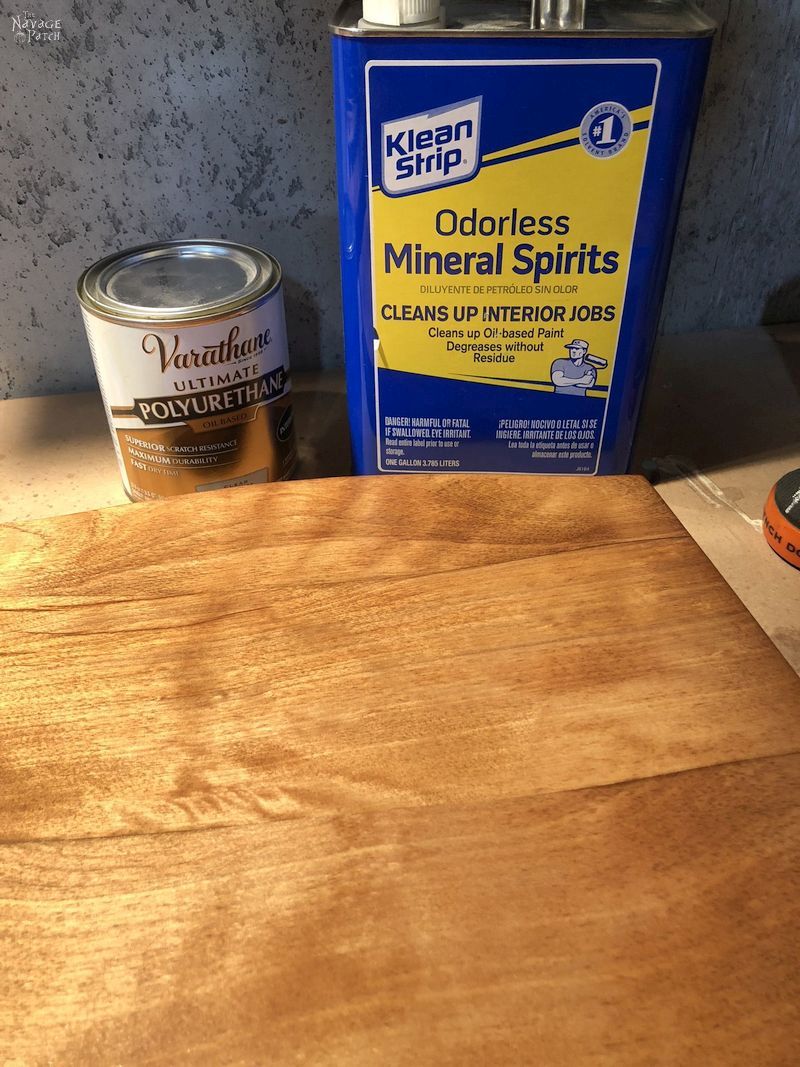 I applied four coats of my wipe-on poly and then let the finish cure for a few days.
The next step was to paint the metal parts. Gina wanted a simple flat black. Easy enough! We generally have a half dozen or so cans of Rustoleum flat black and flat white in our basement at any given time. They're our two most-used colors.
I taped up any wood that was showing or anywhere I didn't want to paint. I left the inside of the desk unpainted to preserve a bit of what it once was.
I hauled the pieces to the spray tent (too cold to spray outside these days!) and gave them four coats of flat black.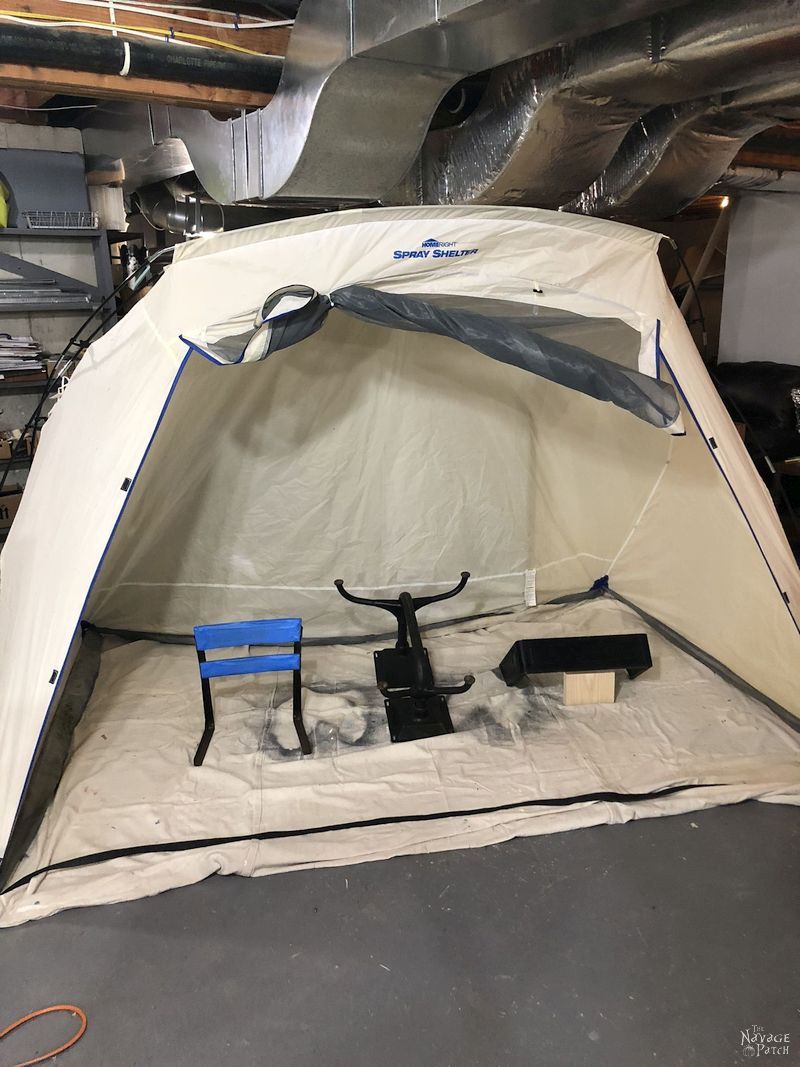 About two months had passed since I started this project, so thank god Handan had sorted those screws for me! I brought the pieces to the work table and got ready to build. It's weird – the seat looks really blotchy in the picture below, but really it doesn't look that bad, as you'll see in the beauty shots. The light must have caught it wrong.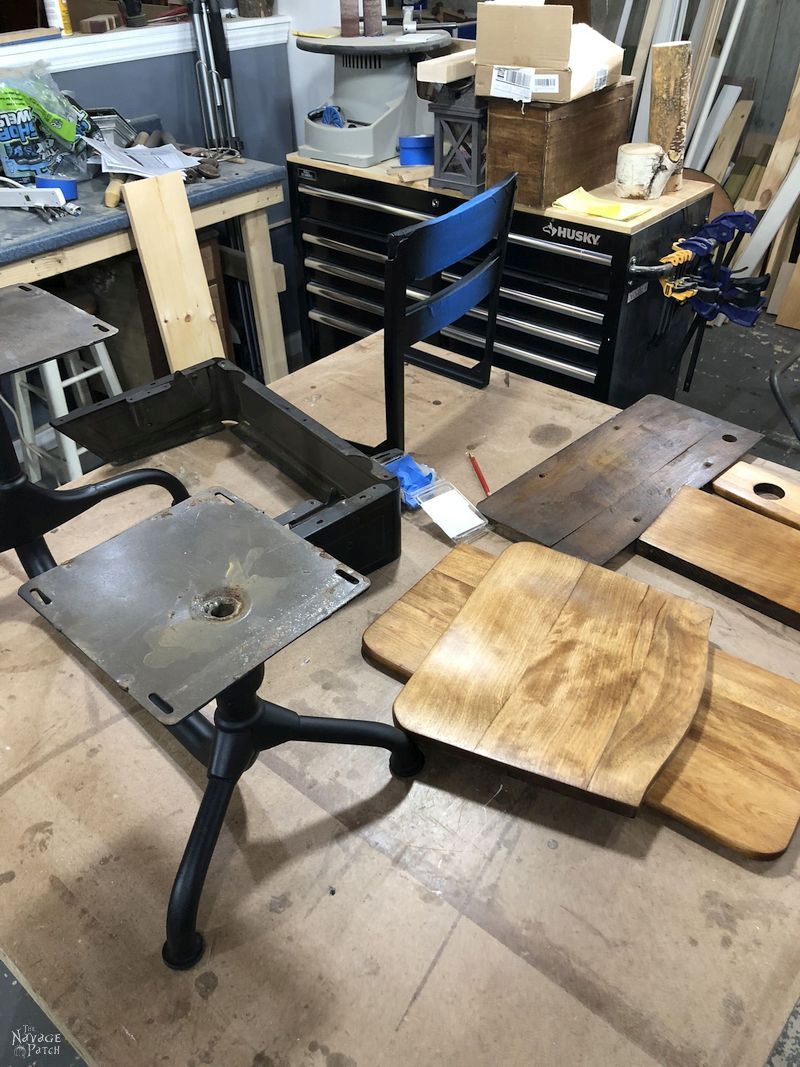 After re-assembling the desk, I took it upstairs for a few photos before delivering it to Gina and Angelo.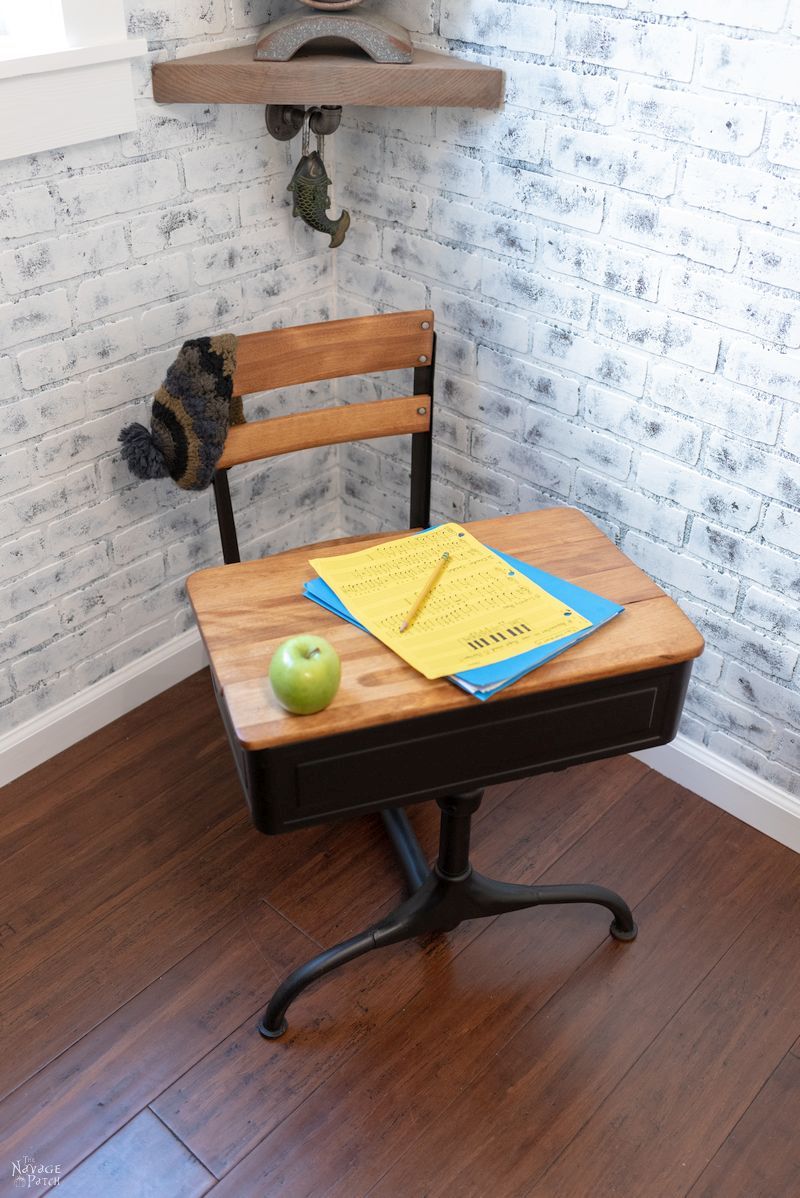 Once delivered, I took a few more pics in its new home.
Gina loves the restoration, and that makes me so happy! This was a tougher project than I anticipated, and it was all the more nerve-wracking since it was for a friend!
But it turned out great, and I learned a lot about stain in the process!
Do you have any stain disaster stories? Any tips or tricks? I'd love to read about them in the comments!
We love it when you share our posts on Facebook and Pinterest!