The Best IKEA Hacks We've Seen
Let these amazing IKEA hacks inspire you to create something new and beautiful from your plain IKEA furniture!
As the years roll by, we're finding our tastes are changing, and we're craving simpler things. Simple decor. Simple colors. And simple furniture. We used to make a point to collect every roadside castaway, regardless of its age or style, make them over and fit them into our current decor theme. These days, we're looking more and more towards IKEA for many of our furnishing needs. The furniture is cheap, it looks good, and best of all, their pieces are perfect for the good old IKEA hack! Let's have a look at some of our favorite IKEA hacks.
These are the best ikea hacks We've Found!
Arched IKEA Billy Bookcase Hack – Crack the Shutters
The Billy Bookcase is one of IKEA's most humble and inexpensive offerings. It is a perfect candidate for an IKEA hack. Jen from Crack the Shutters gives Billy an elegant arched makeover that makes it right at home in a formal dining room.
Check out the video tutorial below on Instagram.
IKEA Hauga Cane Cabinet – The Navage Patch
Besides having a fun-sounding name, the Hauga is another of IKEA's rather bland offerings. For those going for a modern, clean look, it fits the bill, but with a little effort, you can turn it from ordinary to extraordinary. We used cane reed to hack our IKEA Hauga cabinet and give it a whole new look.
Here's the video tutorial for this caning process.
IKEA Tarva Cane Dresser – House on Longwood Lane
Here's another cane hack from Kourtni at House on Longwood Lane. It's a little more involved than our Hauga cane hack, but it's beautiful, and it is one of Handan's favorites.
IKEA Moppe Apothecary Cabinet Hack – Style Squeeze
Pati at Style Squeeze turns an IKEA Moppe cabinet into a MCM apothecary stunner!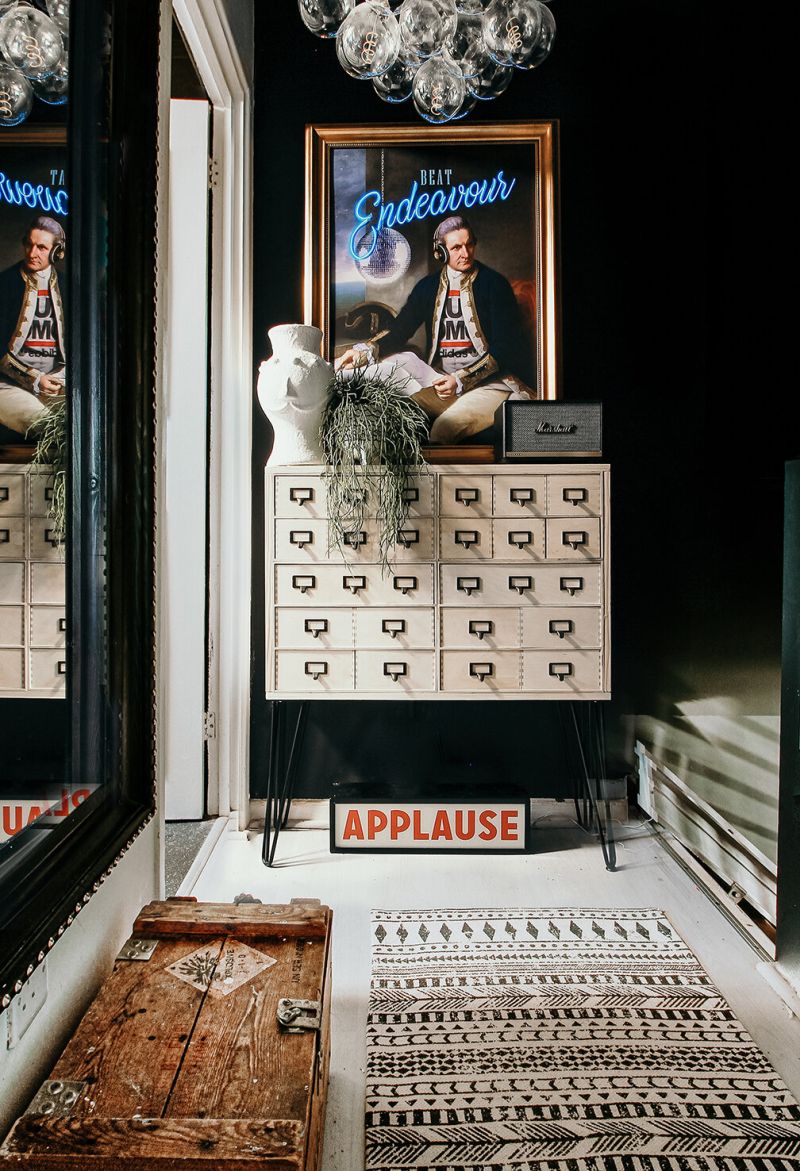 IKEA Alex Drawer Unit Update – Kate Hollingsworth
We're suckers for map drawers, and Kate has made a beautiful one from an old and beat-up Alex drawer unit. I've got these same drawer units in my office, and I think something like this will be in their future!
The video below will take you to Instagram, but for those who don't use it, her process is simple. For each drawer face, she cut, stained and glued three pieces of thin wood paneling. She then added vintage-looking label holders and pulls.
DIY Pillow Covers – The Navage Patch
IKEA sells more than just furniture, and almost everything can be hacked in some way or another. Here's how we easily updated their plain and basic $4 GURLI pillow covers.
DIY IKEA Hack Hicks Pendant Light – The Gathered Home
Kudos to Brynne for this incredible pendant light hack! The Hicks light is a $900 beauty that most of us wouldn't dream of buying, but Brynne came up with a beautiful knock-off for the price of an IKEA pendant lamp and a few supplies!
IKEA Kallax TV Cabinet – The Navage Patch
The IKEA Kallax is another bare-bones, no-nonsense and no-style unit (well, I suppose some would consider it stylish) that begs to be hacked into something a little more interesting. I've hacked 3 of them so far, and this was the first: a TV console for Baris's bedroom in our Connecticut house.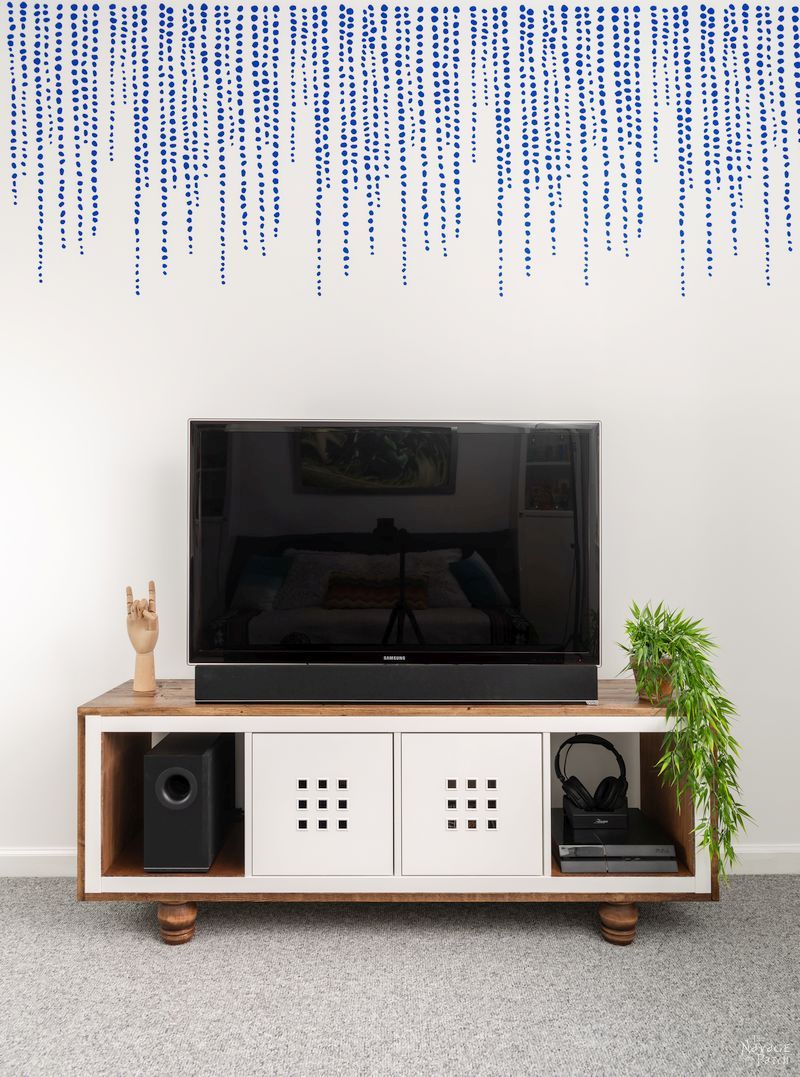 IKEA Ivar cabinet with Louis Cube Update – IKEA Hackers
I guess we can file this one under "Look, don't try." The original poster on IKEA Hackers begins her post with a warning NOT to try this hack, as it drove her nuts. Still, we can't argue with the results!
IKEA Besta Cabinet Hack – Crack the Shutters
Here's another hack from Jen at Crack the Shutters. This time, she gives the cane treatment to a Besta cabinet.
Here's a quick video tutorial of her Besta hack on Instagram.
IKEA Tarva Nightstand Hack – The Navage Patch
Is this the most beautiful Tarva nightstand hack? We certainly think so, and we'll show you how it's done in this step-by-step tutorial!
IKEA Malm Dresser Makeover – Life on Willow Creek
With only a little effort, Morgan from Life on Willow Creek turned a snoozer Malm dresser into a real beauty!
Here's the video tutorial on Instagram.
IKEA Vittsjo Hack Laptop Stand – The Navage Patch
Speaking of little effort, our Vittsjo hack was one of the easiest ever! I don't know about you, but I'm just not a fan of glass-topped side tables and coffee tables. But the wood top? It looks fantastic on this IKEA hack!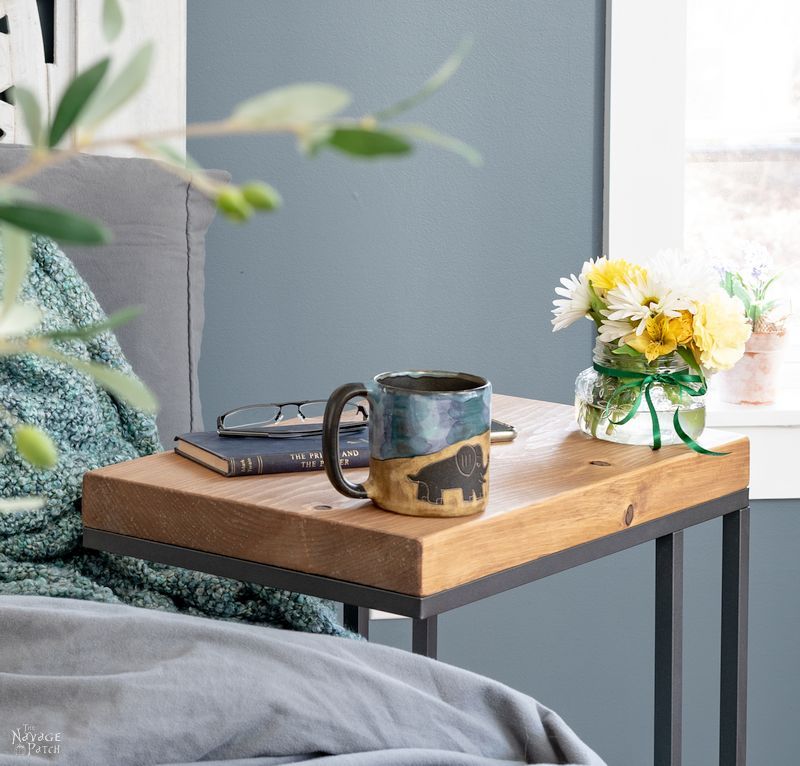 IKEA Billy Bookshelves Hack – The Makerista
This absolutely brilliant Billy hack by Gwen at The Makerista is another of Handan's favorites and my number on favorite on our list. Someday, somewhere, I will do something similar!
IKEA Rast Hack – Media Console – In Between Chaos
Marianne from In Between Chaos joined 4 IKEA Rast chests to create an incredible 8-foot-long media console for their living room and saved thousands of dollars by doing so. Excellent work!
IKEA Kallax Hack – The Pink Dream
Ceres from The Pink Dream gives her Kallax unit a classy makeover fit for a dining room!
IKEA Kallax Hack – The Navage Patch
We had two black Kallax units that the years (and our son) were not kind to. Did you know there's a way to paint even the smoothest of IKEA furniture? In this IKEA hack post, I not only teach the proper way to paint IKEA furniture, but I also show you a neat little hack. These two hacked Kallax units not only functioned as shelves, but they also acted as dwarf walls to delineate space in our son's old bedroom.
IKEA Billy Room Divider – Carro Malmberg
Carro Malmberg made this genius room divider from Billy bookcases, and wow is all I can say! This takes IKEA hacking to the next level. It's hard to tell from the video, but if you decide to embark on a hack like this, stability will be a main concern, so make sure it's secured to walls, ceiling and floors wherever possible. Really great job by this Swedish couple!
So which one is your favorite? Let us know in the comments!