DIY Cane Cabinet (IKEA Hack)
This DIY Cane Cabinet is a brilliant IKEA hack that will work on any cabinet with a glass door. We'll show you the best way to do cane on glass!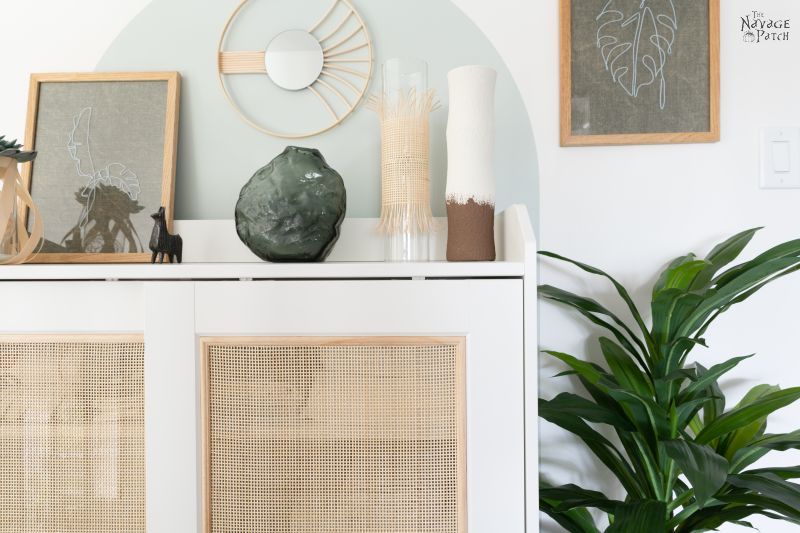 Let there be cane
And Handan said, Let there be cane: and there was cane. And Handan saw the cane, and it was good.
Thus began our journey into the world of cane, a journey that started on July 4th and continues to this very day.
Because cane, madam, is addictive.
Oh, it all started very innocently. My babes just bought enough cane to cover two doors of an IKEA cabinet we'd bought and planned to put in the upstairs hallway to hold linens. (On a side note, can someone please explain to me why we still call them "linens?" Please correct me if I'm wrong, but aren't most sheets and towels made from cotton these days? Do any of you fine and distinguished readers actually own linen sheets? If so, I'd love to hear about them! Meanwhile, I'm going to think about starting to call them "cottons." I mean, it makes sense, right?)
Anyway, we had this IKEA Hauga to hold our…cottons…or linens….or whatever you want to call them. But the doors were just plain glass, and who wants to gawk at a bunch of folded bedsheets each time they walk by, right?
So my babes thought it would be a grand idea to put some cane on those doors to spruce up the plain-white IKEA look and to hide the contents inside.
Now, I'll be honest with you here. The moment she said (and I'll try to remember her exact words and quote them accurately), "Squawk, squawk, SQUAWK, cane doors on IKEA squawk okay my babes? SQUAWK!!!" That's pretty much exactly what she said, as far as I can remember. So the first thing I thought of was that stereotypical cane. You know, the stuff you most likely have somewhere in your house – perhaps on the back of a chair?
I thought of that – specifically I thought of the chairs in my parents dining room – and said, "But won't you still be able to see through it? Those holes are pretty big."
And that's when I got my first lesson on cane webbing.
So apparently there are a few different types of cane webbing, and the kind my babes had in mind for this IKEA hack is called radio weave cane webbing – sometimes also called open box weave. I looked it up, and it appears that open box weave and radio weave are two different things, but for the life of me, I can't see the difference. If anyone knows, please educate us all in the comments!
Anyway, radio weave has much smaller holes than open weave (that's the stuff on my parents' dining room chairs), so we wouldn't have to worry about seeing the contents of the linen cabinet.
The caning begins
We embarked on this project on July 4th morning – more than enough time to whip out two fabulous-looking doors, shower, barbecue and then head out for some fireworks and festivities, right?
Right?
If you nodded your head and whispered right, then no chicken dinner for you, madam.
What transpired on our glorious Day of Independence was nothing short of a disaster.
But. BUT!
It was a very educational disaster, and it led to an incredibly productive July 5th! I talk about what happened on the Fourth in the video, and I write about it at the end of this post, for those who are interested.
Two bath towels
Decorative molding ( we got ours at Home Depot)
Miter saw or miter box
Gel super glue (we used about 4 or 5 bottles of Gorilla, but you can get Dollar Tree brand for about 1/2 the price – you'll need a lot of them though, since they are sold in smaller tubes.)
Small clamps (optional but recommended)
DIY Cane Cabinet Video Tutorial
We intended for this to be a video-heavy post…in fact, we intended to make it into a long-form YouTube video to show the process.
And that's exactly what we did.
But I cannot and will not ever leave those who love the written word without at least a big handful of them – even on video-only posts. I love to write, some of you love to read, so there will be some posts like this one in the future where we'll all get what we want, but there will be a nice long video to watch as well.
Video, madam. It's like the "plastics" that Mr. McGuire says to Dustin Hoffman's Benjamin in the beginning of The Graduate.
"There's a great future in video. Think about it. Will you think about it?"
Yes, we're thinking about it, Mr. McGuire. The world has spoken, and the world wants more video.
And if the world wants more video, who are we to say no?
(But you'll always have my written word, too. I promise!)
DIY Cane Cabinet Written Steps (but you also need to watch the video!)
Step 1
Measure and cut the dry cane 1/16 inch in from all sides of the glass. In other words, if the glass is 32 inches by 15 inches, cut the cane to 31 7/8 inches by 14 7/8 inches.
Step 2
Measure and miter-cut the molding, dry-fitting all the pieces to ensure a snug and perfect fit.
Step 3
Soak the cane in water for about 10 minutes.
Step 4
Lay the wet cane on a towel and cover with another towel, pressing down to absorb as much water as possible.
Step 5
Starting one either the top or bottom of the door (the short sides), line up the edge of the cane with the bottom of the glass. Lay one of the mitered edging pieces on the cane and note how much of the cane it covers. Remove edge piece and then run a generous line of super glue along the line the corresponds with the middle of the edge piece, making sure enough glue goes into the holes in the weave and touches the glass.
Step 6
Place the edge piece on top of the glued cane and press down firmly. Starting from one end, spray insta-set accelerator under the front edge of the molding.
Step 7
Repeat steps 5 and 6 for the opposite side. Note that the cane will be bunched up in the middle of the glass. This is good! This is what you want.
Step 8
Wait about 20-30 minutes for the cane to start shrinking again. You want to see the cane laying just about perfectly flat against the glass, but not yet tight.
Step 9
Repeat steps 5 and 6 for the remaining long sides.
Step 10 (optional but recommended)
Place 3 clamps on each the top and the bottom while the super glue cures for 24 hours.
What happened on the Fourth
We just didn't realize how strong cane is when it shrinks. That was the driving problem on the Fourth.
We'd seen some people just lay cane over glass doors and use spline and hot glue around the edges. Spline is edging for cane, and it's very thin – maybe a quarter inch at most.
The problem with laying the cane straight onto the glass is that woven cane in its natural state is not very flat and smooth. It's kinda wavy gravy with bumps here and swells there. Sure we could have slapped it on there and called it a day, and I could have made it look good in video by passing a camera over it quickly, but anyone looking at it in person would see that the cane was all floppy and loose.
And nobody likes floppy cane.
Nobody.
So our idea was to wet the cane first so it would relax a bit.
We wet it.
And it relaxed.
But it was not as smooth as we wanted. This led us to iron the wet cane, and that worked like a charm. We had the perfectly flat cane we envisioned when we set out to do this project.
So with the cane weave still wet (and unbeknownst to us at the time – very stretched), we measured and cut it to the exact size of the glass.
That was mistake number one, and it was a doozy.
Mistake number two followed quickly on the heels of mistake number one: we used hot glue.
Now using hot glue (aka, mistake number two) was a two-pronged mistake. For starters applying it neatly was, in a word, impossible. There was no earthly way to get enough hot glue on the cane so that the cane would stick to the glass and the spline would stick to the cane without creating a mess of hot glue that would squeeze under the spline and get all over the cane.
Handan saw me struggling with this process early on and offered to help. She fancies herself a hot glue expert and thought our troubles stemmed from me not working the glue gun correctly.
I turned over the gun and watched as she failed just as miserably.
In the end, with no evident way to complete the task without making a mess, we just soldiered on making a mess – me on glue gun duty, and Handan trailing behind with tweezers and cuticle cutters.
That's right, what should have taken 20 minutes took a several hours.
And once we realized the cane was shrinking faster than we could work, we had to repeatedly lay a wet towel on the cane to keep it stretched. Even then, we thought that all would be well in the end if only we could finish the gluing.
Well, we finished, eventually.
And it looked good – it really did.
We thought we'd done it!
We thought we'd won!
Feeling victorious, I set the door aside and we sat down in the living room for a little R&R before we tackled the second door. Secretly, I worried how I would sell this project on the blog. Who in their right mind would want to spend hours picking dried hot glue out of cane weave with tweezers and cuticle cutters?
Well, that was a problem for a later date. We had earned a little celebration. We had…
CRACK!
A loud cracking noise shot into the living room from the kitchen
"Dammit!" I said and lunged up from the sofa. I knew immediately what had happened. There was only one thing it could be.
My fears were confirmed when I laid eyes on our caned door. One of the short sides had pulled away from the glass.
This led to a scramble to fix the problem that involved two trips to Home Depot and lasted until dark.
We were able to peel off the spline and the cane, and Handan again cleaned everything with her cuticle cutter. That woman has the patience of a saint sometimes!
We tried super glue and spline.
CRACK!
We tried epoxy where the super glue had failed.
CRACK!
This was when we figured out we had to rethink our process. This was when we thought about cutting the cane when it was dry and then wetting it. And this was when we decided to use decorative molding instead of spline. It was the only way to save the first door.
As the sun set and Americans were busy cramming hot dogs down their necks and guzzling Bud Light, Handan and I finished the first door with super glue and decorative molding.
And the only crack we heard came from the neighbor kids setting off fireworks.
*****
Oh, and there's just one more thing. The following pic is for Bernice and anyone else who wonders what that little hallway area with the painted arch accent wall and this cane cabinet looks like from downstairs. I took this pic after dinner last night while sitting in my assigned spot on the sofa. Not a bad view!