Refinishing Old Flower Pots
I may not have a green thumb when it comes to keeping houseplants and flowers, but like all Turks, I love growing herbs around the house. From spring through summer, we Turks fill our balconies, terraces and tables with mint and globe basil. In Western Turkey, along the Mediterranean and Aegean coasts, you will find potted herbs growing almost everywhere you look: houses, offices, restaurants and bars. Not only do they look and smell nice, but the globe basil especially keeps mosquitoes at bay.
Each year around this time, I start filling our deck with potted herbs, so I can be reminded of my homeland. But this year the weather is a bit late to reach normal Spring temperatures, so I thought I could use my time prettying my plain-Jane flower pots. As I couldn't wait to start my little project, I forgot to take before pictures of all. But thankfully I remembered to take the before picture of the small pot 🙂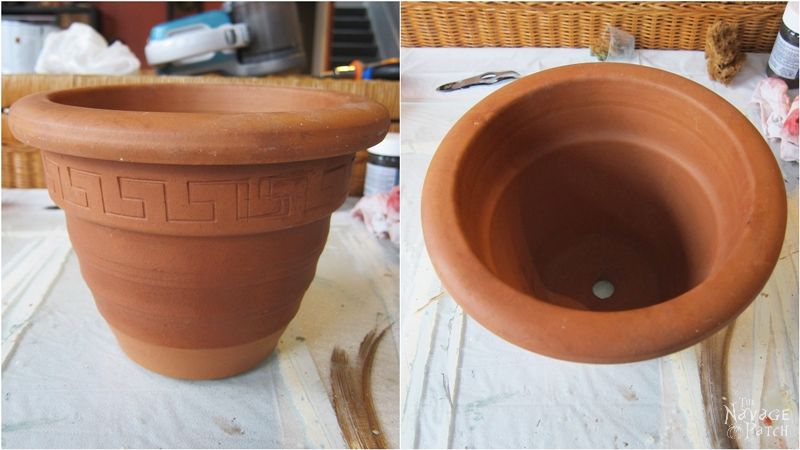 Last year I found one plastic and four terracotta pots at Put & Take. I refinished one of the terracotta pots and the plastic one last summer but didn't have time to refinish the other three. As I wanted all the pots look like a set, I decided to go with the same aqua hue that I used last year. If you would like to use it in any of your projects, the color code is shown below. Oh, before I forget, this is my own custom color mixture, but I haven't yet named it, so I am open to any suggestions! 🙂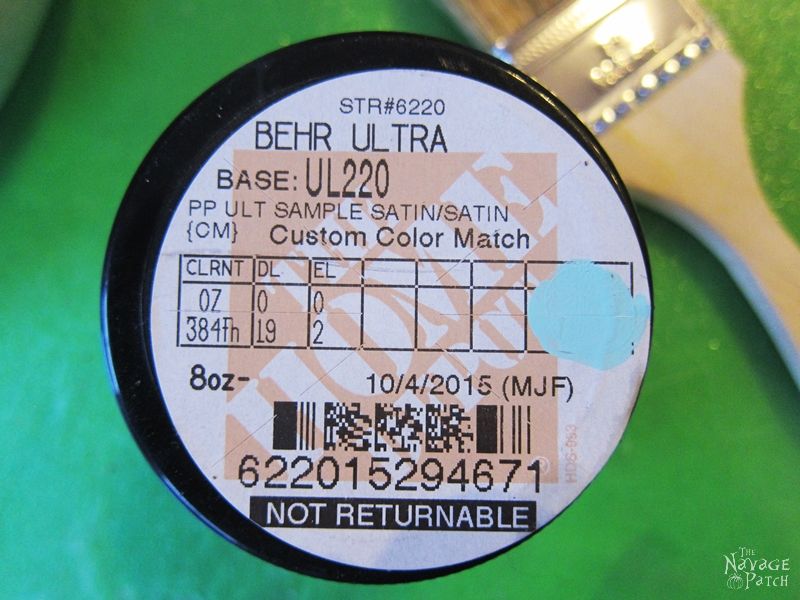 After preparing my homemade chalk paint in this aqua hue, I washed the pots of dirt and debris and let them dry. Once they were dry and ready for painting, I started brush painting with a half loaded chip brush. While I didn't cover all the surface with paint, I also didn't choose dry-brushing because I wanted some areas to get covered almost solidly to achieve that random distressed look I was going for.
With this last pot, I happened to brush it more than I should, so it ended up looking almost fully painted. As I was going for a distressed look, I had to remove the excess paint with what I call "rubbing" technique. It is basically rubbing the chalk paint off the surface with a damp cloth. When distressing like this, I prefer using either a medium to heavy duty scouring pad, or an old towel, or cheesecloth, depending on how thick the entire painted layer is.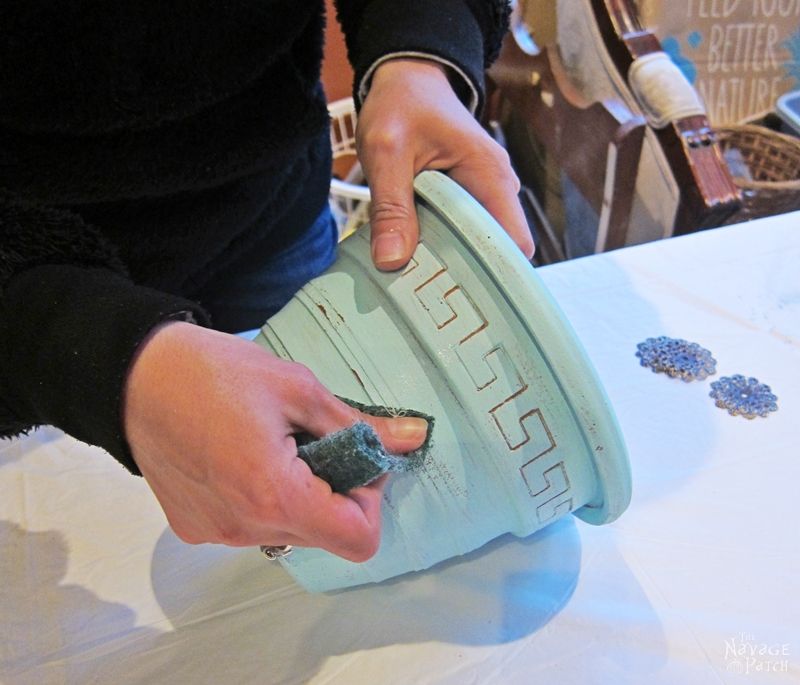 Another note on the rubbing technique: while I distress normal wooden furniture with 320 grit sand paper, I usually prefer the rubbing method when I am working on ornate frames or ornate furniture. I find this method easier than sanding when it comes to those intricate ornate parts. I also use the rubbing method when I paint plastic or resin, because sandpaper can easily eat through the paint (including the original paint on your item) and before you know it, you end up with the ugly plastic or raw resin showing through.
As the painting and distressing was completed, it was time to pretty up the pots with different embellishments. For the small one I chose a braided rope ribbon that I bought at Hobby Lobby. If you don't have a Hobby Lobby close by you can use this similar one on Amazon.
I prepared two little bows with this ribbon.
Next, I cut another piece long enough to cover the circumference of the pot and hot glued it on. Then I hot glued the bows on the surrounding ribbon in a way to have them sit opposite each other. With the braided ribbon, the small flower pot had a slight cozy coastal feel to it which I like and find really cute. But with other ones, I wanted to achieve a bit more feminine and elegant appearance, so I decided to stencil them and add some metal filigrees.
Using metal with flower pots may not seem to be the perfect idea since metal can rust, but coating the metal with exterior-type or oil-based clear coating will solve that problem. To prevent the metal filigrees from rusting, I sprayed them with two coats of clear protective coat.
Once the clear coat was dry, using E6000, I glued half pearls in the center of the metal filigrees and put them aside for the glue to dry.
Meanwhile, I started on the stenciling process. I prepared my stencil designs and cut the stencils on a re-positionable adhesive backed vinyl using my Cricut, and I placed the stencils on the pots with the help of transfer tape.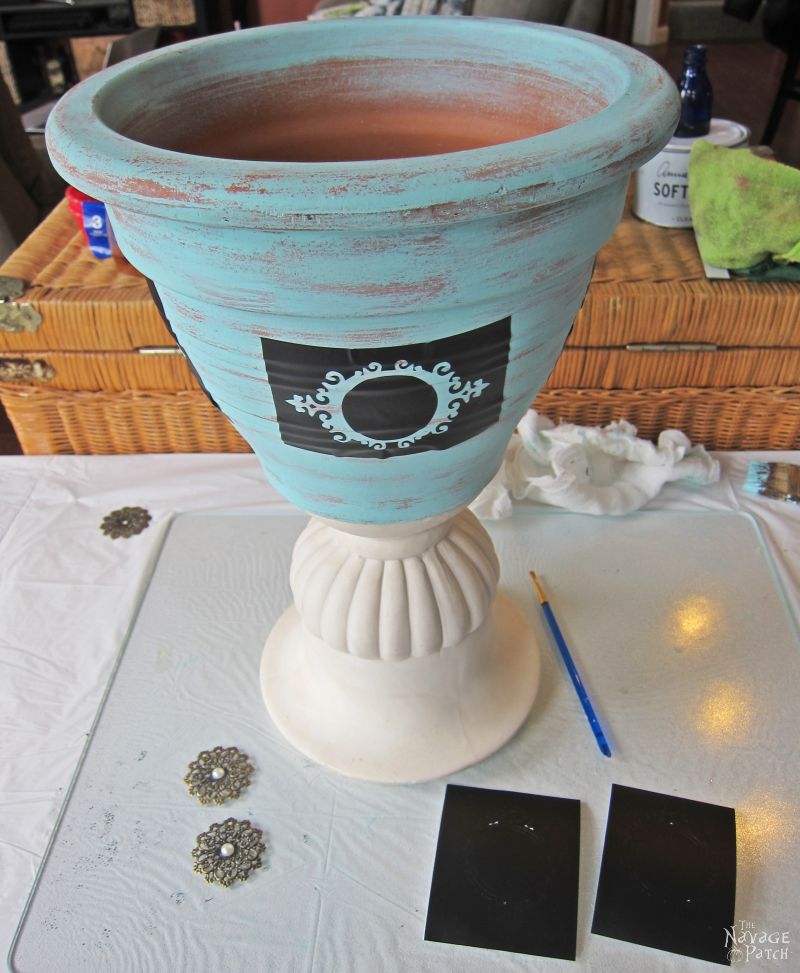 Next I mixed some red, orange, light brown and dark brown acrylic paints to achieve the terracotta color of my pots, and I stenciled the patterns on the pots.
As I wanted to achieve a distressed look, I didn't fill in the stencil with paint entirely, but instead I stenciled by dabbing the brush so the pattern would look painted uniformly. Where the paint on the pattern looked uniform, I slightly distressed it with 320 grit sandpaper.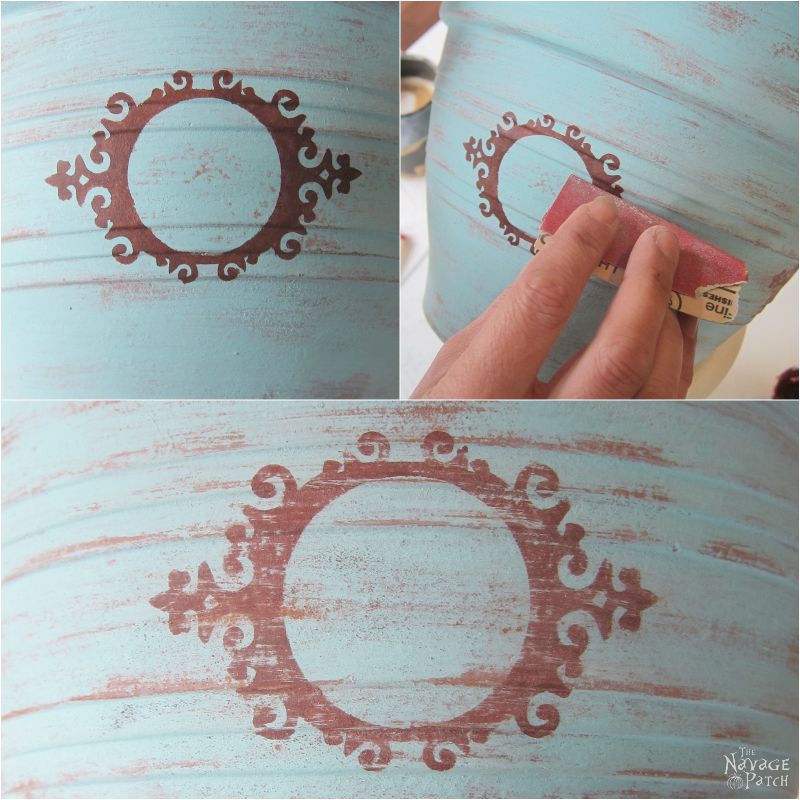 Before gluing the metal embellishments, I applied two layers of this protective coat on the painted and stenciled pots. Once the protective coat dried, I used E6000 to glue the metal embellishments.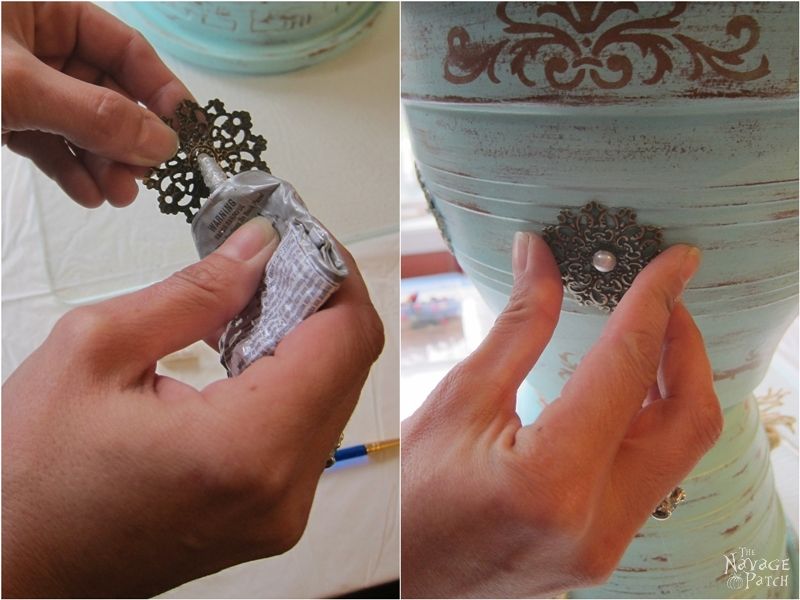 As my pots were finished, it was time to plant some herbs. Unfortunately I couldn't find any globe basil or mint in Home Depot or in our local nursery. I think the weather is not yet warm enough to have a good selection of potted herbs. But I was lucky enough to find some thyme, Thai basil and lemon balm, so I planted those in my refinished pots for now.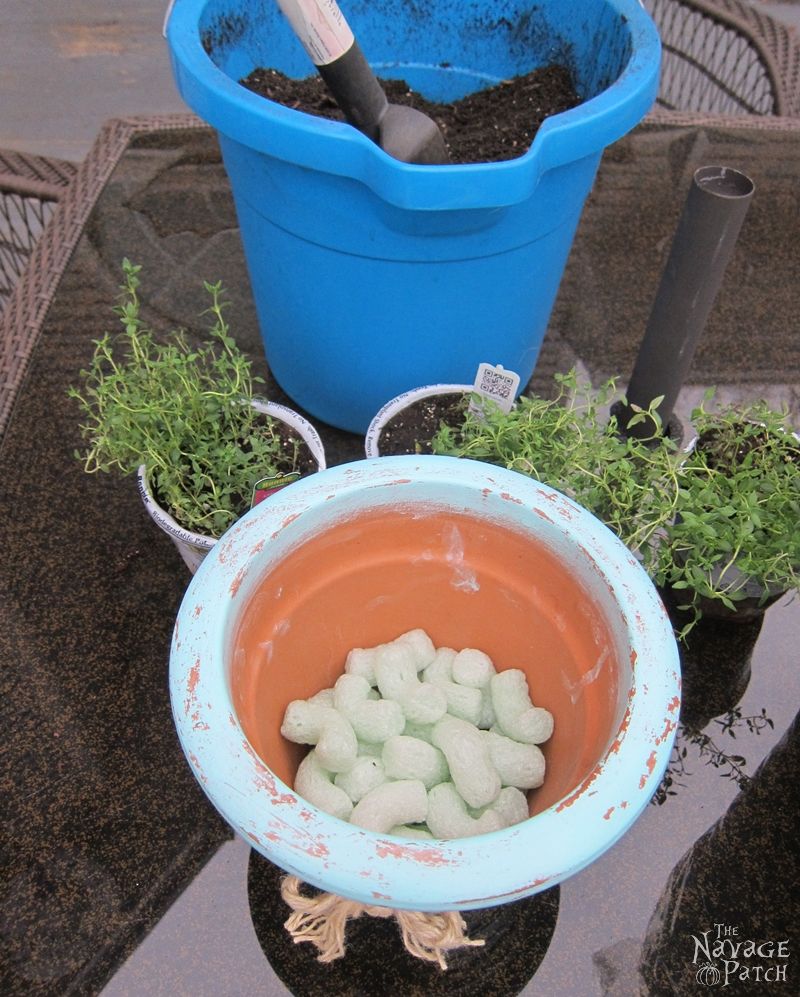 To improve drainage, I use packing peanuts to fill the bottom of the pot. Some use rocks but as packing peanuts have no weight, it eases my life when carrying the pots from here to there. Of course with these small pots, it doesn't really matter what you use, but when planting big urns, it might be a good hint to keep in mind 😉
Here are my jewels!..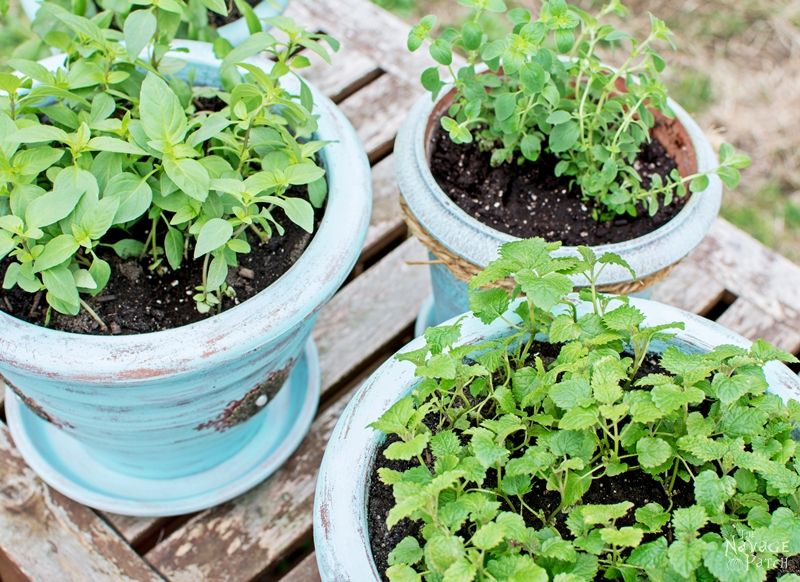 …and my pots are not bad either!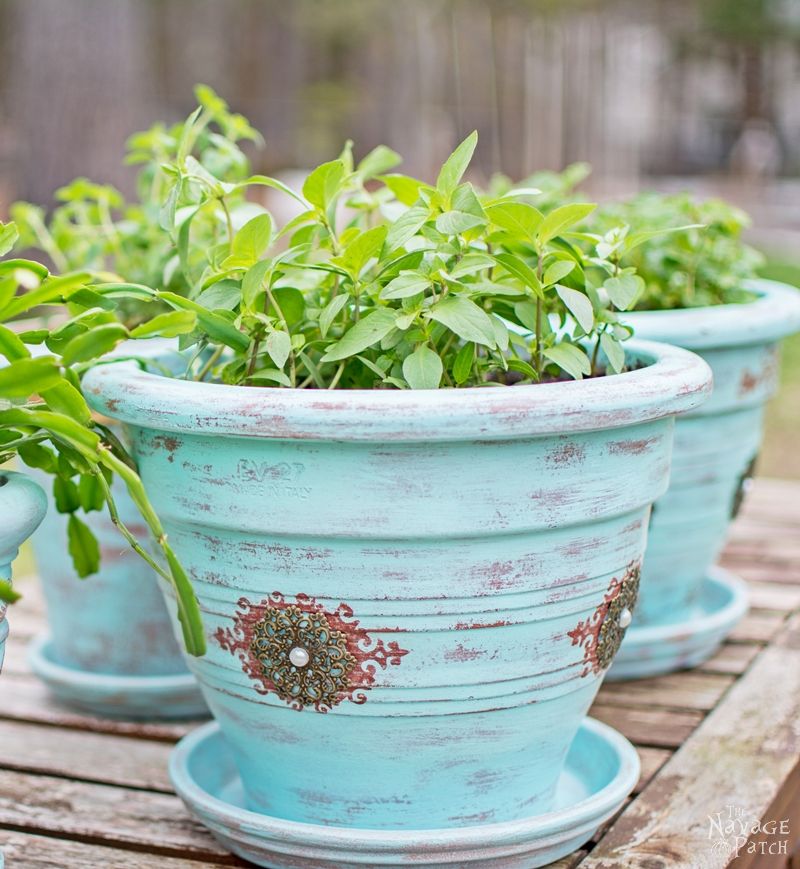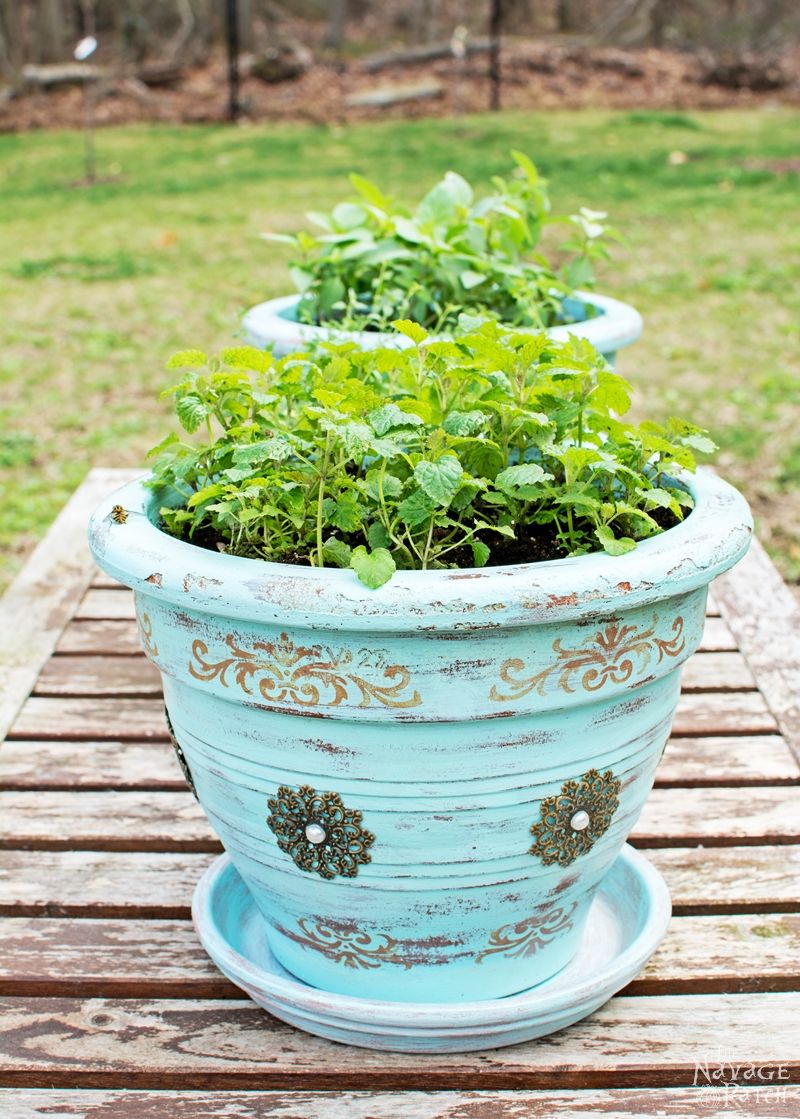 As usual some close-up pictures, so you can see the details better.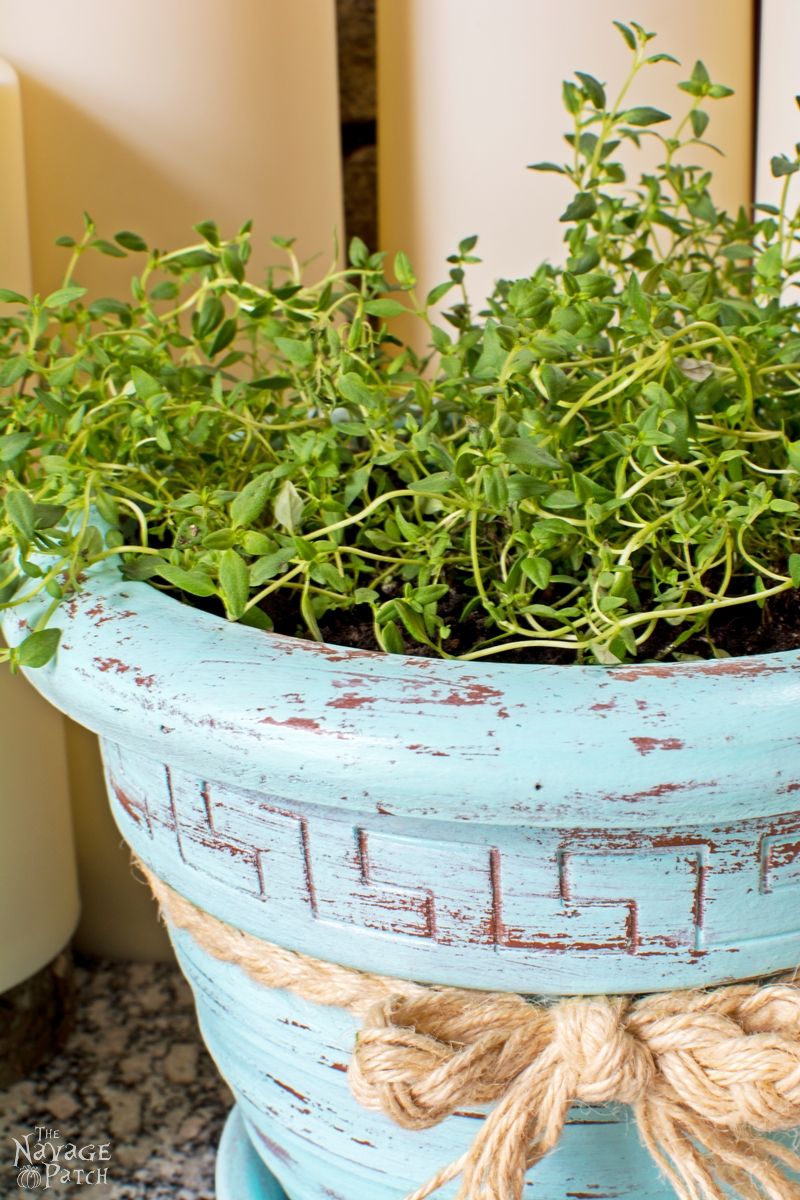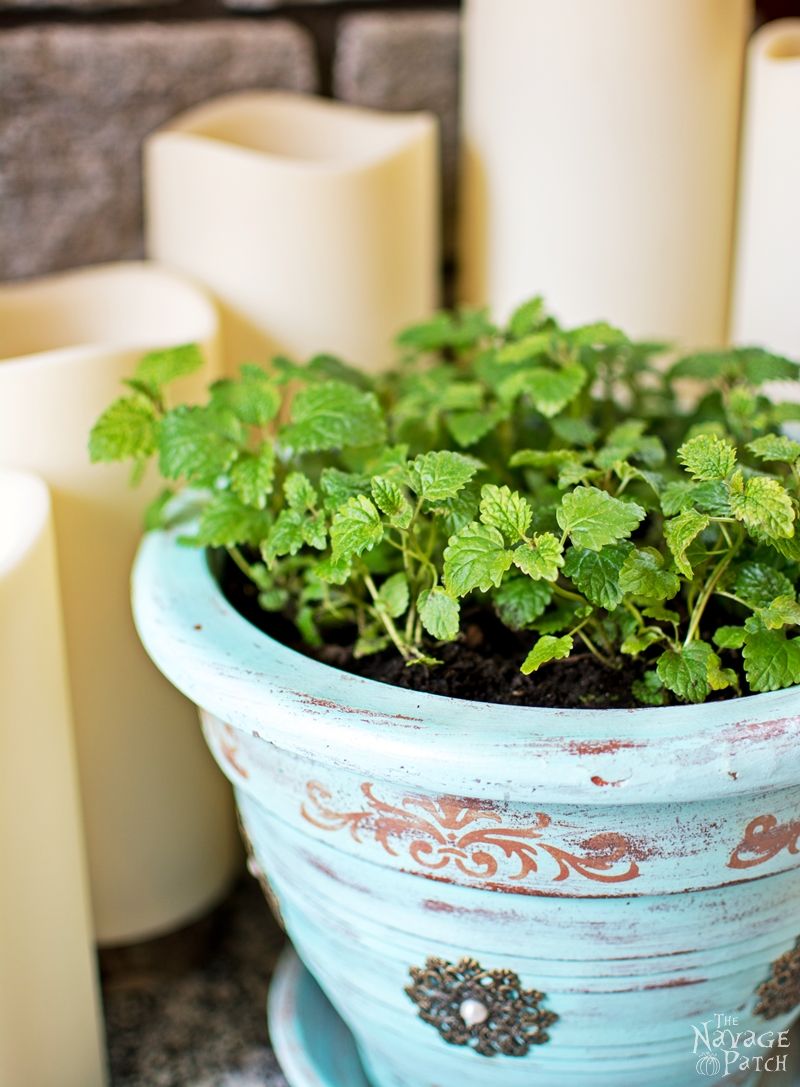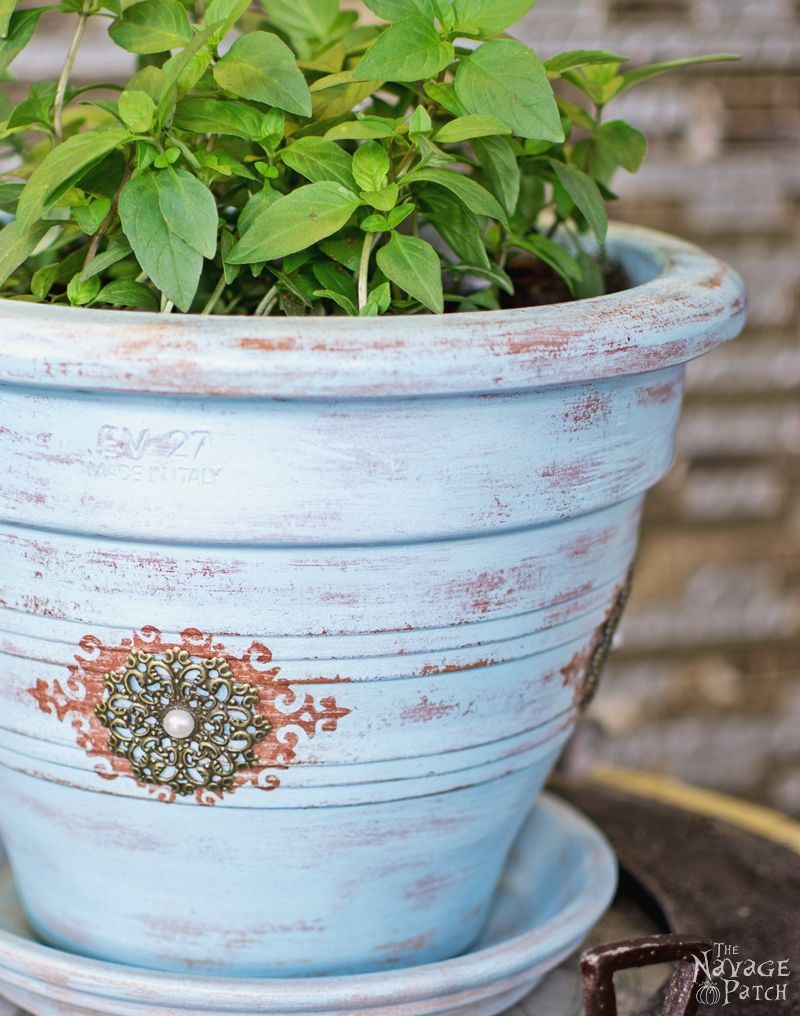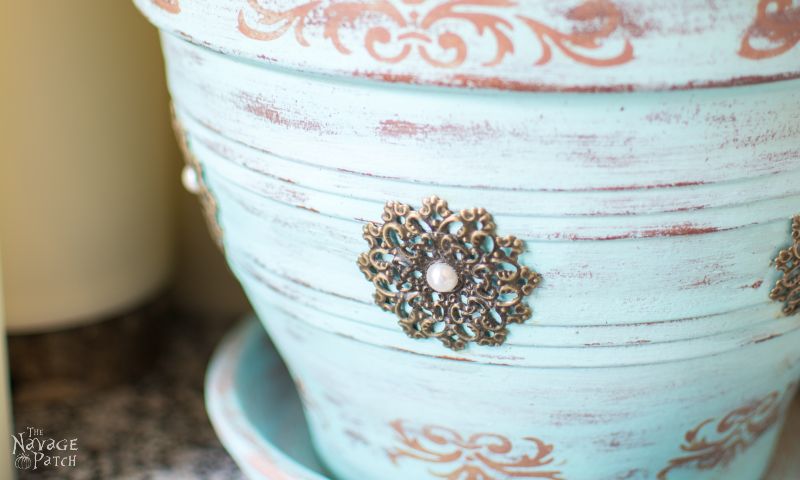 I can't wait to show our deck to you in the summer: I line up these beauties next to each other at the corner of our deck, and in the evening breeze it feels like heaven with all that beautiful scent in the air.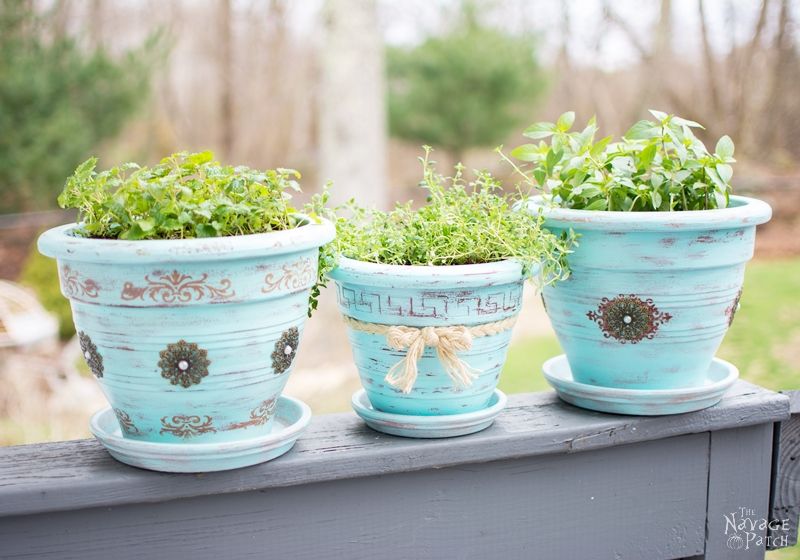 And here they are, all together, including the ones I did last year. Having them all the same color helps displaying them as a set, but the different finishing details breaks the monotony.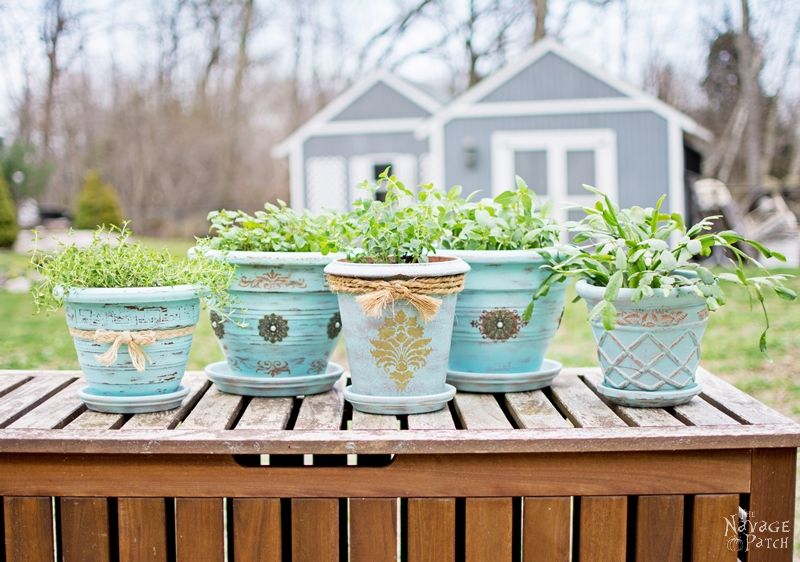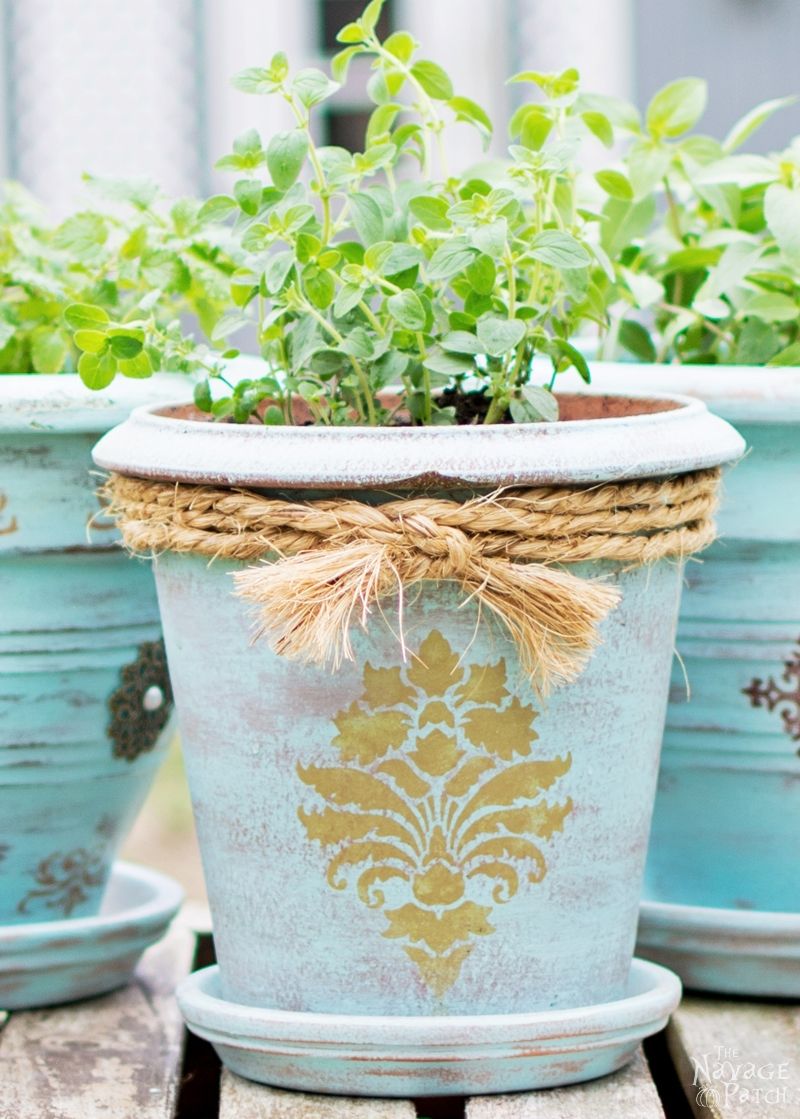 I hope you liked my jewels and their new pots. Since the topic is on jewels you may want to see what I did with this cabinet door sample.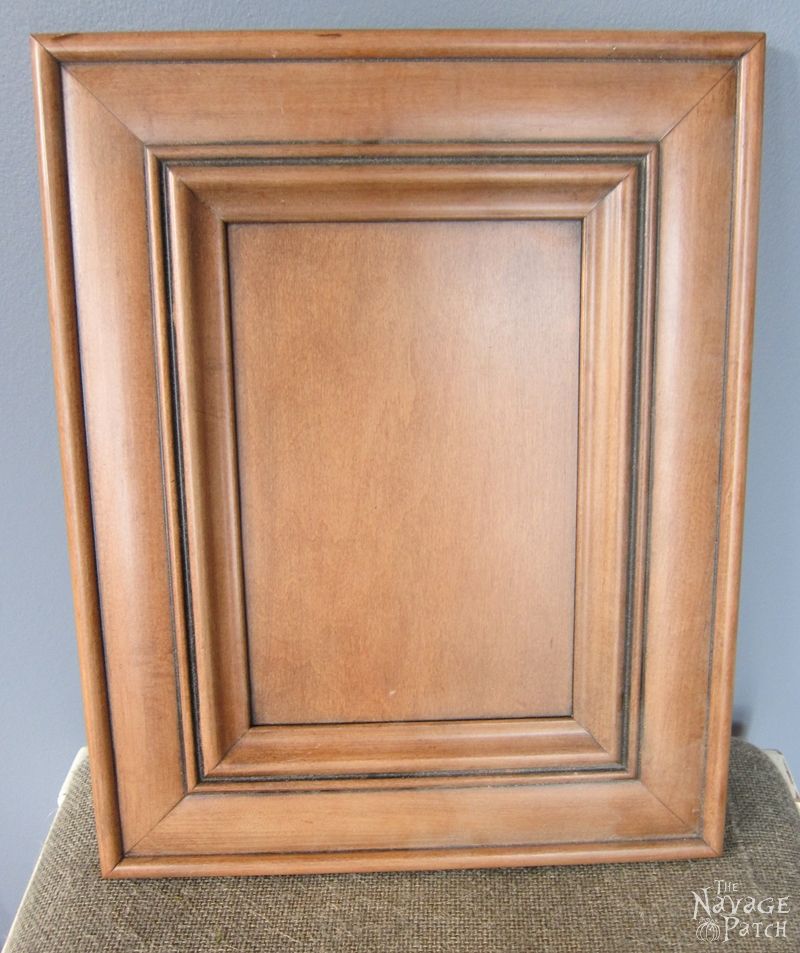 Handan, xo
We love it when you share our posts on Facebook and Pinterest!