Easy DIY Chandelier Makeover
A chandelier makeover is a cheap alternative to buying a new one. We'll show you the easy way to spray paint a chandelier to save you time & money!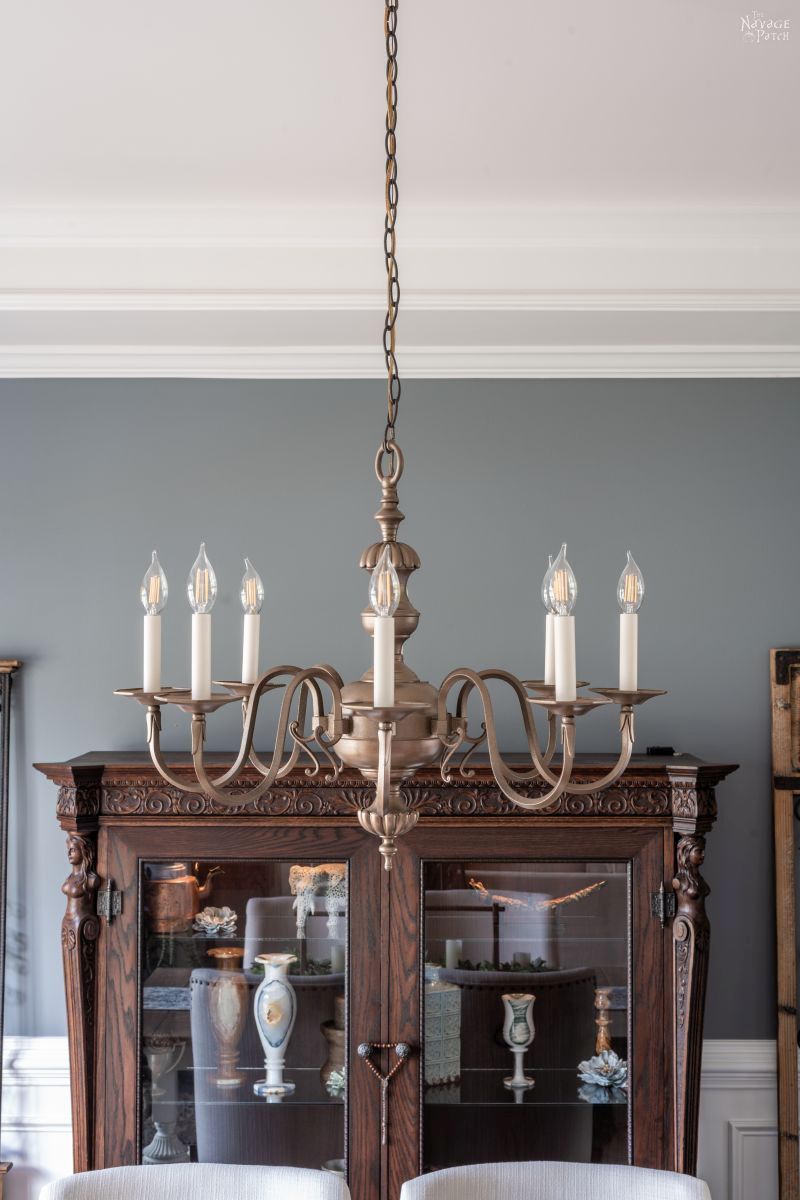 For a DIY family like ours, a new house comes together with a long list of projects that must be tackled before the house truly becomes our home.
As much as I'd like to sling a few boxes over the threshold, toss a sack of used underwear into the bedroom, order a large pepperoni pizza and call the job done and the house a home, I know those halcyon days of bachelorhood are in my past.
In my present, I have my babes, and my babes likes things to be just so in a new house.
And look, I'm not saying she's wrong. Far from it! The woman has an impeccable eye, and she's well on her way to transforming another house into our little slice of heaven.
Usually I completely agree with my babes' declarations.
"You will paint these walls, my babes." She said, flicking her finger to each of the dining room walls.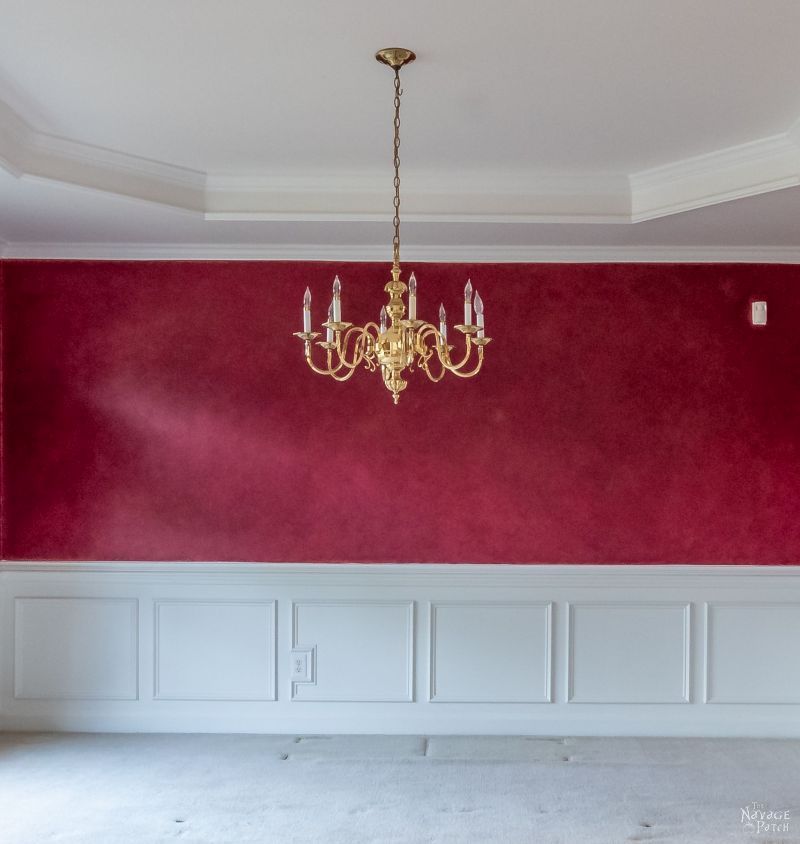 "Damn right I will!" I said in absolute agreement. The walls were hideous. I would paint them posthaste!
But sometimes I don't fully grasp her vision or see the genius in her plan.
Hanging in the middle of those glaring red dining room walls was a bright, golden chandelier – the type a builder hangs to add a touch of class to a room or perhaps to lead the eye away from his mistakes and inability to build something square.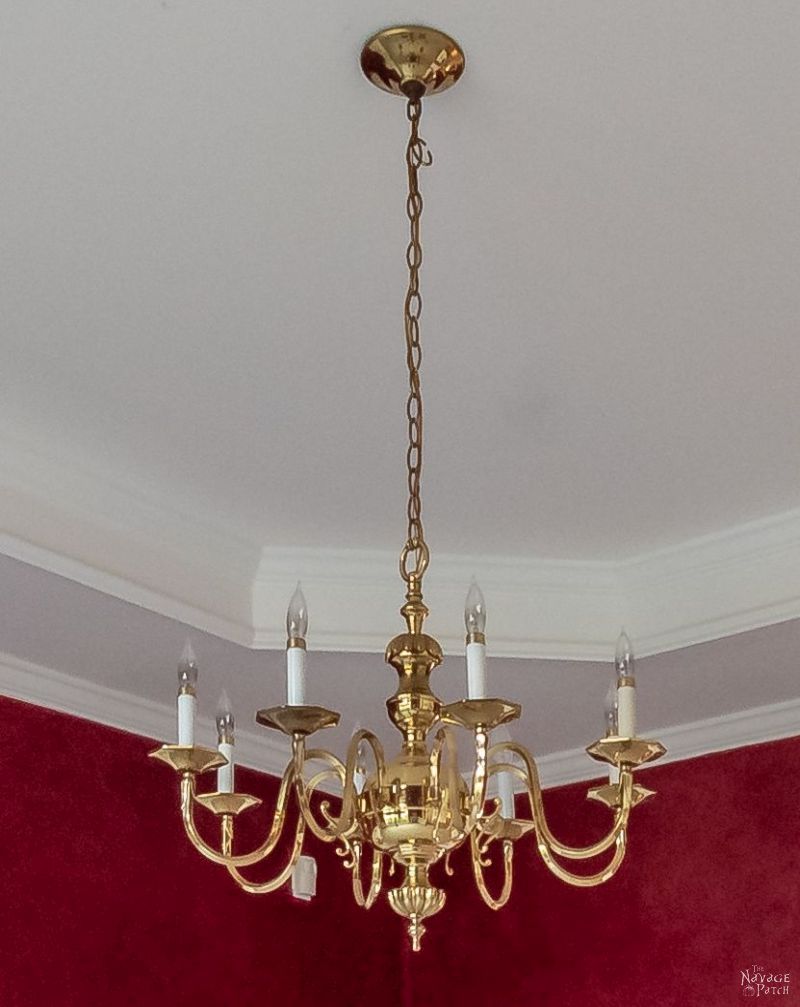 Nothing too fancy – just some brass-plated curvy metal with plastic tubes for candles – in other words, A Builder-Grade Special.
When we bought the house, I naturally assumed I'd be lowering that eyesore down from the ceiling and into its well-earned grave. It served honorably, but really, hanging around this long looking like that?
It was just embarrassing.
To keep it hanging would be like me feathering my hair, splashing on some Paco Rabanne cologne, rocking a popped-collar Izod, pulling on a pair of parachute pants (with pegged legs), slipping on a faded jean jacket with a big Duran Duran button skewered through the left breast pocket and then tagging along with Baris and his friends. Maybe I'd pop a retainer in my mouth to complete the look.
I assume a lot of things around here, and lemme tell you sister, very rarely do those assumptions pan out.
So you can imagine my shock (and horror) when I saw the following entry on my Babes-Do project list: Chandelier Makeover.
I blinked rapidly, thinking that something must have lodged in my eye that was distorting my vision.
The loon my wife couldn't possibly want to salvage that hot brassy mess!
I held up the list and shook it in the loon's my dear wife's general direction. "Now, see here!" I said, "What's this all about?" I tried to imagine the hideous amounts of labor involved in making over something as ornate and curvaceous as that chandelier. What was next? A french horn refresh project?
The woman's gall knew no boundaries!
Suddenly I wanted nothing more than to flop my flabby white carcass onto the nearest sofa and have a good restorative and contemplative nap.
There was just one problem…
WE DON'T OWN A SOFA YET!
GAH!
I spat at my stupid rotten luck.
With nowhere to run and nowhere to hide I turned to face my craptacular fate.
"We're keeping that twisted hunk of crap?" I still couldn't believe it.
"My babes." She said in that way she has of saying things.
Now, look, according to Google's statistics on The Navage Patch, there's a 94% chance that you, dear reader, are a woman, so you almost certainly know exactly "the way" of which I speak!
"My babes." She said, "It will be so very easy, and it's going to look awesome! They're going to love your chandelier makeover!" Please note (94% chance of being) madam that the "they're" she's referring to is you!
Do you see know how much you've affected our lives? Not only do we think of ourselves and what we like, but we think of you and what we hope you will like!
Anyway, I perked up at the word "easy." It's become one of my favorites.
And she wasn't kidding. It would be easy.
But truth? I still wasn't sold on the outcome.
In my mind, I'd built up a nasty prejudice against the golden-hued thing.
I couldn't see past its dated appearance. I couldn't see anything but a scrawny golden chandelier whose time to shine had faded during the Y2K pandemonium. This was the chandelier that would have gotten sand kicked in its candles back on the beaches of 1950s California.
Still, if my babes wanted me to spray paint a chandelier, who was I to say no? If it would make her happy, it would make me happy, even if it looked like the same wimpy thing in a slightly different outfit.
As is always the case, I learned a thing or two during this chandelier makeover, not least of which is not to judge fixtures too harshly by their shiny brass or gold appearance. I'm guilty of that more than I care to admit. One glimpse of the shiny stuff, and I'm all "Oh no! Uh-uh! Not in my house!"
But now I know there's another way.
Acceptance and tolerance, madam, are for human beings.
Spray paint is for gold and brass fixtures.
How to Spray Paint a Chandelier
Step 1 – Take down the chandelier
Look, I know this is one of those duh statements, but madam, on the off chance you delegate this task to your mustachioed sofa sprout, well…I wouldn't want to see him destroy your high-gloss table, silk runner and newly-upholstered chairs with a fine mist of oversprayed paint. We men may have a lot of things going for us, but common sense isn't always one of them. My wife told me so!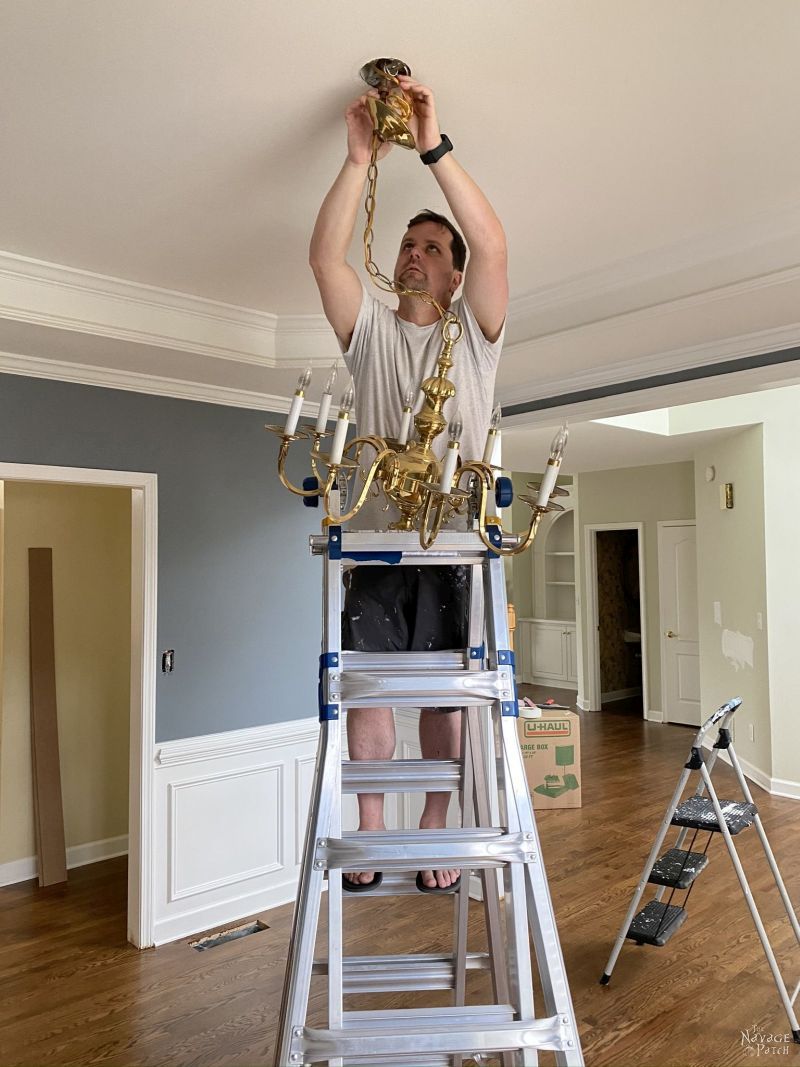 Oh yeah, one more thing – make sure the light switch is in the OFF position before embarking on this step. Be sure to tell your significantly dumber other – he'll probably forget.
(And yes, you're totally getting an illegal sneak-preview of our dining room makeover in this post. I'm going to have to insist on you forgetting everything you see here when you're done reading.)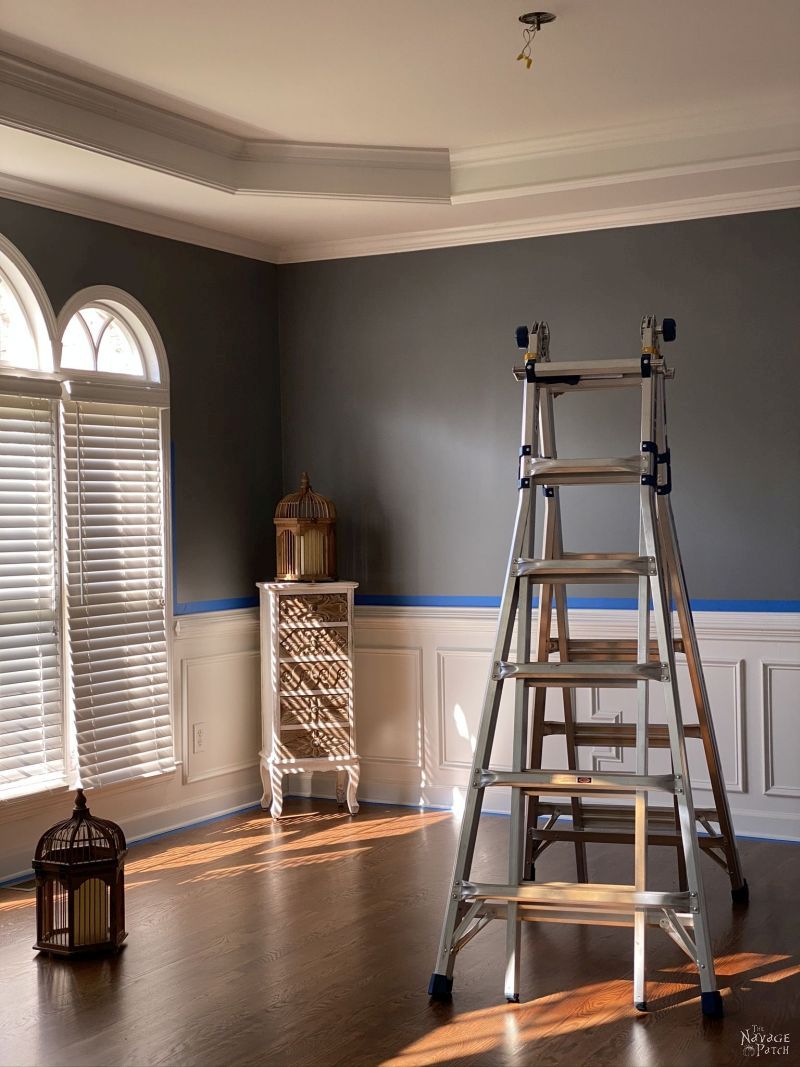 Step 2 – Tape & clean the chandelier
First things first – remove the chain. While you could technically paint it, why bother? It'll be a total pain in the ass, and you can just buy one for about $5. So take my advice and don't try to paint the chain. You're going to have a bad time. And when women have a bad time, husbands suffer, so for the love of all that's holy, just buy the damn chain already!
Okay, now that we've settled that, the next step is to tape off those areas you don't want painted. The light receptacles are an obvious choice. We also opted not to paint the cord. Yes, it was gold, but we reckoned it wouldn't really be seen in the final product.
One note – I first cleaned the cord with a TSP-soaked rag before taping it up. The thing was greasier than a teenager working at a pizza shop.
Now, for the chandelier – to clean such a twisted and convoluted fixture, I mixed up a batch of TSP in a spray bottle.
TSP is the best degreaser on the planet. It single-handedly ended the 1950s.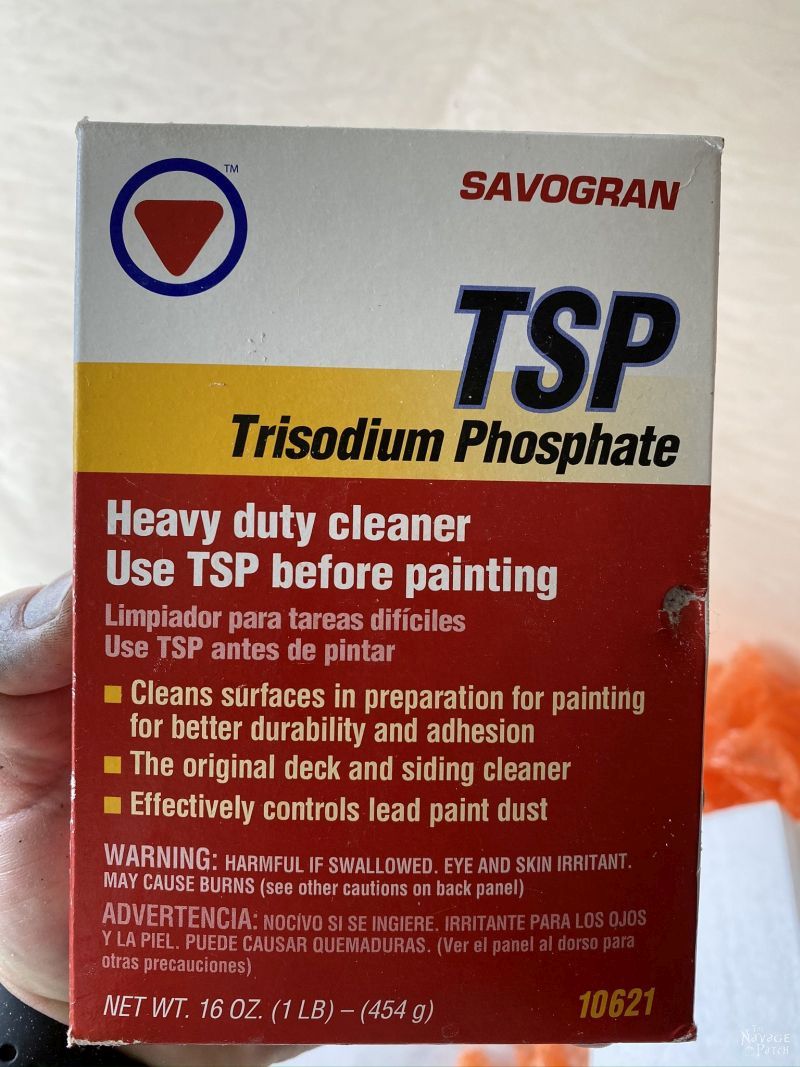 Once I had saturated the chandelier, I let the TSP sit for a minute or so, and then I wiped it off with a TSP-sprayed microfiber cloth. This was one greasy chandelier. I can only drool when thinking about all the delicious meals that contributed to that oily patina over the past 20 years.
Breaking News: Chubby Man with Balding Legs Sprays Chandelier! Film at 11!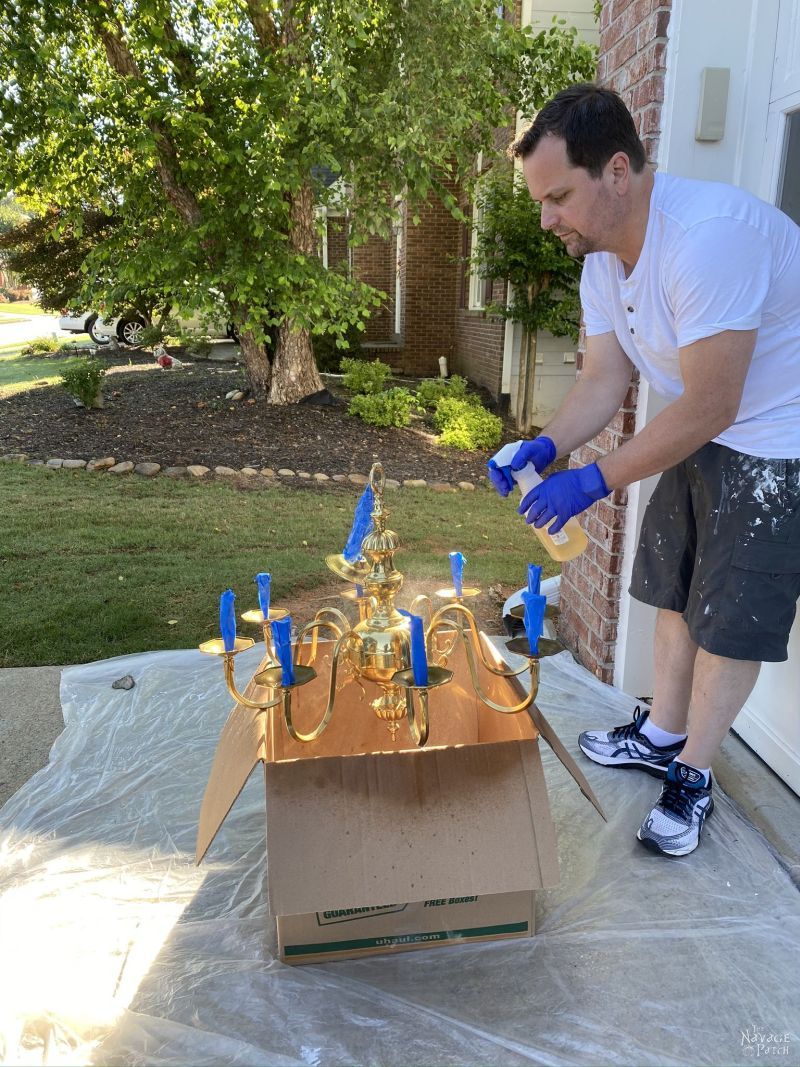 I cleaned the chandelier and removed any remaining dirt and grease with a microfiber cloth that I rinsed in a tub of water.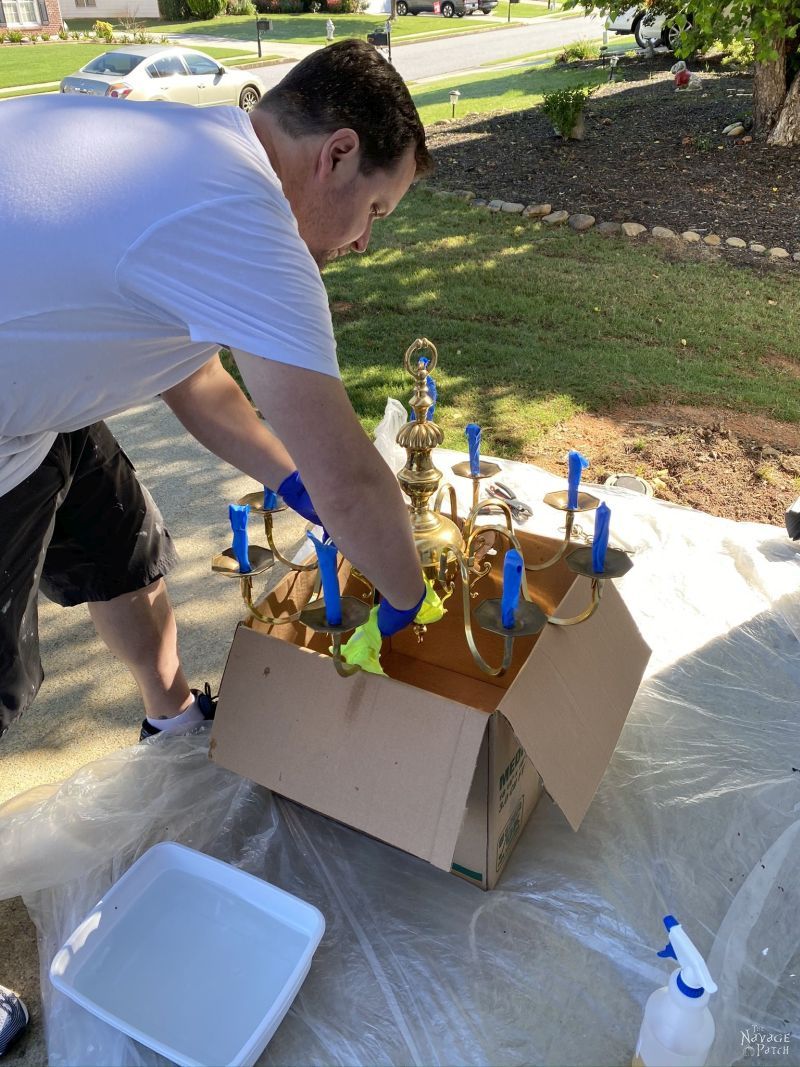 After removing all the filth and gunk, I let the chandelier dry.
Step 3 – Prime time
One thing is certain – our wispy little chandelier is made of metal that was covered with brass plating. What I'm less certain about is if there is any sort of polyurethane finish on the brass plating.
Regardless, since the chandelier will never be touched again once hung, I decided to prime it with self-etching primer.
This stuff is fantastic for DIY metal painting projects, as it eliminates the need to scuff the smooth metal with sandpaper first. But if the chandelier has a poly coating on it, then the acidic component in the etching primer will be doing a whole heap of nothing. Still, the primer component will help the paint stick, and as I said, we won't be handling the chandelier once it's hung, so I used it instead of a more traditional primer.
File it under: Can't Hurt, Might Help.
I held the cord out of the way – no sense priming or painting it.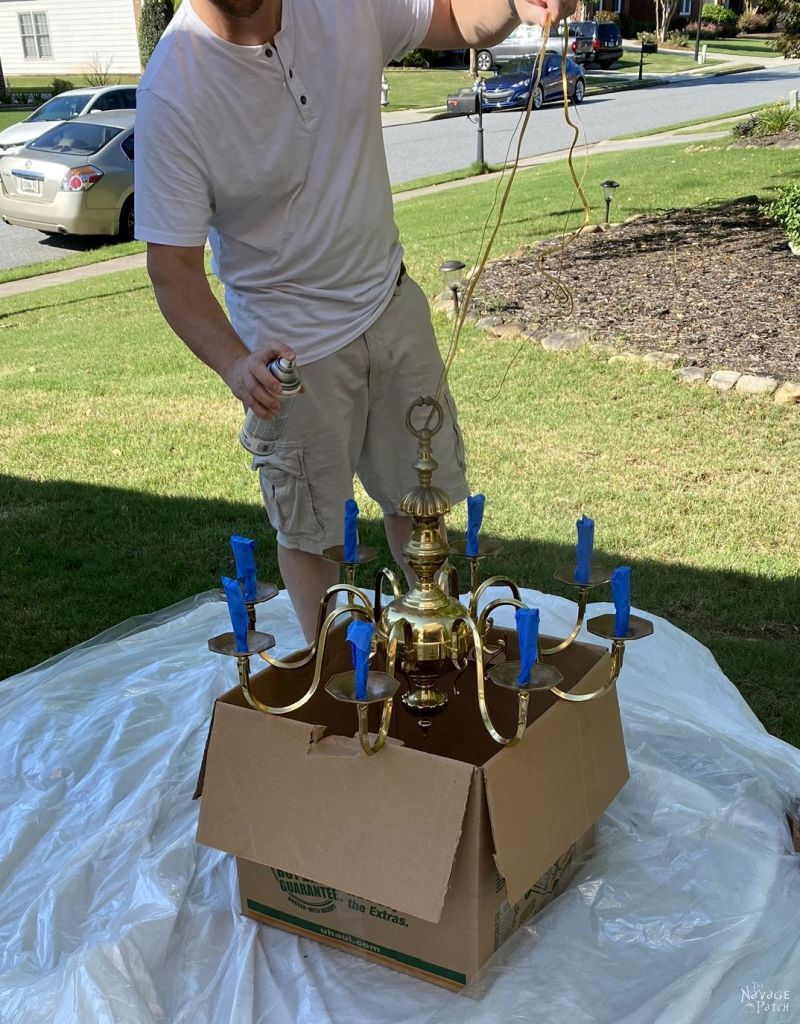 When I finished two light coats on the top side – spaced about 10 minutes apart – I left it to dry for a bit longer.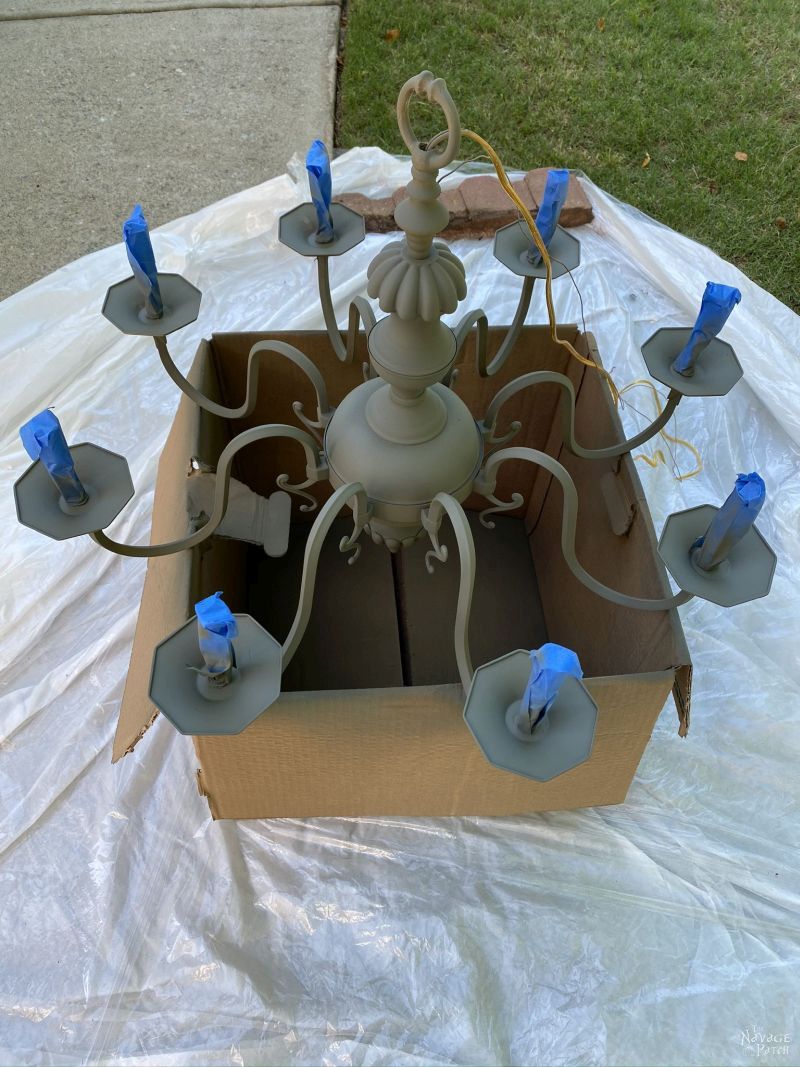 Then I flipped it over and primed the underside with two light coats.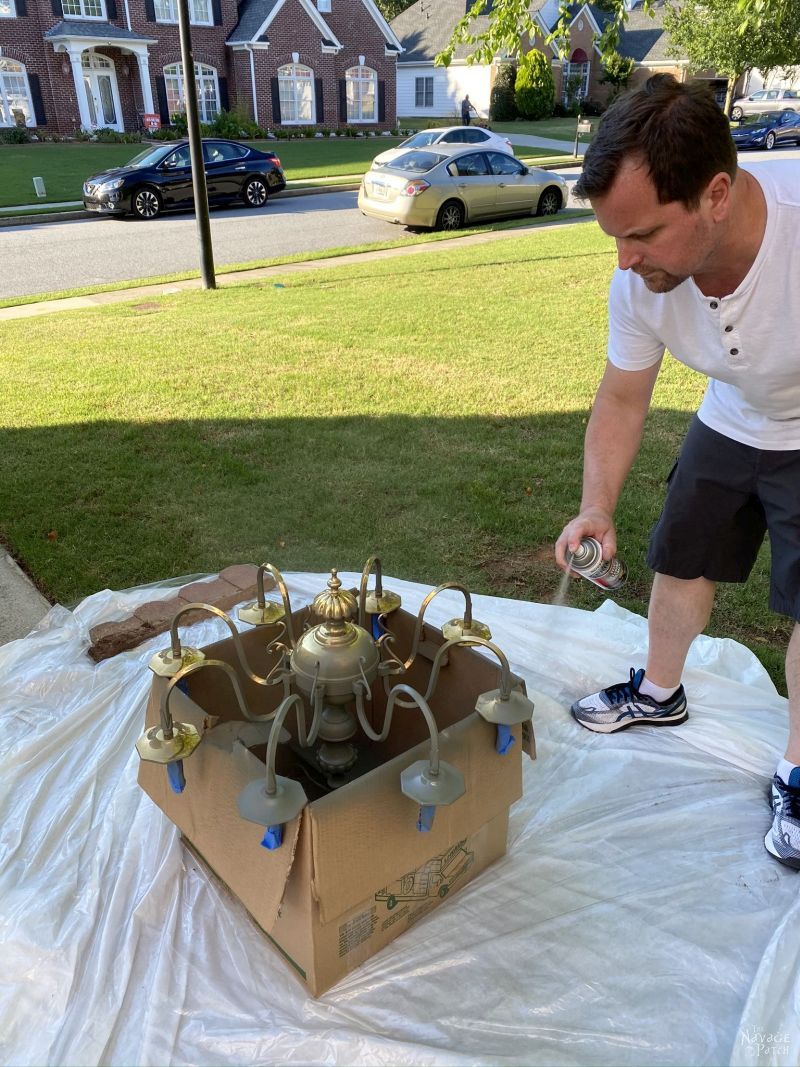 I let the primed chandelier alone for an hour or so and then hit it with 3 light coats of Rustoleum Antique Brass.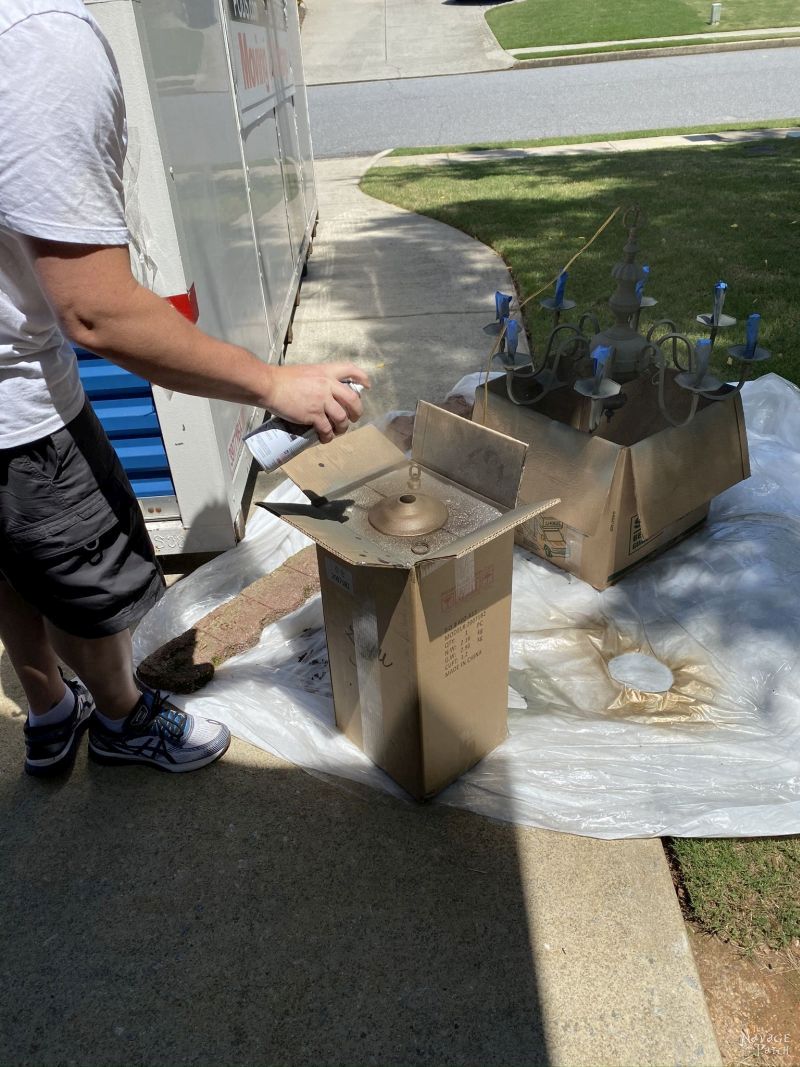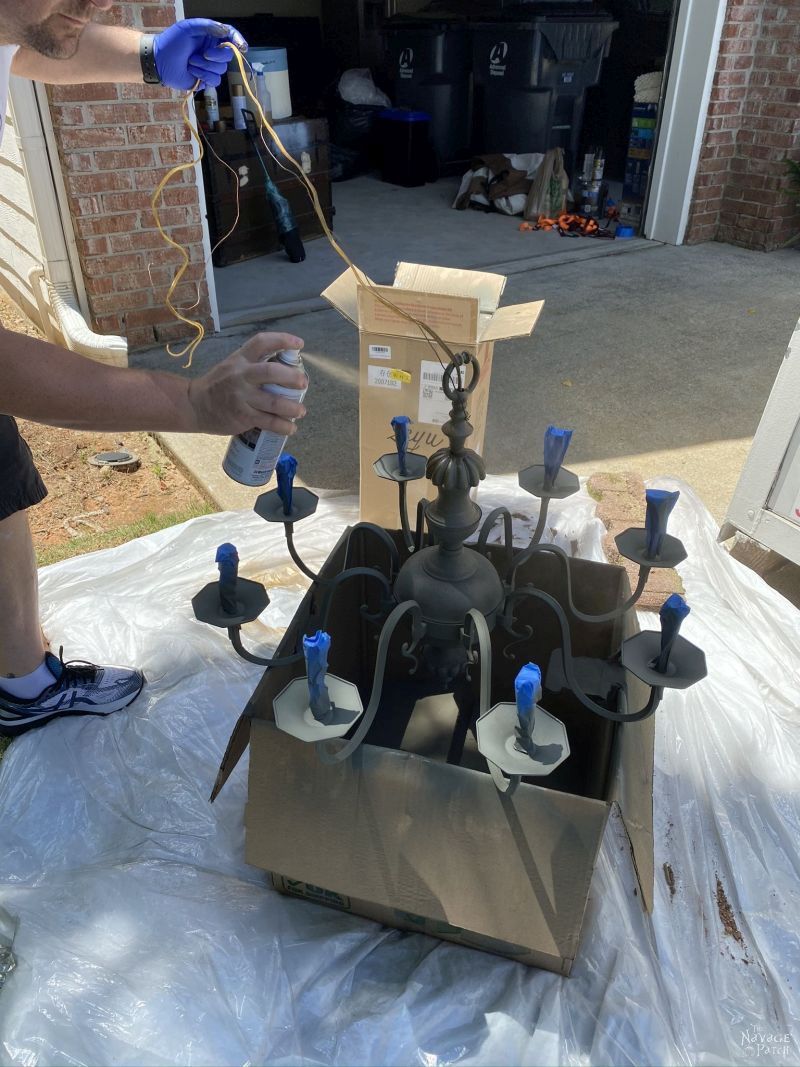 Handan just loves catching these dramatic action shots of me!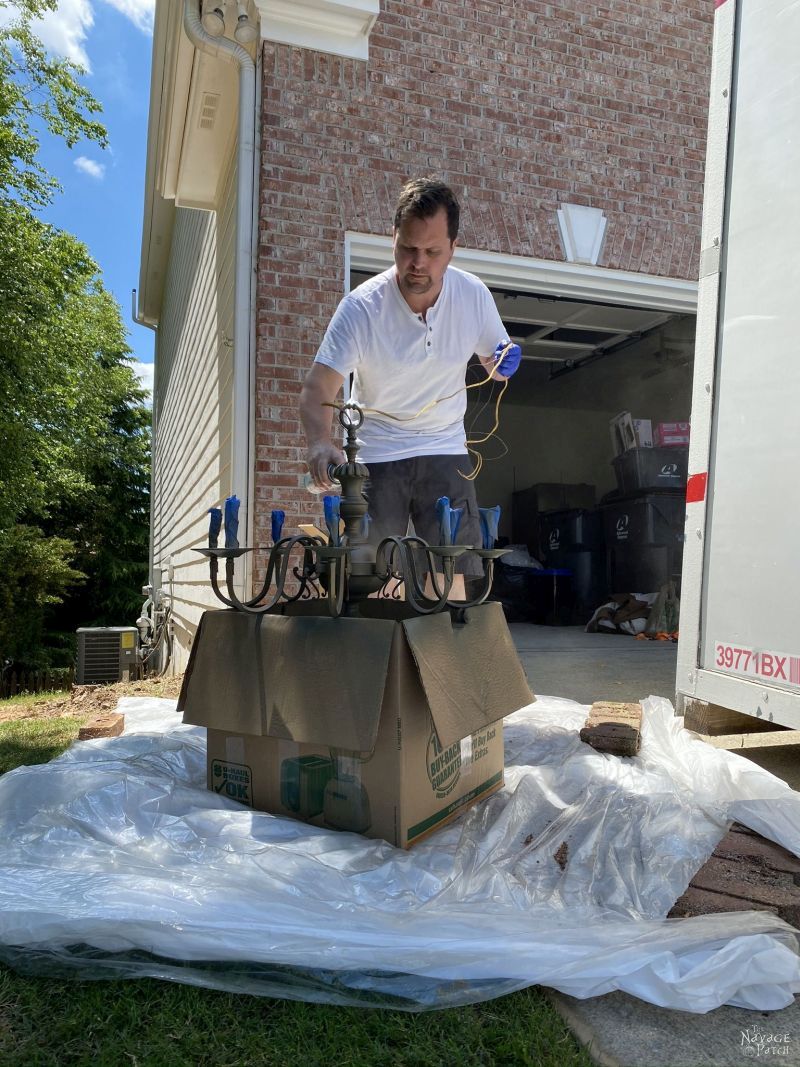 By the time the third coat rolled around, so had the clouds, the lightning and the thunder – a seemingly common afternoon occurrence here in Georgia. Humidity wreaks havoc on painting projects, so I carried the chandelier down to the basement, hung it from a light hanging from the ceiling joists, laid a tarp underneath and continued painting. If you have room in your basement or garage to set up the chandelier this way, I highly recommend it – it was a total breeze to paint. Just don't do it like I did. Please wear an organic solvent respirator if you're going to be spray painting indoors. Do as I say, not as I do!
In my defense, I ran around in quick circles, firing spray paint at the chandelier as I went. Before the fumes got too thick, I hightailed it back upstairs to safety. I spent too many years breathing fumes in the old house before figuring out the proper way of doing things. I have no intention of damaging my lungs and brain any further!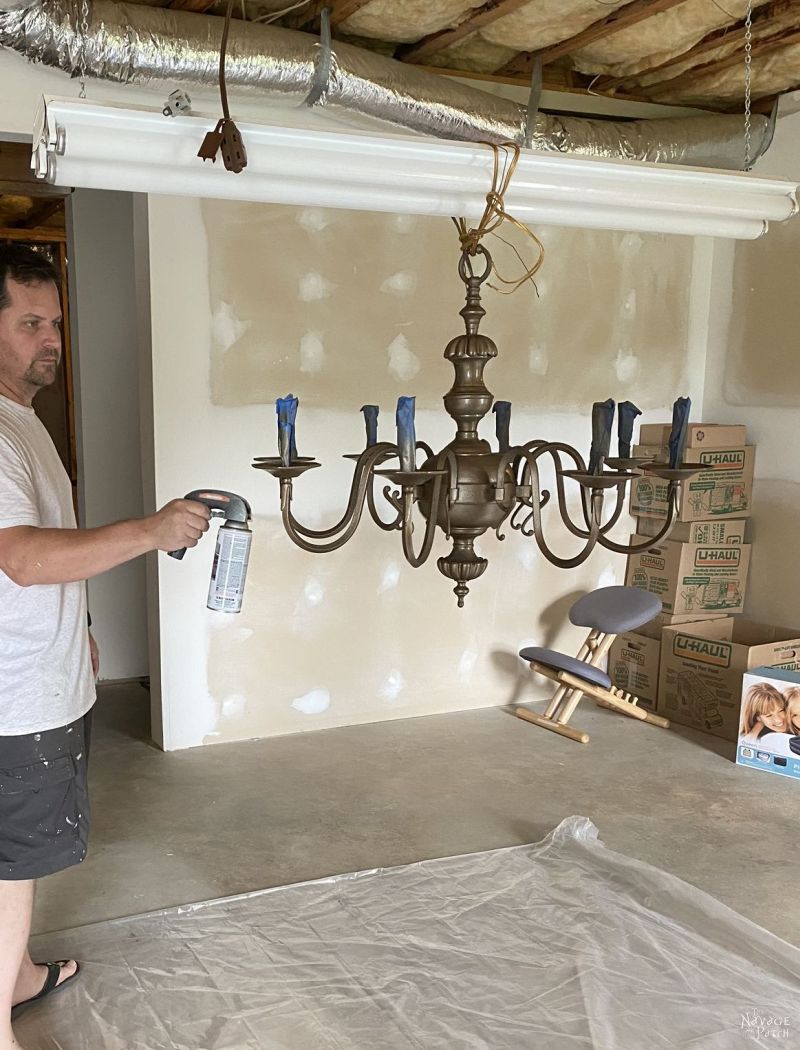 While the spray painted chandelier hung in the basement, I went to see about the candles. Of course, I forgot to take a single picture of the candle painting, but I started by spraying them with regular Rustoleum spray primer. I followed that with 3 light coats of Rustoleum French Cream.
Nothing fancy – those plastic tubes just needed a quick refresh.
When all was dry, I brought the chandelier upstairs, attached the new chain and hung it in its place.
Handan loves to take pictures of me when I'm concentrating on something and then have a good laugh about it afterwards. This picture was no exception.
Then she'll feel guilty about laughing at my resting bitch face and ask me to smile for a follow-up photo.
Usually I oblige. On a side note, I think it's time to get some sun on my legs. Jeezum Crow, I've got lobster sticks for legs! Just call me Tommy Two-Tone!
Anyway, I screwed in some new bulbs, replaced the plastic candle tubes and our chandelier makeover was in the books.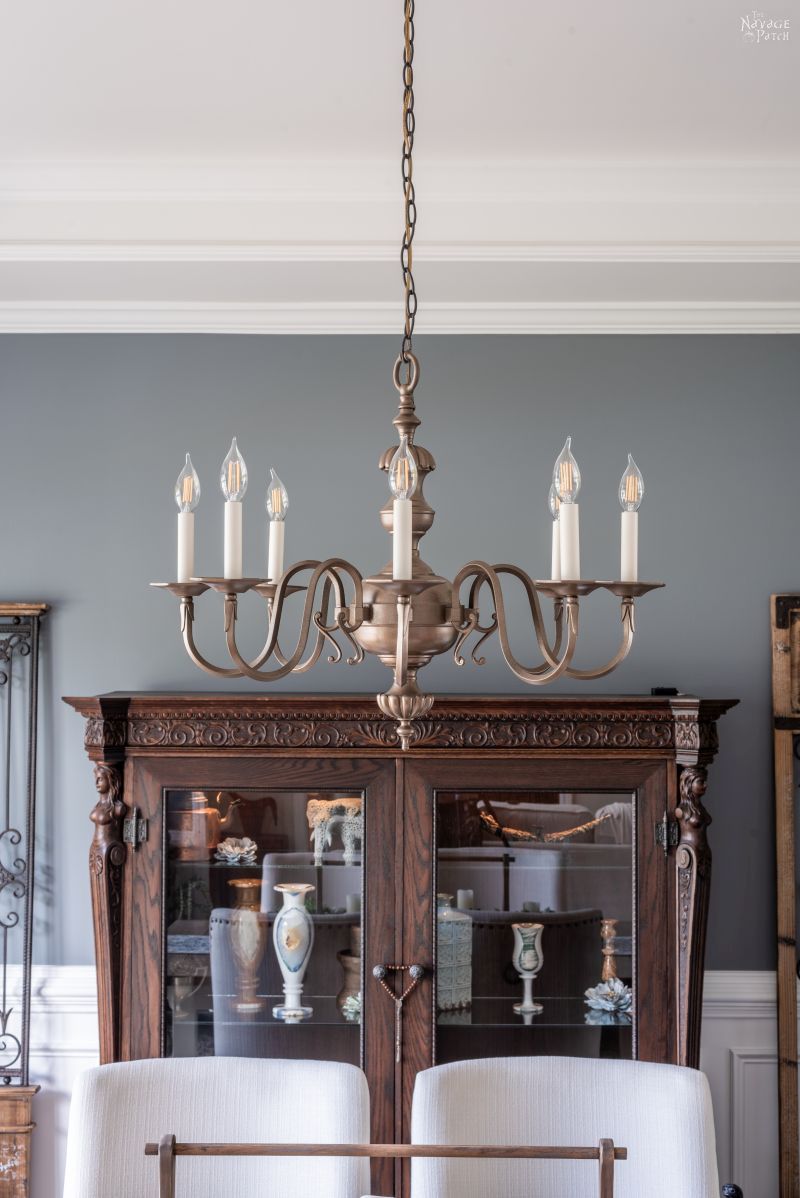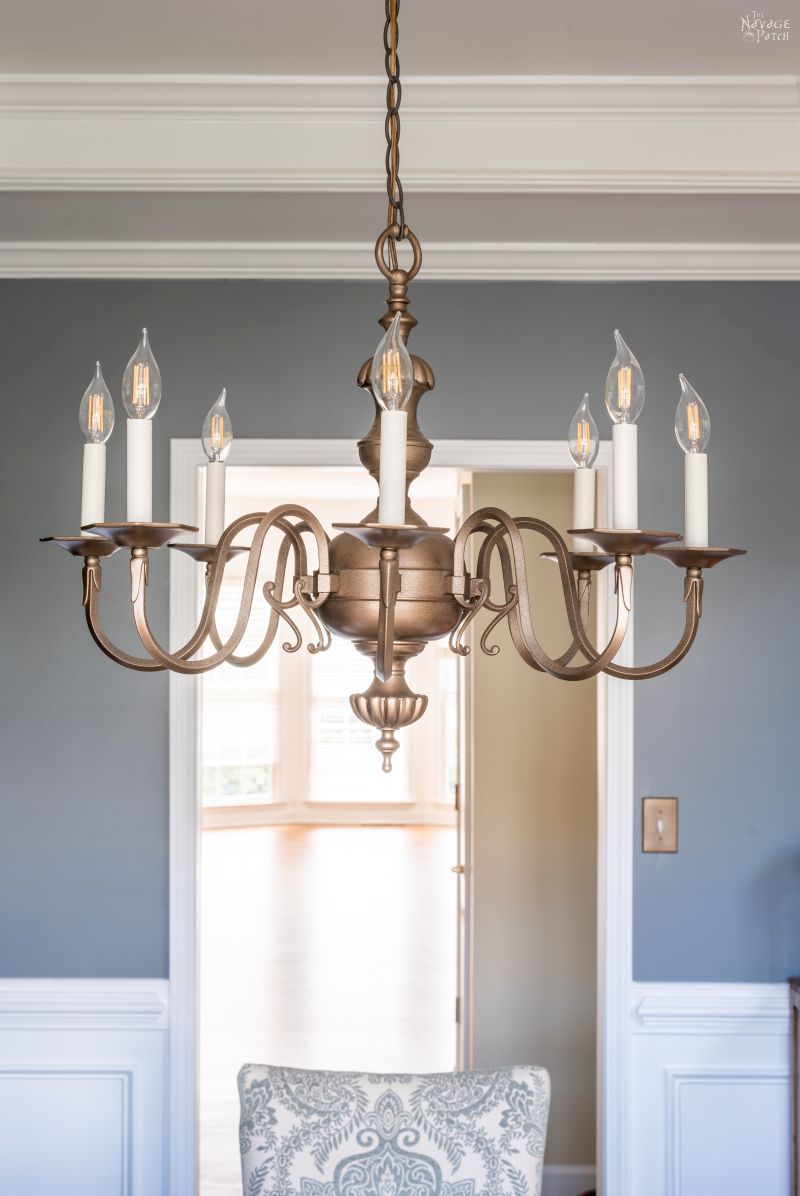 So what do you think? Now that you know how to spray paint a chandelier, will you be pulling down your Builder Grade Special and giving it a makeover?
We love it when you share our posts on Facebook and Pinterest!