Free Grain Sack Holiday Printables (& Another Cricut Joy Giveaway!)
Here are the printable versions of our popular grain sack holiday SVGs. Bring a little farmhouse this holiday with this classic collection!
Holy heck, are we crazy?? Didn't we just give away a Cricut Joy like two hot flashes ago? (Congratulations, by the way, to Lori in Salisbury, North Carolina! Use it in good health and have fun!)
The obvious answer is yes, we're nuttier than two Christmas fruitcakes!
Or maybe all this sunshine and warm weather is getting to us. Perhaps our brains have been stewed.
Whatever the reason, grab your garters and buckle your brassieres because we're giving away another Cricut Joy mere minutes after our last giveaway!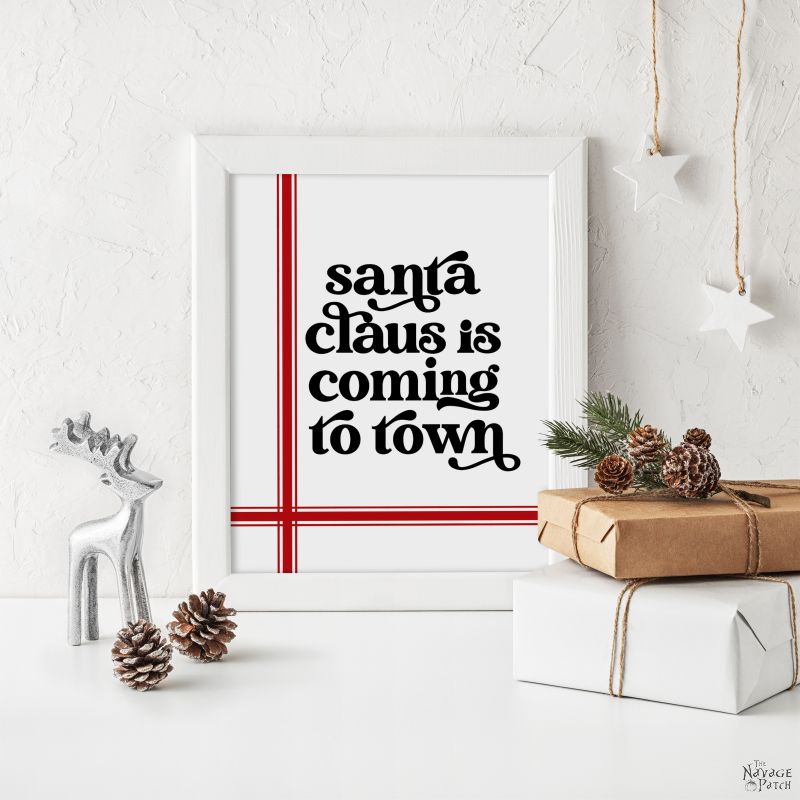 Now, you may be tempted to ask why, but as we told Baris every time he'd ask why when a good thing came his way, don't worry about the why, just run with it!
Ah, what the heck, I'll tell you. Our goal this year was to give away four Joys, and upon closer inspection, we discovered we'd only just reached three with our latest giveaway.
Three ain't bad, but it also ain't four. A promise made is a promise kept, so my babes and I will give away four Joys this year come hell or high water.
And keeping in the holiday spirit, we wanted to squeeze this final joy giveaway of 2021 in before Christmas.
Don't worry if you don't win. We'll have more giveaways in 2022!
Now, while you wait for the drawing on Saturday, December 18th at 10 PM EST, Handan converted those beautiful grain sack holiday SVGs into proper printables. It's like two gifts in one!
We hope you enjoy her work, and we hope you all enter the Cricut Joy giveaway! Nothing makes us happier than sharing our work and giving away free stuff!
We love to see our printables out in the wild! If you display our free printables in your home or use our free SVGs in your projects, and take a picture and post it on Instagram, be sure to tag us @TheNavagePatch!
Free Grain Sack Holiday Printables
We designed these free grain sack holiday printables in two sizes: 11×14 inch, and 16×20 inch JPGs. As all our JPG files are high resolution, you can scale them up or down as necessary. 16×20 inch scales down to 12×15 / 8×10 / 4×5 inches with no problems. If you need help with scaling down these printables so you can print them on your home printer, then make sure you check out Handan's "How To Easily Resize Pictures" post.
Now it's time to click on the button below to download today's free grain sack holiday printables – you'll find them under the "Christmas" section of The VIP Patch.
take me to your
amazing freebies library
If you're not a Navage Patch VIP, you won't be able to access our Freebies Library. But that can be easily fixed! Subscribe for free on the form below and become a Navage Patch VIP. Once you subscribe, a password will be sent to you in our Welcome email, and that will give you access to The VIP Patch [Freebies Library].
Cricut Joy Giveaway
Here it is folks – the Cricut Joy Giveaway – just in time for Christmas! The drawing will be held at 10pm EST on Saturday, December 18. Subscribe to our email list below for one entry, to our YouTube channel for a second entry, follow us on Instagram for a third entry.
If you are already subscribed to our email list or social channels, you will need to do so again below to be entered. But don't worry – you won't receive duplicate emails from us!
Open to residents of the US and Canada only.
Congratulations to Ariel from Atlanta, Georgia! Enjoy your Cricut Joy!
Hey, if you like Christmas as much as we do, don't miss our other Christmas printables collections!
Free Printable Holiday Planner
Free Watercolor Christmas Printables
Free Watercolor Winter Woodland Printables
Christmas Patent Wall Art and 18 Free Printables