Moss Balls and Topiaries (Size Does Matter!)
After last week's blizzard, I've had it with winter! I guess the idea of our deck being colder than our fridge doesn't sit well with me. It makes me feel like a vegetable put on ice to keep crunchy until served! But since winter wants to stick around, it seems I am left with two options:
Behave like a caveman and yell at winter to leave.
Act normal and ignore it. If winter still wants to get cozy, then simply imply that it is no longer wanted by changing the home decor to Spring.
I chose the later and started flirting with Spring. I haven't done much yet, but I've done enough to remind me of beautiful warm Spring weather: moss balls and topiaries.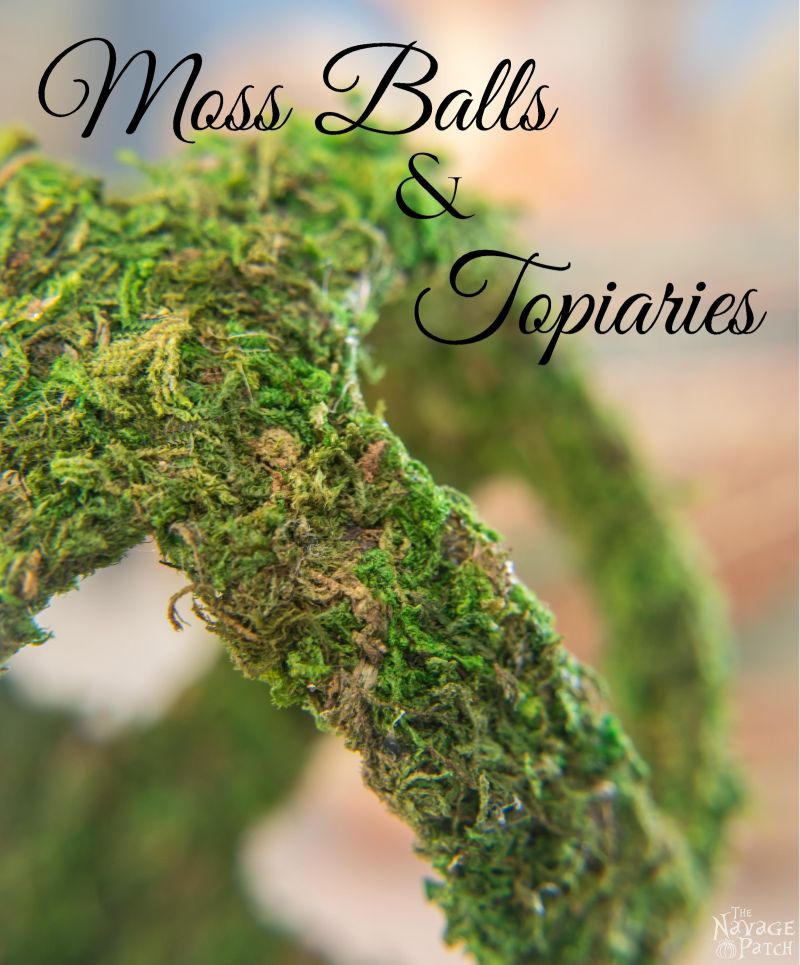 They may look like a lot of work, but they were quite easy to make. So no, I didn't need the skills of Edward Scissorhands to make these beauties 🙂
My first project was a cork & moss ball, or the "World War II Sea Mine" as Greg calls it. I used some natural color Spanish Moss
, wine corks, a hot glue gun and a Wiffle Ball
. Any plastic or Styrofoam ball would suffice to make this one, but I prefer a Wiffle Ball
, because not only did I already have one on hand, but also its circular holes make the cork placement easier.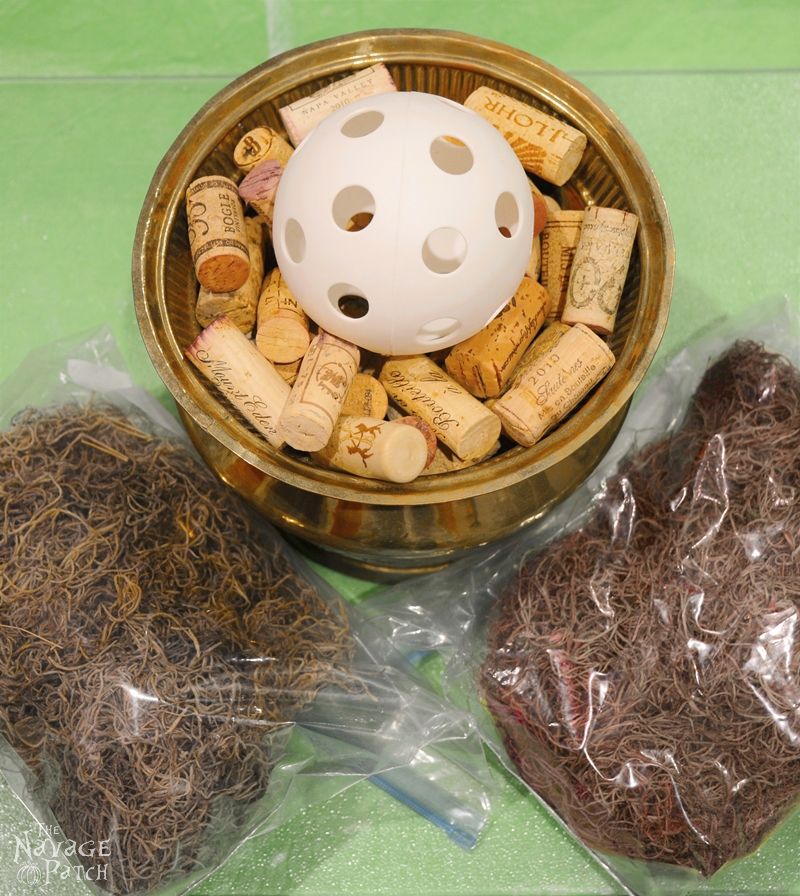 First I started hot gluing the corks in the openings of the Wiffle Ball
.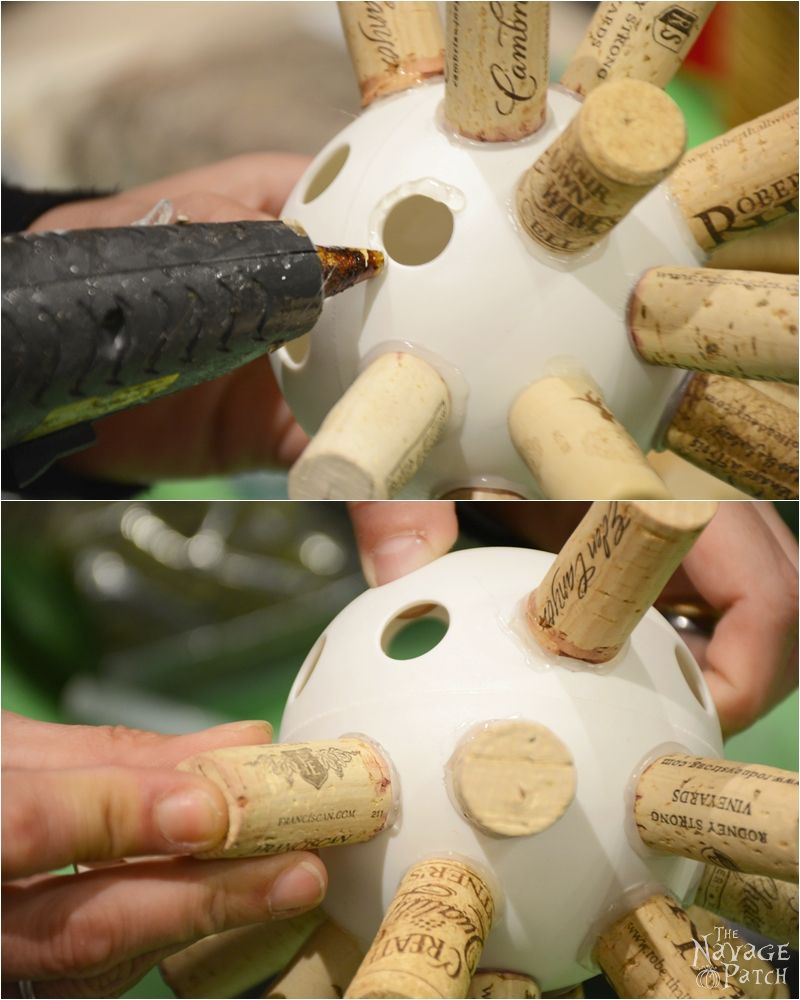 Once all the holes of the ball were filled, I hot glued Spanish moss
in between the corks.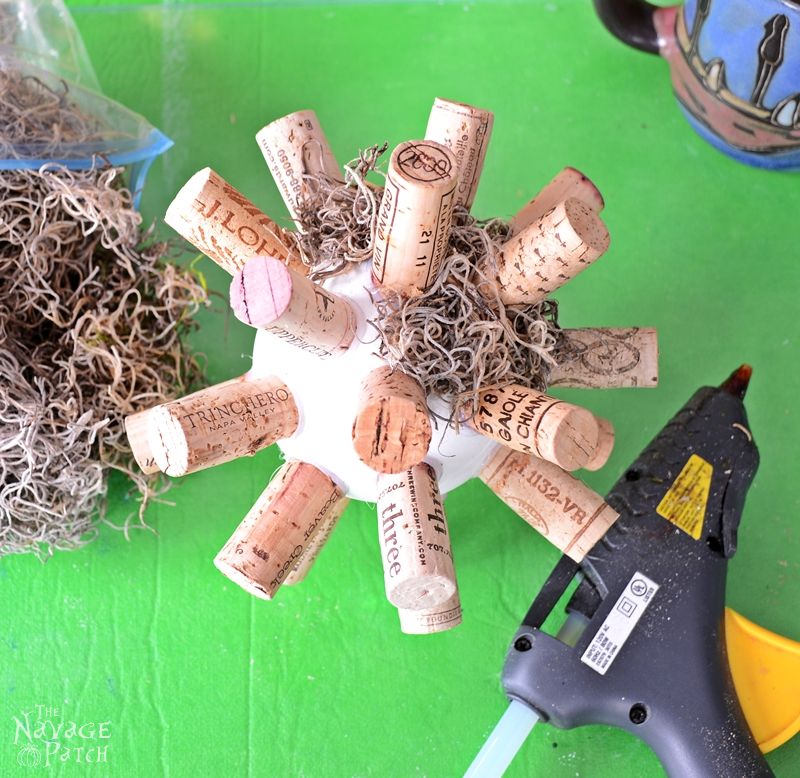 I used green Spanish moss
for the one I made last year, which you might have seen in Greg's "Filling the Void" post. Not to have two WWII Sea Mines exactly the same, I decided to use natural color Spanish Moss
with this second one.
The pine cone & moss ball have the same principle with the WWII Sea Mines. I started by hot gluing pine cones to the openings of the Wiffle Ball
.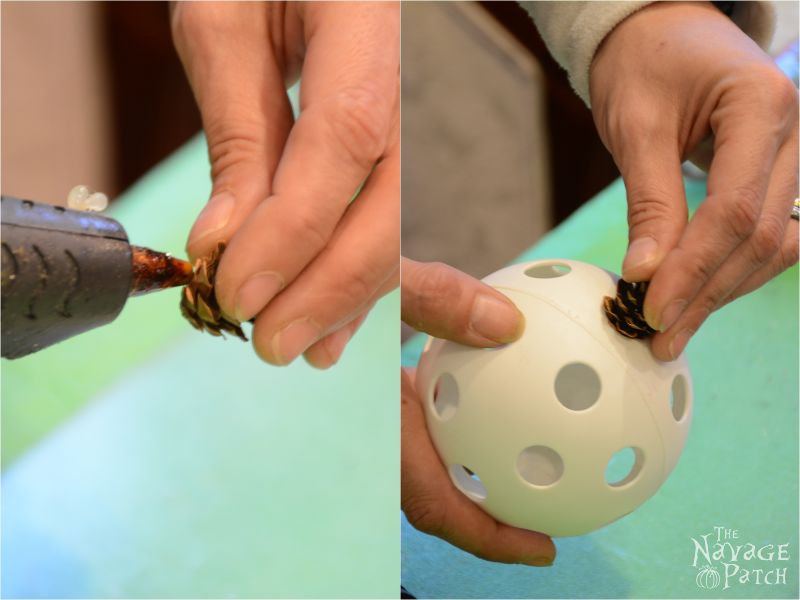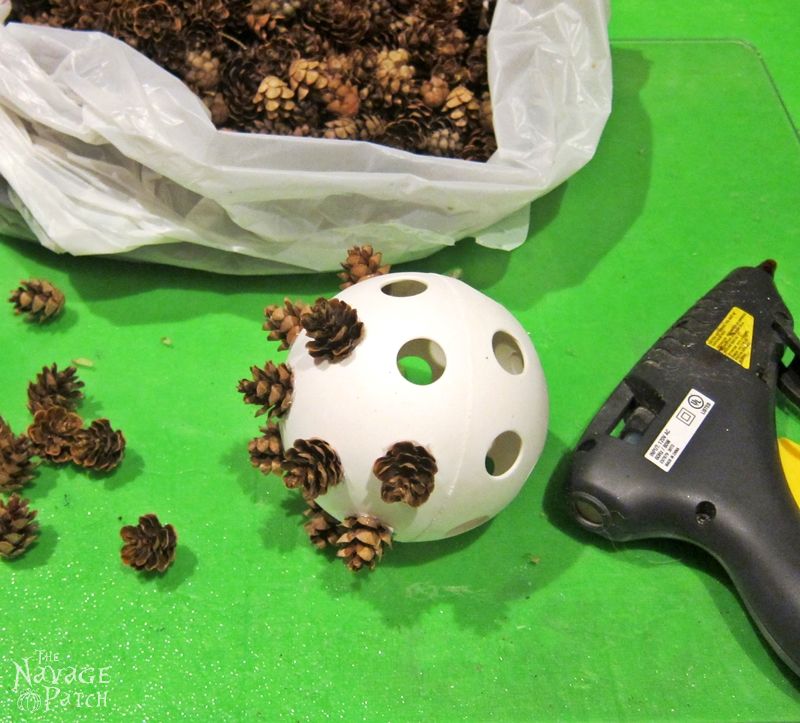 Once all the openings were covered with pine cones, I hot glued reindeer moss
to the areas between the pine cones until all the white surface was covered.
After tackling the small ones, I decided to go bigger. I bought an 8 inch Styrofoam ball
and two 12 inch half Styrofoam ball forms
from Amazon – one 12 inch single ball is pricier than 2 half ones. Other than the size of the balls, the process was almost the same.
Now here is something interesting I learned while making these bigger moss balls moss ball topiaries (another nightmare word for me to pronounce!) Apparently any moss ball bigger than 6-7 inches gains a much more sophisticated title in stores – Moss Ball Topiary – and is more expensive. So regardless of functionality – which is home decor in this case – size does matter! Anyway… back to the subject.
I first painted the Styrofoam balls
with dark green acrylic paint. This is so I wouldn't have to use too much green Spanish moss
to cover the white Styrofoam which could peak through from underneath.
After the acrylic paint dried, I started hot gluing the green Spanish moss,
section-by-section, and that was that.
Here is the finished 8 inch moss topiary.
With the bigger moss ball topiary (I can't help myself giggling at the name), it was pretty much the same process. The only difference was that I decided to add some vines on top of it so it would resemble the real deal. To accomplish this, I randomly wrapped some vines on the top part then hot glued the vines' ends at the bottom of the ball.
Then I covered those unsightly ends with more green Spanish moss
.
I didn't wrap vines all over, because only when the bottom part is free from vines would the topiary sit flawlessly on its urn.
Since I made it this far with the moss topiaries, I thought I should try to make something different than just a ball shape. That is when I came up with this little guy.
For this one I used metal strap
. The ones I had at home were perforated, but it didn't matter since they were going to be covered with sheet moss
. I cut 3 pieces of metal strap
of the same length.
Then one-by-one, I glued them to make a sphere as shown in the pictures below.
Once the sphere was formed, I hot glued sheet moss
until the metal surface was fully covered with moss…
…aannddd voila!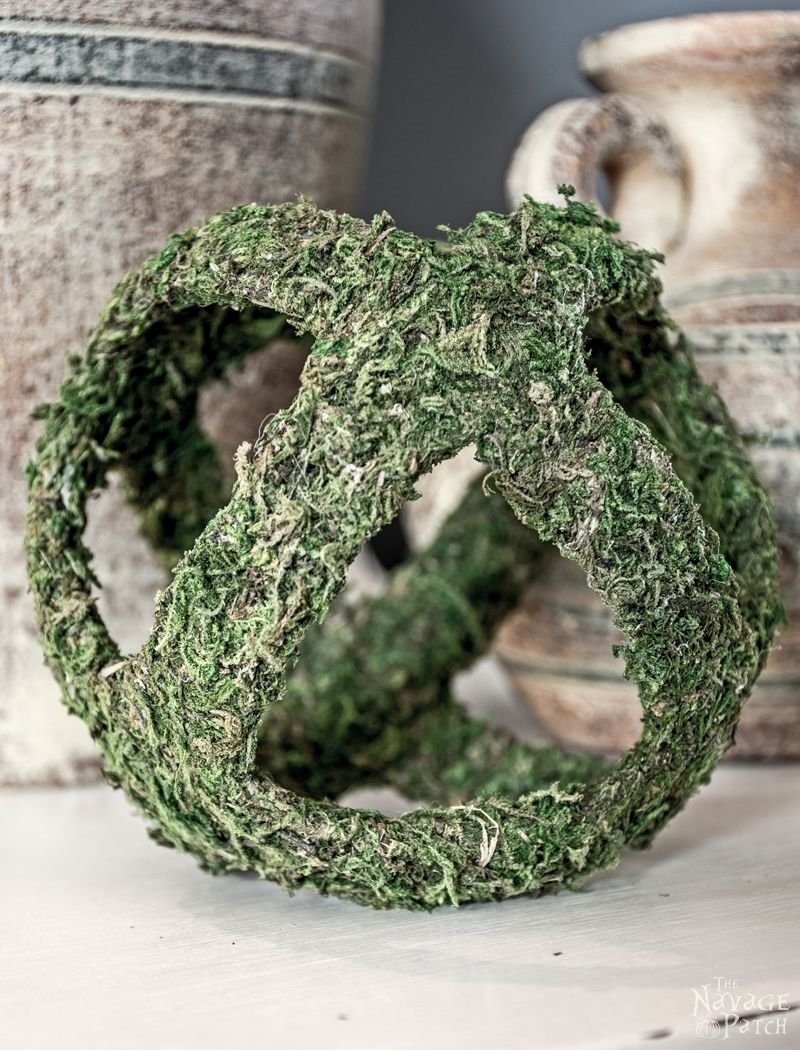 Here they are all together.
I have to say this was one of the most enjoyable projects I have worked on.
Having these beauties around gives me spring fever!
Handan, xo
We love it when you share our posts on Facebook and Pinterest!