Painting Stair Risers – How to Get Clean Lines
Painting stair risers with clean lines is a cinch with this one little trick. I learned it the hard way, so you don't have to!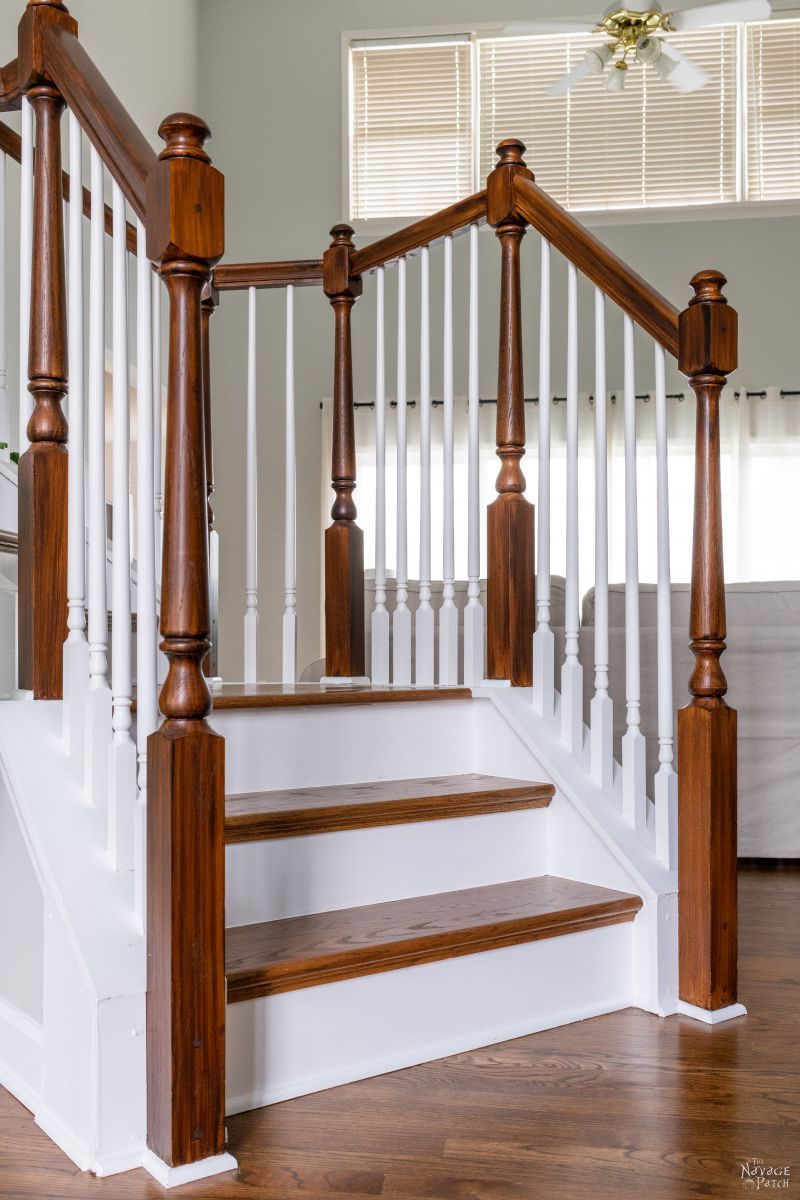 In hindsight, I should have known.
I mean, it's not like it was my first time around wood, right?
It should have been as obvious as the nose on my face.
But the notion never crossed the threshold of my walnut brain, so I painted our stair risers as if they were no different than a common wall – I just taped off the stairs and slapped on the paint. I shouldn't have been surprised to see that so much paint had leaked under the tape and gotten all over the oak stair treads. It was only then that the properties of wood came rushing back into the half-pint of oatmeal lodged between my ears, and I realized my error.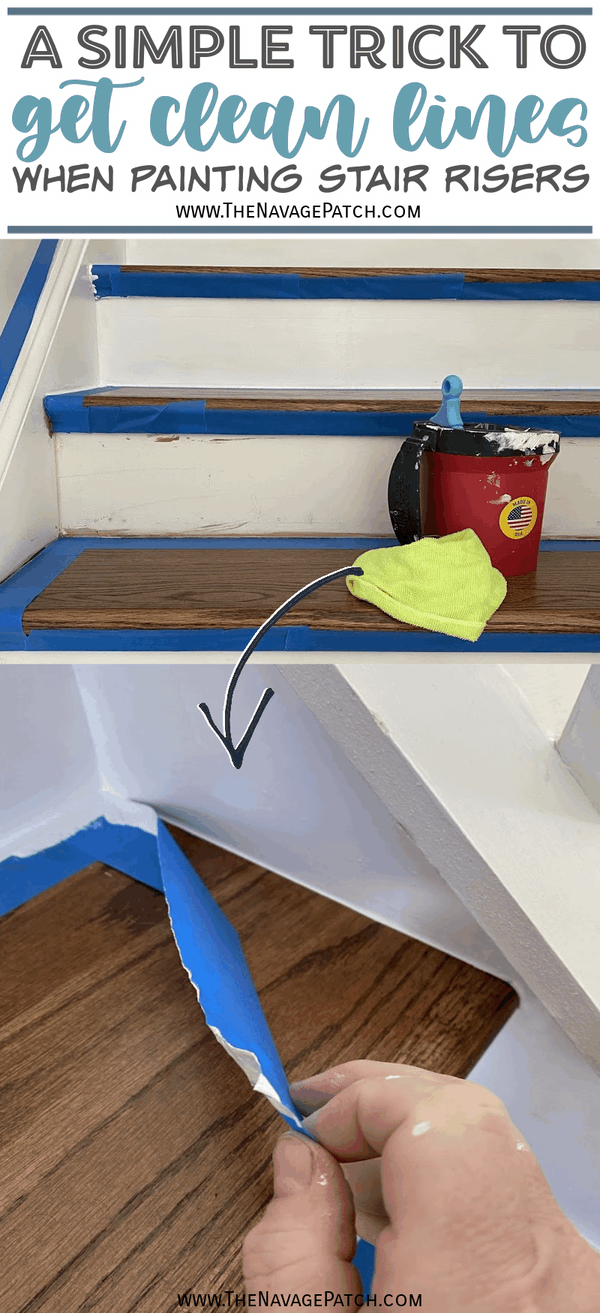 Wood has a grain to it, and that grain is not smooth. I tried taping it with painter's tape, but there was no way the tape would get into every little nook and cranny, so the paint was doomed to seep under.
So, the thing is, I never meant to write this post, because I never intended for the stair riser painting to be anything more than a simple tape 'n' paint. And when I discovered all that white paint that had seeped onto my beautiful stairs, my only thought was to grab a scraper and start scraping before my babes found out and called me a dummkopf. It never occurred to me to take pictures of the mess, because I was never planning to write about it!
Well, naturally, she found out, because it took an entire afternoon of scraping to get all the damn paint from the stairs, and there's no way I could ever avoid the kommandant for that long!
And the problem then was that the stairs still looked awful!
Okay, let's start at the beginning.
Here's what we were left with after we had wood floors and wood stairs installed last year: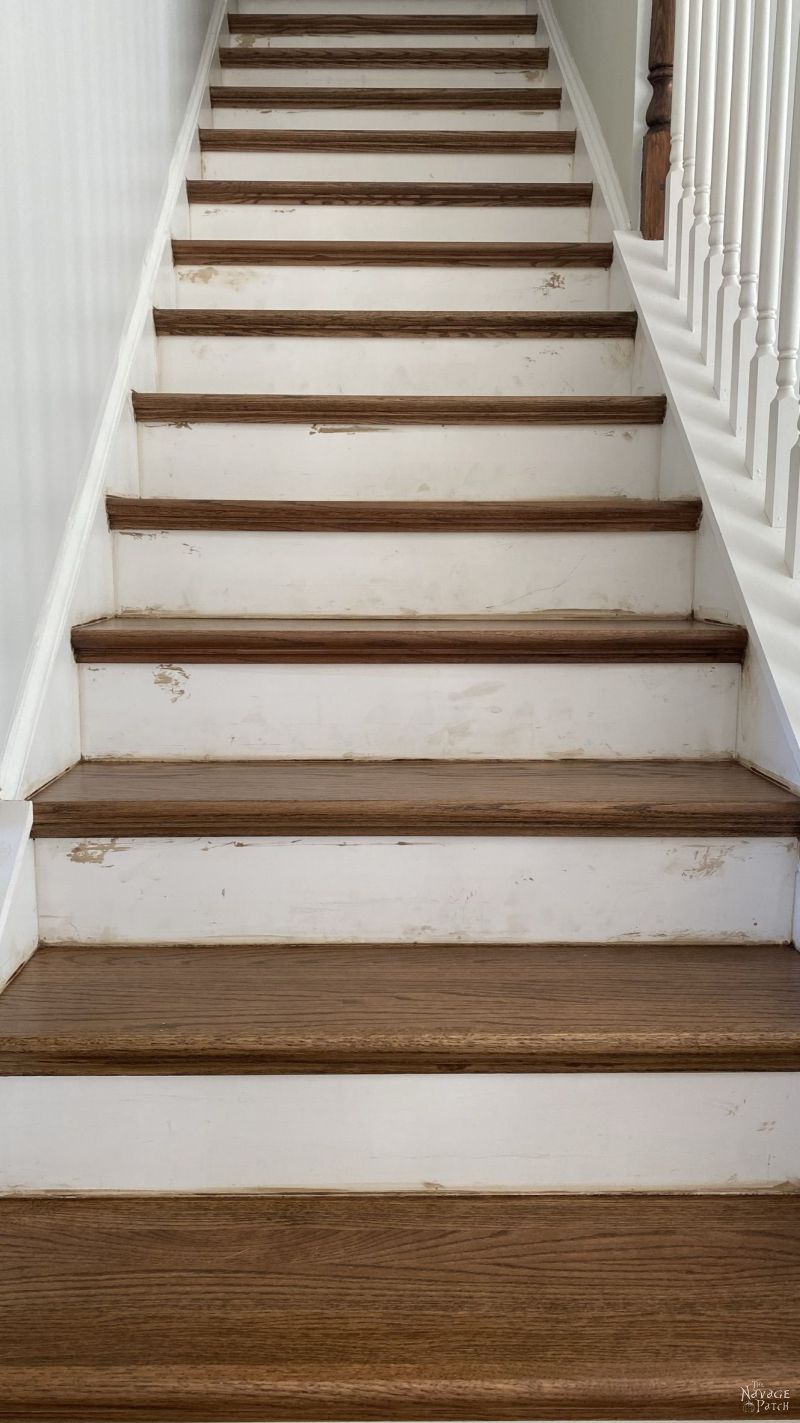 Not very pretty, and that's putting it kindly. But the flooring guys were hired to install floors. Painting afterwards was not part of their scope of work. That job fell to me (and boy, did I take my sweet old time with this project, but that's another story). Now, those oak stairs butt up against the wood risers, but it's not a perfect fit, not when you really look close.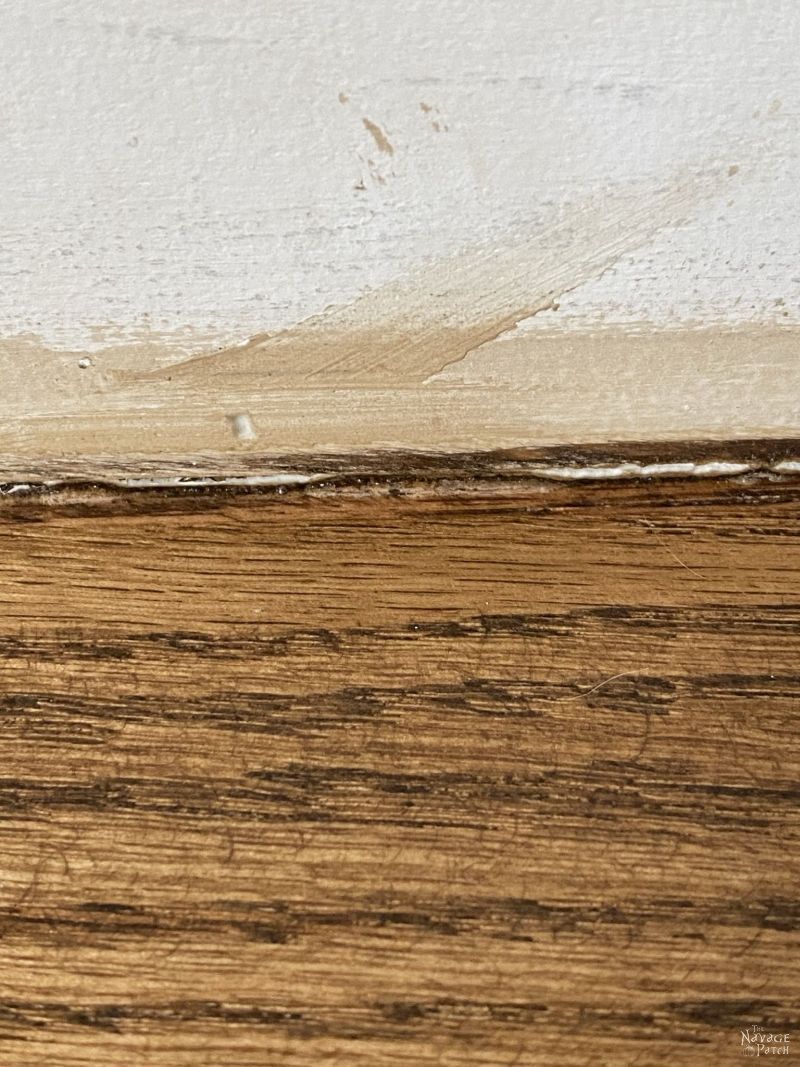 So even if I had a perfect tape seal, it wouldn't have looked good. But I didn't know that, so I blithely taped and painted and thought all was well with the world. Painting these stair risers was just going to be one small part of our Staircase Makeover, which I'll be sharing with you soon. That's why I only took this one picture.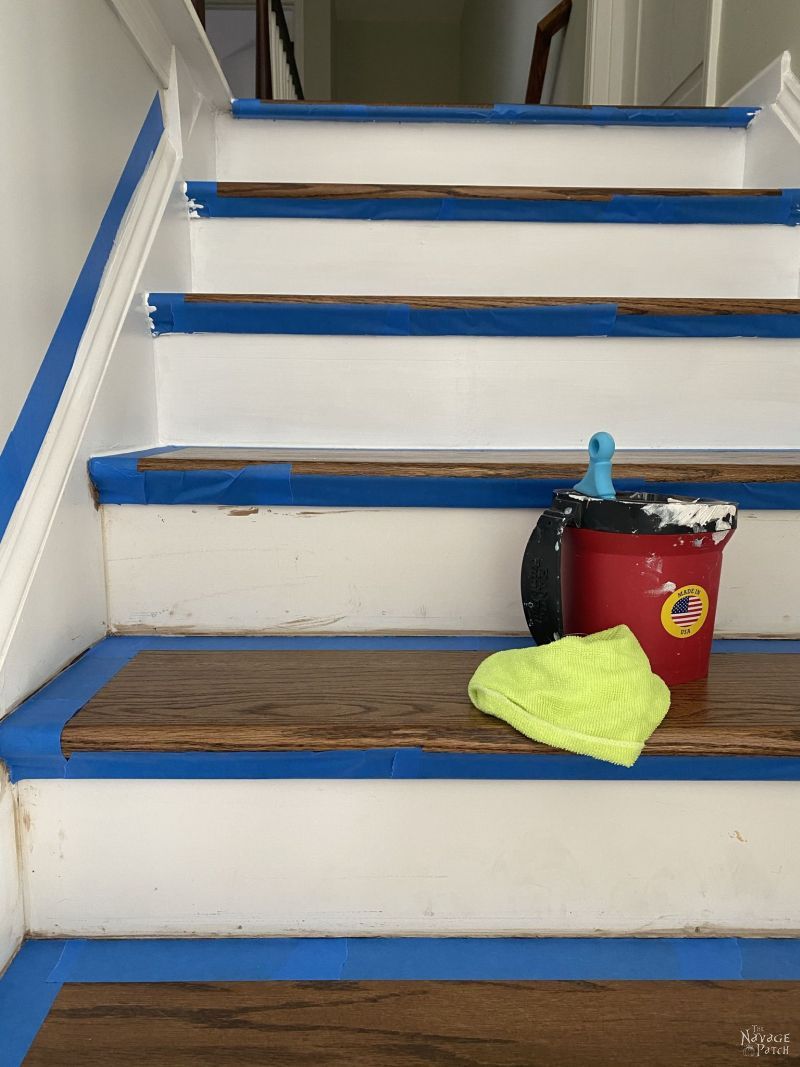 A day after that picture was taken, I peeled off the tape and discovered my dopey error. There was a small blessing in that I'd only painted this one run of stairs, not the three steps after the landing.
I thought about the problem for a while and determined that some caulk would fix it right up. Of course, caulk would only work because the risers are white. Any other color, and I'd still be sunk. I re-taped the top section of stairs, leaving just a small area exposed, applied a thin bead of caulk and wiped it near flat with my finger. After peeling the tape, I saw that it had fixed the problem. The stairs looked great!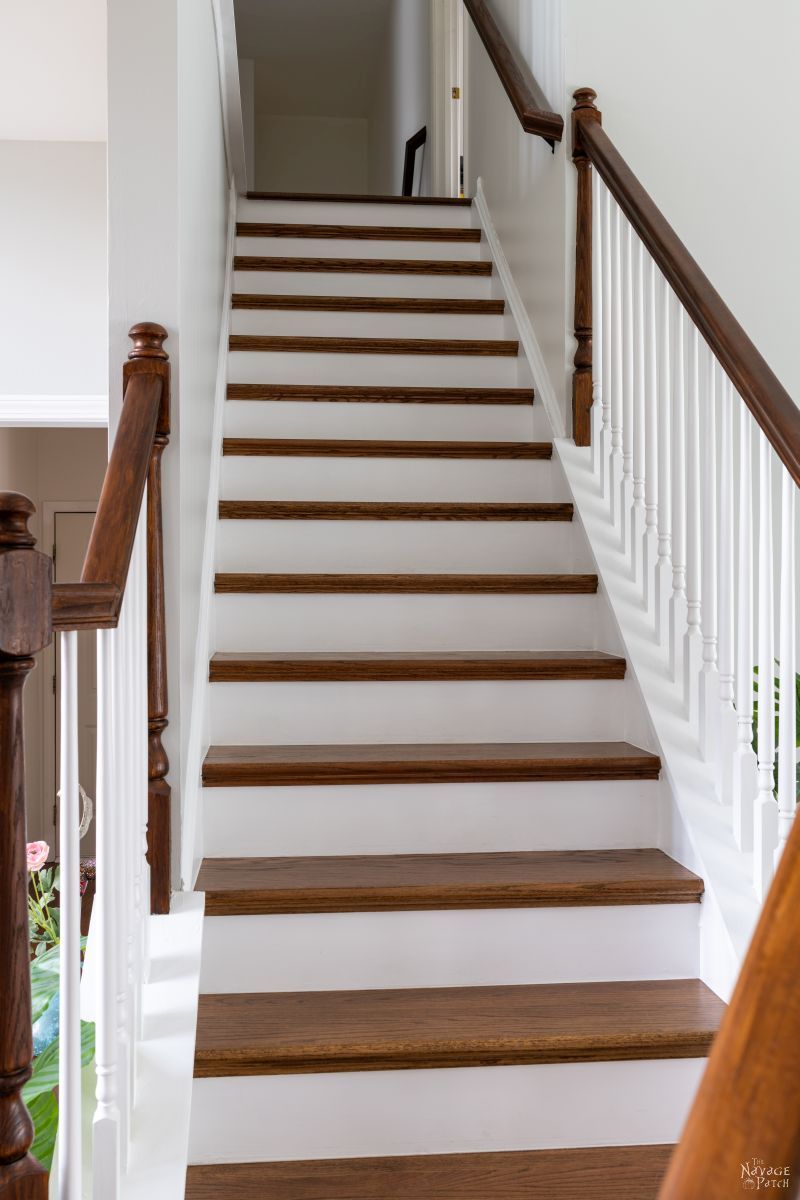 But taping twice was a drag, not to mention the horrors of all that scraping. I thought about the three landing stairs I hadn't painted yet. Instead of taping, painting, scraping, taping and caulking, I wondered if I could use the caulk first and have it act like a paint-lock.
The idea had promise, so I went to the landing to try it out. Here's how the looked.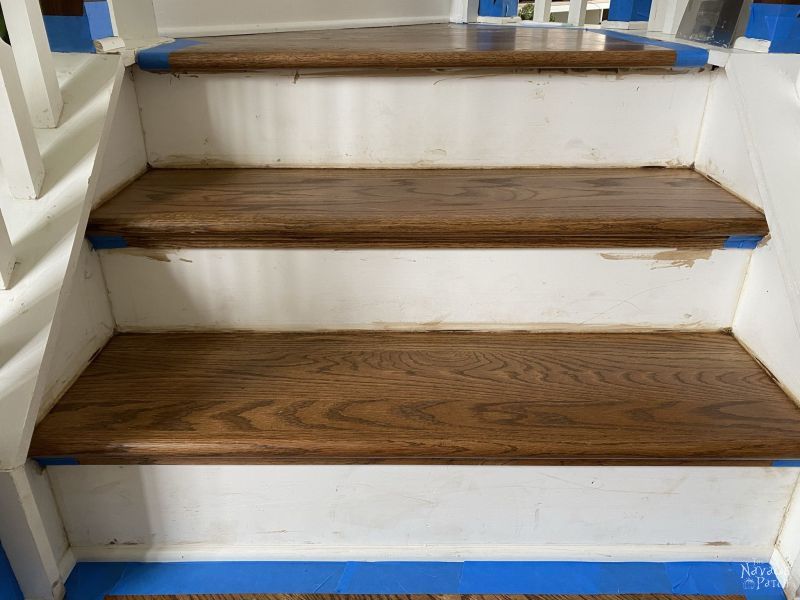 In order for the caulk to give a clean line, I needed to leave a very small gap in front of the riser. This gap would be covered with caulk, and it would had the ugly seam between the stair and riser. I started with a piece of blue tape.
I then used a utility knife (with a brand new blade – very important) to cut off the excess, being careful to cut in a straight line and to leave a small gap as I did along the riser.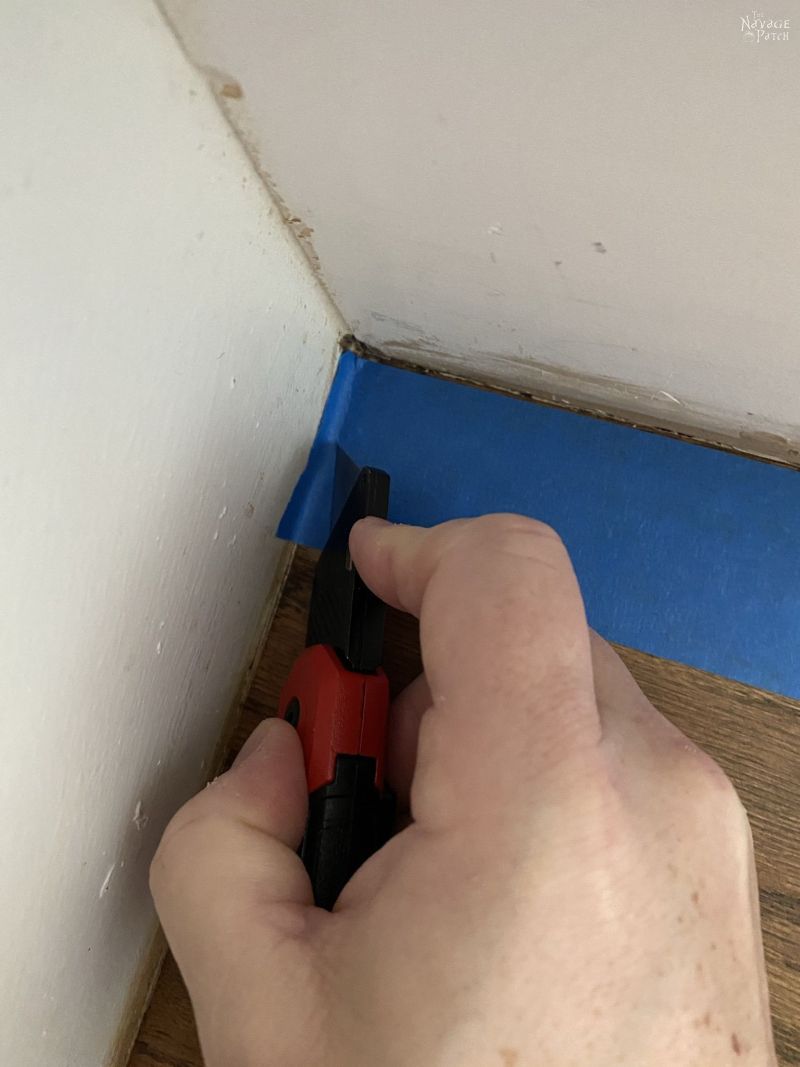 This next pic is from the next stair down, but it illustrates the point.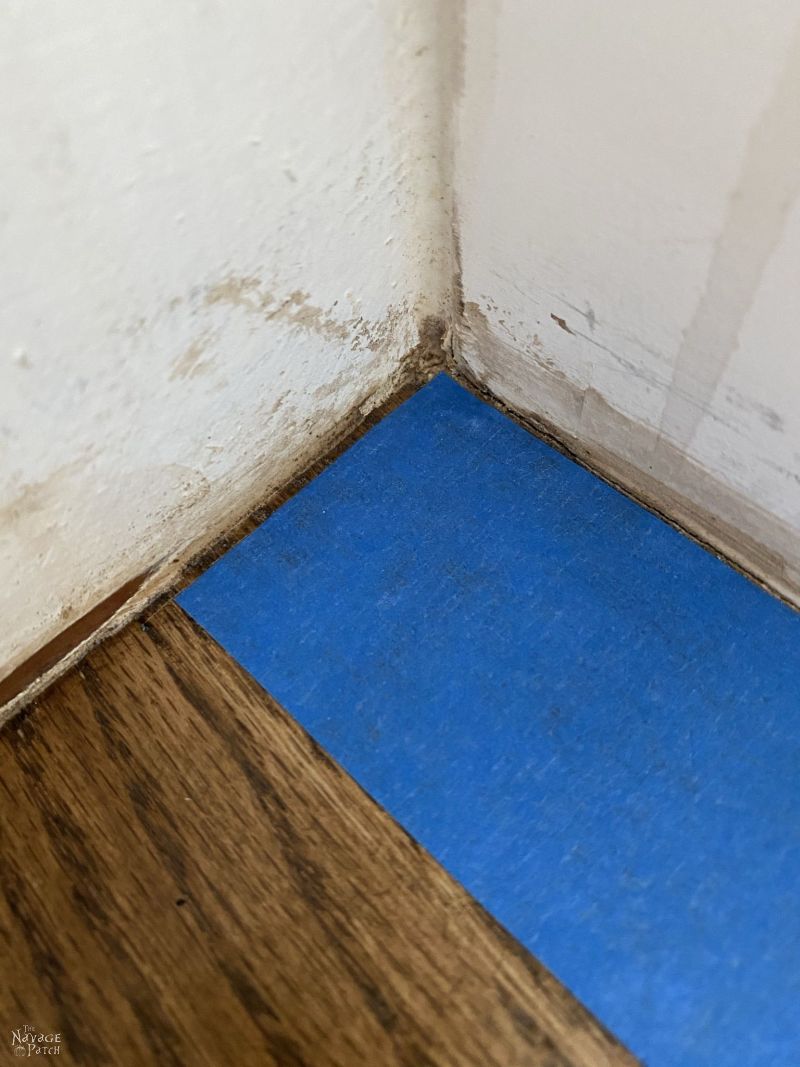 I worked with lengths of tape about 12-18 inches long. Any longer, and it was hard to keep a consistent gap. I was very careful to exactly match up each new piece with the one already laid.
When I reached the end, I repeated the process with the utility knife.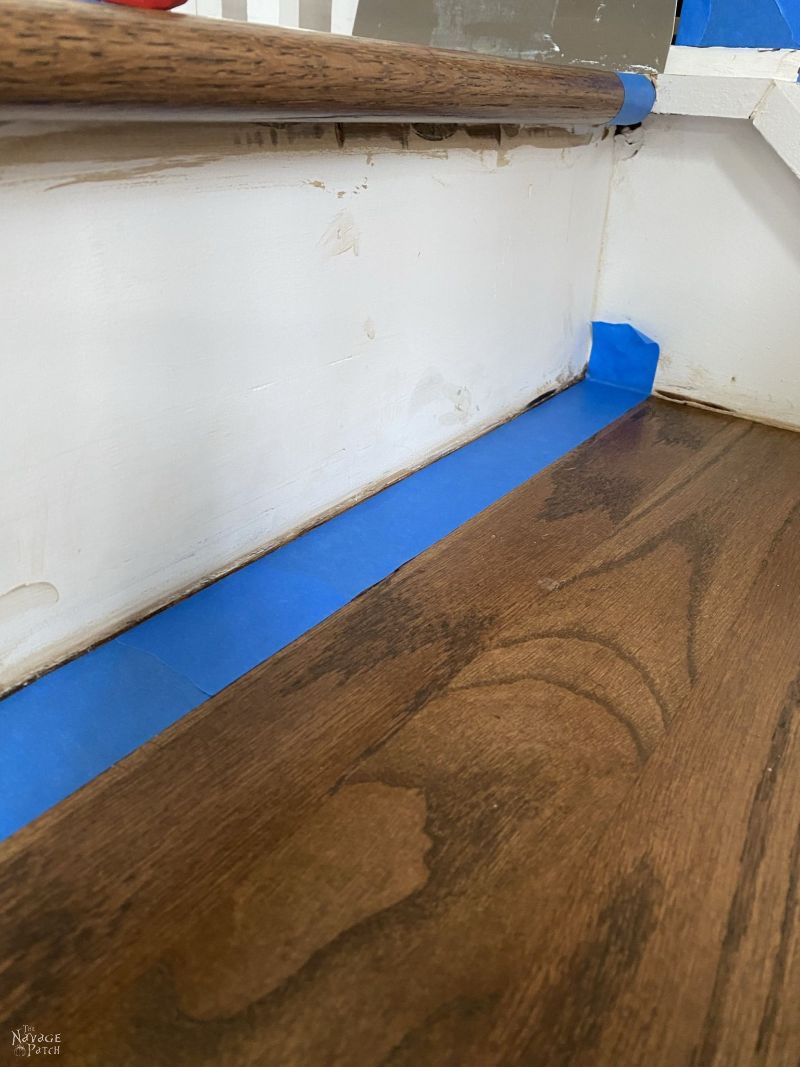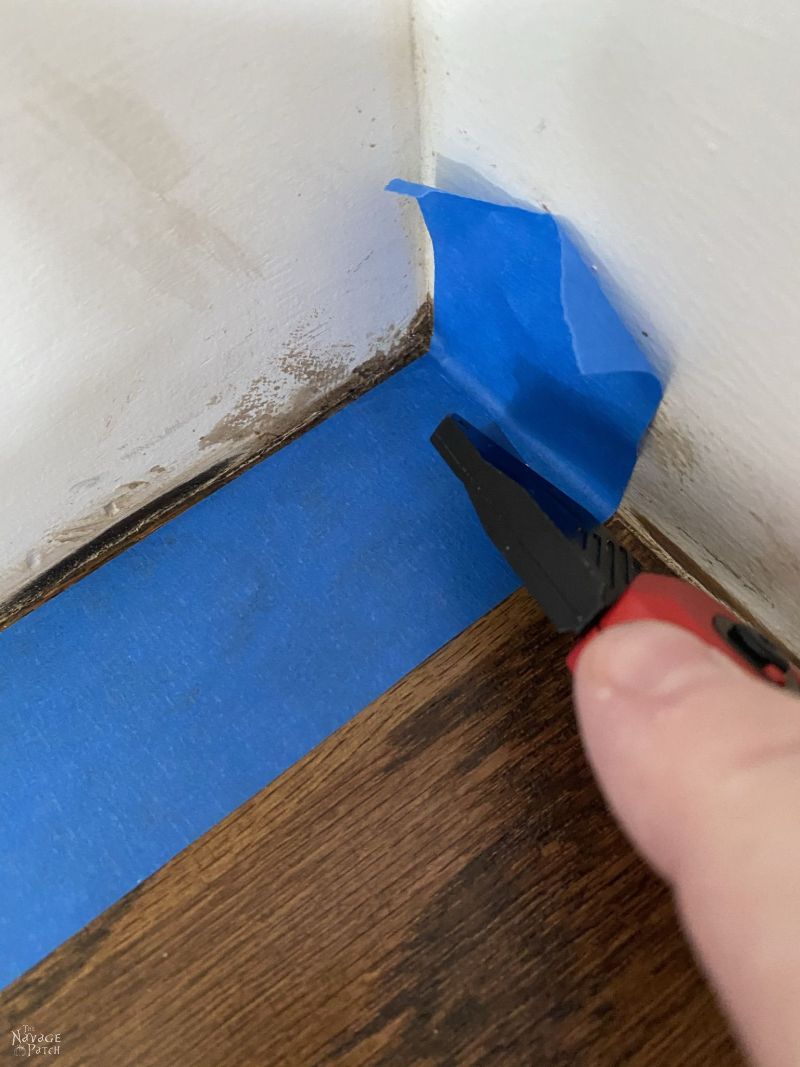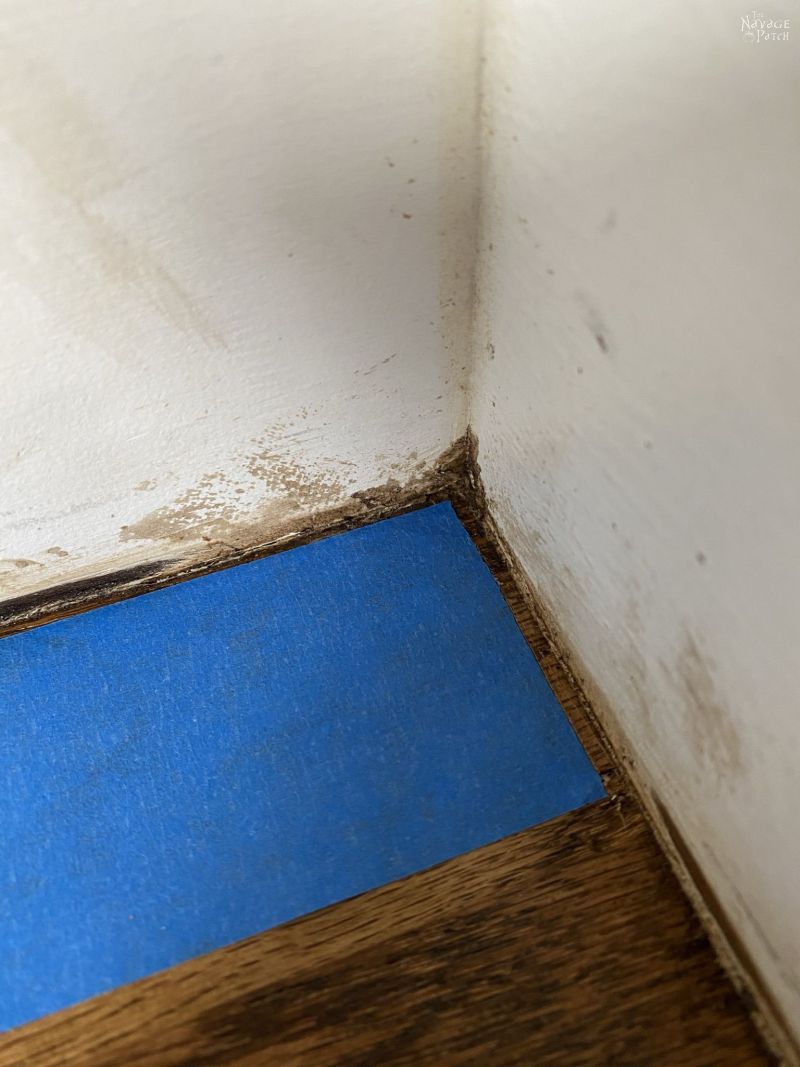 Next, I taped the sides of the trades, being careful to follow the line already established.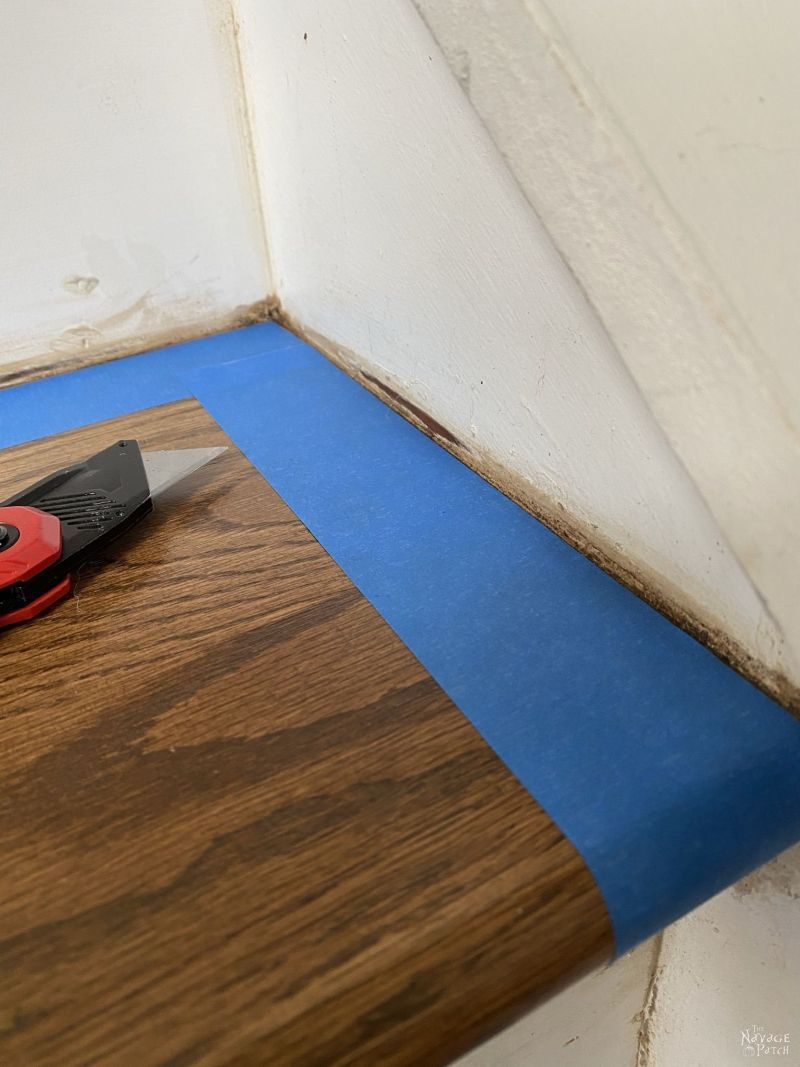 I prefer DAP Extreme Stretch caulk – it's a little messier to work with than regular trim caulk, but it holds up much better, especially in areas prone to seasonal expansion and shrinkage.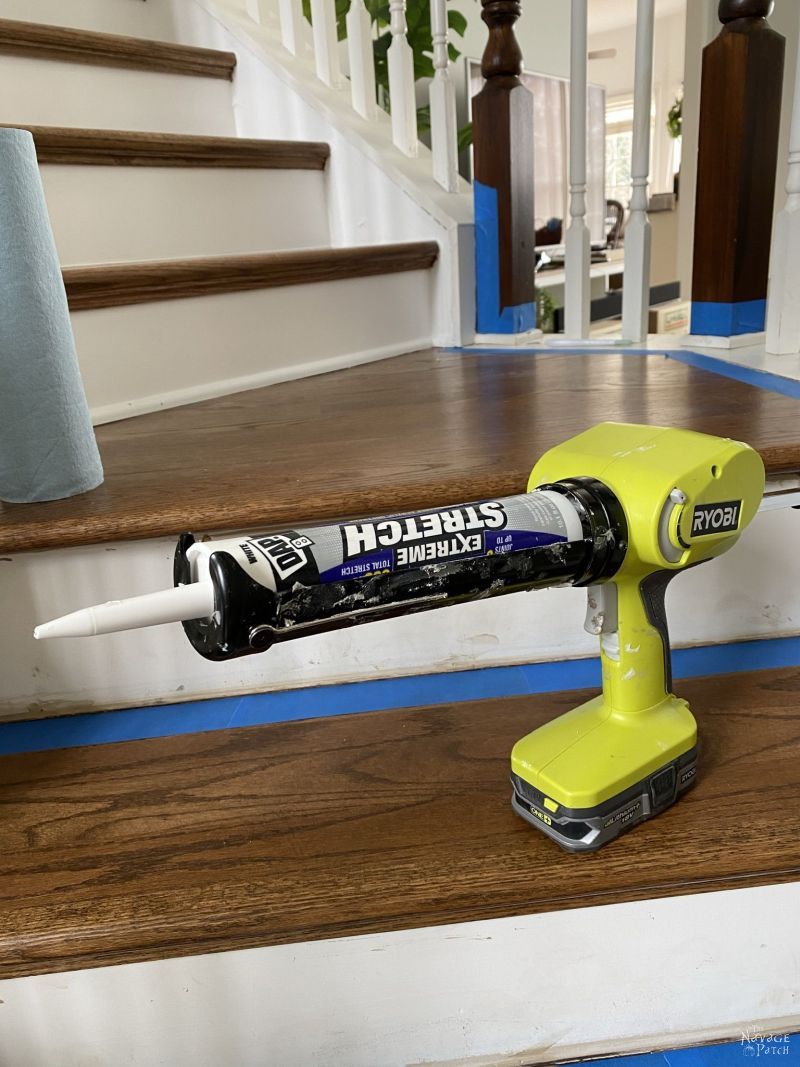 Since I wasn't filling a crack, and my goal was for the caulk just to lock a clean line and hid the stair/riser joint, I applied a thin bead of caulk.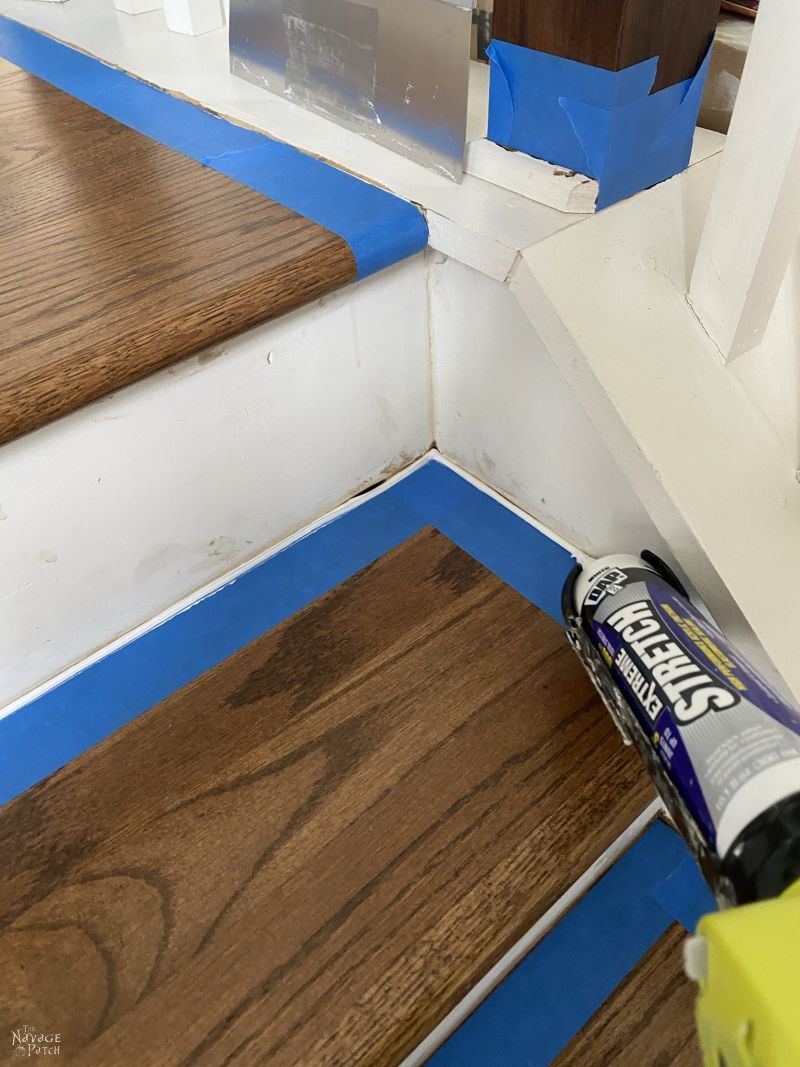 There isn't a tool on Earth better than your finger for smoothing caulk. Don't ever waste your money on those silly caulking tools.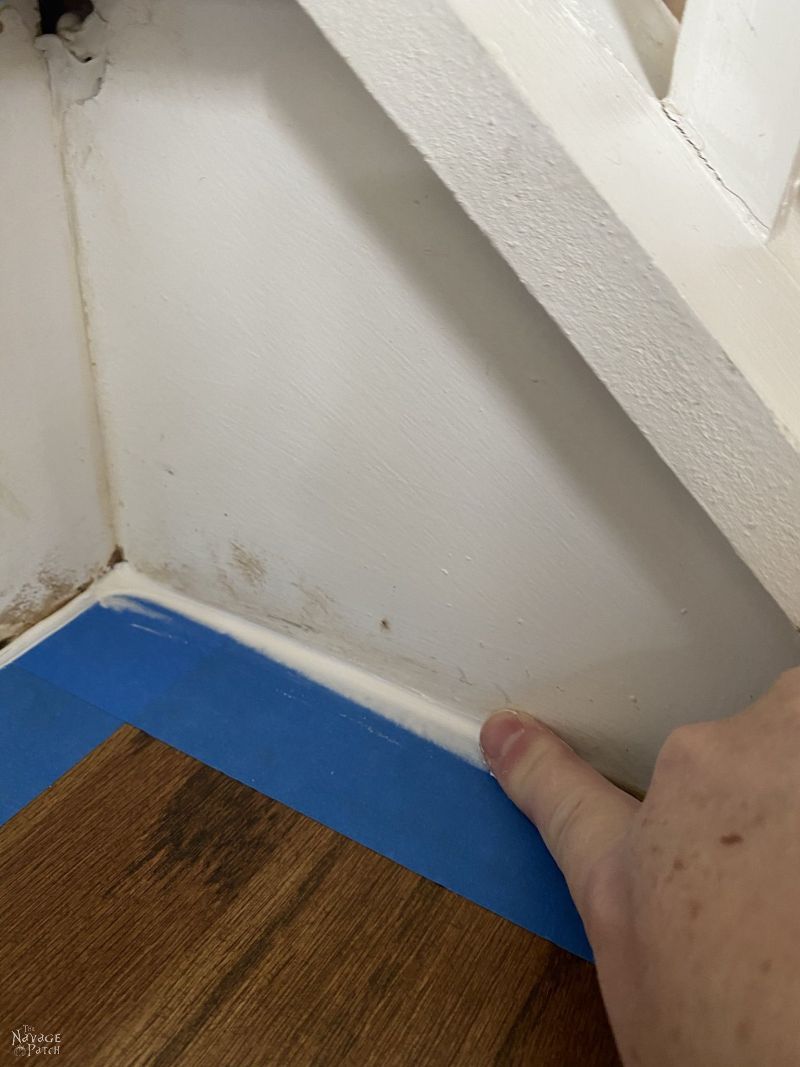 As I didn't want a bulky caulk line, I pressed down pretty hard and removed a lot of caulk with my finger. I just needed a small amount on there. I made sure the caulk tapered to nothing on the upper side, so I didn't end up with a visible caulk edge on the riser, and I made sure to do the same where the caulk met the tape. If there's too much caulk on the stair where it meets the tape, you risk pulling the caulk off when you remove the tape after painting.
I allowed to caulk to set for a bit before painting. Since I was painting with a brush, if I had started in right away, the brush would have wiped away the caulk.
After a few coats of paint, I peeled back the tape to see how it worked.
It was perfect! A couple of the corners had a little buildup, but I was able to easily cut it off with the utility knife.
And here's the finished product!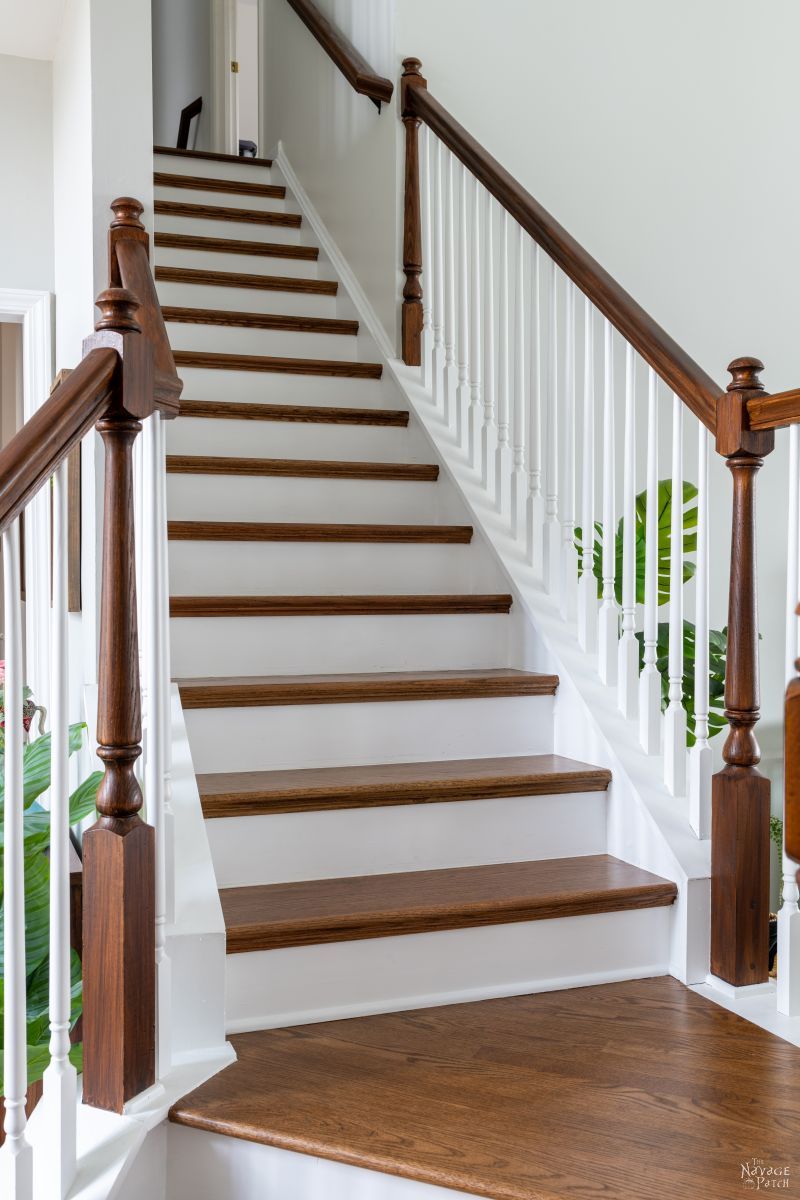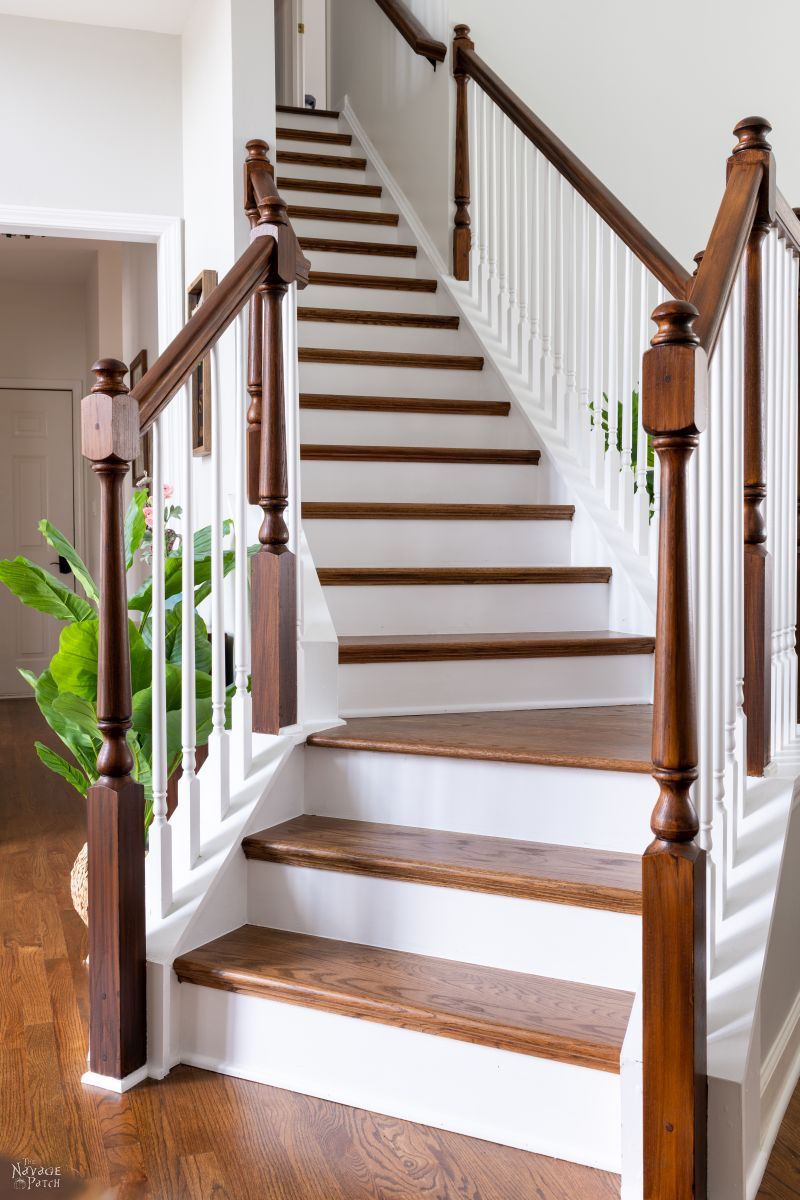 To compare the two techniques, here's a closeup of tape, paint, scrape, tape, caulk: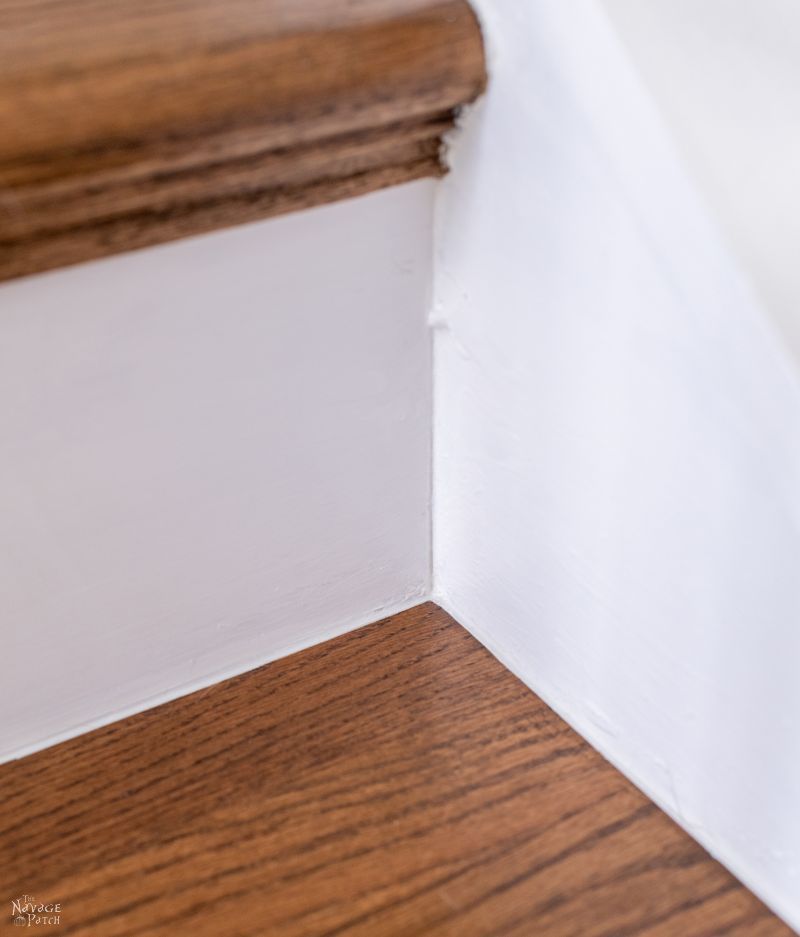 And here's a closeup of tape, caulk, paint:
Same result, but one is a heck of a lot easier!
Stay tuned for the full Staircase Makeover and all that went into it.
We love it when you share our posts on Facebook and Pinterest!