We painted our basement stairs for a totally fresh and updated look that turned a dark and ugly eyesore into a light and colorful showpiece.
If it seems like I'm telling the story of this basement staircase makeover in reverse, well, that's because I am.
Sorta.
There's no real reason for it. It just seemed right to start with the upcycled DIY handrail.
From there, it seemed like a grand idea to follow with the upcycled coat rack.
In those posts, you all were able to catch a few glimpses of the subject of today's post: the painted basement stairs.
But before I could paint those stairs, I had to contend with the walls and the ceiling.
Remember, this is how our wretched basement staircase looked before the makeover.
I can't believe we lived with it for 6 years! Well, that's on me. As I mentioned in the handrail post, I just couldn't get motivated for this project!
Okay, so I had already removed the baseboard moulding and ripped up the old linoleum.
That was fun! 25-year-old stick-on linoleum is a hoot to remove!
All I can say is thank god it wasn't a whole floor.
The next step was to paint the walls with the same platinum gray we used in the laundry room.
Shazam!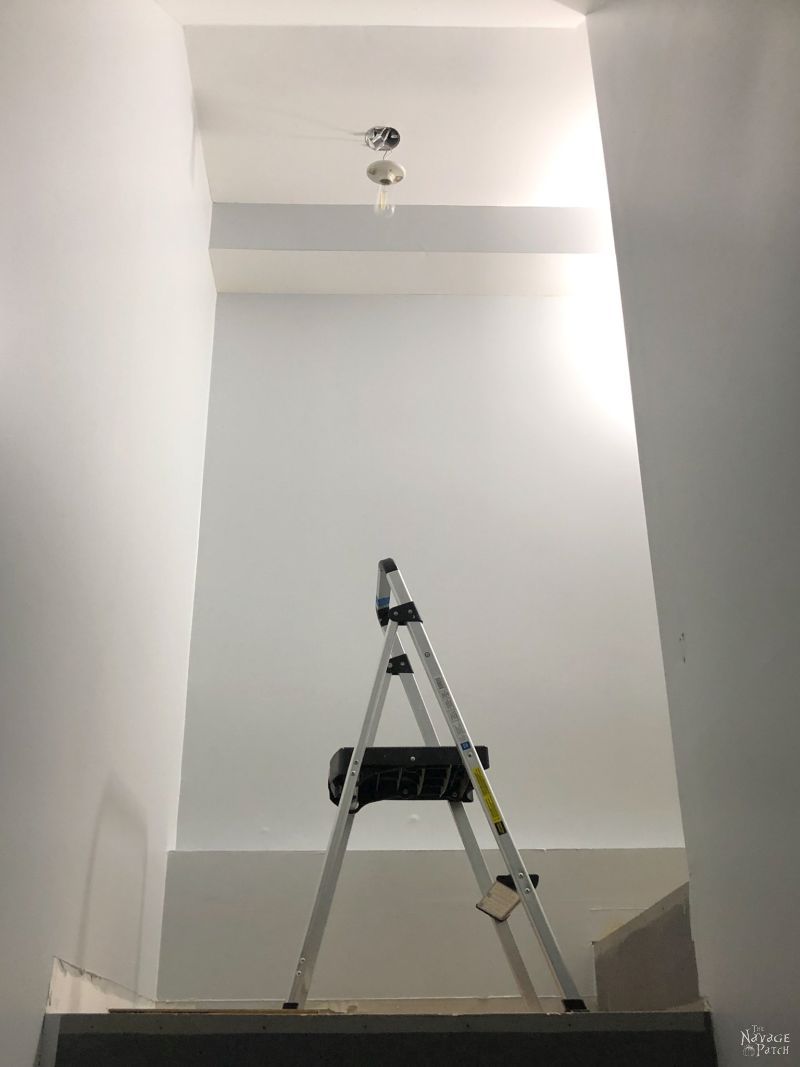 After painting the walls, I finally installed some new lighting. This stairwell had been lit by two bare bulbs until this point. I had actually bought a pair of LED flush-mount lights almost 2 years ago, but they've been sitting on that ledge behind the ladder ever since.
Go on. Ask Handan. She'll tell you that no one (and I mean no one) is better at ignoring things-he-doesn't-want-to-see than I am. [NO one! LOL – Handan]
I could have easily and happily walked by those boxed lights on the ledge for the rest of my days and not lost an ounce of sleep nor given them the briefest moment's thought.
But not my babes. Oh no! Stuff like that drives her batty.
Somehow when I try to tell her "I am what I am, my babes." Or "I'm as God made me, my babes." It just doesn't have the intended effect, and I end up with a tall glass of Squawking Wife.
Anyway, before installing the lights, I quickly painted the ceiling.
Didn't want to do it.
Really, who wants to paint a ceiling?
It's like a physical examination after the age of 40 for a man. There was a time when a routine checkup wasn't a big deal. Tap tap, cough cough and Bob's your uncle. In and out quick as you please.
But after 40?
Things get freaky, sister. There's another in and out to contend with.
There's the *snap* of a latex glove, and then unspeakable things happen.
So yeah, painting a ceiling is a little like a physical after 40.
This basement staircase ceiling though – I just couldn't let it slide. With the walls so brilliant after their paint job, every blotch and splotch and crack and peel and all the yellowed paint on the ceiling just shouted at me and mocked me.
I had no choice.
The only good part is that the ceiling was low enough that I didn't need more than a dinky step ladder for one spot, and the rest I could reach with a regular paint roller.
Oh, but look what I discovered when painting the last bit of ceiling before the basement!
Now, I've seen this light a thousand times, but apparently I've never really looked at it. And that makes sense, because when going up from the basement, who the hell is going to crane their neck back to look at a stupid light bulb overhead? And when coming down the stairs, the bulb is blocked by the sloped ceiling over the stairs until the very last moment.
When I was working up there, and really looking, here's what I discovered.
Who does that?
Seriously, who?
What kind of hammer-totin' yahoo installs that light, looks at his surroundings and goes, "Yep. That thar's one helluva good installation! Welp! Almost three o'clock! Quittin' time, boy howdy!"
Just add it to the List of Mysteries inside the Box of Bafflement.
This house makes no sense.
Never has.
Never will.
Anyway, the stairwell looked a thousand times better now the the Golden Ugly was hidden under 4 coats of gray.
Those stairs, though.
Yeesh, I've seen horror movies with more inviting stairs than these!
The plan was to paint them and then add riser decals. The base coat would be white, but to get good adhesion, I first primed them with Zinsser BIN – it's a shellac-based primer, and it is essential for good adhesion in tricky areas.
By the way, if you've ever wondered how to paint IKEA furniture – I mean the sealskin-smooth smooth stuff, not the raw wood pieces – then you'll want to read this post.
Here are the basement stairs primed and ready for the main event. A vast improvement already!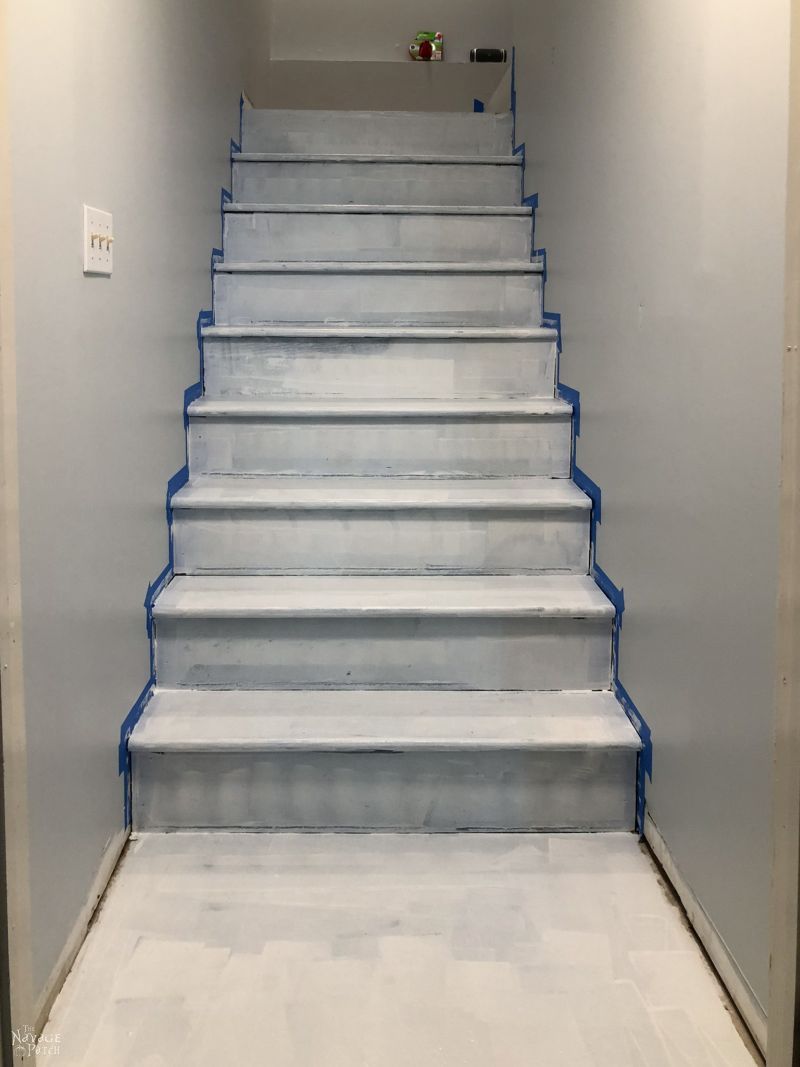 We chose Behr's Porch & Patio Floor Paint for the stairs. It's designed for high-traffic, high-wear areas, so it's perfect for these basement stairs.
Of course, the downside is that it's Behr, so it took 5 coats to fully hide the gray.
Good lord, the new lighter paint really accentuated the gaps between the stairs and the wall. Nothing a little bit boatload of caulk couldn't fix.
Suddenly the staircase was open! With the white and gray paint and the new lights, this space was breathing for the first time!
Handan had been planning this basement stair makeover for years, and she had bought the faux tile stair stickers almost 3 years ago.
The original plan was to use them as they were intended – namely to cover the entire riser.
But, the manufacturer didn't count on one thing.
The Navage Patch.
Just as the boob who installed the basement lights couldn't get it centered, the gaggle of boobs who built the stairs decided it would be a fine idea to make them just a little wider than normal stairs.
Just wide enough that the stair stickers couldn't quite cover.
I cursed every Connecticut contractor who may have been building houses in the mid 1990s just to be sure I got the boob (or boobs) responsible for our 6 years of WTF?!? and Oh, You Gotta Be Shitting Me! moments.
After some deliberation, Handan and I decided we'd trim off two faux tiles from each sticker. This would of course leave and even wider area uncovered, but at least now it would look intentional and not like the 7th grader who enters junior high with his pant cuffs above his ankles after a late-summer growth spurt.
Now, Handan's original plan called for white stairs, but I was getting a little nervous about all that white. I suggested a color – blue perhaps. Better yet, we could color-match one of the blues in the stair stickers.
She agreed, and off to Home Depot I went to get some more floor paint.
But before painting the treads, I needed to measure and tape off the sides of the stairs. To do this, I used one of the cut pieces of stair stickers. I lined the sticker up with the middle of the tread, taped it down and then masked the outside with Frog Tape.
I didn't bother masking off the risers, as that's where the stair sticker would go.
Turns out, this was a mistake, as the stair sticker is not entirely opaque.
When we put the first sticker on, the blue paint showed through. I had to mask off all the blue stairs and give 5 coats of white to the risers to fix my error.
Next, Handan and I applied the stickers. Since we were both engaged in that process, neither of us thought to take a picture.
The process was simple. Peel, stick and get rid of any air bubbles with a brayer.
Once the stairs were painted and the faux tiles were adhered, I laid some 1/2 inch quarter round across each stair.
We also installed the new vinyl flooring. This was a total breeze, as the width of the landings were smaller than the length of the vinyl planks, so I only needed to cut one size for all planks.
Once I installed the stair nosing, I quickly primed and painted the baseboard and reinstalled it.
The last step was caulk, and lots of it! I used Extreme Stretch caulk – some of those gaps were big enough to be a danger to pets and small children, so I figured the stretchy stuff would hold up better.
And that was it! The basement stairs were painted, so the only thing left was to screw in our new upcycled handrail, which you read about last week.
We then installed the new upcycled coat rack and hung some jackets.
Now the only bit left on this basement stair makeover is to create a few more storage solutions on the coat rack wall, and we'll be tackling that real soon.
Until then, enjoy some pictures of our (nearly) completed basement stair makeover!
Six years in the making, but well worth the wait (or so I keep telling Handan).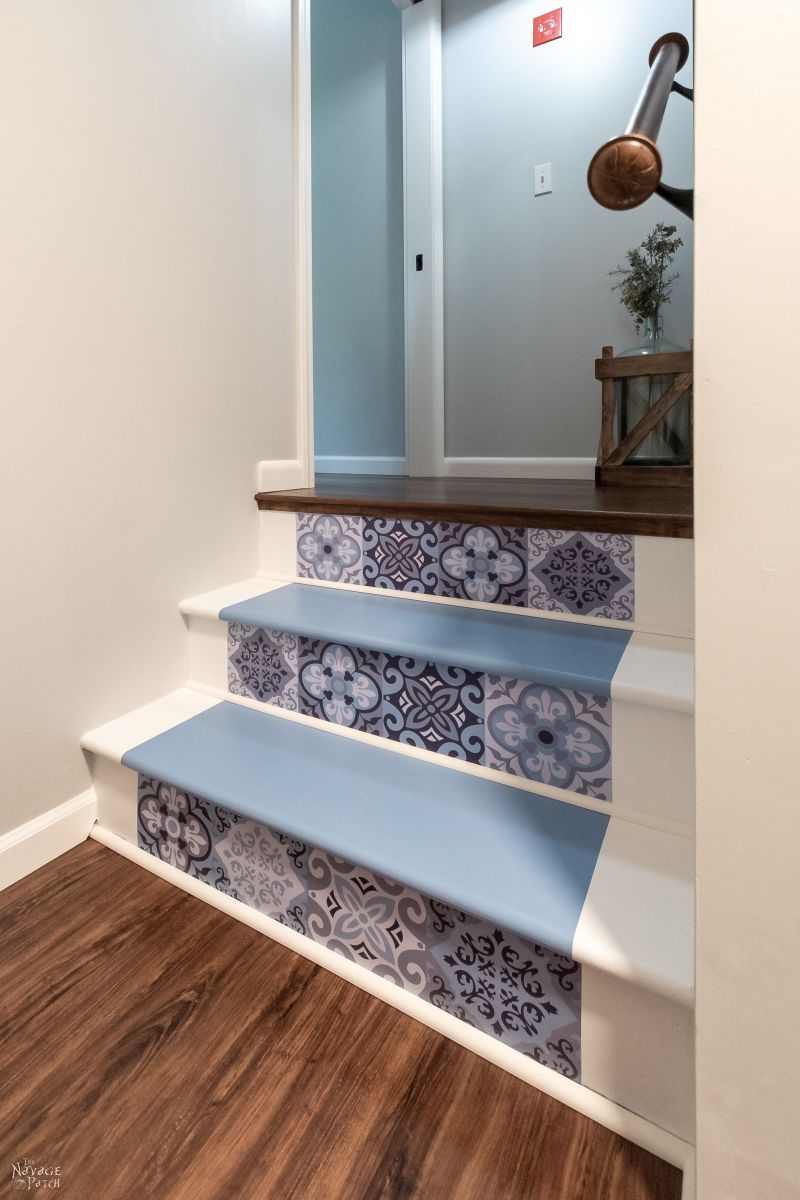 We love it when you share our posts on Facebook and Pinterest!