DIY Wood House Candle Holders
These DIY Wood House Candle holders are rustic and beautiful. They're so easy to make, you'll want to create your own little wood house village!
There's something about winter and Christmas up here in New England that gets people all nostalgic for little hamlets full of tiny houses with their stone chimneys throwing smoke up into a gentle falling snow. When the first December snow (which we're still waiting for, thank you very much) falls and hides all the leaves that never got raked, covers all the garden ornaments that were never put away (*ahem*), and buries the wood pile that never got tarped, people get wistful for some intangible Christmas of yesteryear when all was good and everyone was nice.
Me?
I don't think such a time ever existed, but I see the allure.
Handan, though she's only been in America since 2013 and an American since 2018, is not immune to winter's warm seduction.
Just the other day, I caught her gawking at some wooden house candle holders while looking for DIY gift ideas online. She said they reminded her of a little village.
She said she wanted some.
She said I could make them for her.
She said they'd be easy.
And you know something?
She was right!
They are ridiculously easy, and they look amazing!
She wanted a whole bunch of them so we could use some, and the rest she could give away as gifts.
Hey, if my babes wants of village of DIY wood house candle holders….ahhhhh, you know the rest.
Let's take a gander, shall we?
DIY WOOD HOUSE CANDLE HOLDERS SUPPLIES LIST
Affiliate links are provided below. Full disclosure here.
We love to see our craft projects out in the wild! If you try this seasonal craft project, take a picture and post it on Instagram, be sure to tag us @TheNavagePatch!
For the natural wood houses, I used some 4×4 cedar scraps I had left over from the spring of 2016, when I made our DIY cedar cube solar landscape lights. Remember them? They're still going strong!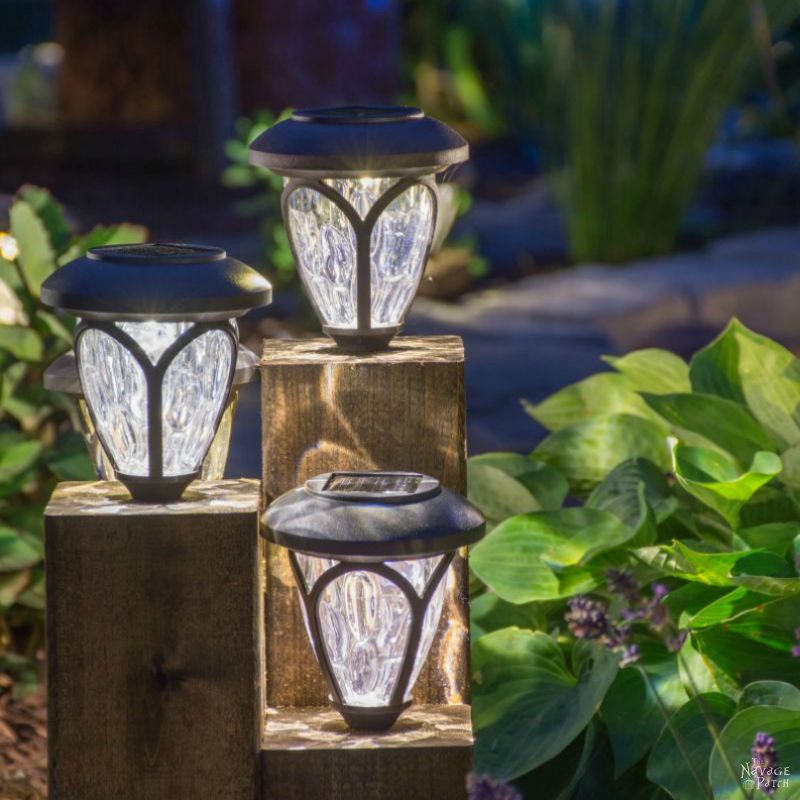 For the black-painted houses, I used a couple of pieces of 4×4 pressure-treated pine scraps left over from the farmhouse trestle table I built for our deck last summer.
DIY Wood House Candle Holders Video Tutorial
Watch our short video below for an overview of our DIY wood house candle holders before you read the detailed step-by-step tutorial.
More DIY Christmas Decor Ideas
DIY Wood House Candle Holders Tutorial
I first cut a few lengths of 4×4.
Each length would make two houses. When cutting the angled roof cuts, it is safer to have a bigger piece of wood to hold onto, so each end of the wood would become the roof of a house. I marked the midpoint of the width.
Then I drew a 45 degree roof line using a speed square.
I did this on both ends of the piece.
Before cutting the angled roof, I first marked where the copper chimney would go. It is far easier to drill into a flat surface than an angled one, and with a 1-inch Forstner bit, I'd say it's impossible to drill into an angled surface with a hand drill.
I marked the chimney on both ends of the piece. I varied the placement of the chimneys for each house.
Next, I drilled the chimney holes.
When all the chimney holes were drilled, I set the miter saw to 45 degrees and made the roof cuts.
This is what I had after making 4 roof cuts.
From here, I only needed to cut the piece in half, and I'd have two houses. I cut some equally in half and for others, I made one big and one small.
Two houses done, many more to go.
All in all, I made 8 houses from the pressure treated pine and 6 from the cedar. I left a couple of the smaller cedar houses without chimneys, just to mix things up.
The pressure-treated pine had really cool grain and a nice green tint from all the wonderful chemicals it had been injected with, so I kept the 2 most interesting aside and painted the rest.
I left all of the cedar alone except for one that I sprayed with shellac just to give it a warm look to contrast with the others.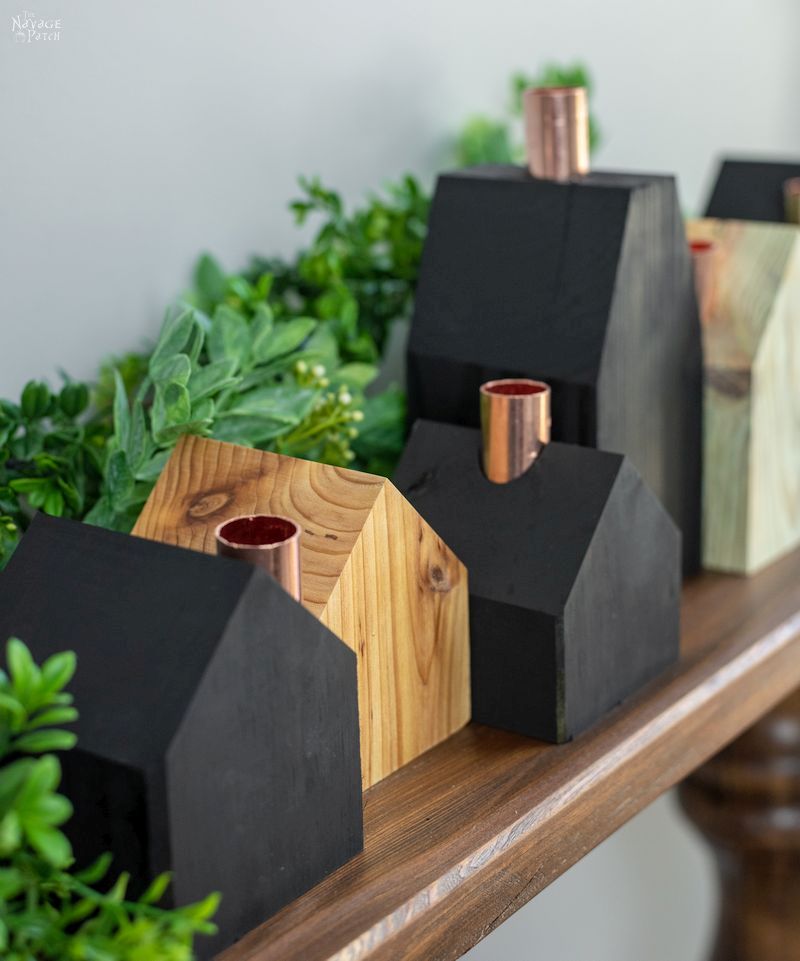 And that's it! My DIY wood house candle holders were done and ready to be arranged into the little New England village that Handan had been dreaming of!
We love it when you share our posts on Pinterest!