Vintage Winter Tree Printables
These free vintage winter tree printables are the perfect complement for vintage-themed Christmas decor, but they will also look fantastic on their own!
Okay, Thanksgiving is in the can, and that means it's full steam ahead towards Christmas!
Yeah, yeah, I know. We've been clobbering you with Christmas since Halloween.
But now we don't have to feel guilty about it! 😀
So while you relax today and contemplate all the dietary restrictions you threw out the window yesterday, we'd like to offer you these simple and beautiful vintage winter tree printables.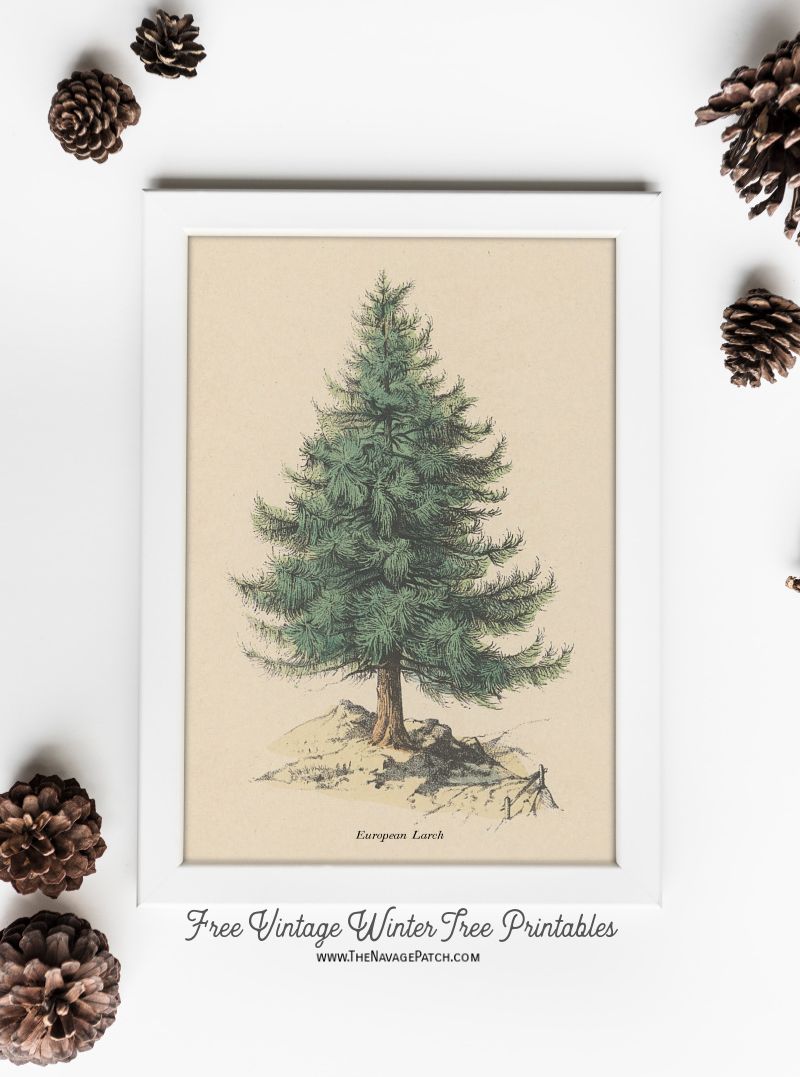 Think of them as our way of giving thanks to every single one of you, new and old, who've supported us through the years on our adventures in The Navage Patch.
We wouldn't be here without you!
Did you know we almost didn't make it to this point?
Were you aware we almost threw in the towel back in the spring of 2017?
Blog traffic was thin, and Handan and I were trying to justify the time, money and effort we were putting in.
Do you know what kept us going past that point?
You did.
Your comments did.
Without them, we are nothing.
So we carried on a little longer, buoyed by the love and support in the comments section.
And then everything changed that summer. One of our posts went viral, and we figured out how to make this blog work.
We haven't looked back since.
It has been such a fulfilling journey, and you have been with us every step of the way.
For that, we are thankful.
For that, we are grateful.
For that, we are blessed.
Handan and I wish you all a joyous and blessed Holiday Season, and we'll have tons of cool projects and beautiful free printables for you all month long!
[psssst!]
Huh? What? Who's there?
[Don't forget to shamelessly plug your Gift Guides!]
Oh yeah! Thanks!
Hey, before you go download these vintage tree printables, why don't you have a peek at our two gift guides:
We think you'll like them!
Vintage Winter Tree Printables
All these vintage winter tree printables are designed to fit 8.5×11 and 16×20 inch frames. The 8.5×11 inch sized printables are PDFs, so they are not scalable. But the 16×20 inch printables are JPEGs, so you can scale them down to 12×15 / 8×10 / 4×5 inches with no problems. If you need help with scaling down these printables so you can print them using your home printer, then make sure you check out Handan's "How To Easily Resize Pictures" post.
Now it's time to click on the button below to download today's free vintage tree printables – you can find them all in the Vintage Illustrations or Christmas section of The VIP Patch.
If you're not a Navage Patch VIP, you won't be able to access our Freebies Library. But that can be easily fixed! Subscribe for free on the form below and become a Navage Patch VIP. Once you subscribe, a password will be sent to you in our Welcome email, and that will give you access to The VIP Patch [Freebies Library].
Get free access to our incredible library of
Free Printables and SVGs
Here are some more beautiful vintage botanical printables for you!