Young Adult Bedroom Makeover Reveal
We finally finished our son's young adult bedroom makeover, and we are in love with this hip new boho/island casual space!
Our vision for Baris's Florida bedroom was a relaxed and casual room he'd enjoying being in. Of course, when I say "our vision," what I really mean is "my babes' vision." I was just along for the ride and to swing the hammer. We managed to stick pretty close to Handan's original vision, as outlined in the mood board for his room.
But I also think we surpassed it in many ways, and with a few of our choices, we made a course correction into bohemian waters when the original intent may have been more island casual.
The result is an inviting space that Baris himself described as having an "amazing ambiance," especially after dark when the many colored LED elements of the room come into play.
We've made a lot of decor items for Baris over the years and given makeovers to four other rooms of his (he had two connected rooms in Connecticut and two in Georgia), but this is the first time we heard unsolicited multi-syllabic praise. That alone made all the work I put in worth it a thousand times over!
Before going into before & after shots you may want to watch the short video below as an overview of this young adult bedroom makeover.
Let's compare some before and after shots. This was the view when we moved in upon entering Baris's room.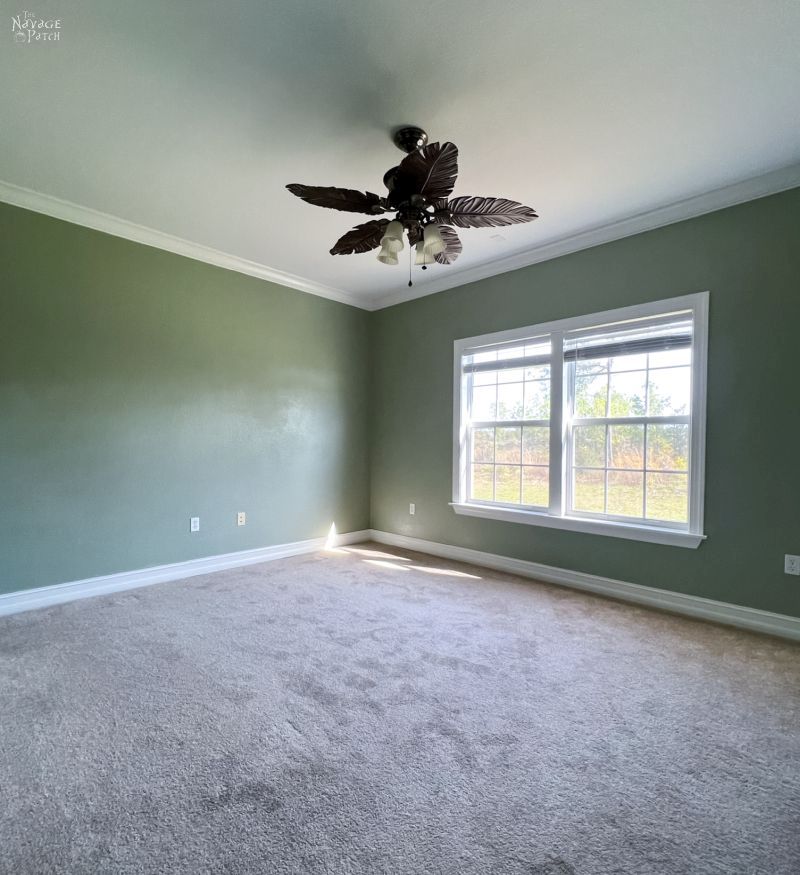 And here it is now.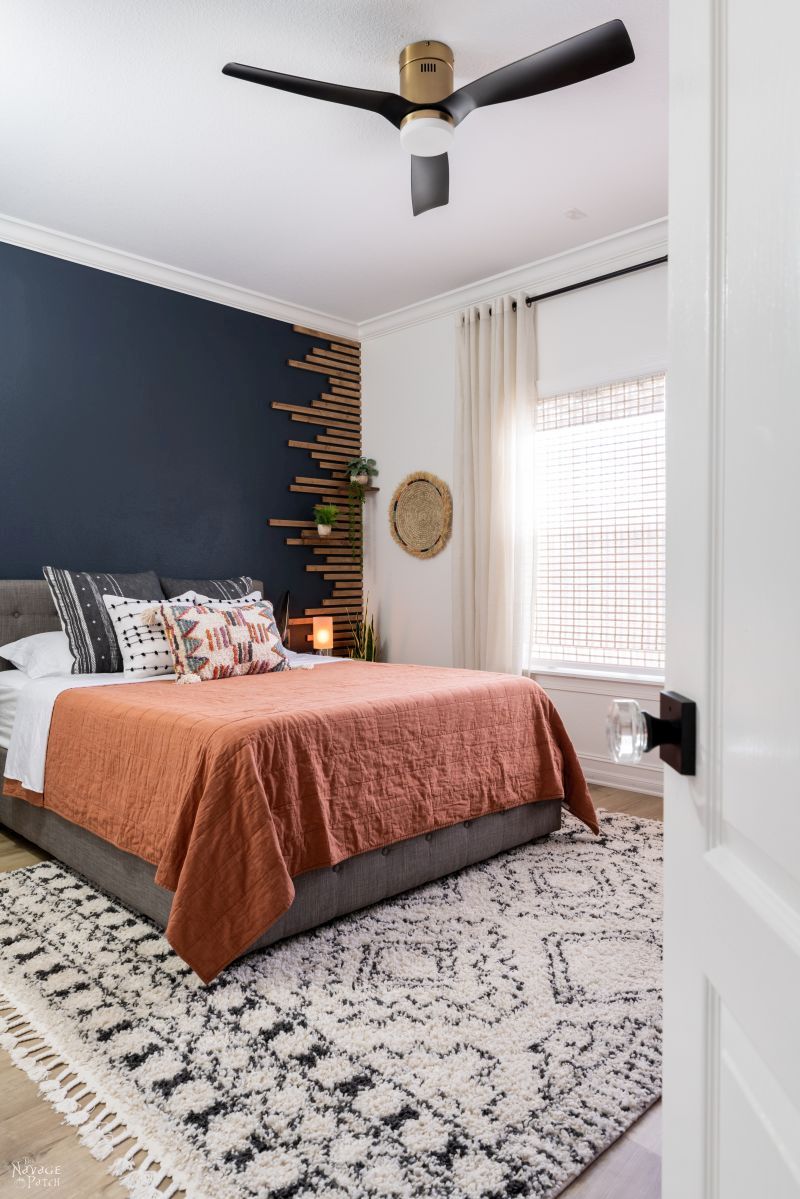 Before: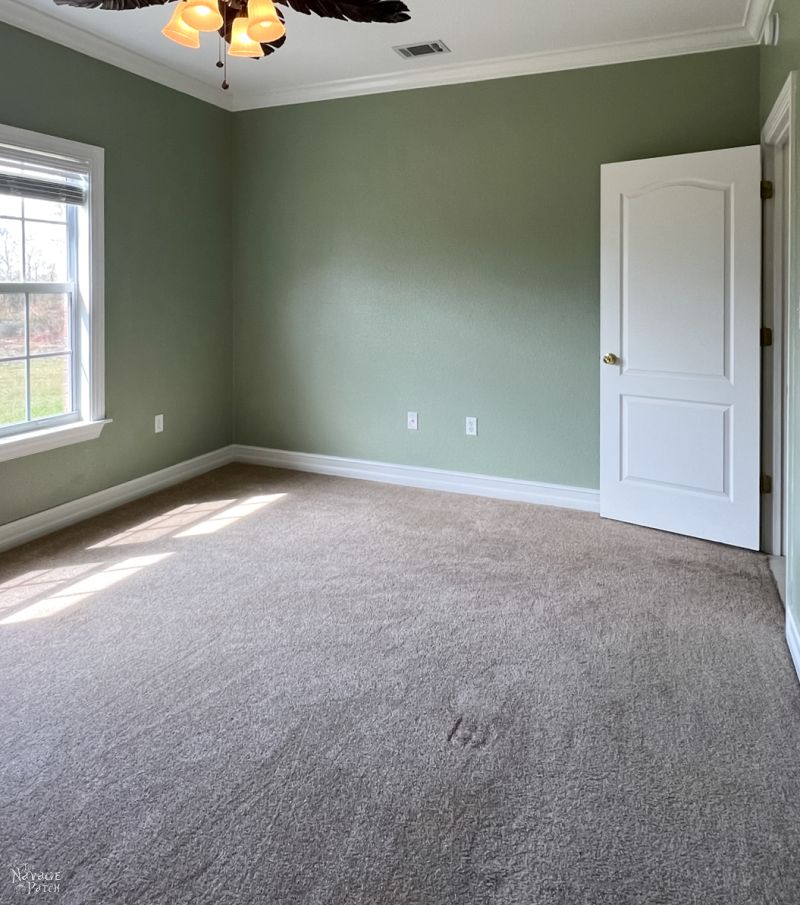 And after: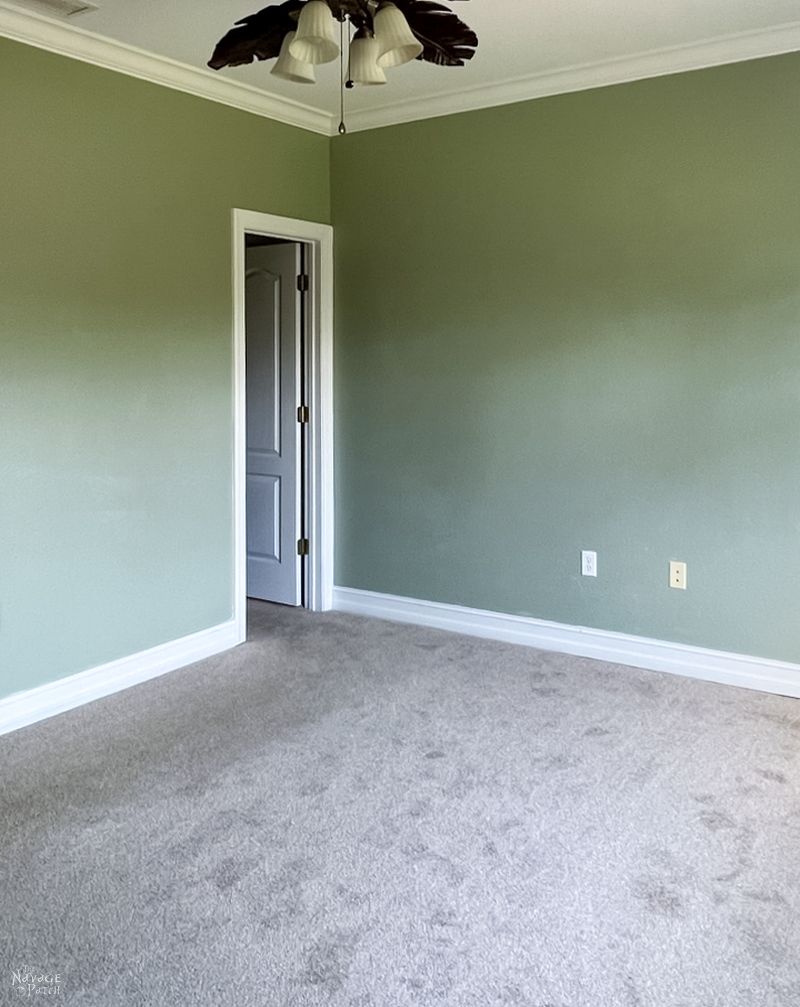 Now let's have a look at all the elements we brought together for this young adult bedroom makeover.
Obviously the first change had to be the wall color. That ubiquitous green graced most of the room in this house when we moved in. It's called "Daylight," but lord only knows how or why they named it that instead of the much more fitting, "Night Frog." Well, there's almost no room a coat of white paint can't improve, and Baris's was no exception. I painted 3 walls with Sherwin-Williams Bohemian Lace. It is one of our favorite whites, and I painted almost all of the Georgia house with it. I painted the accent wall behind the bed with Sherwin-Williams Sea Serpent, a deep smoky blue.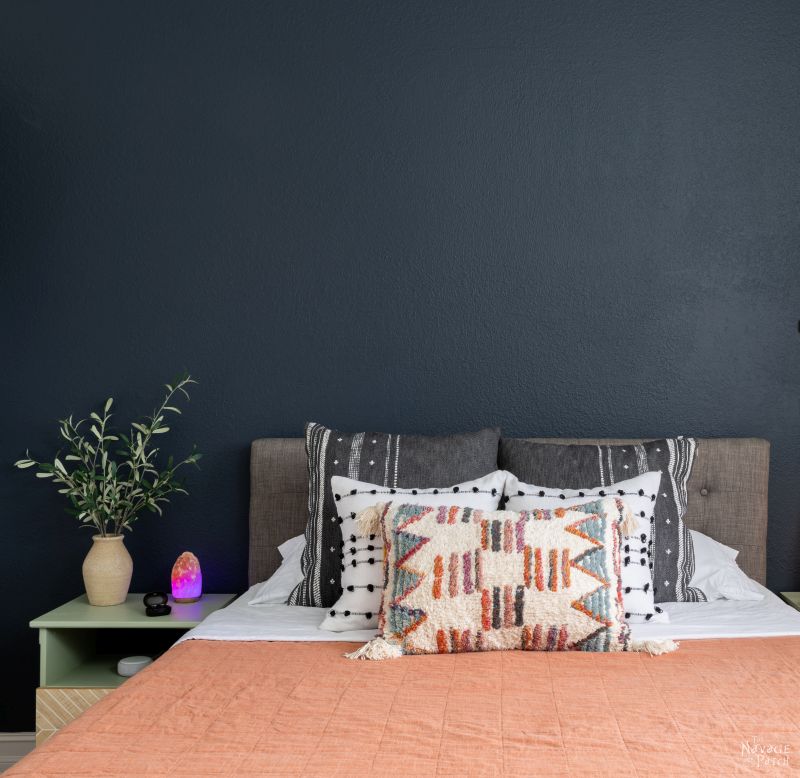 That beautiful smoky blue was the perfect complement to the wood slat accent wall I built in what I now call, "Handan's corner."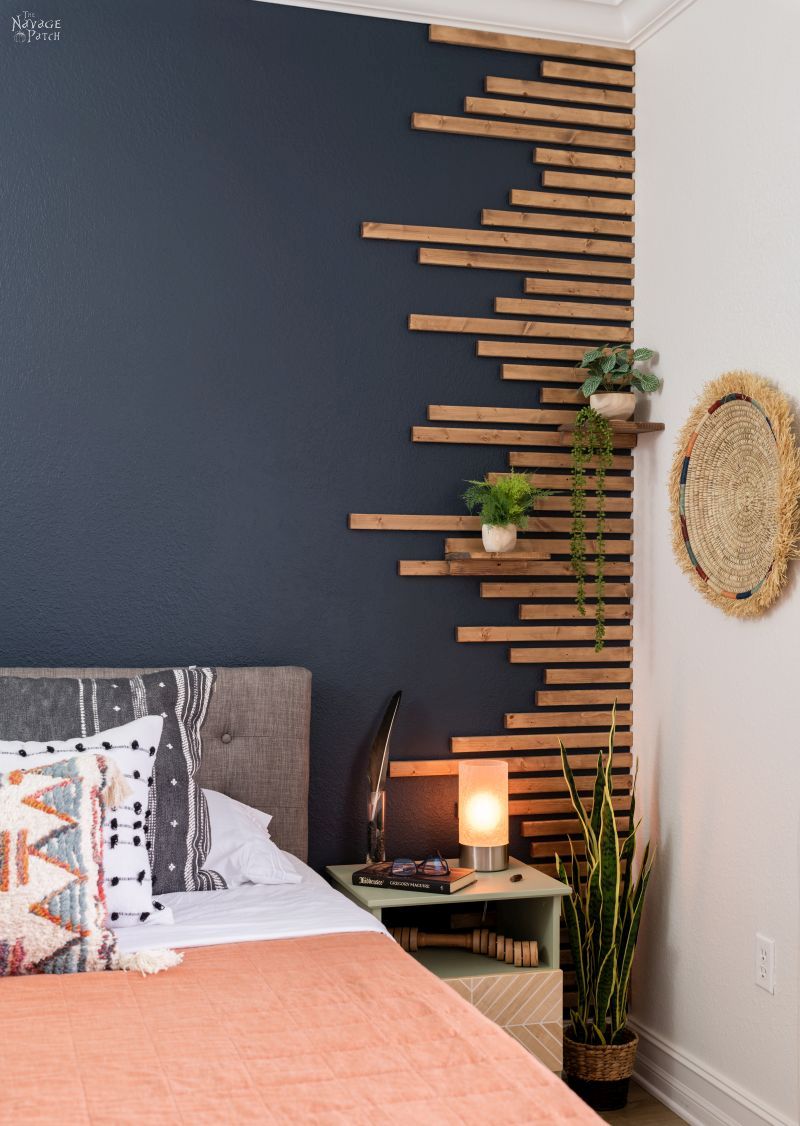 If she could just plop a sleeping bag in that corner and start living there – she would…and she'd never miss the outside world. Seriously, the woman still swoons every time she walks into the room!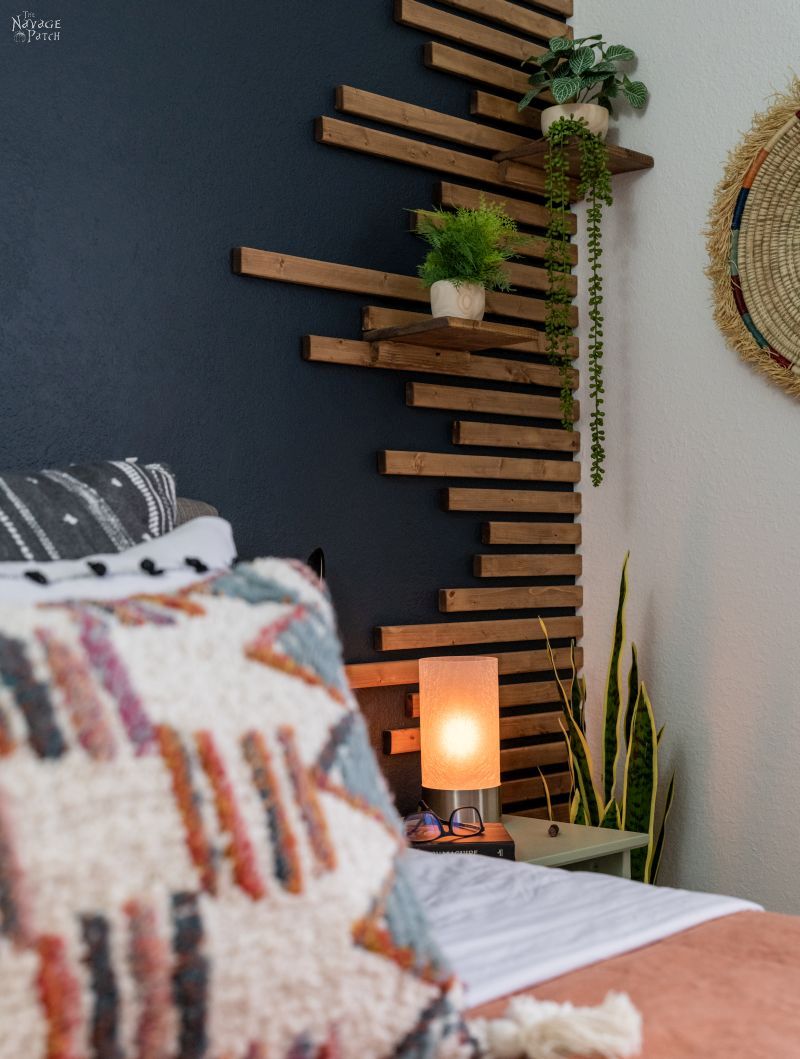 Tucked into that corner sits one of two IKEA Tarva nightstands I hacked. Not that I'm biased or anything, but they may just be the best-looking Tarva hack we've ever seen.
Not the simplest or quickest IKEA hack by a long shot, but sometimes you get out more than you put in.
You'll notice I replaced the carpet with LVP flooring. This wasn't in the original plan. We had every intention to keep things as simple and inexpensive as possible by leaving the carpet in place. But then my babes noticed the stains near the door. They'd actually been there all along – you can even see them in the real estate photos. Somehow, Handan had missed seeing them. And once she saw them, it was game over for that carpet. One day while Baris was at work, my babes and I drove an hour to Panama City, shopped for and bought LVP, drove an hour back, and then we moved his furniture out, I tore out the carpet, we prepped the floor and laid new LVP. Our goal was to finish before he came home from work. We had one row of planks left to lay when he arrived home. All in all, a great day's work, and we're so happy we made the switch!
Okay, moving towards the closet, now. While this makeover didn't include the interior of the closet (that's a future project), we did upgrade the door.
While farmhouse-style sliding barn doors have their places in farmhouse style houses, this house is not farmhouse, so we had to re-think the whole "sliding barn door" concept.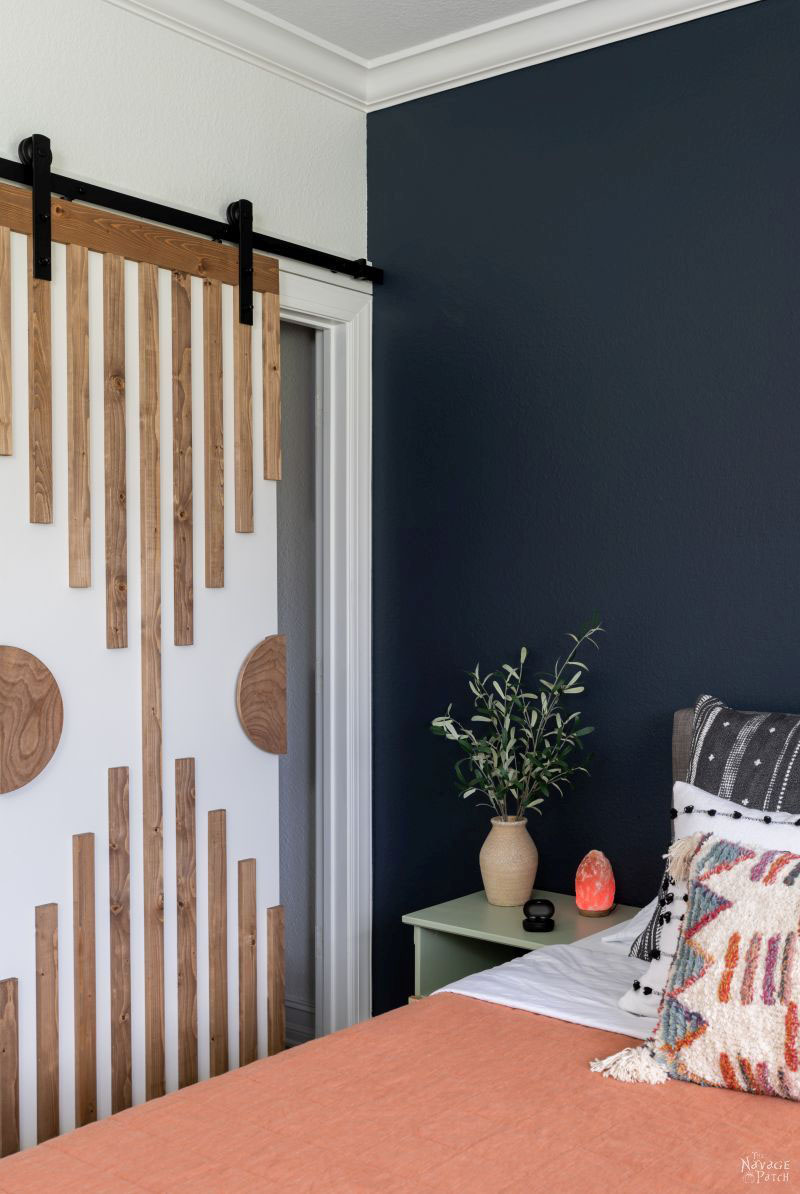 Like, why does it have to be a "barn" door? Why not any other kind of rectangle? With that in mind, we designed and built our modern sliding barn door. In other words, we took the "barn" out of the barn door, and we think it's perfect for Baris's room.
The sliding door wall is the longest uninterrupted wall in the room. Since the door needs about half the wall to operate and the other half needs to be free of furniture to accommodate foot traffic, we had a pretty big expanse of white to decorate. To keep things easy and inexpensive, Handan came up with the idea to decorate with Threshold placemats from Target. It was one of the easiest crafts ever, but they look great on his wall, and the colors tie in with everything else we've done.
The Hokies pennant was a last-minute addition, and Baris picked the Aztec sun stone from a box of his old things. That stone has quite a history to it. Before I gave it to Baris, it had graced the walls of every place I lived – San Francisco, Chicago, Boston, Winter Park (Colorado, not Florida), Vermont (Middlebury College), and before that, my hometown bedroom. I bought that sun stone on a beach in Acapulco, Mexico in 1983, when I was 11 years old. For those interested, I tell the tale of that day at the end of this post.
The wall opposite the bed showcases the two frames I built to showcase Baris's guitars. Since I no longer have the time to play, he's inherited my old guitars, two of which now hang in those frames. The LED makeover we gave them really makes the guitars stand out, and the lights add to the overall ambiance of the room.
Next to the guitar and behind the door (when it is open) hangs the rustic mirror I made for his Connecticut bedroom. I really love the way it looks, and even though this room is not rustic, it still suits the style and fits with the rest of the decor.
In the other corner hangs the triple pendant accent light and the vertical chess board.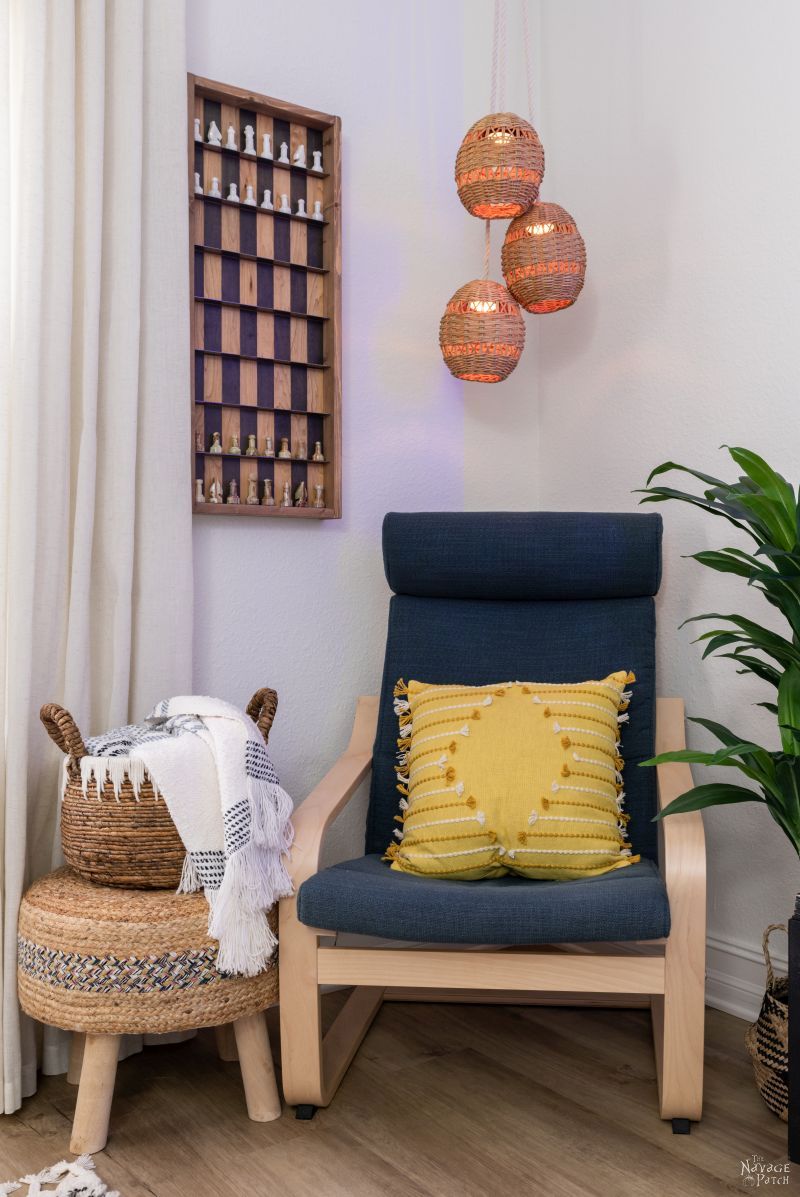 Baris loves those pendant lights. He's set them to different colors to set the mood at night.
We bought most of the decor pieces at Target, Walmart and HomeGoods. You really can't beat them for style and price.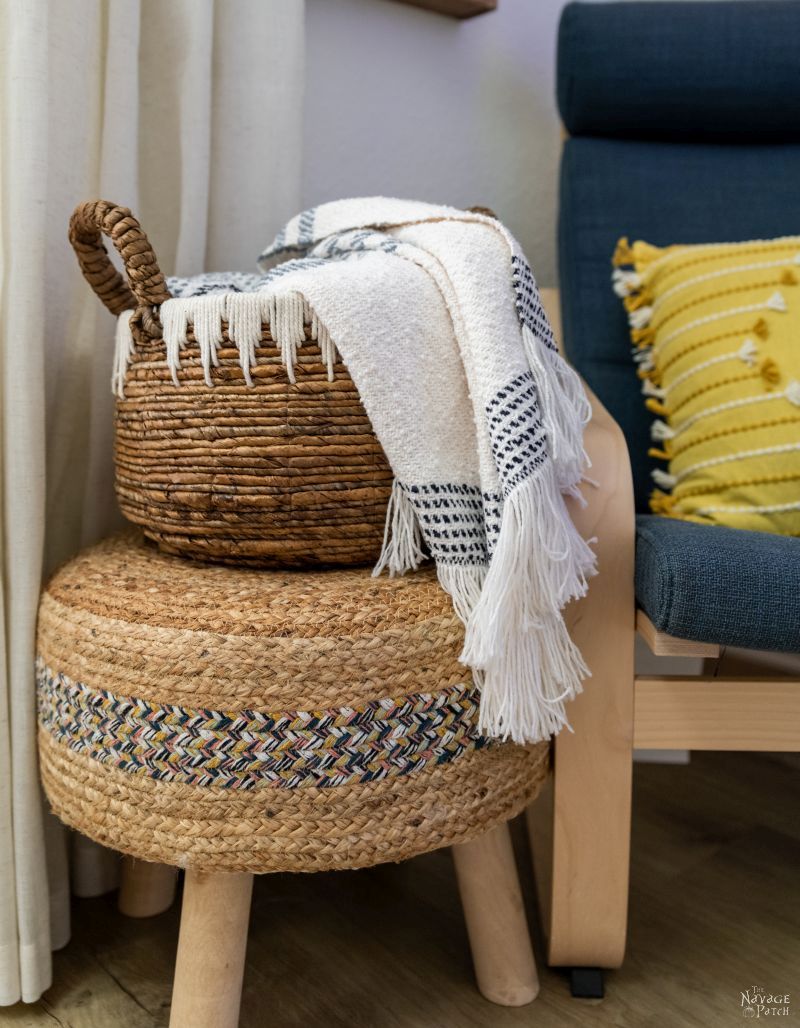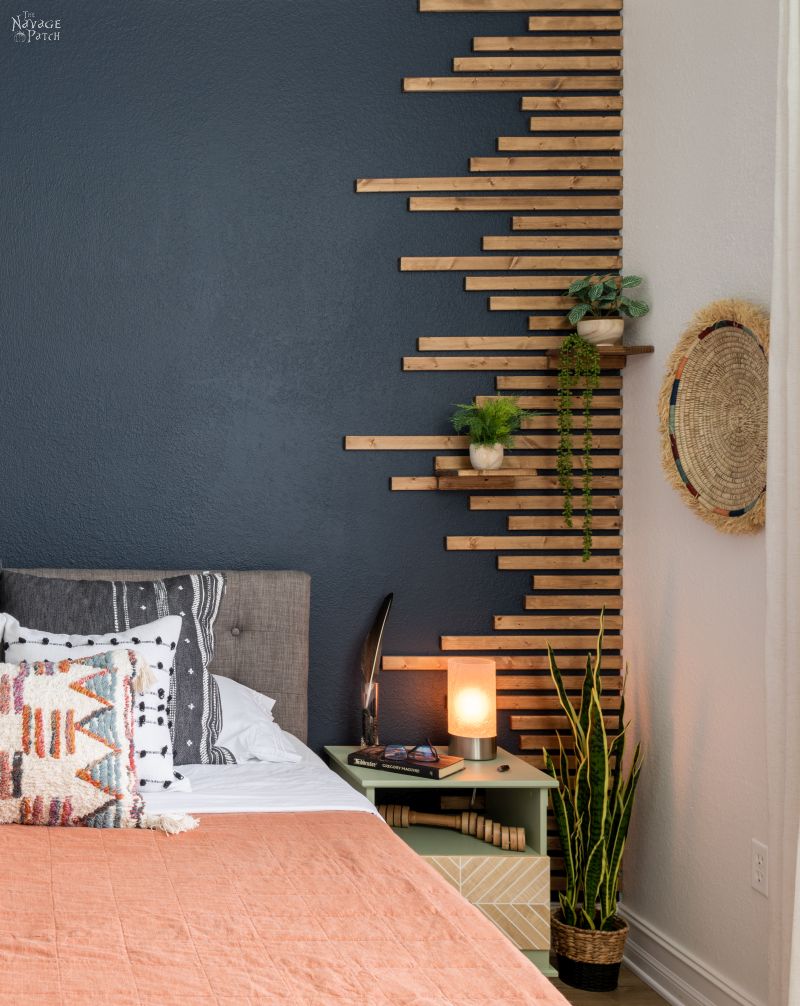 This is definitely one of our favorite room makeovers to date. We may bring some of the bohemian and modern elements when we start making over the other bedrooms, and certainly when we tackle the master bedroom.
We hope you like what we've done with our son's bedroom. Let us know what you think in the comments!
Young Adult Bedroom SOURCE LIST
Affiliate links are provided below. Full disclosure here.
Color changing salt lamp
1997 Fender Custom Shop '54 Reissue Sunburst Stratocaster Guitar
Paint: Sherwin Williams Sea Serpent in eggshell sheen
Paint: Sherwin Williams Bohemian Lace in eggshell sheen
Now, about that sun stone…
The story of the Aztec Sun Stone
I was vacationing with my family at the Acapulco Princess resort. Here's a photo I found on TripAdvisor.
In 1983 that beach was a little different. I don't remember the individual tiki huts. Those were the days of hedonistic sun-worship, SPF and shade be damned! Instead, there was a sprawling and ramshackle open-air shop with a tarped roof held up by wood posts and driftwood. Inside, all manner of Mexican men sold hand-crafted tchotchkes, souvenirs and crap to the oiled-up, coconut-scented gringos staying at the resort.
I was a worldly lad of 11, fresh out of primary school and making my way as a middle school man. My sister Margo was a high school freshman. Together, we entered the market to poke around and buy some junk.
I spied the sun stone at once. I was a a geeky little turd, and I knew all about the Aztec sun stone. It was carved from rock! Jade? It had to be! Was I holding an ancient relic in my pudgy little fingers?
Duh! Obviously!
I asked the mustachioed Mexican how much he wanted for this priceless treasure (it probably once belonged to Hernán Cortés!).
"Cincuenta," he said. I knew he wasn't talking pesos, so fifty dollars. Too rich for my 11-year-old blood. I was months away from getting my first summer job on a tobacco farm in Glastonbury, so that kind of loot was still foreign to me.
"No tengo," I said. Of course I didn't have it! What 11-year-old in 1983 wanders around the beaches of Mexico with fifty bucks in his swim trunks?
I considered my financial position: a crumpled fiver and three soggy George Washingtons.
"Cinco!" I said, opening what would become the greatest negotiation of my life.
"Cuarenta," he said. Forty may as well have been a billion!
"Seis." Six. A much better number!
"Veinticinco." Twenty five was better, but still no cigar.
"Siete." I was running out of ammo.
"Diez!" he shouted, mustache twitching in disbelief.
"No tengo," I said again. I don't have what I don't have!
"Ocho!" I said, finally, and plopped my soggy bills on the makeshift counter.
He sighed. "Bien. Bien." He took my money, and I had my prize! From fifty dollars (which it obviously wasn't worth) to eight dollars (which in 1983, it still probably wasn't worth). Never again would I achieve such a percentage price reduction in a negotiation. Put another way, my negotiating skills peaked at age 11.
There is a second part to this story – one far more hilarious, infinitely more embarrassing, borderline scandalous and entirely salacious. Given enough motivation in the comments section, I may consider writing that story as a Navage Yap post.