This butterfly wreath is an easy and inexpensive craft that will bring some much-needed spring cheer and vibrant color to your front door!
Apparently spring comes in February 'round here in North Georgia.
There's a tree in our neighborhood that has blossomed in a floral explosion of pastel pink. On our daily walks, we see green shoots climbing towards the sky and yellow flowers drinking golden sunlight. And yeah, it's like 80 degrees, so I'm pretty sure spring has sprung.
Which is awesome.
It's why we're here.
We've endured enough snow and wind chill and gray and mittens for several lifetimes. Our middle-aged bones crave sunshine and warmth.
But with spring comes all the cutesy spring crafts – Easter this and pastel that. If I'm being totally honest (which I totally always am), I'm not the biggest fan of spring crafts and spring colors – unless those colors are outside, in nature.
I don't know, I guess when I see too much color all at once, it reminds me of Kindergarten art class. Or maybe it just reminds me of the art class I took senior year in college.
I had satisfied all the requirement of my economics major, so I had some free space in my schedule to fill with whatever my little 21-year-old heart desired. Since I couldn't even draw a stick figure without offending the local tree population, I reasoned an art class might be a fine and fun thing to train the fingers and open the mind.
And it worked. To a degree.
My line drawings with pencil improved tremendously, and I was a natural with charcoal. But then came pastels.
Color.
Apparently, color was my Achilles heel.
I couldn't make heads nor tails of all those colored sticks in my box of pastels. How was I supposed to know which ones to use?
(use 'em all, dipstick!)
It was just one of countless times I've been woefully misled by the idiot residing between my ears. Whereas the month before, my professor had submitted one of my charcoal drawings to the school's art publication, with my first pastel, I had become the class dunce whose knowledge of color theory began and ended with a box of Crayola. Taking the good old American "More is Better" approach, I used every pastel I had to create a still life of two puffy Cheetos on a table.
It was an abomination. I could see the shame in my professor's face.
And in case you're wondering, I didn't get much better. In fact, it took more than 20 years for me to start getting a handle on color and how to use it judiciously. I have this blog and my camera to thank for that.
So what does all this have to do with a butterfly wreath?
Well, as usual, Handan informed me that I'd be making this wreath, and as usual, I nodded and said, "Okay, my babes! Butterfly wreath. Got it!"
She'd already bought the butterflies from Amazon, and we just bought one of those wreath forms made of sticks from Michaels. [LOL, it's called a grapevine wreath form, you silly bugger! -Handan]
When we returned home, she explained her plan, and then I saw the butterflies.
All those multicolored butterflies.
My mind reached back to my senior year art class and dredged up all those hideous pastel memories.
Technicolor Cheetos.
Orange trees.
More pink than 1986.
I pushed the memories aside and got to work.
DIY Butterfly Wreath
SUPPLIES LIST
Affiliate links are provided below. Full disclosure here.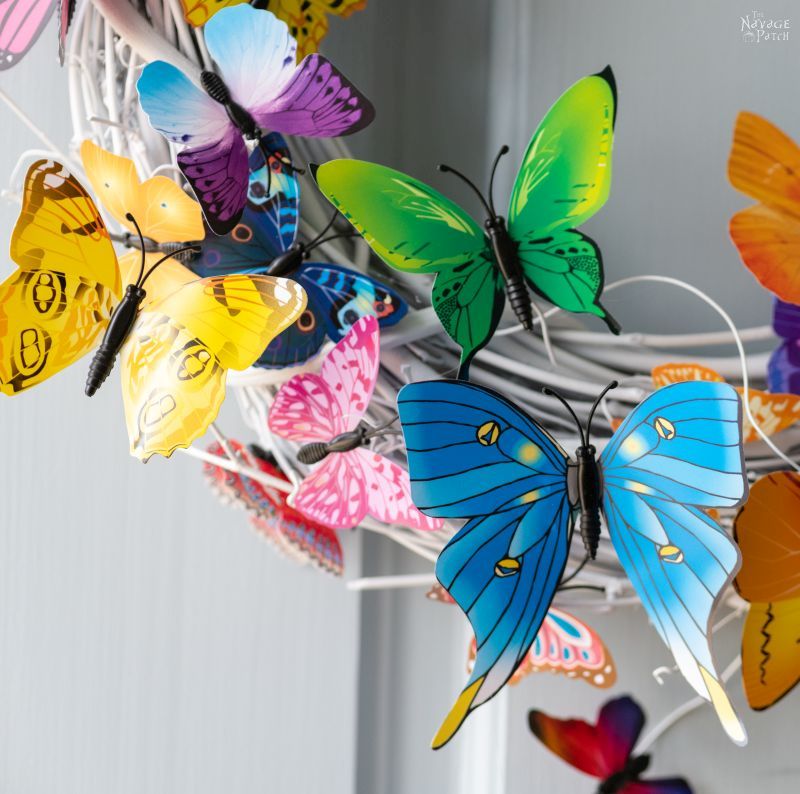 For this butterfly wreath, I used a 14 inch wreath form, though I think bigger would look good, too.
Any flat white paint will do for this project. I happen to have a lot of Rustoleum Chalked on hand, so I used that.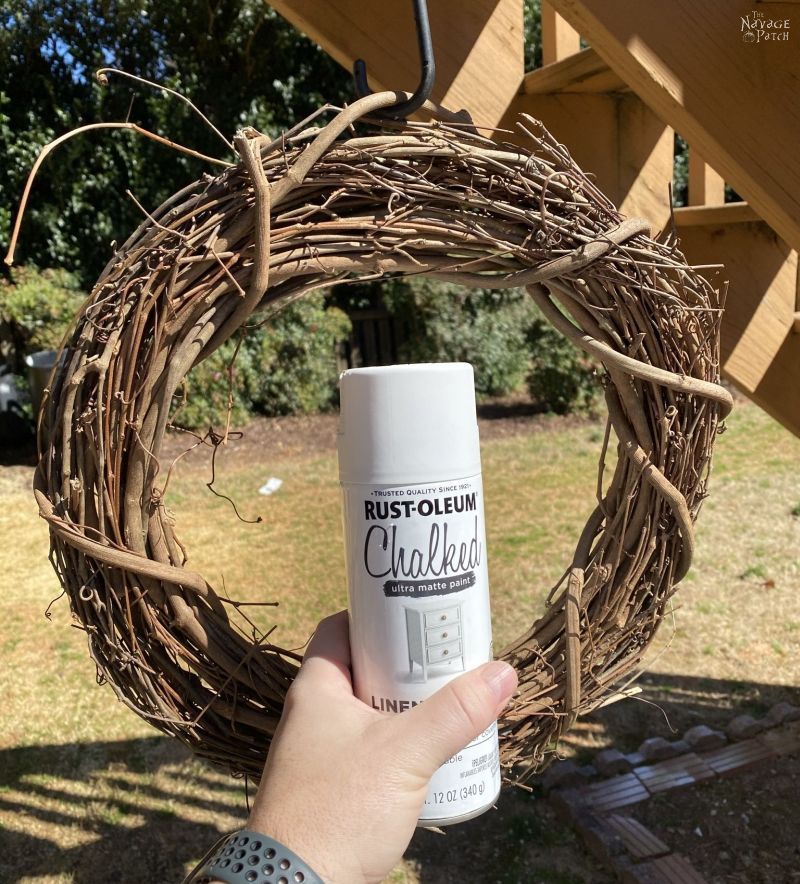 Action shot! Look at that paint fly! I used a bungee cord suspended from the bottom of the deck stairs to hold the wreath while I painted. This was an easy way to paint all around the wreath, and I could pull down on the bungee to paint the top.
All painted and ready for butterflies.
I gotta say, these are a really good deal – $11 for 108 butterflies!
I opened all the packages and sorted my butterflies by color. If I could help it, I intended to avoid the color catastrophes of years past.
So at this point, I started putting butterflies on the wreath form to see how they looked. My first instinct was to stick with colors I liked – namely, blue, green and yellow. I even tried flowing from one color to the next.
But nothing looked good to my eye. Nothing looked natural.
I was overthinking what should be a stone simple craft. I was getting caught up in the colors.
(use 'em all, dipstick!)
Well, that advice didn't work in 1994, but maybe it would work now? What the heck, let's use 'em all!
I shut off my brain and started gluing.
This guy seemed as good a candidate as any to start with.
A little hot glue…
And press him into place.
I carried on grabbing random butterflies and gluing them randomly on the wreath form. I did try to stick with the smaller butterflies, as the big ones took up too much real estate on the wreath.
Eventually, I found myself here, and believe me, the ghosts of college art class were stirring! So. Much. Color.
But it looked good I guess, though something was off. It looked a little, I don't know…flat.
I called Handan over to have a look, and it turns out I was right.
"Oh, it looks awesome! Good job, my babes! But why don't you bend some of the wings to make them look more real?"
bend the wings?
It was face-palmingly obvious, but I didn't know I could bend their wings. What a difference it made to the overall look!
And yes, though this butterfly wreath is a riot of spring-ish color, I actually like it, and I think it suits the beautiful weather we're having down here in the South.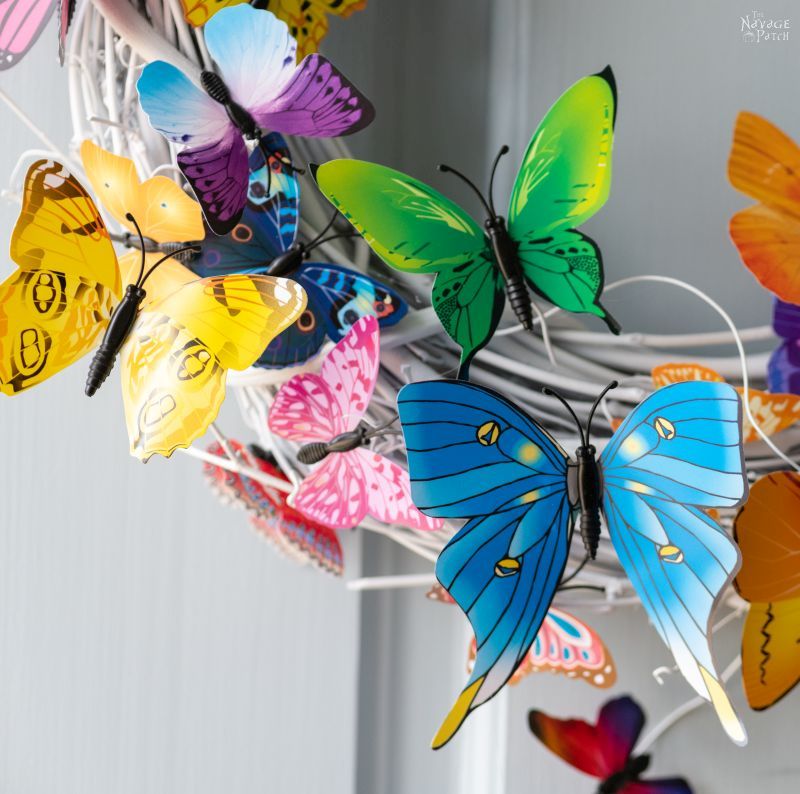 This butterfly wreath is really so simple to make. No skill required!
By the way, unless you make more than one wreath, you're going to have a lot of leftover butterflies. If you have a young daughter or granddaughter, they'd look great swarming on her wall!
We love it when you share our posts on Pinterest!