DIY citronella candles are easy to make with mostly Dollar Tree materials, and they'll help keep the mosquitoes at bay this summer.
I don't need citronella candles!
Well, not when my wife is around, anyway.
She is cursed with a smell or pheromone or chemical in her bloodstream that wafts from her pores and is pure ambrosia to mosquitoes. And not just mosquitoes! She gets bitten and jabbed by insects that were hitherto unbeknownst to me to bite!
Gnats? No-see-ums? Annoying, to be sure, but I've never seen them bite anyone until Handan (and to a lesser degree, Baris).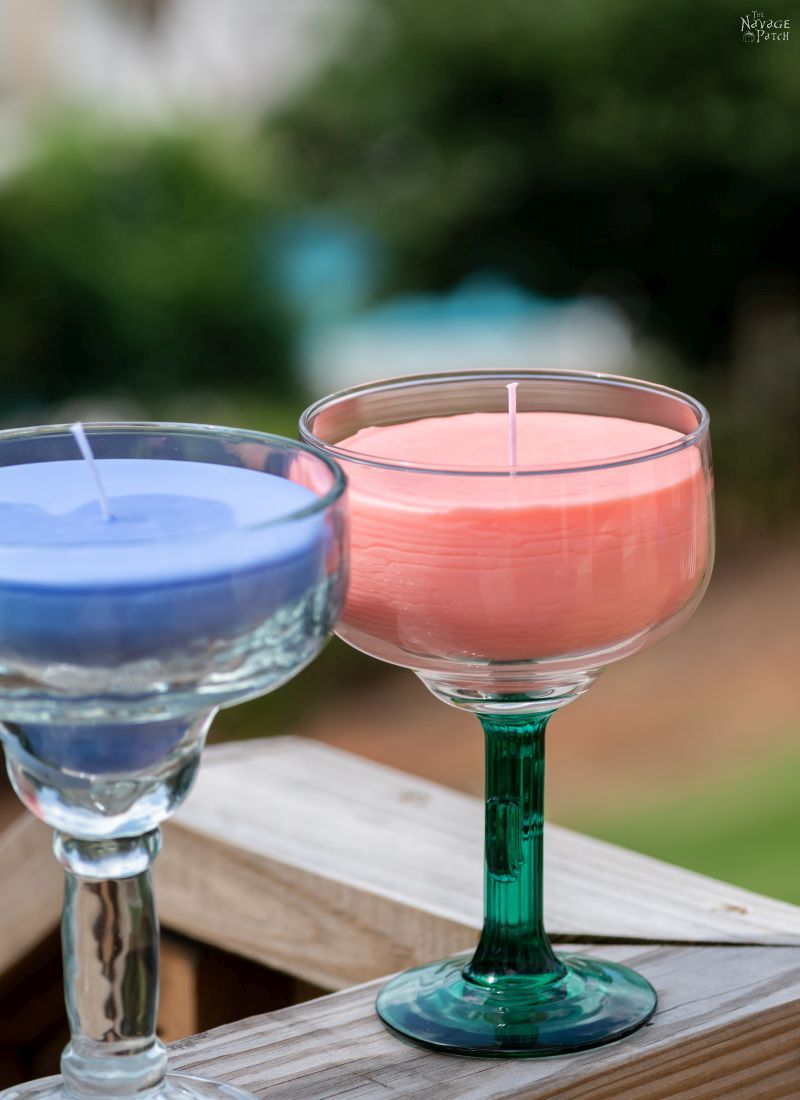 And the bites!
Handan's ear once swelled so big from a gnat bite, she had to call in sick from work. Another time, one of those swarmy little buggers got her near her eye, and it turned bright red and swelled shut like she just came from the losing side of a title fight. Anyone seeing pics of those bites would think she's married to a psychotic wife beater!
It's bad enough when she's mobile – being an ambulatory all-you-can-eat feast for swarming creatures is not an optimal situation for anyone. But parking that body-length buffet in a deck chair is quite another thing altogether. She doesn't spend much time outside anymore – not in the evenings. The price is too high and the welts just too severe.
So yeah, when she's around, I don't need bug repellent, because my wife is a freakish bug attractor! When she's near me, any and all winged terrors and biting jerkwads fly directly to her without even a passing glance at me. It's bizarre.
Fortunately nature has a pretty good solution to my babes' most itching problem: citronella.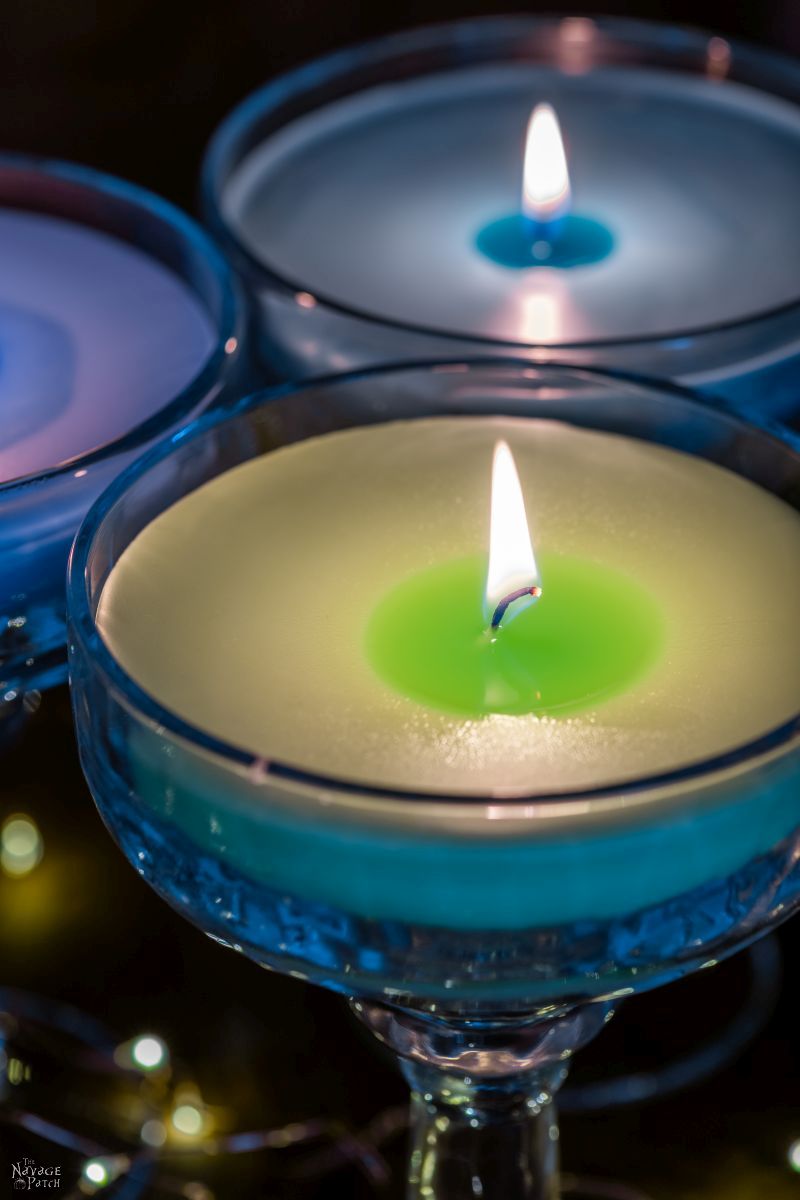 Every year in Connecticut, we bought citronella plants for our deck. Though they may not have worked perfectly to dispel the biting hordes (especially for Handan), they did help somewhat, and Handan loves the smell. Citronella plants are hugely popular in Turkey, so it's one of those sights and smells that takes her back to her youth.
This year, I wanted to DIY some really strong citronella candles to go with the plants. Maybe she could start enjoying our deck again. Oh sure, I could spray Yard Guard and cover her head-to-toe in Cutter or Off!, but those are chemical solutions, and we're trying our best to avoid poisoning ourselves. Besides, after all the DEET, she'd have to shower off those sprays before bed. A natural solution is always better.
We've had citronella candles before – you can find them pretty much everywhere. But I wanted something better. Something stronger. I wanted to know just how much mosquito-fighting citronella each candle contained.
And I wanted them to look fun and inviting. Home Depot sells citronella candles that look like an inverted brown bucket with holes in it. How is that supposed to go with any outdoor decor?
Unless pressed into service during a blackout, candles should always server two purposes: look good and smell awesome. Bonus points if they're citronella and help fight the scourge of mosquito bites.
To make these DIY citronella candles, we started with Dollar Tree candles, though you could certainly buy candle wax online. To keep costs down, you can use the wicks in the Dollar Tree candles, or you can buy new ones online. Let's take a look at how we made them.
DIY Citronella Candles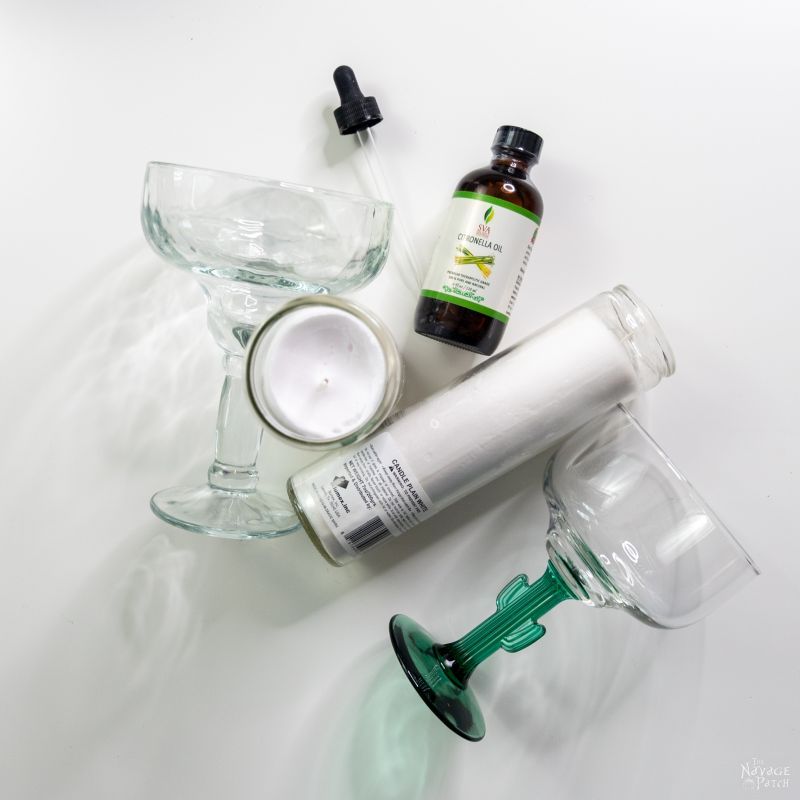 SUPPLIES LIST
Affiliate links are provided below. Full disclosure here.
How to Make Citronella Candles
Step 1 – Melt the wax
To get the wax from the Dollar Tree candles, I had to melt it. The two easiest methods are oven and stove. I've used both, and they're equally easy. Overall, I prefer the stovetop method so I can keep a quick eye on the melting progress and grab the glass containers individually, instead of pulling them out of the oven on a baking sheet.
In a small saucepan, I fit 3 or 4 Dollar Tree candles, fill it with water and bring the water to a boil.
Melting takes about 20 minutes. The first time I melted down a Dollar Tree candle, I was shocked to see that the liquid wax only filled the container half way. This is how Dollar Tree is able to sell these candles for a dollar – the wax is whipped with air as it cools. This is the same principle used by some unscrupulous ice cream manufacturers: whip the product with air, thereby using a smaller quantity of ingredients to achieve the same volume of ice cream. Charge the customer the same amount of money. Pocket the profits. It's the American way. Bonus points if you whip the ice cream and reduce the half gallon container to 1.5 quarts without telling anyone!
Anyway, ice cream rant aside, while the wax melted, I washed and dried the margarita glasses.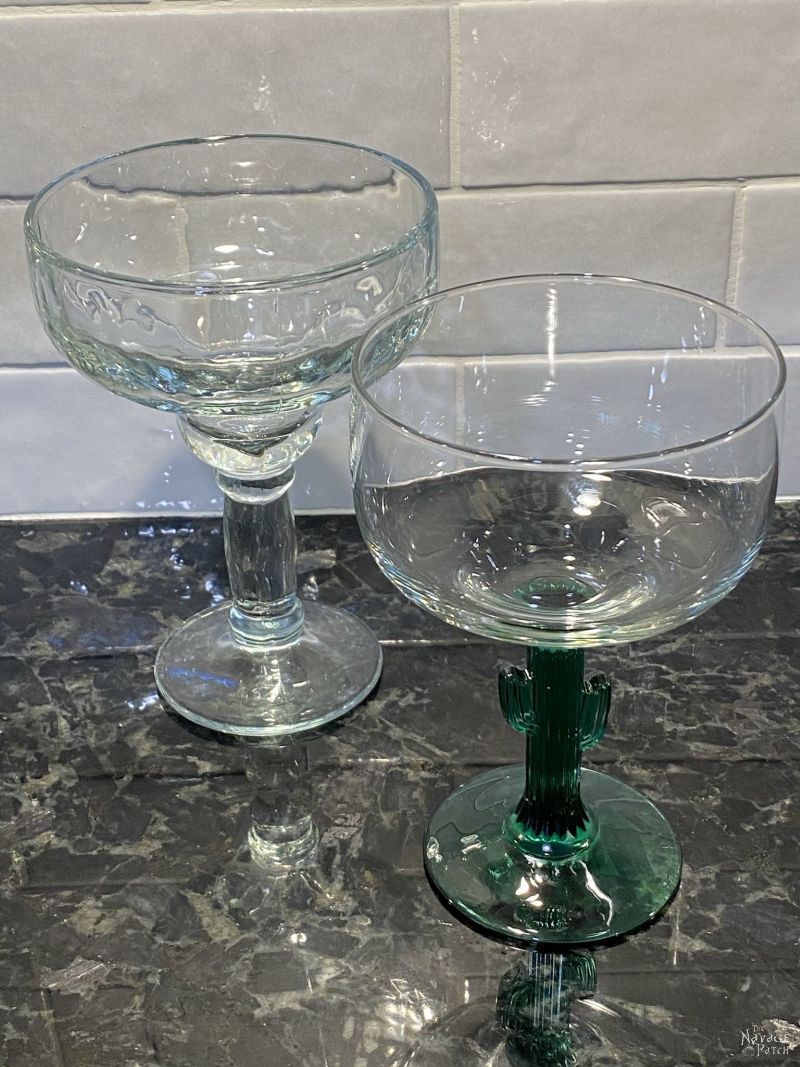 When the wax had melted, I pulled the candles off the stove and set them on a silicone mat I use for things like this. I first bought this mat when we got our quartzite countertops. Handan and I were all paranoid about stains. Turns out, we needn't have been so militant about it. We gave the stone several coats of sealant, and so far it's held up extremely well. I haven't used the silicone mat for cooking since last summer, but it makes a great craft pad that's super easy to clean and folds down to take up a small amount of drawer space. Check it out on Amazon.
Step 2 – Place a wick in the glass
To save a few dollars, you can reuse the Dollar Tree wicks – just use a dab of hot glue or super glue to secure the base to the bottom of the glass. If you want to use new wicks, they come with round stickers for adhering the wick to the glass.
Step 3 – Dye the wax
While the wax cooled a bit, I colored it with wax dye chips. I wanted two of these to look like margaritas, so I chose the bright lime and bright yellow chips.
I first mixed in some yellow, and then I stirred in some green to get the right margarita color for my DIY citronella candles.
Since these candles turn white when cool, you need to start with much darker and more vibrant colors when the wax is liquid, because the white solid wax while soften the color.
These three candles were for my first citronella candle. I went darker for the second one I made, and it turned out even better.
Step 4 – Add the citronella
Next I added the citronella essential oil. I've seen places online recommend one or two drops in a candle. I put two droppers in each of the original candle containers, which makes about 4 droppers per finished citronella candle. Like I said earlier – I need these candles to be bigger, faster, stronger! If I were to burn these inside, I'd dial back the citronella, but since they're slated for outdoor use, more is better. After all, I'm fighting for the well-being of my babes, and I'm willing to fight dirty against those flying hypodermics!
edit: After hearing so many of you suffer from the same mosquito magnetism as Handan, I'd say 4 droppers should be your minimum. There's no harm in using more citronella oil, and you just may benefit from the additional smell!
Step 5 – Pour the candle
The temperature of the liquid wax when pouring the candle has a huge impact on the final quality. Pour it too hot, and the candle will pull away from the sides of the glass when cooling. Granted, this is only an aesthetic problem encountered when pouring into clear glass. The other issue happens at the top of the candle. If you pour too hot, the top of the candle will tend to crater, and sometimes even split. This can be corrected later with a heat gun, but if you use a thermometer and pour at the correct temperature, you won't need to fix the candle later.
I've read that the optimal temperature to pour is between 120 and 160 degrees. I poured my first candle at 140, and it turned out pretty good. The wax didn't peel away from the sides of the glass, and there was only moderate cratering in the middle. I pored the rest of the candles at around 125 degrees, and they turned out nearly perfect. If you go too low – anything under 120 – the wax starts to solidify, especially near the bottom of the Dollar Tree glass container. That leads to chunks pouring out and air bubbles that get trapped in the thickening wax.
I poured gently to avoid air bubbles. At 140 degrees, any bubbles will easily escape, but as the wax cools, bubbles can become trapped.
I love the color of this liquid wax! The white sticker in the pic below is keeping the skewer in place. The wick was trying to push it away.
As the wax cooled, the color softened.
After the maragarita-colored candle above, I made a bunch more with different wax dyes. Handan loved the orange dye packet, so I used it to make her one that turned out looking exactly like a strawberry daiquiri.
These DIY citronella candles were so easy to make, and it's a fun project for a lazy weekend morning or afternoon. If you use Dollar Tree margarita glasses and candles, you can make a basic candle for $3 each. Adding citronella adds about another dollar (considering how many you can make with one bottle of essential oil), and using new wicks and a thermometer adds about another dollar. Not bad for great-looking candles that keep the mosquitoes at bay!
Let's a have a closer look at our finished citronella candles.
The two-tone blue is the result of me trying to add a little more wax at the last minute, after the candle had already started to solidify. The new wax was a different shade than the rest, and because the candle had cooled too much, the new wax never got the chance to mix.
Handan's strawberry daiquiri.