DIY Dollar Tree Fall Wreath
This DIY Dollar Tree Fall Wreath is a 100% DT craft! It'll only cost you $10 to make, but it looks like something you'd pay $40 or more for!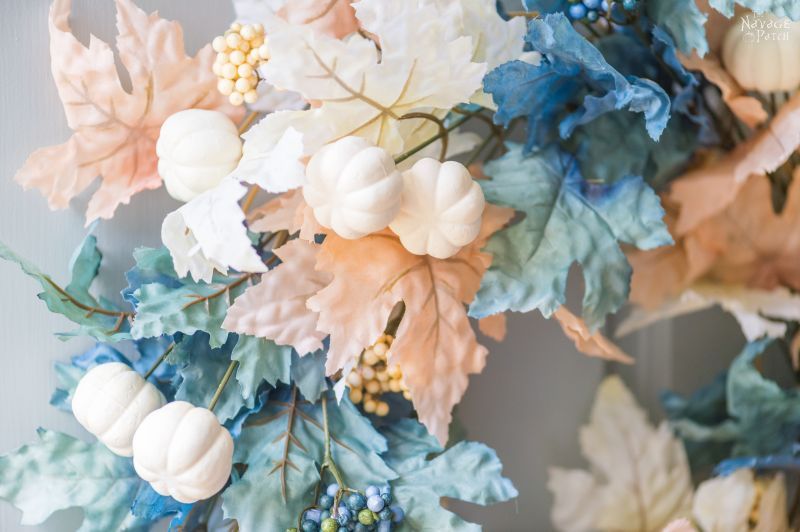 It's tough to be a wreath around here.
The pressure to perform is crippling.
You gotta be the best. You gotta put in the long hours to make sure you look better than all the other wreaths, because competition is fierce, sister.
I've seen wreaths throw themselves off doors because they thought they couldn't measure up.
I suppose we're party to blame for all these nerve-wracked wreaths lying around the craft room, propped up on chairs and bravely clinging to doors. After all, we did make them and bring them into this world.
And we loved each one and hung it with pride. And all was glorious in that young wreath's world.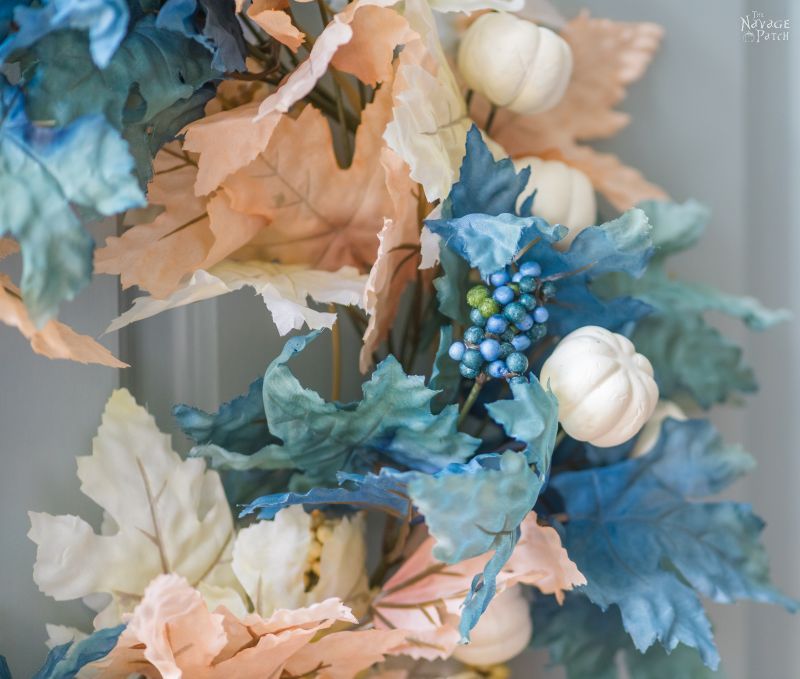 For a time.
But then my babes would get a glint in her eye, and she'd look at me all funny, and I'd start to sweat, and then I'd say, "whatcha lookin' at babes?" and then she'd say, "let's go make a wreath!" and then she'd grab my arm and pull me into the craft room so we could get busy.
And 9 minutes later, another wreath would be born.
Then the wreath, the new apple of my babes' eye, would be carried gleefully to the front door, whereupon she would open it, grab the wreath currently hanging, toss it aside without a thought and hang her latest darling for the world to see.
And thus the cycle perpetuates.
Yeah, it ain't easy being a wreath around here. But it's not all bad, right?
I mean, my babes' new wreath addiction (along with her pillow addiction, rug addiction and gnome addiction) just means I've got another wellspring of content for this blog!
Now for this latest wreath (bless its little heart – it's hanging on the door as I write this, and it probably thinks it's going to stay there forever) was an interesting one…for two reasons.
Reason #1: This wreath can be made from 100% Dollar Tree materials. You know how most of the time when bloggers (ourselves included most of the time) squawk about Dollar Tree projects, there's almost always non-Dollar-Tree materials tossed into the mix? Whether it's spray paint or embellishments or ribbons or tools or even hot glue – there's almost always something that didn't come from DT. But this wreath is 100%. Right down to the scissors (just in case you didn't already own some).
Reason #2: Handan had the brilliant idea to start challenging me to do certain crafts with a certain budget (as if being married to a nitro-fueled squirrel wasn't challenging enough already, amirite?)…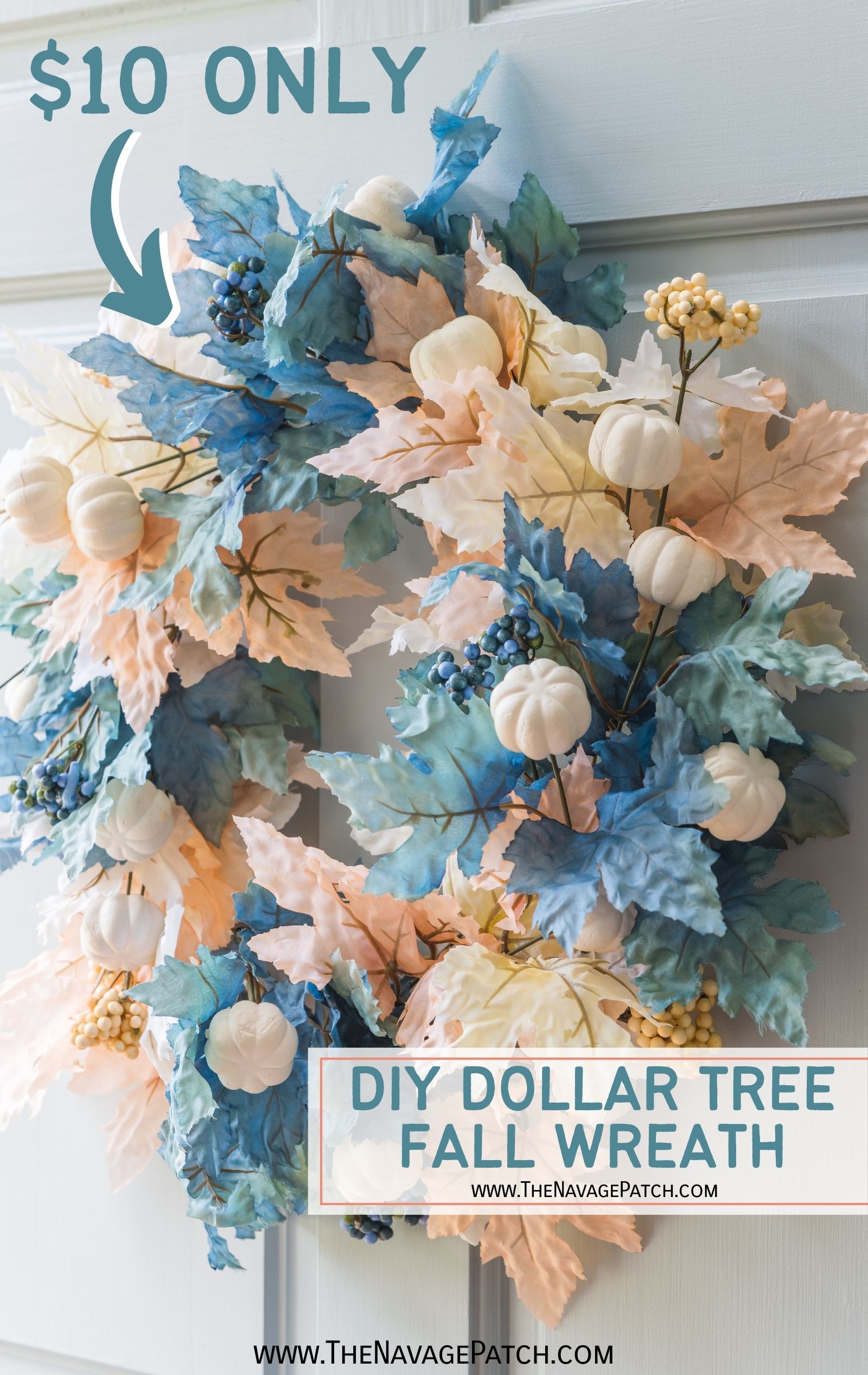 CRAP! She heard me!
RUN!!!
Phew! lost her. Okay, where was I? Oh yeah, challenges. So as we were wandering around the Church of Handan (you all know it as Dollar Tree), she said to me, "Hey babes? Do you think you can make me a wreath for $10 or less?"
The gauntlet had been thrown.
Only a few years ago, this challenge would been so much harder, but Dollar Tree has stepped up to the big leagues. Honestly, they made this challenge easy.
Okay, I may not be the most stylish dude on the planet, and I couldn't spot a trend if it was whipping me in the face with a Magnolia branch, but I'm pretty good with faux flowers. My favorite part of Michael's and Hobby Lobby is the huge floral section. I guess I have a good eye for color, or put another way – I know what I like.
So here's the thing – until kinda last year, but really this year, Dollar Tree's floral section kinda….oh what's the word? I'd like to say it sucked, but I remember as a kid I used that word at the dinner table of a friends house and his mom yelled at me for swearing. I was shocked. "Suck" was a swear? She was a Bostonian, so I just assumed things were different up there. So I won't say DT's faux florals used to suck, because, golly, I'd sure hate to offend anyone! I guess I'll just say they used to blow banana chunks.
There. That's better, right?
Anyway, semantics aside, this year Dollar Tree is, if not on par with Michael's and Hobby Lobby, at least doing an admirable job of catch-up. They finally have florals that we can use as-is.
And that's exactly what I did for this Dollar Tree Wreath challenge.
DIY Dollar Tree Fall Wreath
Dollar Tree gold-colored wire wreath form – yes, they have them now!
Fall Floral picks – we used 4 white/blush and 4 blue
Dollar Tree zip ties
Scissors (if you don't have scissors and need to get them at DT, that pushes this wreath to $11)
Wire cutter (optional – it's not necessary to trim the stems, but I did it to make them easier to work with)
Let's all just take a moment and revel in the fact that Dollar Tree now carries gold-colored wire wreath forms, shall we? Sayonara Michael's!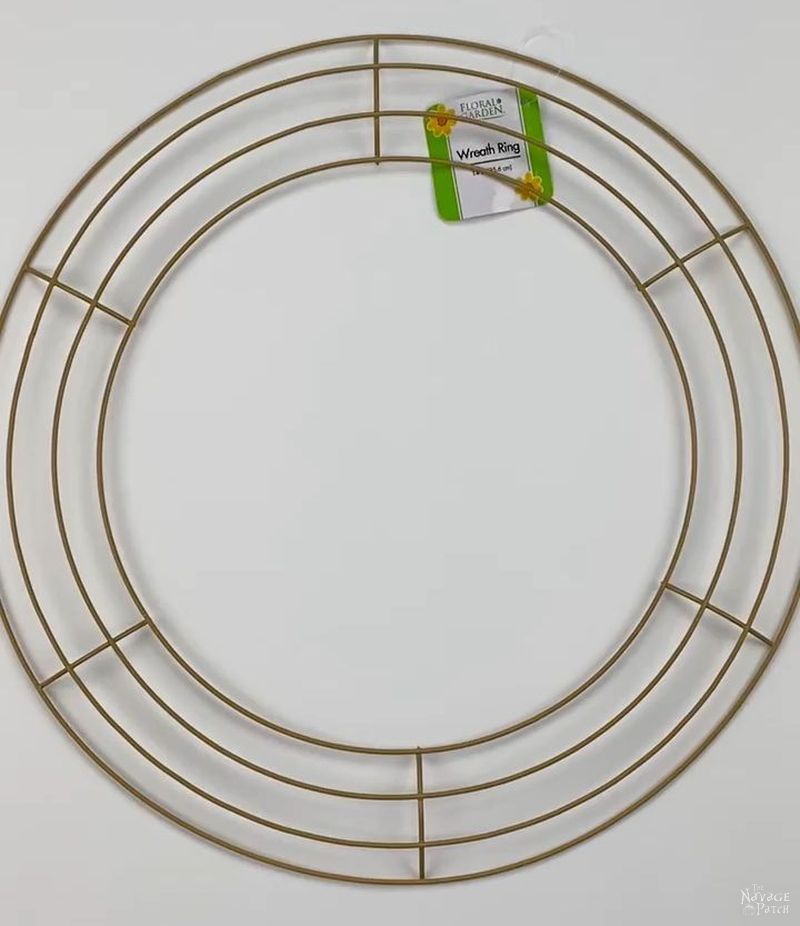 And helllooooo Floral Garden!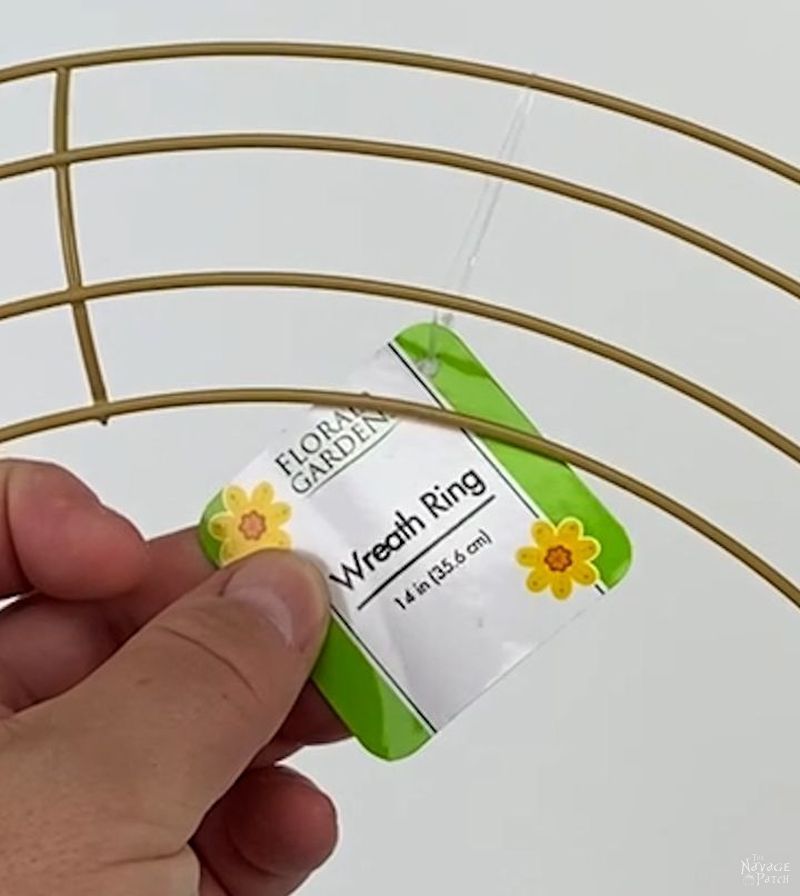 These are the two types of floral picks I used.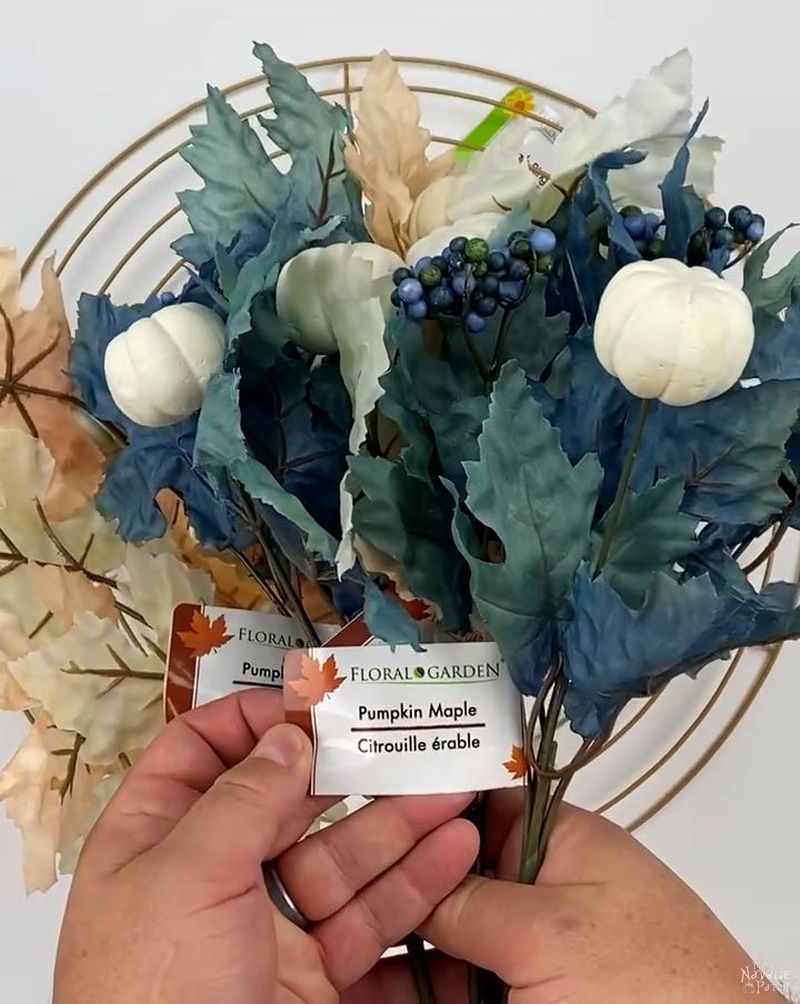 DT carries a few more colors, including an orange one that isn't bad, but I think these two together is the best looking combination. To keep this project at exactly $10 I used 8 picks in total (+ $1 for the form and $1 for the zip ties). If you don't mind forking out a couple more clams, this wreath would also look great (and maybe a teeny bit better) with 10 picks.
Zip ties. If you already have these, you just saved yourself a buck. You can now either retire or mail me a yacht. Your choice.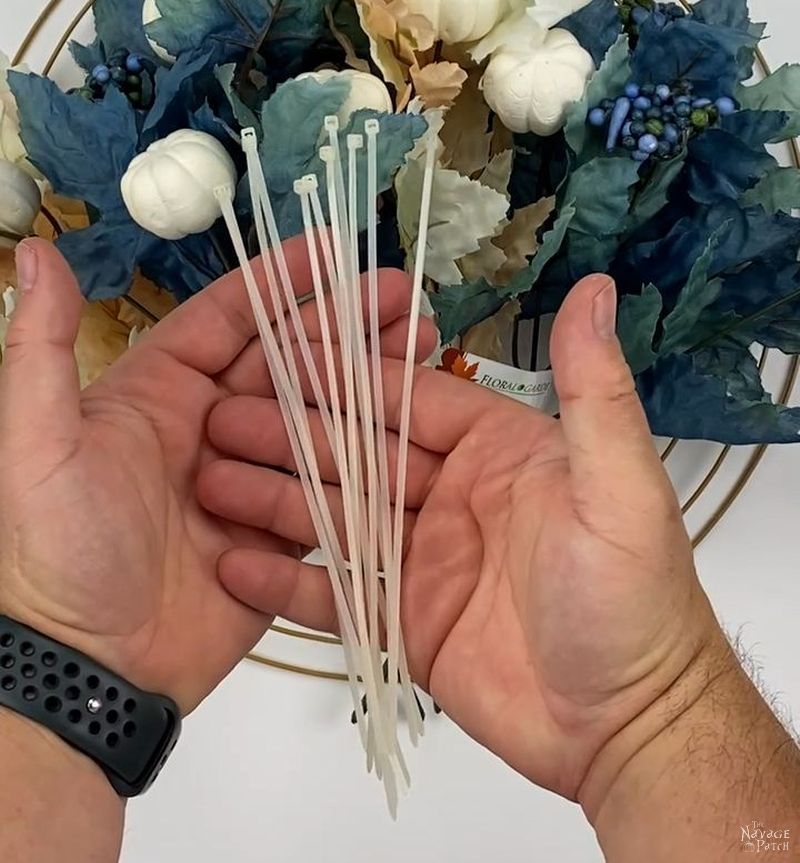 If you have wire cutters, you can cut the pick stems about halfway up. This makes them easier to work with, but it's not necessary. If you don't have wire cutter, just bend the wire stem to follow the curve of the wreath form.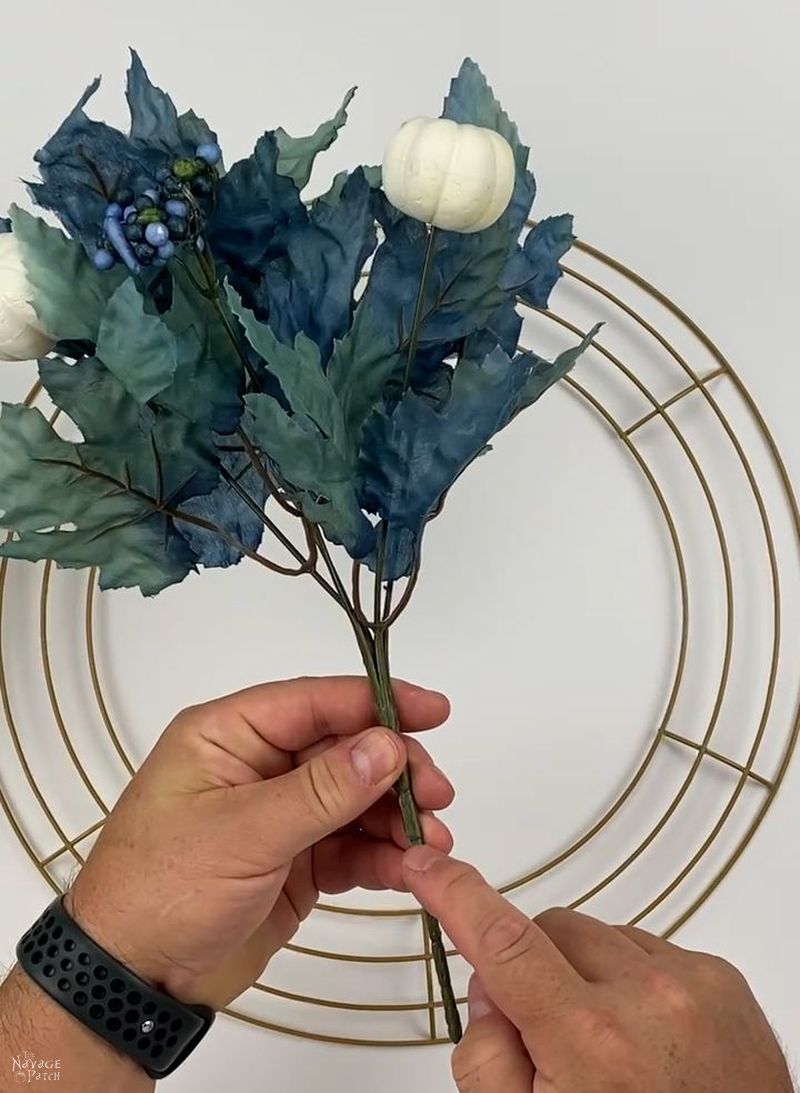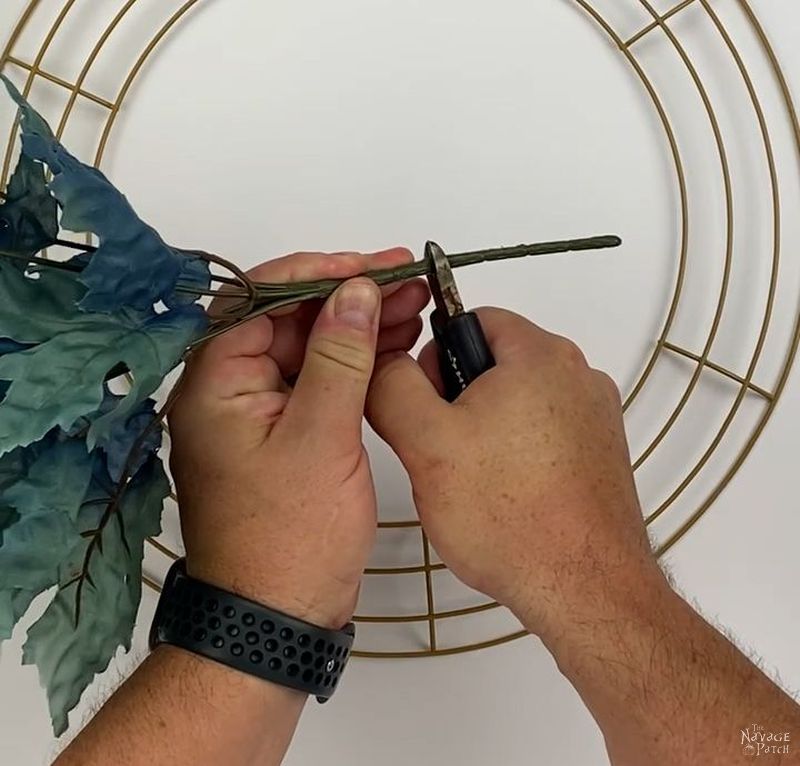 To start the wreath, place the first pick as shown below.
Next, wrap a zip tie around the form and the stem and pull it tight.
Trim the excess with scissors.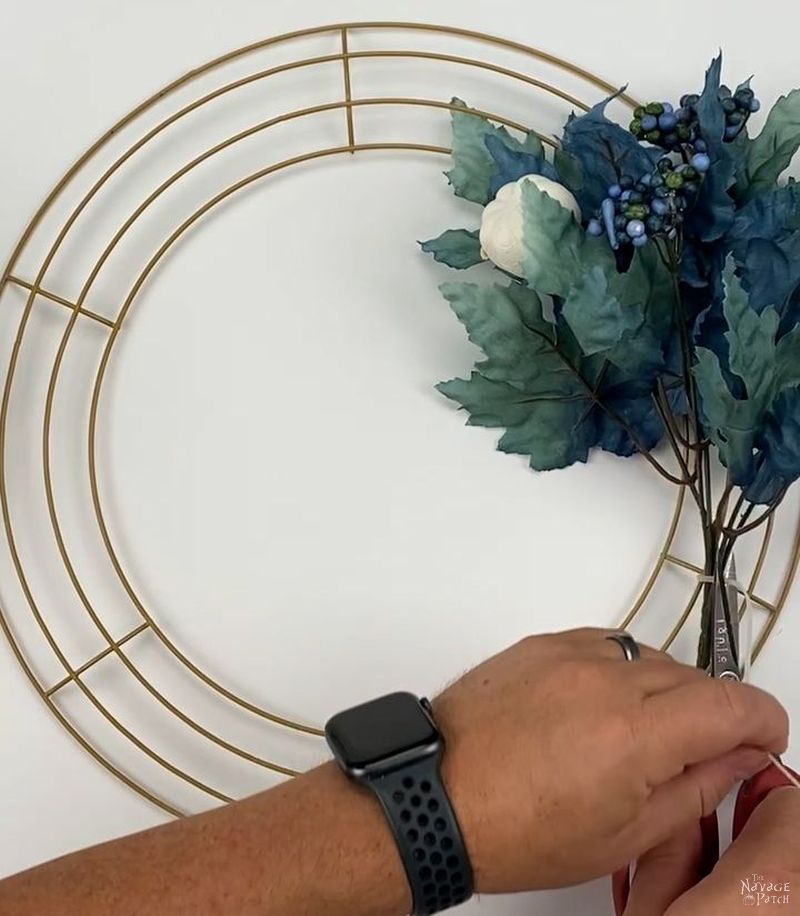 Repeat this process for the remaining picks, alternating colors as you go.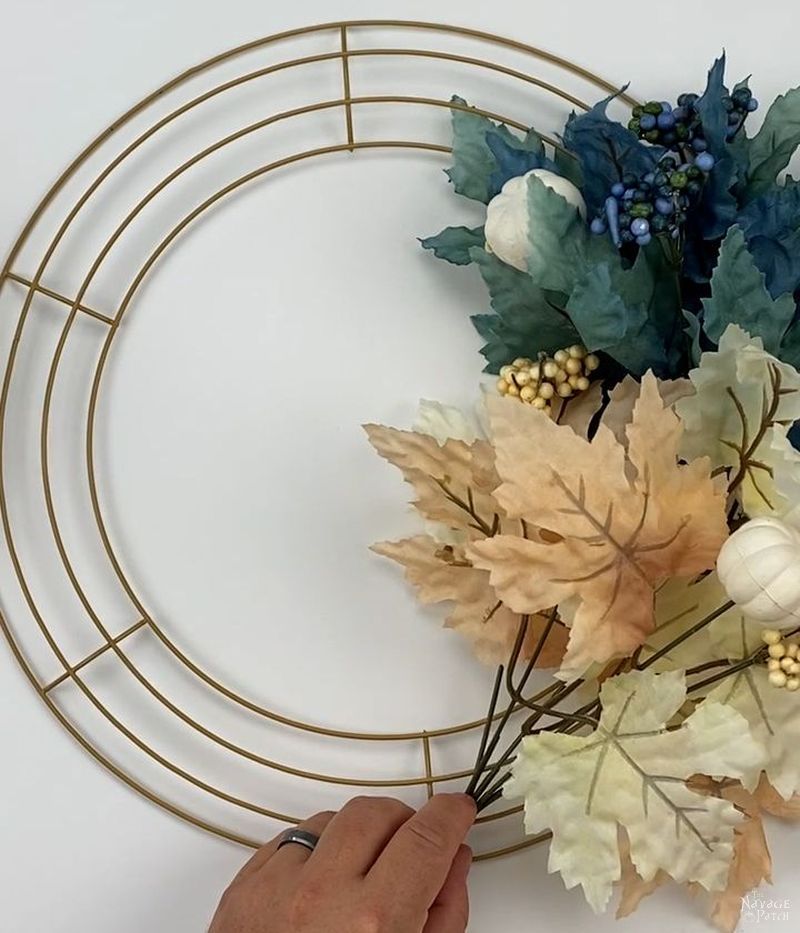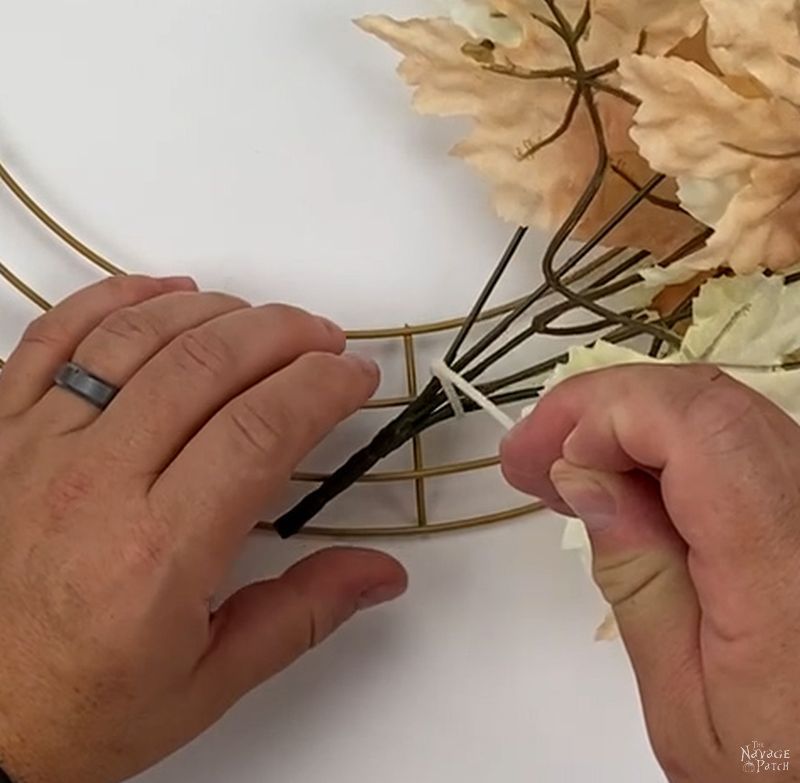 Once you get all the picks on the form, you can make sure they're arranged nicely and then go back in and add a second zip tie to each stem. This will help to keep them in place when you hang the wreath.
And that's it! Easy and cheap – what more do you want from your fall decor?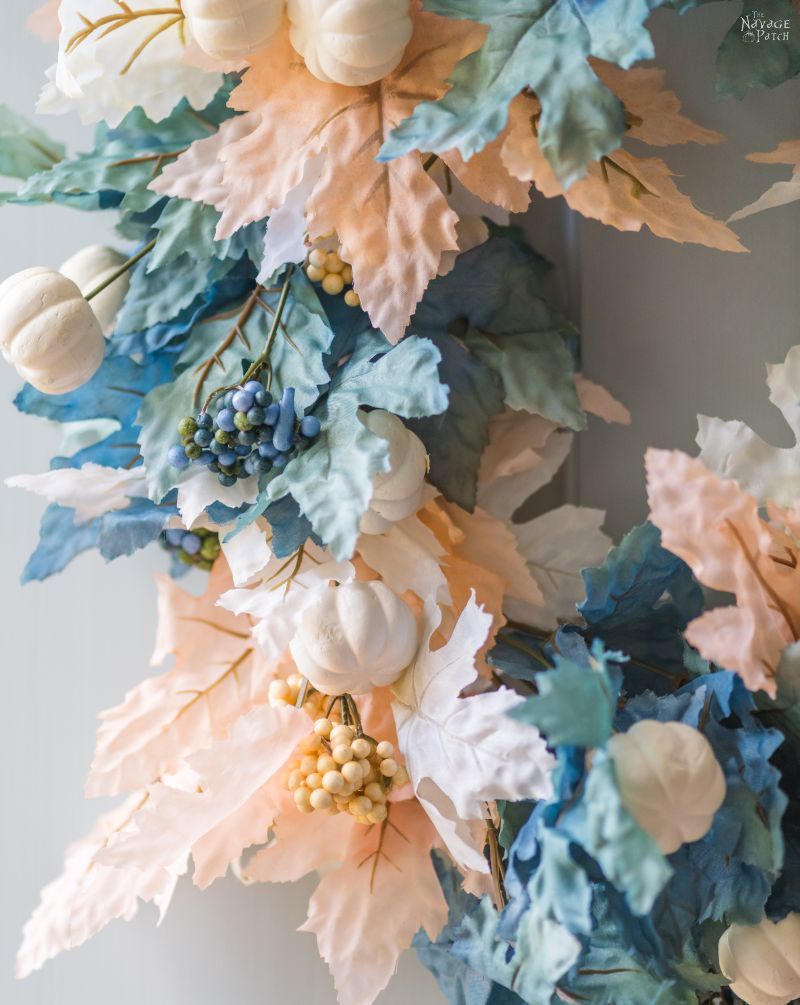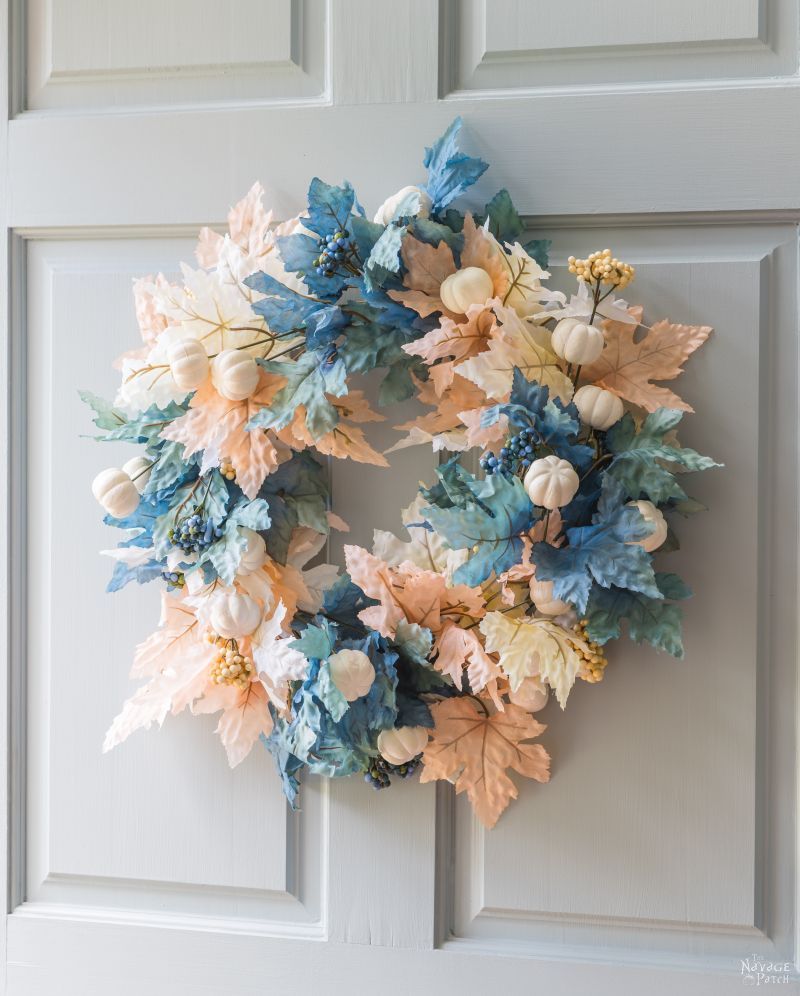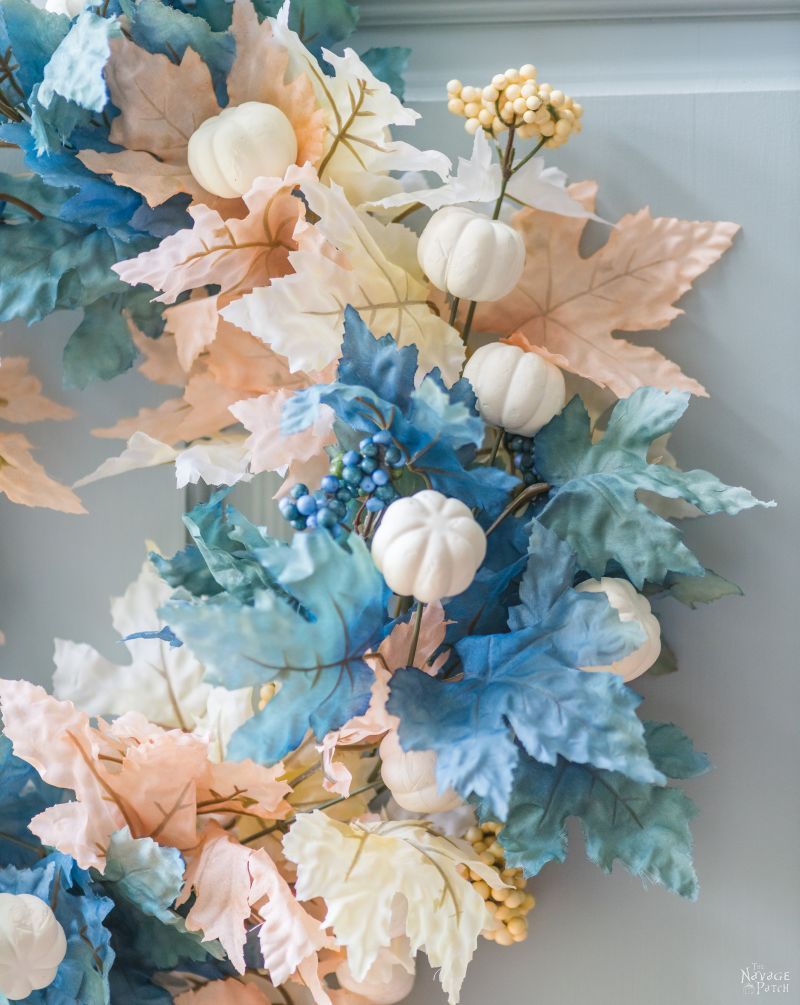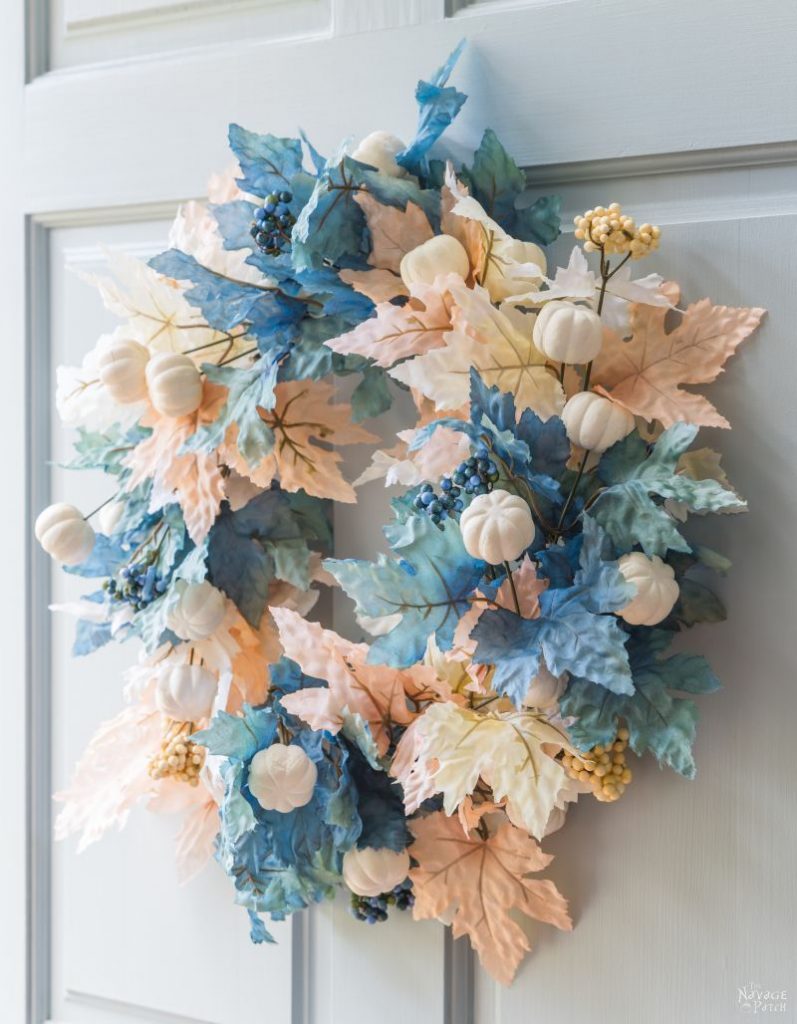 We love it when you share our posts on Facebook and Pinterest!