Wallpaper Art is a quick & easy DIY that can add a pop of color or interest to any room, and it's a great use for leftover scraps of wallpaper!
You knew she was gonna use it somewhere, somehow, didn't you?
My babes is not the type to waste. Ever.
So even though the two rolls of wallpaper she bought last summer weren't going to be used for the originally-intended project (which was scrapped), you just knew she'd find a use for them.
Granted, I thought that use might be years off…
I've heard sailors whisper tales in hushed tones of a Turkish woman who knows the full inventory of her crowded basement and can tell you when, where and for how much each item was purchased. They say certain treasures have moldered in that cold and dark basement for years, marking time while fading from memory of those overhead.
Fading from all memory…except that of the Turk Who Lives Above.
The sailors tell that once a year on the brightest full moon, the woman will issue a decree to her manservant, ordering him down into the basement to bring up some forgotten trinket, whereupon the curly-haired Turk will incorporate it into the manservant's latest crafting project.
And it almost came to pass that the wallpaper was shunted to the basement to be inventoried by the Turk and disremembered by Yours Forgetfully.
But then came my babes' idea for a wallpaper backsplash in the laundry room, and those two rolls were thrust back in the limelight.
Why stop at a backsplash? She was on a roll!
My babes thought that wallpaper could be turned into art.
The idea was a little wacky, but those same sailors told me far stranger things happen at sea…
So. Wallpaper art. Why not?
She wanted to make it two ways: with old frames we found years ago at the Put and Take in Connecticut. (Yes, we moved those frames and countless others like them. Do you think if a dragon moves to a new cave, she just leaves her treasure behind? Your eyeballs would pop out and splash into your teacup, madam, if you saw how much crap "project supplies" we hauled from Connecticut to Georgia!)
Anyway, as I was saying, Handan wanted wallpaper art from old frames and from embroidery hoops.
But not just any embroidery hoops. She found these awesome faux-wood embroidery hoops made of a strong, flexible rubber that are perfect for this little project.
Let's see how it's done!
DIY Wallpaper Art
SUPPLIES LIST
Here are the frames we started with.
I'm sure they served someone well for many years, but their glory days had faded, and only my babes' ever-searching eye saved them from an unceremonious interment in some smelly Connecticut landfill.
Though the frames were given a stay of execution, the art they held was not so lucky. Apologies to artists Glynda Turley and Dawna Darton – I really needed those frames! I removed the art and bade it farewell. The frames and glass were in great shape. The glass just needed a good cleaning, and the frames needed some fresh paint.
I used a combination of gold and champagne bronze spray paints, since our wallpaper pattern was blue. Nothing beats the blue/gold combo!
I used the frame's glass to find the section of wallpaper that we wanted to make into art.
Then I used an X-Acto knife and cut around the glass.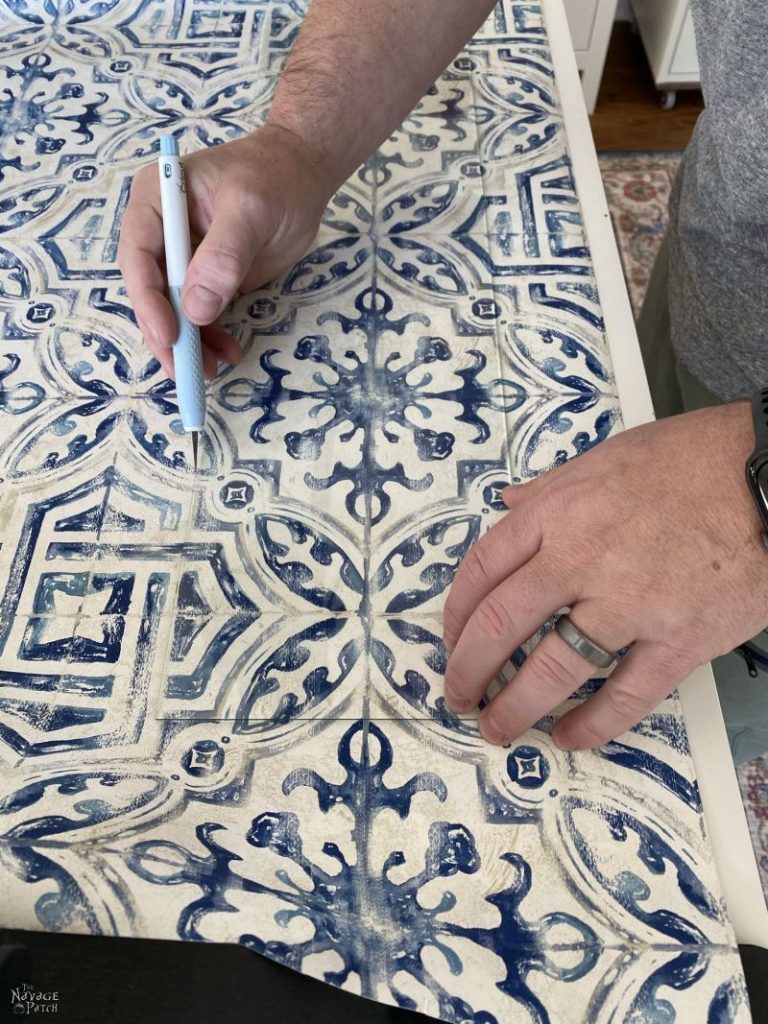 After cleaning the glass, I placed it in the frame. As you can see, Handan already stuck some Command Picture Hanging Strips in the corners.
Then I placed my wallpaper art face-down onto the glass.
I had saved the original backing – easier than cutting a new one!
Finally, I used our Logan Dual Point Driver to secure the backing.
And here it is – easy DIY wallpaper art!
We have this one hanging in the craft room.
And the other one is in the laundry room.
Okay, now let's have a look at the embroidery hoop wallpaper art. It's so simple!
We bought this 5-pack of hoops (and this 4-pack).
Let's start with this one.
I just rolled the rubber ring off…
Here I've placed the inner ring on top of the wallpaper to show you the design I want.
Next, I put that inner ring underneath the wallpaper and used my fingertips to move it around and feel if it was in the right location.
When I had the ring in the right spot, I placed the outer rubber ring on top…
…and pressed it into place. The rubber ring rolls over the inner ring until it is seated.
For the final step, I used my blade to trim away the excess.
And here it is! Wallpaper art using an embroidery hoop.
If you're wondering where we got those elephant picture hangers, you can find them here.
But hey, you don't have to stop at wallpaper with these hoops! Got doilies? Here's one Handan's mother made.
It looks great!
And those rolls of wallpaper aren't even close to finishing, but don't worry, we're cooking up something new to do with them…something altogether and entirely new.
Stay tuned!
We love it when you share our posts on Facebook and Pinterest!