If you had asked me at the start of 2021 to list three possible endings to the year, none of them would have been even remotely close. In fact, if you had been feeling generous and allowed me one hundred guesses, nowhere in that long list of probabilities would there have been an entry that read, "Greg becomes Florida Man."
I would have put better odds on my babes and me moving back to the Middle East.
I might have guessed that I'd be the internationally recognized for my Outstanding Achievements in the Field of Excellence.
I'd sooner have predicted that Covid would mutate into a variant that makes people not be dicks to one another resulting in a tidal wave of friendliness and an aftermath of world peace.
But Florida Man? Yeah, that one came out of deep left field. Like out of the park, up in the sky, past the moon and into the Milky Way kinda left field.
No one saw Florida on the horizon when the first sunrise of 2021 cast its tentative rays across an uncertain world, but it would (temporarily) change the trajectory of this blog from DIY and crafts to strictly crafts for the final four months of the year.
Here at The Navage Patch, I greeted the new year with the usual mix of optimism, pessimism, skepticism, pragmatism, idealism, and humanism with a healthy dose of caffeine-ism thrown in for good measure. This was college acceptance season, and my guts were knotted in anticipation and fear of my boy's fate.
But work and projects care nothing for feelings, so Handan and I had to soldier on while we awaited news of Baris's fate. The first major project we finished in the new year was our laundry room remodel. What had started as this:
Turned into this:
My babes finally had the laundry room of her dreams, with loads of counter space as well as a sink.
Funny, isn't it?
She gets the laundry room of her dreams, but who's actually living the Sud Life?
This guy!
Not long after completing our Temple of Clean, my babes announced to the universe in general and me in particular that she wanted to make some faux-ancient-looking pottery with…mud.
Of course, when I say "she wanted to make," I really mean "she wanted me to make." So we got ourselves some Dixie Mud, and I learned the fun and dirty art of mud painting.
I couldn't help but wonder where this technique had been all my life and why it took me nearly half a century to discover it. I had a deep and lasting friendship with mud as a child. Just think of the art I could have created!
Once I had sealed that mud in with polyurethane and washed my hands, it was time for me to finish a project that I had started the moment we moved into our Georgia home: the staircase makeover.
As a reminder, when we moved in, the font staircase looked like this:
Over the next year, as I progressed from room to room, painting walls and ceilings and trim, that staircase stood as it was the day we moved in, save for the carpet being replaced by wood. I knew it would be the hardest with all those spindles and stair risers to paint and handrails to stain, so I put it off until last.
And when I finally got around to tackling it, it was every bit the bitch I feared it would be. But after months of procrastination and weeks of work, I did it. I finally did it.
By the time I finished those stairs, Baris had gotten into Virginia Tech, and things were looking up all around. With the albatross of college admissions no longer around our necks, we could focus all of our energies onto the house and completing the last few rooms (besides the unfinished basement – an entirely different story).
The next big room to get "the business" was the garage. Like a laundry room with counter space, Handan's big unfulfilled dream was to have a clean and organized garage – a dream that went woefully unfulfilled at the Connecticut house. During the months I worked on various aspects of the garage makeover, I found the time to make some crafts.
Our personalized door mats were a big hit on Pinterest.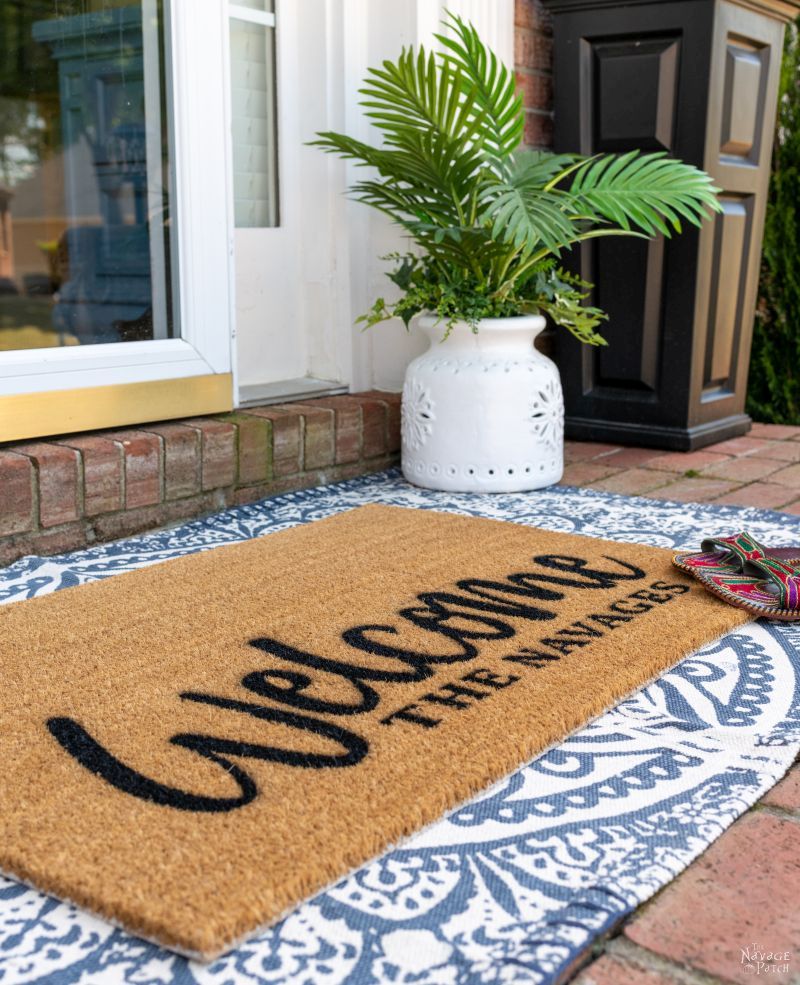 The one above is still laying outside our door in Georgia, and the Halloween one greets us each time we walk into our Jacksonville apartment. For those wondering how they've held up, I can say the writing is as strong as ever, but the mat itself is weathered and dirty. I guess there's no avoiding that for mats exposed to the elements!
One of Handan's favorite crafts was the twisted candles. Not content with ordinary straight candles, she proclaimed her desire for me to make her a bunch of bent, tortured and twisted candles. I complied with her wishes.
Close on the heels of the twisted candles and just before I completed the garage makeover, I made my babes a couple of dowel planters from some old coffee cans and square wood dowels. I love how they turned out!
With the completion of our garage makeover, I was one room closer to having the main two floors of our house entirely repainted, remodeled and made over. What started as this…
…Through a little bit of work and not very much money at all, turned into this:
Though it was still early August when I finished the garage, it was not too early to start in on fall and Halloween crafts. One of our first was this skull sunflower wreath.
Skulls and flowers are truly a match made in heaven.
To close out August, Handan had a big hit with her vintage movie monster printables. Who knew that so many people would cozy up to these delightful Hollywood creations? By far the most popular of the series was the Wicked Witch of the West!
As August ticked over into September, our progress here at The Navage Patch 2.0 came to a screeching halt when Handan accepted a new role within her company to work on a project in Jacksonville, Florida.
And we'd be moving in two weeks.
Handan and I are nothing if not adaptable, so we pivoted south with hearts (and eyes) wide open to greet the next chapter in our ongoing adventure.
Apartment life is so different than house life, at least for short-timers like us. Gone were the home-improvement projects. Crafts were the theme of the day.
And we did the best we could with what we had. I was proud of all we created for Halloween and Christmas, but sometimes we whiff when we think we're going to swat a home run. One such whiff was our gallery of the faceless.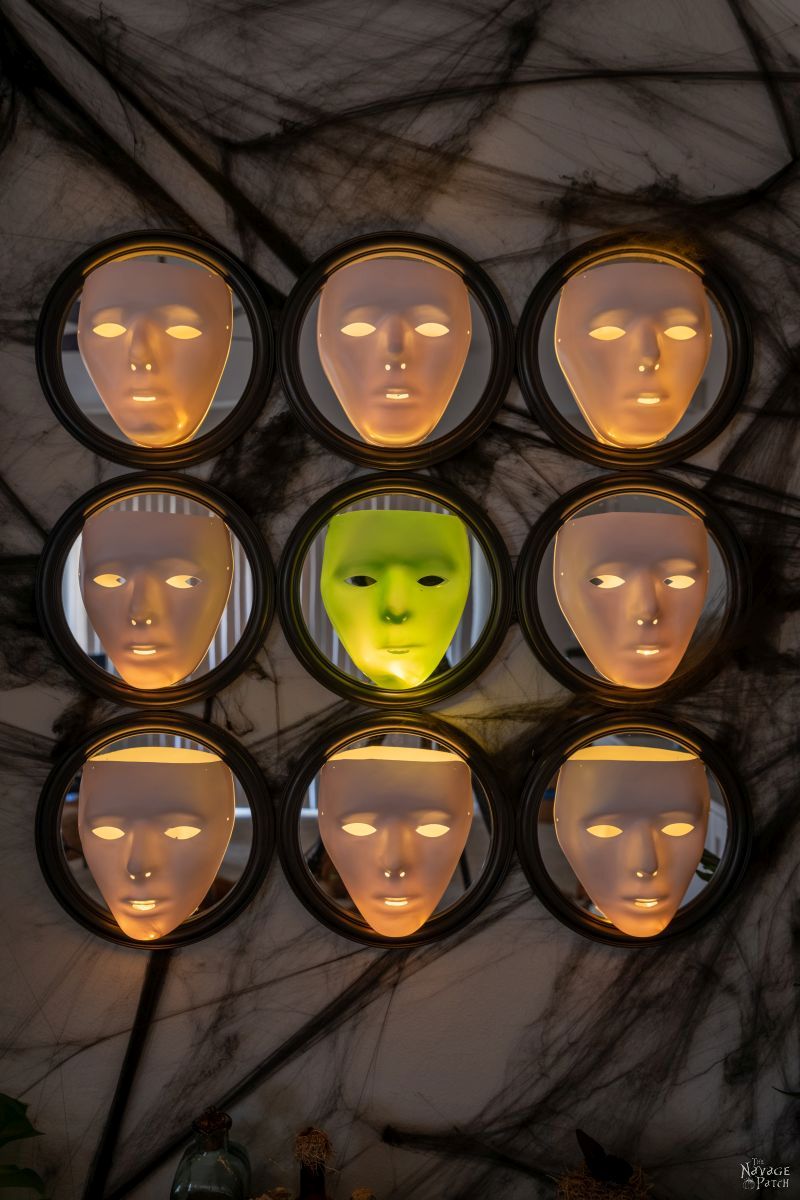 It did pretty good on Instagram, but here on our blog, its reception was more tepid than we expected. It just goes to prove, we still haven't nailed down what the Collective Madam wants to see. More than once we've had projects we thought were the bees kneecaps go over like a bunch of lead balloons and projects that we thought were throw-away space-fillers go on to become our most viral post ever.
We're always learning, madam…always learning.
Continuing into the fall and proving yet again that the world is still infatuated with Cousin Itt, a simple little project we were supposed to do in Georgia (where we actually have a front walk) became a Pinterest darling. Though our Cousin Itt pathway light never really lit a pathway in Jacksonville, it still proved to be popular enough to make it one of our best posts of the season.
As Halloween segued into Christmas (sorry Thanksgiving!), we cranked up the craft station put the hot glue gun on overtime.
Following the runaway success of our winter loop yarn wreath of 2018, my babes set about recreating it with only Dollar Tree materials, and she nailed it! After teaching Yours Bumblingly here how to make it and seeing that even the dopiest crafter could do it, we released our Dollar Store mop wreath out into the world.
I don't know what it was about cheap mops, but my babes wasn't content to stop with a wreath. After all, we made that with a duster mop. There were still string mops to play with.
And of course, there was Handan's infatuation with gnomes.
She decided to combine mops and gnomes and came up with our biggest TikTok viral hit: DIY Dollar Store Lighted Mop Gnomes.
Always eager to please the Collective Madam, we put our heads together to come up with a solution to a question that was asked over and over in November: how can I make my own faux antique brass bells?
Even we were surprised by how beautiful our faux antique brass bells turned out!
And last but not least, our most-loved Instagram Reel of the year (and pretty-well-liked on the blog) was this shag tree pillow I made for my babes.
This was the year that we made a concerted effort to beef up our Instagram game. And this was also the year that we joined the Wild West of TikTok.
There is one thing we've discovered.
You, blog madam, are entirely different than Instagram madam, and both of you are on a different planet than TikTok madam! What works for one very likely will not work for one or both of the others.
This is a bizarre game we're playing with the blog and social media.
I just wish I knew the rules, where the prizes are hidden and when I can break for orange slices and brief nap!
Anyway, as we close the shutters on another year here at The Navage Patch, there is one thing I can promise you: the only constant is change, and I expect much more in 2022.
But no matter what happens, no matter where we are, where we go, or where we will be, we'll be right here showing you fun stuff to make and build and hopefully bringing a smile to your face along the way.
Here's to watching our dreams become reality in 2022. It won't happen on its own, but if we work for it, nothing is out of our reach.
Happy New Year, everyone! We wish you all the very best!
With love,
Greg & Handan