Upcycled Coat Rack & Easy Aged Wood
This upcycled coat rack took only a few minutes to make with our quick and easy aged wood technique. No stain or paint required!
Do you know your coat-to-hook ratio?
Ours is about 2.7, give or take a decimal point.
That means that at any given time, each hook on our coat rack carries an average of 2.7 jackets.
For double hooks, like the ones on the Simple DIY Coat Rack we built in the summer of '18, things can get pretty crowded!
Anyone living in the Northeast or the Midwest or Canada or Siberia or Antarctica knows that there are never enough hooks to comfortably hold all the parkas, jackets and vests needed to keep a modern family warm and stylish.
Inevitably, lesser-used garments get permanently buried against the wall, as lazy family members just grab whatever is most accessible on the rack, thus perpetuating the cycle.
And don't get me started on the Coat Closet!
Sure, it's conveniently located next to the front door, but who the hell uses front doors these days??
The coats in there are forgotten relics laying dormant until some far-future archaeologist unearths them and marvels at the primitive beings who donned such ridiculous and flamboyant coverings.
Now, I know many of you live in warm climates, and you're most likely reading this with a puzzled expression on your face as you sip coffee on your veranda while the warm morning sun shines upon your face and tropical birds wheel overhead.
This post is not for you.
But please, Warm Madam – do continue reading so you can learn how your wretched and hardscrabble neighbors to the north live for half the year.
So, with our current coat rack overflowing and the "official" coat closet at the other end of the house, we needed another coat rack – especially for the really big parkas. You know – the ones that only come out when the temps plunge towards zero and the winds kick up. The ones so big and puffy, they come with their own zip code.
You'll recall from my last post that we've given the basement staircase a makeover. Remember the wall where the stairs take a turn?
This wall – the one straight ahead.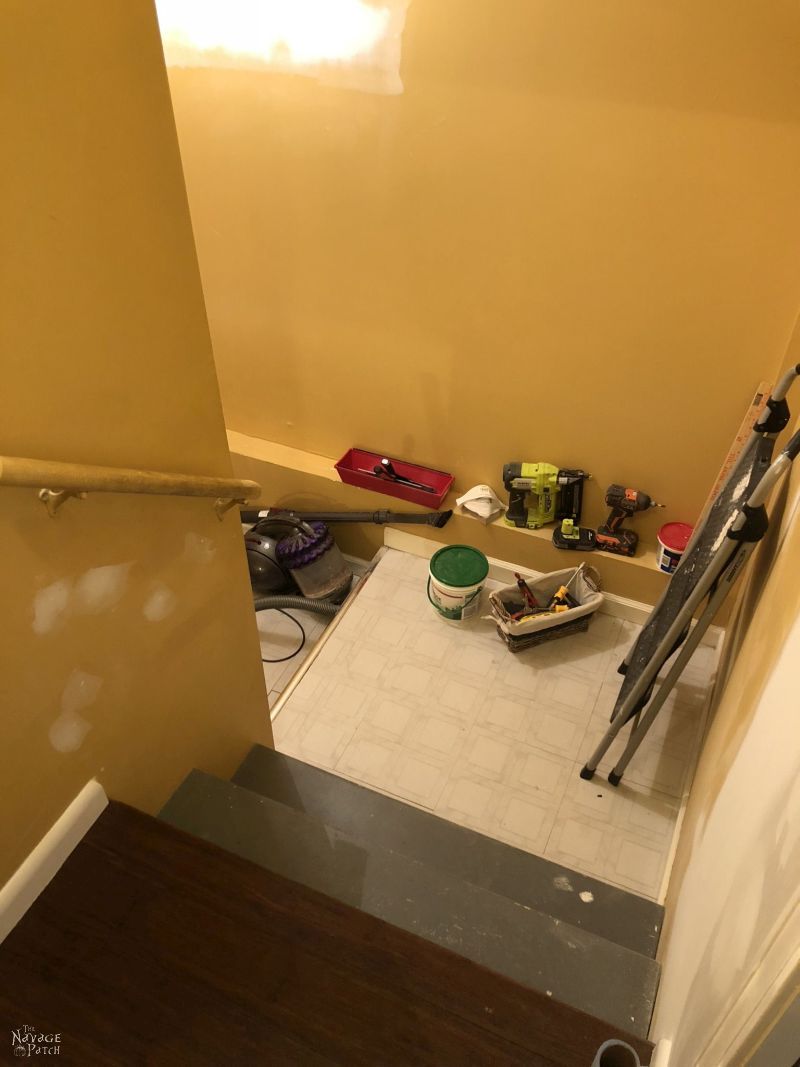 Just look at how empty it is!
All that gorgeous real estate just waiting to be developed!
The perfect place for another coat rack, wouldn't you agree?
I started thinking about building one from lumber, and I shared my thoughts with Handan.
I stopped mid-sentence.
The damn Look again.
"My babes," She said. "We have a really long door with three panels that will be perfect for it."
As usual, I had no earthly idea what this blathering-loon-who-called-herself-my-wife was talking about.
I spend a lot of time in the basement – even more recently, as I've been trying to organize our Kilimanjaro of Junk. As far as I knew, there were no "three-panel doors" down there – at least none that I've come across.
But still, best not to contradict my babes when it comes to old junk. The woman has a mental inventory of every item she's bought, bartered, found or finagled since she was a pig-tailed twerp running around the mean streets of Izmir in her youth.
I made some non-committal noises as I walked down the basement stairs to try to find this fantastical door.
I checked all the usual haunts – my woodpile, Mount Kilimanjunko…I even checked our huge stash of doors. Yes, we have an entire section of the basement devoted to old doors and another to old windows.
Don't you?? [rolls eyes]
Nothing.
Handan come down to look, but I knew where this snipe hunt was going.
There was no three-paneled door.
And that meant…
My babes' junk memory was not perfect!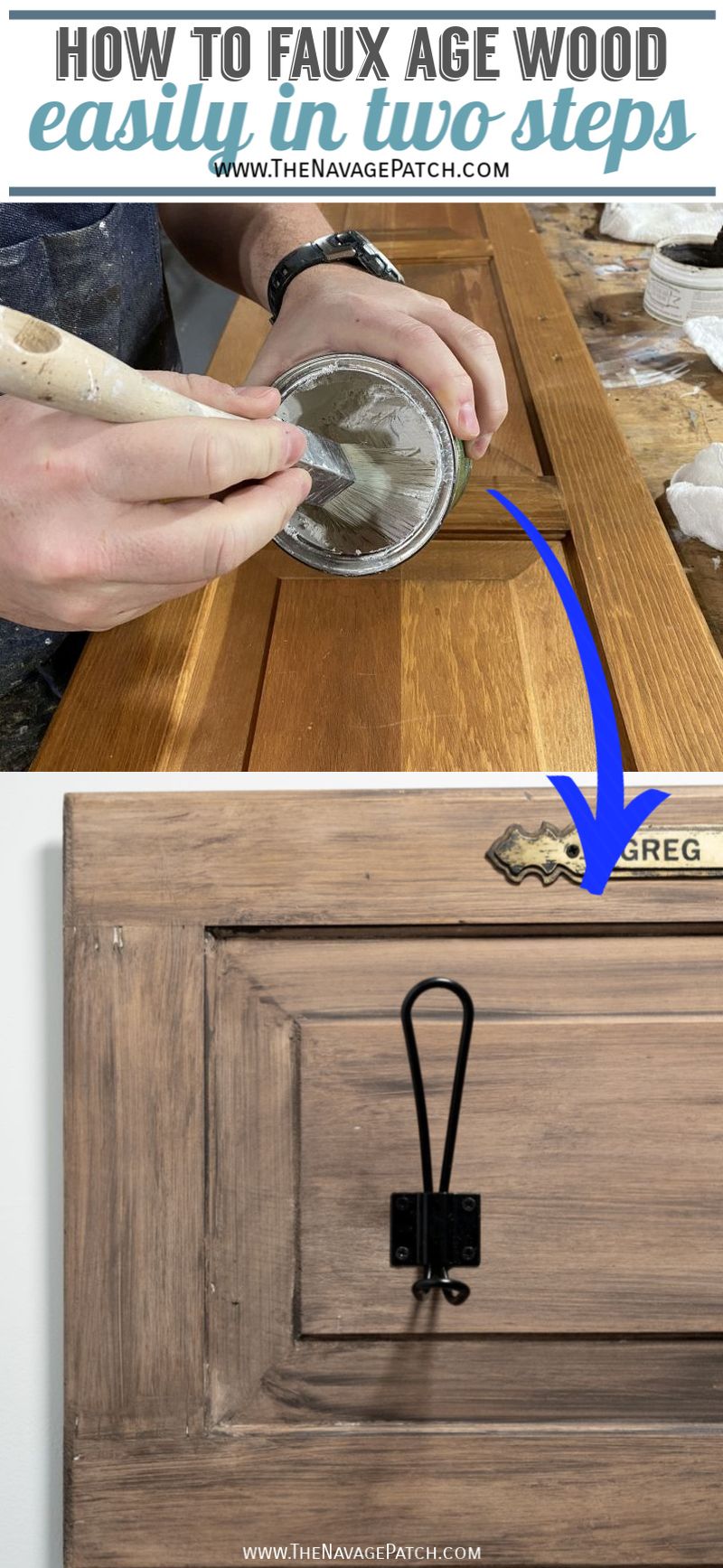 And if her junk memory was not perfect, then perhaps her freakish conversation memory wasn't perfect either!
This was huge news! This meant that maybe I could win an argument if I could cast doubt upon her memory!
I pretended to search for her absurd "three-panel door," but inside, my heart jumped with joy!
The iron fortress of Handan's mind had cracks!
But then…
Ah, but then.
Then I remembered one place I hadn't looked.
She wouldn't have known to look there, because I had put stuff there a couple of years back during one of my rare woodshop reorganizations.
There was a workbench back in the Dark Quadrant of the basement – one of the areas I hadn't upgraded the lighting. And under that workbench, I remember stashing some crap to get it out of my work area and out of my way.
There was an old box of flooring planks that was here when we moved in.
And cabinet doors.
I remembered the cabinet doors.
"My babes," I said. "Under here." I reached down and pulled out two cabinet doors. They seemed reasonably long.
"No, my babes. I remember we have one with three panels. I got it and Put and Take a long time ago."
How this woman remembers every damn piece of junk she's ever found is beyond me! She looked down at the small space between the floor and the bottom of the workbench. I had merely bent over and fished out the two cabinet doors. Handan dropped onto the floor and jammed her arm into the small space.
"Here it is!" She stood.
The door. The three-panel door.
Well I'll be damned.
*******
Okay, so it's probably not a cabinet door. Maybe a pantry door? Whatever. My babes said it was there, and she was right.
We carried it up to the basement stair landing to check the size. It was a perfect fit, and it would leave room to hang some storage baskets next to it.
But the color…
That awful orange wood color!
We wanted a quick way to mute that orange and even out the contrasting wood.
But we didn't want to use stain. We wanted to try something a little different this time…
Handan went to her wax supply, fished out a couple of cans and snatched up her wax brushes.
She plopped them on the workbench in front of me and told me to start with the liming wax.
It made sense. First white, then dark. We figured it'd give us an easy aged wood look.
I took the brush and dabbed on some wax.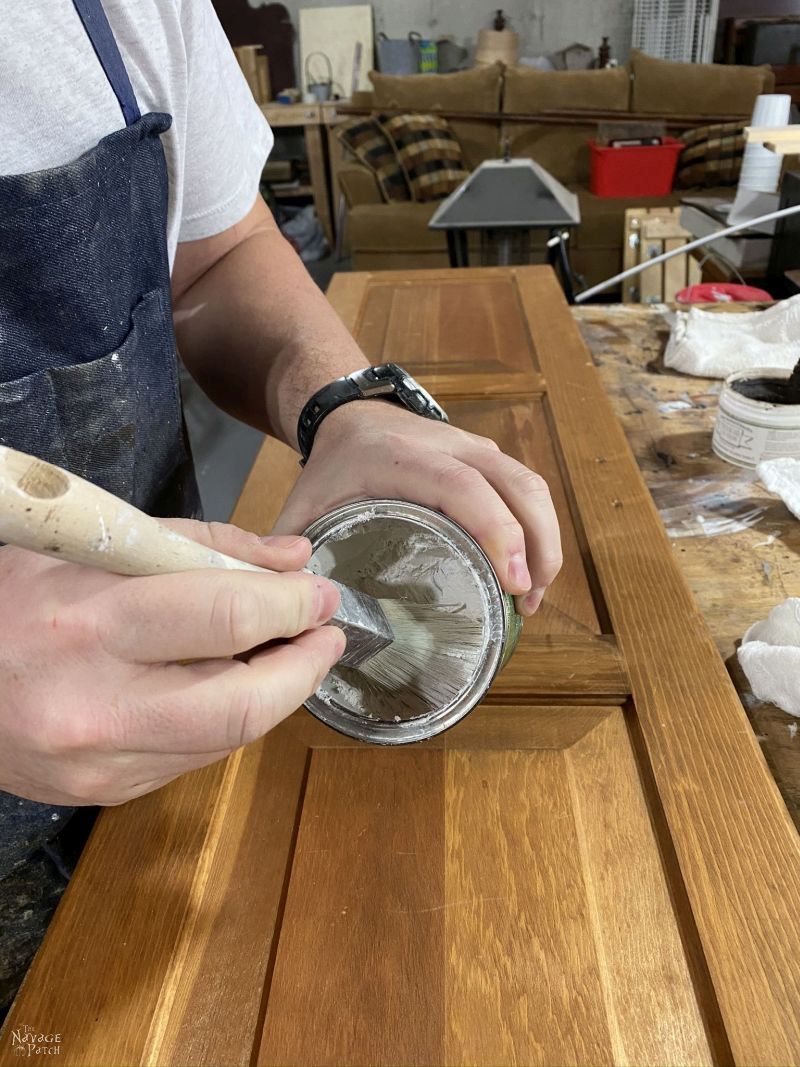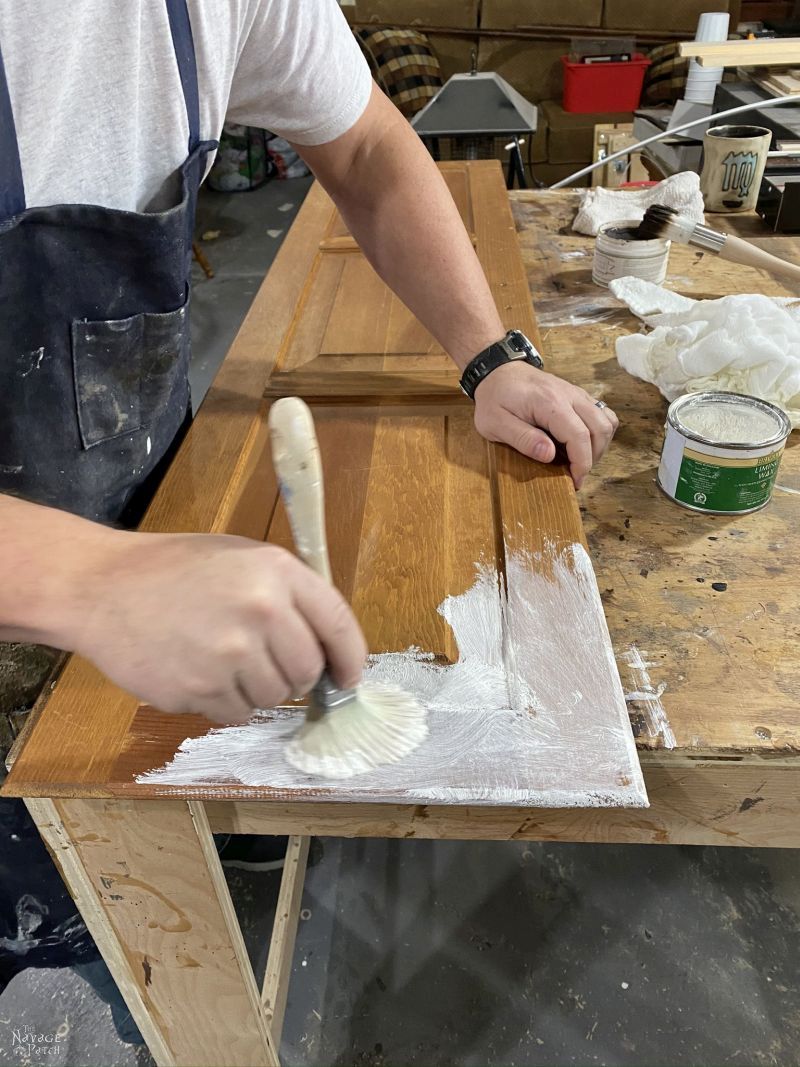 I worked one panel at a time so the wax wouldn't dry and harden.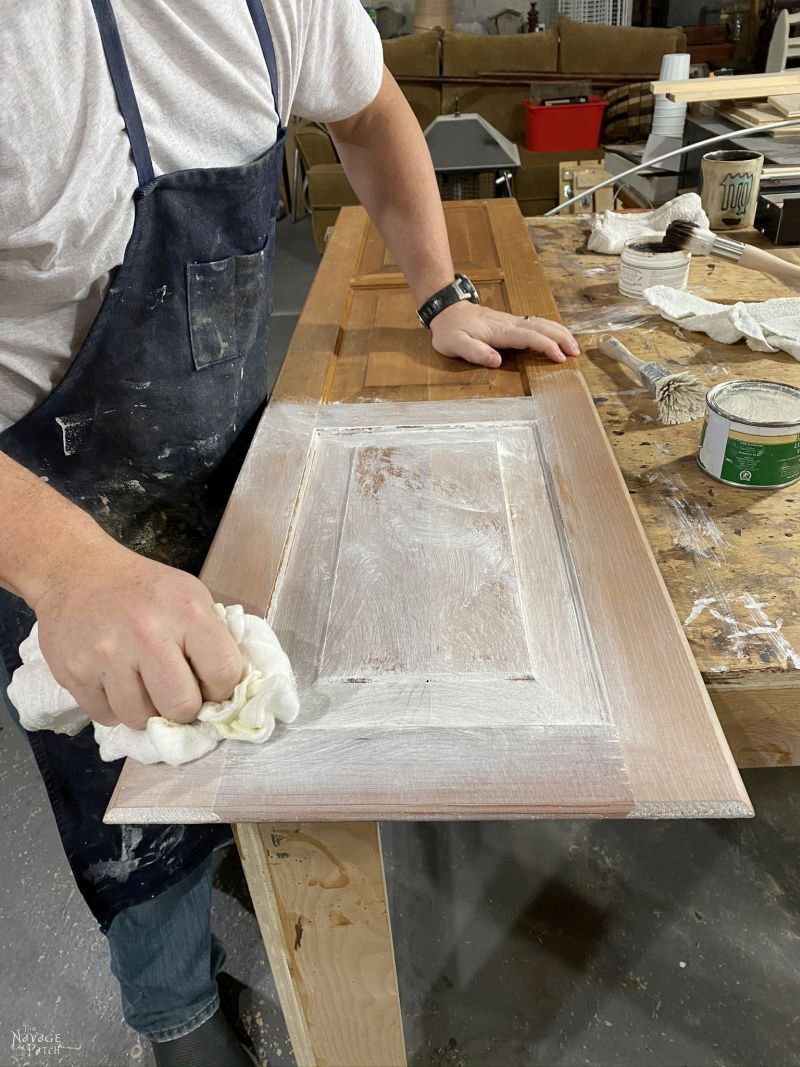 There's no trick to this.
Wax on.
Wax off.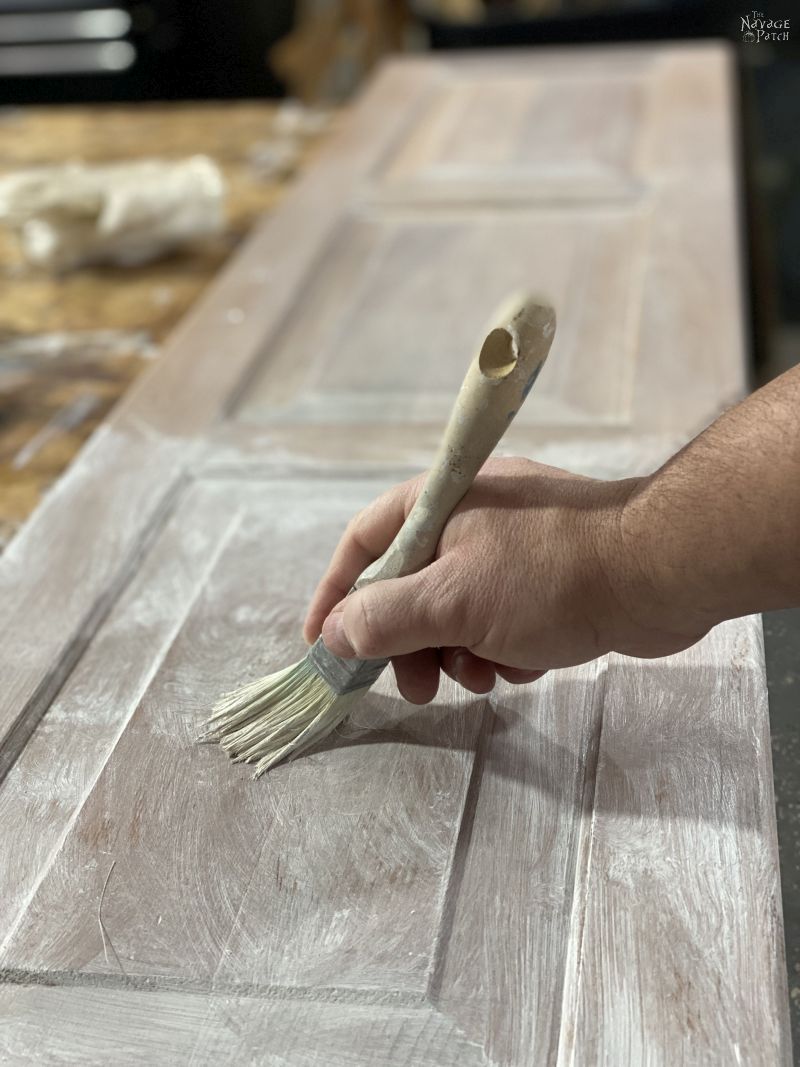 Next I applied some antiquing wax over the white.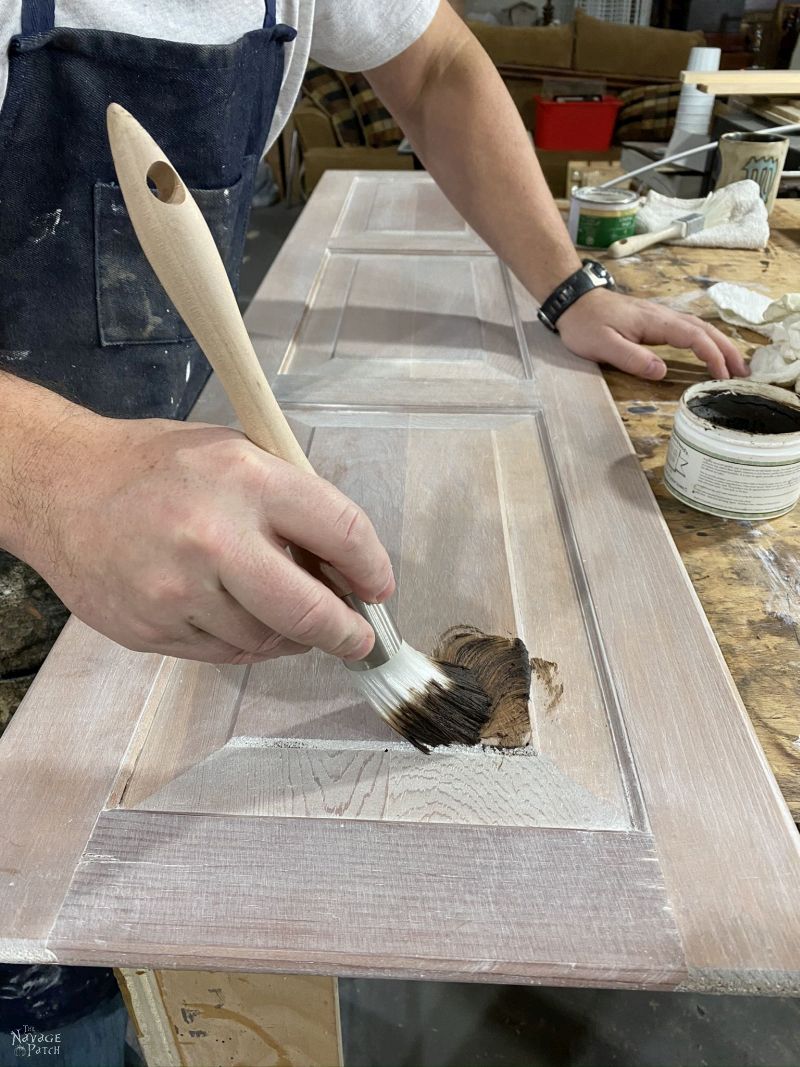 One panel at a time…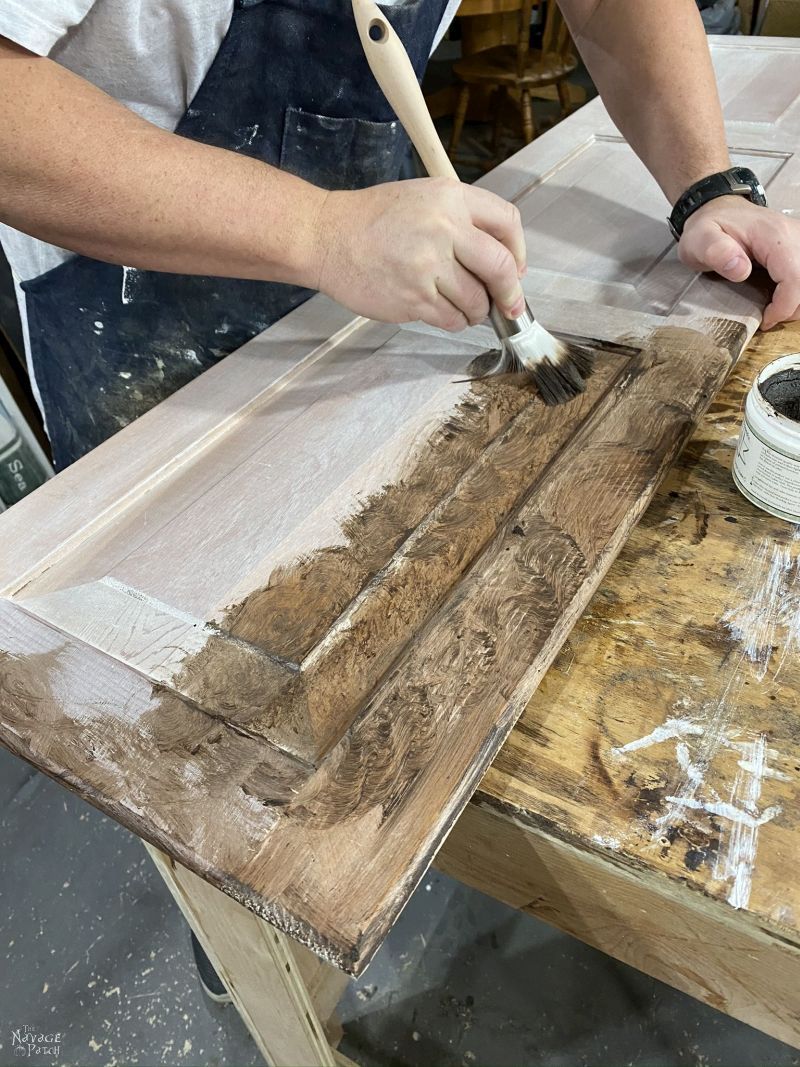 After applying the antiquing wax, I rubbed it all off with some cheesecloth.
As it would turn out, I rubbed too much off on that first panel. It looked too plain for the aged look we wanted.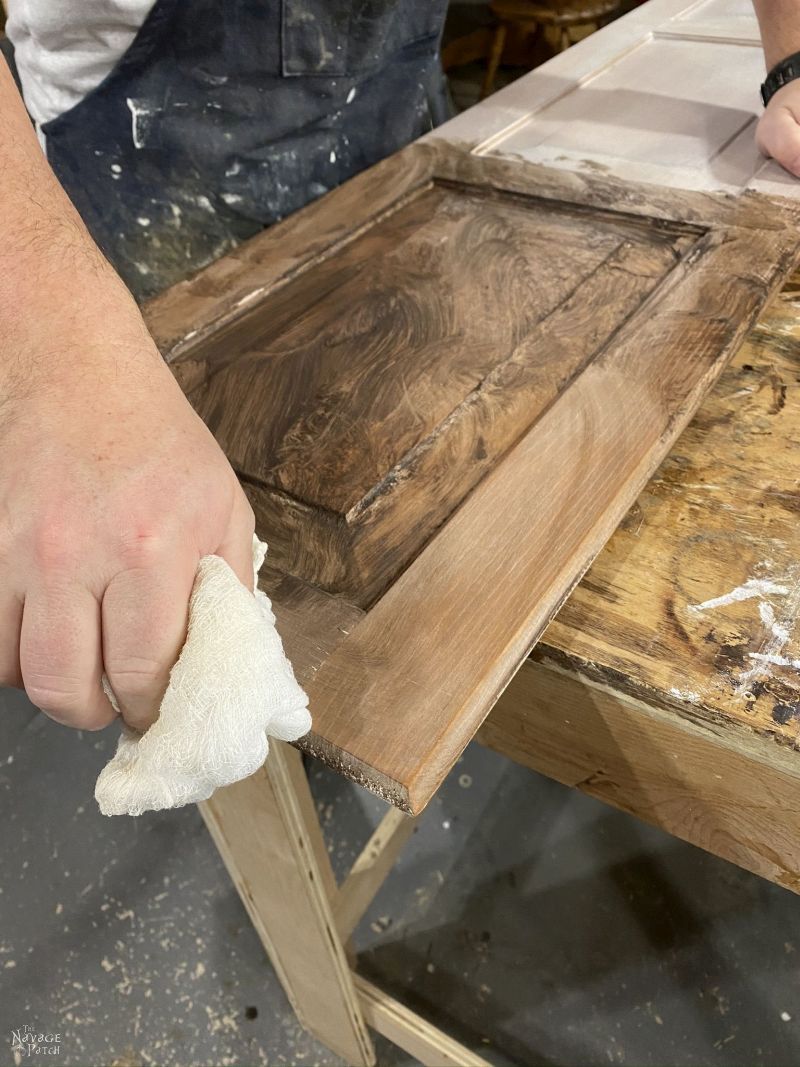 On to the next panel.
I figured out my technique with these next two panels: heavy on the wax, light touch with the cheesecloth.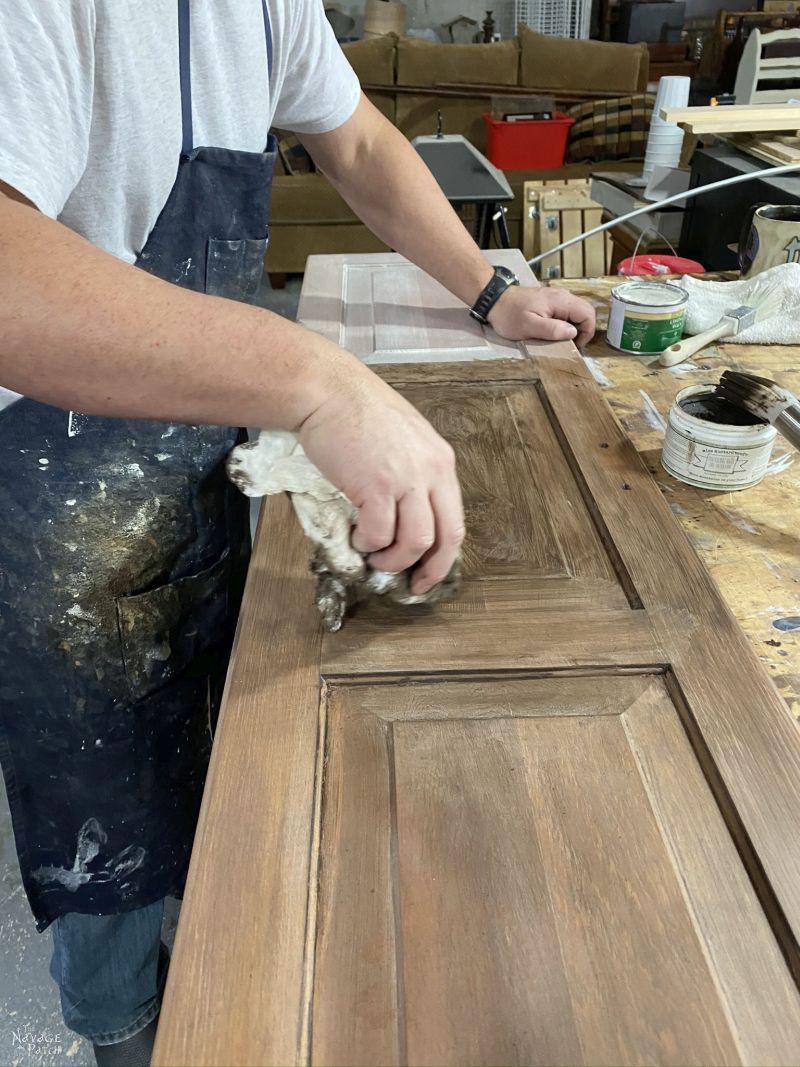 And I didn't fully wipe off the antiquing wax. I used the cheesecloth to streak it, leaving some areas darker than others.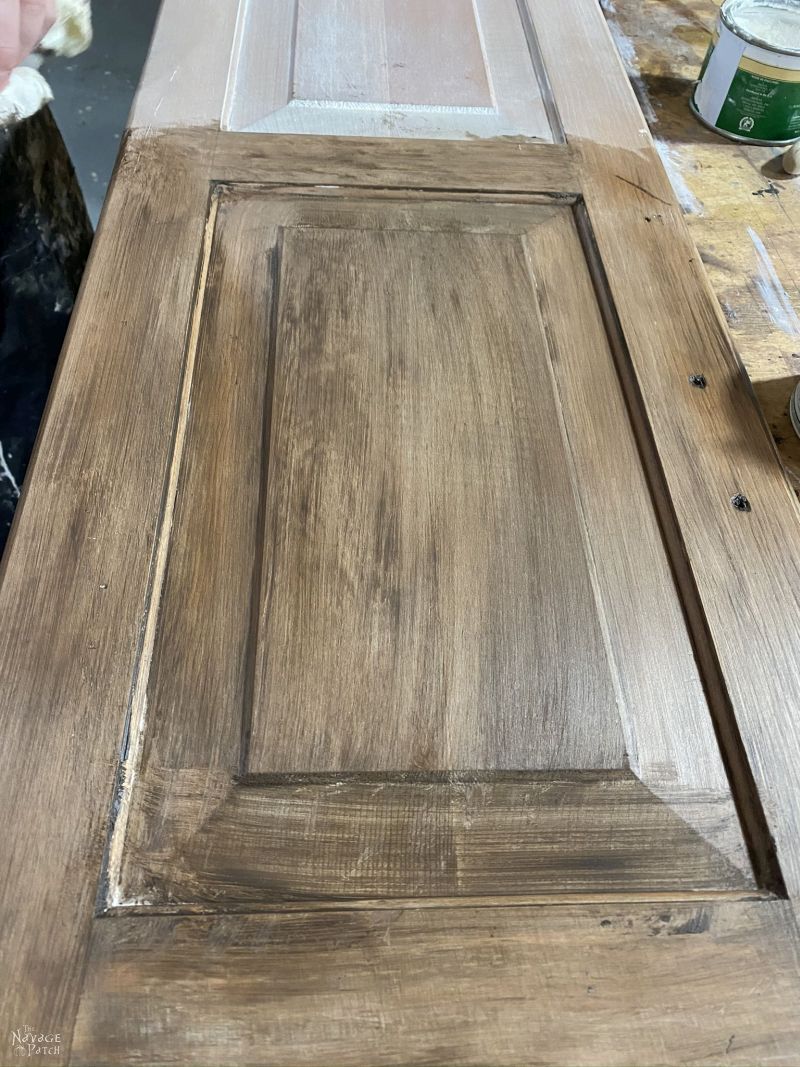 After finishing the last two panels, I went back to the first and darkened it to match the others.
Handan and I love how it turned out. The orange was totally gone, as was the contrasting wood.
Next, I screwed in some coat hooks – the same ones we used for the coat rack we built for the laundry room.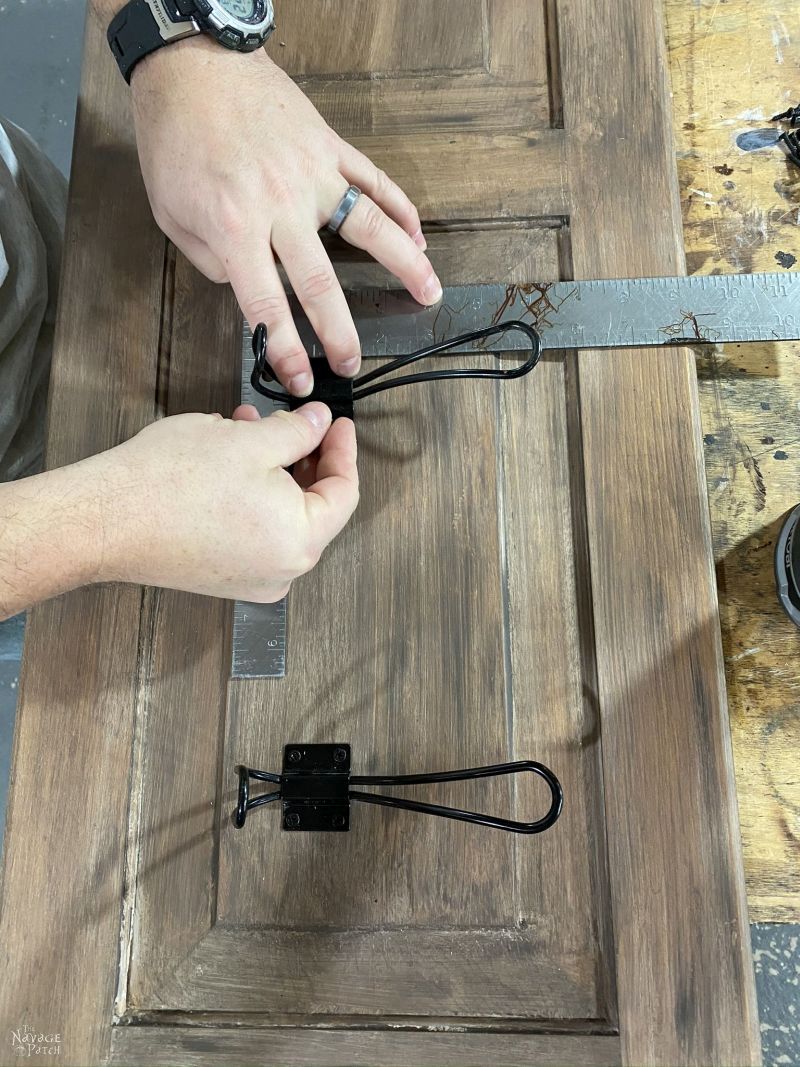 Since this upcycled coat rack would be carrying some heavyweight jackets, we decided to hang it with no-nail sawtooth picture hangers.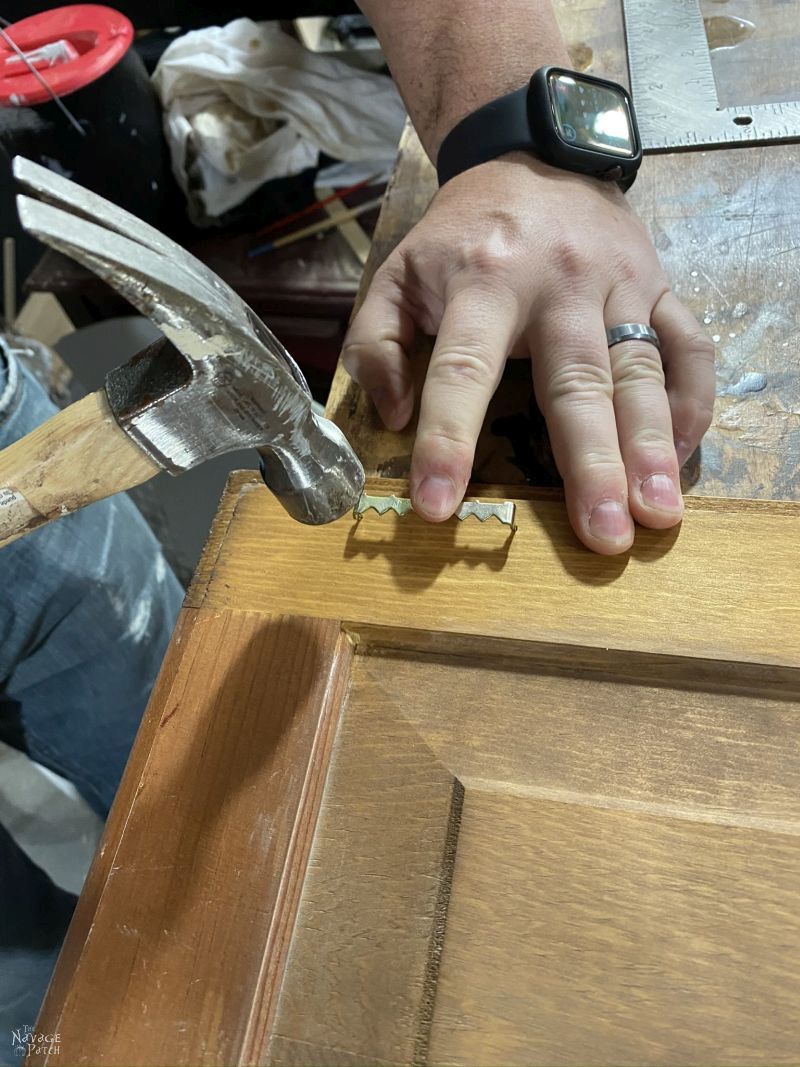 Our new coat rack was nearly done. First I needed to pose it with the wax.
We brought it up the stairs and hung it on two screws.
Handan approves!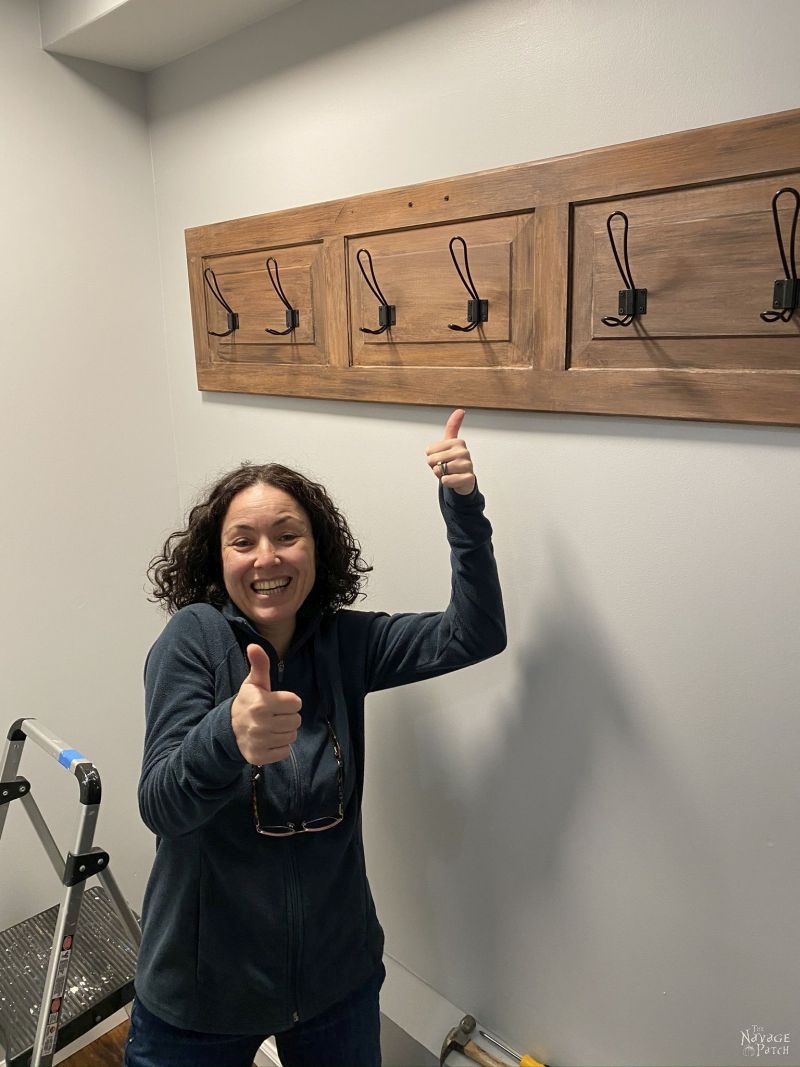 But we thought it needed a little something on top – especially to cover the two holes where the door pull had once been.
Fortunately, Handan had just the things stashed in the basement (of course).
She found some brass cabinet back plates that had the same hole spacing as our upcycled coat rack. We chose three, and then we aged them with a little black Rub'n Buff.
Handan then cut out some vinyl letters with our Cricut Maker, and now our upcycled coat rack was personalized.
It's the perfect coat rack for that space, and we love the simple transformation of the wood!
What do you think of our upcycled coat rack?
Have you ever used wax for an easy aged wood look?
What a difference from the original wood color!
I love the little bits of liming wax still poking through.
And with jackets and vests…
We love our new basement staircase – it's now way nicer than our main staircase! Just a few more storage solutions, and it'll be finished!
And the best part is that our coat-to-hook ratio is now back down to 1 – precisely where it should be!
We love it when you share our posts on Facebook and Pinterest!