These DIY paper angels are a cinch to make, and they look great hanging from a Christmas tree or anywhere you want to display them!
I don't know what's happening to me – I really don't.
The last time der Kommandant forced me to do paper crafts was last year before Halloween, when she tasked me with the creation of paper bat army the likes of which the world hadn't seen since the time of dragons.
We had a Cricut at the ready to make quick work of the bats, but because my babes loves to torture your long-suffering author, she first made me make whole bunch of them by hand.
By hand, madam!
Said it was because if fat-fingered little-ol'-me could do it, then literally anyone on planet earth could do it.
See how I'm the litmus test for doability around here?
I'm like the Mikey of crafting, but instead of eating a delicious bowl of cereal, I get plopped in front of hot glue guns, scissors, yarn, fabric, glitter and paper and told to make things. If the ensuing results of my grunting, snorting, sweating and swearing are deemed acceptable, the craft is green-lit for the blog.
If I can do it, you can do it. Hell, your geriatric golden retriever could probably do it!
Anyway, in my early days of crafting in general (and paper crafting in particular), I often approached the projects with a dollop of reluctance, a few dashes of reticence, and a sprinkle of hesitance. When my babes announced that I'd be making an embroidery hoop wreath, for instance, I kinda felt like this:
And years later when she conscripted me to construct legions of bats from black cardstock, I was having flashbacks like:
So it came as something of a surprise this weekend when craft time rolled around and I wasn't dreading it. It was a paper craft, after all – I should have been plotting my escape! I've long considered paper crafts to be the Vienna sausage of the crafting world: not the worst thing in the world, probably won't kill you, but certainly not something you whip out when company comes over. I just can't shake the notion that paper crafts are the sole dominion of 5-year-olds with blunt-nosed scissors.
Look, I know I'm wrong about that. I understand that paper crafting is a vast and varied world with projects for all skill sets. It's just a prejudice I have trouble shaking.
So as I said, I surprised myself this weekend when I discovered I was looking forward to making these paper angels. In fact, it is one of the only times in recorded history that I initiated craft time instead of my babes dragging me into the craft room by my ear.
And not only that, once I had a handle on how to make these paper angels (which took all of 5 seconds – this is a simple craft), I booted Handan from the craft room so I could muck about at my leisure.
These angels are a follow-up to last year's DIY tassel angels.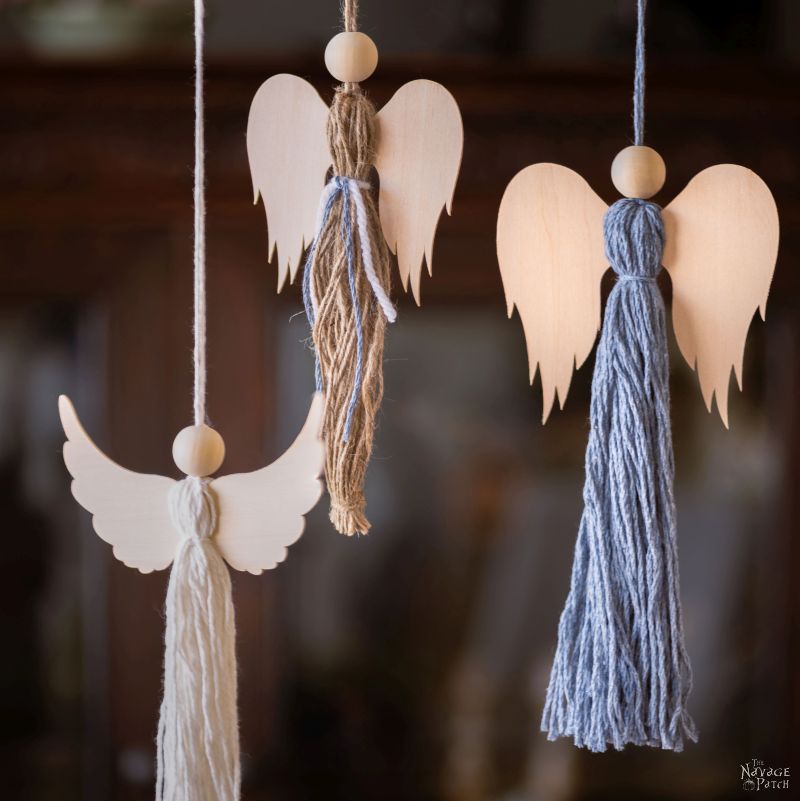 They were certainly simple enough, but the wood wings were much easier to cut with a Cricut or other cutting machine, and not everyone has one. This year, we wanted to share angels that anyone can make. Paper angels are easy enough for the little-handed ones to make, but they sure don't look like a cheap kiddie craft.
The secret to success with paper angels is in the paper. Start with interesting paper, get beautiful angels. We used book pages, but they'd look amazing made with sheet music, too.
Let's check it out!
DIY Paper Angels
SUPPLIES LIST
Affiliate links are provided below. Full disclosure here.
Old book
X-Acto or razor to remove the book pages
Thin string or jute
Wood beads (12-14mm)
Since we don't have all our crafting supplies here in Florida yet, including our stockpile of old books, we settled for this highly-acclaimed read from Dollar Tree. We actually have two copies of this book, which is great, because if I can ever find the time, I'd love to read the intact copy!
As long as the book has small print, you're good to go.
I made sure to harvest pages with full writing on both sides. This particular Norwegian author has a penchant for short chapters, so I had to hunt around for suitable pages.
These paper angels are made with accordion folds, and the easiest way to get evenly-sized folds with no waste is to fold the page in half…
It helps to get a good crease with the scraper.
Then fold it in half again.
And again…
Scrape between folds.
And one last fold.
I unfolded the page.
Then I began folding it like an accordion.
I used the scraper on it every few folds.
The final fold.
One down, one to go.
I set it aside and made another just like it.
For the wings, I folded down a little less than a third of the accordion. My accordion fold was 4 3/4 inches tall, and I folded over 1 1/2 inches.
I used the folded-over half as a guide to fold the other half.
Once folded, I gave them a good squeeze.
You can make the hanger string as long as you want or need. I made mine as shown below.
I will be sandwiching the hanging loop inside the two halves when I glue them together. But to get the string to stay in the middle and to free up a hand, I first put a small dab of glue near the top and then glued the string in place.
With the string in place, I ran a line of hot glue down the rest of the paper.
Then I pressed the two halves together.
Next, I put some glue in the angel's armpit area and then pressed it down.
And then the same on the other side.
The last step was to slide a bead over the string.
And she's done!
Of course, one or two paper angels would never satisfy my babes, so I made her a cool five.