DIY Dollar Tree Gnome Wreath
This DIY Gnome Wreath is clever upcycle of Dollar Tree gnome Santas. You've got gnomes on shelves – now it's time to hang them on walls!
You may think that there exists somewhere in nature an optimal number of gnomes – like a group of, I don't know, 27 of them in some chilly Nordic forest somewhere living in perfect harmony because 27 is the perfect number for gnomes.
Or you may think that there is an optimal number of gnomes that you should have in your house, like say, 11, because 11 seems to be a really nice number when you think about gnomes and all the little nooks and crannies in your home in which you can display them.
Now as to the first point, I really couldn't say, as I've not spent nearly as much time as I'd like to have spent gnome-watching in the Nordic forests of northern Finland. But as to the second point, well, according to my dearest babes, there does not exist any number which could be described as optimal, and therefore neither is there a number that could be described as too many.
Skeptical minds need look no further than our apartment, which has become somewhat of a flop house for itinerant Nordic gnomes.
Silly me thought we had reached our gnome quota last year after we made these scented broom gnomes.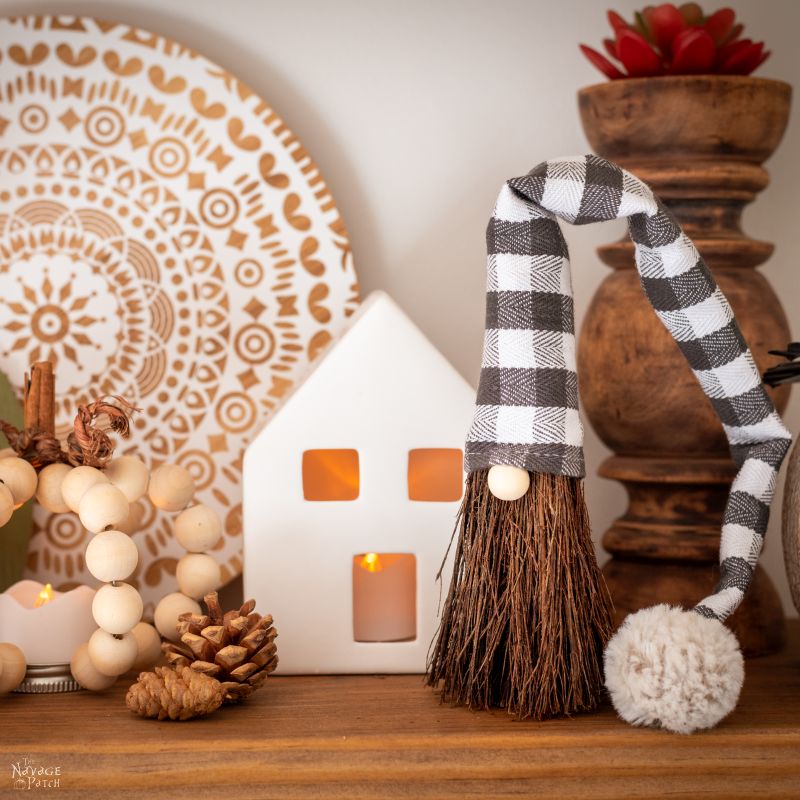 To be honest, I thought we were well-and-properly gnome'd up after our first Christmas gnome post.
But then this year, my babes had me gnoming around Jacksonville looking for Dollar Tree mops and vases so I could make her these lighted gnomes!
Surely there was an optimal number of gnomes, and surely we'd achieved that number!
Nope.
Not by a long shot down a country mile.
Not content with an apartment full of Lapland layabouts, my babes recently instructed me to fashion her a Christmas wreath…a Christmas gnome wreath.
I guess the only difference is that instead of laying about or sitting around like their bean-stuffed brethren, these three big-nose amigos just wanna hang.
Still, if my babes wants a gnome wreath, you know what's gonna happen, right?
You got it!
If my babes wants a gnome wreath, my babes is gonna get a gnome wreath!
DIY Dollar Tree Gnome Wreath
SUPPLIES LIST
Affiliate links are provided below. Full disclosure here.
First I pulled off the dinky pom poms from the three Dollar Tree gnome Santas. If you find it too hard to pull, you can cut it off with scissors.
Next I unfolded some fabric and placed it over the tinsel hat.
Leaving some excess on the sides, I cut out the same curve as gnome Santa's brim.
I pulled down on the brim, put a dab of hot glue and then pressed the fabric onto the glue.
I did this all along the brim. This secured the fabric to the gnome.
Then I went around again and hot glued any spot where the white brim was too loose. This time, I put the glue on top of the fabric.
This made the fabric very well-secured to the gnome frame.
I flipped the gnome to work on tidying the fabric in back.
I pulled one side over…
Cut the excess…
And then glued the bottom to the frame.
Ditto for the other side.
Then I cut the excess fabric from the top, leaving about an inch more than the height of the hat.
Next I cut the excess down the centerline for one side.
Then I cut the excess down the center for the other side.
I then glued to two flaps down, one over the other to make a neat-looking backside.
Why a neat-looking backside, you ask?
Why not a crappy and messy backside, right? Isn't that how backsides are supposed to be?
Well, I asked my babes that very same question.
"Who the hell is gonna look at the backside of the wreath??" I said, confident that she would see the time-wasting error of her plan.
"My babes," she said, and I knew the argument was lost, "what if they want to hang it on a glass door?"
Damn woman thinks too much!
More DIY Christmas Decor Ideas
Anyway, you don't technically have to make the backs as neat as I did unless you're afraid someone might see them.
With my backside all neat and tidy, I put a little hot glue near the top and folded over the excess at the tip.
Back around front, I grabbed my puffy white balls…
o_0
…of yarn, madam! Puffy white balls of yarn! Mind out of the gutter, please!
And then I cut off their strings.
A little glue up top.
And then I glued the pom pom to the front of the hat (not the tippity top) and my gnome was finished.
Two more gnomes and my red-nose amigos were finished. Now they needed a place to hang out.
I pulled the stand off of the Dollar Tree chalkboard.
I put two big blobs of hot glue on the clamping part of the embroidery hoop.
Then I glued the chalkboard to the hoop.
I positioned the gnomes how I wanted them.
Then it was a simple matter of securing them with hot glue at all the points they met with the hoop. Here:
There:
Don't forget that place down there:
Now repeat for the right-side gnome.
Middle gnome gets a blast up top.
And then where the side gnomes overlap his beard.
Now, if you have good handwriting, you can write whatever you want on the little chalkboard. I do not have good handwriting, so Handan printed me a sign. We've included this at the end of the post because we think you're special, and you deserve it!
Four dots of hot glue would hold it in place and let me swap it out if I want a new cutesy little phrase. I'm partial to "Chillin' with my Gnomies" or "Gnome or Mister Nice Guy."
So this was supposed to be the end of the project, but then Handan declared that it needed some green. Hey if my babes wants green, who am I to say no? She had a couple of these wreaths on hand (naturally) that she got at Target for $3 each.
Those $3 wreaths come right apart. I'm tempted to say something like "it's almost as if they want you to pull it apart," but I'm afraid you guys will be like, "Oh, you didn't know? Of course they do! That's a convertible wreath, dummy!"
Well, how the hell am I supposed to know what a convertible wreath is? I'm still a stranger in this world, madam. Do try to cut me some slack!
I hot glued the end and stuck it to the hoop behind Red's hat.
Then I worked my way down the wreath, gluing and pressing.
I repeated this on the other side with the other convertible wreath.
The final step was a little embellishment for the sign and for the hats. I made that embellishment – not bad if I do say so myself!
And with that, our DIY Dollar Store Gnome Wreath was finished and the three amigos were ready for some serious hanging around.
If you love gnomes as much as we do, be sure to check out our other gnome tutorials!
We love to see our craft projects out in the wild! If you try this seasonal craft project, take a picture and post it on Instagram, be sure to tag us @TheNavagePatch!
Do you like those antique brass bells in the picture above? Find out how we made them in our DIY Faux Antique Brass Bells post!