How to Finish Raw Wood without Changing its Color
Learn how to finish and protect raw wood without changing its color or darkening the wood. This technique works with any sheen!
There are two types of people in the world: those who love the look of raw, unfinished wood and those who can't wait to slap on some poly to amplify the wood's natural beauty.
Those in the latter camp must content themselves with the fact that finishes of any type – poly, shellac, lacquer, wax – all change the wood's appearance. While they accentuate the grain and beauty of the wood, they also darken and deepen its color. This is usually a good thing.
But not always.
Because there are those who prefer the raw look, and they have to accept that their unprotected pieces are at the mercy of Mother Nature, careless spills and grimy hands. If they want to protect that raw wood, they're going to end up with something a little darker, maybe a little more orange (especially with pine) and often much shinier than actual raw wood.
I work with wood a lot, and I've always counted myself among those who can't wait to drench it in polyurethane to bring out the rich depth and color that's unattainable in raw wood.
Just look at this mahogany console table I made from a beaten-up old dining table. This was the raw mahogany. Nice enough in its own way, I suppose, if you're into the whole mousey wallflower thing.
And this is the stunning beauty brought forth by polyurethane. The wood below is not stained! That is just gorgeous mahogany and satin polyurethane!
Okay, so mahogany is a bit of a special case – for me, there are few woods that rival its beauty.
But what about, pine, for instance? Sometimes poly can really highlight the yellows and oranges, and that may not be what you want.
Or maybe you just like the dead flat look of raw wood.
Handan is in the raw wood camp.
She can't get enough of the lighter tones and flat look of raw wood – especially if it's distressed.
Her favorite look is old wood furniture that's been almost entirely stripped of a previous finish and stain.
But the problem has always been – how do you protect the piece while also protecting the look?
Some folks turn to wax and other wood conditioners, though still, some discoloration will result.
But we have a better way.
And our method allows you to achieve the holy grail of raw wood finishing: how to finish raw wood with satin (or glossy) polyurethane without changing the wood's color or shade.
Yes, it's possible.
But first, I'll show you a little project I worked on with Barish.
Handan picked up an old wooden file box during one of our tag sale excursions a few years back. It had been stained and finished way back in its day. She wanted that finish stripped off, and she wanted the box to have a raw wood look.
This was a perfect project for The Boy to start playing with power tools.
I set him up with a detail sander and a dust mask, and I set him to work.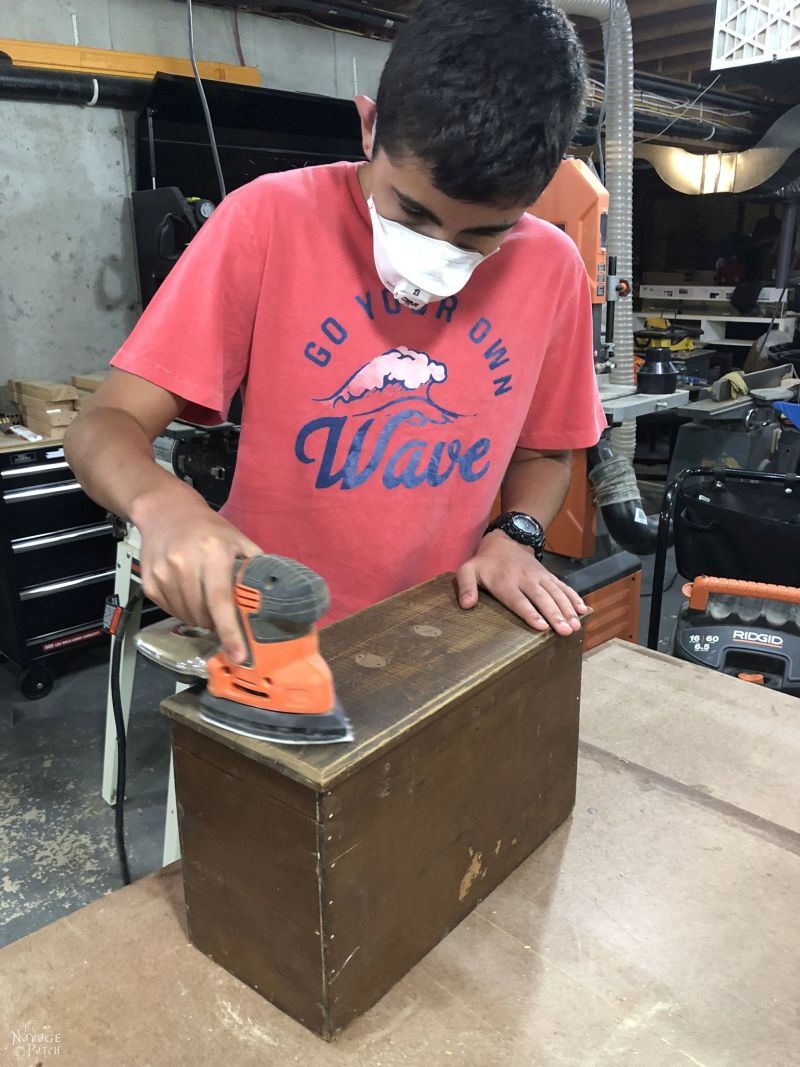 Unfortunately, I didn't follow my own safety precautions. I supervised and took photos while the fine dust flew from that little detail sander.
When I went back upstairs, my nose started burning. Within an hour, I couldn't feel the tip of my nose.
These symptoms lasted for almost a week.
A week with no feeling in my nose!
Yeesh, I don't know what the hell this box was stained or finished with, but this was a good lesson.
ALWAYS wear a mask when sanding. You never know what poisonous crap is in the finish you're stripping off.
Anyway, Barish sanded it down to a point where we thought Handan would like it – a nice combination of raw wood and old finish.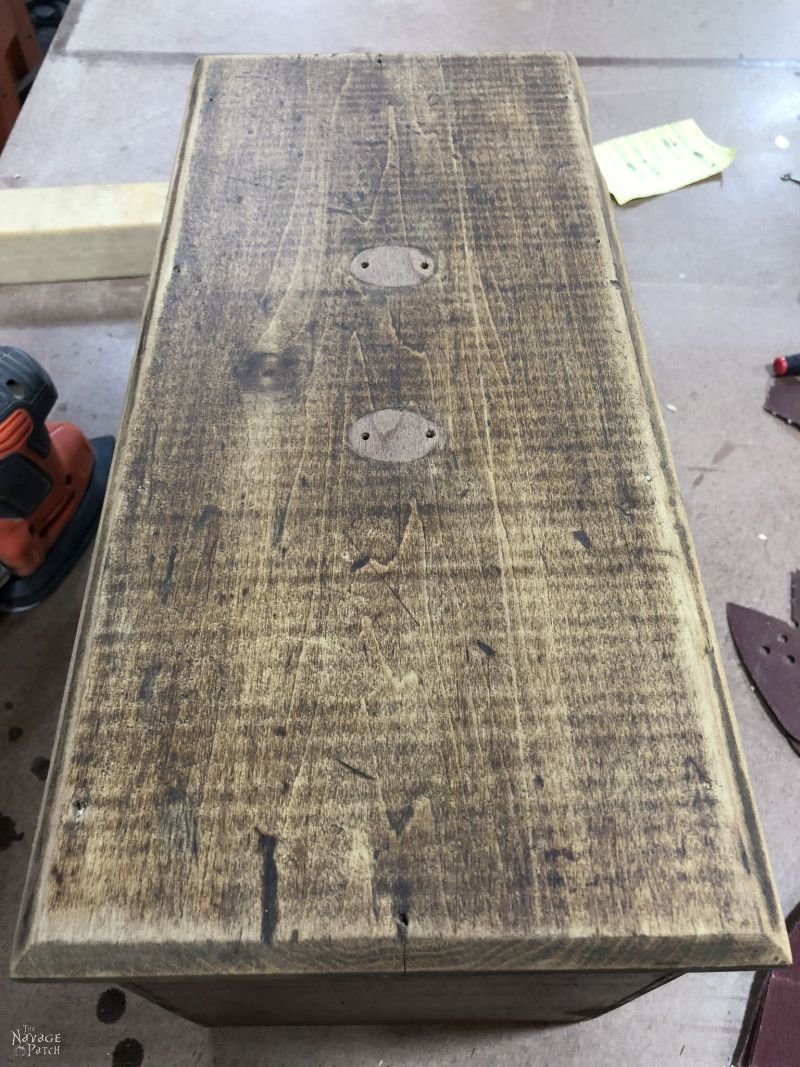 Now here's the secret to protecting and finishing raw wood while also protecting the raw wood look.
Modern Masters Exterior Dead Flat Varnish.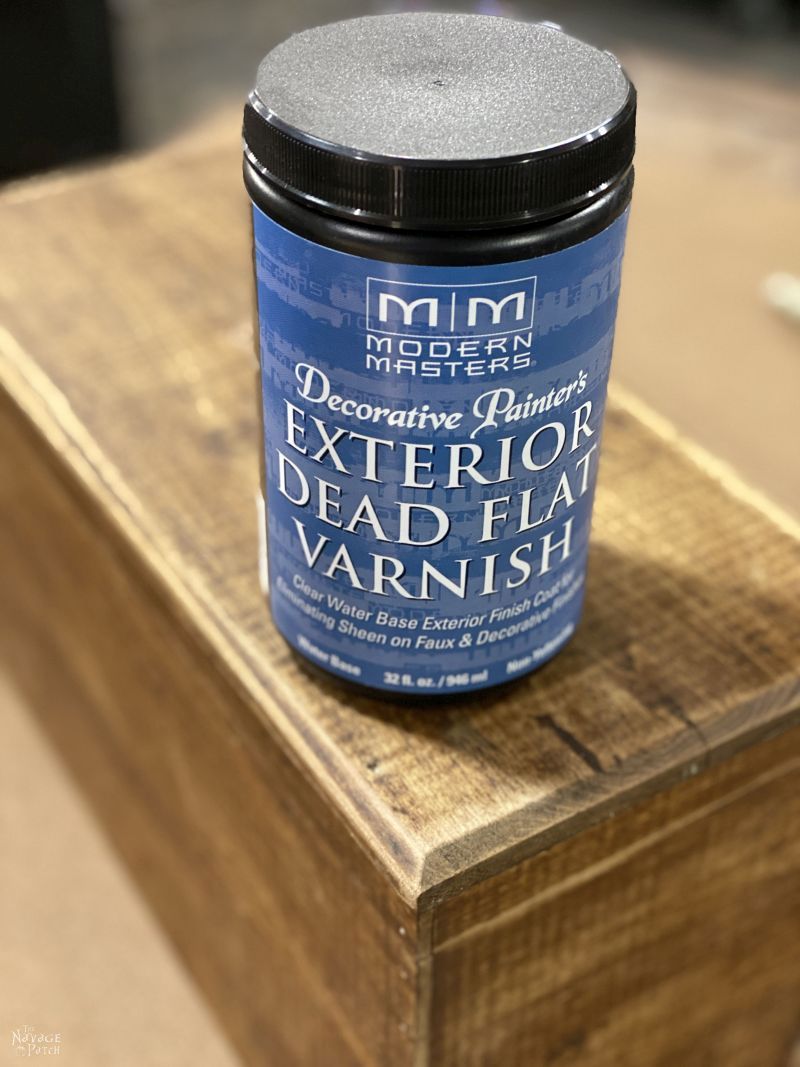 This is a water-based sealant that brushes on easily and never leaves streaks.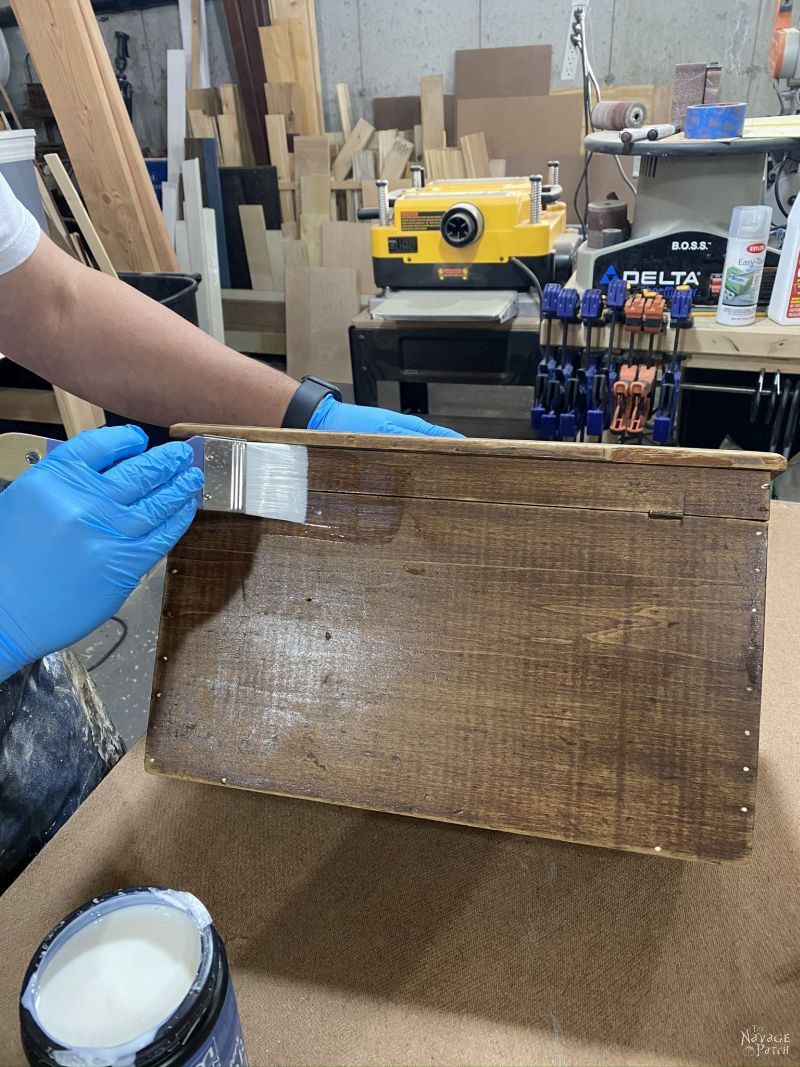 Since it's water-based, it needs to be applied over raw wood or other water-based products. However, you can put an oil-based product over this dead flat varnish. More on that later.
Here you can see how it looks when wet compared to the unvarnished side. Don't worry, all that shine (and the slightly darker color) disappears when it dries!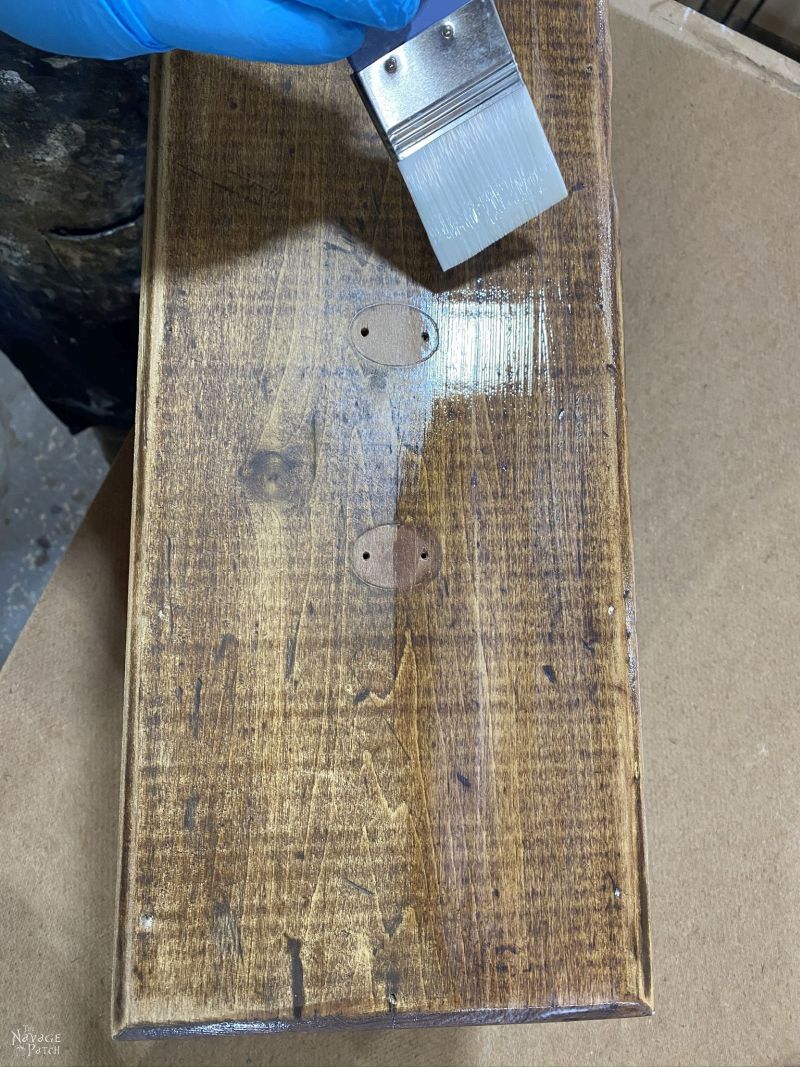 See what I mean? I'm re-attaching the hardware in the pic below, and that wood has been sealed with the dead flat varnish. Compare it to the left side in the pic above. See any difference?
For this old box, I replaced the ancient and non-functioning hasp with something a little more decorative and functional.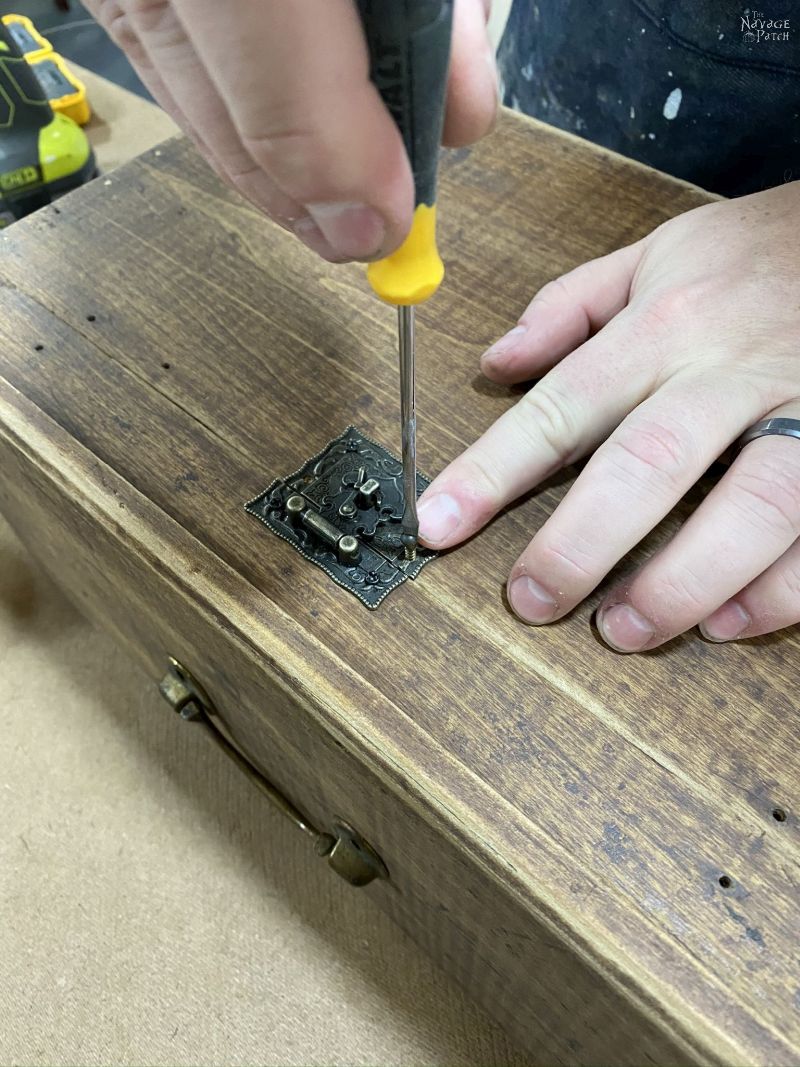 This was just a simple little makeover to introduce you to our favorite dead flat varnish. After these few pics, I'm going to show you something really cool!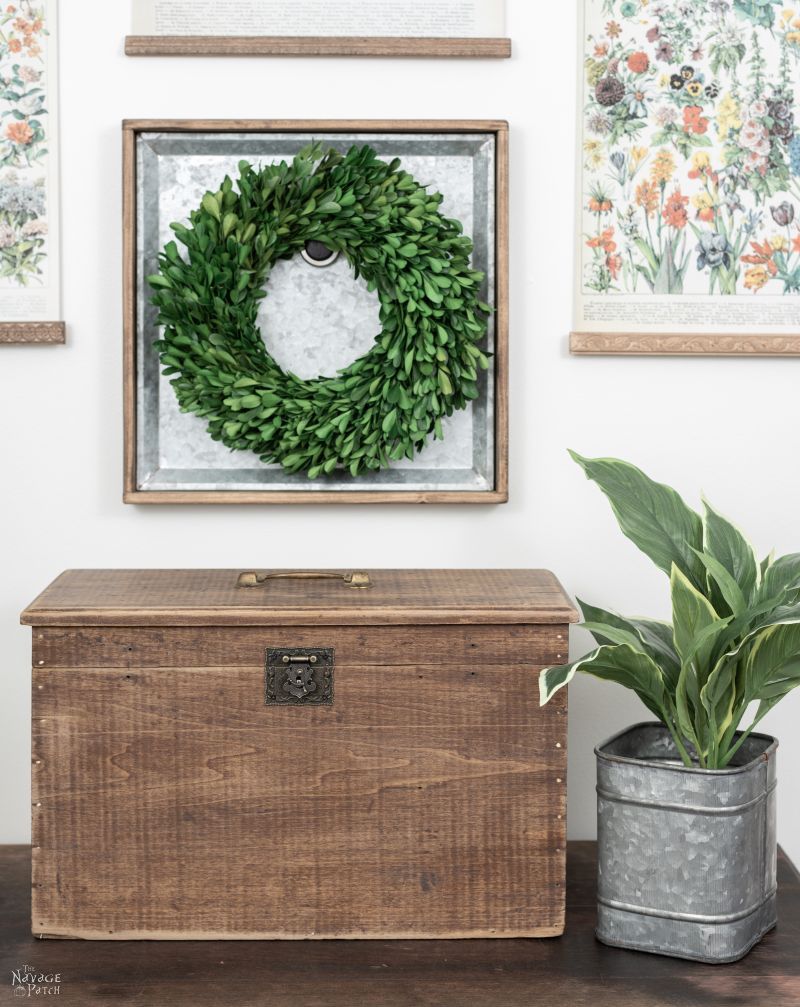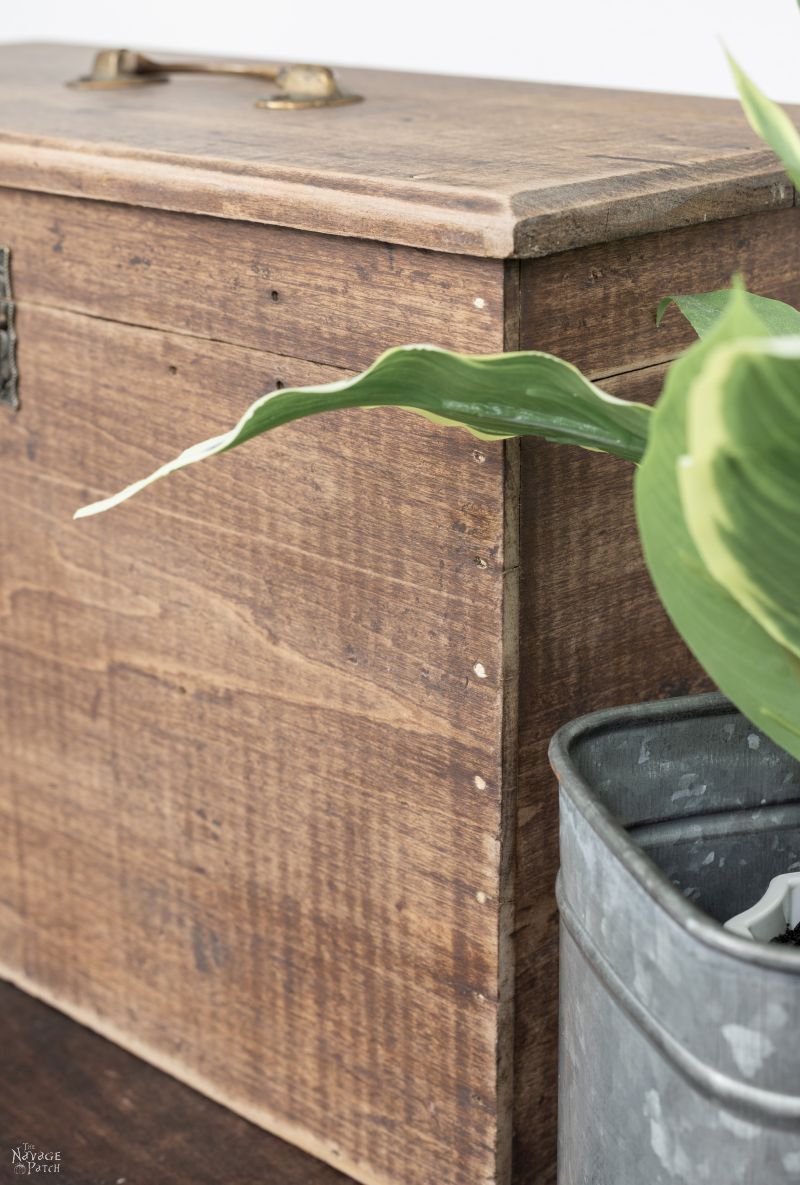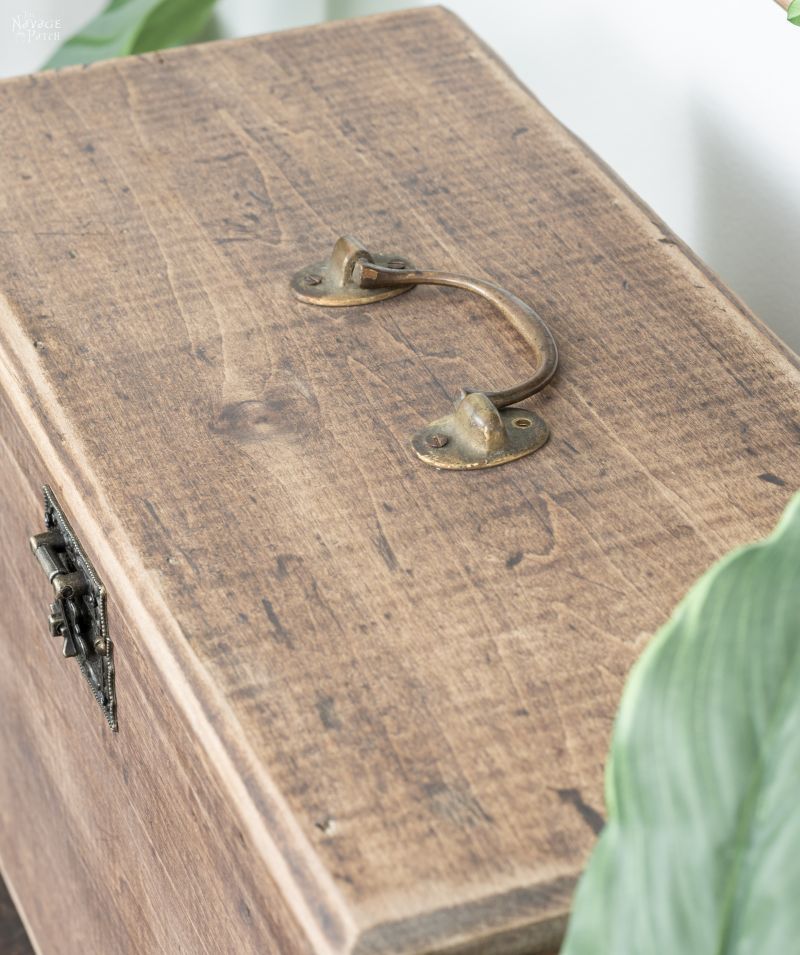 We're going to use the box to store our little glue guns and glue sticks.
Remember, for this project we wanted the raw wood color and flat sheen.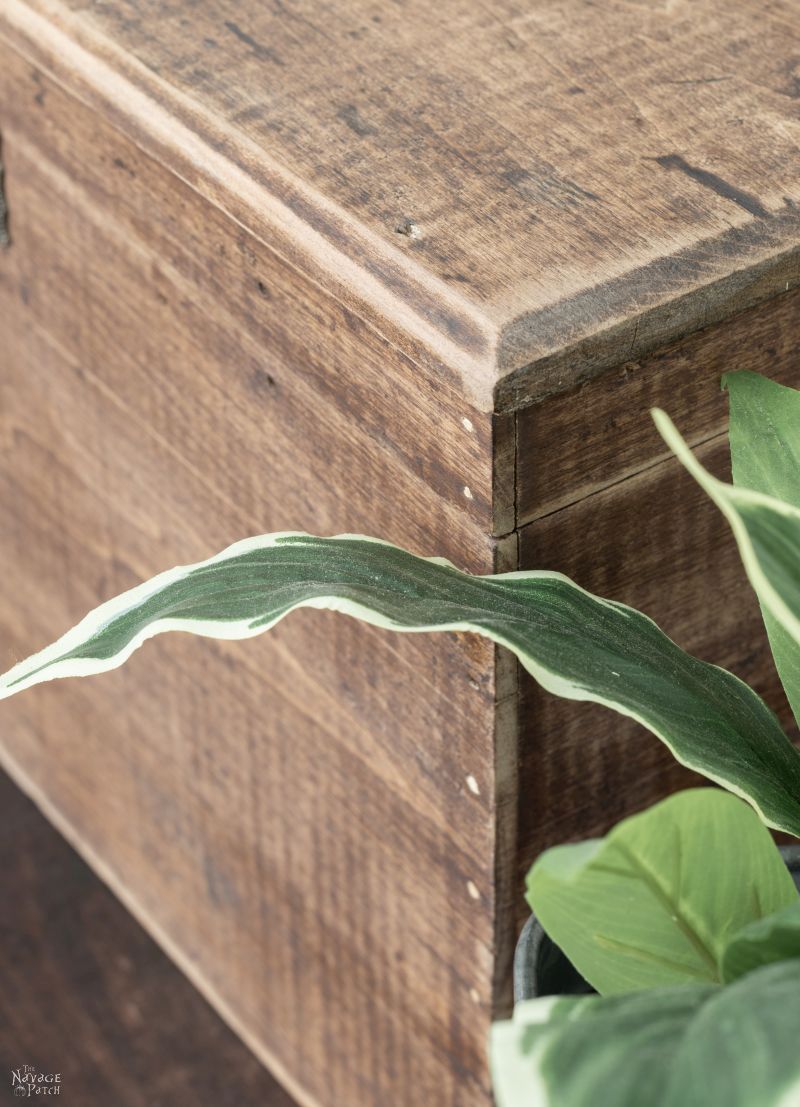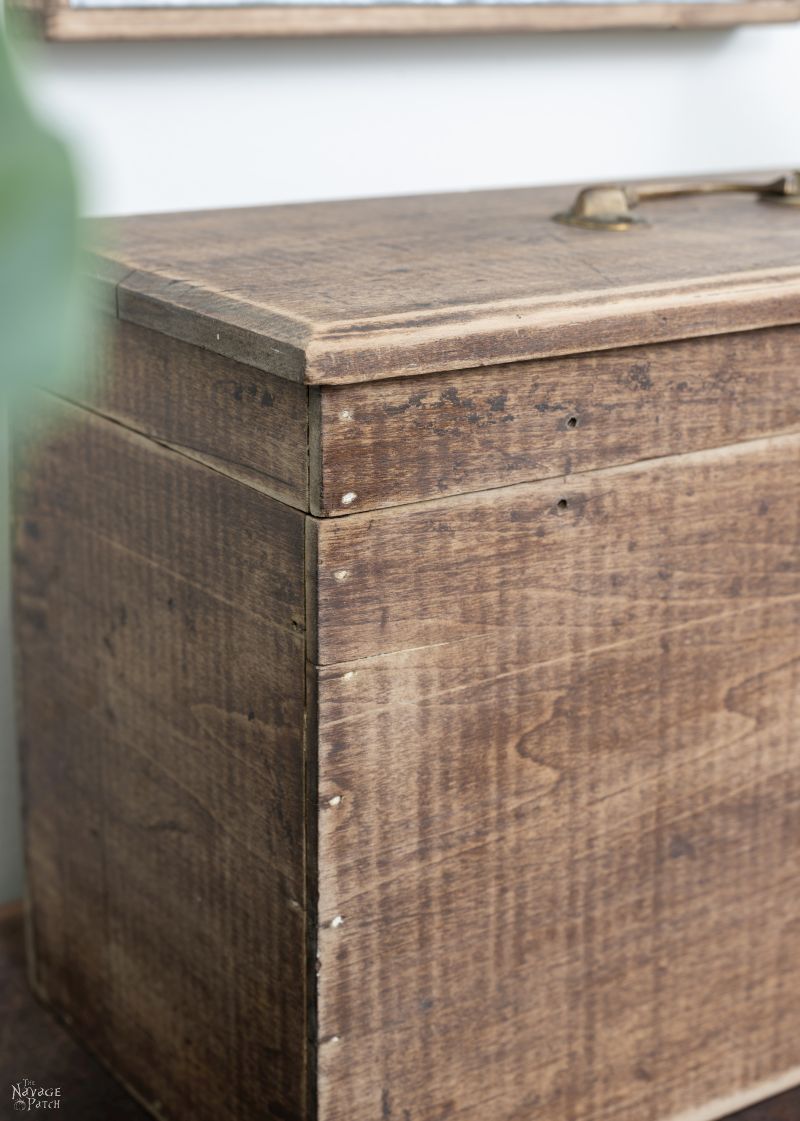 But what if you want to keep the raw wood color, and you want to add a little shine?
I know. Sounds like crazy talk.
But here's how it's done.
Since mahogany is one of the types of wood that I think changes most dramatically when sealed, I chose to use it for this demonstration.
Here's a mahogany board, about 2 feet long. I've marked it into quarters with pencil lines.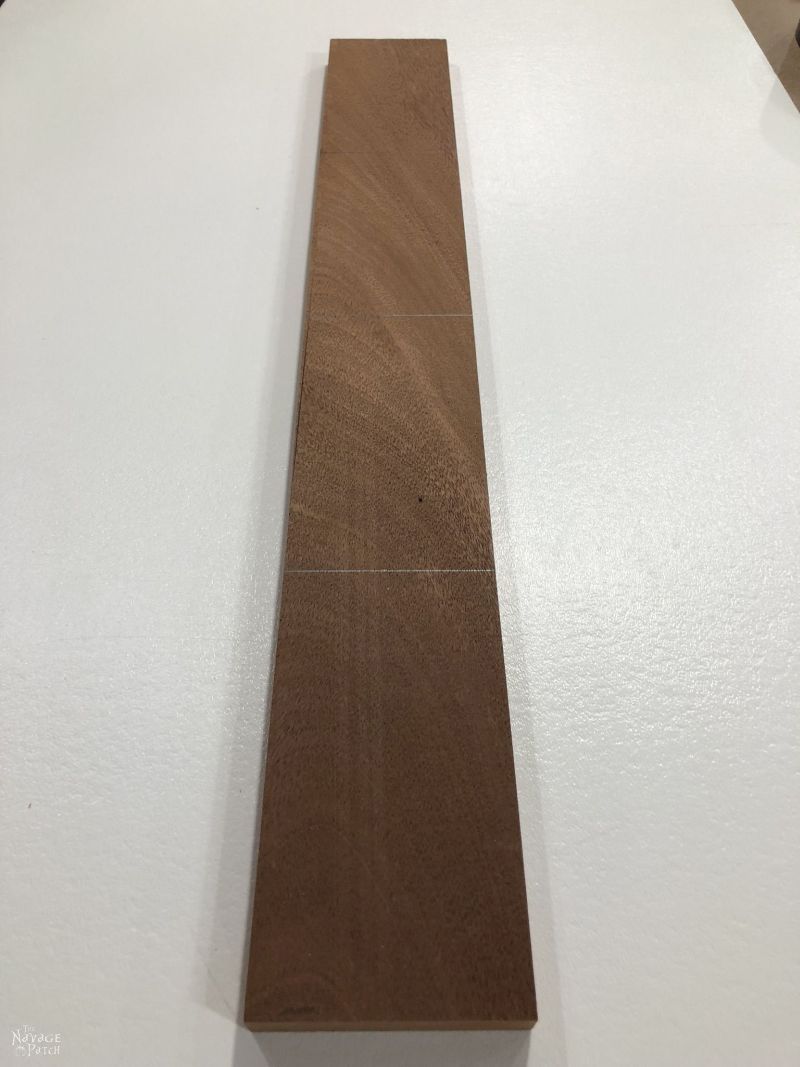 I taped off one end and applied Modern Masters dead flat varnish to the other 3 quarters.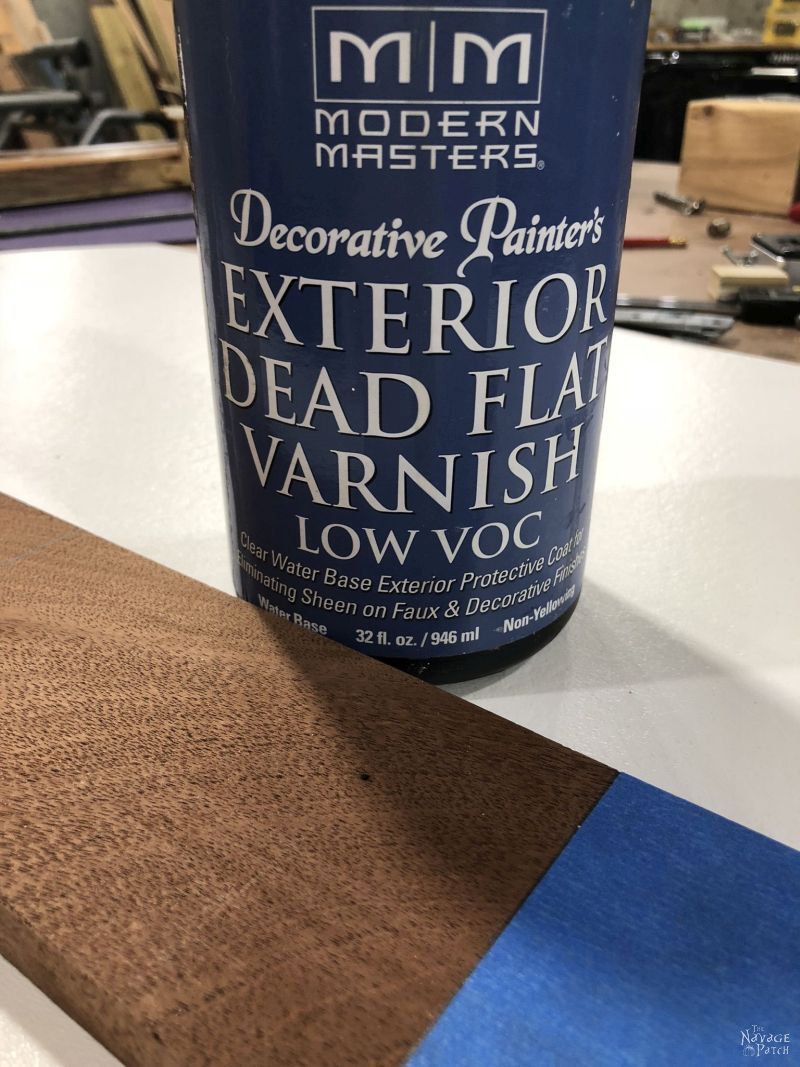 After the first coat of dead flat varnish dried, I taped off the other end and then applied a second coat to the middle two quarters. Here's how it looked just after I peeled off the tape and before the varnish had turned clear.
In the picture below, the quarter on the right end has no varnish, the quarter on the left end has one coat and the two in the middle have two coats.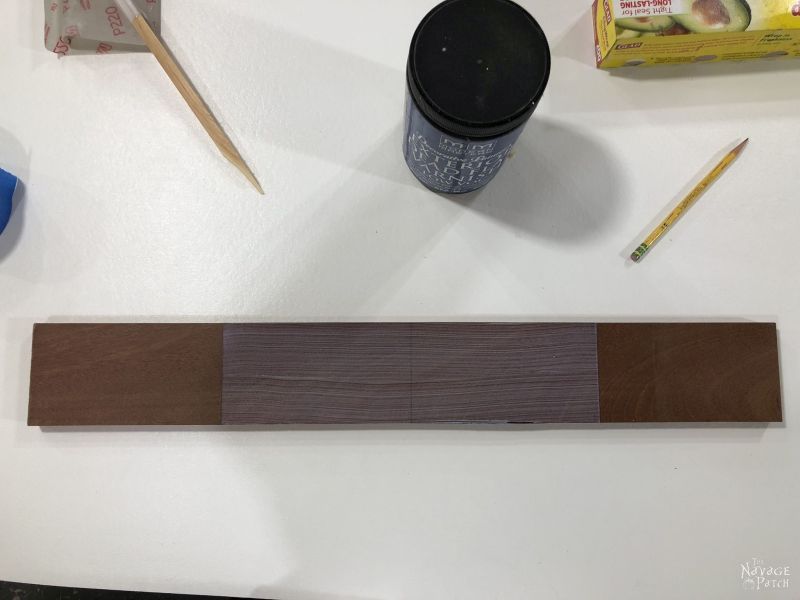 When the second coat dried, I taped off the two left quarters and the far right quarter and applied a third coat of varnish to the middle right quarter.
So from left to right in the picture above: 1 coat of dead flat varnish, 2 coats of dead flat varnish, 3 coats of dead flat varnish, raw wood.
I then gave the whole board one coat of satin polyurethane.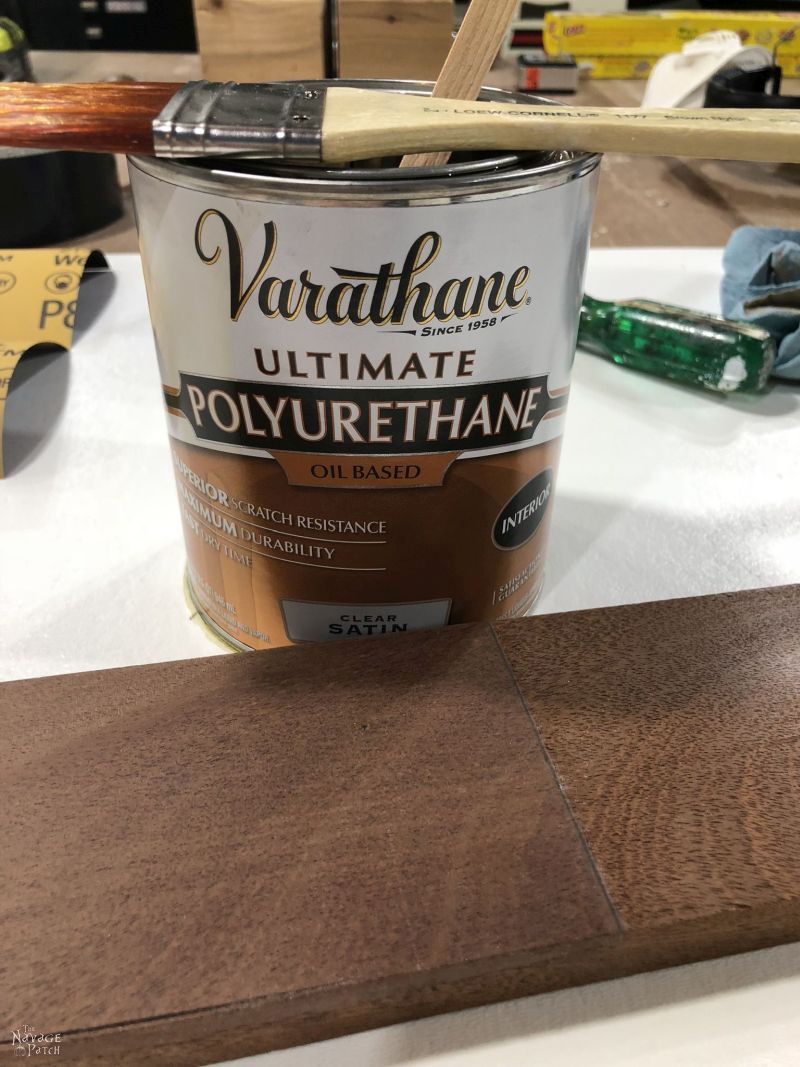 And here is the result. The top quarter is satin poly on raw wood, the one underneath is satin poly over 3 coats of dead flat, then satin poly over 2 coats of dead flat, and finally the bottom quarter is satin poly over 1 coat of dead flat.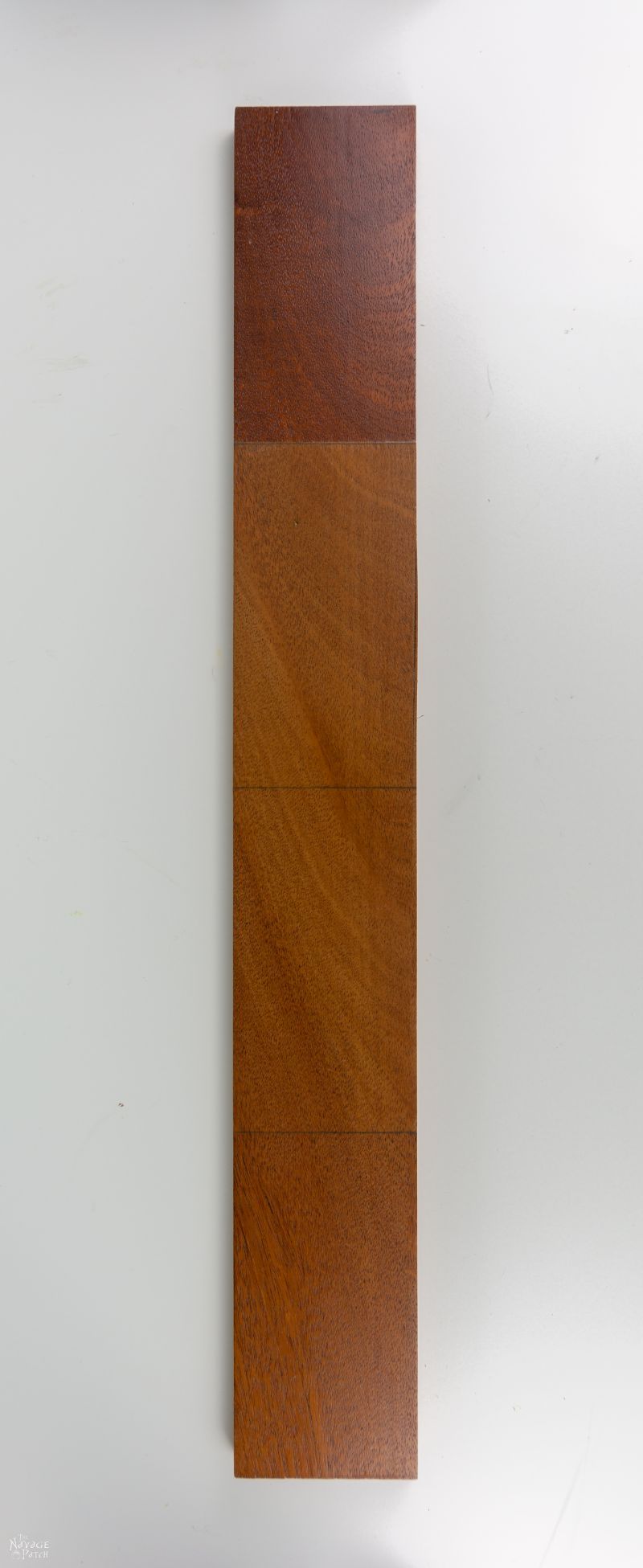 As you can see, there is very little difference between 1 and 3 coats of dead flat varnish. Really, you can only see a tiny difference if you look up close and in person. And the best part is that 1 coat of dead flat actually looks better than 3.
But compare those 3 quarters to the one without dead flat varnish!
I isolated the quarters for the pic below to show pure raw wood on the left (picture taken on the back of the board), raw wood + satin poly in the center and raw wood + dead flat varnish + satin poly on the right.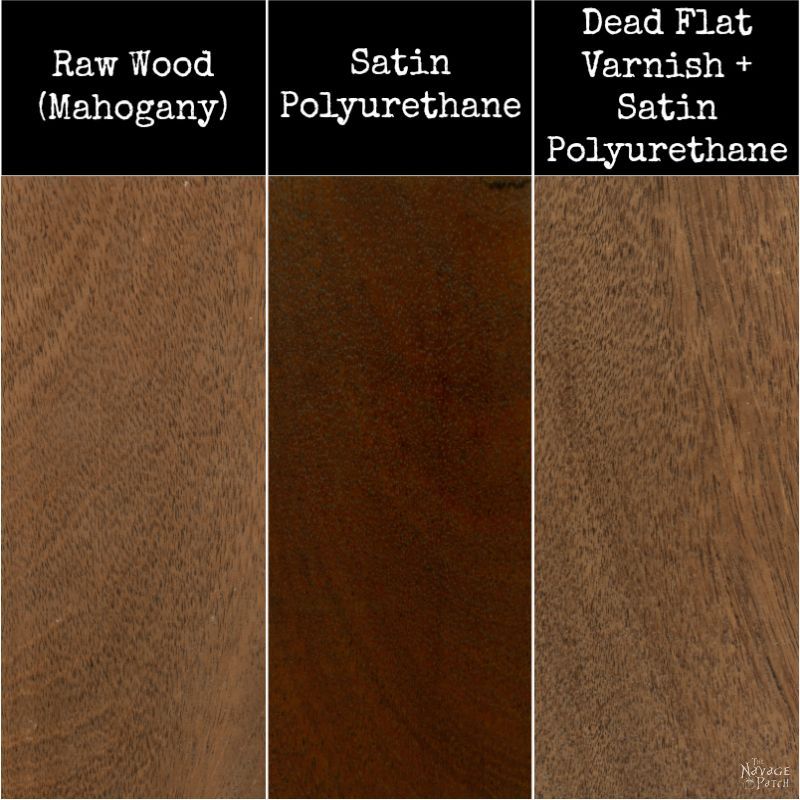 There is no difference between the left and right panels above except for the satin sheen on the right that doesn't show very well in the photo.
To the eye, the color is identical.
Honest truth – for me this is more of an interesting find than anything else. As I mentioned earlier in the post, I'm a big fan of what polyurethane does to wood.
But for those RawHeads like my babes, this is a game-changer.
Handan has been rooting around the basement looking for something, anything, I can sand down to bare wood and then re-finish with this technique.
"Ooooh, do this one my babes!" She points to a painted chest.
I take a closer look. "Nope. It's made from crappy composite wood, my babes. Won't look good."
"How about this, then?" She points to a nightstand.
"Hmmmmm. Nope. Veneer over crap wood. Sorry, my babes!" I say.
"This box?"
"MDF."
"That stool?"
"Meh."
And so the search continues for the perfect piece to strip down to its beautiful bare bones.
But when she finds that piece, you'll see it here first at The (Naked) Navage Patch.
*******
Hey, while we're (sort of) on the subject of water-based varnishes, did you know there's an easy way to paint french doors without taping the panes?
Scout's honor, it couldn't be simpler! Click the link above or the picture below to find out how it's done!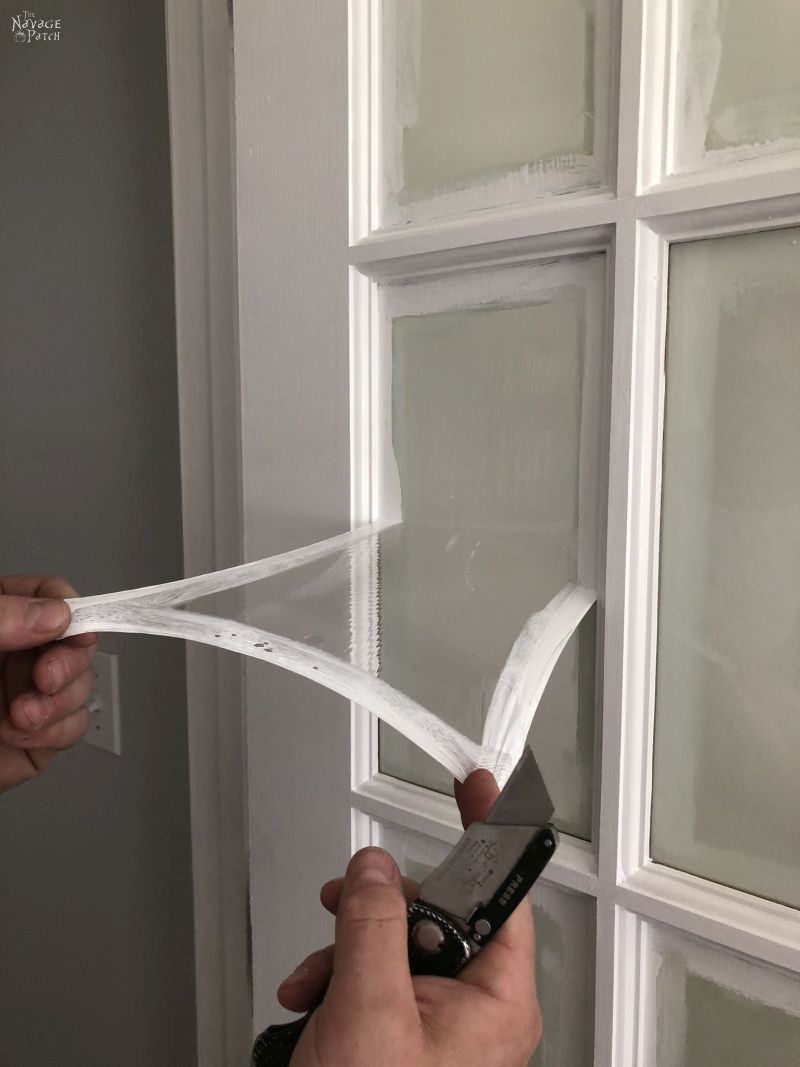 *******
It's cold outside, and that means major shrinkage!
o_0
Please, madam, I'm talking about your floating floor!
Seasonal fluctuations of humidity and temperature can wreak havoc on floating floors and leave gaps sprinkled all around the room.
Did you know there's an easy DIY fix for floating floor gaps?