Our DIY faux fur trees are hiding a little secret that make them much cheaper and far easier to make than ordinary craft fur trees!
I recently posted about how to make Mambo Yarn Trees.
After seeing the photos, many of you asked about the other trees – the ones that weren't made with Mambo Yarn.
Madam, your wish is my command.
So let's dive right in.
Okay, there are two other types of trees that we made for our vintage/farmhouse Christmas display this year.
The faux fur trees are the subject of this post, and I'll get to those shortly. First though, I want to tell you about the other ones – the tall ones you see in the photo above.
We made those trees with Red Heart Irresistible yarn.
Yep, irresistible yarn for an Irresistible Crafting Man, amirite ladies?
Hello?
Is this thing on?
[taptaptap]
Hello?
Yeesh, tough crowd!
Anyway, we bought ours at Joann, but you can also get it from Amazon for about a dollar more.
The technique to make them is the same that we used for the DIY Mambo Yarn Trees and the DIY Faux Fur Trees I'll be showing you right now. The beauty of our trees—and what sets them apart from other faux fur trees you may have seen on Pinterest—is that ours are not made from faux fur at all!
In fact, if you want to get all technical about it, ours really should be called faux faux fur trees.
But that just sounds silly.
So here's the deal—our trees are made from yarn.
Okay, okay, fine – it is faux fur yarn, but you get my point.
And making faux fur trees from yarn is quicker, easier and cheaper than making them with craft fur.
But the best part of all?
We think they look much better than craft fur trees!
So what are you waiting for, madam? Let's go!
DIY Faux Fur Trees Video Tutorial
Check out just how quick and easy these faux fur trees are in the video below. For those who prefer to read, just keep scrolling!
DIY Faux Fur Trees Tutorial
So this yarn is called Go For Faux – Thick & Quick.
o_0
And as you can see, Thick & Quick comes in many colors. Here are 3 of the 4 we bought.
Step 1 – Grab your yarn and squeeze.
Why?
Because it's soft, and it feels delightful, that's why!
Step 2 – Glue the tip
Just a little dab'll do ya.
Step 3 – Start wrapping
So a funny thing happened while filming the video from which these photos came.
Handan came up with the idea for these faux fur trees (naturally), and before we started filming, she showed me her technique for wrapping them.
It was Saturday morning, and I had just woken up.
I made my usual iced coffee (no matter the season or weather, it's always iced coffee for me—for Handan, it's the opposite) and then I shuffled into the craft room to start filming.
Slurp slurp slurp – I guzzled my cold brew while Handan readied the scene for the video.
A short while later, I was ready for action!
"It's easy my babes." Handan said. "You just wrap it like this."
She wound the yarn around the cone like a wheel spinning backwards.
She made a tree in less than a minute.
"Wrap it. Got it." I said.
Good grief, enough with the lesson, woman! Lemme at it!
Showtime.
The camera rolled and I stepped up to the craft table.
Hot glue on the tip. Easy!
Put the end of the faux fur yarn on the glue. Child's play!
Wrap the yarn.
…
Wrap the yarn!
I wrapped and wrapped, but something wasn't right.
I wrapped some more, and then all the yarn I wrapped popped off from the tip.
"My babes, what are you doing? You're pushing the yarn up." Handan said.
"I'm not!" I protested. "It just keeps sliding up!"
Cut!
We stopped filming.
"Watch." She said and whipped off another tree. "See? It's easy!"
"Easy. Got it." I said.
But it wasn't!
And now I was jittery from the coffee.
My hands trembled, and I tried again to wrap the stupid yarn around the stupid cone.
And again I failed.
What the hell?
I tried once more, and again, I just couldn't wrap without squeezing the coils up and off the cone.
Handan kept telling me how easy it was, so why couldn't I do it?
There I stood with quivering hands and a baffled look on my face.
What's wrong with me?
Handan gave me the side eye and opened her mouth to say, "My babes – it's…"
"Don't say it! It's not easy!" I said
What was I doing wrong?
And then it hit me.
I was blindly following Handan's way of wrapping – the backwards spinning wheel motion – but that was all wrong for me!
"I got it!" I yelled and grabbed another cone. "Watch this, my babes!"
I put glue on the tip like a glue ninja. Then I stuck the end of the faux fur yarn onto the glue like a yarn champion.
And then I started wrapping the other way – like a wheel spinning forward!
Ah-HA!
I wrapped a perfect faux fur tree in about a minute.
"Good job, my babes!" Handan beamed, and the relief was evident in her eyes. I think she may have been about to call the men with white coats and butterfly nets!
Long story short – wrap your way, not mine!
So by the time I got around to making the tree you see here, it was 2 in the afternoon. After my initial failures, I wanted to take a break before filming again.
My babes and I also wanted to go buy more yarn. When we got back from that, I went out and planted some garlic.
After planting my garlic, I washed my hands, but apparently I missed a bit of dirt under my left thumbnail.
Look, I'm just pointing it out so you don't think I'm some unwashed bum with dirty fingernails!
That's just good wholesome garden soil under that nail! 🙂
Glue and wrap, glue and wrap, glue and wrap.
Unlike the Mambo Yarn Trees, with these faux fur trees, you don't have to try to keeping the yarn straight or aligned. It's just Glue and Wrap!
Though we made many trees with just glue at the tip and then again at the base, we found it's easier to put a little glue on the cone every 3 wraps or so.
Near the base, I glued a little more often.
When I was just about out of cone, I measured out the rest of the yarn I'd need and then cut.
One last dab of hot glue…
And a final trim.
Done! These faux fur trees are not only easier than craft fur trees—they're even easier than the Mambo Yarn Trees!
We love the look of the 3 types of yarn trees in this year's vintage/farmhouse Christmas display.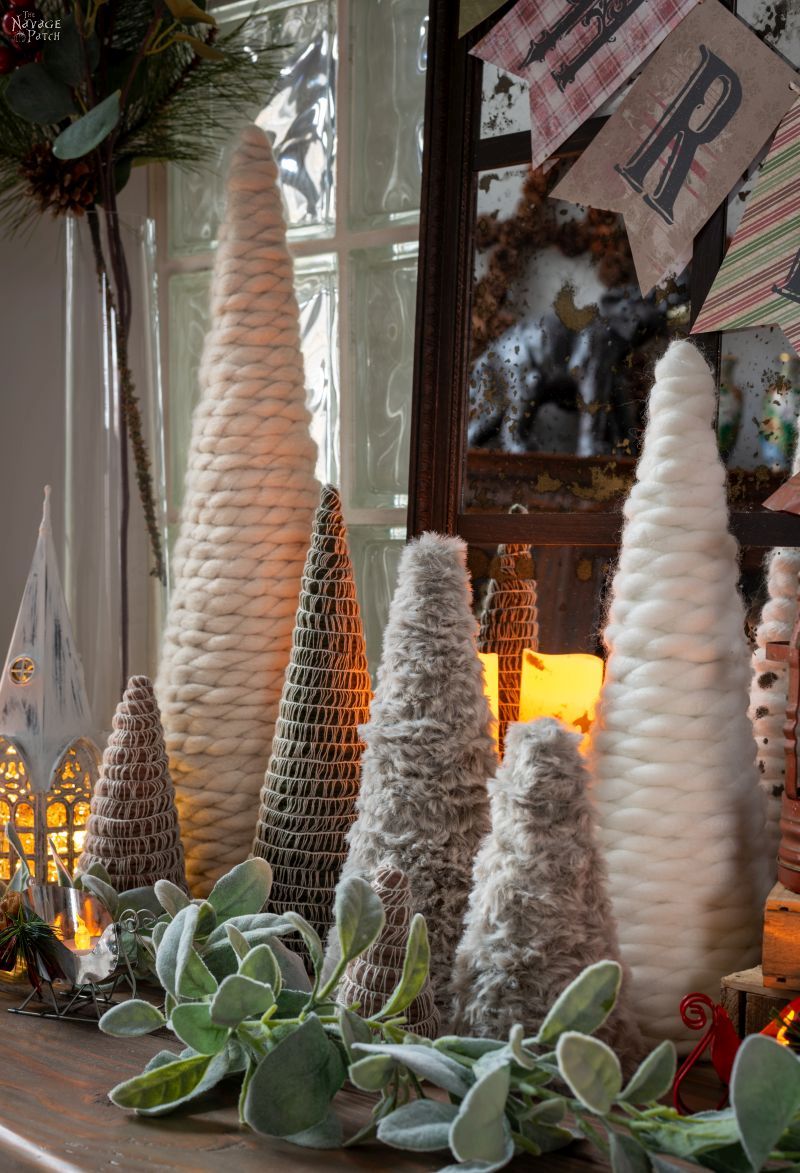 How do you like our faux fur trees and our Irresistible yarn trees?
Which of the 3 styles is your favorite?
Oh, and by the way – these little sleighs in silver and red are actually Dollar Store Christmas tree ornaments, but we think they make awesome candle holders! Get yourself a handful before they run out this year!
We love it when you share our posts on Facebook and Pinterest!