How to Paint French Doors the Easy Way
Learn how to paint French doors the easy way. No scraping or taping needed, and no more paint on the glass. Saves time and gives a professional finish!
In the summer of 1991, as I counted the days before my sophomore year of college, I took a job with some friends painting houses for one of those companies that seems only to employ college kids.
I remember our second or third house that summer. It was a peeling yellow colonial with black shutters. The Woman of the House wanted it gray.
All of it.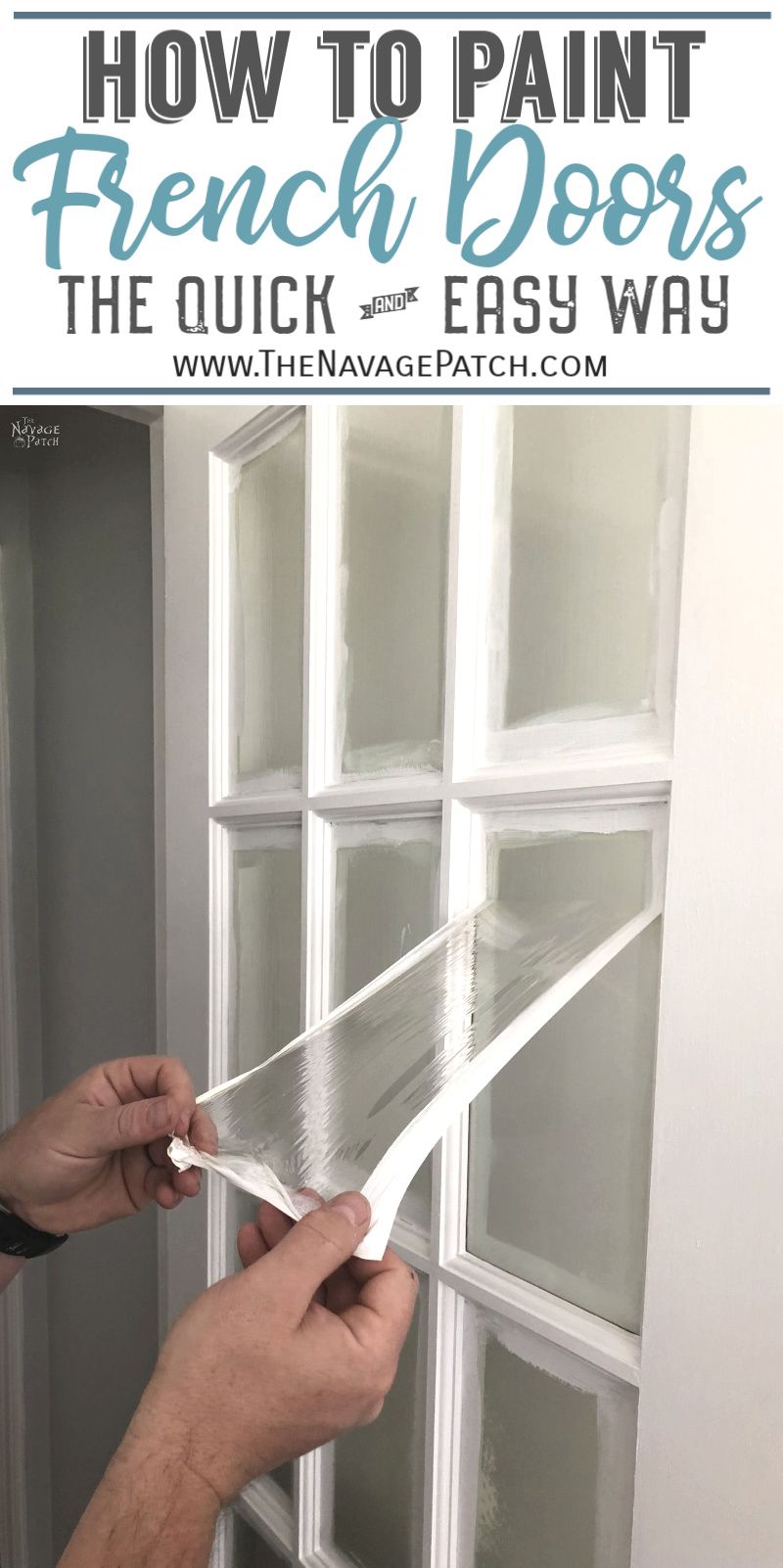 She picked one kind of gray for the house and a darker gray for the shutters and trim.
Since it was a colonial, all the double-hung windows had muntins which divided each window into 12 separate panes of glass.
I and two other equally inept college kids were tasked with painting that massive house and all of its windows.
The owner scheduled that job to take a week.
It ended up taking the entire summer.
At no additional cost to the lady who lived there!
I think she was a lawyer, and boy did she play that painting company like a fiddle.
Her quote was for the house and windows and trim, that's it.
But a week or two into the job, she called us into her basement and showed us an enormous pile of windows – both glass and screen.
Why? who would have another set of windows in the basement?
She convinced the owner of our company to add them in for free.
All those windows.
All those muntins.
And the best part? (for her)
After we painted the house…
SHE CHANGED HER MIND ABOUT THE COLOR!
To this day, I don't know how she did it. Really, I think she must have been a ruthless and brilliant trial attorney. She made such a stink – about her own color choice, mind you – that the owner agreed to repaint her house.
FOR FREE!
I only spent about half the summer at that house. After that they brought some more experienced upperclassmen to finish it off.
But man alive! Those muntins!
We had to scrape them and sand them and oh-so-carefully paint each one with a big brush and a steady hand!
Days and days of my precious summer squandered on those damn muntins!
When they finally pulled me from that house and put me on a nice little ranch job, I was twitching and babbling gibberish!
I never forgot those muntins, but I pushed them down.
I pushed them down deep, where the memories could no longer hurt me.
Until we moved into this house.
And I saw the French doors.
It's okay, I told myself. They're in good condition. You don't have to paint them!
But the years have rolled on, and when we embarked upon this craft room makeover, I took a good look at its French door.
Filthy.
Yellowed.
Ugly.
In other words, it needed paint.
All the horrid memories of 1991 flooded back.
My eye twitched.
Drool leaked from the corner of my mouth.
My babes asked me what was wrong, so I told her of my near-death experience at the hands of The Gray-House Lady.
"My babes." She said. "There's a thingy now that makes painting French doors really so easy! I'll order some for you."
I looked upon this angel who was my wife.
My life was in her hands now.
I prayed this "thingy," whatever it was, would be as good as she promised.
*****
How to Paint French Doors the Easy Way!
When it arrived, I understood that this product was meant for contractors – guys who spend a lot of time painting French doors and windows. This wasn't a brand that threw money away on fancy logos or slick-looking labels.
Reading the label confirmed my initial impression. Here's passage lifted from the "Surface Preparation" section of the label:
"Check glass for scratches or defects. Bring any irregularities to the attention of the owner or general contractor."
But as I continued to read, I got a little apprehensive.
The can declared that I must apply a layer that, when dry, would be 2-4 mils thick.
How the hell was I supposed to know that?
I started to get all twitchy again.
Maybe this stuff wasn't such a good idea.
Mils!
Pffft!
I suggested to Handan that perhaps it would be better if we just took the door to the dump. It would probably be more comfortable there, anyway.
I suggested that perhaps we should just get rid of all the doors.
Hey, man, these doors are freakin' me out! Like, who needs doors, anyway, man? Can you imagine a world without doors? Yeah, man! Groovy!
She sure as hell didn't buy my hippie routine. Instead she just gave me The Look.
Yeah, you know the one. You probably give it all the time to your husbands and sons and grandsons.
Okay, okay, I'll use it. FINE!
Jeez.
Applying to Masking Liquid
I grabbed my gloves and a stir stick and stirred it up real good, just like the label insisted. In case you're wondering, this stuff is basically a thick, water-based polyurethane. I'm sure they did some other stuff to it, but that's what it is in essence.
Since I had no earthly idea what a 2-mil-thick layer would look like (nor a 3-mil, nor a 4-mil), I decided to do it my way: wing it and hope for the best.
I brushed on a real thick coat of the masking liquid, figuring too much was probably better than too little with this stuff.
The key is to cover the entire window pane. Now, you may be saying to yourself, "I'm a smart, sensible and damn good-looking woman! I'm not going to waste that stuff by covering the whole pane! I'm just going to apply it around the edges of the window! See? Smart, smart, smart!"
To which I'm compelled to reply: "Nope. Dumb, dumb, dumb."
By covering the whole pane, you will make your job 1000% easier once the painting is done. You'll see.
Now please clam it so I can carry on.
Anyway, I slapped that goop all over the panes.
I didn't worry about keeping the masking liquid only on the panes. You actually want to get it a little bit on the muntins as well, as that will give the most perfect seal. The masking liquid will stick to the muntins, and it is paintable.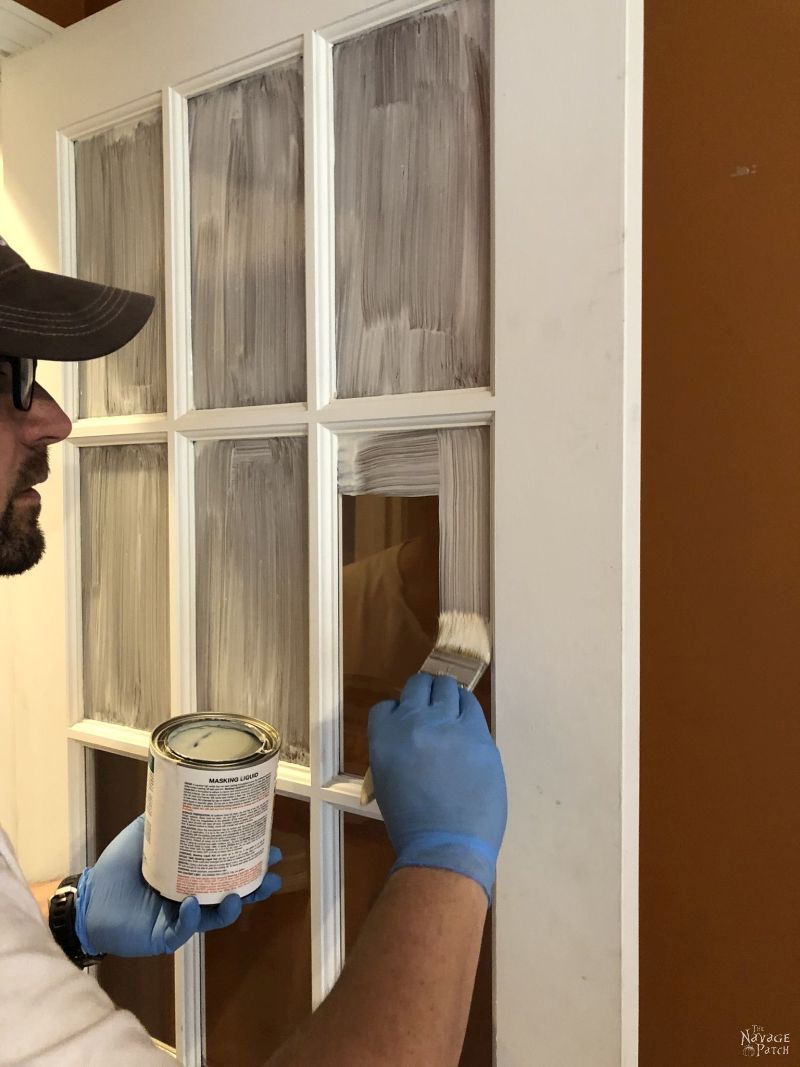 The masking liquid goes on white, but it dries clear.
I know, I know, I missed my calling. I should have been a product model. I'm all grace and beauty and elegance.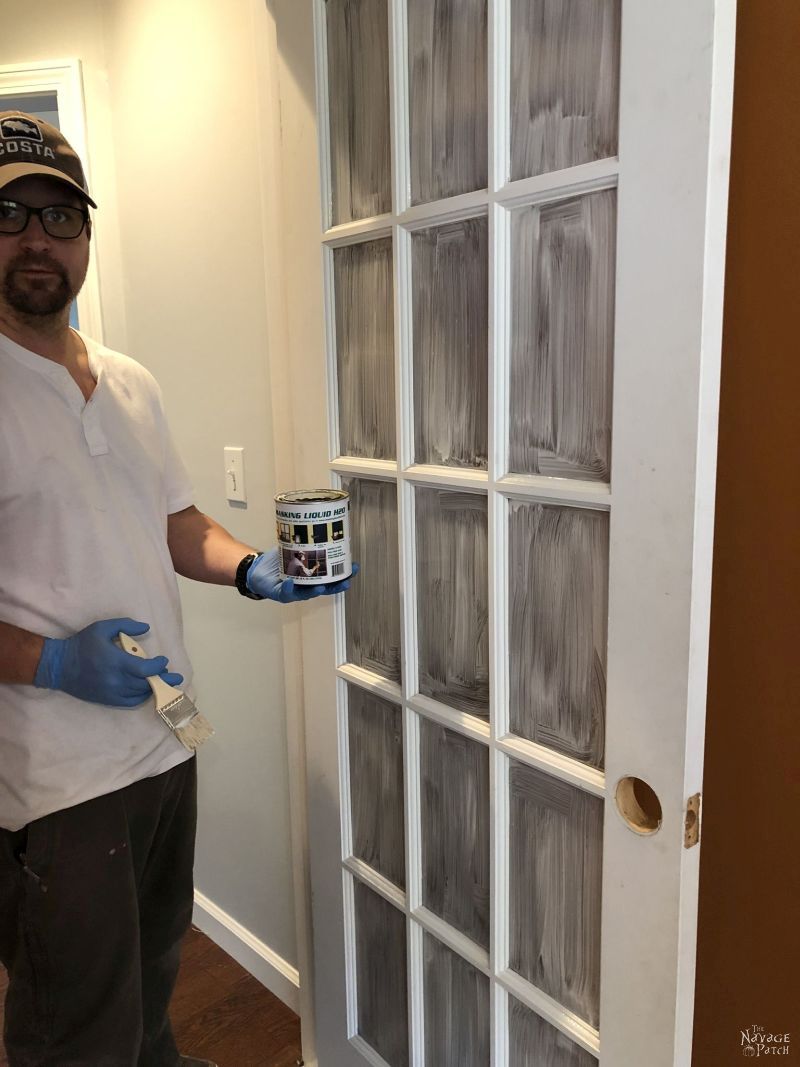 With one side done, I closed the door and covered the panes on the other side.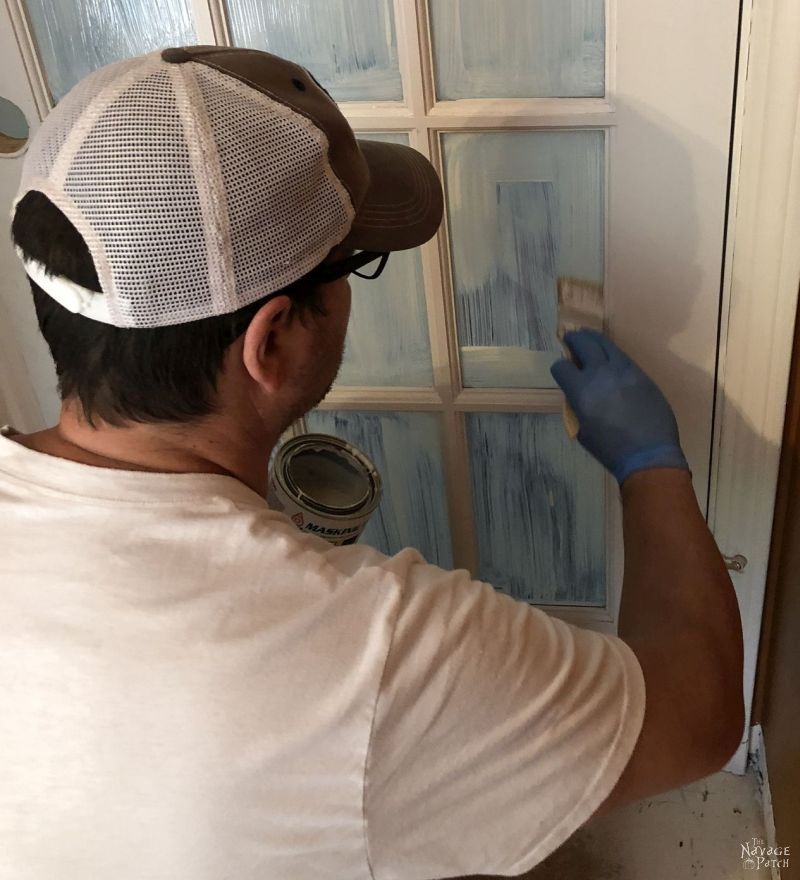 I finished both sides and waited for the masking liquid to turn clear and dry.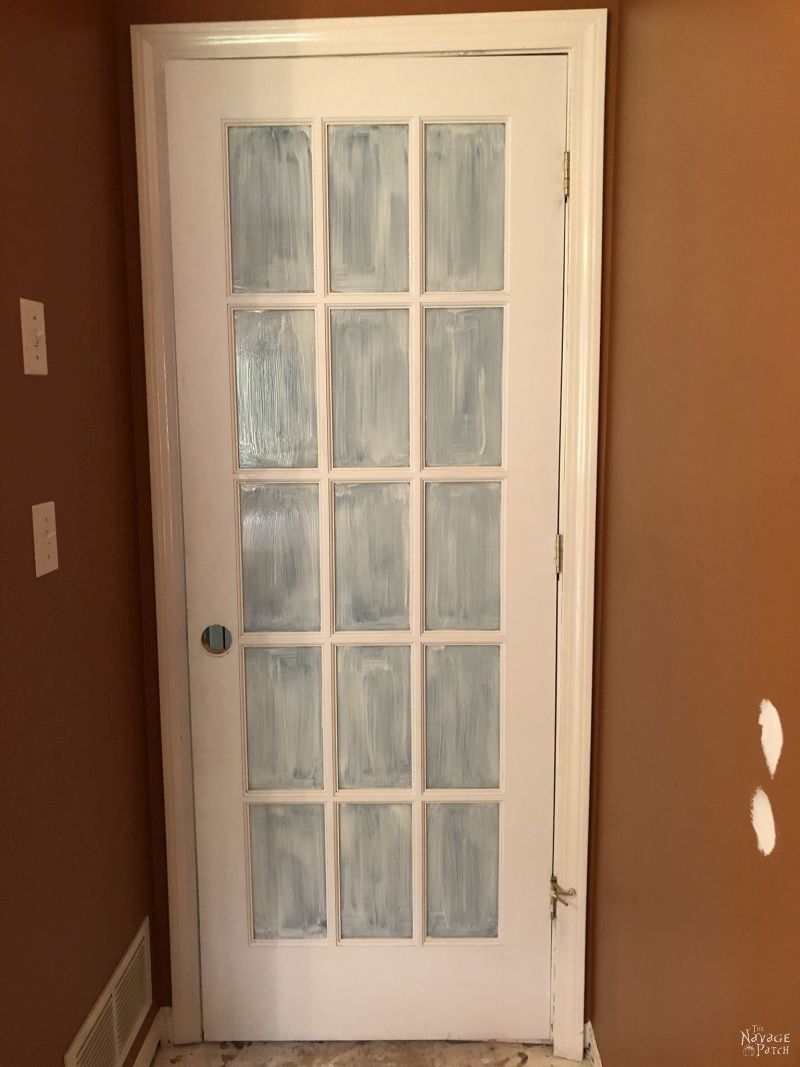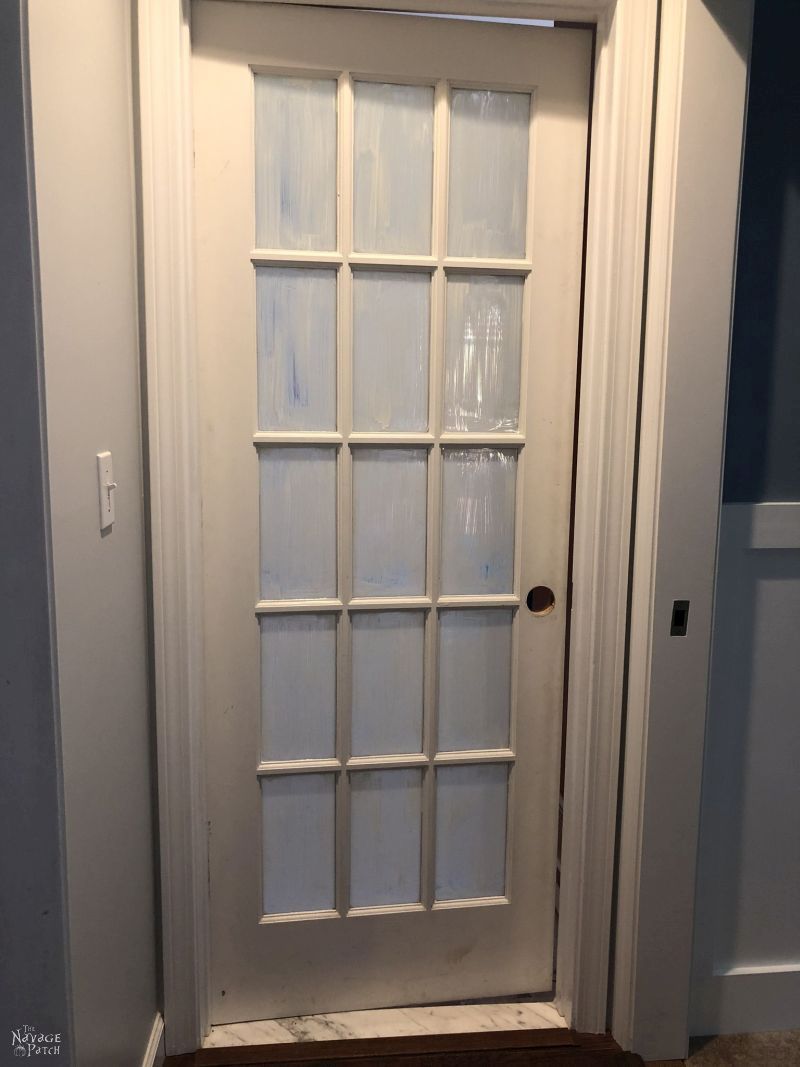 The can suggests that you can start painting after 3 hours. I gave it a little longer just to be safe.
As promised, the masking liquid dries clear. It also gives a really neat ripply effect!
Hmmm…
"Doofus!"
Painting the French Door
The best way to paint French doors, especially if they have old glossy paint on them, is to start with a coat of Zinsser BIN shellac-based primer. It sticks to pretty much everything, and any paint will stick to it. You'll never go wrong starting with a primer.
That said, I didn't use primer on this particular door. The old paint was pretty dull, so I took a gamble and went straight to painting.
Look, just do as I say, not as I do and everything will be alright…okay? Good.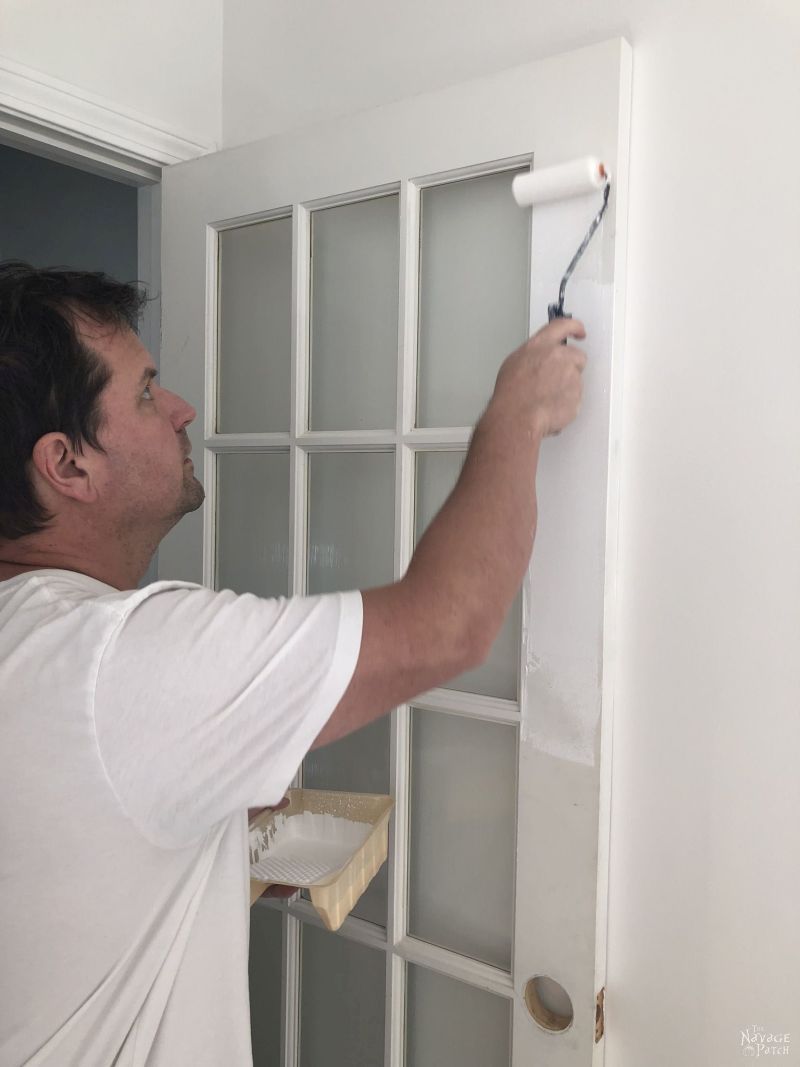 Ahhhh, there's no finer sight than new Ultra Pure White paint on dirty, yellowed old paint!
To paint French doors, windows, trim and cabinets, I always use a foam roller. It gives the smoothest finish and leaves no brush marks (duh).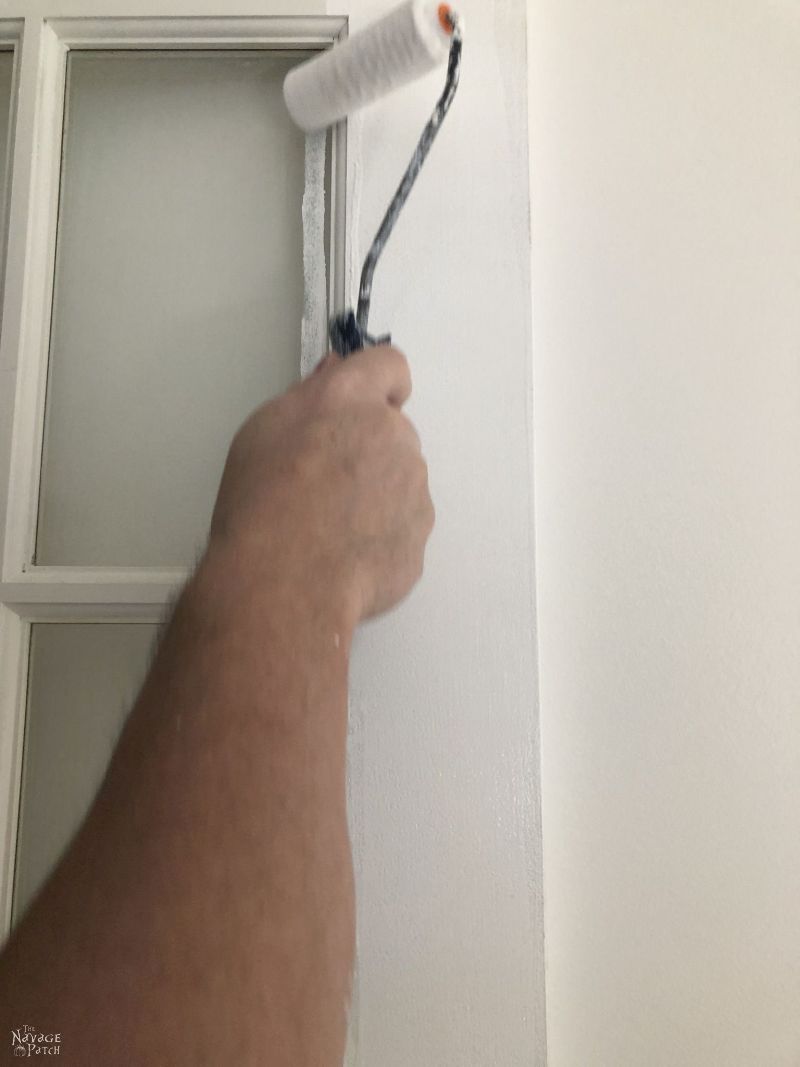 I gave both sides of the door 3 coats of paint.
Okay, these next two pictures are from the double French doors of our bedroom. I wasn't going to stop at just one door!
They show the doors fully painted.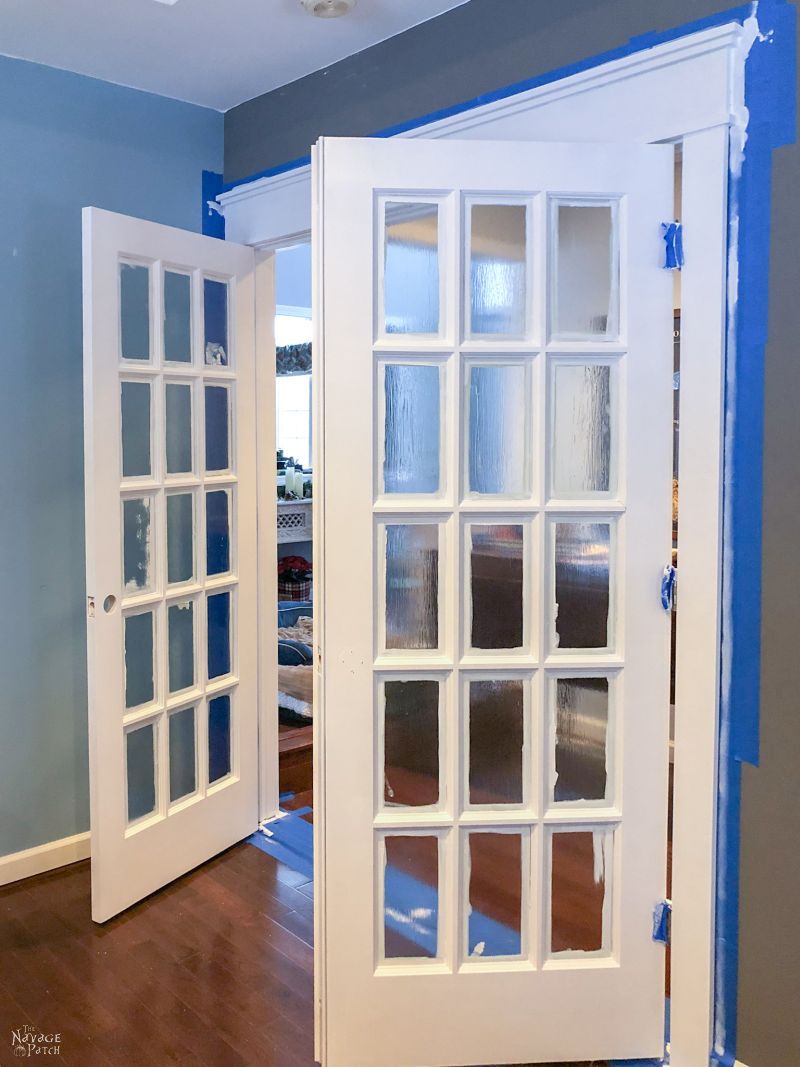 Look at all that paint on the protected glass! It's going to come off so easily – just wait and see!
Once the paint dried, the fun began!
The most satisfying part of painting French doors with masking liquid is The Big Reveal – aka Peeling the Panels!
First I scored around the edges of each pane with a utility knife. The can recommends a dull blade, but let me assure you, a sharp blade works so much better. I used a new blade for each side of the door.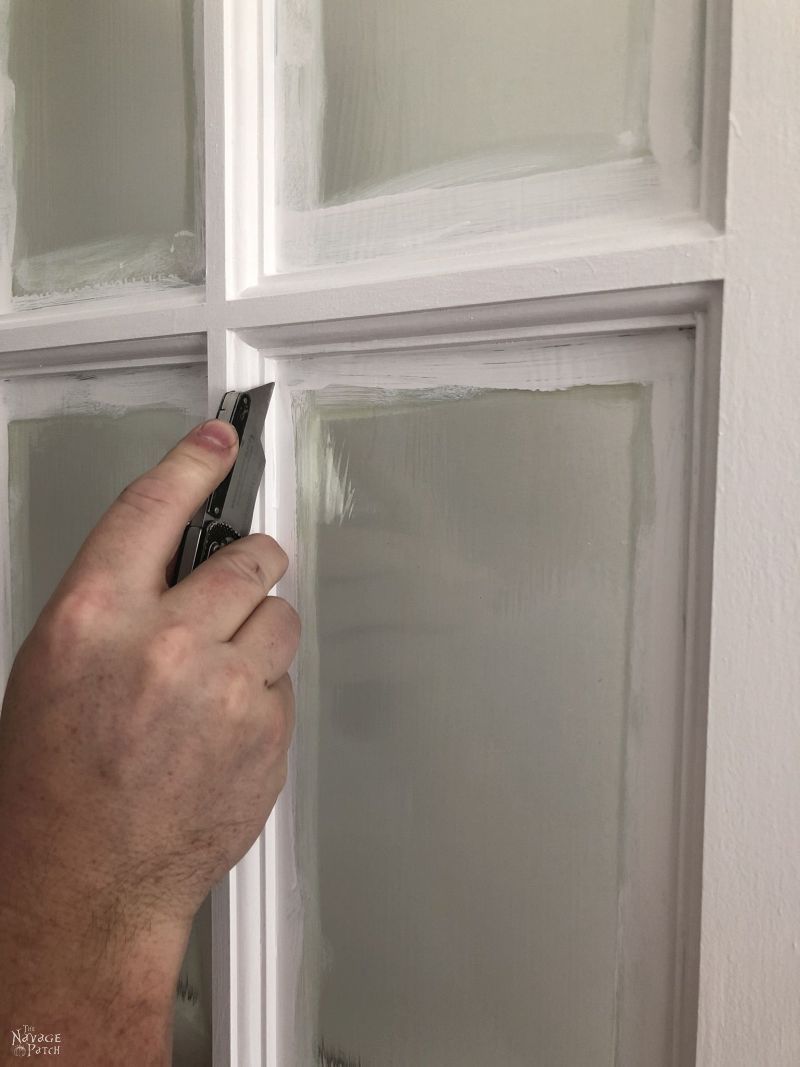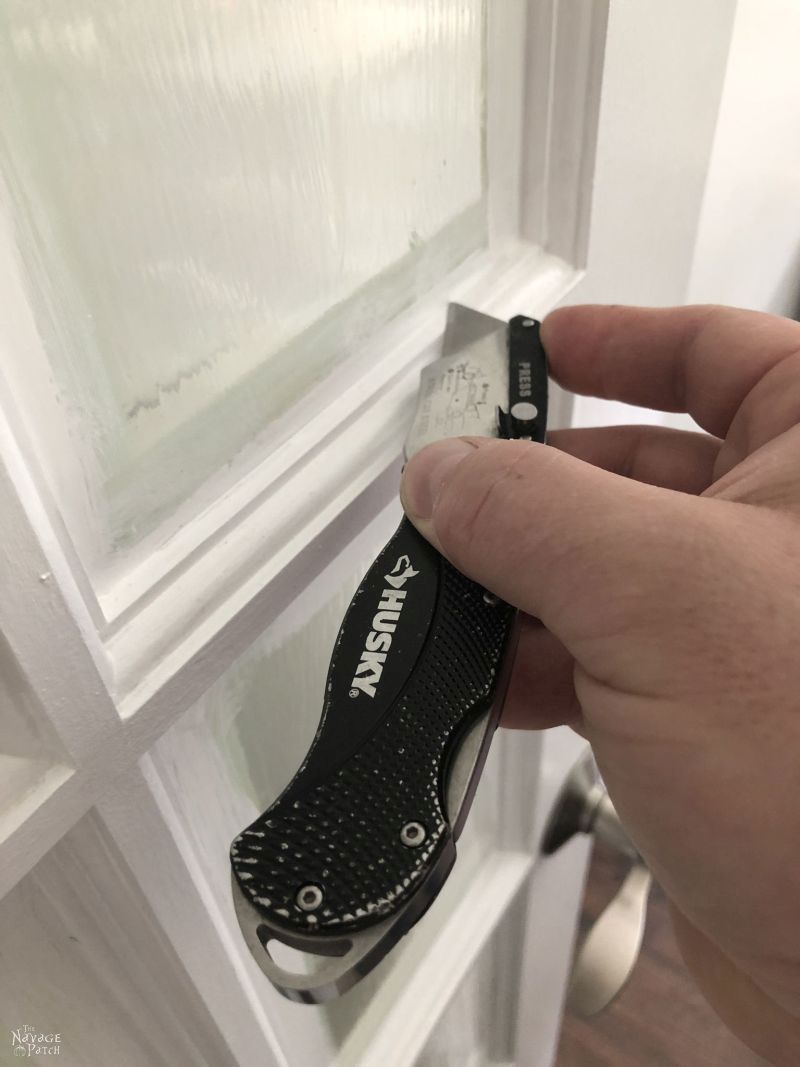 Then I used the tip of the blade to lift a corner of the mask. Remember when I said to put the masking liquid on the entire panel?
Well this is why.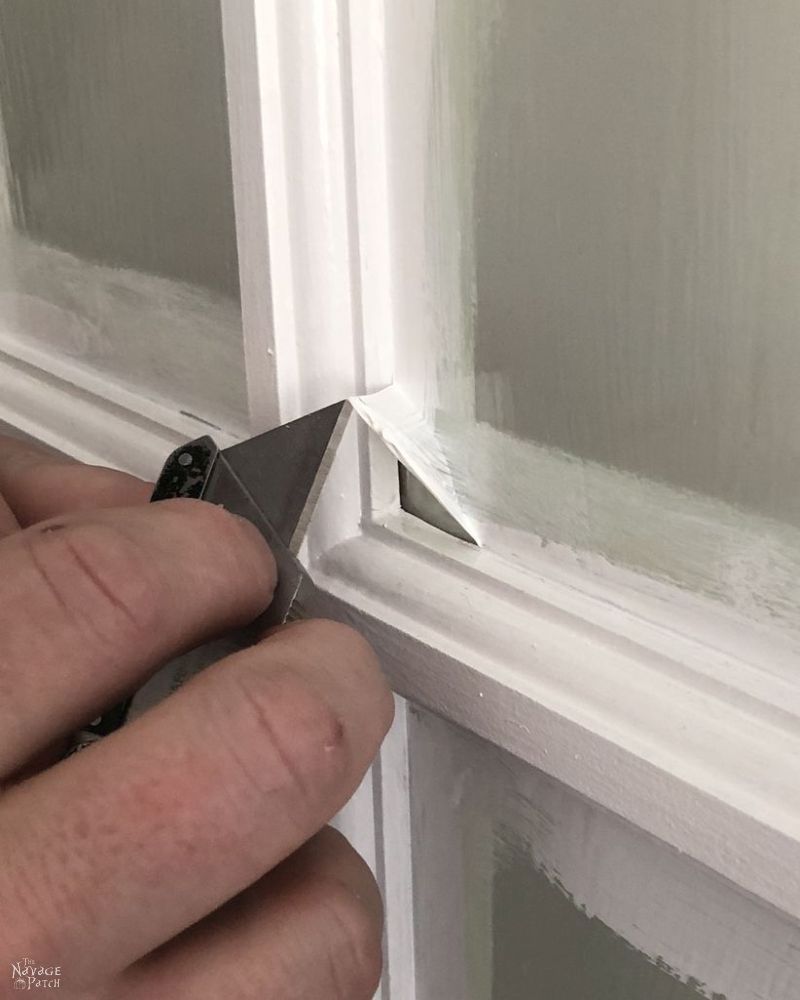 I grabbed it with my stubby little fingers and peeled.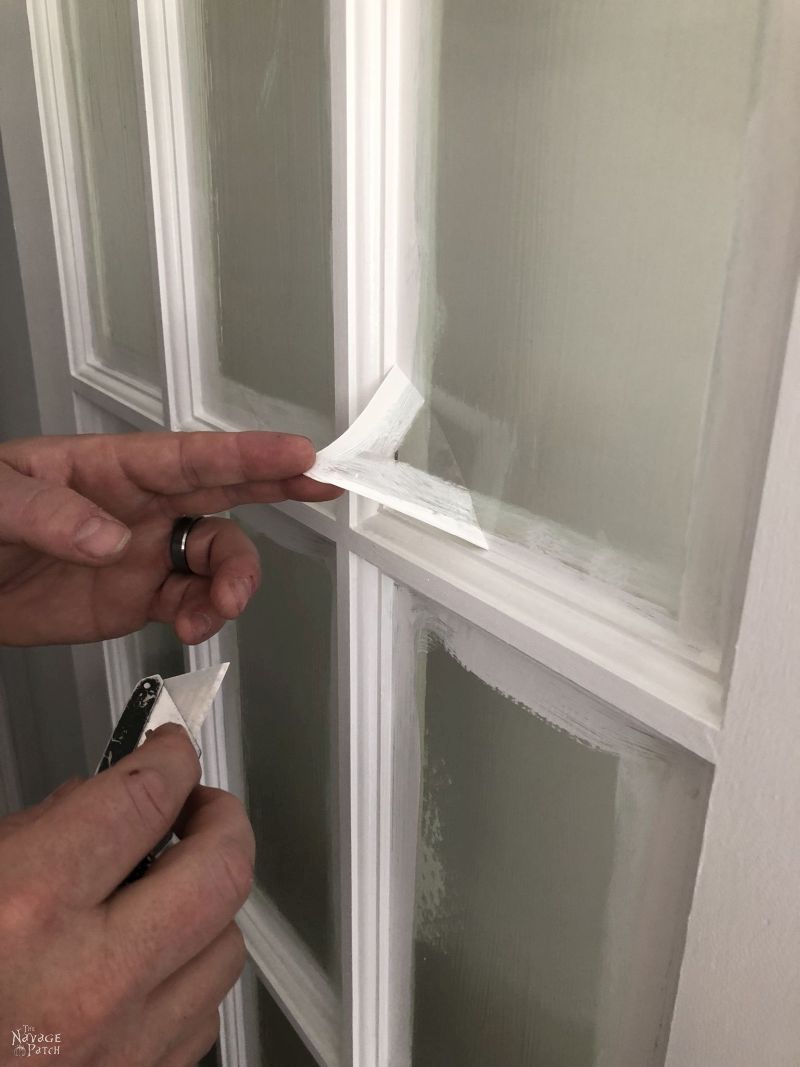 And then – the best peel ever! If I hadn't covered the whole panel, I wouldn't be able to remove it so easily in one glorious peel.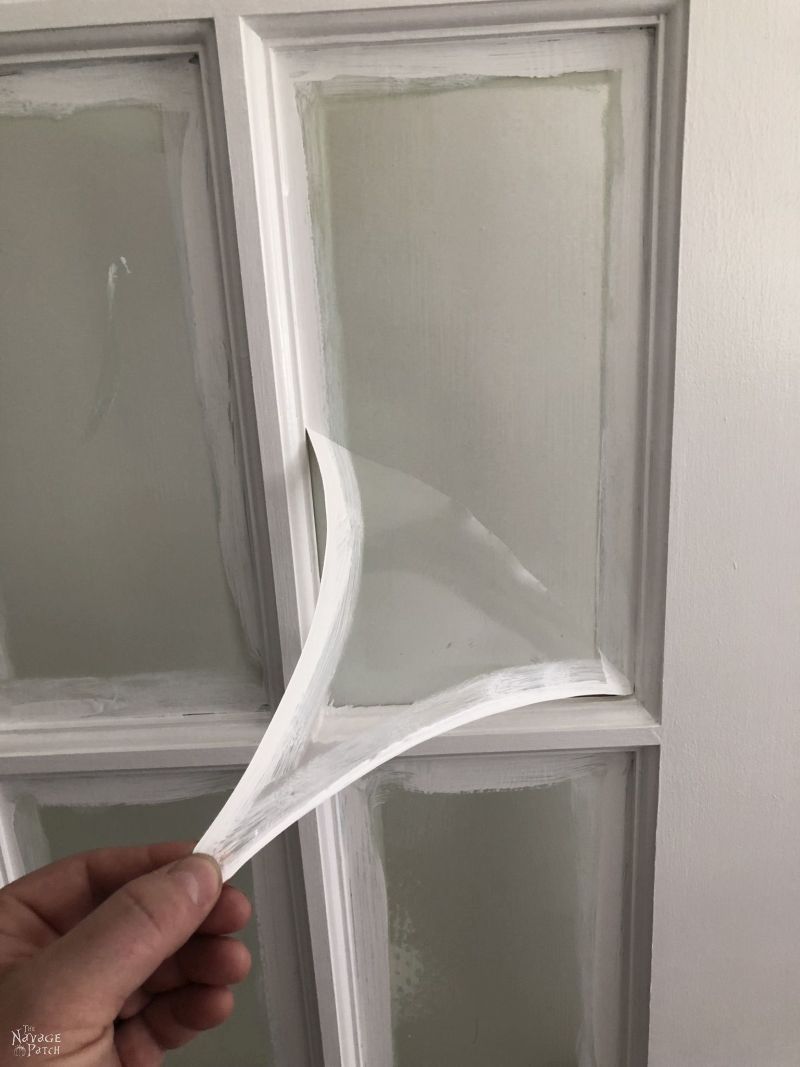 Sooooo satisfying!!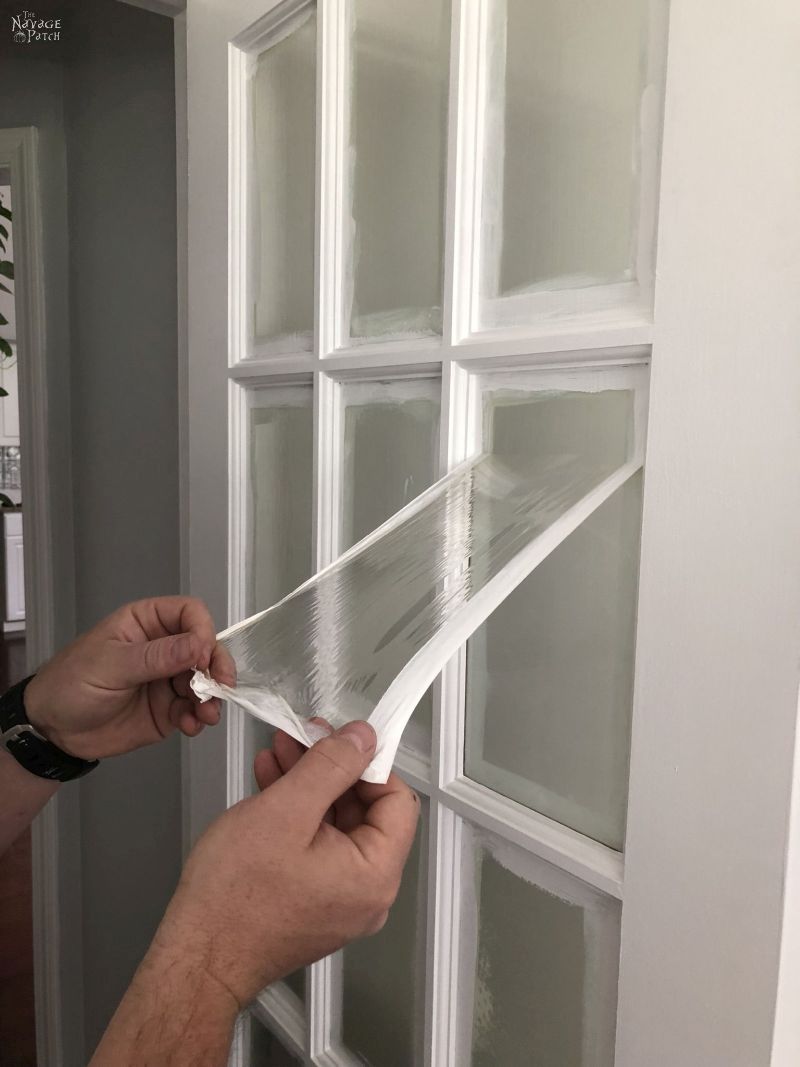 I repeated this on each pane. The results were nearly perfect. Here and there, I found a small spot of paint, usually in a corner. Three minutes and a razor blade cleaned the whole door to perfection.
We love to see our DIY projects out in the wild! If you try this DIY project and take a picture and post it on Instagram, be sure to tag us @TheNavagePatch!
So there you have it – how to paint French doors the easy way with one simple little trick!
What do you think? Will you try this method of painting French doors?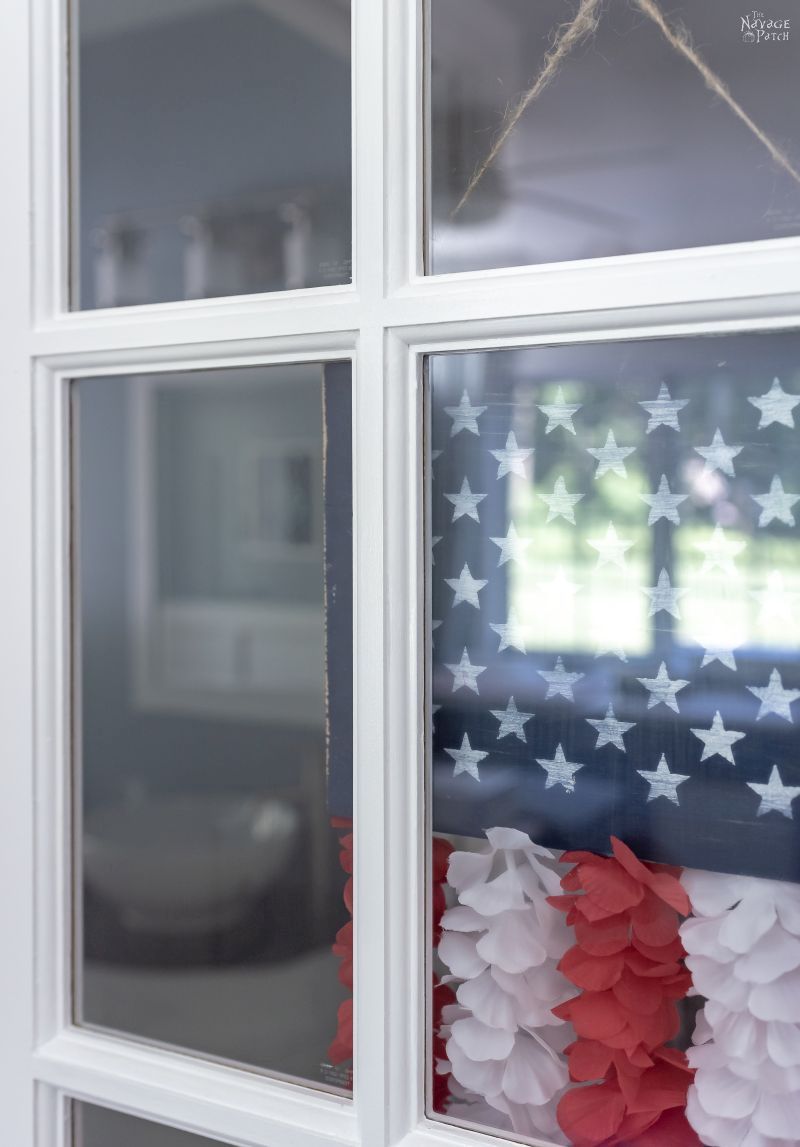 If you're following along with the craft room makeover, here's how we stand:
Craft Room Makeover Checklist
Click here to see more craft room makeover posts as we continue to cross items off our checklist!
We love it when you share our posts on Facebook and Pinterest!