Last Minute DIY Christmas Decor
Our last-minute Christmas decor ideas are perfect for crafters and DIYers who find themselves crunched for time but still want to decorate!
Don't feel bad, no one is expecting you to keep up with The Perfects on Instagram.
Really though, think about it. Who on earth has their whole house (and yard!) entirely (and perfectly!) decked out for Christmas even before Thanksgiving?
(the-ones-who-always-smile)
So if your living room is looking a little more like Old Mother Hubbard's old kitchen cupboard than Priscilla Perfect's Sparkling Christmas Wonderland, it's okay!
Christmas spirit is not measured by the height of a Christmas tree nor how twinkly its lights. It is not measured by the length, width and faux-piney smell of a faux-piney garland draped across a mantel. It is certainly not measured by the number of frosted pine cones in a big wooden bowl, nor by the nutcrackers standing silent sentry outside on the stoop. And if you think for one solitary second that Christmas spirit gives two figs in a figgy pudding about an oversized wreath that hangs like an overstuffed belly on a picture-perfect front door, then madam, you've got another think coming.
As we've discussed here, (we who know better about such things), Christmas spirit lives and flourishes inside each of us, regardless of how much festive decorating we have or may not have done.
That said, if you find yourself on the procrastination end of the spectrum this year, we're here to help.
If you've got the Christmas spirit, but you've yet to find the Christmas motivation, we're here to help.
We've compiled a list of last-minute Christmas decor projects that are not only easy (most can be done in less than 30 minutes), but they are all beautiful. There's no sense wasting precious (and dwindling) time on anything less!
So grab your glue gun and put on your game face. We're in the fourth quarter, but you have the ball, and you got this!
Imitation is the sincerest form of flattery, or so they used to say. We introduced you guys to our DIY faux fur trees and our DIY mambo yarn trees back in the fall of 2019, and hey, would you look at that! They're all over Instagram now! Just not by us. I guess the days of giving credit have gone the way of the dodo and basic manners, but such is life in the digital world! But let's not focus on the poor manners of Instagrammers. Think of their imitations as a ringing endorsement for just how easy and beautiful these trees are! The supplies are basic and easy to find, and they take almost no time to assemble. Make one or make a whole forest. You'll love them year after year!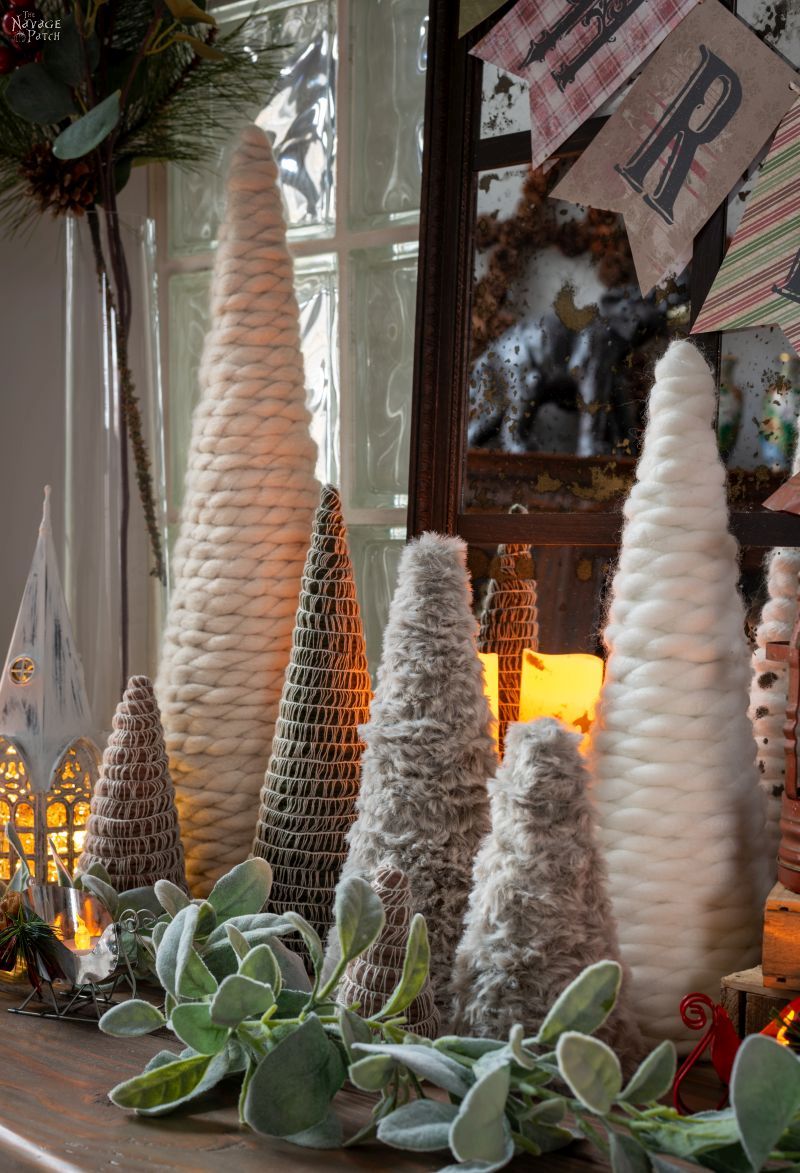 And for those who like moving pictures, check out our YouTube tutorial below.
Mini Christmas Gnomes
Here's an awesome gnome project that Handan fell in love with. We hoped to make them this year (with props to Sarahli), but we ran out of time. So instead, we'll just share the original with you so you can make your own! By clicking the TikTok video below, you'll be able to watch it right here on our blog – it won't take you to TikTok. 🙂
We love the intersection of simplicity and style, and these Dollar Tree nutcrackers are a perfect example. We chose white, but you can paint them whatever color suits your style. So simple and so beautiful!
Easy 3D Paper Stars
These 3D Paper Stars are a paper crafter's delight! This is another we hoped to make but time (and space!) prevented us. So many ideas for next year though!
Going back to that whole imitation/flattery thing, here's another trend we started with these 3D paper snowflakes from November 2019. Handan got the idea from her time living in Bucharest, Romania back in the 00s, and we were finally able to bring the idea to life back in the Connecticut house. Would you believe we still have them? They've survived two moves so far!
Kim from Today's Creative Life hit it out of the park with these simple and festive cranberry and cedar luminaries. We love them!
Use what you have! Ananda from A Piece of Rainbow made this beautiful Christmas centerpiece from fresh clippings and items from around the house. Sometimes, everything you need is right at hand!
Giant Popcorn Garland
Remember making popcorn garlands as a kid? Well, Jeff's taken it to the big leagues, and we love it!
Kelly from Smart School House wins the "I see what you did there!" award for these mixing bowl jingle bells. Can you believe the bell openings are just paint? How smart is that?
DIY Gift Wrapped Door
Works well even if the house isn't the gift, but oh boy, what a gift if it is!
If you're feeling extra ambitious, why not gift wrap your garage doors? This works even better if there's a new car inside! I'm still waiting for a Christmas Lamborghini SUV in the garage. I have a feeling it's gonna be a really really long wait.
Okay here's a project that has a simple version made with wood shims as shown in the picture below. Orrrr, there's the amped-up and dazzling version that'll take a little longer, so I'm not showing it in this post. If you'd like to learn more about either or both, just click to read the post.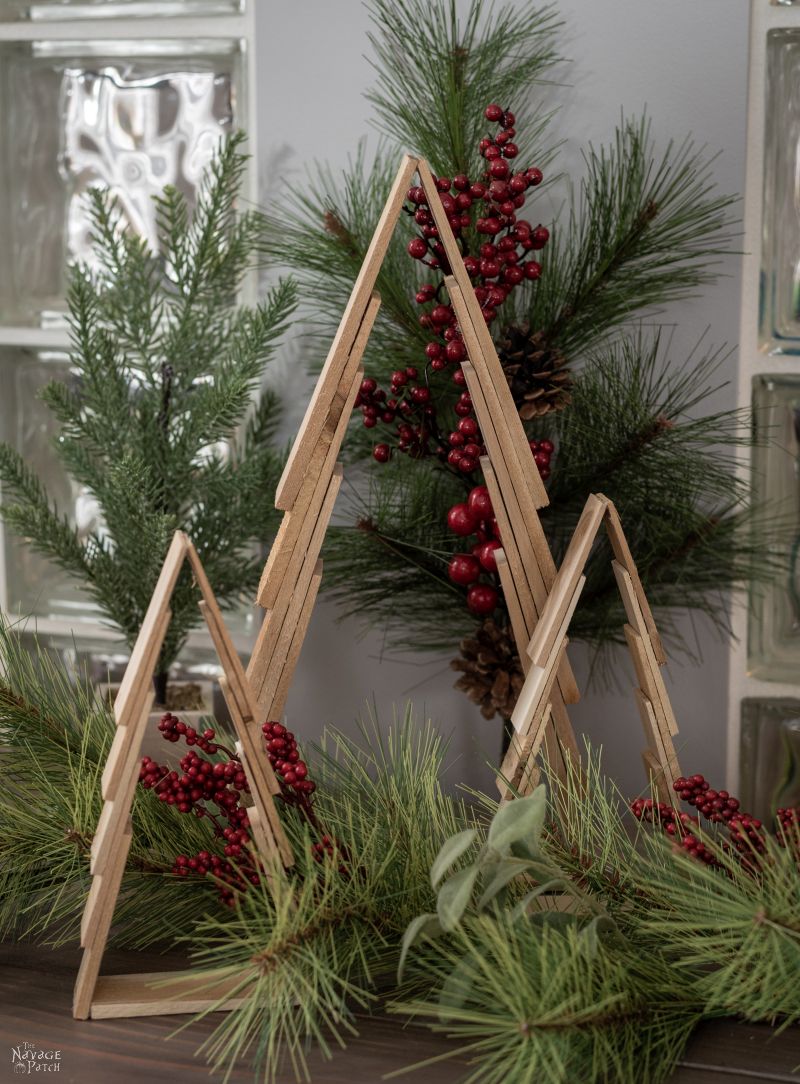 Jen from The Dotted Bow made this tassel tree, and we think it's a fantastic fit for this last-minute list! You can make it farmhouse like Jen did, or throw some color in there to make it traditional Christmas or even eclectic!
I made this pillow for Handan with some yarn we had in our yarn stash. It was inspired by something my babes found on World Market and fell in love with, but by the time she got around to ordering it, it was out of stock. Well, her loss turned out to be her gain! If you have some yarn kicking around and a spare throw pillow cover, this one's for you!
Easy Kitchen Jar Decoration
Speaking of trees, you can create your own beautiful winter forest scene by pouring some kosher salt into large kitchen jars and placing a few brush trees in them. Doesn't get much easier than this!
Or you can take step further and add lights like @apieceofmyglamhouse did!
And of course, free printables make the best last minute DIY Christmas decorations. Click the link above or the picture below to visit our library of beautiful and free Christmas printables!