5-Minute Fourth of July Decor
So you slacked on your 4th of July decor – so what? We've got you covered with this 5-Minute Fourth of July Decor that's cheap and easy and looks amazing!
Excuses.
You're full of them, aren't you?
Excuses about your diet.
Justifications for the dirty dishes or your messy bedroom.
And a perfectly good explanation for why the toilet hasn't been properly scrubbed since the trees were bare.
Look, I get it. I'm full of them, too!
[That's not all you're full of, my babes! 😀 -Handan]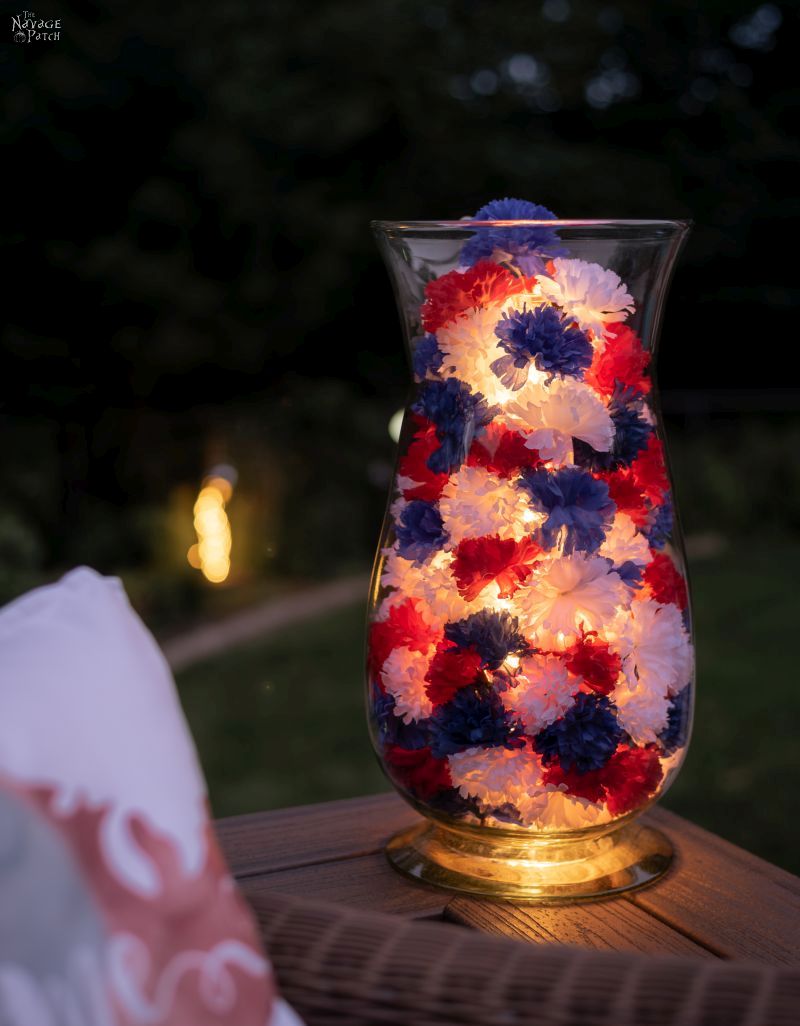 As I was saying, I fall into the excuse hole, too – especially around the holidays.
There's just too much to do and not enough time to do it.
But the Fourth of July?
C'mon!
There really shouldn't be an excuse for not getting the house looking its patriotic best.
But I want to let you in on something…
I found one!
I found a perfect excuse for slacking on our patriotic decor this year, and I'm going to share it with you, so you can use it, too!
What? Did you think this was going to be some Life-Affirming Pep Talk on how to Live Your Best Life and Be Your Best Self without Excuses??
Pffffft!
Please!
Excuses are our lifeblood! They make us feel good despite all of our glaring flaws and inadequacies!
Anyway, the perfect excuse for why you totally flaked on this year's 4th of July decor is…The Weather!
Okay, now this excuse is primarily for those of us in the Northeast and the Midwest.
Here in the Northeast, we never really had a spring. Kinda just went from winter to summer, with a boatload of rain in-between.
And you guys in the Midwest? Yikes! Just too much rain and too much severe weather! The nation mourns you and the underwater cornfields.
I don't know about the rest of the country, though. Did you have good weather this spring?
Either way, please feel free to use my excuse.
I mean, how can you be expected to be fully prepared for such a summery holiday when the weather only just warmed up?
We haven't fully planted our vegetable garden! (Have you?)
We haven't mulched our flower beds! (Have you?)
I feel like I just parked the snowblower for the season, and now I'm expected to be in full-on summer mode?
I only opened the pool last week, and I'm still trying to get the water clear! Normally we'd have been swimming for a month by now!
So yeah, the weather is my excuse!
That said, wouldn't it be nice to have a some beautiful Fourth of July decor that only takes about 5 minutes to throw together? You already have our free Watercolor 4th of July Printables, and I showed you how you can make some gorgeous Patriotic Pillows (or t-shirts), but wouldn't it be nice to have something that'll make your friends and family say WOW?
And wouldn't it be nice if it was cheap? I mean, like Dollar Store cheap?
I know, it'd be better than nice.
It would be awesome!
So let's get to it.
5-Minute Fourth of July Decor
SUPPLIES LIST
Affiliate links are provided below. Full disclosure here.
Dollar Store patriotic flower bouquets (we used about 10 bouquets for our extra-large vase)
Smaller clear glass vase or bottle to fit inside the large one
We bought this 20 inch hurricane vase a couple of years ago for $5 at a local consignment store.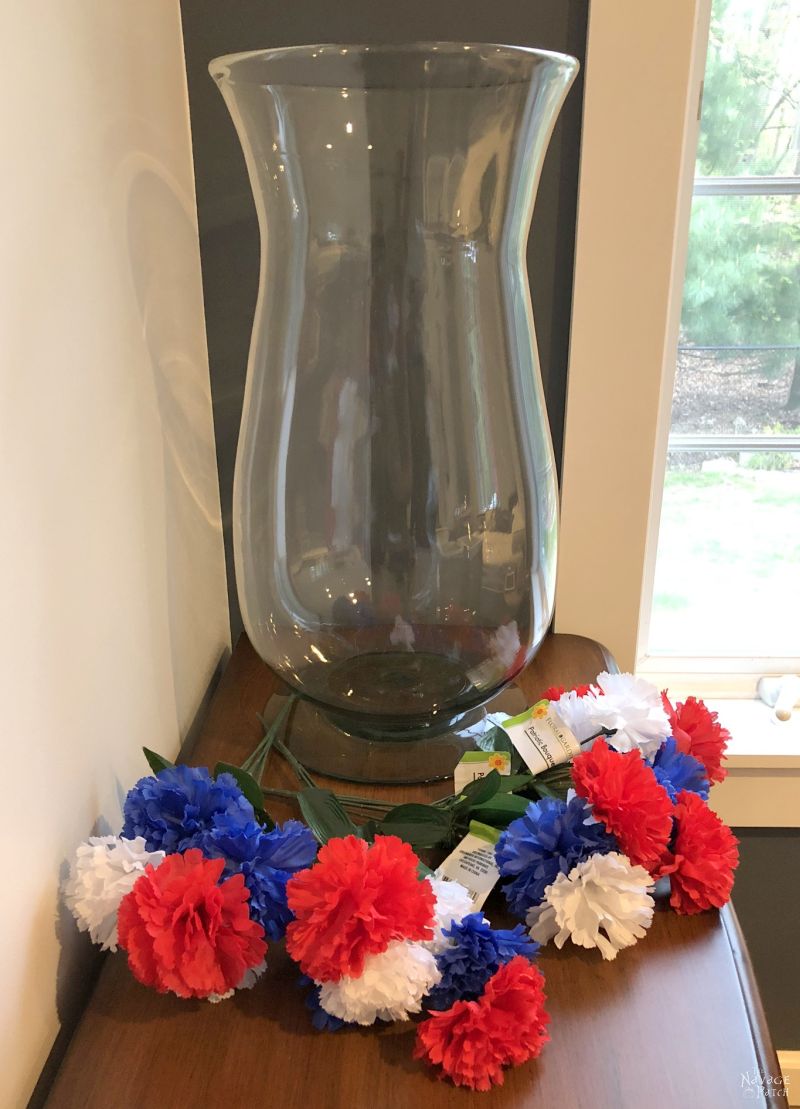 It's perfect for seasonal decor. In the fall, it holds small pumpkins, in the winter, my babes fills it with pine cones, and now we have a summer use for it!
If you don't have a glass container this big, don't worry! This Fourth of July decor would look just as good in one or more smaller hurricane vases. With smaller vases, it (or they) would make an awesome centerpiece for a 4th of July party table!
The main ingredient for this project is red, white and blue bouquets from the Dollar Store. We bought a whole mess of 'em.
I pulled all of the flowers from the stems and made a big pile.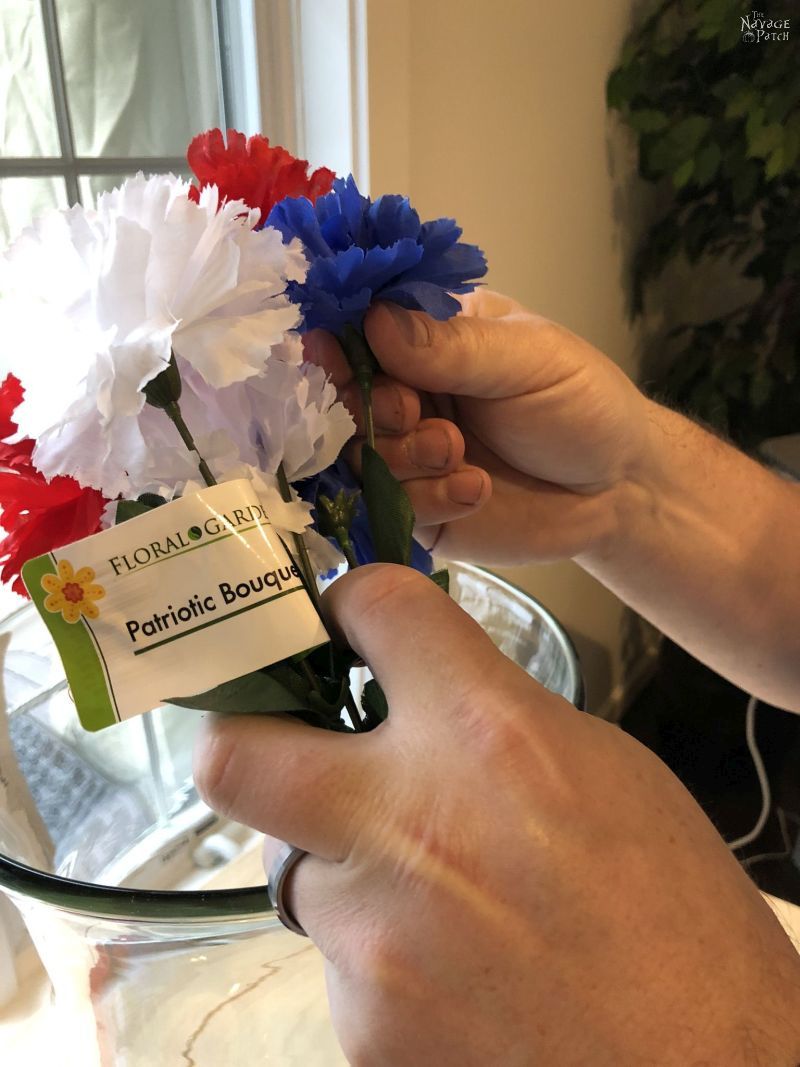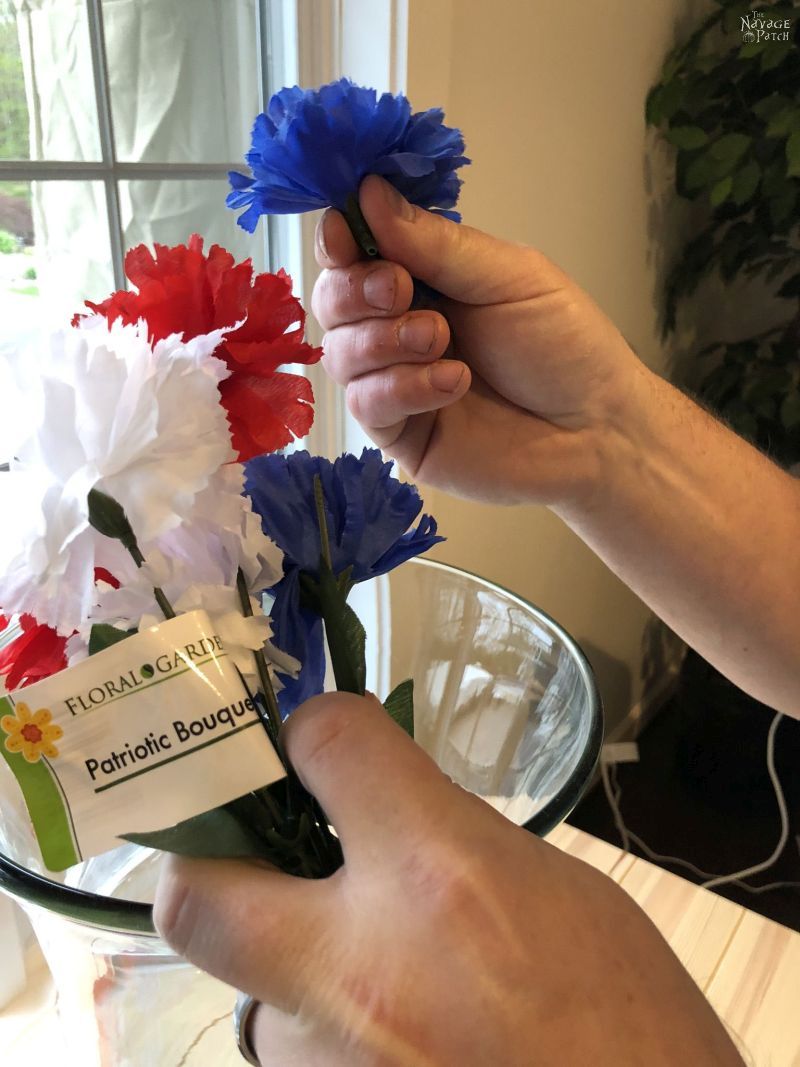 Before filling the hurricane vase, I first inserted the fairy lights into the bottle. Since the mouth of the bottle was pretty narrow, I coiled the lights around a dowel before inserting them. This made the process much easier.
You can use any type of fairy light for this project – solar, battery or plug-in. I used plug-in, because that's what we had on hand.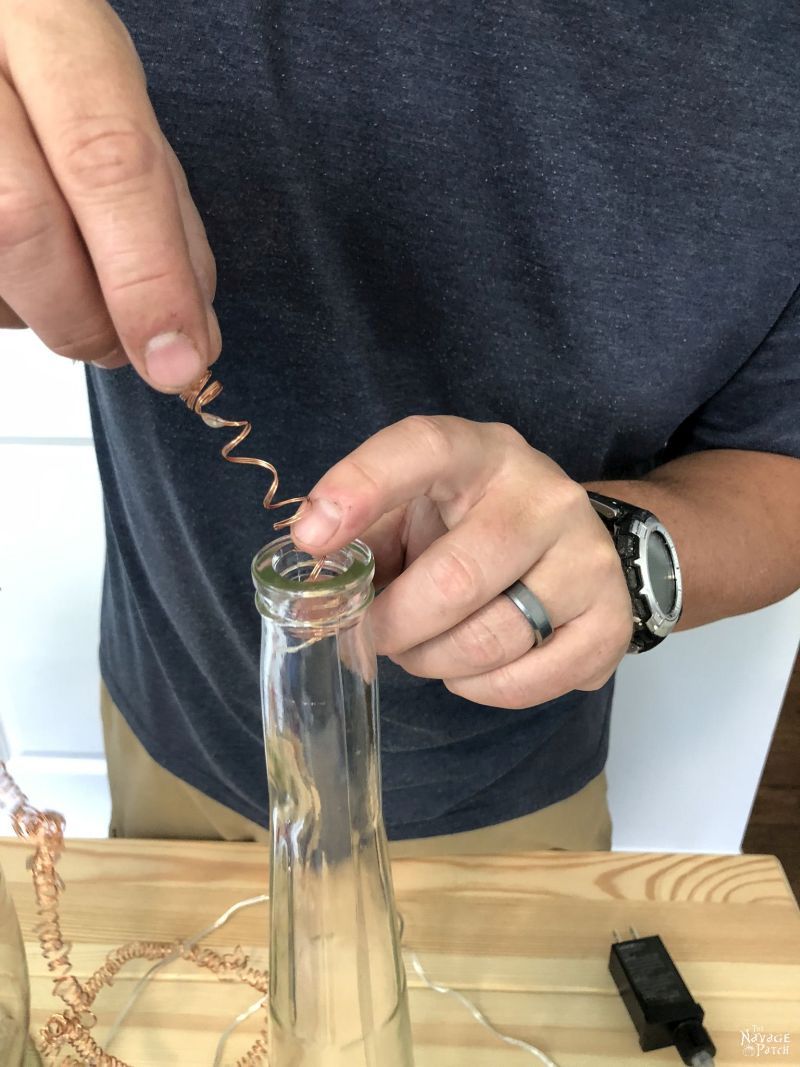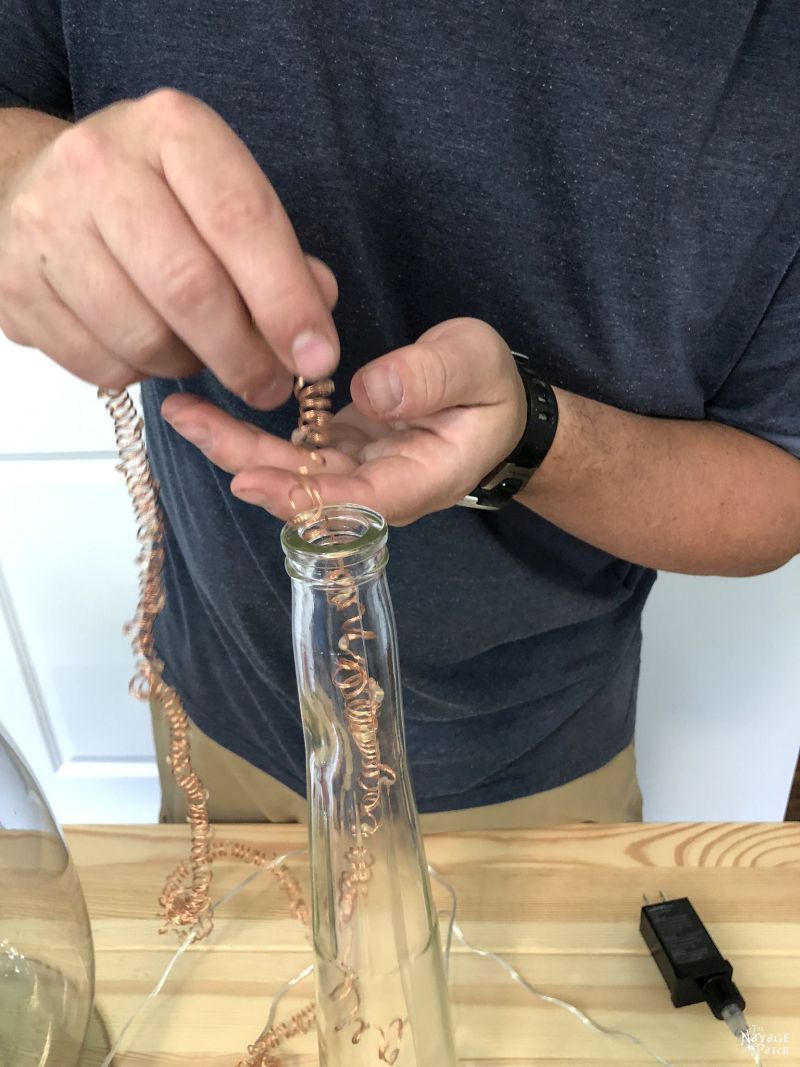 I used a push stick when the lights would get stuck in the neck.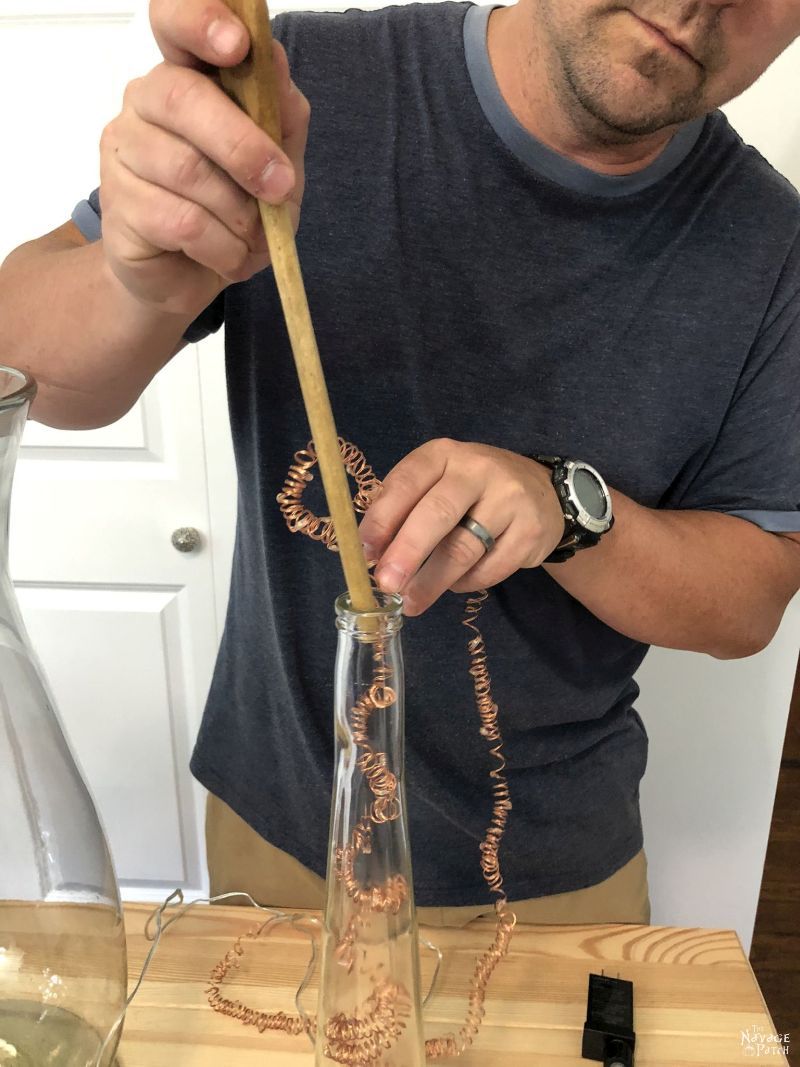 Eventually, I got them all into the bottle.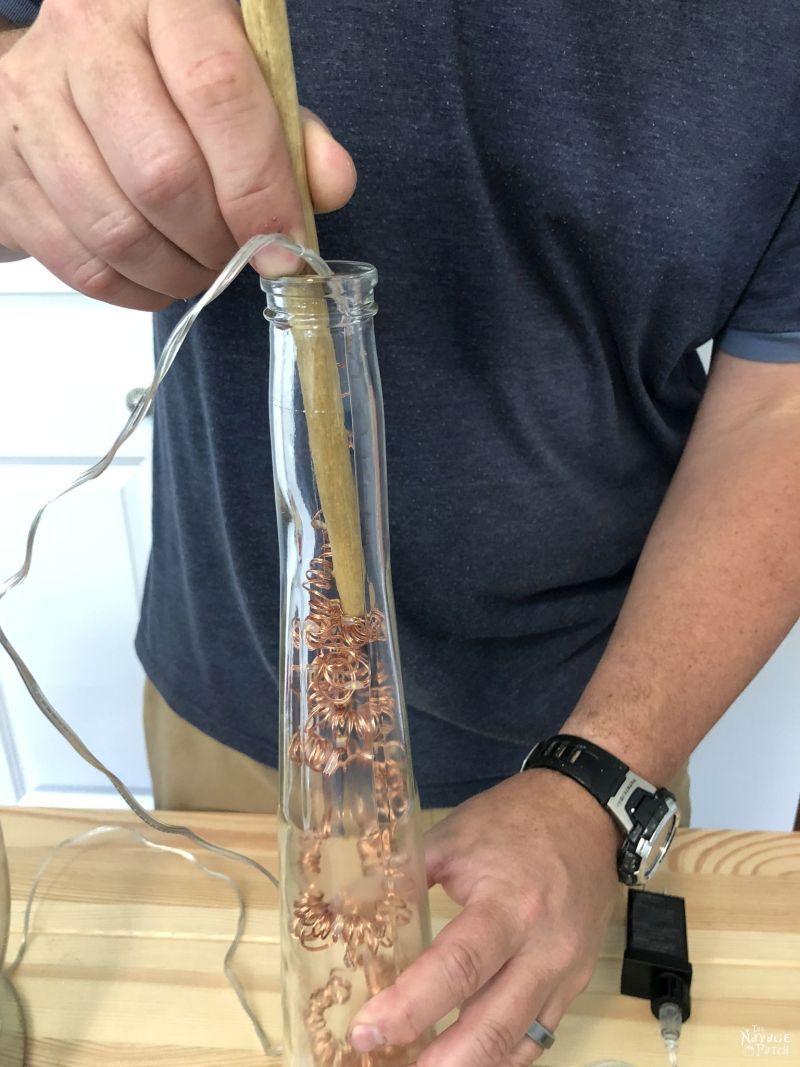 And then I placed the bottle inside the hurricane vase.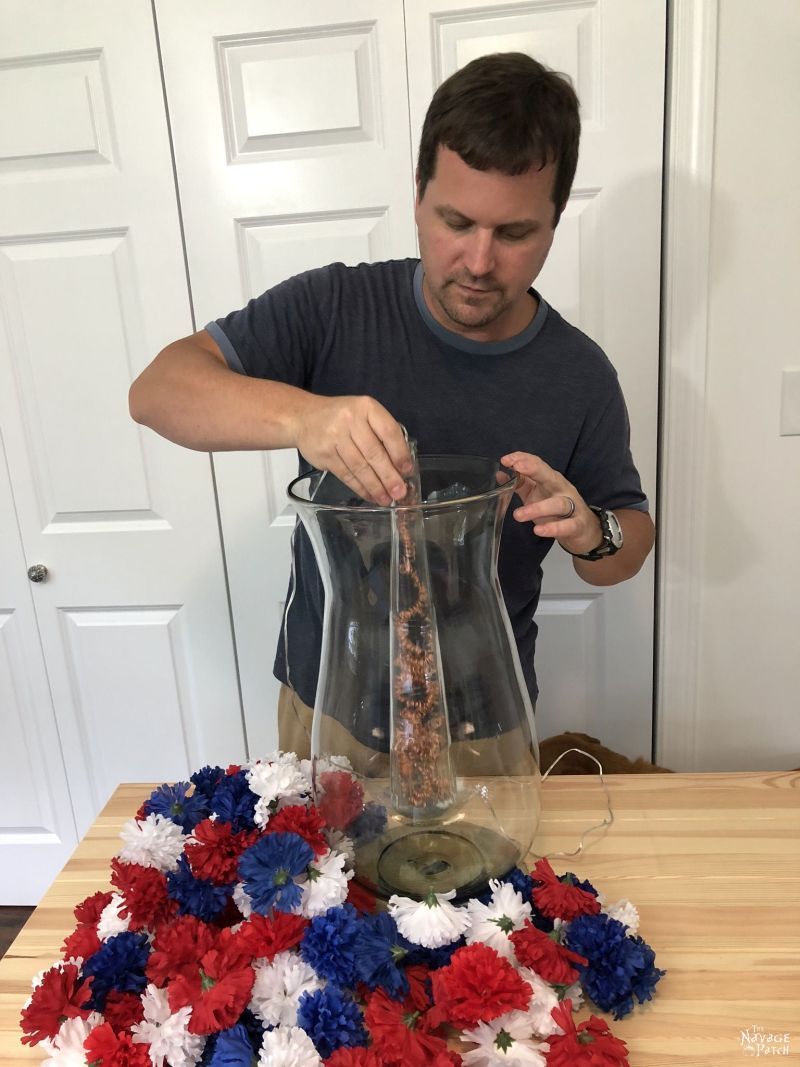 Then I added the flowers, careful to keep the stems facing inward.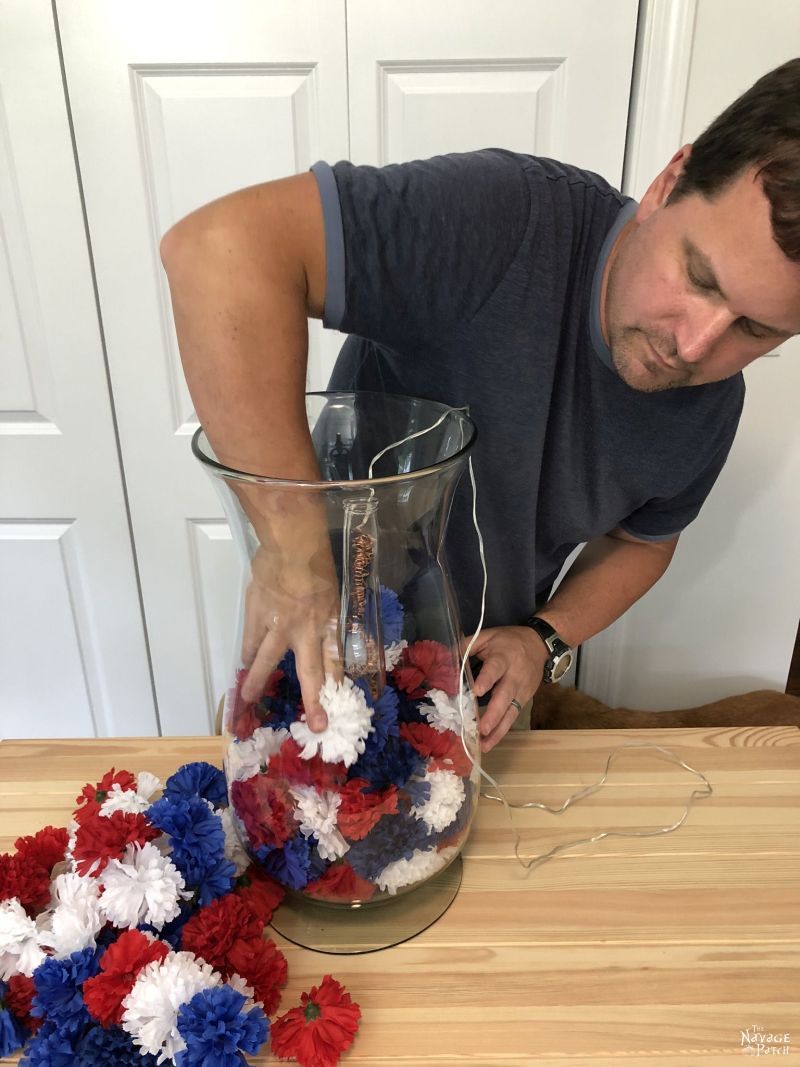 My babes asked me to smile for the camera. I didn't know she'd be lopping off my head. Probably better. From that angle, my head would be the same size as my torso!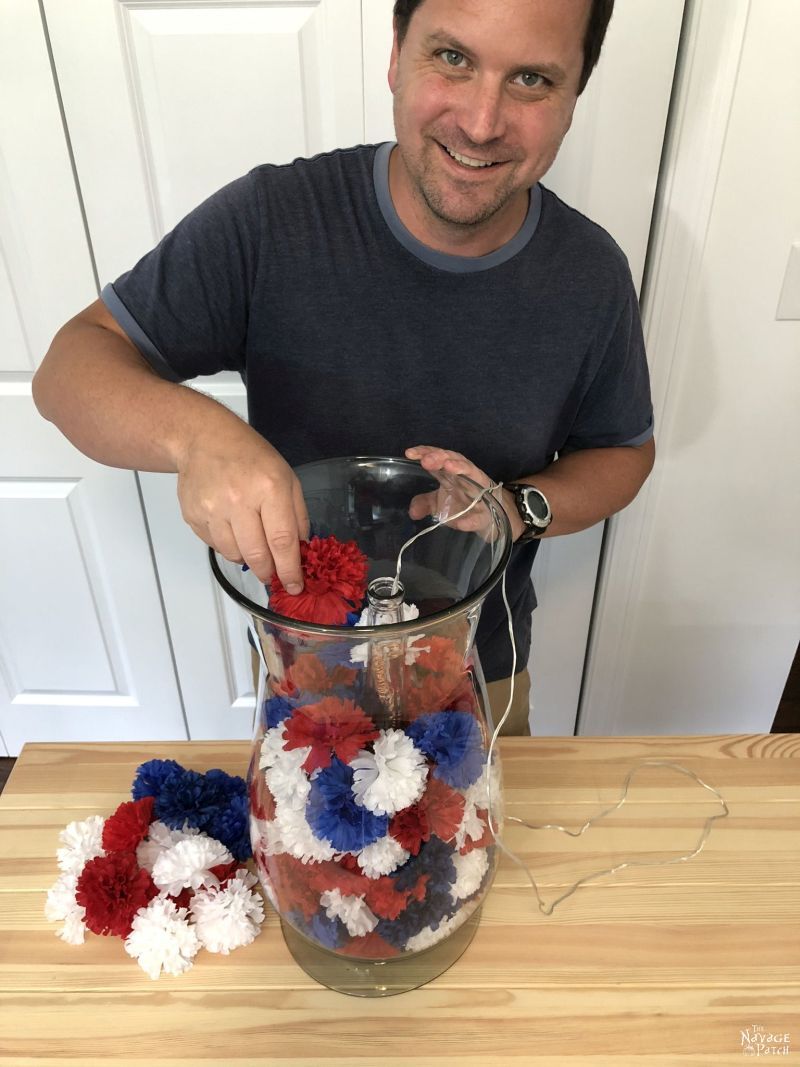 And….done! I told you this was quick! Seriously, it's done.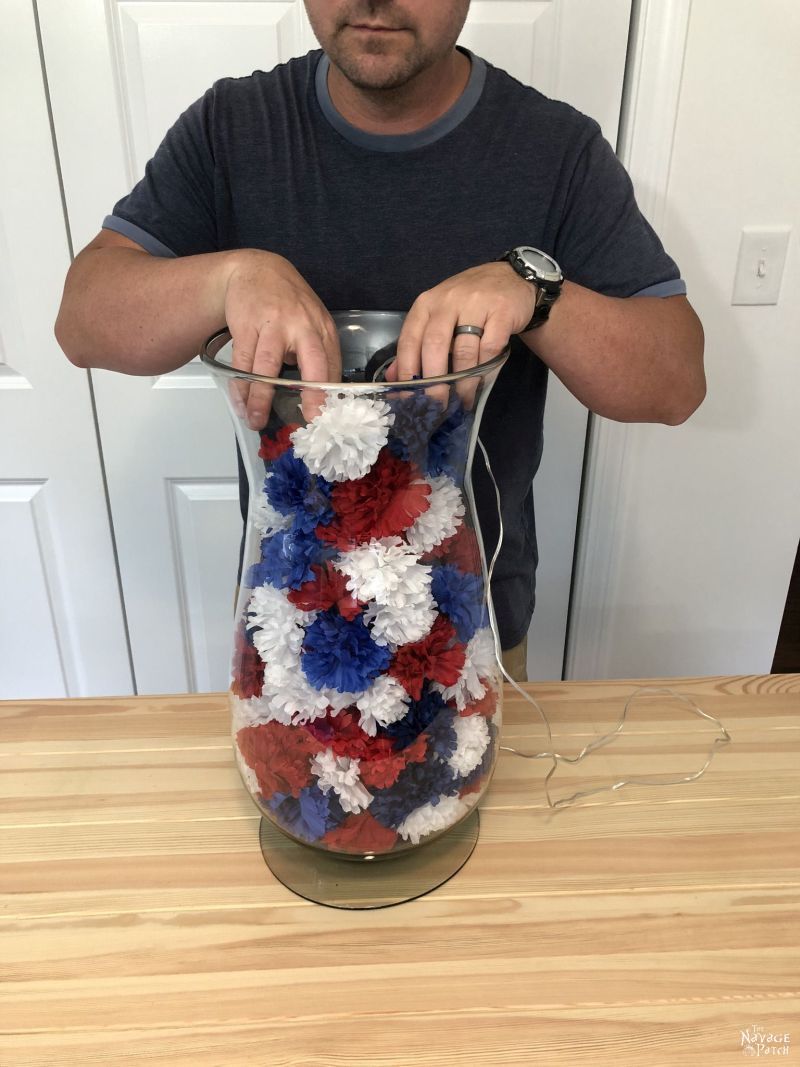 This 5-minute Fourth of July decor looks great inside, but honestly, it just warmed up! You think I'm spending any time inside (except to write this post)? We love it even more on the deck.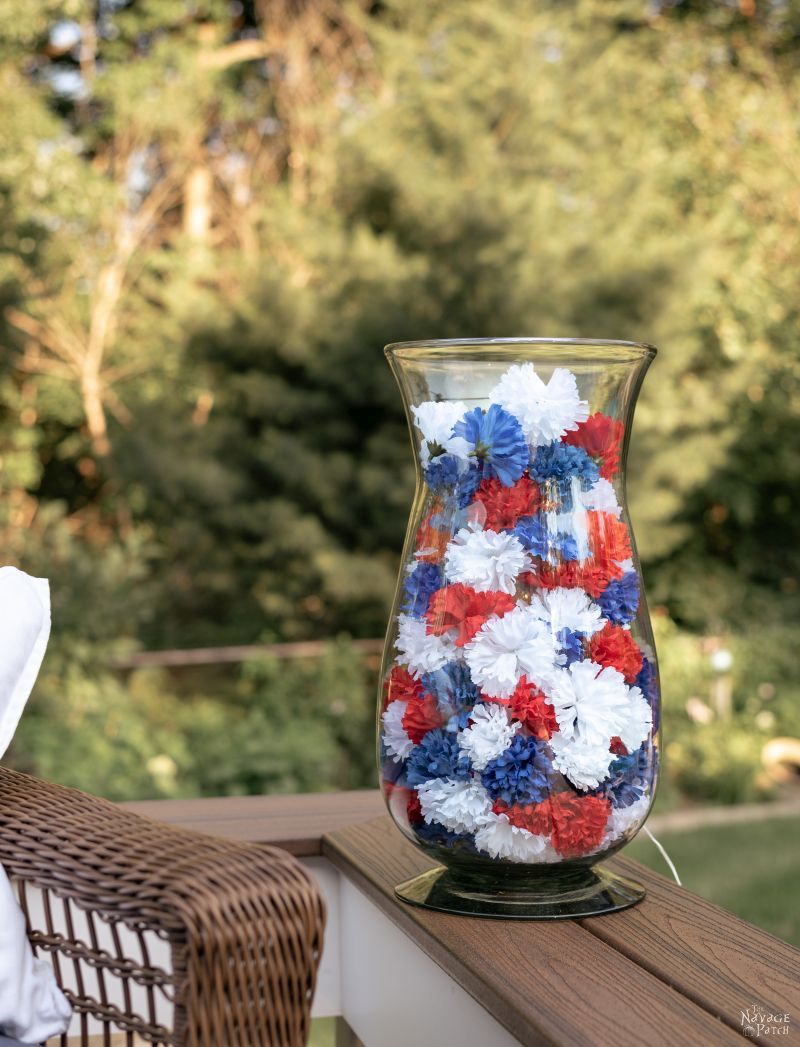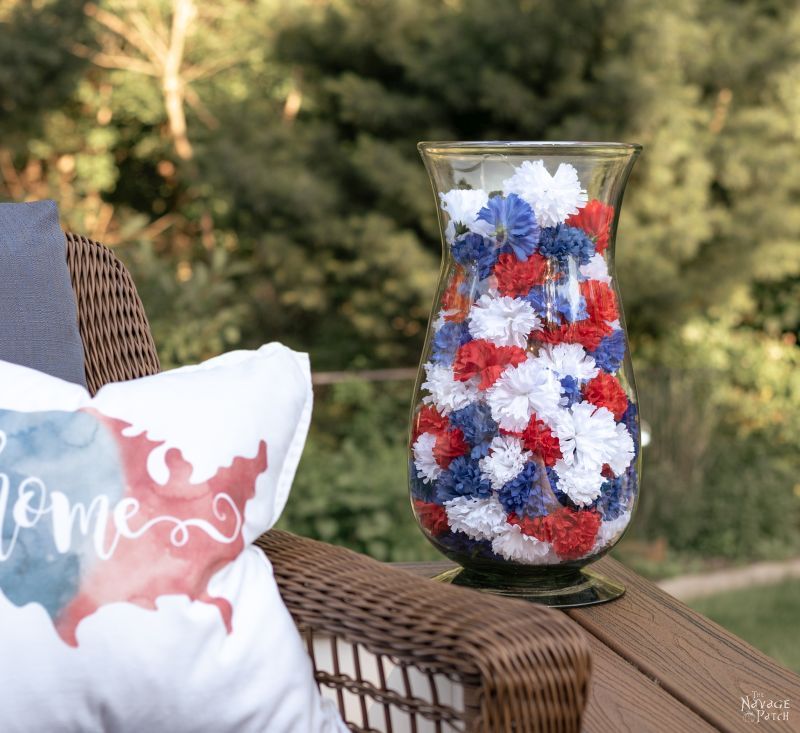 And it's even better when the sun goes down.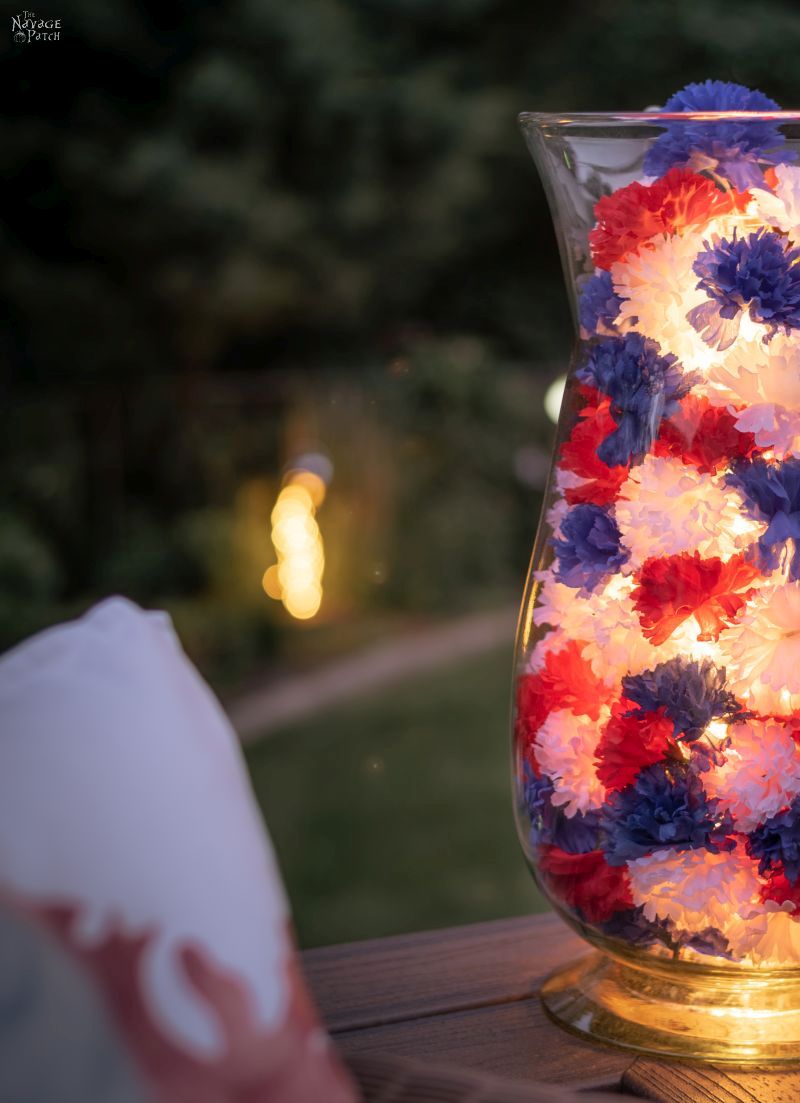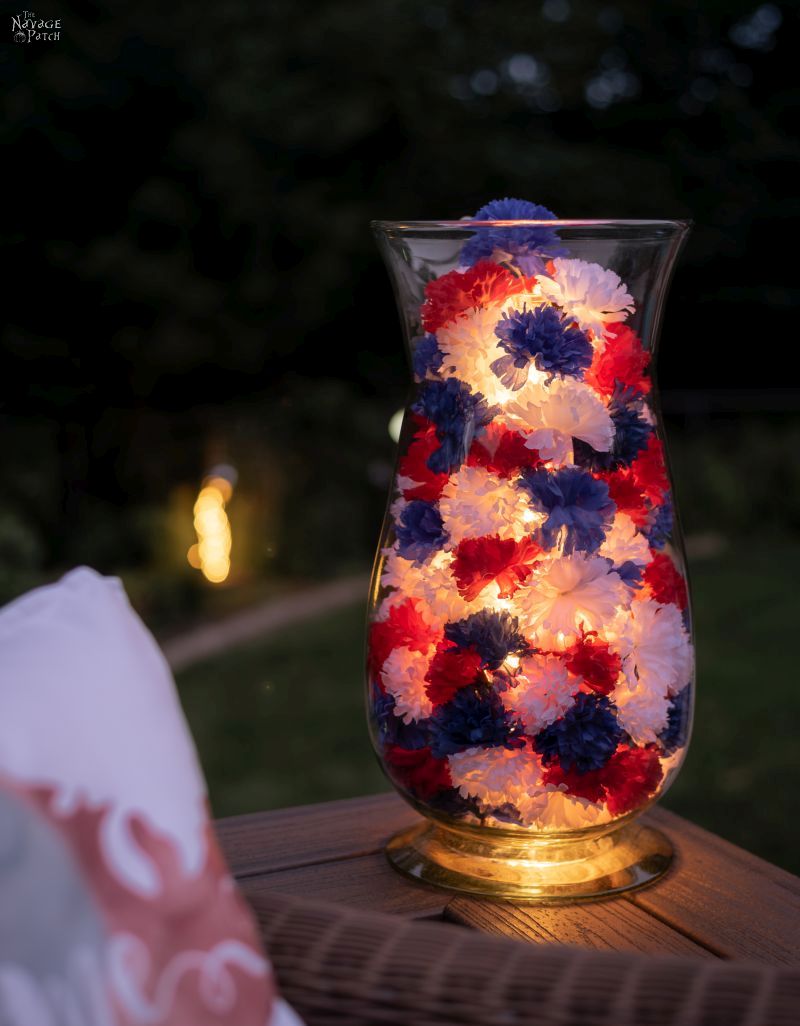 Handan and I wish you a safe and happy Fourth of July!
Share it on Pinterest & Facebook!