DIY Dollar Store Gnomes are super easy to make, and with Dollar Tree's ever-expanding Halloween section, you'll find almost all the materials you'll need to make these fun little witches.
It has been scientifically proven by an elite team of Finnish scientists working from a remote research station in the farthest reaches of Northern Lapland that human beings (and the She-Folk in particular) are hard-wired to love gnomes. They discovered that the combination of scraggly beards, bulbous noses and pointy hats had the same effect on the human psyche as little fluffy bunny rabbits.
So it should come as no surprise that humans (and the She-Folk in particular) have sought to decorate their homes and gardens with gnome statues and soft, hand-sewn gnomes. In recent years, there's been a noticeable trend of humans (and the She-Folk in particular) making their own gnomes.
This DIY gnome trend has evolved over the years. The She-Folk (being naturally more intelligent and resourceful than the He-Folk) have found ever easier and cheaper ways to make their favorite mythical creatures. The needle and thread have given way to the glue gun. And making their stout little bodies has never been easier. You need look no further than our post about DIY Christmas Gnomes to learn about the secret to easy gnome bodies!
But as simple as those Christmas Gnomes were, we've come up with and even cheaper and easier way to make them for Halloween!
Yep, as you may have guessed from the post's name, these DIY Dollar Store Gnomes (specifically for Halloween, though they can be made for any season) are made (almost) entirely from Dollar Tree materials. The only thing you'll need to buy separately is the craft fur, and that's because Dollar Tree does not (yet!) offer any sort of faux fur. But Handan and I have been reconnoitering many of the Dollar Tree stores in the North Georgia area, and we've noticed that the Craft Corner section grows bigger and better each month. I'm telling you, it is only a matter of time before they find a source for some cheap craft fur, and then they'll give Michael's a serious run for their money.
When I first sat down to make these gnomes, I listened to my babes blab and blab about how easy they were going to be. As she babbled, she walked around behind me and placed something on my head. Continuing her incessant blathering, she reached into her pocket and pulled out her phone, whereupon she pointed the infernal thing at me and fired off a photograph. She then continued her verbal assault by asking "Does my babes know what the easiest gnome is? Hey? Hey? Does he? Hey? Hey?"
I squinted at the loon. What was she getting at? This was some sort of trick question. There was no one particular Dollar Store gnome that was easier than the others. They were all easy enough to be handily made by a rum-soaked monkey!
Nevertheless, I ventured a guess. "Ummm, the one with this hat?" I said and picked up one of the myriad witch hats we bought for the project.
"Nooooooo…." she said, smiling. "Who is the easiest gnome?" Then she pointed, and it all became clear.
Yep, old Doofus McGillicuddy, your long-suffering author. I'm the easiest gnome.
If you love gnomes as much as we do, be sure to check out our other gnome tutorials!
Look, I'm all for kidding around, but I had work to do! These gnomes weren't going to build themselves!
Let's get to it!
DIY Dollar Store Gnomes
We have both the step-by-step picture tutorial and the YouTube video tutorial for you. We encourage everyone to give it a watch, and please subscribe to our YouTube channel. I'm going to put a lot of effort into video in 2021, and I'll even be making some "talkies" as opposed to just music and captions! Once again, please watch the video, and click "Subscribe" at the end! 🙂
SUPPLIES LIST
Affiliate links are provided below. Full disclosure here.
Bags of beans (If you can't find any at your Dollar Store, you can find them in any grocery store for about a buck)
Rubber bands
Polyfill (optional) – for making taller gnomes (You can get Polyfill from Dollar Store pillows and use the pillow cover for a hat)
Mongolian fur, alpaca fur or craft fur. Mongolian and alpaca fur look better, but they're more expensive, so you may decide according to your budget. In case you want to know where we found our Mongolian or alpaca fur, we used this two-tone gray Mongolian fur, these taupe and latte color alpaca furs, and this beautiful white fur.
Razor blade or X-ACTO knife
Dollar Store Halloween glitter balls for the gnome noses
Dollar Store Halloween accessories and decorations for the gnome hats – go nuts with this! Almost anything can be used to make these Dollar Store Gnomes!
DIY Dollar Store Gnomes Video Tutorial
DIY Dollar Store Gnomes Tutorial
Ah, the Great Beans of the North! But…Northern what? America, Mexico? Canada? Tasmania?
Take that sack of Great Northern Beans and shove 'em right into that Dollar Tree sock. I wonder why they're so great. Maybe they make you fart less than those pesky Southern Beans?
Good job! You've got yourself a sack-in-a-sock!
Find a suitable rubber band for securing your sack-in-a-sock. Better yet, find two. Fling the first one at your SO and then blame it on the dog.
Kinda looks like a black bean tamale…
Trim the excess sock from your sack.
Select some craft fur. We have an assortment left over from last year's DIY Christmas Gnomes, and we bought some new stuff just for these Halloween gnomes.
Lay the fur on the table and measure by wrapping it around the gnome.
You want this much fur – just so it meets at the gnome's backside. The craft fur backing should almost reach the bottom of the gnome body. You want the beard to be able to flow away from the gnome.
I cut a semi-circle for the beard. Remember that you're making facial hair for a gnome, not body hair for a sasquatch.
Gently and carefully cut through the backing with a razor. Be careful not to cut too deeply, or you'll chop off his fantastic beard hair.
Pull the fur apart. Ahhh, so satisfying!
Run a line of hot glue along the top edge of the beard.
And wrap that sock gnome up like burrito.
Ta-da! You're almost done!
Now, pick a hat. You could use one of the rigid conical ones they sell – we made many with those (see our video) – or you could cut the hat off of one of the Halloween hair bands, as shown by the man with the dainty hands in the pictures below.
Once your witch hat is free and clear (and you've checked that it fits on your gnome), put some glue on either the hat or the sock and stick that sucker in its place!
Find a spot for your gnome nose, and then clear the fur from that spot.
Put a dab of glue on the nose (we used glitter Halloween craft balls) and press it in place.
That's it! You've done it! I told you it was easy!
With all the different Dollar Store accessories and decorations, you don't even need to make hats anymore (though you certainly may). If you want to learn how to make a hat from fabric, please check out our DIY Christmas Gnomes post.
Here are just some of the supplies we bought (yes, we overbought, but any extras will be exchanged).
These DIY Dollar Store Gnomes are just so ridiculously easy. Each takes no more than 5 minutes to make, and you can customize them to your heart's content.
Here's the crop of gnomes we made. My babes even got in on the action. She made the one with purple bat wings!
Oh, you'll see that they all have those glitter craft ball noses except for one. I saw a witch at Dollar Tree with a perfect nose, and I couldn't resist. Here's the witch after I removed her hot-glued nose.
You'll recognize her nose in the pics below!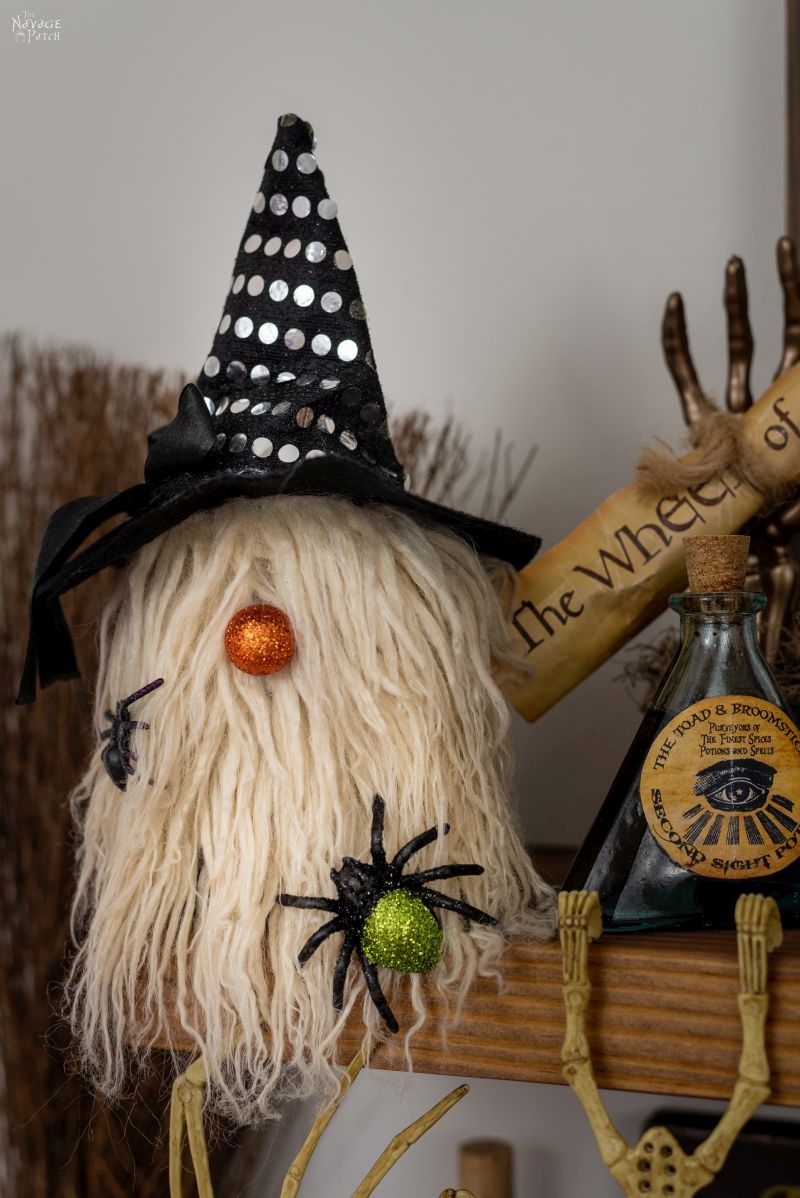 I thought I recognized this prop that Handan put in the display…
Yep, a Greg Navage original work of art from 1980.
In case you are wondering about the potion bottle labels you've seen on our Halloween Apothecary Jars, you can find them here and here. In the first Halloween Apotehcary Jars post we are sharing 80+, and in the second post we are sharing 55+, and yes – they are all FREE for our subscribers!
While you're at it, you might want to check out Handan's Magical Floating Potion Bottle post too – you'll love watching the little ones oohing and aahing over it!
Do you like our DIY Dollar Store Gnomes? Which ones do you like best? Will you be making some for your home? Let us know in the comments!
We love it when you share our posts on Pinterest!