Craft Room Makeover Reveal
As far as "before and after" room reveals go, this one's gotta be at the top of the heap here at The Navage Patch. Before we tackled this craft room makeover, we had already completed:
Some of those were greuling slogs through the stinking swamps of misery (I'm looking at you, Guest Bathroom!).
Others dragged months beyond their expected finish dates (I procrastinated my pants off towards the end of the laundry room renovation, because I was terrified of building the cabinets).
But this little craft room makeover finished on time with minimal heartache, strife, sweary words, bloodshed, combat and tears!
It's as if the universe truly wanted our hot mess of a craft storage room to be a clean, functioning and fully operational craft room and office.
And do you know what the best part about it is?
Do you think it's the bright new walls and new floor?
Or maybe it's all the storage space?
Do you imagine it's the crafting tables?
Could it be my new office (aka, The Navage Patch Galactic Headquarters)?
Those are all fantastic things, and each is worthy of a dry martini, but the best thing is much subtler and far more precious.
The best part of our new craft room is the smile it brings to Handan's face when she walks in and looks around.
Gone forever are the days of this:
Here to stay are the days of this!
Let's revisit our goals for this craft room makeover.
Craft Room Makeover Checklist
Paint the walls, ceiling and trim
Buy curtains and install curtain rods
Craft room makeover reveal
When we started, Handan's vision for the room was fairly well summed up by her mood board.
The overarching themes here are storage space and light – two things we just can't seem to get enough of, especially when it comes to "work" spaces!
Getting rid of that god-awful orange on the walls was paramount. The moment we painted the walls white, the room opened up a thousand-fold.
The door to the craft room is of the French persuasion, and that means "pain in the tookus" for painting. Fortunately, Handan discovered a miracle product:
It allowed me to paint those French doors with ease without having to worry about scraping the glass afterwards.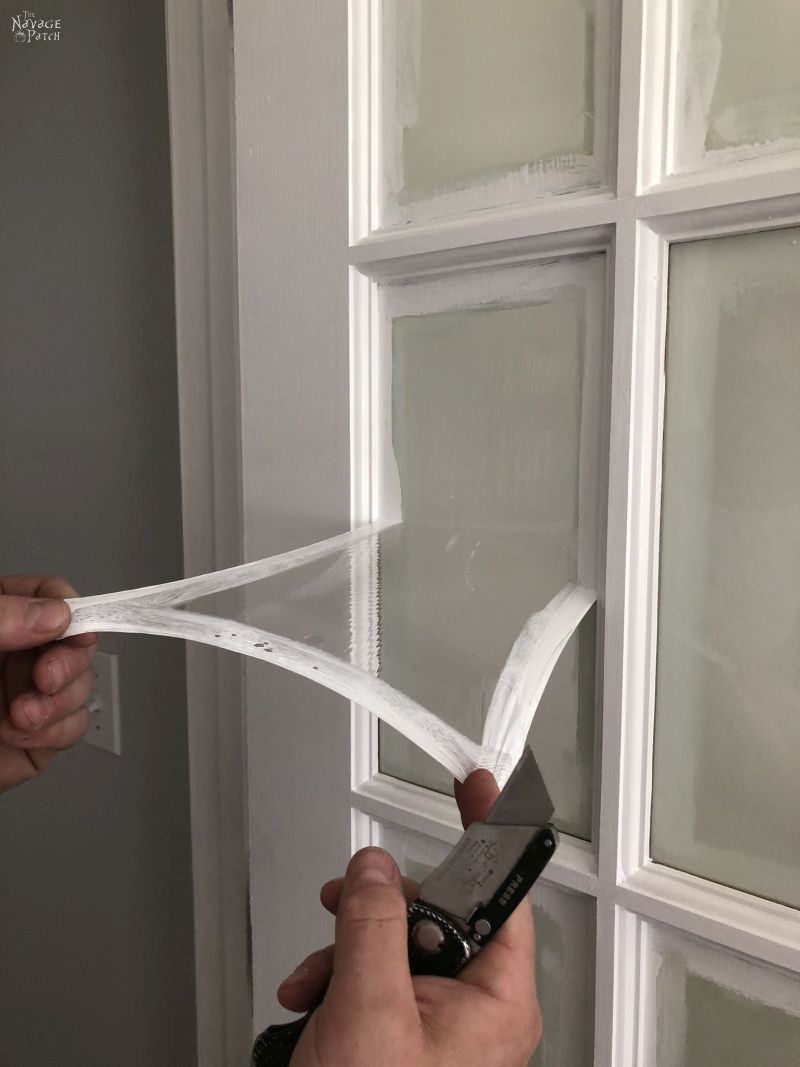 Once "The Brightening" was complete, we put in the new floor. The old carpet was simply not appropriate for a craft room. We chose Pergo laminate after carefully considering all of our flooring options.
We bought some beautiful curtains at IKEA. They're so cheap there – it's incredible!
As this room had to double as the Executive suite for the CEO/President/Overlord/Clown-in-Chief of The Navage Patch, we cobbled together a little something for His Lordship to work at in his spacious and elegant Closet Office.
To solve most of our storage needs, I built two West Elm inspired storage towers.
That left a lot of little supplies that needed a home, so we built a rolling storage cart from old sewing machine drawers.
And we made a whole bunch of storage out of the old coffee cans that my babes has been collecting for the past 6 years!
The only thing you haven't seen yet is the little solution we came up with for storing small paint bottles.
So enough yapping and review. Just take a look at the pics and let us know how we did with our craft room makeover in the comments!
We run on caffeine and comments!
Source List
We love it when you share our posts on Facebook and Pinterest!