DIY Fourth of July Flag Garland
This DIY Flag Garland is an easy 4th of July craft with a cool vintage look. A few simple materials and some hot glue are all you'll need.
They were my favorite jeans.
They fit perfectly, and the denim was the softest I'd ever felt. I found them somewhere in San Francisco, back in the DBMB (Days Before My Babes). I'd never heard of the brand before – Mavi – but that didn't matter. Those were the days when new clothing labels seemed to pop into existence overnight.
I wore my Mavis everywhere. They were my second skin. I even wore them when I went to meet Handan for the first time in Doha, Qatar. When she saw my jeans, she was thrilled! I smirked and chalked up another victory for my apparently incredible fashion sense.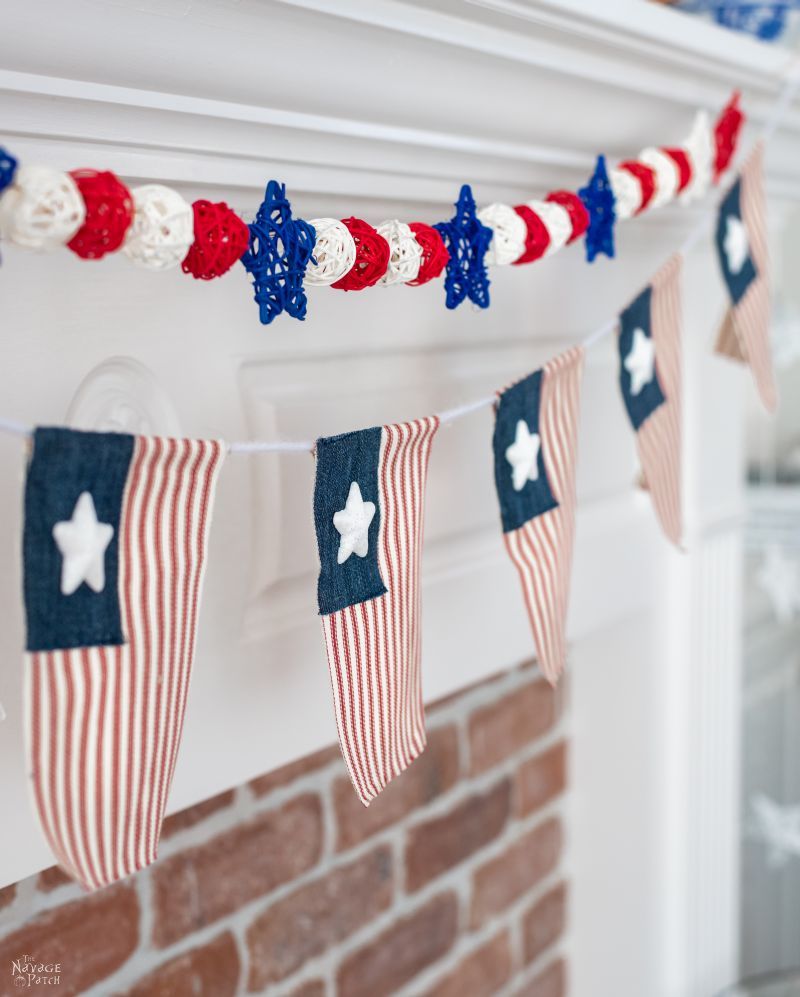 "Your jeans are Turkish!" she said.
"Huh," I said, "who knew?"
"Do you know what what "mavi" means in Turkish?" she said.
I shrugged.
"It means "blue," she said.
"Ahhhh, I get it! Mavi. Blue. Blue jeans!" I'm smart like that.
I continued to wear my Turkish jeans everywhere. As was inevitable, I eventually wore them out.
Right in the crotchety crotchal region.
Their death was as swift as it was unexpected. One minute I was donning Turkey's finest denim and feeling like a rock star model, the next, I squatted down, and a rrriiiipppp unlike any other I'd seen or heard tore across my nether region, frightening neighborhood children and causing stray dogs to howl miserably.
"Ooops." I stood and waddled my way to privacy where I could assess the damage. Get it? ASSess?? Hello?
The damage was severe and total. It was impressive, really. I mean, I've torn a few seats in my day, but this was like the San Andreas fault is supposed to look after The Big One.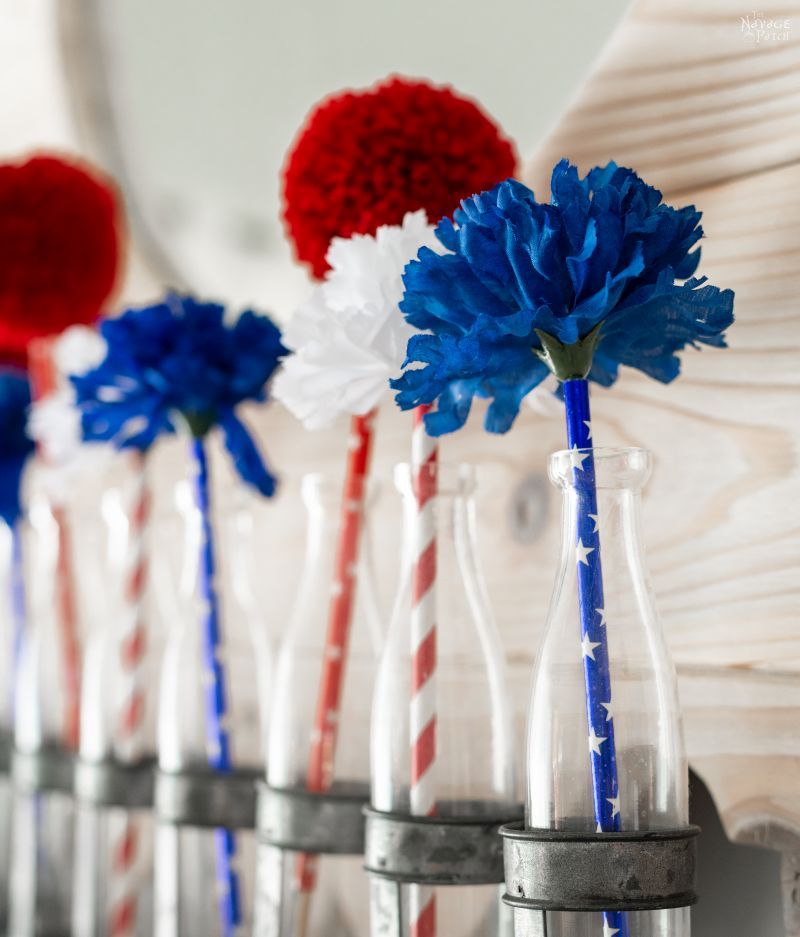 I loved those jeans, and I hated to give them up. I even convinced my babes to sew them back together with a ginormous patch. My new Frankenjeans survived a while longer, but that soft and supple denim just couldn't handle the stresses of a chubby, middle-aged white guy floundering around the house trying to make and fix stuff. Once again, they blew apart along the same fault line.
I gathered them in my arms and brought them to Handan.
She looked at the jeans and then up at me.
"No, my babes," was all she said.
My favorite jeans were interred in a large duffel with all of Handan's crafting and sewing fabric, and there they've slept since 2014.
Until now.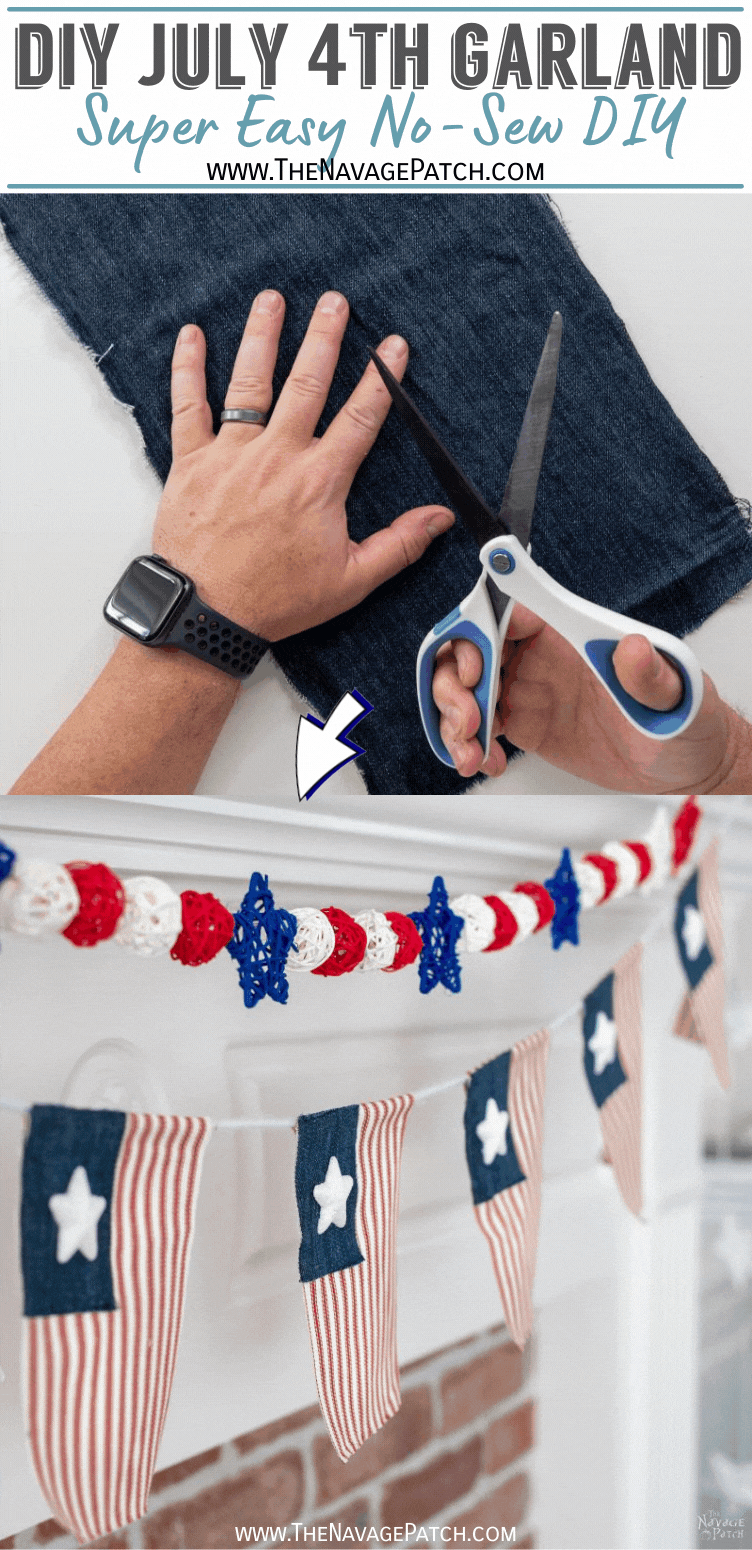 I walked into the kitchen the other day, and there they were on the counter – my favorite Mavis! I scooped them up and held them to my chest. Could it be? Was my babes going to sew them back together again? I looked at her as a child looks at its mother when passing the toy section in a department store.
"Good lord, you silly bugger!" she said. This wasn't looking promising. "You have a closet full of new clothes. Why do you want to wear this ripped garbage?"
I sighed. When women want to wear ripped jeans, it's called "fashion," and they pay out the nose for the privilege. When a man wants to do it, he's considered a slob. [Yes, but women's jeans aren't ripped between the legs, LOLOLOL! 🙂 -Handan]
It's so unfair.
Anyway, long story…well, long, she wanted me to make her a Fourth of July flag garland out of my beloved jeans and some other materials.
Hmmph. Well, at least they were going to live a patriotic afterlife.
DIY Fourth of July Flag Garland
Last year, we'd barely started unpacking by The Fourth, so we had to skip out on decorating, save for a few Dollar Tree flags we planted in the front yard. This year, my babes wasn't going to miss out! With our new fireplace ready for some seasonal garland action, she was determined to make the most of this Independence Day. In addition to this flag garland, we made a bunch of Fourth of July decorations for our fireplace, mostly from Dollar Tree materials. I'll talk more about about them when we get to the final pics.
SUPPLIES LIST
Affiliate links are provided below. Full disclosure here.
Old jeans or blue fabric
Red and white ticking stripe (from Hobby Lobby or Amazon here, here, here, and here)
Dollar Tree Styrofoam stars or white acrylic paint
Razor Blade
Cardstock and pin (optional)
Cricut Maker or other cutting machine (optional)
String
Wood skewer or similar
We had this fabric left over from our DIY Christmas Gnomes. If you haven't done so already, hop on over to that post after reading this one. You're going to want to make some for Christmas this year! Handan has had it earmarked for some sort of flag craft for two years now. She finally got to use it!
I gave it an ironing, since it had been cooped up with all the other fabrics for two years. I wonder if it got to hang out with my Mavi jeans at all? Have I mentioned I loved those pants?
I used our Cricut Maker 3 and scissors to cut the field (that's the striped part of the American flag), and they both work equally well. The dimensions are 4 1/2 x 6 1/2.
Handan wanted 7 flags for the garland, so that meant 7 pieces of ticking stripe and 7 pieces of my beloved blue jeans for the canton (that's the blue part of the American flag, also called the union). See? Always something new to learn here at The Navage Patch!
An easy way to cut the cantons by hand was first cutting a piece of cardstock to the proper dimensions (2 1/8 x 3)…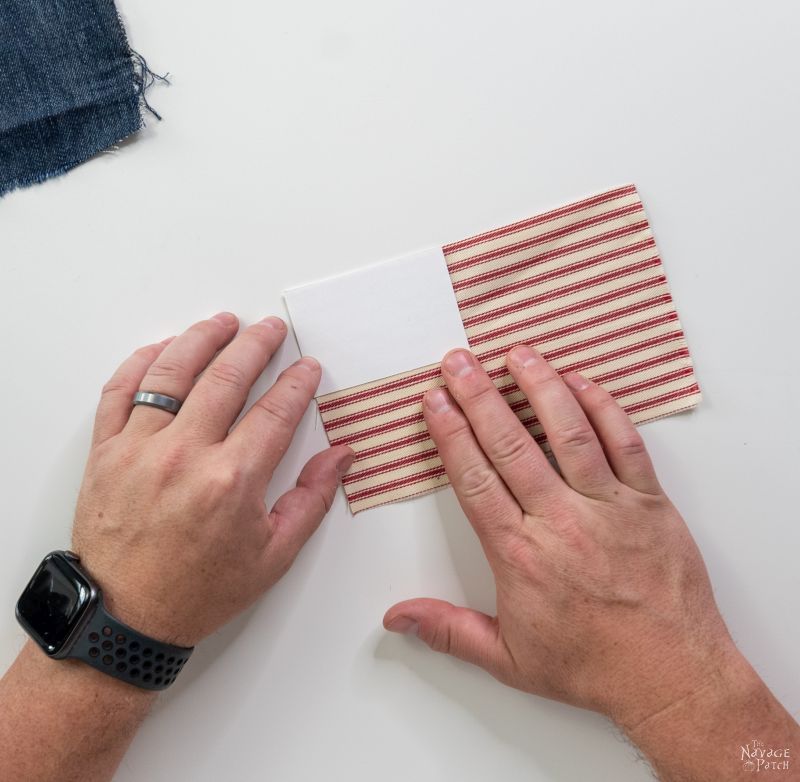 …then pinning it to the denim, and cutting around it.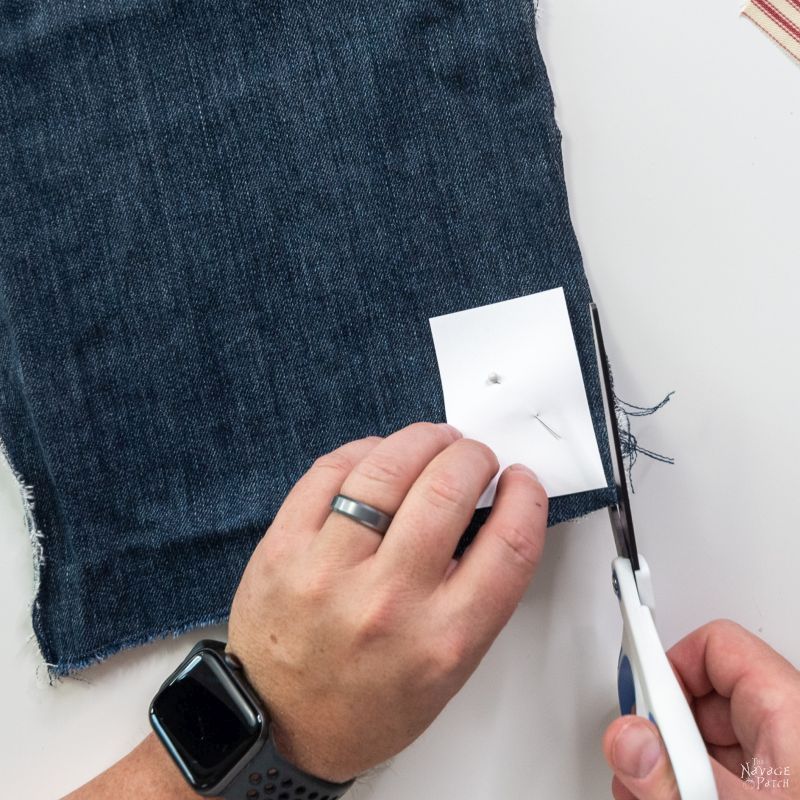 If you have a cutting machine, it's even quicker, but cutting with scissors is easy enough.
Next I cut some stars in half with a razor blade. This isn't strictly necessary. You could just glue the stars on the flag as they are, but since they are kinda puffy, I thought they looked better cut in half with the flat side glued to the flag. But, really, what do I know? (If you answered "nuthin,'" you win a ham.)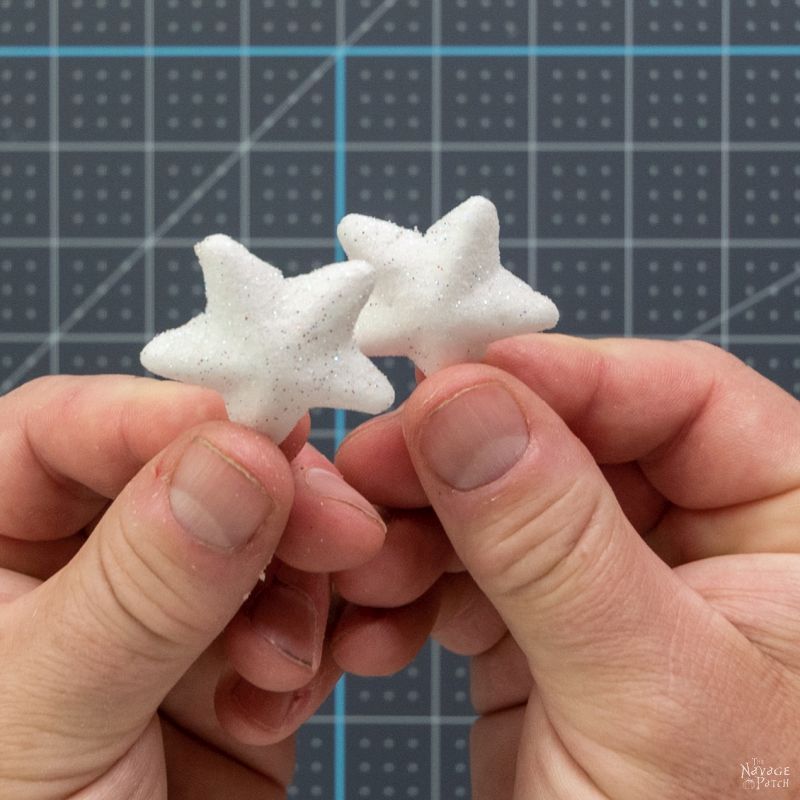 With the stars cut, my prep work was done, and it was time to start making some flags for Handan's flag garland.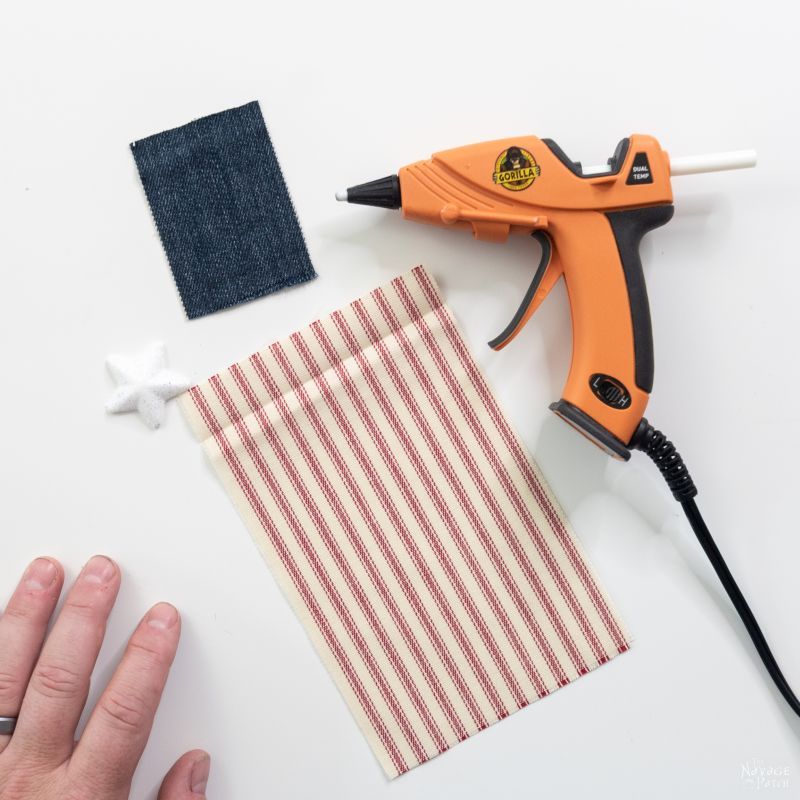 As you can see in the photos above and below, I pre-folded the top of the flag to make it easier to glue. Then I ran a line of hot glue along the top of the fabric…or bottom as it looks in the picture below.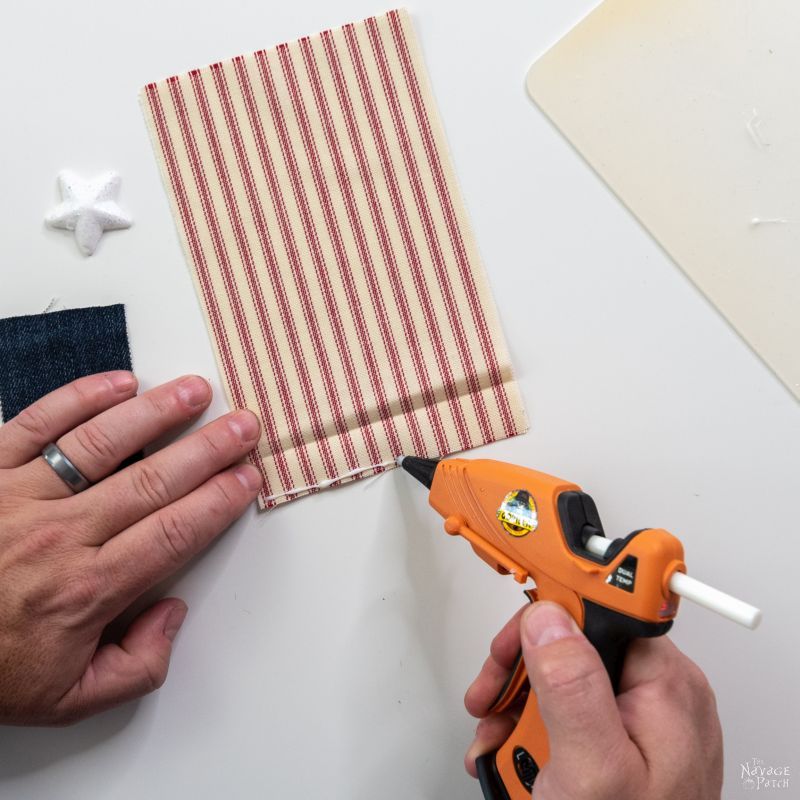 Next, I folded the fabric over on itself and then flipped the flag back over.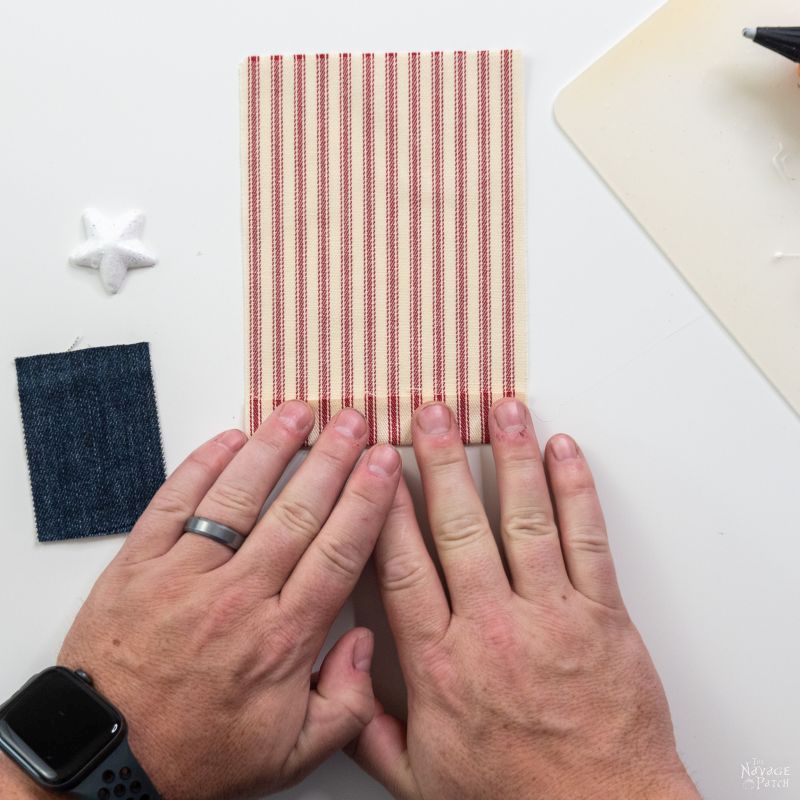 Then I ran a line of glue around the blue canton
And I glued it to the upper left corner of the flag.
I then glued the star in the middle of the canton.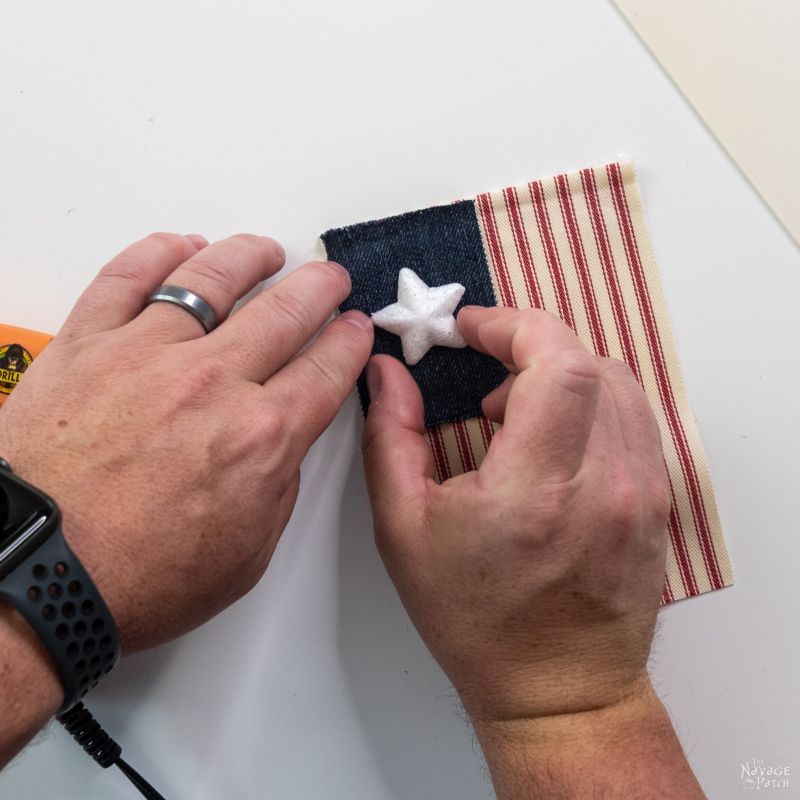 You may be tempted to shout, "HEY! That's not an American flag! That's the flag of LIBERIA!" Madam, while you are no doubt correct and wise beyond your years, I prefer to think of this flag as belonging to the United State of YOU. There's only one of you (how could there possibly be another), thus only one star needed.
See? Controversy solved and identity crisis averted.
Now where were we?
Ah yes, the string. I tied a knot in one end of my string.
The knot served no other purpose than something to be skewered by the skewer.
Thus making it easier to thread the string through the garland.
One down, six to go!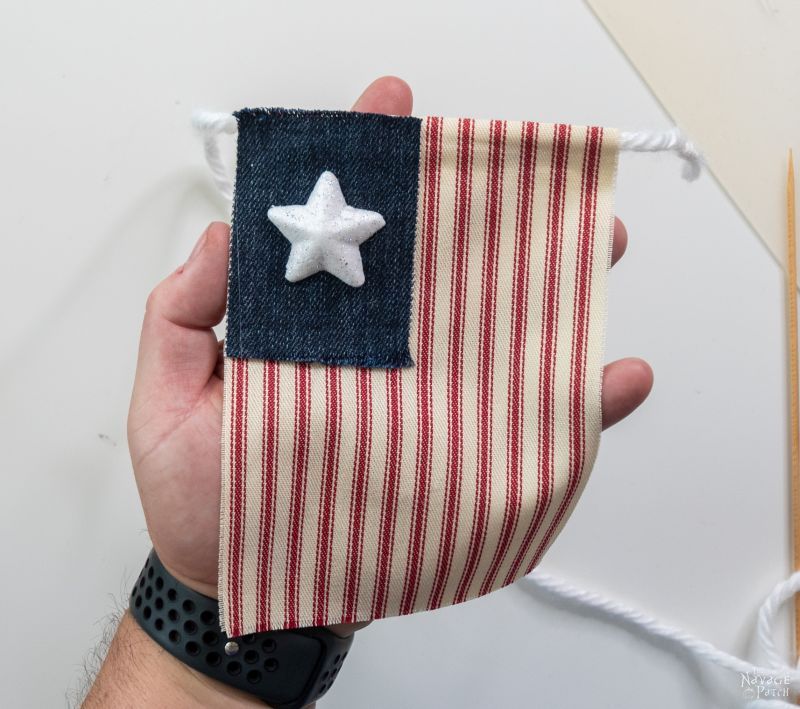 Handan loves her Fourth of July flag garland. She hung it across the fireplace and then carried on decorating. Let's have a look.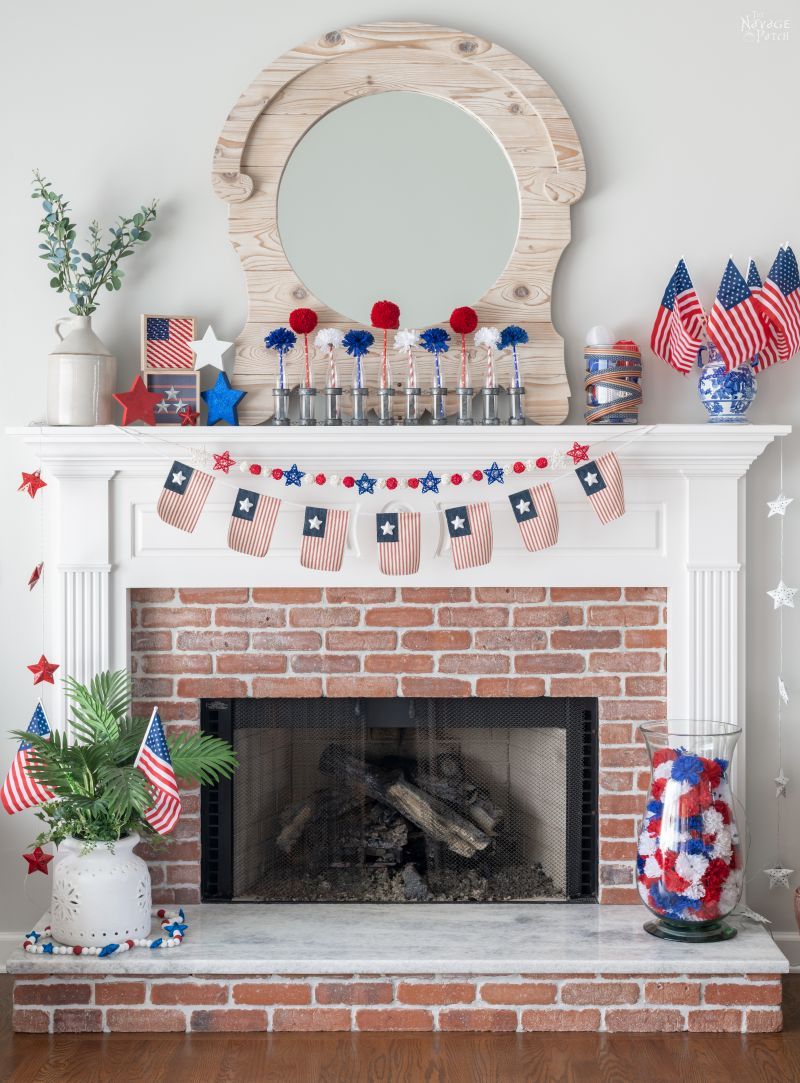 Most of the other decorations are made from Dollar Tree supplies. Remember this guy?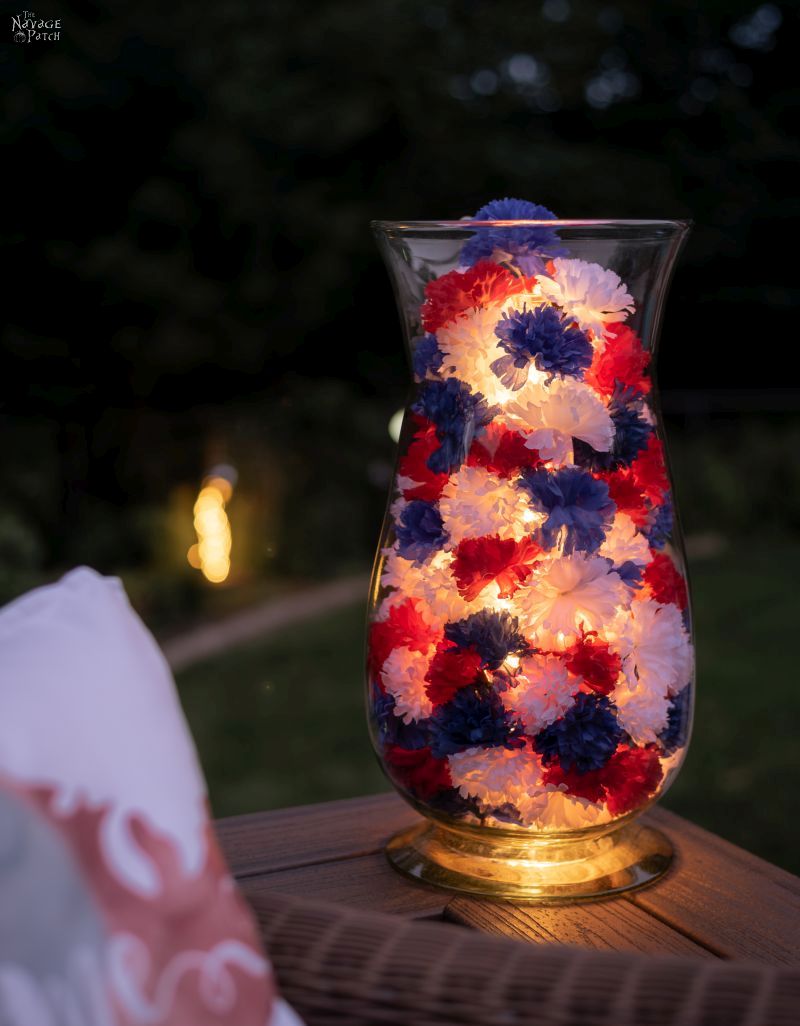 That was a 5-minute project we made two years ago, and it survived the move to Georgia intact!
These little guys are just Dollar Tree flowers glued onto Dollar Tree straws. Handan made the pompoms with Dollar Tree yarn using our pompom maker.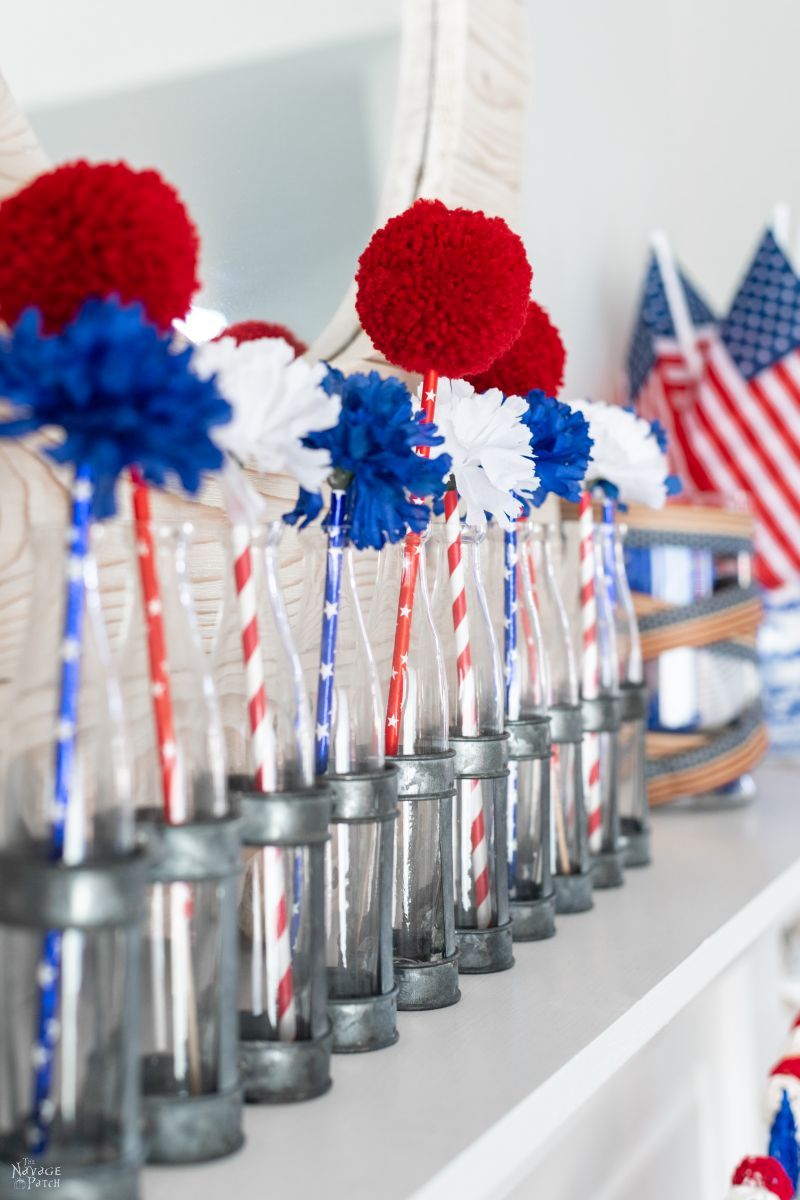 Dollar Tree flags in a blue and white porcelain vase.
Those little 3-D wall plaques from Dollar Tree are great for crafts. We made a flag with DT straws, and Handan made another with some craft paper and silver stars she had on hand.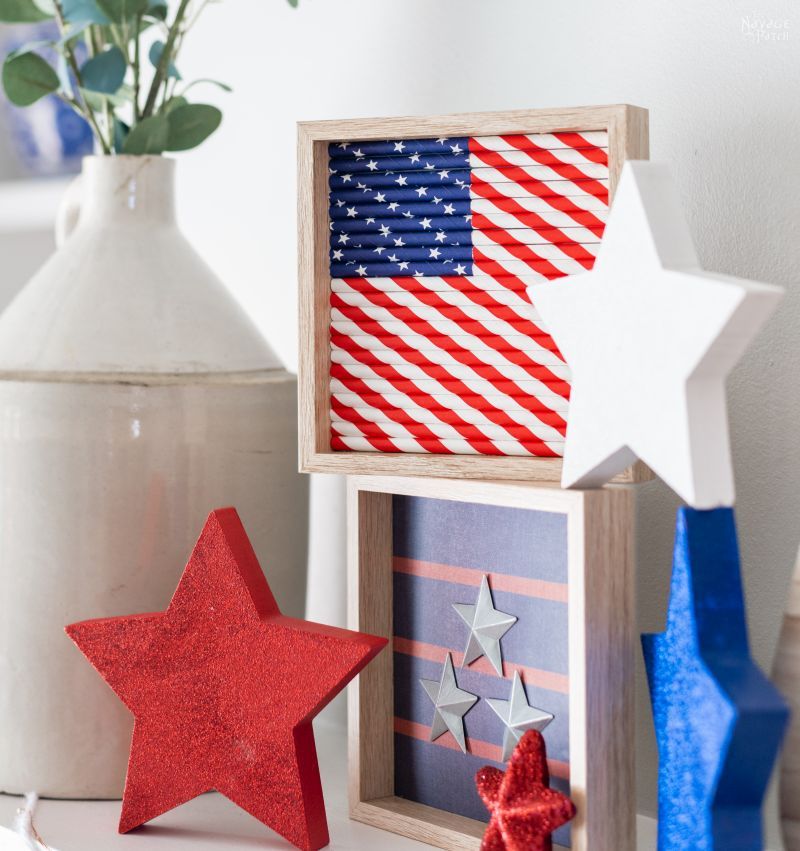 We never did much decorating for the Fourth in out old house, but there's so much light and so many places to decorate here!
This one was made from Target Dollar Spot materials Handan had bought a few years ago.
My babes made the garland hanging above the flag garland by threading fairy lights through those red, white and blue stars and balls.
Handan made the garland below from wood beads she painted red and white and Dollar Tree foam stars.
And when the sun sets and the light gets low…
We love it when you share our posts on Pinterest!