Gallery of the Faceless – Easy Halloween Wall Decor
This easy, creepy lighted mask Halloween wall decor idea will definitely turn some heads this season! Make just one or a whole gallery wall!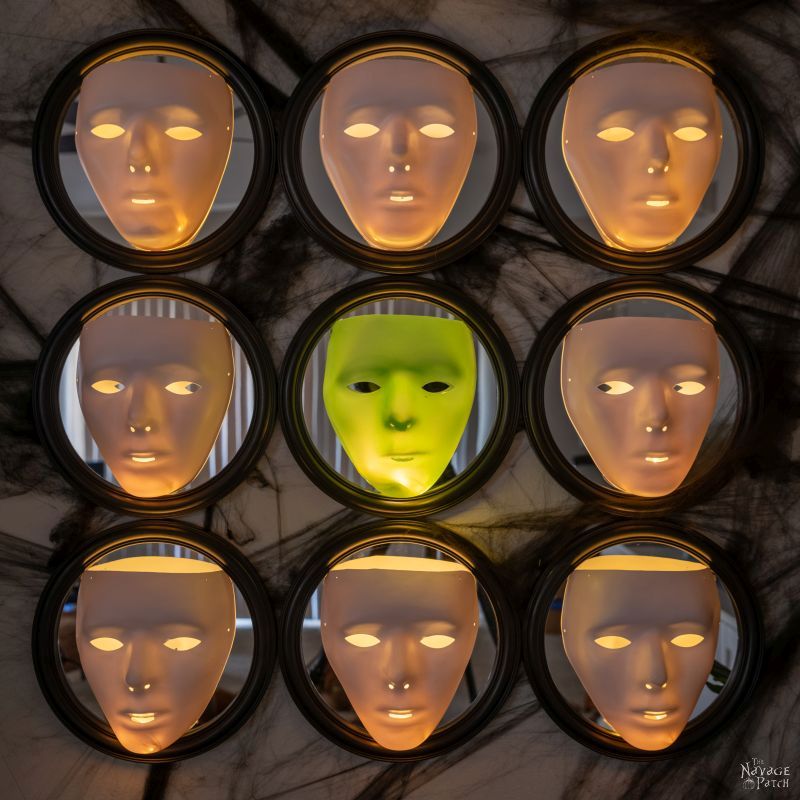 Once in a while you get shown the light
In the strangest of places if you look at it right
The Grateful Dead
Jerry had it right back in 1974 when he first sang those lyrics – inspiration can come anytime from anywhere. But you have to be open to it.
It's historical folklore, but Isaac Newton is said found the light (and the inspiration to formulate his law of gravity) in an apple that had fallen from a tree under which he slumbered and bonked him on the noggin.
Had he just grabbed the fallen fruit and crammed it into his mouth, we may still be wandering about unsure of why we fall down instead of up. But he grabbed that apple and peered into its very core (pun intended) and was rewarded with a mental leap the likes of which the world had seldom seen.
Like Isaac and Jerry, Handan is always open and receptive to "the light" when it comes to her crafting and project ideas, and this is especially true around Halloween. She'll buy things – materials – without knowing why, trusting that somewhere down the line, she'll see the light and make the connection that will inspire a new idea. I've seen it so many times. When you know about it, it's fun to watch.
In the old days, Younger, Handsomer, and Magnificently Dumber me used to badger her and question what I considered to be irrational and unnecessary expenditures on crafting materials she couldn't justify.
Of course, I wasn't really complaining about the money – most of the supplies came from Dollar Tree. But what I objected to was the confounding clutter – the pile after pile and bag after bag of Dollar Tree detritus that just sat in various corners of the house like indolent schoolroom dunces. Inevitably, they'd become my responsibility, but I never knew what to do with all of it because I didn't have the foggiest notion what the heck they were for!
In time, I started to see order in the chaos, a signal in the noise. She may or may not know why she is buying certain materials – she just knows that she'll probably figure something out with them eventually.
Recently, she started buying round mirrors from Dollar Tree – those plastic jobbies that don't have actual glass in them. She had a certain idea for a Halloween project (mind you, this was a couple of months ago). I can't say what that project is, because we're still planning on doing it.
But I'm here to tell you, first and foremost, about inspiration and the places it can strike. For this project, all the tumblers fell into place last weekend when Handan and I were out searching for those plastic orange pumpkin candy pails we all had when we were younger. It's damn near impossible to find them these days.
You want pink? Gotcha covered, Princess!
Blue? You got it, Bucko!
You prefer a teal pumpkin pail? Here ya go, Tiger!
But orange? The color that started it all? The One True Halloween Color and the One to Rule them All?
Yeah, not so much – at least not in any stores I looked in this year in Florida and last year in Georgia.
Anyway, Handan and I were valiantly searching every Walmart, Target, Home Depot, and Dollar Tree in a reasonable radius when we stumbled upon a Five Below.
"They may have it, my babes. Let's go in!" said the one who never turns up the opportunity to browse potential craft supplies.
"Ho-kay, my babes," I said and parked the car.
Three seconds past the threshold told us that there were no orange plastic pumpkin pails.
Now, at this point, were I alone, that would have been my cue to make like a tree and leave.
But my babes?
Nuh.
When one door shuts, another opens. Defeat in finding one craft supply means the opportunity to look for others!
So over to the Halloween wall we went. And lemme tell you, sister, this wasn't some big selection like Dollar Tree or Walmart. This was a meager affair on a scrawny slice of wall space.
But great ideas are born in lesser places, madam, and right there in that very Five Below, standing in front of the unspectacular Wall o' Halloween, Handan saw the light. She discovered why she'd been buying those cheap plastic mirrors from Dollar Tree.
There hanging on the runty seasonal display rack were row after row of blank faceless masks. They had white, they had black, they had green.
And they were only one dollar.
My babes knew, right then and there amidst the cacophony of Saturday afternoon mall traffic.
The idea leapt into her head as children jostled around us, fleet-footed terrors outfoxing exasperated parents who admonished them from a clearing in middle of the store.
"My babes," she said, "we're going to make a gallery wall with these masks, the Dollar Tree mirrors and some lights."
I was impressed. It was a fantastic idea.
"Ahhhh," I said, "a 'Gallery of the Faceless.' Great idea, my babes!"
DIY Lighted Witch Hat SUPPLIES LIST
Affiliate links are provided below. Full disclosure here.
Gallery of the Faceless – Halloween Mask Lights video tutorial
You may want to watch our short video below for an overview of our DIY Halloween mask lights before you read the detailed step-by-step tutorial.
Halloween Mask Lights tutorial
I love these masks – that's a whole lotta creep for a buck! Also, one of my all-time favorite guitarists wears one of these onstage when he performs, along with a rather unique hat. Anyone know who he is? I'm guessing not, but you guys never cease to surprise!
I first cut off the headbands and tags from the eight white and one green mask. See? This project is so easy that I'm describing the most basic procedures.
Next, I unwrapped and cleaned the mirror. A clean mirror will hold the glue better, it will look better, and it will reflect light better, so don't skip this step!
These little Dollar Tree super glue gel tubes are perfect for crafting.
I put a small dab of glue in the area shown below and the corresponding area on the other side.
The places I put glue are shown in red in the picture below.
The mask fits perfectly in the mirror. Once in place, I set it aside and made the rest.
Once I had glued all the masks, I left them for about 20 minutes to give the glue more than enough time to fully set.
We chose to hang these on the wall and then add lights, but you can certainly do it before you hang them. The lights are battery-powered, remote-controlled fairy lights.
I dropped one bundle of fairy lights behind each face. There's no need to unwrap them – they'll drop right behind the chin. Note: it's imperative that you buy the remote-controlled fairy lights, otherwise you're going to have a heck of a struggle turning them on and off if you're making a gallery wall like ours!
Before we get to the rest of the beauty shots, let's talk about price. Making a gallery wall of 9 lighted masks will cost $46 – that's $27 for 12 lights (you'll have 3 extra), $9 for the masks, $9 for the mirrors and $1 for the glue. That calculates to $5.11 per lighted mask. If you want to make just 6, your total cost would be about $26.50, and the price per lighted mask would be about $4.42. Not bad considering how badass this display looks!
We love to see our DIY Halloween decor out in the wild! If you make this Halloween DIY decor for your home, take a picture or video and post it on Instagram, be sure to tag us @TheNavagePatch!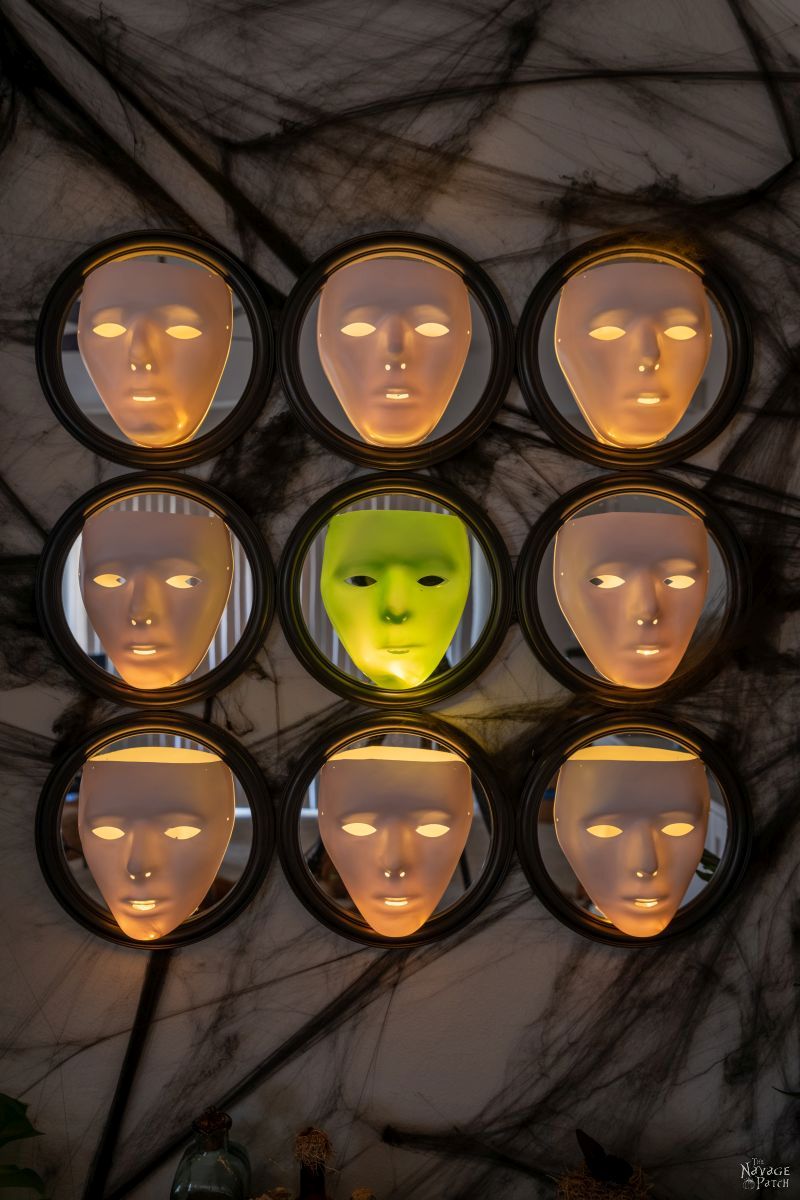 If you prefer a cooler look, you can use cool-light fairy lights, and get something like this.
This Gallery of the Faceless is such an easy project, but it looks like something from Grandin Road's Halloween Haven! It's amazing what dollar store (or near-dollar-store) supplies can create!
We love it when you share our posts on Pinterest!