Easy Lighted Hanging Ghosts
Hanging ghosts are a cheap & easy dollar store Halloween DIY that look awesome without breaking the bank. Add some lights, and they're even better!
So my wife has been acting like a ghost lately.
Not the Dickens-style apparition with dragging chains and ominous warnings.
Neither the Poltergeist type that floats and snarls and startles.
Nor is she partially see-through, prone to floating through walls nor causing any mischief and mayhem at all.
But ever since I made her a bunch of pom pom ghosts, every time she walks by them, she throws her hands in the air, waves them around and lets out a great wavering, "WooOOOooo! WoooOOOOOoooo!"
And then she breaks up into laughter and carries on with whatever the heck it was she was doing before she passed the ghosts.
At first I figured she'd just gone nuts, and that was okay – I could live with a nut.
But then I realized that the cute little ghosts just made her happy, and she's never shy about showing her enthusiasm for things that make her happy.
So then I started to look forward to her little ghostly arm wavings and wavering "woooos."
If I didn't hear "woooOOOOooooo!" at least once each day, I'd ask her to give me one, and she'd toss her arms in the air and do her best ghost impression, and then I'd start cracking up, and she'd start laughing, and the dogs would start howling and Barish would roll his eyes and start counting the days until college when he could escape this loony bin.
Ghosts make my babes happy. [Only cute ghosts! I don't like those jerk scary ones! -Handan]
And if something makes my babes happy, it has been my long-standing belief that we need to have more of it!
In other words – if my babes wants ghosts, my babes is gonna get ghosts!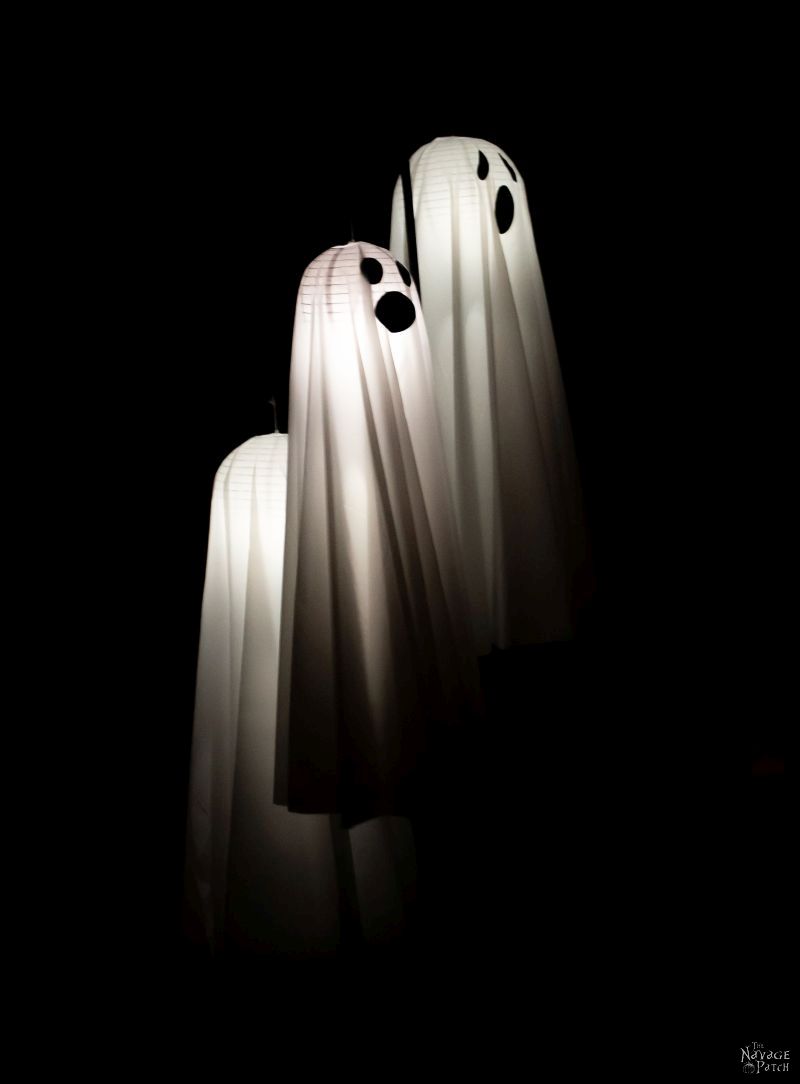 Fortunately for everyone, Handan already had a plan for more ghosts – lighted hanging ghosts for our front yard, to be precise – and she'd been collecting the materials from the dollar store since summer!
I must admit, though, when she told me the plan, I didn't think they would turn out nearly as good as they did!
She tells me a lot of ideas, and usually I'm all in from the start, but this one made me raise my brow and give her a little side eye.
Dollar store hanging ghosts made from paper lanterns and table covers?
The idea didn't sound very promising.
Actually, it sounded kinda lame.
It also sounded like the whole thing would disintegrate in the first rain.
But I kept my suspicions to myself. It wasn't the first time I'd doubted my wife's sanity, only to learn that she was right all along.
There was that time I thought she was a certified crackpot for suggesting that I document and write about a shed cleanout and reorganization.
(You guys loved it.)
Then there was that time way back in 2015 that I thought she'd gone bananas for insisting I photograph and write about how to make a cutting board.
(Our 11th best post of all time.)
And even for Halloween, there was that time I nearly called the paddy wagon when she insisted that I make a hanging cage Halloween prop out of some dollar store laundry baskets!
(Not only is it our 10th best post of all time, but it was one of my top 5 most enjoyable posts to write, and it is one of my favorite posts to revisit and re-read.)
So, yeah, I have a long history of thinking my wife is nuttier than a half-baked fruitcake, when in fact she's a creative genius who is so far ahead of me that I may as well be a thumb-sucking toddler in a playpen.
And I'll tell you, these hanging ghosts are awesome, and dammit, as much as I hate to say it, they're "cute!"
GAH!
And they're cheap—only a few bucks per ghost!
But the best part of all is that every time we leave the house or return home, and every time Handan walks by the front door, she throws her arms up high, waves them around and goes, "WoooooooooooOOOOOOOOOOOooooooooo!"
And wherever I am…I laugh.
Then she laughs.
And the dogs howl and The Boy smiles and shakes his head and wonders how in the world he wound up in a family like ours.
Lighted Hanging Ghost SUPPLIES LIST
Affiliate links are provided below. Full disclosure here.
Paper lanterns (8 or 10 inch) or Dollar Tree plastic bell cloche (pictured below)
Dollar Tree round plastic table covers (also on Amazon)
Packing tape (Dollar Tree has the Jot brand)
String or twine
Black adhesive vinyl (Dollar Tree carries adhesive vinyl, but you could also use a black garbage bag or color in the eyes and mouth with a Sharpie)
Double-sided tape (if using a black garbage bag for eyes and mouth)
Garden shepherd's hooks or a tree with branches you can reach (or you can hang them indoors)
More Easy DIY Halloween Decor Ideas
Easy Lighted Hanging Ghosts VIDEO TUTORIAL
You may want to watch our short video below for an overview of our easy lighted hanging ghosts before you read the detailed step-by-step tutorial.
Easy Lighted Hanging Ghosts TUTORIAL
Okay, are you ready? Look I wasn't joking when I said these were easy, so don't blink, or you might miss the tutorial!
Believe it or not, Handan had to show me how to do this first step of assembling the lanterns.
What? Don't judge! I've never built a damn paper lantern before, okay? It's not exactly intuitive for dumbos like me!
So anyway, the wire thingy goes into the paper thingy and…oh what's the point? I'm sure you've built a paper lantern before! You don't need me telling you how to do it!
…And then those round wire things go over the….ah, forget it! Just build it, already!
If you can't find paper lanterns dollar store also carried bell cloches. That might be easier since all you need to do is cut the rim of cloches.
Okay, now that that's out of the way….
If you'd like to light your ghost, now's the time to put in the lantern light. First let me model it for you.
I know, I know, I missed my true calling. I should have been a hand model.
Look, full disclosure here – the lantern lights pictured above don't last long. I mean, if you leave it on overnight and all the next day, you may—may—get one more night out of the thing. If you'd like to enjoy them throughout October you can use these battery operated remote controlled tea light candles which will last longer and they are only about 2 dollars each.
They work so much better than those cruddy old ones back in the stone ages when we first did this post! Just check out the Instagram Reel below to see them in action! They are amazing!
But, hey, these guys look great in the daytime, too, so it's not all bad if you don't want to light them!
Okay, now that we've all agreed that you will be adding lantern lights, you'll hang it from the middle of the wire support.
Next, open the table cover package. This is complicated. Lemme show you how to do it.
There's a more advanced method involving teeth that I won't get into today.
Unfold the table cover until you find the middle. Doesn't my body language just scream enthusiasm in this picture? I was doing my best teenager impression.
I'm holding it along the midline. The center of the table cover is halfway between my hands. I'm clearly so excited in this picture. I was barely able to contain myself!
Get yourself a couple of inches of packing tape and fold it around the center point. This is going to make your hanging ghost stronger, so the wind won't tear him apart.
Fold the taped part over and cut off just a tiny bit of the corner.
Now fully open the table cover and find the center.
Hey, look! There it is!
Hook the top of the lantern through the hole you made in the table cover. Stay with me, now! We're almost there!
Congratulations! You've built your hanging ghost body!
Next, tie a piece of string to hang your ghost.
The last step is to stick on the adhesive vinyl eyes and mouth. Choose any or all of the designs at the end of this post. You can cut them out with a Cricut if you have one, or trace them and cut out with scissors. If you'd rather not buy a roll of adhesive vinyl just for this project, you can also cut the eyes and mouth from a black garbage bag and stick them on with double-sided tape. Alternatively, you could draw them right onto the hanging ghost with a Sharpie. There are solutions for every budget!
Update October 2021: Dollar Tree now carries adhesive vinyl! 12″ x 48″ for a dollar!
And that's it! Your hanging ghosts are ready for action!
I told you that these came out much better than I ever would have guessed. Just have a look at these pics!
They're pretty damn cute, I have to admit.
And yes, these little guys can handle almost anything Mother Nature throws at them. They've already survived two rainstorms and non-stop windy days with absolutely no issues.
Can you hear it?
Can you hear my babes?
WoooooooooOOOOOOOOOOOOooooooooOOOOOOOOOooooo!
*******
As promised, here are the ghost faces. Just right click on each image and select "Save Image As" to save the ghost faces full size. Or CLICK HERE to download the PDF versions of them!
Share it on Pinterest & Facebook!