DIY Dollar Tree Broomstick Pathway Lights
Learn how to make these brilliant broomstick pathway lights from Dollar Tree materials for a simple & gorgeous Grandin Road dupe!
Last October we published our Grandin Road inspired lighted witch hat tutorial: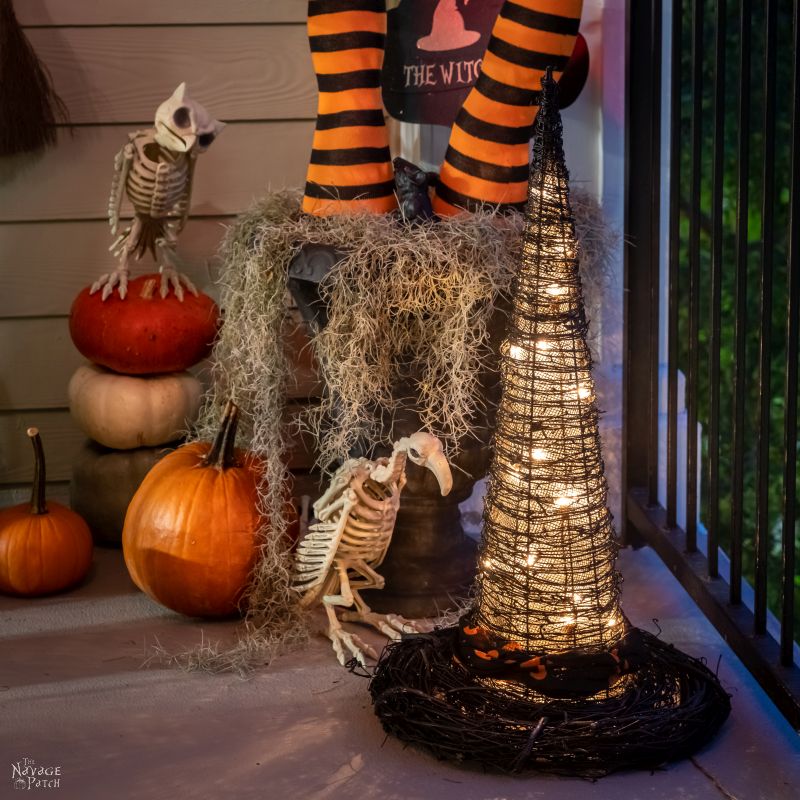 And it spawned the following comment thread:
Well, my babes had also seen those same broomstick pathway markers in the Grandin Road catalog, and she was already mulling over some ideas. But Mo's comment was the push she needed to kick her thoughts into high gear. There's nothing like a friendly reader-challenge to get us going!
But last Halloween we were living in a third-floor apartment in Jacksonville. Lights like these demanded a yard, or at least a walkway. Oh sure, there were sidewalks all over the apartment complex, but without the context of a front door and some other Halloween decorations, we just didn't think it was the right year to make them.
And we're glad we waited, because the Dollar Tree gods smiled upon us with their bountiful fall florals this summer!
Would it surprise, shock or offend you to learn that my babes dragged me to every Dollar Tree within driving distance on July 1 in a bid to find the first fall florals? While children were running past us in bathing suits and reeking of Coppertone – screaming at the top of their lungs because summer break had really just begun – my babes was hunting for autumn pumpkins and picks. To her credit, we did start finding the fall florals a few days later.
And her desperate play to be the first to find Halloween items at Dollar Tree has kept me and my poor truck running on fumes since mid-July! When it comes to Halloween, the woman is a cackling idea machine fueled by caffeine and Dollar Tree!
She may cackle and make me drive her to the ends of the earth in search of supplies, but I can never argue with her vision. These Dollar Tree broomstick pathway lights are incredible. And at night? Stunning.
I'm not going to sit here and tell you they're the cheapest decorations you can make this Halloween. They're not – even with Dollar Tree materials. But they are far cheaper than Grandin Road. Let's a take a quick look at cost.
Grandin Road broomstick pathway markers – set of 3 for $150. There is no option to buy one, so your cost is $150.
Our broomstick pathway lights – about $28 per light if you make them with the lights we used or about $22 if you use battery-operated lights from Walmart. Dollar Tree sells orange lights, but they are labeled for indoor use only, so I can't recommend them for this project. You can probably find outdoor-rated plug-in lights for cheaper at Amazon or Walmart. You can also bring the cost down by using fewer branches. I used 14 for each broom, but you could shave a few off to save a little money.
DIY BroomStick Pathway Lights SUPPLIES LIST
Affiliate links are provided below. Full disclosure here.
Vice-grip pliers

Burlap, twine

or any scrap fabric
Orange fairy lights (we used solar 200 LED orange lights which were $11 each, but you can buy any other outdoor kind from Amazon or Walmart for cheaper)
Garden stakes (optional)
Dollar Tree Broomstick Pathway Lights VIDEO Tutorial
Watch our short and fun video below for an overview of our broomstick pathway lights before you read the detailed step-by-step tutorial.
Dollar Tree Broomstick Pathway Lights Tutorial
Step 1 – Prepare the broomstick
The Dollar Tree broom handles have a plastic hanging loop at one end – this will stay, as you'll be covering it with the branches. There is a threaded piece of plastic on the other end for attaching mop heads, broom heads, etc. I used a pair of vice-grips to pull it out.
There's a label on the handle that needs to go, but it won't go without leaving some sticky residue.
You can leave the residue if it doesn't bother you or clean it off like I did with Goo Gone. Dollar Tree sells the small bottle shown below.
Step 2 – Glue the branches on the handle
I used black glue sticks on the low-temp setting – this allowed the branches to set much quicker.
I glued the branches, one after another, until I worked all the way around the handle. It took 14 branches to complete the circle. As I mentioned earlier, you can put a little space between the branches and use 10-12 instead of 14 to save some money.
I made a total of 6 broomstick pathway lights – 2 black and 4 with various fiery colors.
Step 3 – Wrap the ends
I wrapped the ends of the bristles in two ways – with twine and with burlap webbing, though you can use any scrap fabric. It will be covered in lights in the end.
The twine looked nicer, but it took much longer!
Step 4 – Fluff the broom
I gave the broom head a little more body by gently pulling the branches outward.
Step 5 – Wrap the lights
Our fairy light strings were really long, and at first we thought we'd gotten them too long, but because they're fairy lights and not bulbs, I just kept wrapping and wrapping until I used up the whole strand.
I started by securing the end near the solar collector with a dab of hot glue, and then I started wrapping.
Every so often, I put another dab of glue to keep the light string from shifting.
Up and down, crisscrossing the previous run until I used up all the lights.
Step 6 – Install ground stakes
I used stakes from a tomato cage system I haven't used in years and hammered them into the ground until about 4 feet was showing above the grass.
Then I slid our broomstick pathway lights onto each ground stake and let them charge up for nightfall!
They look great in daylight too!
How do you like our broomstick pathway lights? Let us know in the comments!