DIY Halloween Fire Wreath
This DIY Halloween fire wreath is positively smoldering! This gorgeous creation is a Navage Patch original – you won't find it anywhere else!
If there's one thing we've learned over the years, it's that when inspiration strikes, you grab its wrist, yank it to the ground and hog-tie it before it has a chance to get up and change its mind.
Handan and I were driving to Panama City the other morning, and if your first thought was, "oh, I'll bet they were going to Dollar Tree," well, you're not too far off. The primary purpose was a dentist visit, but it was all the stops after that had my babes bouncing in her car seat like a 4-year-old girl on her way to sit on Santa's lap. Panama City is full of Dollar Trees, Walmarts, Targets and all the other things that make my babes weak in the knees. The road to Panama City is long and flat road – perfect for off-key singalongs, bouncing around and brainstorming ideas for the blog.
We'd just finished making a particular wreath the night before that was inspired by one Handan saw in Grandin Road. That wreath (which I'll be showing you soon) had us thinking about calling it a fire wreath because of some of the brilliant reds and oranges involved in making it. And that got me thinking about making a a "real" fire wreath.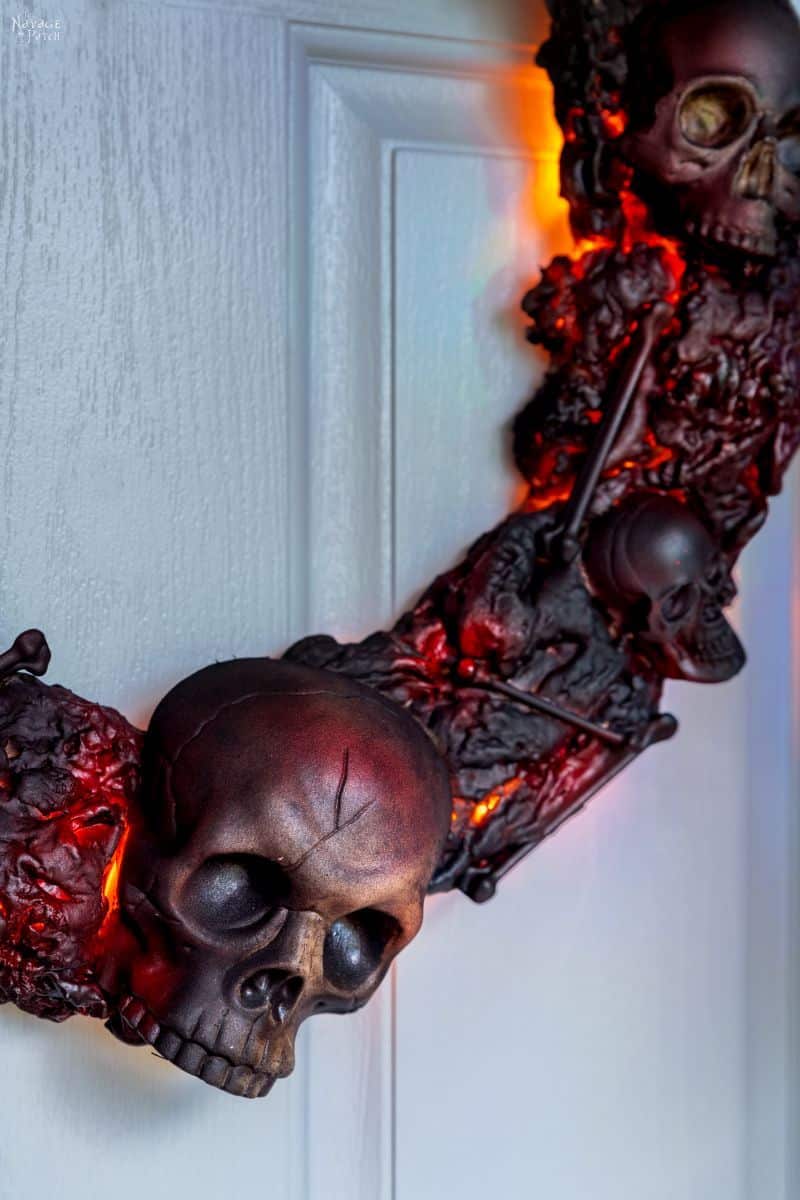 Well, fake fire, obviously – a real fire wreath would land me in jail or a hospital with padded walls. But a wreath that looks like it's actually burning – now that would be something…new. The first image that popped to mind was Katniss and Peeta in The Hunger Games riding a chariot into Capitol City while her dress burned with cold fire.
I spent a minute trying to think of a way, but that was Hollywood CGI and not something we'd be able to recreate. Not yet, anyway. I'm still thinking about it!
Then I thought of another Halloween project we're working on, and that's when inspiration punched me right in the gob. I told my babes my plan, as I always do when a rogue good thought wanders into the Oatmeal Ocean between my ears. Usually my ideas are returned looking like swiss cheese after my babes has pointed out the holes and problems.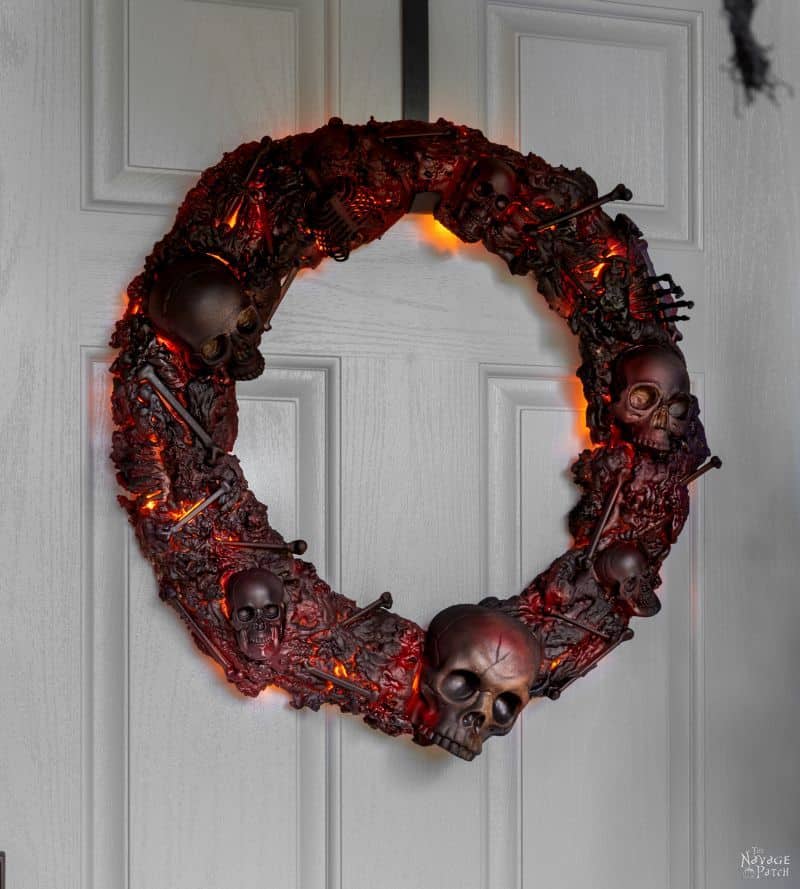 But not this time! Possibly for the first time ever, she saw no obvious faults, immediately agreed it was a great idea and started laying plans to complete it as quickly as possible. It was so simple really: wire wreath form + Great Stuff expanding foam + orange LED lights = smoldering fire wreath!
To amp up the creepiness, I'd add some skulls and bones, and to perfect the look, I'd paint it.
We had a plan for that day when we returned from Panama City, but we cleared the calendar and devoted the rest of the day (and until 1 in the morning) to making this wreath, filming it, editing the video and getting it on social media as soon as possible.
Some ideas just feel urgent, and this was one of them.
And boy, was it worth it, because this Halloween fire wreath is absolutely stunning!
Let's have a look at how to make a wreath that no one…literally no one…else has on their door this Halloween season!
DIY Halloween FIRE WREATH SUPPLIES LIST
Affiliate links are provided below. Full disclosure here.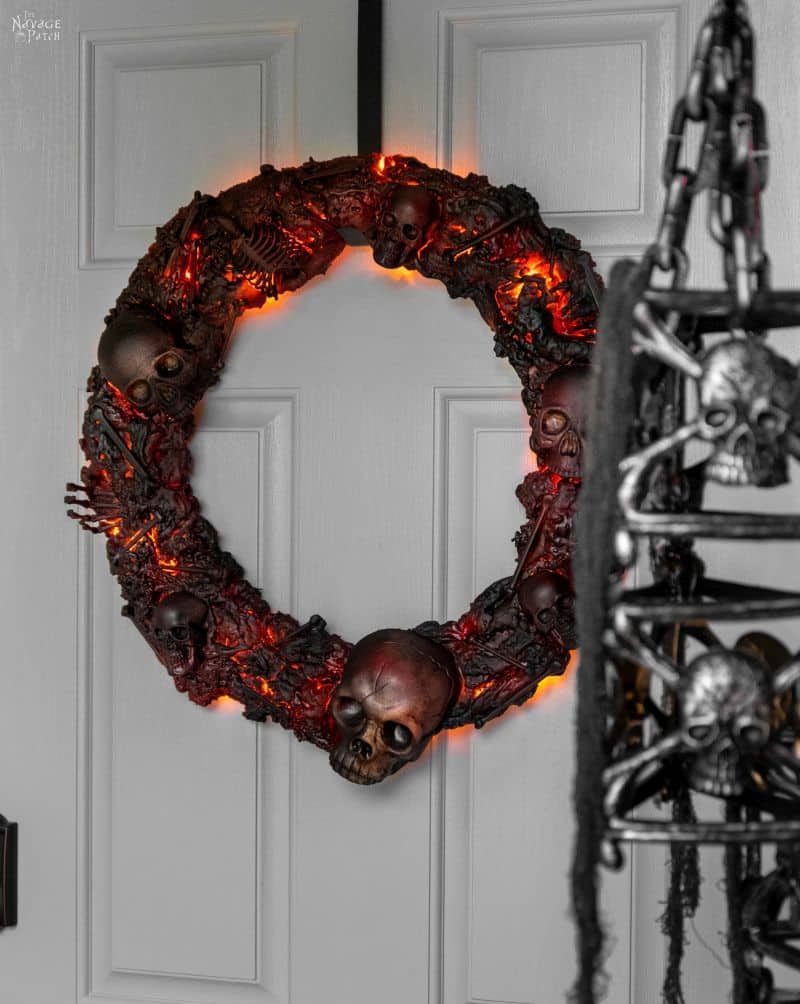 We love to see our DIY Halloween decor out in the wild! If you make this Halloween DIY decor for your home, take a picture or video and post it on Instagram, be sure to tag us @TheNavagePatch!
Watch our short and fun video below for an overview of our Halloween fire wreath before you read the detailed step-by-step tutorial.
DIY Halloween FIRE WREATH TUTORIAL
Step 1 – Wrap the LED lights
I placed my wire wreath form face-down on the table. To start wrapping LED lights, I first tied off one end to the wreath form. You could also use a dab of hot glue.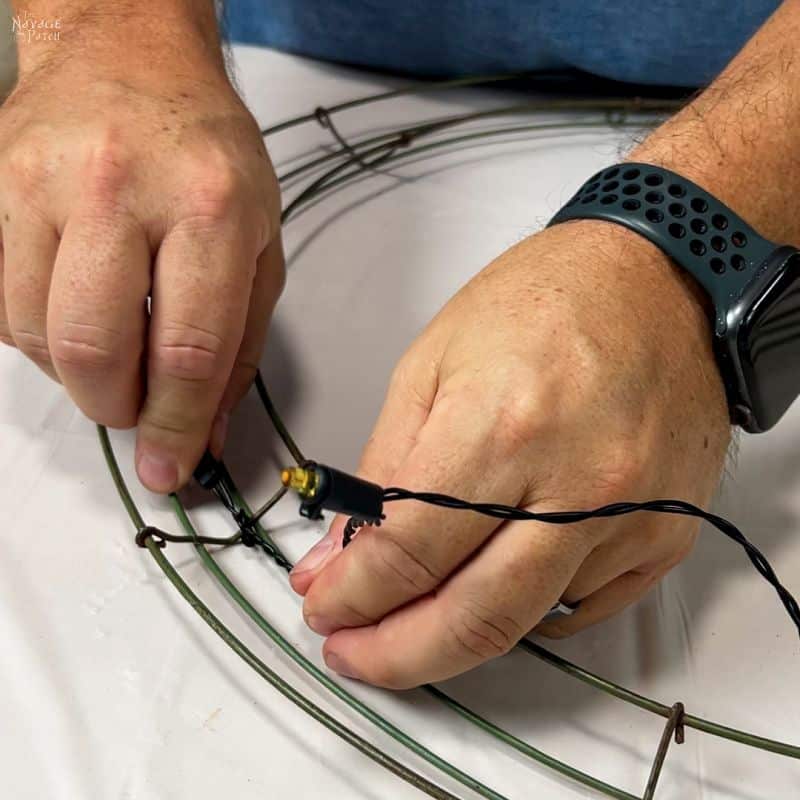 I wrapped two strings of lights around the form. For the first string, I started at the end and worked my way around to the battery pack. For the second string, I started with the battery back side, since I wanted both packs to be in the same place with the same amount of cord leading up to them. It's probably easier for you to start both strings from the battery pack end and wrap that way.
To keep the LED lights from shifting while I wrapped, I used a little hot glue here and there to hold them in place.
The key to this wrapping is randomness. Don't try to evenly space the lights around the wreath form. A smoldering fire will have bright spots, and that's how you want your wreath.
It's a little hard to understand from the pic below, but I'm starting the second strand of lights, and I'm making sure the two leads that go to the battery packs are together.
Step 2 – Tape the LED lights
When I finished wrapping the two strands of lights, I ran some packing tape over the lights. This was just to keep them in place when I flipped the wreath form over and sprayed the foam.
I then placed the form right-side up on a piece of scrap cardboard. The cardboard not only contains the mess of the Great Stuff, but it makes it much easier to transport the wreath outside for painting.
One thing I should have done that you should definitely do: place cling film over the cardboard. This will prevent the Great Stuff from sticking to the cardboard. When everything is dry, removing the cling film will be a breeze.
Step 3 – Prepare the skulls & bones
Before foaming, I first rounded up the usual suspects to see if they'd fit the bill for this Halloween fire wreath. I wanted an assortment of skulls and bones – I just had to figure how much of each and where to put them. The foam hardens quickly, so I wanted to lay everything out on the form first and then take a picture for reference.
Full skulls would be too big, so I cut them in half and removed the lower jaws. Jawless skulls are way creepier than their jawed brethren!
I had a couple Dollar Tree hands that were flat as paper – totally not creepy! – so I broke all of their fingers at each knuckle and curled them a bit. To keep the shape, I put a dab of hot glue on the back of the knuckles where I'd broken them. All will be painted in the end, so I just used the black glue I had loaded in the glue gun.
Step 4 – Arrange the bones on the un-foamed form
I laid out a mock-up of the final skull placement (minus the small bones I'd place after foaming). We didn't want to cover too much of the foam so the fire would still show, so we kept the arrangement minimal.
Step 5 – Put on your PPE
I put on nitrile gloves and safety glasses before spraying the Great Stuff. You do not want this stuff anywhere near your eyes or skin! Keep a few pairs of gloves at the ready. If you need to shape your wreath, you'll need to change into a new pair before attaching the skulls and bones.
Step 6 – Spray the foam
I started filling foam inside the wreath form and then built upon that. You can see in the pic below I had a little too much in one area. That's okay, I shaped it with my hands after I finished foaming.
The foam started to harden quicker than I thought it would, so it's best to do this step as quickly as possible. I lingered on this part, not realizing the foam was developing a skin.
I pulled some foam away from the side I sprayed too much on. Don't worry of your wreath looks nothing like fire but instead looks like a terrible mistake and good god how did I let myself get talked into this! All will be fine, and it's going to look amazing!
Step 7 – Arrange skulls & bones in the foam
Working quickly, press the skulls and bones into place.
Step 8 – Let foam harden several hours or overnight
You may think you're good to go after a few minutes (like we did), but trust me, that foam is still slowly moving. Next day I had to touch up with some paint because we rushed, and the foam kept expanding revealing unpainted foam around all the skulls!
Step 9 – Hide the battery packs
I nestled the battery packs into the back of the wreath form by cutting out a section of wire and then slicing out the hardened foam.
These wreath forms have pretty thick wires, so I used a pair of mini bolt cutters to easily snip them. These guys come in handy on a lot of projects. They're worth having around!
Step 10 – Paint
Here's where the magic happens! I used glossy red paint, satin dark gray and matte black. You can use whatever you have, but I do recommend keeping the red glossy and the black matte. I used the gray least, so it probably doesn't matter.
I started with red and sprayed it randomly here and there. I'd never done this before, so I really didn't know what to expect.
After the red, I followed with gray. You don't need to give any time between colors or coats.
Then I started in with the black.
This painting process took multiple runs with each color.
Back with the red…
Now more black.
More red…
Making some deep red highlights…
Muting the red with gray and black.
Painting is the part that may give you the most apprehension – I know it did for me, until I started doing it. Here's a video of the entire painting process in real time to give you a better idea of the layering process. Don't worry, it's not hard!
And here's our finished DIY Halloween Fire Wreath!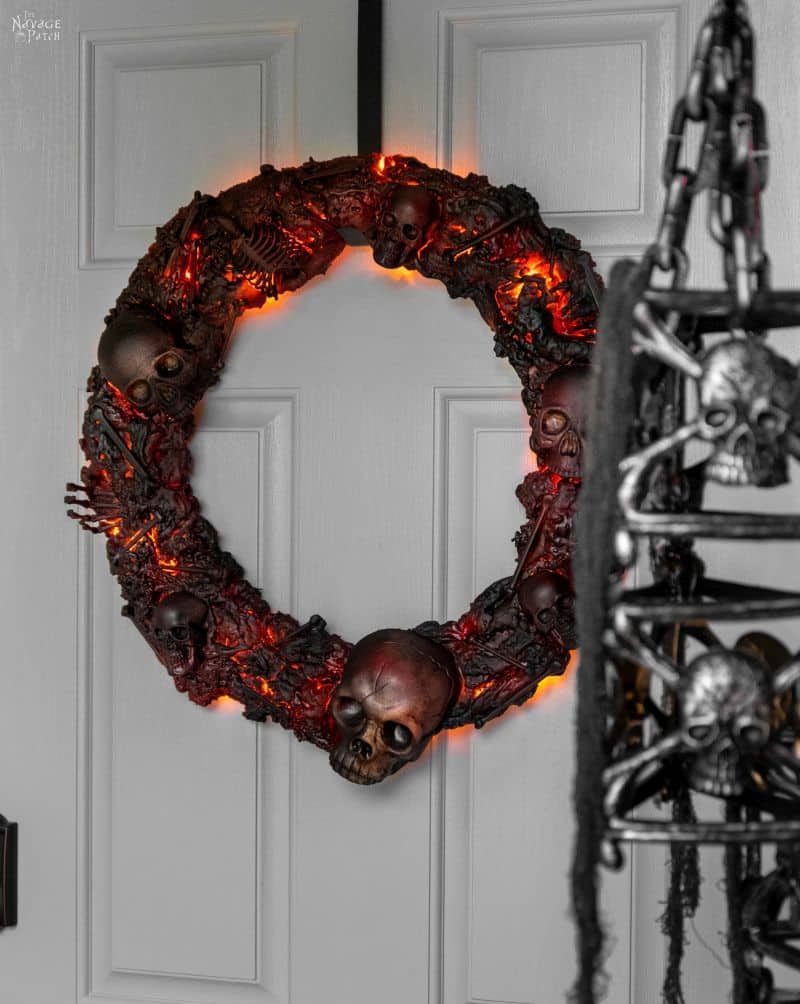 It's not visible from the pictures, but when I set the lights on pulsating mode, it looks like real fire!
If I had to make another one, I'd cut holes in the eyes of at least one of the skulls to let the fire glow shine through. I still can do it with this one – it's not too late!