Here is a quick and easy DIY IKEA Tarva hack suitable for any skill level! All it takes is a little stain, a little paint and some new hardware!
There is a fine art to choosing just the right makeover.
First and foremost, the makeover must fit the space for which it is destined.
It must also fit the man, or in this case, the boy for whom it is intended.
And finally, since we are now professional bloggers (ooh la la!), the makeover must meet budget constrictions and time constraints.
Back in the early days, when The Navage Patch was still a mewling little brat of a blog, thrashing about and making loud noises, I would sometimes spend months on a furniture makeover.
Months!
Months of my life wasted on this thing that is currently mothballed in a storage room!
Precious weeks and days I'll never get back because I had to make this ridiculous thing!
I'm so lucky that I have a wife like Handan.
She saw that I was spiraling out of control with my projects. At the rate I was going, I'd only have 4 projects a year to show you guys!
She taught me how to make things simpler.
She taught me how to make things quicker.
And thus, our Simple Stupid movement was born.
Our mission is to bring you guys the best projects, done in the simplest manner possible.
It's better for us.
And it's better for you!
Because I can say with 100% certainly that none of you went out and tried to duplicate this!
So when it came time to hack Barish's IKEA Tarva 6-drawer dresser, we needed it to be quick (because we have a lot of irons in the fire), we needed it to be budget-friendly (because despite how many times I beg for it, no one has yet sent me a million-dollar check), and we needed it to look great (because…do I really need to explain this one?).
On a side note, why is it a "hack" when it's IKEA but a "makeover" when it's any other brand of furniture? If you know, please let us know in the comments!
We weighed a few options for this IKEA Tarva hack, some more involved than others, but in the end, Simple Stupid came out on top.
A little paint, a little stain and 12 new knobs.
Sure, we could have made it more complicated. But what would that have gained?
Here is the 6-drawer Tarva in its pristine state:
It is a simple, functional chest of drawers.
And it is just begging for a makeover! Excuse me, it is just begging for a hack!
We bought this piece for Barish nearly 6 years ago, and he has used it in his bedroom in its unfinished state ever since. We always knew we'd do something to it…we just never imagined it would take so long to get to it!
With Barish's help, we carried the drawers and the carcass into the basement. I put the carcass up on my work table and had a look.
The feet would have to be removed. We wanted to final piece to be a little shorter so it wouldn't interfere with the sloped walls of Barish's second room.
I lightly sanded the sides and top with a random orbit sander and 220 grit paper. Though it would be painted, 6 years of finger grease wouldn't help matters.
After sanding, I applied a coat of primer, since I'd be painting it with Benjamin Moore Aura paint left over from another IKEA hack I'll soon be sharing.
When it comes to primer, you'll find none better than shellac-based Zinsser B-I-N.
When the primer had dried, I applied two coats of paint in Chantilly Lace color with a satin sheen. I used a small foam roller to prevent brush marks.
Between coats of paint, I turned my attention to the drawers. They'd be getting stain.
I removed the knobs, the drawer slides and the bottoms from each drawer.
To keep the look in Barish's two rooms consistent, I used Minwax Special Walnut stain on the drawers. Although I'm partial to the Rustoleum/Varathane line for most stains, Minwax hit it out of the park with Special Walnut!
The next day, I reassembled the drawers, except for the knobs. Handan really wanted glass knobs for the drawers, and we searched Amazon until we found the ones she loved most.
Of course, they were a little pricier than we wanted.
But I know my wife.
We could have saved on the knobs, but every time she'd go into Barish's room, she'd look at the dresser and wish she had bought the better knobs.
I told her that she could break the budget a little bit for this project and splurge for the glass knobs she wanted.
We bought a box of 20, because we'll also be using them on the other IKEA Kallax hack that I'll soon be sharing.
With the knobs installed, I turned back to the painted pieces. I cut about 4 1/2 inches off each leg.
And then I re-attached the legs.
We all carried the drawers and carcass back up to Barish's room. Handan and I placed the carcass in its place, and I inserted the drawers.
And that was it! It's one of the simpler IKEA Tarva hacks, but we all love the way it turned out.
What do you think?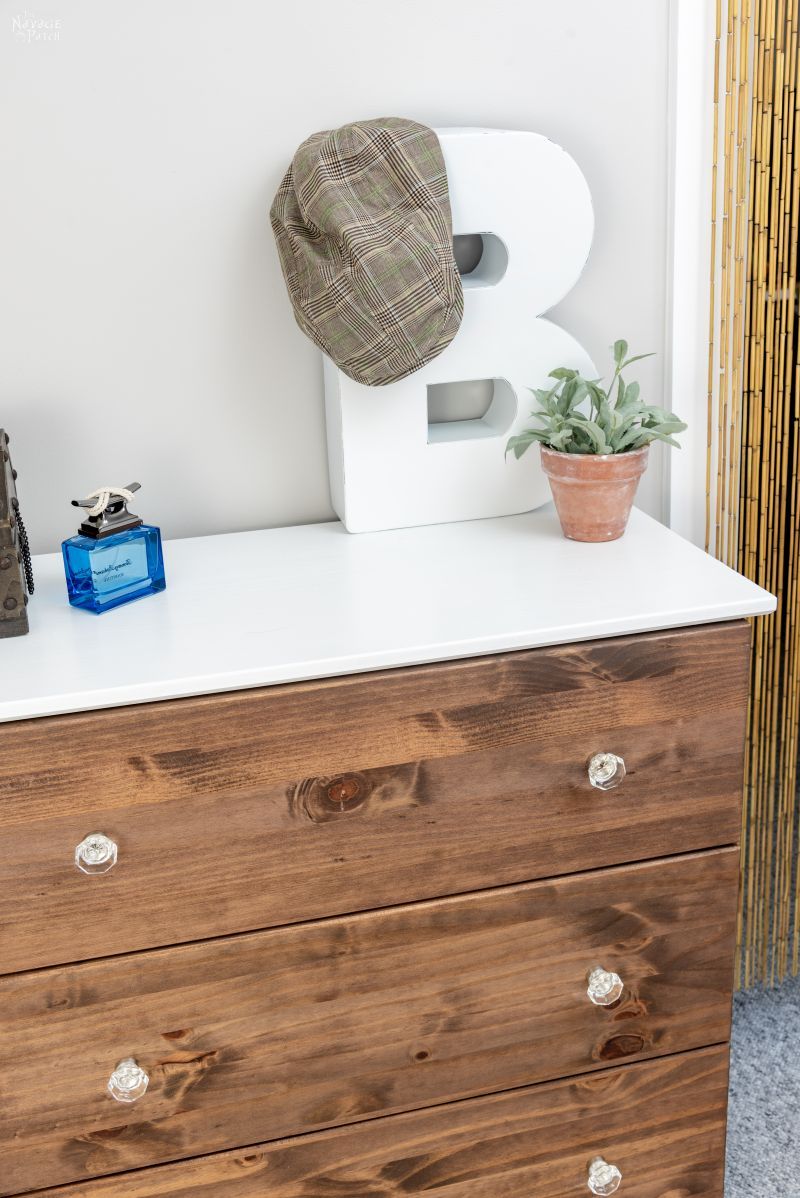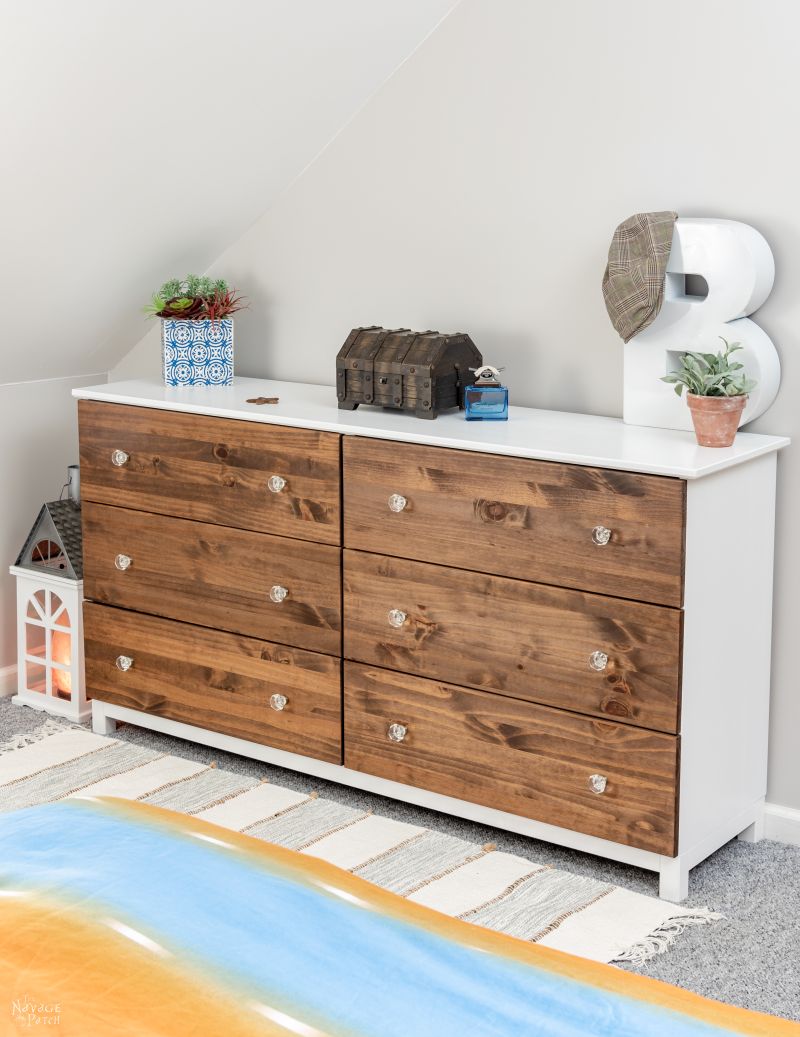 We love it when you share our posts on Facebook and Pinterest!