DIY Rolling Kitchen Jar Storage
DIY Rolling Kitchen Jar Storage Shelves are a great way to utilize the small spaces in your kitchen when your cabinets and pantry are full!
The Need Arises for Mason Jar Storage Shelves
In order to achieve the goal of pristine countertops set forth in my DIY Slide-Out Shelves post, I needed to relocate most of the crap that had been inhabiting my lower cabinets. For much of the stuff, I followed by my preferred method of dealing with unused and unwanted crap:
Find a large cardboard box in the big pile of large cardboard boxes taking up considerable real estate in the basement.
Toss unwanted crap in the large cardboard box.
Close the large cardboard box (at this point, if done properly, memory of the box's contents should start to fade).
Carry the large cardboard box to the basement.
Search for space, preferably out of the way and hidden (what was in that box, again?)
Deposit the large cardboard box, turn around and walk away forever. (What box? What are you talking about? I don't remember any box!)
Tell no one what I've done, thus ensuring the contents of the large cardboard box shall remain undisturbed for centuries.
Too many jars and nowhere to put them
But sometimes those cabinets held things that I needed, like food that we had grown and canned. I couldn't just toss that sauce into the pit of forgotten gadgets (but you better believe the rest of that crap got The Box!).
I needed that cabinet to hold my food processor and slow cooker/pressure cooker/yogurt maker/rice maker (which is one of the greatest gadgets of all time), but there was no place left in my crowded kitchen for jar storage.
I certainly couldn't add them to the pantry – LOL, that would be suicide!
In fact, I needed to brave the wilds of my pantry to rescue some jars of homemade goodies that had been marooned in there since September: ghost pepper jelly, habanero jelly, sweet-and-spicy cherry peppers, peach habanero salsa and barbecue sauce.
There was a whole ecosystem of sweet, tangy, spicy excellence in those jars that had been neglected for too long!
But where to put those colorful jars of butt-puckering perfection?
I scanned the kitchen.
Nada.
No shelf space left, no cabinet space that wasn't spoken for, and the countertops were strictly verboten by decree of The Commandant.
But wait! What was that there?
A Secret Space Reveals Itself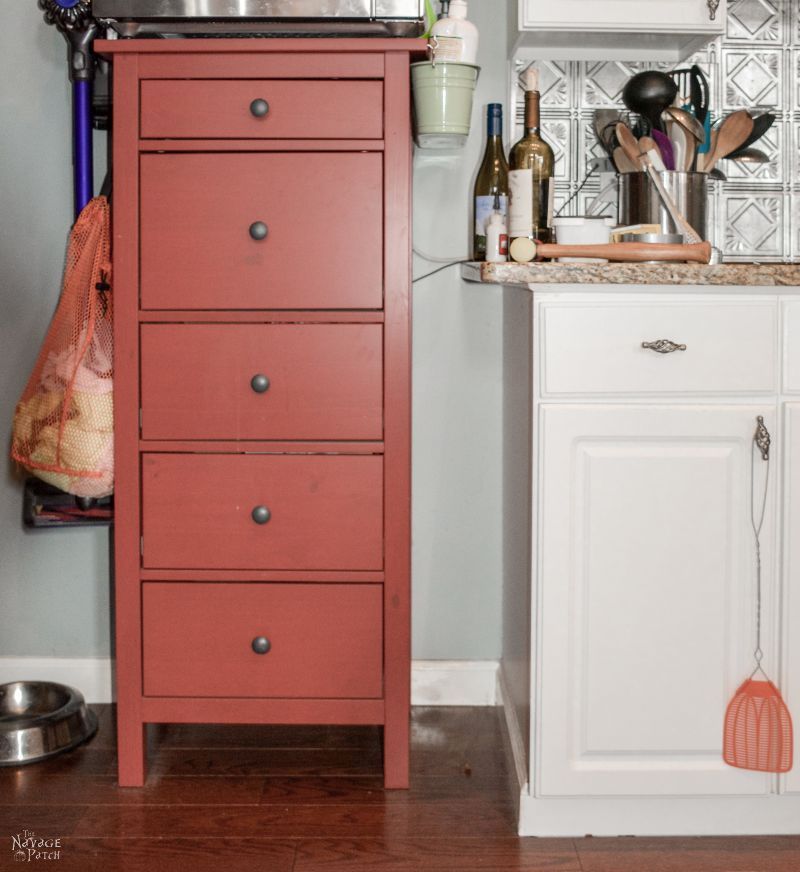 Just look at all that wasted real estate! Go on! Look! (Yikes, just don't look too hard at all those stains on the red chest of drawers.)
Okay, I could work with that space. People live in smaller spaces in New York City and San Francisco and pay good money for the privilege! I whipped out a measuring tape and took some hasty measurements.
Spoiler Alert: I was a little too hasty, and I screwed up a measurement. When did I discover my error? After I built the damned thing! More on that later.
I jotted my measurements on a small piece of paper and made a quick sketch. I would build rolling mason jar storage shelves to hold my pints and quarts of precious spicy stuff. The rolling shelves would fit exactly into the space shown above: the top of the enclosure would fit underneath the granite overhang, and the bottom 4 inches or so would be recessed by 3/4 inch to account for the baseboard on the one side and at the back.
I descended into the basement to start construction.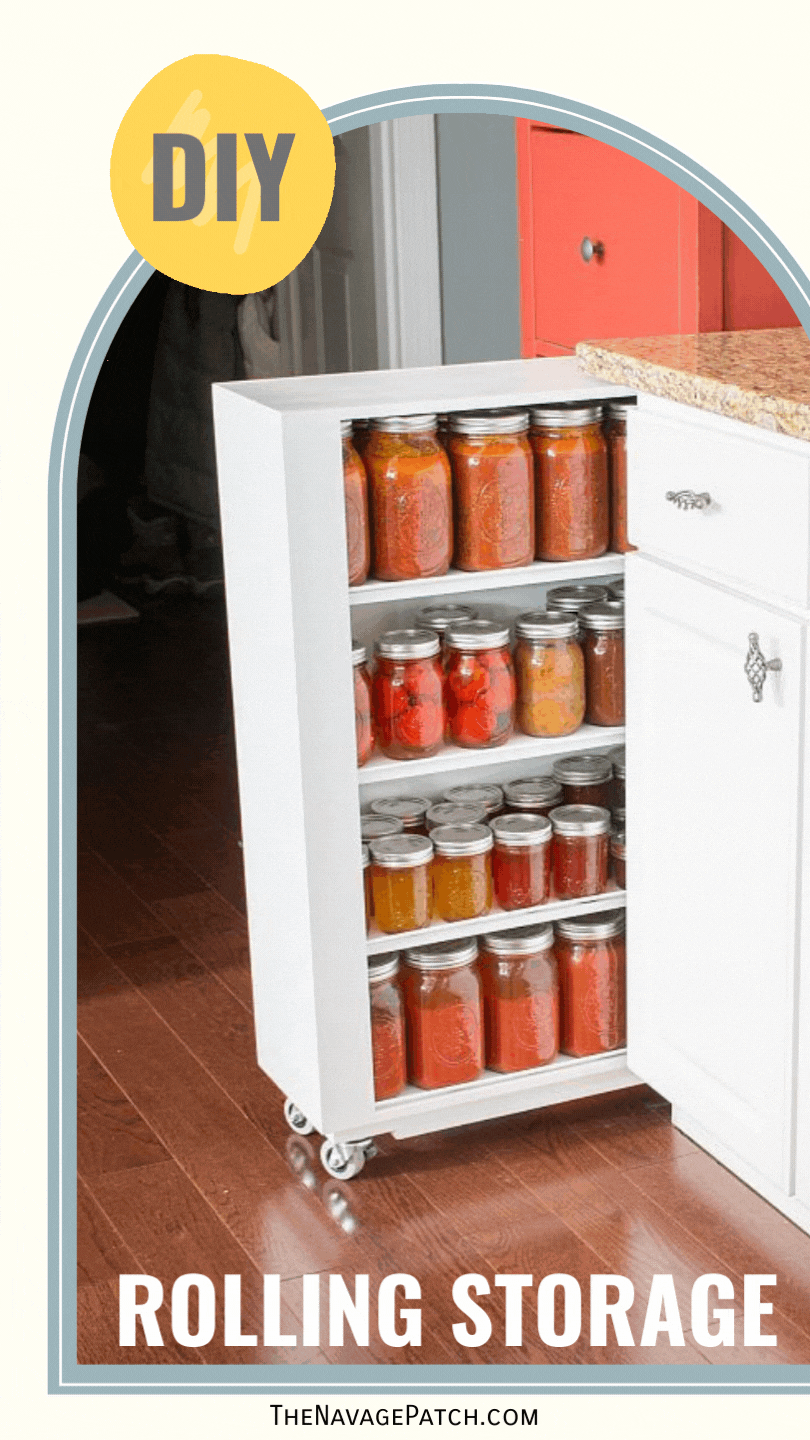 Building the Rolling Kitchen Jar Storage Shelves
I can hear you thinking, madam. "Oh, down in the basement with all your boxes of crap?"
To which I reply, "What boxes, madam?"
Planning the Job
I decided to make my DIY rolling kitchen jar storage out of 1/2 inch plywood, and I cut all the pieces according to my sketch and dimensions. I know other bloggers out there take the time to plan their work with computer-aided design and cut sheets and computer-generated plans.
They are right to do so.
I make my calculations in my head and scribble them on a tiny yellow pad of paper.
I make mistakes – usually a lot of them.
Don't be like me. Plan your work properly.
*****
Sketchup is Better than hand-drawings!
Edit 2019: I'm now one of those "other bloggers" who uses computer-aided design, and my work is much better because of it. Quality is up, and errors are wayyy down.
Don't be like Old Me.
Old Me was a doofus of the very first order – a mouth-breathing, knuckle-dragging dunderhead who couldn't plan his way out of a paper bag.
New Me, on the other hand?
Well, now there's a horse of a different color!
New Me is a Renaissance Man, a Swashbuckling, Sawdust-Sneezing Samurai.
Why, I don't think it's an exaggeration to say that New Me is a Hero…
[Ok, my babes, time to come back to reality! -Handan]
Hmph. I was just getting started!
*****
Laying out the Kitchen Jar Storage Pieces Before Assembly
Anyway, here are all most of the pieces. I realized later that I forgot a piece.
Also, I sorta changed the design a wee bit halfway through building.
Again, people, don't be like Old Me when you build.
I used my Kreg Jig to drill all the pocket holes. There are also two pieces of 3/4 inch plywood that I cut for the base.
Since I needed the bottom 4 inches to be recessed, and my casters were 2 1/2 inches tall, I needed another 1 1/2 inches in addition to the casters.
I glued two identical pieces of 3/4 inch plywood together to make the 1 1/2-inch-tall base.
I used brad nails to secure the two pieces together while the glue dried.
The base was 1 1/2 inches shorter in both length and width than the bottom shelf of the cabinet. When glued together, I centered the base in the middle of the bottom shelf. This left 3/4 inch all around – the exact width of the baseboard. I traced the outline with a pencil then rolled the base with glue.
Next, I placed the base on the bottom shelf and secured it with brad nails.
Assembling the Rolling Mason Jar Storage Cart
Once the base platform was built, I started by securing the back of the shelf to the base. I put a bead of glue along the joint then screwed it in place.
Then the sides
And the top (okay, okay, I hadn't actually put the other side on yet. In my original design, I only had one side. I planned to slide the jars to the end and pluck them from there. I changed this plan shortly after taking these pictures).
Once the frame was built, I reinforced it with some brad nails.
Once the frame was finished, I installed the shelves. I measured so they would be equidistant and marked where each shelf would go, then used two speed squares to make sure the shelves were level and square.
I secured the shelves in place with glue and brad nails shot through from the sides and back, using the speed squares to help me line up my brad nailer in back.
Before attaching the face frame and the metal crossbars, I filled all of the pocket holes with wood filler and the nail holes and gaps with drywall spackle.
Once that was all dried and sanded, I built the face frame. I drilled holes into the sides of two pieces of plywood. These holes would hold the metal rods.
Next, I inserted the metal rods.
Then I glued and brad nailed the face frame in place. I put drywall spackle on the nail holes and any gaps.
You may be wondering why those bars are so low. They are at the exact height they need to be to allow jars to be placed on the shelves. Since there is very little clearance for the jars, they are not able to tip over and spill out. The only way they can be removed is to lift them up about a centimeter and slide them straight out. That was the idea for the big jars, and this summer there will only be big jars in there. For now, there are some small jars living in there, but I'm not worried about them falling out.
Painting the Kitchen Jar Storage Shelves
I gave the whole piece a sanding, and then it was time to hand it over to Handan for painting.
Handan has a Wagner paint sprayer that she absolutely loves. I'm all ankles and elbows when it comes to spray painting, so I just get out of her way and let her do her thing.
When it was painted, I attached the wheels.
And, wow, it's done and filled with jars!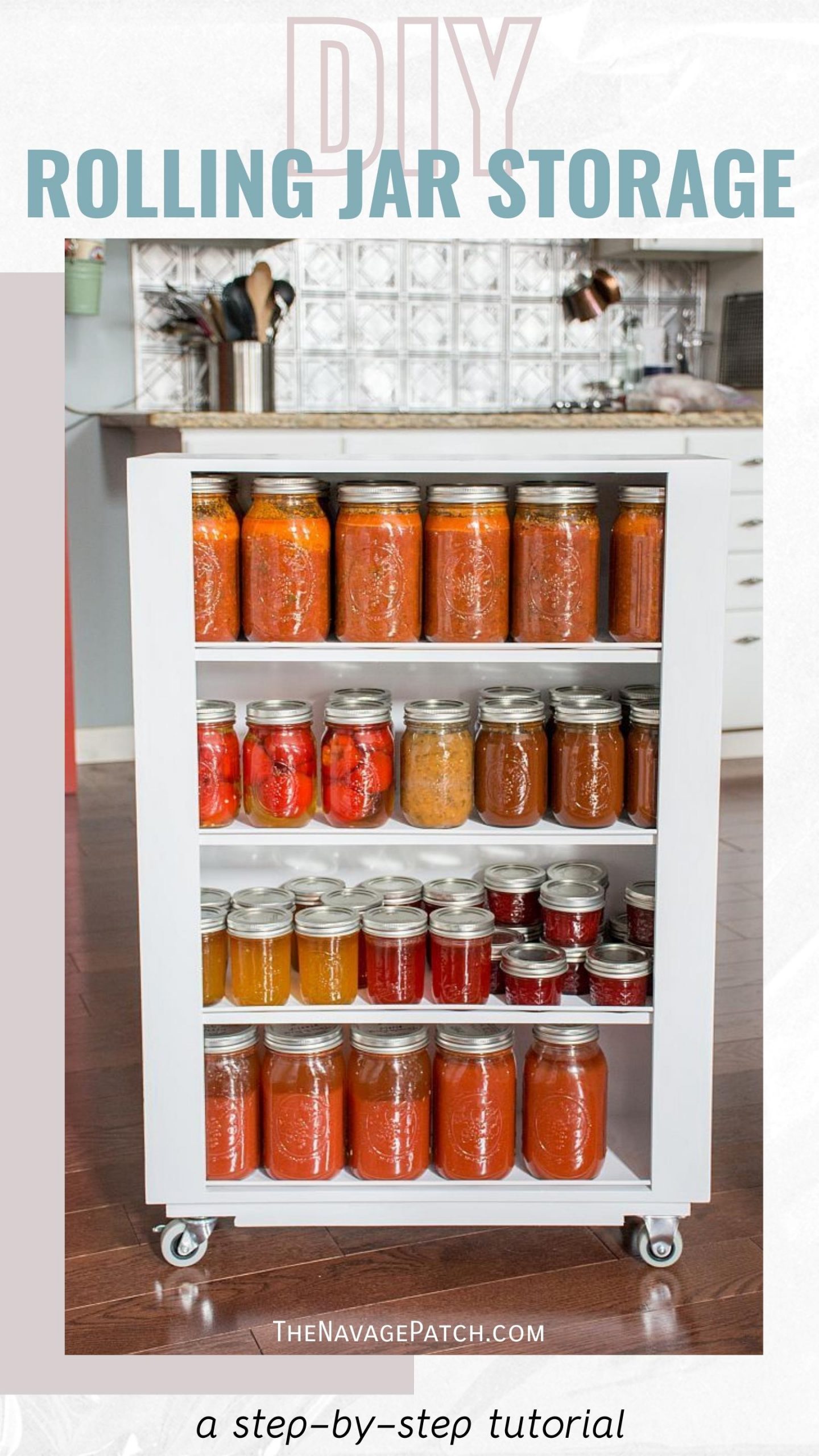 An Unsquare House
Astute readers will remember that I said I screwed up a measurement back at the beginning of the post. When I brought this upstairs for painting and tried to fit it in place, I found that it was about 1/2 inch too tall for the space and wouldn't fit underneath the granite.
How did this happen?
Well, this whole jar storage thing was originally going to be a set of fixed shelves in another even smaller space in the kitchen. I had measured the height from the floor to the underside of the granite over there and applied that same measurement to the new area, (wrongly) assuming that the house was square and uniform and that the counters would be the same height all around the kitchen.
This house may be a lot of things, but square, level and uniform it isn't!
In order to fix this error and make my rolling mason jar storage shelves fit, I had to cut 1/2 inch from the four corners of the base, where I had attached the casters. By doing so, I lowered the sides down, so they no longer cleared the baseboard.
Ah, well, such is life.
Instead of a flush fit, there would be a small gap on the side next to the stove. I'd have to live with it.
Finished DIY Rolling Kitchen Jar Storage Shelves
We love to see our DIY projects out in the wild! If you try this DIY project and take a picture and post it on Instagram, be sure to tag us @TheNavagePatch!
When Handan saw me struggling to pull the loaded shelf out so I could get a jar, she suggested I put a handle on it.
My babes is one smart lady! Why hadn't I thought of that!
I still have a few more nooks and crannies in the kitchen that I plan to fill. But until I do that, you might like to see how I built our own slide-out shelves for all our kitchen cabinets. Click on the picture below to visit the DIY Slide-Out Shelves tutorial.
We love it when you share our posts on Pinterest!