Coffee Can Repurpose (& How to Paint Plastic!)
Our Coffee Can Repurpose is the perfect craft room small storage solution! We'll also show you how to paint plastic so it won't peel, even when flexed!
Handan has been working at her current job for exactly six years, and for exactly six years, she's been hoarding the company coffee cans.
They buy those big tubs of Chock full o' Nuts – pretty standard-issue for the modern office (with the occasional Folgers and Maxwell House thrown in for good measure).
And whenever the (Good to the) last drop has been sipped by one of her bleary-eyed coworkers, Handan sneaks into the company cafe and purloins the empty can.
Over the years, her coworkers took note and started depositing the empties on her desk.
Some women become Crazy Cat Ladies as they age.
My babes has become the Crazy Coffee Can Lady.
I dreaded Coffee Can Day, when yet another yellow and black monstrosity would clutter up my counter until I kicked it down into the basement.
I'd occasionally commandeer one of the cans and press it into service as a grease and oil receptacle.
A couple of them became targets for Barish's pellet gun.
But mostly they just multiplied in our basement.
No one knew what she wanted with so many empty coffee cans.
I sure as hell didn't!
And I'm pretty sure Handan didn't have the foggiest notion of what she'd do with all those gallons and gallons of empty space.
But then our Craft Room Makeover began, and we found ourselves in search of storage solutions, big and small.
Wouldn't you know it? Just as I was about to put my foot down, grab the bull by the horns and very politely ask if I might possibly be allowed to throw away her cans, my babes came up with a beautiful and functional coffee can repurpose for almost the whole damn flock of cans! And in the process, we figured out how to paint plastic so it won't crack or peel, even when you bend it!
Coffee Can Repurpose
Like many upcycles, makeovers and repurposings, this one started with some spray paint.
Well, really it started with primer, if you want to be technical about it. Zinsser BIN to be exact.
Okay, if you really want to get technical, it started by peeling the labels from the coffee cans and scrubbing off the label glue. But then came the primer!
Once the cans were primed, I sprayed them with three light coats of flat black paint.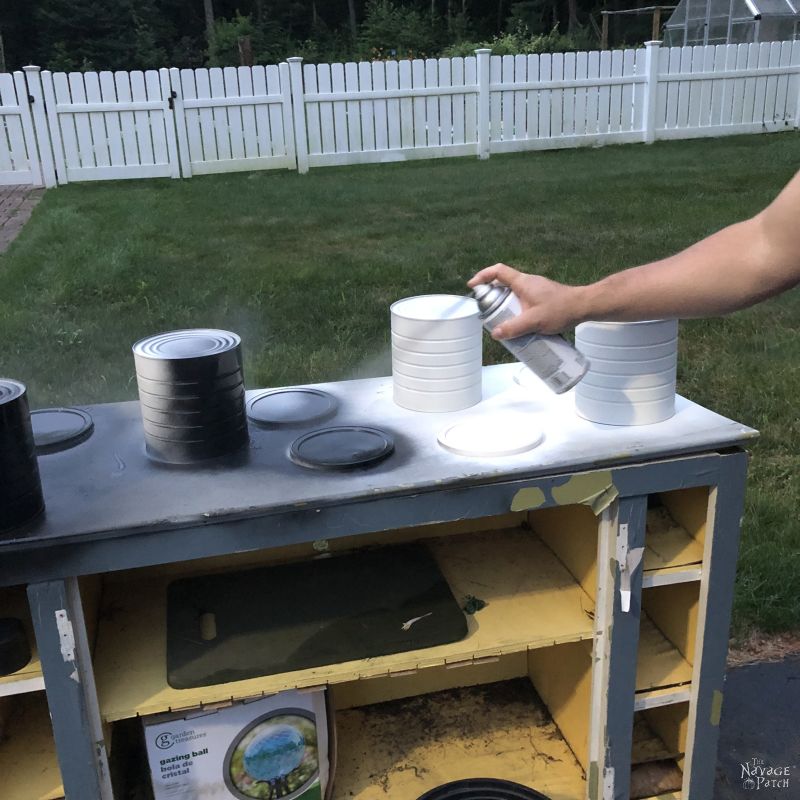 You'll notice that I'm also spray painting the plastic lids that had already been primed. This all happened after Handan had first tried to spray paint the lids with no primer.
That worked as well as you might imagine. The first time she bent the lid, almost half the paint flaked off, and the rest was not far behind.
I grabbed the lids from her and assured her I'd solve the mystery of how to paint plastic without it cracking or peeling when flexed.
First, I lightly sanded the lids, then I hit them with primer, and then I spray painted the little round nuisances (as shown above).
I was sure this technique would work! It had to!
But it didn't, and the lids flaked like a French baker's croissant on a cool Parisian morning.
Okay, look, the lids I painted were a world better than Handan's unsanded and unprimed versions, but these lids would be used frequently. They had to be able to endure some bending!
Bending…
Flexing…
Bending and flexing…
Hmmmmm….
My mind wandered to Olivia Newton John doing Jazzercise in the 80s…
STOP!
I mentally slapped myself.
Wrong bending and flexing, doofus! Get back with the program!
Okay, I'd been using a product in my workshop called Plasti Dip. It's a liquid rubbery plastic that I used to create new grips for a bunch of pliers and other old tools that I had gotten from my father.
It might be perfect for those coffee can lids.
I checked Amazon to see if they had different options.
And there it was!
Plasti Dip spray! It even comes in all different colors!
This could be the answer to my prayers. These stupid lids were giving me far too hard a time considering how easy the project was supposed to be!
I had removed the paint from the failed lids, and I still had lids that were brand new. I took them all out and began the Plasti Dip experiment.
How to paint plastic so that it doesn't crack or peel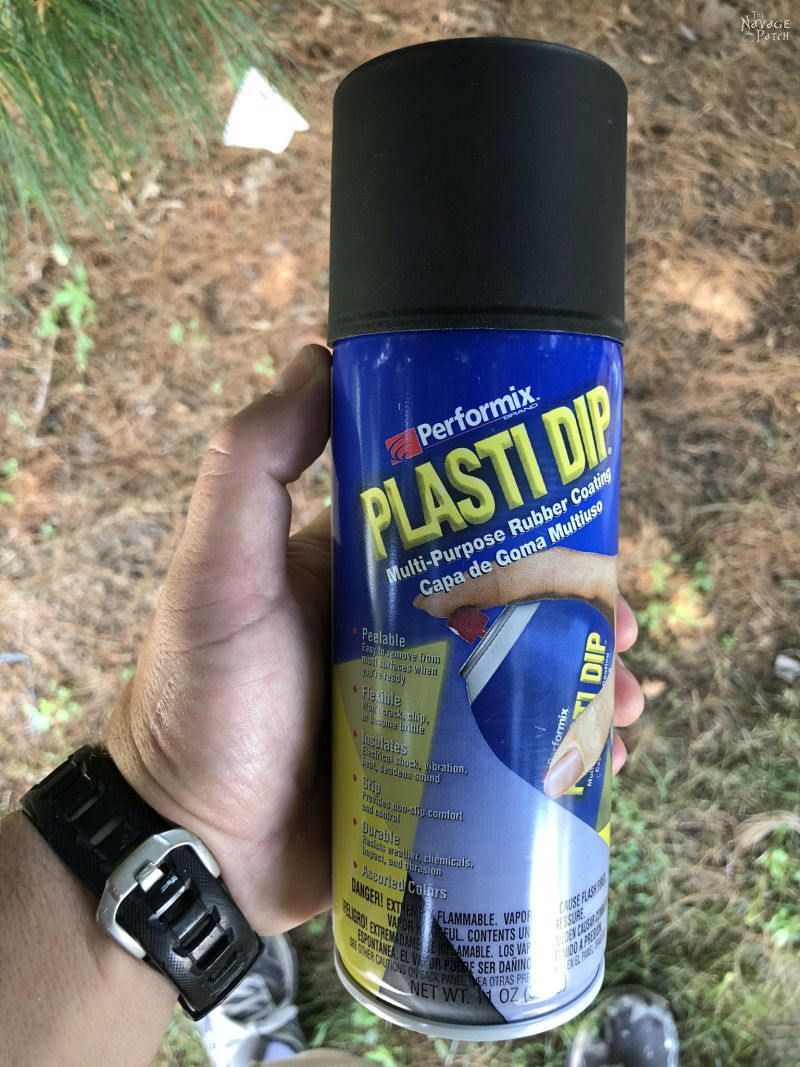 Plasti Dip is an interesting substance. When spraying it, I was tempted to treat it like spray paint and just spray very light coats.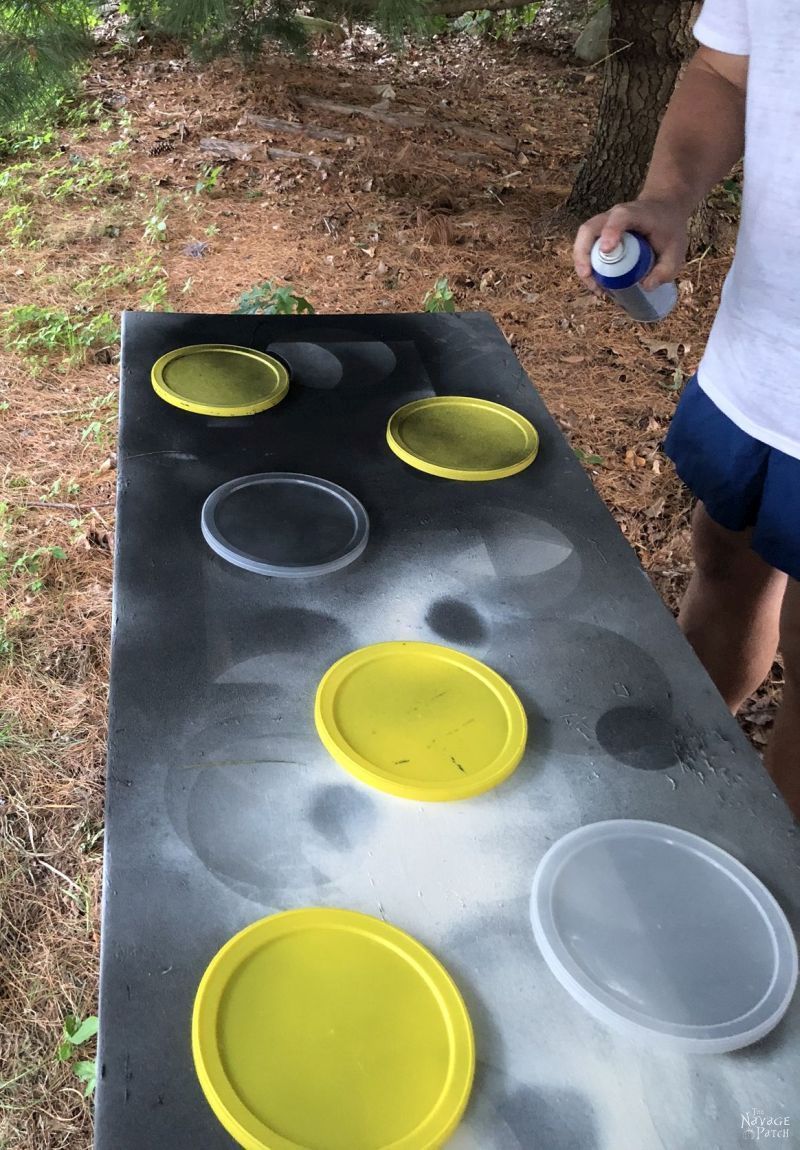 But the can assured me that I could go thicker, so I got a little more aggressive with the spraying.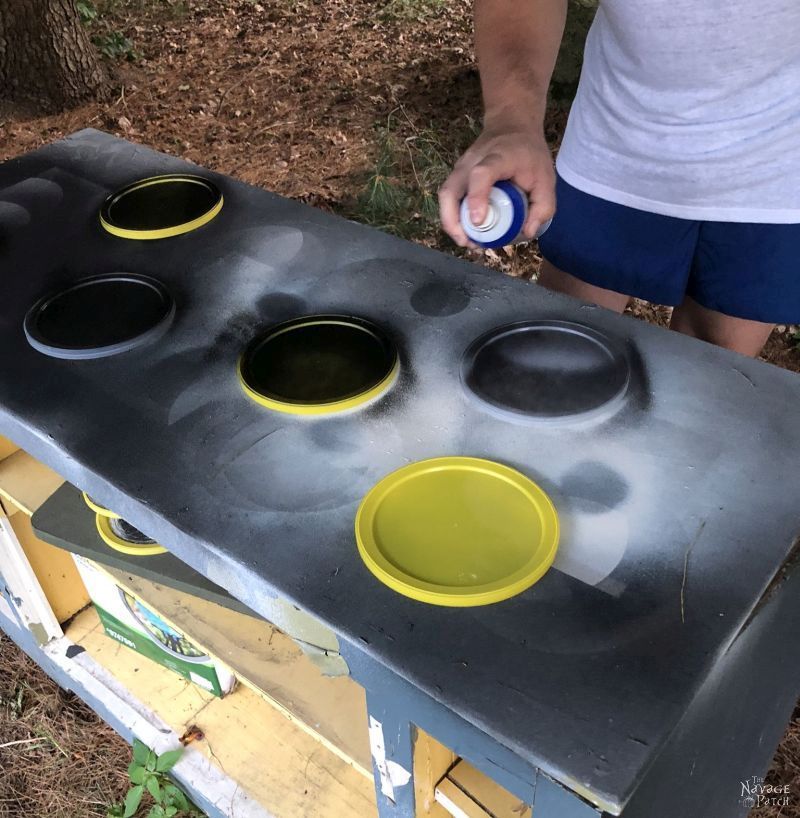 I gave the lids two good coats of Plasti Dip, waiting 30 minutes between coats.
The result? Perfectly "painted" plastic lids!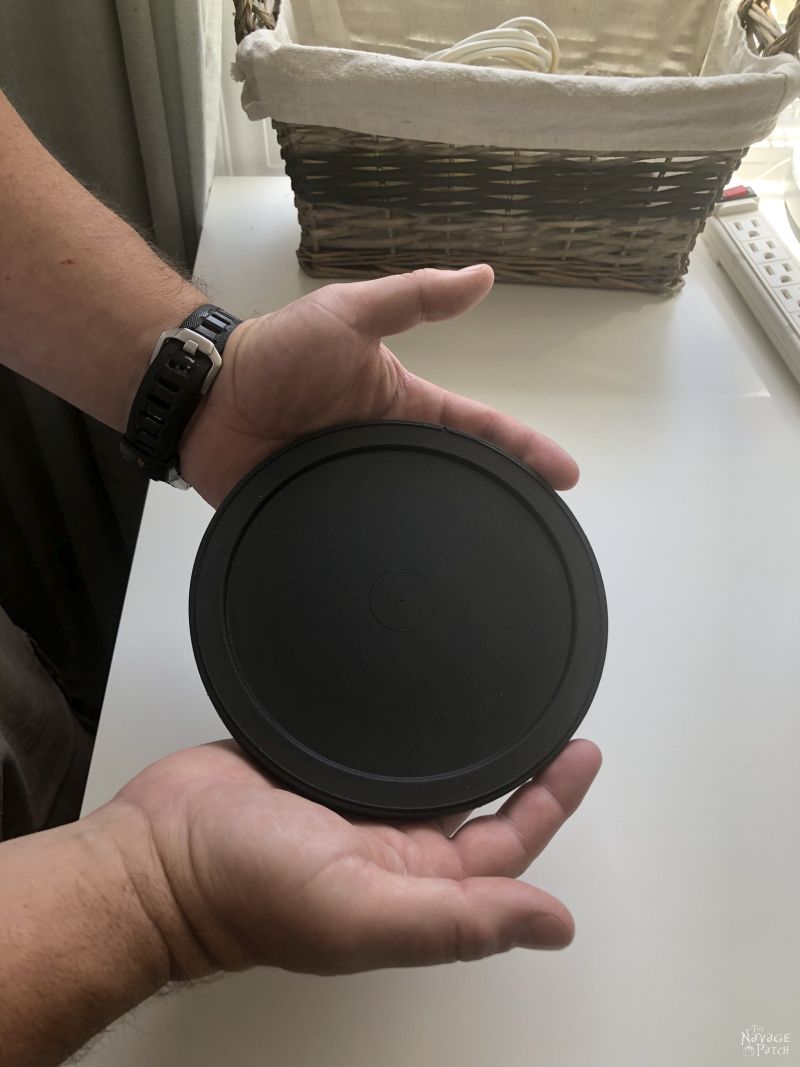 That can be bent…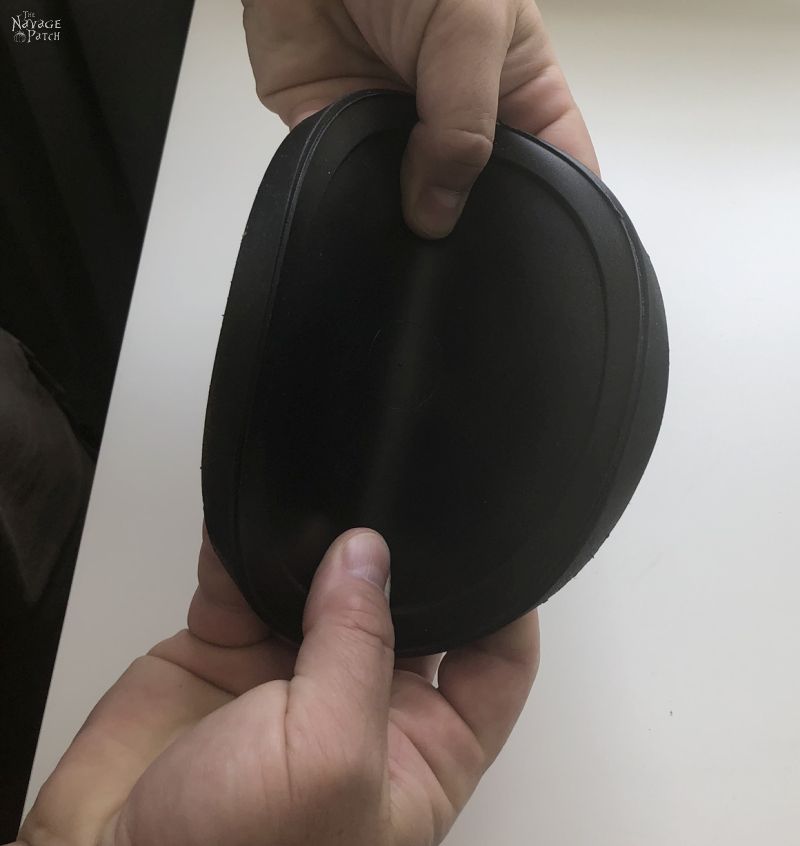 and flexed…
…with no cracking, peeling or flaking!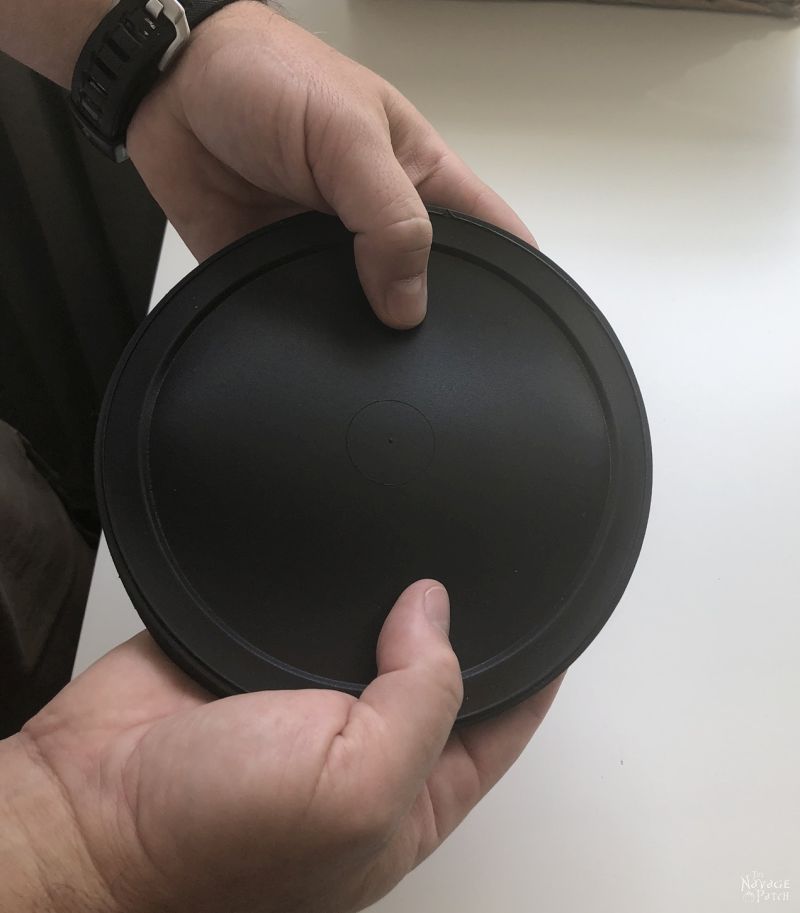 Update 2021: we found an even more durable way to "paint" the lids: Flex Seal Spray. It is stronger than the Plasti Dip, but it leaves a textured finish. Depending on the look you're going for, that could either be a good thing or a bad thing, but we love the way they look with texture!
Having solved the mystery of how to paint plastic (and earning the admiration of my babes), I turned back to our simple coffee can repurpose.
To add interest to our matte black cans, Handan found a bunch of old IKEA bamboo placemats that we used to use in our dining room but had been retired and relegated to the basement. Like all things she squirrels away, she may not know at the time of squirreling what their future use will be, but she'll always remember them, and she'll almost always find a use!
Handan thought that a strip of bamboo placemat glued onto the cans would look awesome.
Who was I to disagree?
I cut the placemats so that the bamboo strips would fit between the grooves in the cans. We first tried one with a bigger strip, but we settled on a width of 4 black lines in the placemat.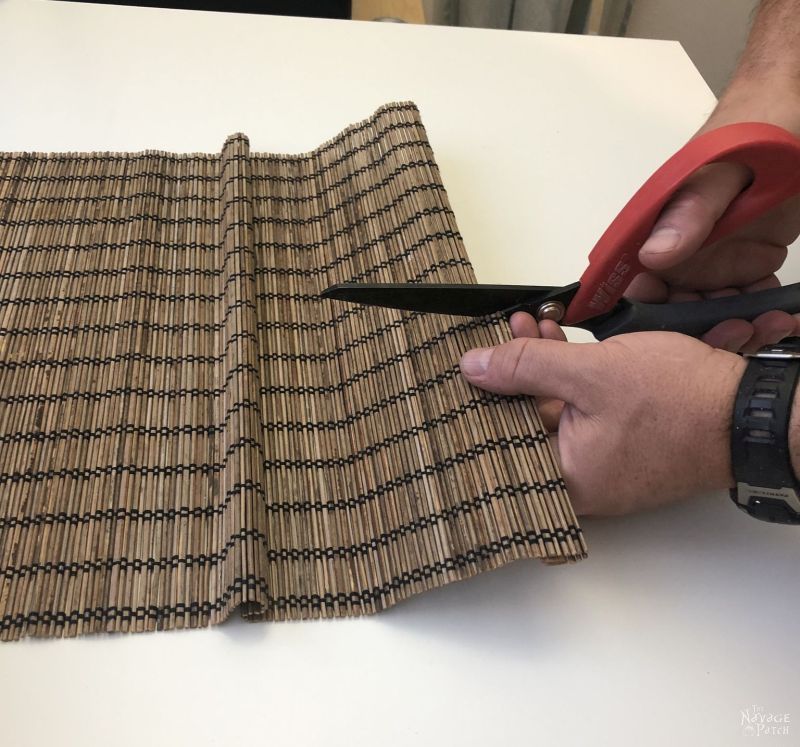 Starting at the seam in the coffee can, I put a line of hot glue between the grooves on the can.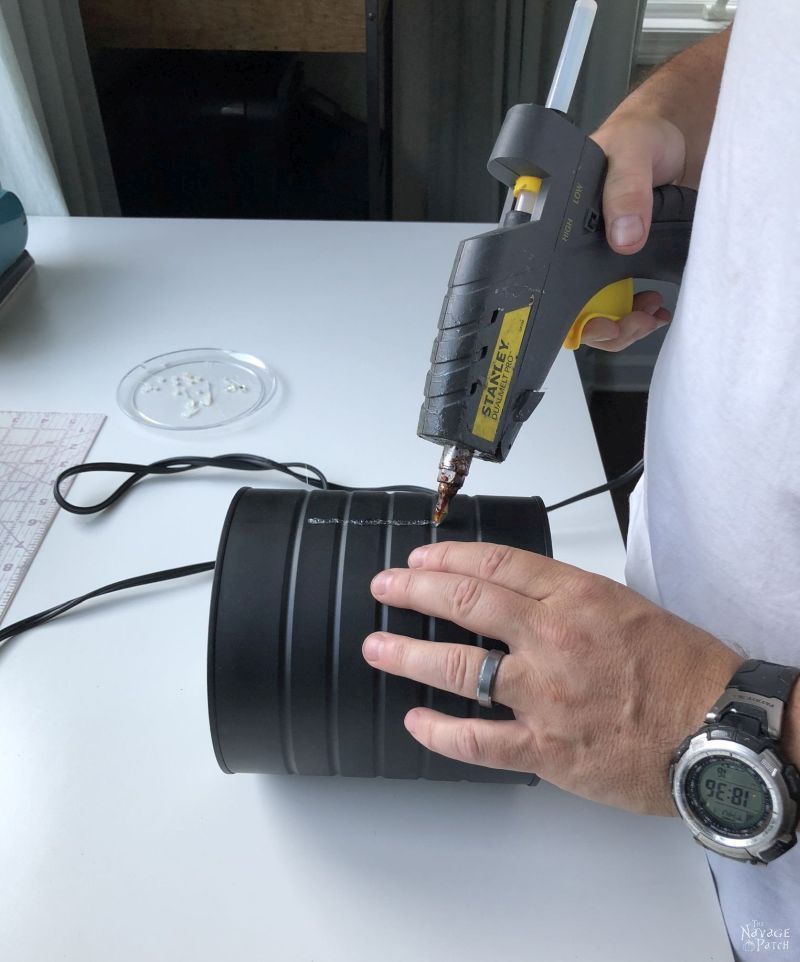 Then I glued one end of the placemat strip.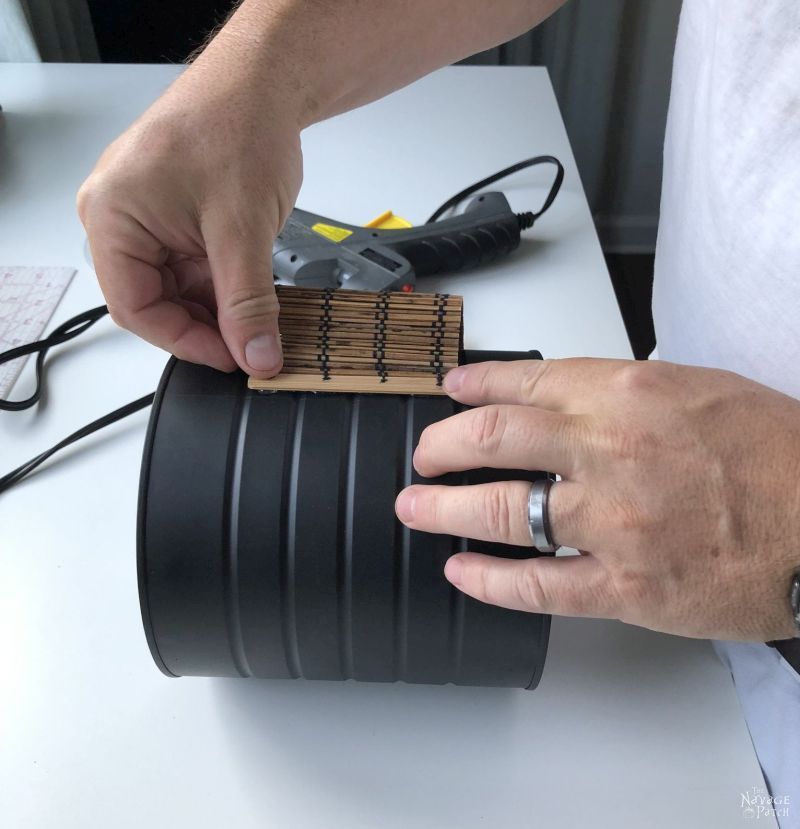 Every few inches around the can, I put another line of hot glue…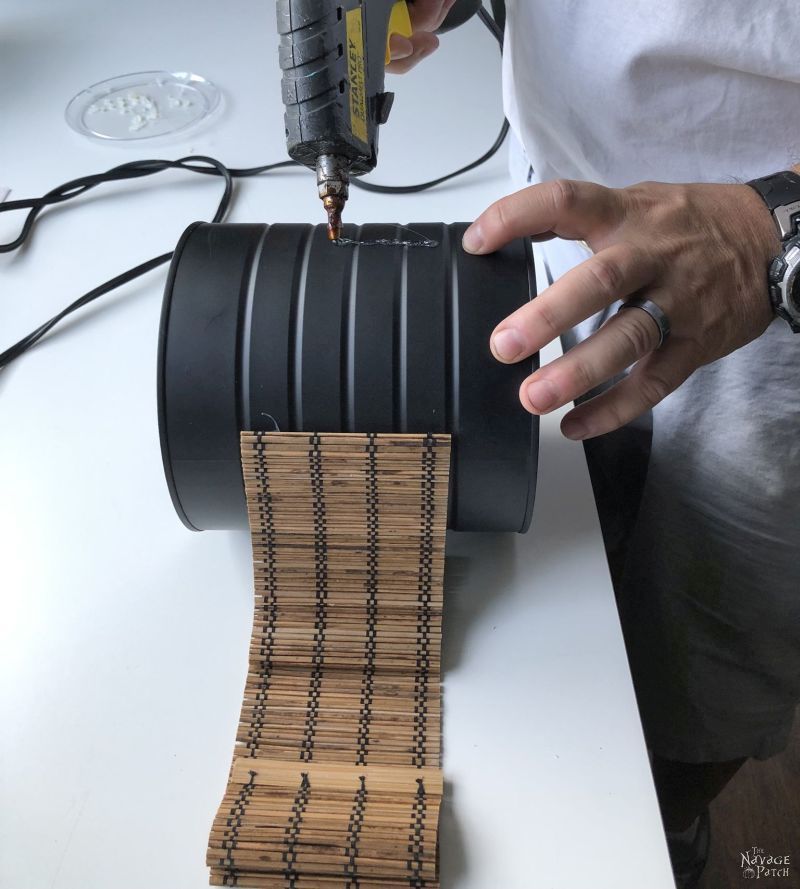 …then I wrapped the bamboo around and glued it in place.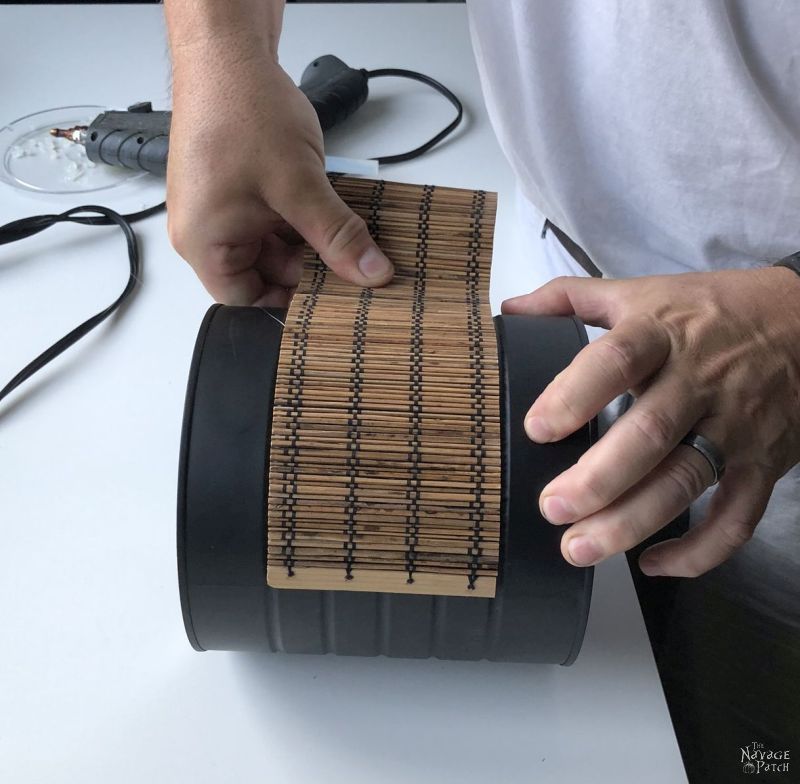 Getting near the end…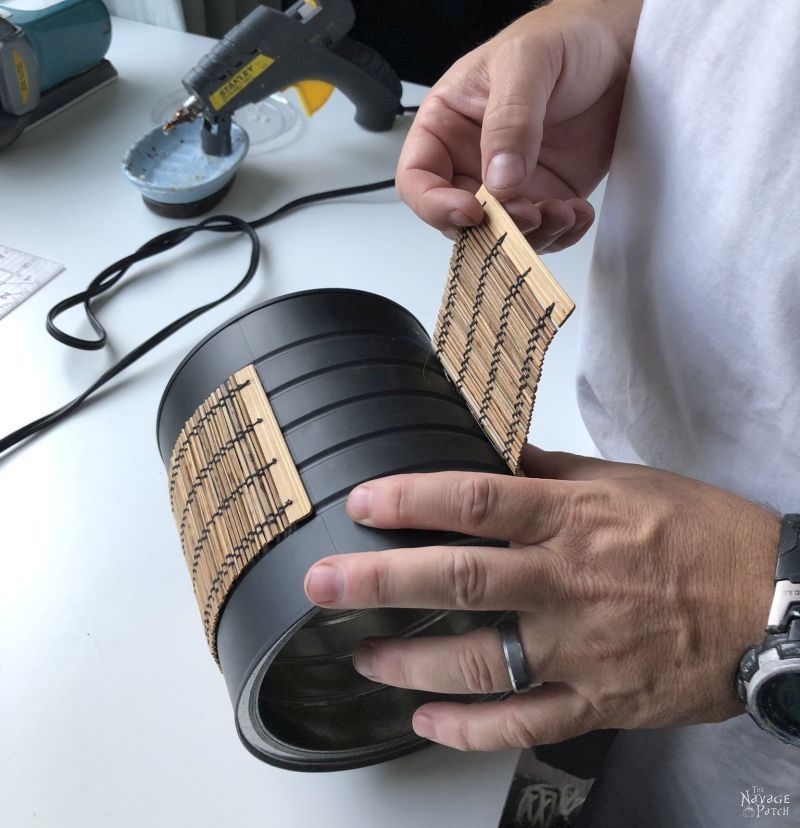 This next pictures shows me just laying the bamboo down on the can without glue. Notice that it comes up short.
No problem! The bamboo mat stretches!
I put the last line of hot glue.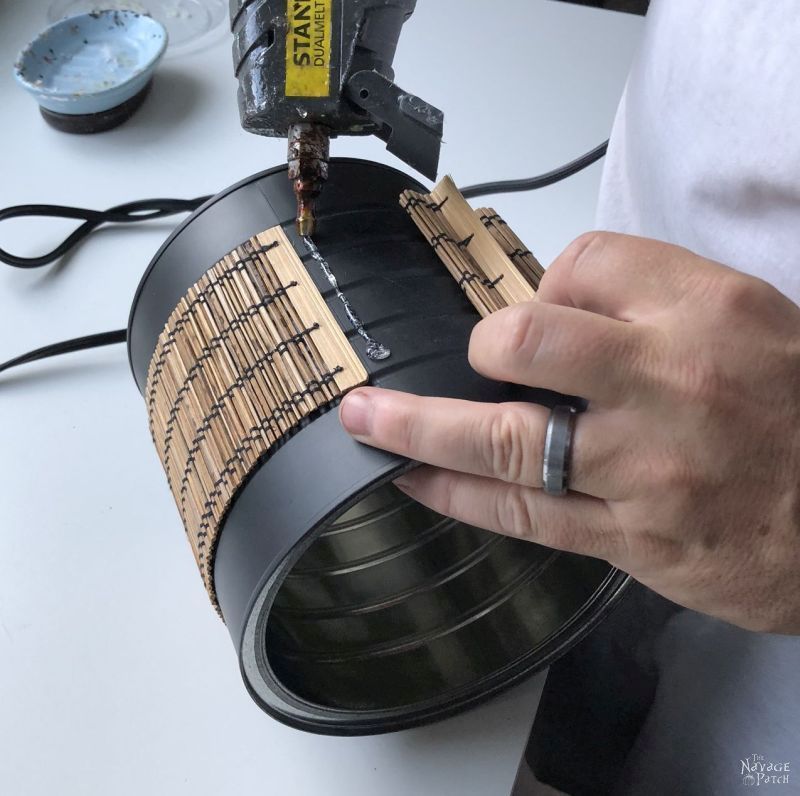 And then I stretched the bamboo strip so that it met with the other end.
One final push to make the ends meet…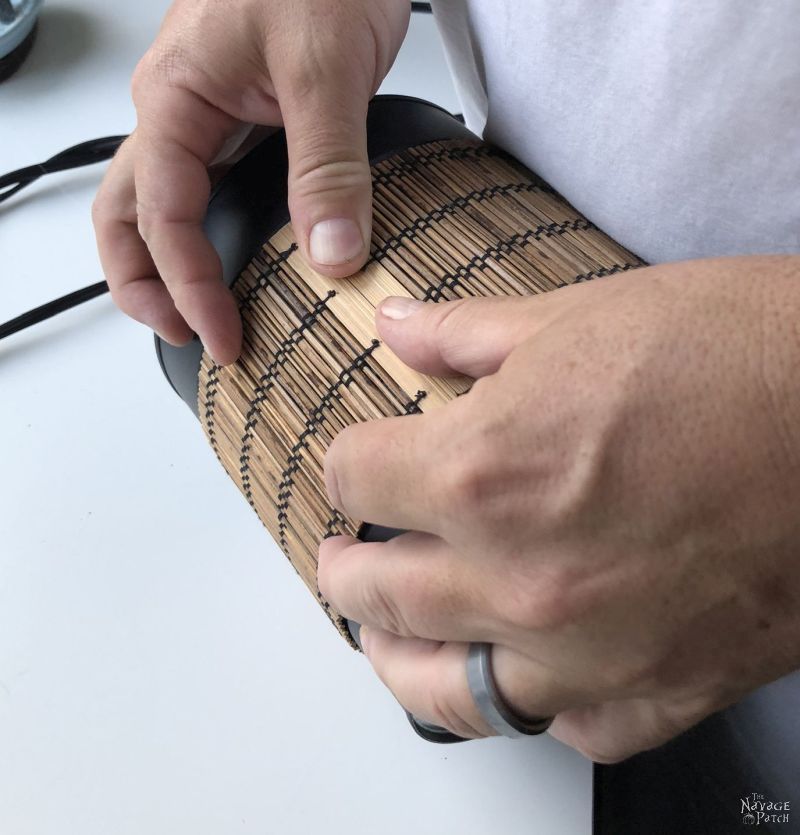 Hold a few seconds, and then it's perfect!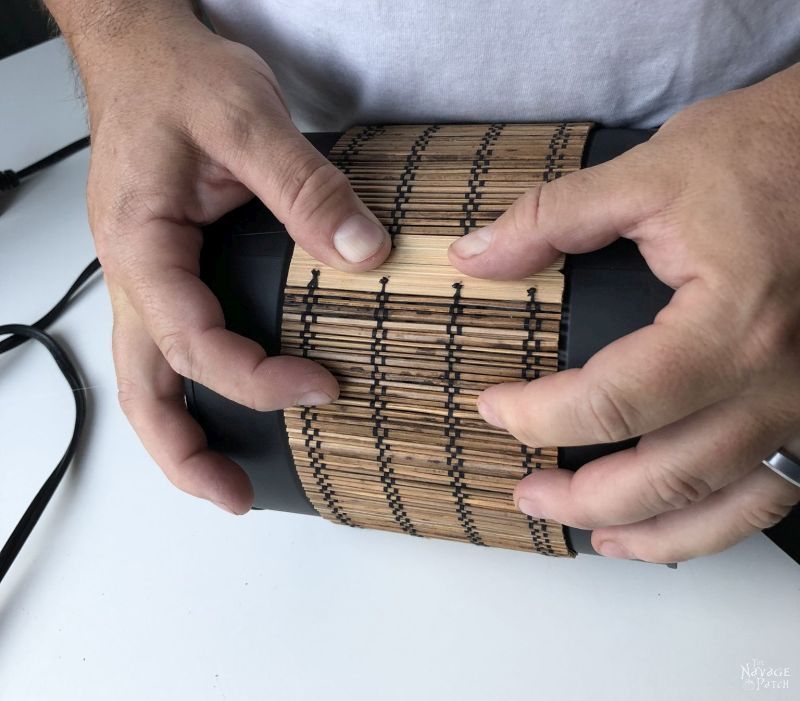 And that's it! A little spraying, some cutting and some hot gluing, and we now have a whole fleet of stylish storage for our (nearly-completed) craft room!
How do you like our coffee can storage solution? What have you used old coffee cans for? Let us know in the comments!
If you're following along with the craft room makeover, here's how we stand:
Craft Room Makeover Checklist
Click here to see more craft room makeover posts as we continue to cross items off our checklist!
We love it when you share our posts on Facebook and Pinterest!