DIY Light-Up Skull Topiary (aka Skull Kebab)
Make this DIY light-up skull topiary & take your Halloween decor game to boss level! You've seen skull topiaries before, but never like this!
You know the end is near when skulls have gone mainstream.
There was a time when a well-placed skull could actually frighten and cause the flesh to crawl on an unsuspecting visitor, bystander or innocent child.
Sadly, those days have gone the way of dodo birds and common sense.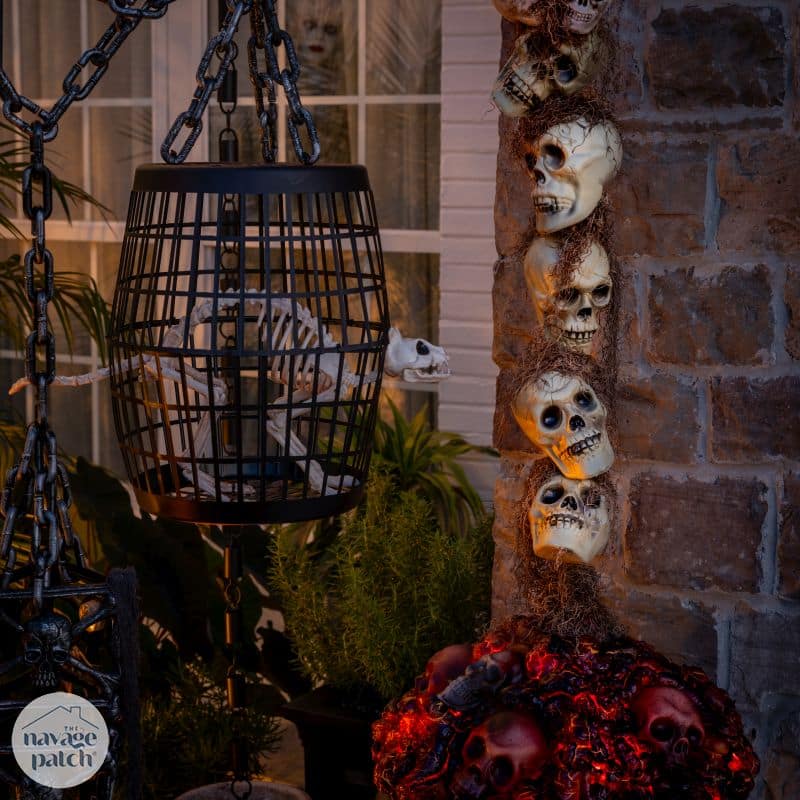 Now every Fanny Facebook, Tootsie TikTok and Suzie Social Media has skulls festooning every square inch of their Insta-homes during the fair autumn season.
I mean, when did it become hip to be showing off your brand of recycled ferret claw rugs and line of alpaca wool jogging sweaters one day and then hawking skulls the next?
What are the true Creep-heads supposed to do when their favorite holiday has been usurped by Stanley-sucking social media vampires whose only interest in a skull is how many likes and comments it will garner?
Sigh.
So yeah, you've doubtless seen a skull topiary online somewhere gracing the immaculate front stoop of some perfect house in a perfect neighborhood while two perfect kids play with a perfect dog who only craps in the back yard.
This ain't that house.
We ain't those people.
And our dogs crap wherever they damn well please.
So let's take back Halloween, starting with the skull topiary!
Yep, it's been done. But you see, Betty Bubbles and Guy Smiley forgot one thing…
Skulls taste better when roasted over a smoldering fire.
And that's why this year I've made this delightfully tasteful skull kebab topiary for my babes! Inspired by Turkish shish kabob and large spits of lamb doner kabob roasting vertically, these skulls are a delight for all the senses!
Let's get to it!
This is an easy craft made with mostly Dollar Tree materials. When it comes to skulls, we buy them from dollartree.com by the caseful. They're just too useful around the holidays not to have around, and we're always in need of them!
For the spray foam, any kind will do – you won't need the pure-white foam we used for our Snowy Village Wreath last Christmas.
A note about the black hot glue sticks we use. They are not only perfect for Halloween crafts, but the black sticks we get are made from a stronger glue that holds better in the heat and in general.
DIY SKull Topiary SUPPLIES LIST
Affiliate links are provided below. Full disclosure here.
Dollar Tree broom handle
Dollar Tree plastic skulls
Spanish Moss (DT)
Dollar Tree laundry basket
Wire wreath form (DT)
Zip ties (DT)
LED string lights – orange or red (can be plug-in or battery-operated
Gloss red and flat black spray paint
We love to see our DIY Halloween decor out in the wild! If you make this Halloween DIY decor for your home, take a picture or video and post it on Instagram, be sure to tag us @TheNavagePatch!
Skull Kebab VIDEO Tutorial
Watch our short and fun video below for an overview of our roasting skull topiary before you read the detailed step-by-step tutorial.
Watch Our Tutorial On YouTube
More Easy DIY Halloween Decor Ideas
DIY Light-Up Skull Topiary Tutorial
Step 1 – Skewer some skulls
A Dollar Tree broom handle makes a wonderful skewer – why pay more when it's all you need?
I marked my skulls top and bottom where I wanted the skewer to pierce. I wanted some skulls to be centered, some facing up, and some tilted to the side, so I marked accordingly.
Next, I cut a round hole in the top of the skull the same diameter as the broom handle.
Under the jaw, I used the X-Acto knife to make an asterisk.
I poked the bottom of the broom handle through the top of the skull and pushed through the asterisk under the jaw.
This was the first of five skulls. I pushed him up to the top and repeated four more times.
Optional Improvements
Age the skulls:
Plastic skulls are easy to age, if you want to up the creep factor. Since I was on a time-budget, I skipped this step, but I recommend it for skull aficionados. Stain and shoe polish are commonly used, but you could also try dirt, mud or even spray paint to give the skulls a more ancient and menacing demeaner.
Char the undersides:
These skulls are roasting over a smoldering fire. Do you really think the lower jaws would be so lily white? Of course not! They'd be deliciously browned! A little black spray paint can char them right up for you. This was a great tip from someone on social media. I wish I'd thought of it when I started!
Step 2 – Add moss
When I had five skulls skewered and arranged, I hot glued Spanish moss between each skull. This not only looks good but it holds the skulls in place.
This next step is optional, but since I had a bunch of smaller Styrofoam skulls kicking around, I glued a trio of them on top.
Here are the two skewers I made, all ready for the next step.
Step 3 – Make the fire mound
I cut a Dollar Tree laundry basket as shown below.
Then I placed the cut bottom in the middle of a Dollar Tree wire wreath form and zip tied the two together . This will help mound the fire without having to use too much spray foam.
I cut a hole in the middle to accommodate the broom handle.
I sprayed Great Stuff Big Gap Filler spray foam in a layer around the outside of the laundry basket. This is the first of two layers, so it didn't need to look perfect.
Don't forget your nitrile gloves and eye protection for this step! Spray foam is nasty business!
Step 4 – Add lights
I waited a few minutes until the foam formed a skin, and then I placed the LED string lights all around the foam and the wreath form. Since the back won't be seen as much, I concentrated the lights more on one side.
Step 5 – Add skulls
Before I started, I had cut the backs from a bunch of plastic skulls, I placed several randomly around the foam, concentrating on the front and sides. The skin prevented me from nestling the into the foam, so I just placed them on. I then secured them in place with Great Stuff spray foam – the red can, not the Big Gap Filler in the black can.
I only wanted a thin layer of foam over the lights to allow them to shine through. Big Gap Filler might have buried them too deeply.
You'll notice there's a hole in the skull I placed on top of the fire mound. That is where the skewer will be mounted, so anything put up top needs a hole in it. Alternatively, you can leave the are empty and simply stick the skewer through the foam at the end.
I stopped foaming once I had all the lights just covered, and then I set the fire mound aside to dry overnight.
Step 6 – Paint the fire
The next day I painted the fire with gloss red and flat black paint. This is the most fun step, and the smoldering look really comes alive during this part!
I like to concentrate the reds in the nooks and crannies and then lightly spray black over it.
Here are the two I made – one is a little heavier on the black than the other.
Step 7 – Insert skewer and display!
I displayed my smoldering skull topiaries in two urns we've been carrying with us since Connecticut – they're the perfect size for these delightful kebabs!
What do you think of our roasting skull topiary?
Let us know in the comments!