Teen Bedroom Makeover Reveal
At long last, here is the teen bedroom makeover reveal! We made huge changes, and we did it all without breaking the bank!
All good things must come to an end, and Barish's bedroom makeover is no exception. We've been working on his new living space for the past four months, and I'm happy to report that we're done!
Well, not exactly.
We've only finished his first room.
I still have a lot of work on the second room, but let's not get ahead of ourselves! Let's enjoy a victory lap before we head back into battle!
These were the major goals I set forth in the first post:
More light! Every man needs a Man Cave, but it shouldn't be his bedroom!
More storage. On any given day, the floor shows more clothing than carpet. We need to manage his laundry better, and we need to give him more space for everyday stuff.
More work space. School is getting tougher, and the workload is increasing. He needs a desk that will give him the space he needs to crush his coursework.
A place to chill. All work and no play makes Jack a dull boy. He needs a space to lounge and relax with his buds while they watch TV or play video games.
A place to rest. Let's find a new place for his bed. Teen brains need sleep, or they get even more dopey than they already are!
Update the rooms with a fresh, new look. He's a teen now. It's time to cast away trappings of boyhood and usher in a more mature style.
Keep it simple and on budget.
I'd say we nailed all of these goals! Note that the "manage his laundry better" will be addressed in the second room makeover.
Okay, first, let's rewind a bit and remind ourselves of what we were up against.
This was his study space.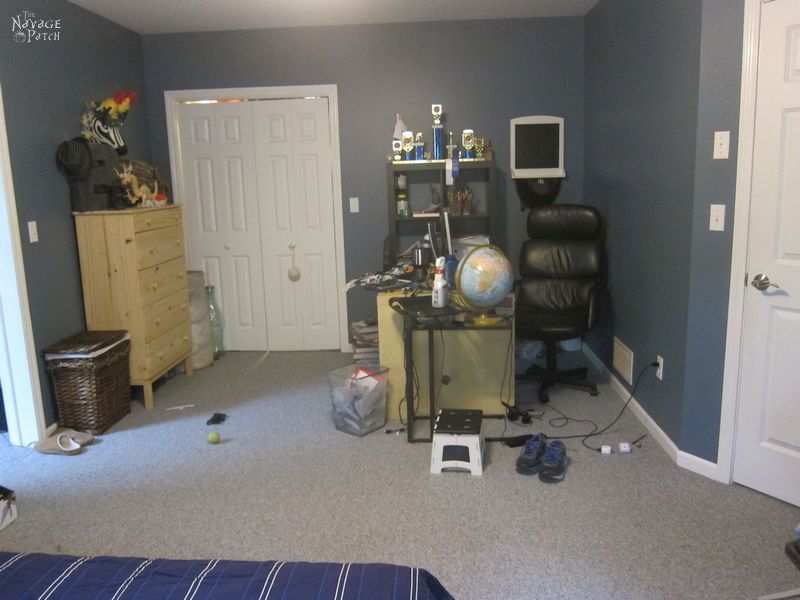 And here is where he laid his little head each night.
I'd like to point out that his room was relatively clean when these photos were taken!
Now, one of the conditions of his bedroom makeover was that he must make a concerted effort to keep his room clean from now on.
No more minefield on the floor.
No more school papers under the bed.
No more sock sculptures and underwear art hidden in the nooks and crannies and darkest corners.
No more forgotten food. Oh, jeez, I have to tell you the mother of all forgotten food stories! But since this post is first and foremost about the room reveal, I'll put the story at the end of the post. Not everyone loves my rambling stories, I'm told. (Only the awesome and smart ones!)
Before we head into the reveal photos, I'm the proudest dad in the world to announce that Barish has lived up to his end of the bargain. For the first time in recorded history, his room has been clean for more than a single day!
So let's jump in! You can find the source list is at the end of the post.
Wow, look at all that light! White walls are the cornerstone of this light and open room. Just in time, too – I think I found some mushrooms growing in the carpet when we started this makeover!
I love the beaded curtain we hung between Barish's two rooms. It's such a wispy little thing, but it has a huge impact and really defines and separates the two spaces.
Here's a peek through the curtain from his bedroom.
Barish loved the faux greenery I used for staging the early posts so much that we bought him a faux fiddle fig tree from Hobby Lobby.
Besides looking great, it's a blast to say. Go on. Try it. Faux Fiddle Fig.
You'll recall those air plants are live. And I'd like to acknowledge that The Boy has managed to keep them alive for over a month now.
You can be impressed.
I sure as hell am!
We bought the blind from Lowe's, and it's perfect for that Craftsman style window! And holy cow! Window blind technology has come a loooong way since the metal slats 'n' string days! This little beauty raises and lowers with just a couple of fingers. They even had motorized ones, but c'mon – who's got time for that? This is America! We've got smartphones to stare at! We can't be waiting around all day for a dang window blind to open!
My parents bought me the trunk pictured below the summer before my freshman year of college.
Trunks were a thing back then.
So were cardigans.
And Docksiders.
Don't ask me why.
I threw a piece of 1/2 inch plywood in the bottom, secured it with some glue and brad nails, and then I screwed some casters underneath.
Presto! Instant coffee table!
Price: $0
Like I said in the beginning, this makeover had a limited budget, so most of the decor was DIY or make-do.
Since the boy liked his initial allotment of air plants in their DIY air plant holders, we decided to give him a few more.
Handan made a sphere (well, almost – it's more like a dodecahedron) from some sticks, and we plopped in a few more air plants.
You really can put them anywhere!
I'm so happy we finally hung Barish's framed video game poster. It sat in the storage room for far too long!
We also added a few more pillows to his DIY daybed. We all know that women just can't have enough throw pillows in the house. No room is safe!
That fan had been sitting in our basement, unopened, since 2014 when Handan bought a couple of them on sale from Home Depot. It's a relief to finally put it in use. It's an awesome fan, too, especially after we swapped the original yellowish glass dome with the white one pictured below. We also tossed the wimpy warm incandescent bulbs in favor of some brighter and cooler-temperature LEDs.
We bought the leather recliner back in 2013, so it didn't count as an expense for this project! It's a bit of a beast, especially since it occupies the middle of the room, but it's comfy, and the boy likes to twirl around while dangling from it.
Damn teenagers. Always rubbing their flexibility and general lack of overall body pain in your face!
Fake plant, faux-aged terra cotta pot, fabulous IKEA hack beneath it!
Did I mention how much I love the beaded curtain? It's pretty groovy, man!
That's my prized Martin D-35 acoustic guitar that I gave to Barish. I hope to hear it being played one day!
I bought this bat for Barish after emptying the magazine of an M-16 automatic rifle into a Vietnamese field.
I'm not kidding!
We went for a tour of the Cu Chi tunnels when we lived in Vietnam, and at the end of the tour, right next to the snack bar and gift shop, they had a row of M-16s and AK-47s chained to a wooden bench. For $10 American, you got a magazine with 10 rounds which you could empty with a single squeeze are dole out one-by-one.
Of course I took the single squeeze route. It's not every day I get to fire an automatic weapon!
The vegetation in that jungle field never saw it coming!
Ah, The Boy's closet!
From Chaos, Order.
I made those hooks exactly like I made his wood wall art.
And the winner of the most fun project of the makeover?
You guessed it!
FIRE!
You may recall from the original post that there was a zebra head hanging in the middle.
Well, after Clumsarella Barish bashed into it and sent it tumbling to the ground 3 times, we swapped it out for something a little more low profile.
That wood world map is perfect on the wall by his desk.
And speaking of that – his desk was by far the most expensive element of this makeover. We hemmed and hawed and considered building one, but time (which as we all know = money) forced us to buy one instead.
I'll tell you though, it's a hell of a desk for the money! I, for one, am thrilled we bought instead of built!
And here we are back at the TV sitting on its hacked IKEA Kallax stand.
This is the Movie and Playstation view.
And that, my friends, is a wrap on Barish's first room. As usual, it went longer than planned, but we're thrilled with how it turned out.
And the boy?
Well, he couldn't be happier. He feels grown up now.
Don't forget to read my little story after the source list!
Source List
*******
The Mother of All Forgotten Food Stories
To create enough room to work in, we initially moved a lot of Barish's crap up into the spare bedroom, which is already filled with a lot of other crap. Among the artifacts we unearthed and moved, were a couple of old backpack bookbags. I thought nothing of his old gray and yellow backpack as I carried it up to the spare room and deposited it on the floor. It never occurred to me to open it up and have a look.
Months later and just a short while ago, Handan and Barish were upstairs refilling his new closet as I was preparing dinner down in the kitchen.
I heard Handan shriek, and my ears pricked up.
"Oh, yuck! Pew!!" She was gasping for air.
Naturally, I assumed the boy had floated a gnarly air biscuit that was depriving his poor mother of oxygen.
I smiled to myself and continued chopping onions.
But it didn't end there.
"Oh really? That's disgusting! Go and show your dad, so he can yell at you!"
Huh? Show me a fart?
Perhaps something else was afoot.
I placed my knife on the cutting board and waited for The Boy to galumph down the stairs.
"What is it, Boy?" I said.
He held out a clear plastic clam-shell package in his hand – the kind you might find filled with cupcakes or cookies in the bakery section of your grocery store.
I looked through the plastic.
Chocolate cookies?
They looked like the big, soft and chewy kind. They also looked a little old. They must have been sitting there for a long time.
Strange.
The boy usually gobbles anything with sugar within a day.
"How long have the been there?" I said.
"I don't know." He said. The stock teenager answer.
"When is the last time you used that backpack?" I pressed.
"I don't know." He said.
I knew that he hadn't used it for school since junior high, and here we are near the end of his sophomore year.
Something didn't feel right about this.
Cookies would never last that long in his room.
Even old cookies wouldn't make Handan gag.
I reached out and took the package from his hand.
My eyesight is going, so I had to hold it at arm's length and squint to make out the label.
The first thing I saw was the date.
It was over a year old.
Then my eyes slid down and read the contents.
ROTISSERIE CHICKEN – HALF.
I froze in fear.
A cold sweat broke out on my brow.
How could it be?
Where were the maggots?
This was some Egyptian-level mummification!
I had to know.
I brought the package closer and flicked it open.
I brought it closer still and inhaled through my nostrils.
"JEEZUM CROW, BOY!" I slammed shut the clam-shell package and carried it to the garbage can. "How did you forget about half a damn chicken for a year?!?"
"I don't know."
Teenagers.
Parents, beware.
Just when you think it's safe to enter a teen's room…
ROTISSERIE CHICKEN – HALF!
We love it when you share our posts on Facebook and Pinterest!