Our teenage son's small closet gets a badly-needed makeover so he can better use the limited space in a more efficient way!
We're almost there, can you believe it? This is the last post before the big Teen Bedroom Makeover First Room Reveal! Somebody shake me up a dry martini, because it's almost time to celebrate!
For all the space Barish has in his two rooms, he has a pretty dinky closet. When we moved in, we swapped out the wire shelves that were in there with some new wire shelves.
We didn't know much about pluggin' holes in walls and such, so we just left the holes and hung new shelves. Here's what his closet looked like empty.
There wasn't much space beyond all that wire shelving.
Now, keeping clothing tidy on shelving requires a special dedication not only to folding the clothing nicely, but to making sure the clothing stays in a neat and tidy stack.
There were exactly two problems with this arrangement when it came to our son's closet.
Duh, he's a teenage boy. Do you think he's going to spend an ounce of energy or moment of concern on folding clothes?
Duh, he's a teenage boy. Do you think he's going to give a fig about keeping things neatly stacked in his closet?
Unfortunately, the following picture just doesn't quite capture the mess, as it was taken after we rooted out about 3 years worth of old clothing that no longer fit him.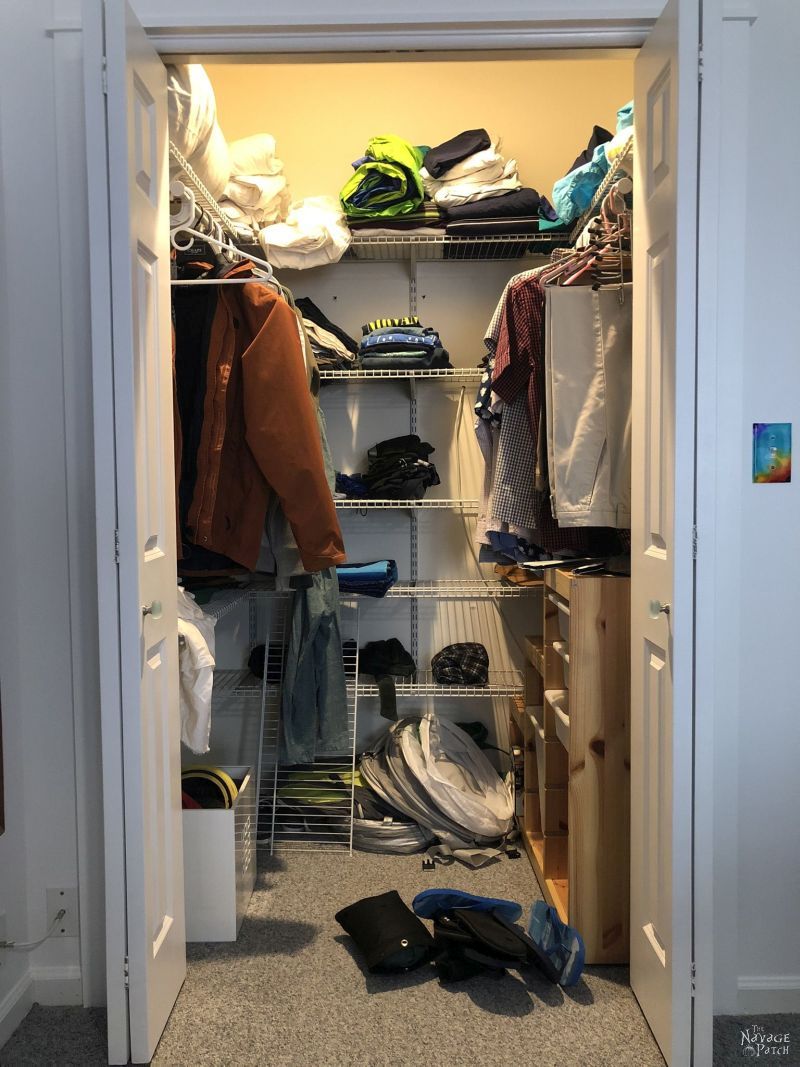 Mostly, the stacks of clothing went untouched, because it was easier for Spongebob Lazypants just to keep re-wearing the same few outfits rather than try to navigate all those piles.
And the stuff on hangers?
Pfffffft. Forget about it.
Those hanging shirts may as well have been cleaning products for all the interest my dear boy showed in them.
Most of them still have their price tags on them.
Almost all of them no longer fit him.
We needed a better way for Barish to navigate that crowded and overgrown space.
We needed to find a closet layout that would inspire him to be neat, rather than scare him away.
As always, the first step was to tear out the old to make room for the new.
The walls were a disaster.
Reminded me of that one time in Afghanistan…
But nothing I couldn't patch up with drywall compound. After a couple of days of patching and sanding, the walls were like new.
Then I let Handan at them with a paint roller. We chose a very light gray that we had kicking around in the basement. We had originally chosen it for our master closet, and it's been sitting in the basement for the past 5 years or so.
Handan and Barish think a lot alike on a lot of things. The problem Barish was having with his old closet is one that his mother understood well. Because of the cramped sides of the old layout, they both felt like the closet was crashing over them like a wave. It made them both feel claustrophobic and uncomfortable.
If The Boy didn't feel comfortable in his closet, he sure as heck wouldn't use it to keep organized and tidy!
To solve this, we wanted to give Barish more room to hang things in front of him instead of to the sides, and we wanted to open up the feel of the closet by getting rid of the side shelving. Hanging everything would be easier and quicker than trying to keep neatly folded stacks, but the hangers needed to be in front of him, not to the sides.
Originally, we planned to hang two bars for hanging clothes. We had two curtain rods in the basement that were perfect for the job.
After positioning and hanging the first rod, we realized that it might be enough for Barish's shirts. His t-shirts were in the laundry when this picture was taken, but it seemed like we'd be able to fit them also.
We installed three wire shelves above the rod, as you'll see in the final pics. They should provide enough storage space.
Where the side shelves used to be, we wanted to install some hooks for Barish to hang his bulky items like winter coats and robes.
Playing on the same theme as the DIY wood wall art, I used some of the leftover squares I had made for that project to make hooks for the side walls.
I made three groups of four squares.
And then I cut a backing from some leftover hardboard.
I stained the squares using the same colors that I used for the DIY wood wall art, then I glued the pieces onto the hardboard.
We had some iron hanging hooks in the basement. Handan bought them years ago at Hobby Lobby for half price. We could finally put them into use!
As has become our custom, we put some Command Picture Hanging Strips on the back…
…and stuck them on the closet wall.
The Command Strips have no problem with winter coats and bathrobes and whatever else we throw at Barish's new hangers.
Like the other trim in his room, we installed our DIY Craftsman style trim around the closet to class it up a little.
We also replaced the boring white pulls with some sea glass knobs that Barish chose from Hobby Lobby.
And here it is – the finished closet with more room and more storage space. So far, Barish has been hanging his clothes in there and actually keeping it tidy.
There is hope for the future!
If you're following along with the teen bedroom makeover, here's how we stand:
Teen Bedroom Makeover Checklist (for The First Room)
Click here to see more teen bedroom makeover posts as we continue to cross items off our checklist!
We love it when you share our posts on Facebook and Pinterest!