Teen Bedroom Ideas and Makeover Plan
We've been hunting for inspiration and are ready to share our teen bedroom ideas and plan for our teenage son's upcoming bedroom makeover!
When we moved into this house in 2013, our son was a little man in his 5th grade year at a new school in a new country. It was his fifth move in the past two years. He'd attended five schools in four countries during those same two years. I can't imagine how confusing it would be to move that many times as a kid, but he always took it in stride and without complaint. He's such an easygoing and adaptable kid.
As this was our first time owning instead of renting, we wanted Barish's room to be his castle after putting up with so many moves to so many countries. Going back further, he'd lived in Turkey, Romania, Kazakhstan, Abu Dhabi, back to Kazakhstan, Vietnam, India and finally now America.
The kid deserved a sanctuary, and we intended to give it to him.
Our house has a bonus bedroom that was added later over the garage. It can only be accessed by first walking through another bedroom. I can imagine the fights between two kids vying for the farthest and more isolated room!
But as Barish is an only child, he was getting both rooms to himself.
We set up the first room (the one off the hallway) with his bed and his desk. The second room (the isolated one with the slanted ceilings) would be his play room. We put his TV there, a spare single bed for friends, a futon sofa and a bean bag.
The two rooms served him well, but as he has grown from that little pipsqueak who always looked up at the world to the young man he is today, his needs and wants have changed.
So too must his bedroom change.
Fortunately, his mom and dad are DIYers, and he lives in The Navage Patch! The kid has no idea how lucky he is!
Handan and I are going to give Barish's room the mother of all Teen Bedroom Makeovers, and we're going to do it as cheap as we can without sacrificing quality or beauty.
Unlike the first room setup, which was entirely planned by Handan, Barish will have a lot of input with this makeover. He's old enough now to know what he wants.
But there's still a lot he doesn't know about design, so Handan and I will still be doing most of the heavy lifting when it comes to the major design elements.
We have a ton of great ideas for his room, and it's the perfect project to carry us through these hideously cold and bleak winter days! 🙂
Teen Bedroom Before
This is Barish's bedroom, aka The First Room. We painted the walls blue when we first moved in, thinking it was a huge improvement over the original brown. That's our agent in the photo below. You can also see that there was a door separating the two rooms. I later removed the door for an easier flow between the rooms.
We didn't realize it at the time, but painting the walls dark blue was a big mistake. There is only one almost-north-facing window in The First Room and a skylight in The Second Room. Because of our paint choice, Barish's room has always been dark and dreary.
He has a queen bed and a few pieces of plain IKEA furniture. Handan stuck an LED-light-wrapped branch over his bed and hung a few guitar prints that she printed on burlap. That gray carpet is all over the second floor and in the downstairs guest bedroom (aka, Handan's Craft Room). We don't like it, but we don't have the budget to tear it out, so it will stay.
Looking on the bright side, the mottled gray carpet color camouflages almost any stain, and with a teenage boy whose prime directive is to gobble mountains of food in his room while the crumbs fly where they will, that's a godsend!
Barish's desk is on the other side of The First Room. It's a simple IKEA Kallax unit with a desktop attached. Believe it or not, the room is actually clean in this photo, relatively speaking.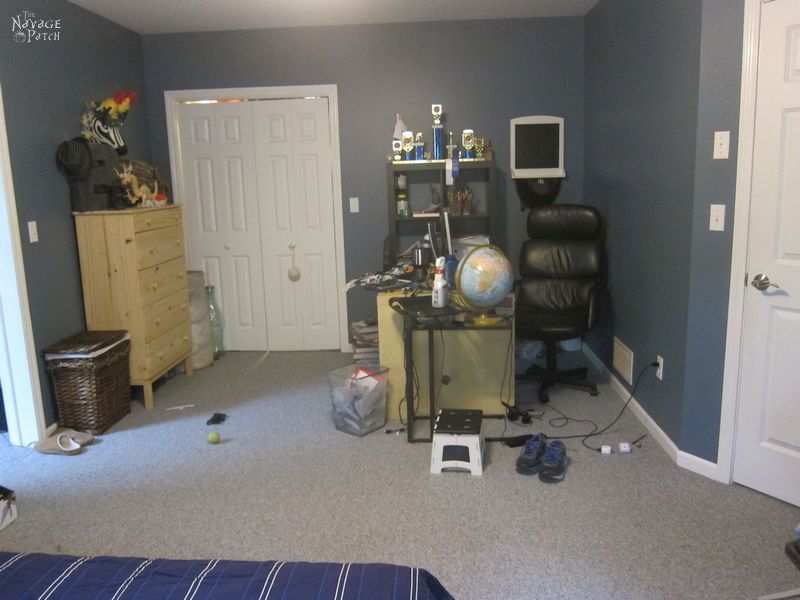 Nothing screams TEEN BOY'S ROOM louder that a classic white fan with gold accents!
I'm kidding. It's hideous.
Somebody call 1987, and tell them we've found their runaway ceiling fan.
We actually bought him a new fan two years ago, and it's been sitting in the basement ever since. Time to dust it off and put it to good use!
Since The Second Room was built over the garage, it has a lot of weird angles, but it worked as his play room when he was small and ran around with foam swords. Lest you think our near-driving-age boy is still playing with toy swords, some of these before pics are a few years old. 🙂
The other side of the play room has a twin bed that I built a bed frame for back in the Days of Ignorance. Somehow, it's still standing!
Teen Bedroom Makeover Goals
More light! Every man needs a Man Cave, but it shouldn't be his bedroom!
More storage. On any given day, the floor shows more clothing than carpet. We need to manage his laundry better, and we need to give him more space for everyday stuff.
More work space. School is getting tougher, and the workload is increasing. He needs a desk that will give him the space he needs to crush his coursework.
A place to chill. All work and no play makes Jack a dull boy. He needs a space to lounge and relax with his buds while they watch TV or play video games.
A place to rest. Let's find a new place for his bed. Teen brains need sleep, or they get even more dopey than they already are!
Update the rooms with a fresh, new look. He's a teen now. It's time to cast away trappings of boyhood and usher in a more mature style.
Keep it simple and on budget.
We have two rooms to tackle, so let's break up the project and for now just focus on The First Room.
Teen Bedroom Ideas – Walls and Trim
The first thing that needs to change are those dark and dreary walls. We're planning to paint everything white. After looking at all of the white options in the Behr line, we've settled on a color called Bit of Sugar. I think it's going to be awesome for that first room.
With all that white, the room will need some infusions of color. An accent wall would be a great way to bring a pop of color into the room. Our first thought was to find a cool wallpaper pattern. Can you believe that stuff is making such a big comeback? Handan loves this Shibori wallpaper from Graham & Brown.
But, Jeezum Crow, people! You need to sell a kidney just to afford enough wallpaper for one wall! Seriously, where do they get off charging so much for fricking wallpaper? People must be buying it, though, or they wouldn't be charging so much.
Yeesh.
Plus, there's the hassle of installing it, and the triple hassle of removing it if when Handan wants a new look! 😀
Okay, wallpaper is out (and I'm silently weeping for joy inside), so we've decided to stencil the accent wall. We haven't settled on a pattern yet, but here are the final four.
Do you remember our Laundry Room Renovation that we finished last summer? We installed a window, and instead of the same old builder-grade trim, we built our own Craftsman-style trim around it.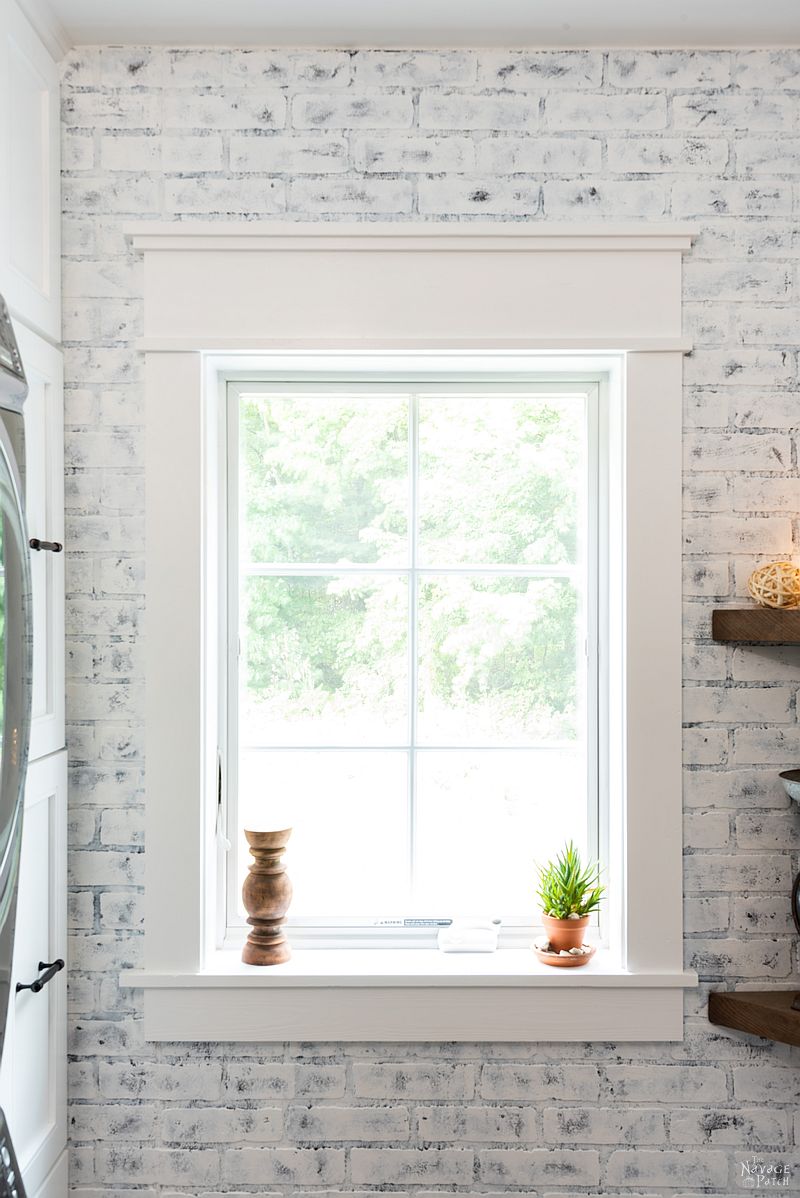 Well, Handan loves it so much that she wants to change all of the trim in the house, one-by-one.
I guess we'll start with Barish's room! That would be one double window, two doors and a closet.
The trim color will be the same as everywhere else in our house: Behr Ultra Pure White. You don't mess with a classic.
Teen Bedroom Ideas – Furniture
One of the biggest and cheapest changes to his room will be simply rearranging the furniture. As it stands, his sleeping area and study area share the same space, while the play area is separate.
We plan to move his bed and dressers to The Second Room. Sleep is sacred to a teen (and let's face it, after the carefree teen years, you never get enough again), and it deserves its own space.
The First Room will be divided into a study area and a relaxing area. I think he's a little too old to call it a "play" area!
The space his bed occupies in the picture below will become the seating area of the lounge, and we'll put his TV where the dresser is.
It will look something like this. I will build a daybed frame for the twin mattress in the corner of his current play room, and we'll flank it with two Billy bookcases from IKEA.
We'll hang a picture of his choosing between the bookcases and add two sconces on the sides of the bookcases. This will create more storage space and much-needed light!
We'll move his TV out from The Second Room and place it opposite where we'll be putting the daybed. Currently, his TV sits on an old guitar amplifier road case.
I was in a rock band when I was younger. This case carried my Mesa Boogie Mark IV guitar amp. Barish now owns that amp.
Handan tried finding a solid TV stand at an affordable price, but quality doesn't come cheap in this country. Whenever we run into that kind of resistance, we know it's time to figure how to DIY our way past.
Right now, we're leaning towards getting an IKEA Kallax and hacking it to look something like the unit below, but with feet instead of casters.
Barish has a lot of IKEA already in his room, much of it unfinished pine, so the Kallax TV stand won't be the only IKEA hack you'll see. We are also planning to hack his IKEA side tables (VITTSJÖ laptop stand), Tarva dressers and his Tarva nightstand.
The Navage Patch will be an IKEA hack haven this winter!
Barish's guitars are currently living either on a floor stand in a hidden corner or just littered on the bedroom floor. Handan wants them off of he floors and put on display. Not only are they beautiful instruments that are worthy of display, but she hopes that if they're hanging right in front of his face, he may reach for them more often and start playing more. The more he sees them, the more the guilt of not playing will build up inside, and hopefully he'll reach out and grab one.
Now that I think about it, she uses the same strategy with me!
The plan is to build two display cases similar to the ones shown below. We'll probably stencil the background of the frames.
A bigger desk more efficiently laid out is one of the main goals of this teen bedroom makeover. Homework is an ever-present and always-increasing fact of life in high school, and Barish needs a proper desk to stay on top of his course load. His new desk will occupy roughly the same space as his current desk, but we want to get him an L-shaped desk that would be placed against the wall and then turn into the room. Like TV stands, it's tough work to find a desk that is both affordable and well-built.
And last but not least, we'll give his closet a makeover. Handan wanted to spare your eyes from the disaster behind those bi-folds, so we took all the photos with closet doors closed. But Handan specializes in organizing disastrous wrecks – just look at what she did with me!
Teen Bedroom Ideas – Decor
Boys stick posters to their walls and call it a decorating job well done.
Men hang art.
Since Barish is a little out of the loop when it comes to wall art, Handan and I will step in and make the call for this one. Handan found the picture below, and we all love it. But we're not about to fork out $1000 for a bunch of wood scraps, so you better believe I'll be DIYing the crap out of that thing!
Don't worry, I'll simplify it, too, so we can all have one hanging on our walls! 😉
Apart from the wood art above, Barish likes colorful art. Soon you'll be seeing some awesome DIY colorful art here at The Navage Patch.
Kiss your neutrals goodbye and kick them to the curb. We're gonna play with some serious color!
When he was younger, Barish used to play chess nearly every day with Handan. But just like with his guitar playing, he is doing it less and less as the years slide past. To help get him back on track with his knights and rooks, we're planning something chess-related for his new room. We'll have more on that later!
Teen Bedroom Makeover Checklist (for The First Room)
So what do you think? Do you like the plan so far? Any ideas from those of you with older boys? We'd love to hear your thoughts!
Click here to see more teen bedroom makeover posts as we continue to cross items off our checklist!