Make your own DIY Wood Wall Art from scrap lumber and get a high-end, art gallery look for just a few dollars! Easily customizable for any space!
Back in our Teen Bedroom Ideas post, I mentioned we'd be looking to make something for Barish's accent wall that would be inspired by the following picture.
Our original thought was to make something like this to hang over his television.
I think we can all agree that it's beautiful, but really, we're not in the position to go tossing thousand dollar bills after art that was created with scrap wood!
Jeezum Crow, people!
Listen, if your money is burning a hole in your purse, and you enjoy transferring chunks of your wealth to the pockets of others, may I suggest looking me up on PayPal and relieving yourself of some of that bothersome cash?
For the rest of you, let's see if we can DIY our way to some halfway decent wood wall art, eh?
Okay, so the picture above would be pretty easy to duplicate, provided you have a compound miter saw.
Not everyone has a compound miter saw, so we're going to simplify this project a little bit. Instead of the angled cuts, we'll make ours with flat-cut pieces.
Okay, here's what you'll need.
DIY Wood Wall Art
4 x 4 lumber – how much depends on how large an art piece you'd like
220 grit sandpaper to be used manually or with a power sander
1/8 inch tempered hardboard panel
Jigsaw or band saw
Stain colors of your choice
Since I wasn't sure exactly how big my final art piece would be when I started, I cut a whole lot of slices from some 4 x 4s I had in the basement. I cut a mixture of regular pine and pressure-treated pine, since the P-T pine had a really cool green color going on.
I cut about 100 slices of all different thicknesses from about 1/4 inch to about 2 inches.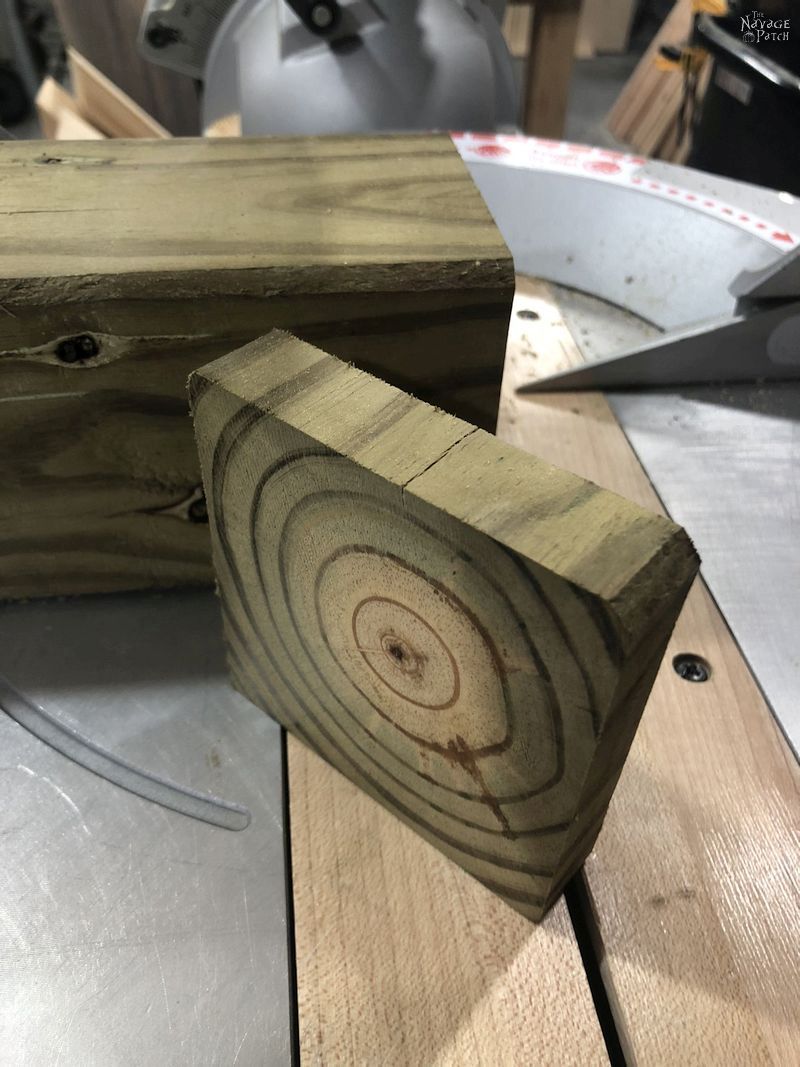 As I cut the pine slices, I tossed them into a box on the floor. Pine is all I had on hand, but any wood would work, and the variety would look awesome. I tried to get as many knots as possible, as they add a ton of interest.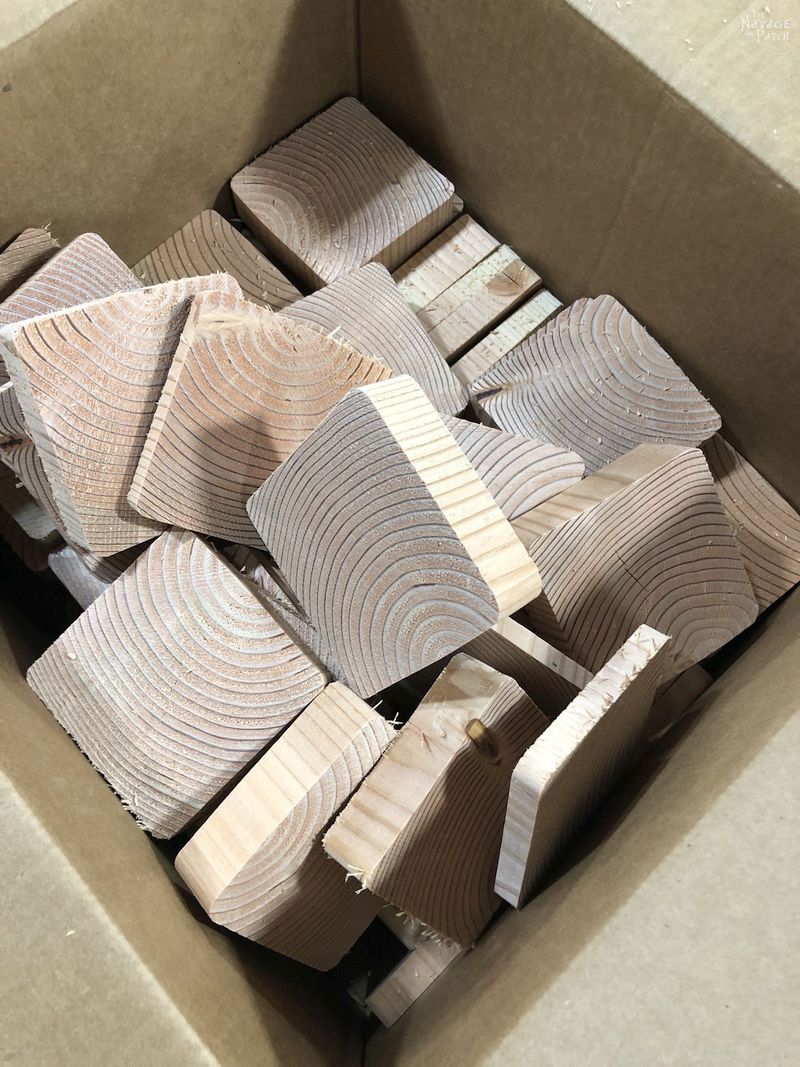 Once I thought I had enough slices, I sanded one face of each with 220 grit sandpaper. I used a belt sander, but a random orbital sander or hand-sanding would also work.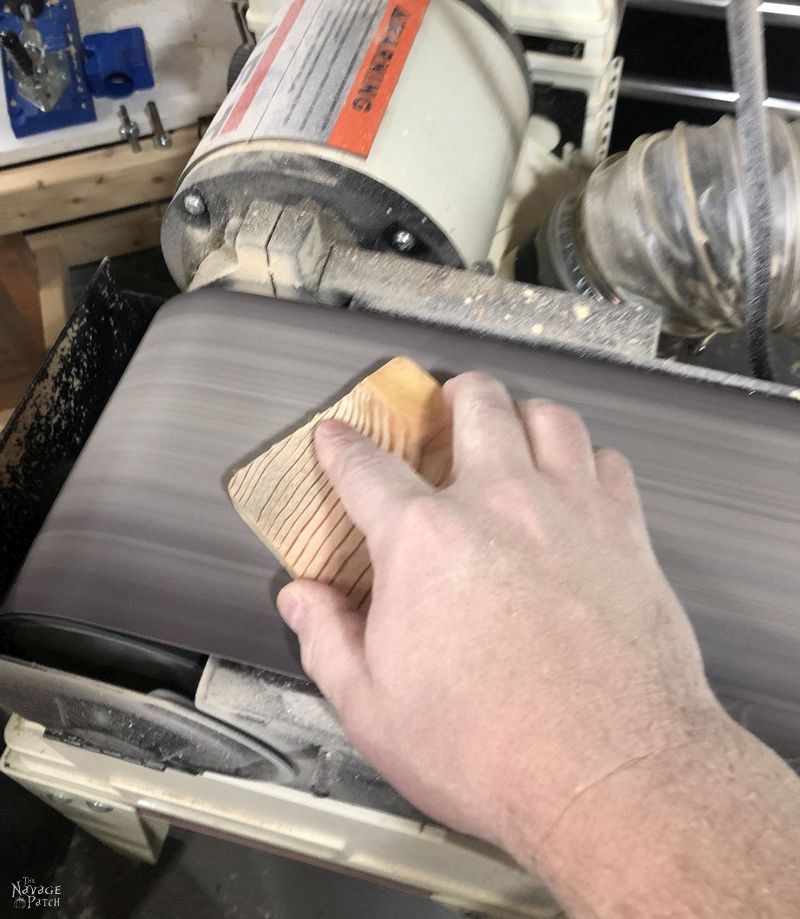 This really shined up the faces!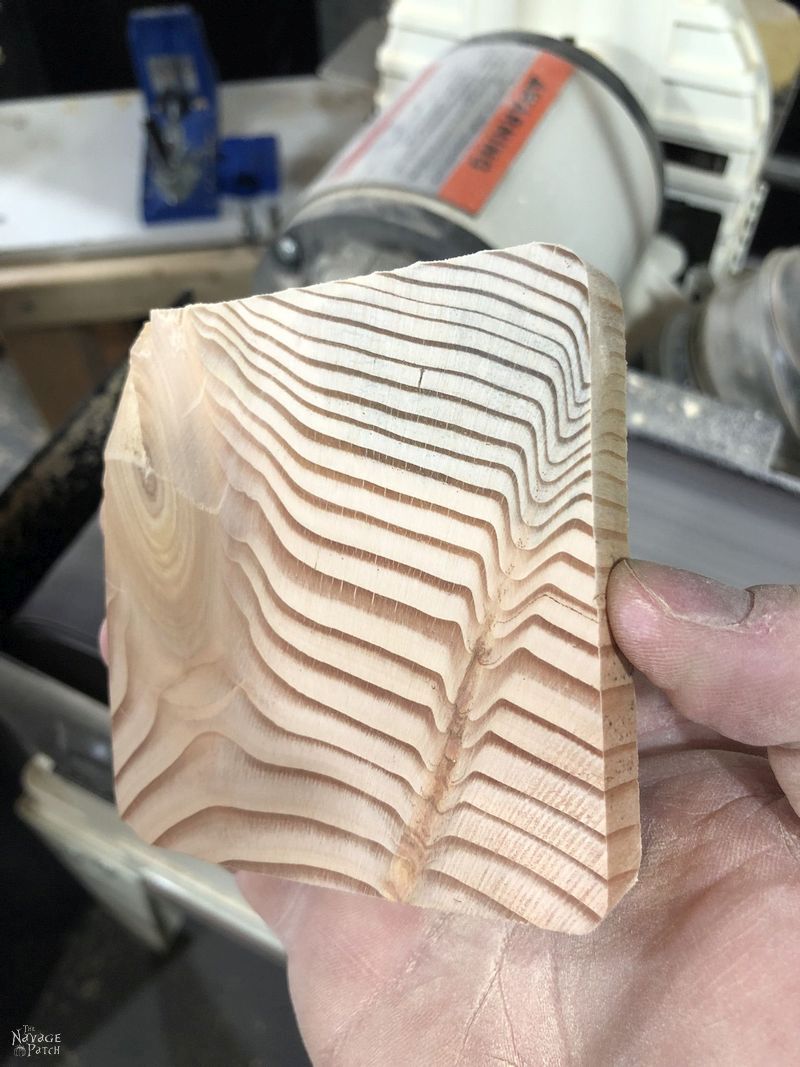 After a while, I had a box full of sanded slices.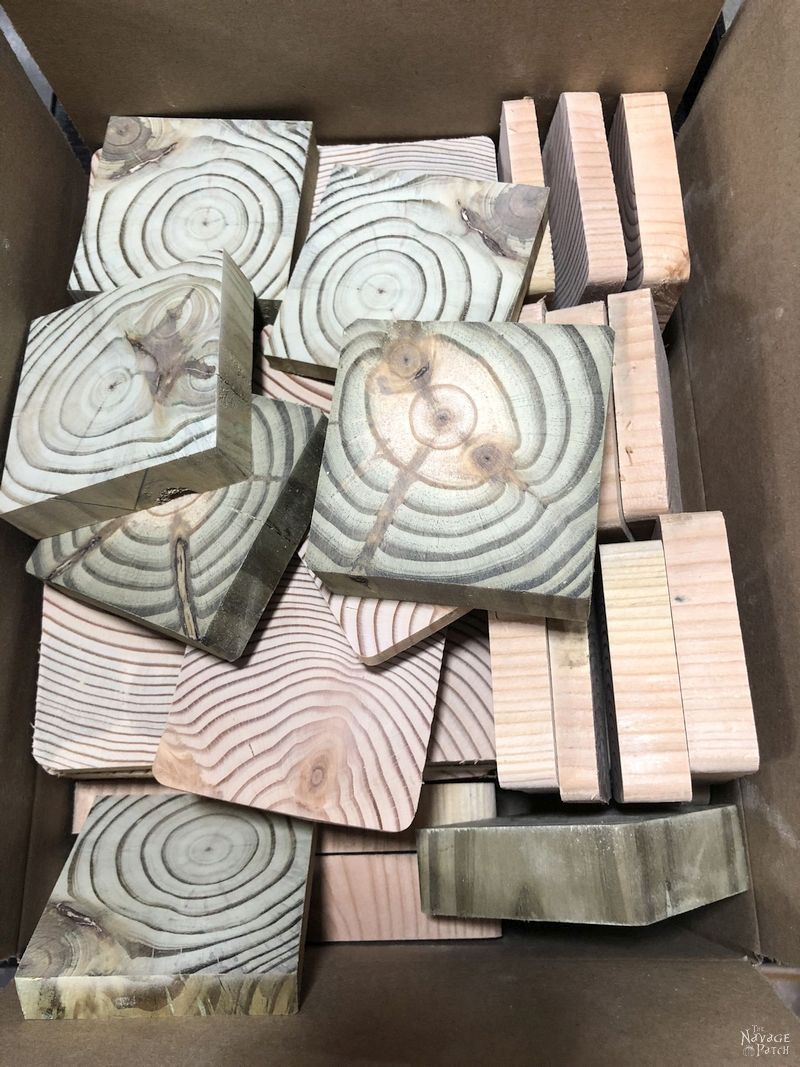 Now, a 4 x 4 is supposed to be 3.5 inches to a side. But age and moisture differences among my scrap wood meant that my pieces ranged from 3.5 inches to a side for the pressure treated to about 3.25 inches for some of the pine. This was compounded by some of the pine pieces not being square but rather more trapezoidal. On top of all these discrepancies and variations, 4 x 4 lumber has rounded corners, so even if all the pieces were the same size, I'd still have gaps in the corners if I tried to line them up.
The only solution was to cut each piece down to 3 inches square. This meant I had to take about 1/8 inch off each side.
I used a table saw for this, but it could also be done with a manual miter saw.
Or you could just leave the pieces as is. This step was not strictly necessary – it just made the final product a little more coherent.
After I trimmed all the pieces (sorry, no pics of that process), Handan and I went to Barish's room to figure out the exact shape and size for his DIY wood wall art.
Handan's original thought was a long rectangle that would hang above his TV. We had a look: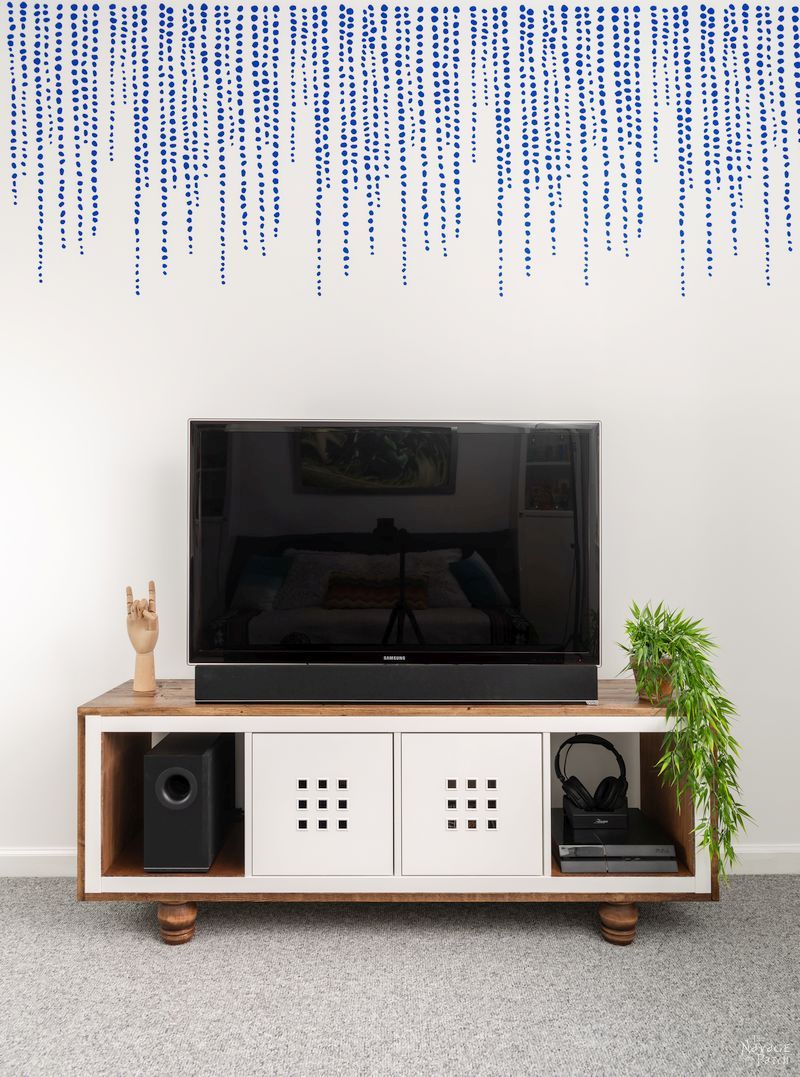 The TV almost met with the accent wall stencil, and we thought that hanging wood wall art there would make the area too busy.
But there was some dead space to either side of the TV and the Kallax TV stand.
Hmmmm….
I suggest making two mirror-image shapes to hang below the accent stencil on either side of the TV stand.
I moved my hands around the wall to indicate the rough shape of what I had in mind.
Handan agreed, and off I went to make it a reality.
I arranged the wood slices into a shape I liked. I tried to mix up thicknesses, grain patterns and knots to keep things interesting.
Then I built the mirror image.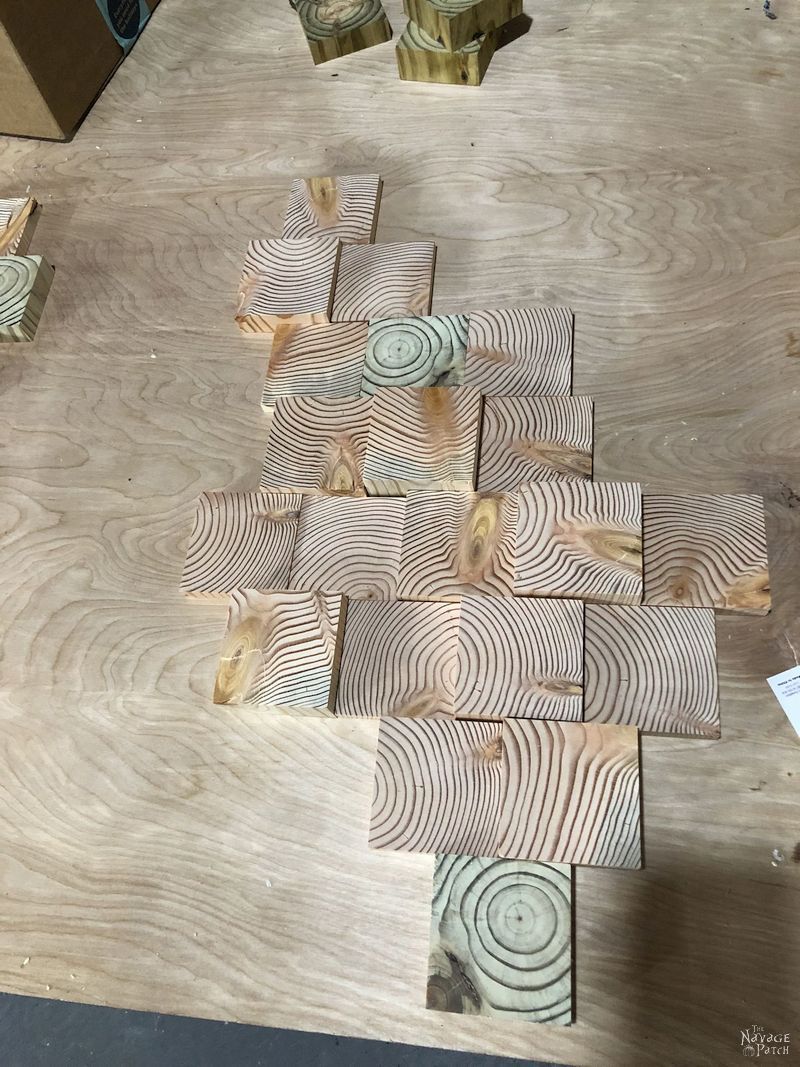 I decided to mount the slices on 1/8 inch tempered hardboard, as it is thinner than plywood and not prone to warping. Tempered hardboard has a smooth side and a rough side. I would mount the slices on the rough side, as it would accept wood glue more readily than the smooth side.
After measuring the height and width of my assembled slices, I cut two pieces of tempered hardboard.
I then reassembled my slices on the rough side of the tempered hardboard.
I carefully traced the entire outline with a pencil and then cut out the shape with a jigsaw.
Once I had again assembled the slices on the shaped tempered hardboard, I showed Handan before proceeding.
She brought up a good point – the tempered hardboard was plainly visible when looking from the side. She suggested I recess it all around.
Using my Kreg Multi-Mark (I love that tool!), I marked off a 1/2 inch recess all around the tempered hardboard.
After trimming the tempered hardboard once again, I was ready to stain my slices before final assembly.
Our initial thought was to keep the stains within the standard browns and reddish browns.
But once I got going, I started to crave color. After all, I keep telling you that I'm bringing color back! How can I claim to be bringing color back if I just stained the slices with boring browns?
In addition to our Old Faithfuls (Varathane Kona, Minwax Special Walnut, Minwax Weathered Oak), I tossed in some Varathane Light Walnut (that's the really red one), Varathane Bleached Blue and Varathane Antique White. I also dabbled with some other Minwax flavors, but they were so close to Special Walnut that I just stuck with that instead.
During the staining process, I decided to ditch all the pressure-treated slices. They looked good initially, but once I got those colors on there, they didn't look as good anymore. I still have them in a box in the basement. I'll figure out a use for them someday.
When the stain had dried, I again arranged them on their respective tempered hardboards.
Then, by ones and twos, I picked the slices up, put a little wood glue on the hardboard beneath and put the slices back in their places.
I left my DIY wood wall art to cure overnight.
The next day, I brought them to Barish's room so Handan and I could hang them.
The smooth side of the tempered hardboard was a perfect surface for Command Picture Hanging Strips.
After attaching four Command Picture Hanging Strips (not pictured), I used a torpedo level to hang Barish's new DIY wood wall art.
Barish loves his new wood wall art, and that makes Handan and me very happy!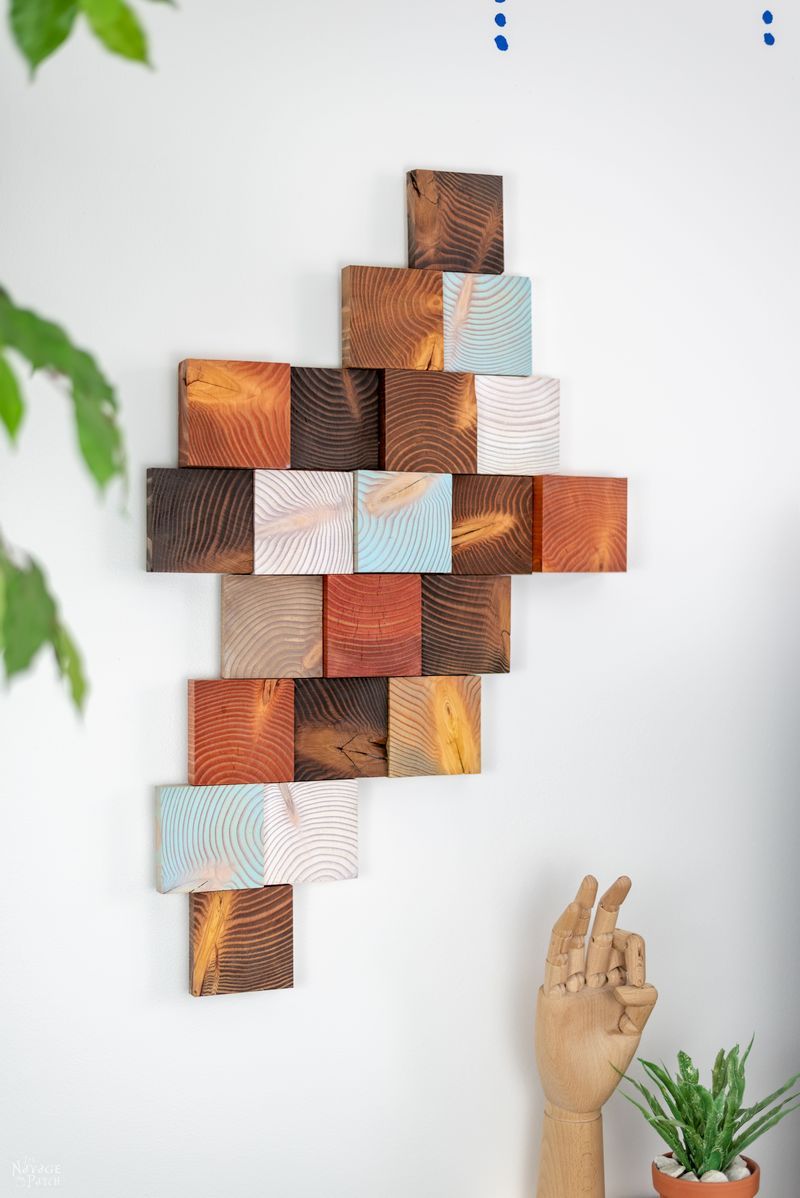 If you're following along with the teen bedroom makeover, here's how we stand:
Teen Bedroom Makeover Checklist (for The First Room)
Click here to see more teen bedroom makeover posts as we continue to cross items off our checklist!
We love it when you share our posts on Facebook and Pinterest!