DIY Craftsman Style Trim for Windows and Doors
DIY Craftsman style trim is an easy upgrade to your existing window and door trim that will give a huge aesthetic boost to almost any room in your house!
Handan and I were big fans of the show Grimm. If you've never seen it, you may want to check it out on Amazon Prime or Netflix.
It's one of the most fun shows we've ever watched!
We binged on it a few years back, and then we watched it all again last year with Barish.
The show is set in Portland, and many of the characters live in historic Craftsman houses.
The moment Handan saw those houses, she fell in love.
She started seeing that Craftsman style popping up in all sorts of shows and movies.
Hollywood loves Craftsman!
I had to explain to her that, no, not everyone on the West Coast lives in a Craftsman house, though you'd never guess it by watching what Hollywood throws at you on a daily basis. (Remember the young and broke characters on Friends living in what would today be a multi-million dollar apartment?)
Hollywood isn't known for realism.
"Million-Dollar Mansions For All!" may be the rallying cry for some in this country, but only a small percentage of real people are blessed enough to live in a real Craftsman house.
But hey, that's okay! We're DIYers, right? We don't need a Craftsman house to enjoy some of the Craftsman aesthetic!
So what did Handan do? Well, if she couldn't magically transform The Navage Patch into a 1920s Craftsman classic, she could at least have a little Craftsman trim for the windows and doors. It's one of the most beautiful interior elements of the Craftsman style, and it's a pretty easy DIY!
We came up with our own design for Craftsman style window and door trim and gave it a test run in our laundry room renovation.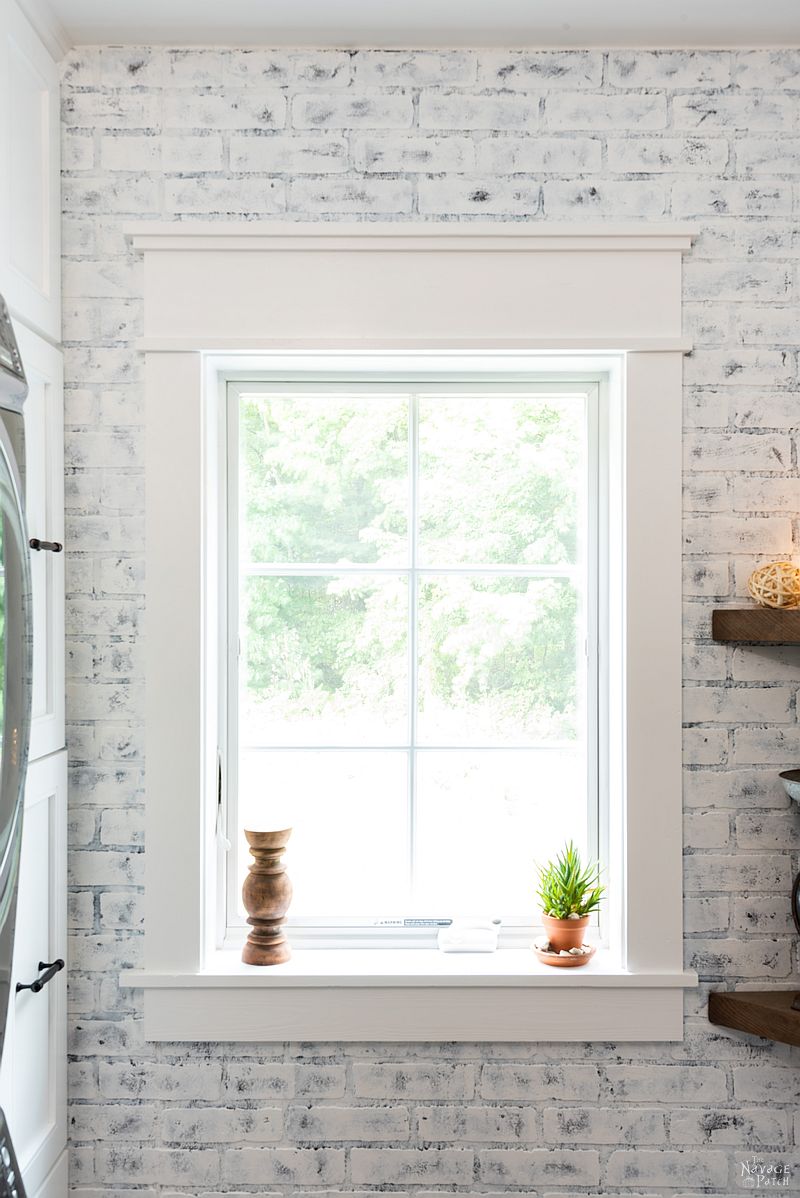 Predictably, Handan loved it and wanted more.
Lots more.
Okay, look, she wants all the trim to be Craftsman!
Since our next big project was the teen bedroom makeover, we decided to change the window and door trim in Barish's two rooms to DIY Craftsman trim.
Since then, we've changed 4 big windows in our living room and all of the windows and doors in our master bedroom (that makeover will be coming up soon!). I still have a lot more to upgrade, but we're taking it a little at a time.
Okay, back to Barish's room. Here are some before pics of his window and door trim.
This one is way before, lol! That's our real estate agent walking us through the house on our first visit.
The trim was the standard stuff found in most houses across the country. Builder grade, pleasant enough, but a little boring.
It was time for a Craftsman upgrade!
DIY Craftsman Style Trim
1 x 6 pre-primed pine boards (actual dimensions are 3/4 x 5 1/2)
1 x 4 pre-primed pine boards (actual dimensions are 3/4 x 3 1/2)
Tape measure
Table saw
Chop saw/miter saw/hand saw
Brad nailer or finish nailer
Bondo wood filler (only for window trim)
Random orbital sander, detail sander or palm sander (only for window trim)
Spackle or other wood filler (to fill brad nail holes)
Caulk
Paint
The 1 x 4 boards are used for everything except the big piece on top. They are used as-is on the sides and big bottom piece. They are ripped to 1 1/4 inches for three of the horizontal pieces and 1 3/4 inches for the very top piece. How much you will need depends entirely on the size of your windows and doors and how many of them you have. I'll leave that heavy arithmetic up to you 🙂
DIY Craftsman Style Trim for Windows and Doors
The first step in this process was to remove the old trim. The key to removing old trim is to use a utility knife to cut through the caulk and then to slowly and gently work off the trim pieces with a pry bar. Patience on this step saves drywall repair work later!
Most of this tutorial will consist of Sketchup drawings, as they are easier to follow. I made the Sketchup model according to a 23 1/2″ x 44″ window.
If you are making door trim, just skip the steps that have to do with the sill and the bottom piece.
For the trim pieces, we used pre-primed pine boards from Home Depot. The pre-primed boards are worth the extra money, as they'll save time when it comes to painting.
Here are the dimensions of all the pieces needed for this hypothetical window.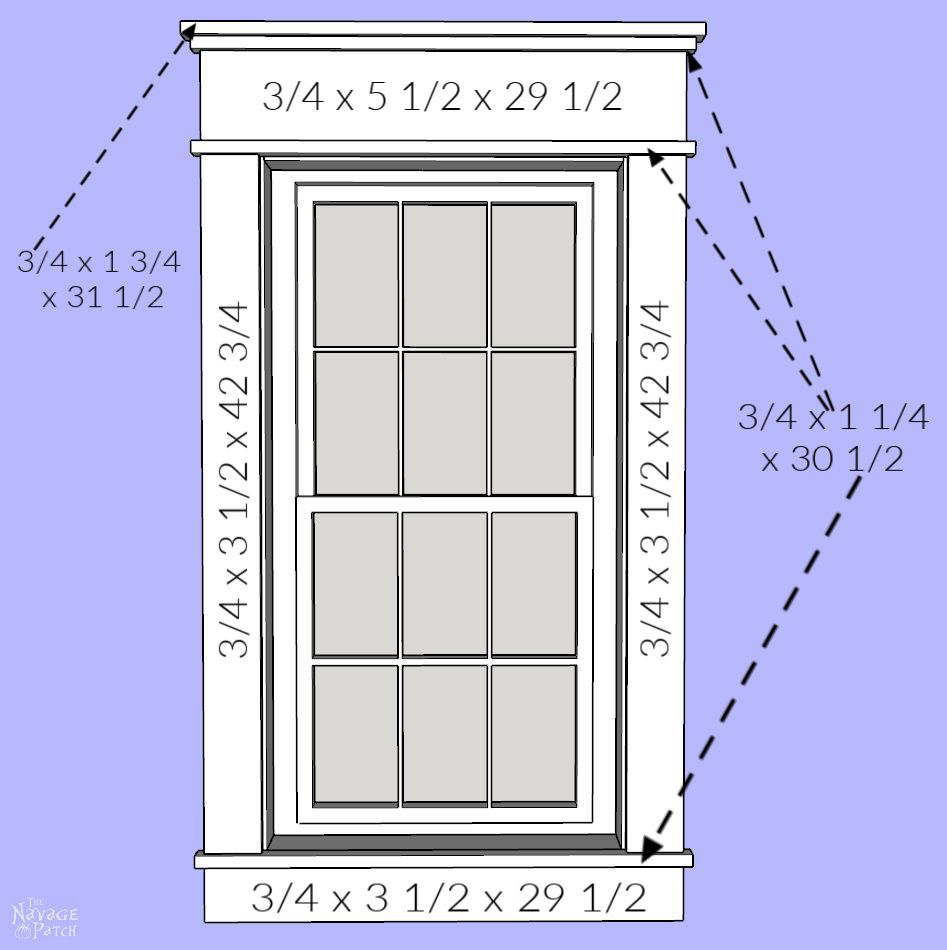 Step 1 – Attach the sill
Line up the sill piece and make sure it is flush with the existing sill. Shoot brad nails from the front, securing it in place. Later, the seam between the old and new sill will be filled with Bondo wood filler and sanded smooth, so don't worry if it is not entirely perfect. An easy way to center the sill is to mark 3 1/2 inches in from each end and align those marks with the outer edges of the window casement.
Step 2 – Attach the bottom piece
Center the bottom piece and secure with brad nails. The sill will have a 1/2 inch overhang.
Step 3 – Attach the sides
Line up the sides, leaving 1/4 inch of casement showing on the inner edge.
Note that the sides should be long enough so that they extend above the bottom of the upper casement by 1/4 inch.
Also note that the sill should extend 1/2 inch past the sides, and it should protrude 1/2 inch out in front.
Step 4 – Attach the first top piece.
Line up the top piece and secure with brad nails. Note that there is 1/4 inch of casement showing all around except at the sill. This is purely an aesthetic consideration. In other words – it just looks better this way!
Step 5 – Attach the large top piece
Center the large top piece, making sure its ends align with the two sides below. Secure with brad nails.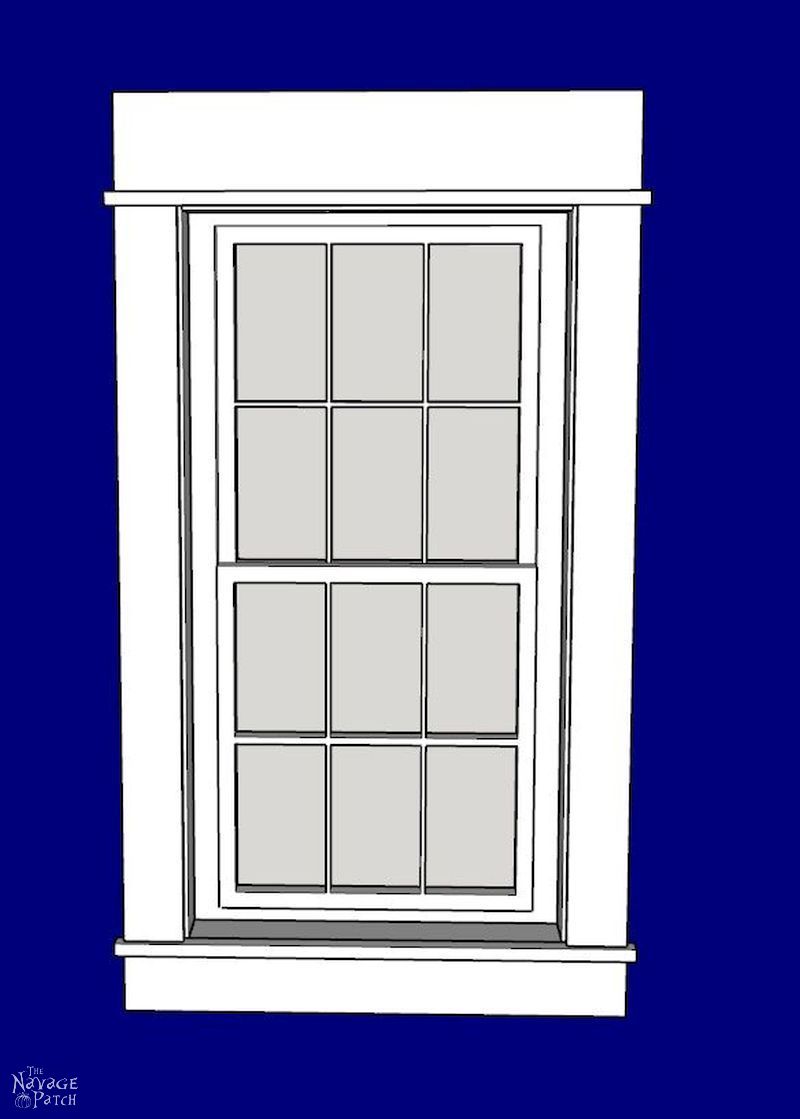 Step 6 – Attach the next top piece
Align the next piece and secure it with brad nails. It should line up with the first top piece.
Step 7 – Attach the final piece
Attach the final top piece, ensuring it is centered and aligned.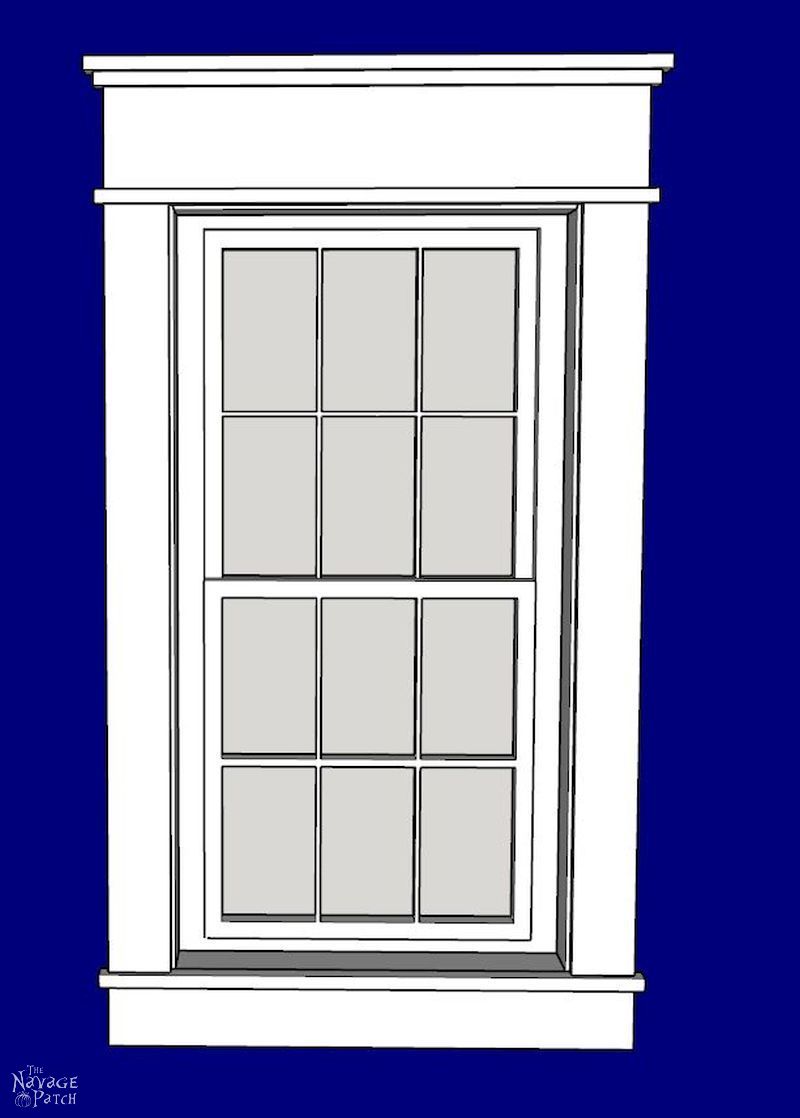 Step 8 – Fill the sill gap
Fill the sill gap with Bondo wood filler. When it is dry, sand it smooth with a random orbital sander with a 150 grit disc.
Step 9 – Prep for paint
Fill all the brad nail holes with spackle or wood filler, let dry and then sand.
Step 10 – Paint
I prefer to use ultra pure white semi-gloss paint with a small foam roller. I give at least 3-4  light coats.
Step 11 – Caulk
Caulk any gaps with with DAP trim and moulding caulk. If you live in a cold climate, I'd recommend using DAP Extreme Stretch for and exterior wall caulking to prevent excessive shrinkage and cracking.
*****
You won't believe what a difference Craftsman style trim will make in your house. It is one of the classiest upgrades we've done since living here, and soon it'll be all over the house!
Though it looks great white on white, it's even more striking with a contrasting wall!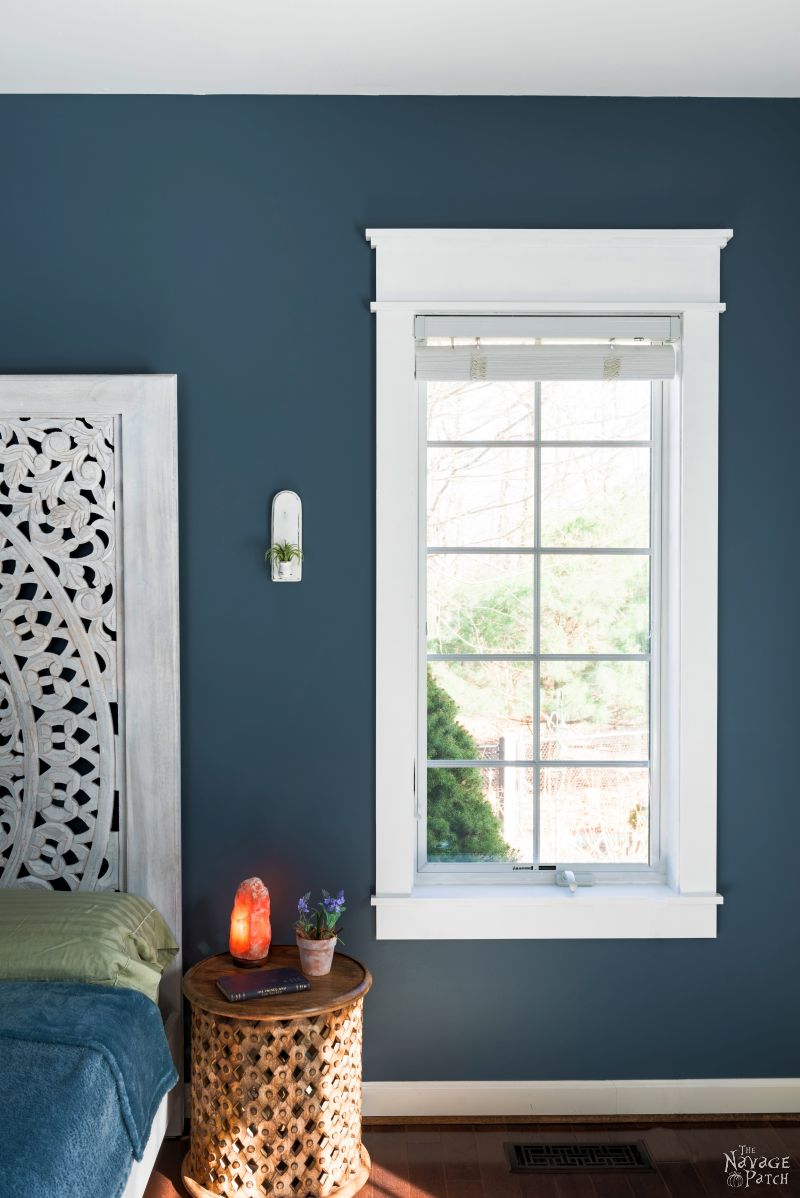 If you're following along with the teen bedroom makeover, here's how we stand:
Teen Bedroom Makeover Checklist (for The First Room)
DIY Craftsman style trim
Barish's first room reveal
Click here to see more teen bedroom makeover posts as we continue to cross items off our checklist!
We love it when you share our posts on Facebook and Pinterest!